4 ingredients. 5 minute prep time. Can be made ahead. SUPER CRUSTY.
This crusty bread roll recipe is truly a beautiful thing. I have tried a lot of recipes for crusty bread rolls but most require time-consuming or complicated pre-ferments, starters, or rising instructions. That's all fine for me because I spend so much time in the kitchen, but I know most of you need recipes that are as quick and easy as possible. Especially around the holiday season when there's so much else to make and do.
Be sure to check out the video below so you can see exactly how these rolls come together. I also share some of my favorite baking tips and explain how to achieve that crusty texture. I've included different make-ahead options within the printable recipe too.
Ingredients
500g white strong plain flour
7g sachet easy-bake/fast-action yeast
1 level teaspoon salt
2 tbsp sunflower oil
Water spray
To make bread rolls:
Beaten egg, for glaze
Assorted toppings, eg, poppy or sesame seeds and salt flakes
Tip the flour into a bowl, add the yeast and salt and then stir. Now add the oil. Pour in 300g warm water — it's more accurate to weigh the water than measure it in a jug.
Mix to give a smooth dough, then turn the mixture out onto a lightly floured work surface and knead it by hand for 5-7 minutes. Alternatively, knead in a food mixer with a dough hook for about 5 mins. The dough should be smooth and elastic.
Place the dough in an oiled bowl and cover with a clean tea towel. Leave the dough in a warm place for about 1 hour, or until it has doubled in size.
Turn the dough out onto a lightly floured surface and knead it again briefly to 'knock back'. Form it into an oval shape and place in the tin, pressing down into the corners using your knuckles.
Dust the top with a little extra flour. Set oven to 220°C/425°F/Gas Mark 7, and put a solid baking sheet on the shelf below the one on which the bread will be baked.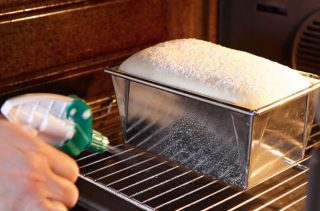 Leave the loaf to prove, until it rises above the level of the tin, then place it in the oven. Working quickly, so it doesn't lose too much heat while the oven door is open, spray water onto the hot baking sheet underneath the loaf and around the loaf to create a steamy atmosphere. Bake the bread for 20 minutes.
Reduce the oven temperature to 180°C/350°F/Gas Mark 4, and cook it for a further 20-30 mins, or, when the loaf is removed from the tin, the base sounds hollow when tapped. If it doesn't, return the loaf (on a baking sheet) to the oven for 5-10 minutes, which will help to crisp the sides. Leave to cool on a wire rack.
If you fancy making bread rolls instead use the same method above to make the dough and the divide the dough into 60g pieces.
For a plain roll: roll dough into a ball, then hold in the palm of your hand and pull the edges in, repeating to give a smooth top. Place on a baking tray with the folds underneath.
For a small cob loaf: break off one third of the dough and shape both pieces into balls. Brush the larger ball with water and place the smaller one on top. Press a floured finger through the centre of both until it touches the baking tray.
To make a sausage shape: roll the dough with one hand, moving the hand up and down as you roll it, to lengthen it.
For a bread knot: roll all the dough out into a long sausage shape and form into a loose knot.
For plaits: divide a piece of dough into three and roll each piece out into a sausage shape. Press three ends together then plait the pieces, pressing the other end together well.
Set the oven to 220°C/425°F/Gas Mark 7. After the rolls have proved, glaze with egg wash and then sprinkle over toppings, if you want. Bake for about 15-20 mins, or until the rolls sound hollow when their bases are tapped. Transfer to a wire rack to cool completely.
Jill's Homemade Bread Recipe
6 1/2 – 7 cups unsifted flour or 1/2 wheat and 1/2 white flour 6 Tbsp. sugar 1 1/2 tsp. salt 1 pkg. yeast 1 cup milk 3/4 cup water 1/3 cup margarine
3 eggs (room temp.)
 Filling for Cinnamon Bread:
margarine, softened 1/2 cup sugar
2 tsp. cinnamon
 Mix 2 cups flour with sugar, salt and yeast. Put the milk, water and margarine in a large mixing cup and heat in the microwave to 120° or until it feels really hot when you put your finger in it. (The margarine doesn't need to be melted.) Gradually add to the dry ingredients. Add the eggs and 1/2 cup more of flour. Stir in enough additional flour to make a stiff dough.
Turn on to a lightly floured board and knead until smooth and elastic (or you can knead it in the bowl). Place in a greased bowl (It sounds strange, but I use bacon grease), turning to grease the top. Put in a warm place (like I mentioned above) and let it rise until doubled, about 35 minutes.
Punch down and divide into 2 halves. Roll into a 14×9 rectangle. If you are making regular bread then, beginning at the 9 inch end, roll as you would a jelly roll, gently making it into a loaf. Divide and place in 2 greased(with bacon grease for added flavor, no it won't taste like bacon) 9×5 bread pans. Let rise again for about 35 minutes until doubled. Bake for 45-50 minutes at 375 degrees. To see if it's done, thump with your fingers. If it sounds hollow, it is done.
For Cinnamon Bread:
After you have rolled the dough out, spread it with a thick layer of margarine. Then sprinkle with sugar and cinnamon and roll as above. Be sure to tuck the ends under so the goodies won't ooze out.