This easy banana bread recipe is quick to put together, takes 10 minutes to make, and makes a delicious dessert for breakfast or any day of the week.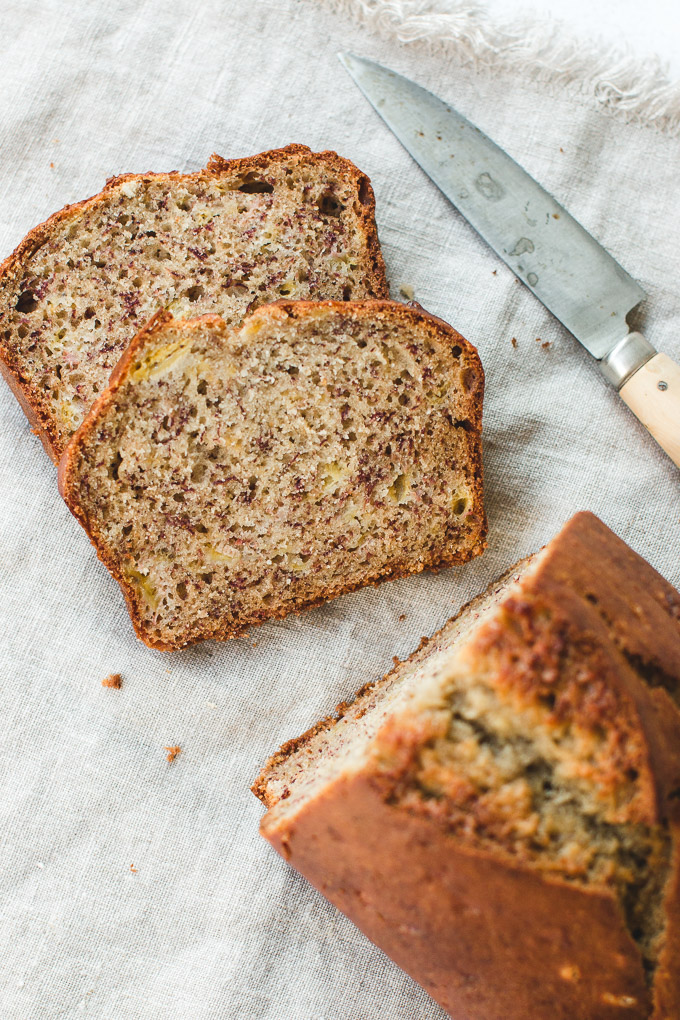 I don't want to confuse you with many recipes, but although this banana bread recipe holds a special place in my heart, this easy version is my go-to recipe if I'm short on time or just feeling lazy. It's soft and moist with an amazing banana flavor, and the best part is that it's quick and easy to prepare.
Want to see how to make Banana Bread? Watch the video!
Servings: 12 Slices (1 Loaf – 10x4inch/25x10cm)
Cut the bananas into small pieces, place them in a medium bowl. Mash them using a fork.
Add one large egg, beaten with a fork. Mix well.
Add baking soda, caster sugar, melted butter, vanilla essence and cinnamon (if using), flour & mix well.
Pour the batter into a loaf tin lined with baking paper.

Place in a preheated oven and bake at 356⁰F/180⁰C for 1 hour or until an inserted skewer comes out clean.
Calories 166Calories from Fat 45 Total Carbohydrates 27g9% * Percent Daily Values are based on a 2000 calorie diet.
This post contains affiliate links. For more information on my Affiliate Policy, please click here.
More Banana Recipes: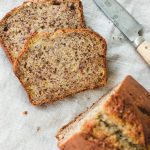 4

very ripe bananas

1/2

cup

(1 stick/115 g) melted butter

3/4

cup

(150 g) granulated sugar

2

large eggs

1

teaspoon

vanilla extract

1 and 1/2

cups

(210 g) all-purpose flour

1

teaspoon

baking soda
Preheat oven to 350°F/180°C. Grease an 8½ x 4¼-inch loaf pan.
Place bananas in a large bowl and mash them. Add all the other ingredients to the bowl, and whisk just until combined.
Pour batter into prepared loaf pan and bake for 50-60 minutes, or until a toothpick inserted into the center of the cake comes out clean. Let the cake cool for 15 minutes on a wire rack, then turn it out from the pan and let it cool completely.
Store cake at room temperature or in the fridge in an airtight container for up to 4-5 days. Serve at room temperature.
What Ingredients do I Need for Banana Bread?
Flour
Baking powder and baking soda
Salt
Butter
Granulated sugar
Eggs
Bananas
Sour cream (or more bananas if you're out)
Vanilla
In other words ingredients you likely have in your kitchen right this minute so you may as well make a loaf now, right?
Such an Easy Recipe
This really is one of the easiest baking recipes. You don't even need a mixer. Just back to basics with a few bowls, a spatula and a whisk. The hardest part is just waiting for it to bake and cool. That smell of a loaf of fresh banana bread is heavenly.
Can I Add Nuts or Chocolate Chip?
Want to make this recipe into banana nut bread? Simply add in 1/2 cup to 1 cup of chopped nuts (I recommend walnuts or pecans) and add them when you mix in the bananas. Then be sure to use a 9 by 5-inch pan as the batter will have more volume.
Do you love chocolate chips in your banana bread? Then just mix in 3/4 cup semi-sweet chocolate chip or 1/2 cup mini chocolate chips for a bit of added decadence.
More Variations on Banana Bread
Do you like a crunchy cinnamon sugar coating on top of your banana bread? Then after pouring and spreading the batter into the loaf pan, sprinkle top evenly with a mixture of 1 1/2 Tbsp raw sugar and 1/2 tsp ground cinnamon. It gives it that special bakery-style touch.
Then also note that you can adjust the sugar here a bit to suite your personal preference. I use 3/4 cup to 1 cup. Be sure to use very well ripened spotted bananas though because they offer the best flavor and sweetness.
Every time I make this banana bread we polish it off in no time. There's just something so comforting about a homemade loaf of banana bread. I think it takes us all back home because we all ate it growing up. I hope you enjoy this recipe as much as we do!
More Banana Recipes to Try:
Print
Prep Time: 10 minutes
Cook Time: 1 hour
Total Time: 1 hour 10 minutes
1 2/3

cups (236g)

all-purpose flour

(scoop and level to measure)

1

tsp

baking powder

1/2

tsp

baking soda

1/2

tsp

salt

8

Tbsp (113g)

unsalted butter,

melted*

3/4

cup (160g)

granulated sugar*

2

large eggs

1 1/3

cups (325g)

well mashed overripe bananas

(about 3 1/2 medium bananas, be sure to measure)

1/4

cup (63g)

sour cream

1/2

tsp

vanilla extract
Preheat oven to 350°F (180°C). Grease a 9 by 5-inch or  8 1/2 by 4 1/2-inch loaf pan.

 In a mixing bowl whisk together flour, baking powder, soda and salt. Make a well in center of flour mixture, set aside. 

In a separate medium mixing bowl whisk together melted butter and granulated sugar. 

Whisk in eggs, then whisk in bananas, sour cream and vanilla. 

Pour banana mixture into flour mixture and fold with a rubber spatula just until combined (you shouldn't see any more streaks of flour). Pour batter into prepared loaf pan.

Bake in preheated oven until toothpick inserted into center comes out free of batter (a moist crumb or two is fine but top should be set), about 50 – 58 minutes. 

Cool in pan 5 minutes. Run knife around edges to loosen then invert onto a wire rack.

Let cool on wire rack about 30 minutes then transfer to an airtight container to finish cooling. Store at room temperature or refrigerate for longer shelf life.

*If you only have salted butter on hand, reduce salt in recipe to 1/4 tsp.

Recipe source: Cooking Classy
*You can adjust the sweetness to suite your taste. I prefer 3/4 cup sugar but if you like it really sweet use 1 cup, if you like it lightly sweetened use 1/2 cup.
Nutrition Facts
Banana Bread
Amount Per Serving
Calories 190 Calories from Fat 72
% Daily Value*
Total Fat 8g 12%
Saturated Fat 4g 20%
Cholesterol 43mg 14%
Sodium 142mg 6%
Potassium 143mg 4%
Total Carbohydrates 27g 9%
Sugars 13g
Protein 2g 4%
Vitamin A 5.5%
Vitamin C 2.3%
Calcium 2.9%
Iron 4.9%
* Percent Daily Values are based on a 2000 calorie diet.
Mash or Blend?
Most banana bread recipes mash up the banana, but I thought why not blend it up with the soy milk and coconut oil? So I did! And it worked fabulously well.
This recipe is super moist yet uses very little oil and this is due to the bananas, which provide so much moisture to the recipe. I used coconut oil, but I imagine vegan butter would work well here too, though I haven't tried it yet.
I used soy milk in this recipe but I reckon any non-dairy milk would work fine here.
Can I make this vegan banana bread gluten-free?
If you wanted to make this vegan banana bread gluten-free then I recommend you try a gluten-free all purpose flour blend to replace the all purpose flour.
Gluten-free flours tend to absorb more moisture as well so you might want to increase the coconut oil slightly as well. Since this is a very moist banana bread you probably wouldn't need to increase it by very much, a couple of extra tablespoons of coconut oil is likely sufficient.
I haven't tested this recipe as gluten-free so this is just my best guess based on my other gluten-free baking experiments. A gluten-free all purpose flour baking blend is definitely the flour to use though rather than any single type of flour like almond or rice flour.
This is why you'll love this vegan banana bread!
It is:
Super moist
Simple
Flavorful
Perfectly sweet
Satisfying
Keep covered at room temperature and consume within a few days.
What do you think of this vegan banana bread? Let us know in the comments and please rate the recipe too! Thank you!
Want more delicious vegan banana recipes?
These are great:
Sign up to our email list for a fabulous (and free!) recipe ebook with 10 great recipes and to stay updated with all the latest recipes posted to the blog.
Print
Print Recipe
Pin Recipe
Easy Vegan Banana Bread that is moist on the inside, crispy on the outside, and simply fabulous served warm from the oven and spread with vegan butter.
2 cups (250g) All-Purpose Flour
1/2 cup (100g) White Sugar
1/2 cup (100g) Brown Sugar
3 tsp Baking Powder
1/4 tsp Salt
1 tsp Ground Cinnamon
3 Medium Ripe Bananas (10.5 oz / 300g Peeled Weight)*
1/2 cup (120ml) Soy Milk (or other non-dairy milk)
3 Tbsp (45g) Coconut Oil
1 Flax Egg (1 Tbsp Ground Flaxseed Meal + 3 Tbsp Hot Water)
Preheat the oven to 350°F (180°C).
Sift the flour and add to a mixing bowl.
Add the white and brown sugar, baking powder, salt and cinnamon.
Prepare the flax egg by mixing 1 Tbsp Flaxseed Meal with 3 Tbsp Hot Water and allowing to sit for a minute to thicken.
Peel the bananas and add to your blender along with the soy milk and coconut oil and blend.
Pour the blended mix into the mixing bowl and mix it into a smooth batter. Add the flax egg and mix in.
Grease a loaf pan and line the bottom with parchment paper, pour in the batter and place into the oven to bake for 60-70 minutes.
It's ready when you put a toothpick into the center of the loaf and it comes out clean.
*Weigh your bananas and your flour for the most accurate results in this recipe.
*Nutrition information is an estimate based on 1 slice of 10 without any added vegan butter.
Serving Size:

1 slice (of 10)

Calories:

239

Sugar:

24g

Sodium:

156mg

Fat:

5g

Saturated Fat:

4g

Carbohydrates:

47g

Fiber:

2g

Protein:

3g
Keywords: vegan banana bread
Banana Bread Overview
Skill Level: Beginner
Techniques Used: Muffin Mixing Method
Banana bread is one of the easiest recipes you can learn. It is categorized as a "quick bread" meaning that it is leavened with chemical leavening instead of yeast. This means it is very quick and easy to make.
One of the things I love about banana bread is how forgiving it is. The ratios in the recipe are not as finicky as they are in many other baked goods which makes it a very approachable baked good to make.
How Ripe Should Bananas Be for Banana Bread?
To make the very best banana bread you want to start with really ripe bananas. Overly ripe bananas shouldn't be thrown out! Save them in the freezer to make bread!
Ideally you want to use bananas that are turning black and are very soft. Really ripe bananas are going to have the most concentrated banana flavor and the most natural sweetness.
How to Quickly Ripen Bananas
If you do not have really ripe bananas you can quickly "ripen" them in the oven. To ripen your bananas in the oven, leave the skin on and bake them at 300 F (150 C) for about 40 minutes. Allow the oven ripened bananas to cool before making your banana bread.
How do You Make Moist Banana Bread?
To make moist banana bread I use a high ratio of bananas as well as fat in the recipe. You also want to be sure that you are not over-mixing the batter or it will become more tough and dry.
I prefer to use melted butter as the fat because of the flavor it adds and the bread is still plenty moist this way. However, to make banana bread that is even more moist you can use oil in place of butter. Because oil does not solidify at room temperature it keeps the bread extra moist.
Banana Bread FAQ
Can you make this banana bread with self-rising flour?: Yes, you can make this recipe with self-rising flour. Substitute the all-purpose flour for self-rising flour and remove the salt and the baking powder from the recipe.
Does banana bread freeze well?: Yes! Banana bread freezes exceptionally well. To freeze, allow the bread to cool completely. You can then wrap the entire loaf or individual slices in plastic wrap. Freeze for up to 3 months and allow to thaw at room temperature.

Can I make this banana bread with pecans or walnuts?:

Yes! You can use this recipe as a base to make banana walnut bread, banana pecan bread, or even chocolate chip banana bread. Add 3/4 cup- 1 cup add ins during the last step of mixing.
1 3/4 cup (210) all purpose flour
3/4 cup (150 gr) granulated sugar
1/2 tsp salt
2 tsp baking powder
1 1/2 tsp ground cinnamon (optional for additional flavor)
4 medium or 3 large very ripe bananas (you need about 1 1/2 cups mashed banana)
2 large eggs
1/2 cup oil or melted unsalted butter, cooled slightly
1 TBSP vanilla extract (optional for additional flavor)
Preheat oven to 350 F(180 C) and grease or line with parchment paper a 9×5-inch loaf pan.
In a large bowl, combine all of the dry ingredients (flour, sugar, salt, baking powder, and ground cinnamon is using). Whisk together until well combined.
In a separate bowl, peel and mash the bananas. Then add the eggs, oil or melted butter, and vanilla extract is using. Whisk until well combined.
Pour the wet ingredients into the dry ingredients and use a rubber spatula or a spoon to stir the two parts together. This should not take very long, about 20 seconds. Do not over-mix the batter.
Pour the batter into the prepared loaf pan and bake at 350 F (180 C) for 55-65 minutes, until a tester comes out with moist crumbs.
Remove baked loaf from the pan and transfer to a cooling rack.
To store: allow the loaf to cool completely and wrap in foil or plastic wrap and keep at room temperature or in the refrigerator for up to 1 week.
To Ripen Bananas in the Oven: If you do not have really ripe bananas you can ripen them in the oven. Leave them in the peel and bake at 300 F (150 C) for about 40 minutes. Allow them to cool before making the banana bread.
Sign up to get weekly emails with recipes, tips & techniques, and food science directly in your inbox!
Love homemade bread? Check out these great recipes
Homemade Zucchini Bread Strawberry Bread
1 3/4

cups

all-purpose flour

2/3

cup

sugar

2

teaspoons

baking powder

1/2

teaspoon

baking soda

1/4

teaspoon

salt

1

cup

mashed ripe banana

2 to 3 medium bananas

1/3

cup

softened butter

2

tablespoons

milk

2

eggs

1/4

cup

chopped nuts
Preheat oven to 350 degrees. In a large mixer bowl combine 1 cup of the flour, the sugar, baking powder, baking soda, and salt. Add mashed banana; softened butter, and milk. Beat with an electric mixer on low speed till blended, then on high speed for 2 minutes. 

Add eggs and remaining flour, beat till blended. Stir in nuts. Pour batter into a greased 8x4x2-inch loaf pan. Bake at 350 degrees for 55 to 60 minutes or until a toothpick inserted near the center comes out clean. 

Cool for 10 minutes on a wire rack. Remove from pan; cool thoroughly on a wire rack. Wrap and store overnight before slicing.
Banana Bread – you can make banana bread at home, it is easy to make, and tastes wonderful. Calories 239 Calories from Fat 81 Total Carbohydrates 36g 12%* Percent Daily Values are based on a 2000 calorie diet. Total Time 1 hour 10 minutes