Easiest Ever Baked Macaroni and Cheese – this is a go-to recipe of many of my readers and it will become the same for your family!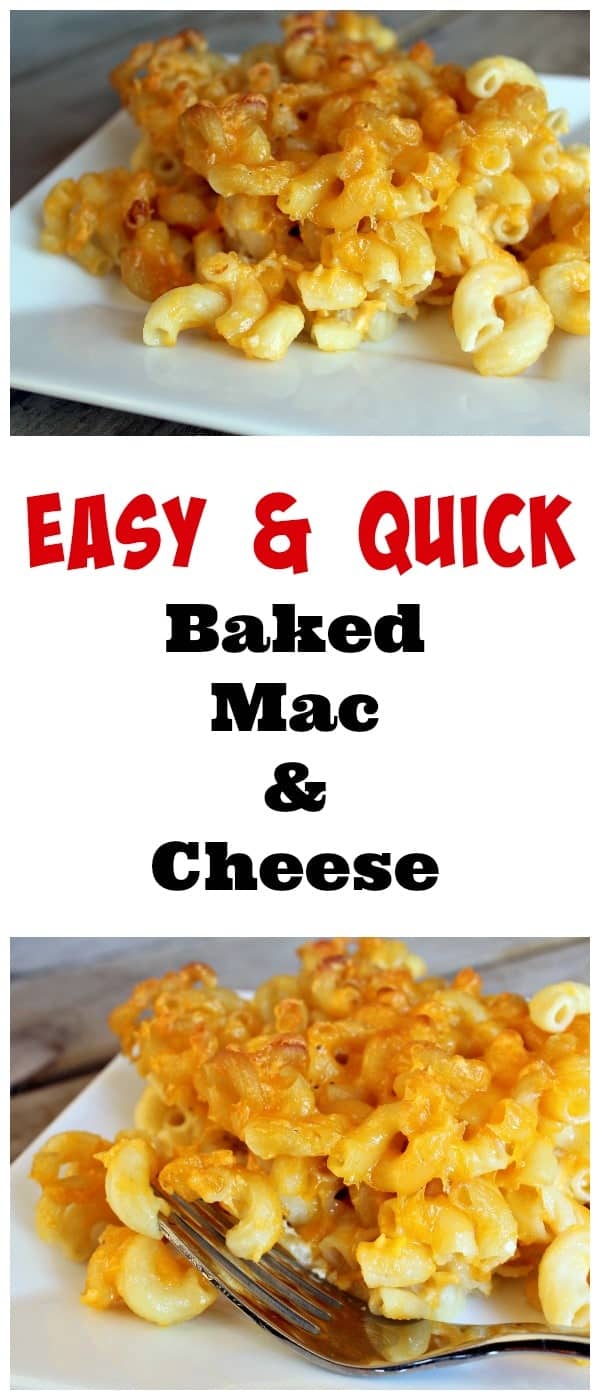 No really.
This is the easiest evvvvvver macaroni and cheese.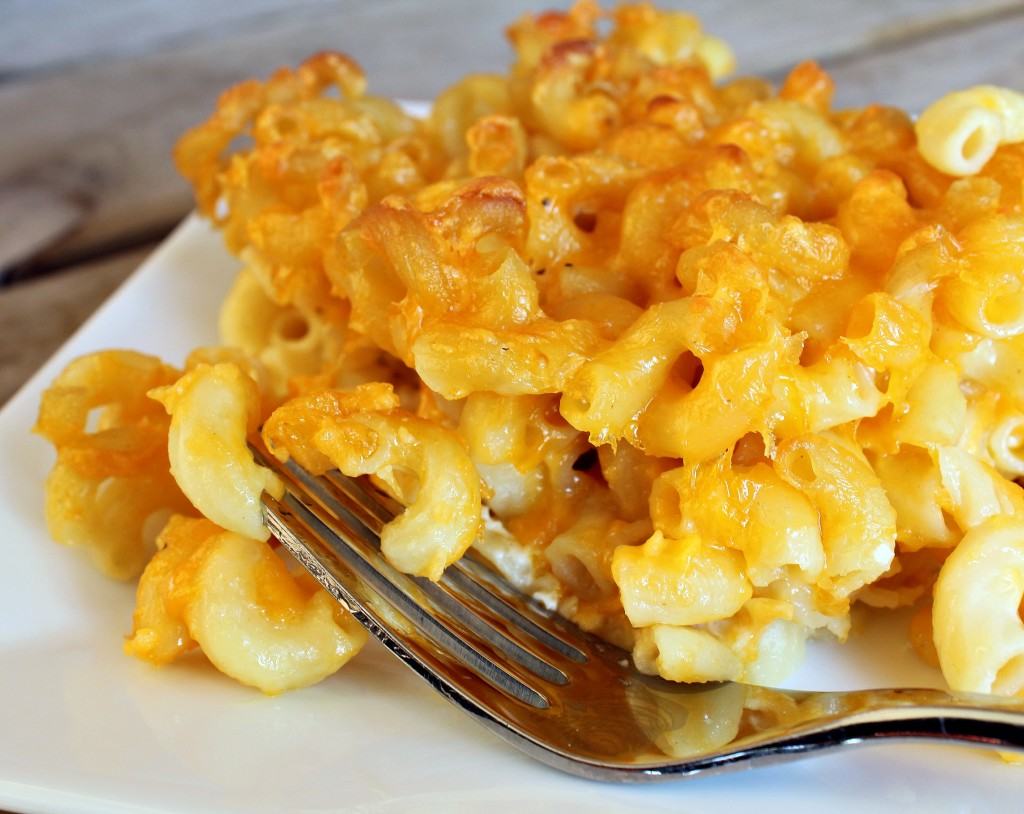 You boil pasta, mix with the cheese and other ingredients, put it in the pan and pour the milk over it. No messing with white sauces or tricky steps. No getting four pots and pans dirty! You can prep it ahead and keep it in the fridge overnight and then it will be ready to bake when you want it! It's a total crowd pleaser. This is a great recipe for busy weeknight meals but also for entertaining.
Enjoy one of our family's favorite meals! I grew up eating this macaroni and cheese and it was always a special day when my mom prepared it. Now I love serving it to my family and I especially love how easy it is to prepare, obviously.
A few notes to answer some common questions –
Sharp cheddar is best (I use extra sharp) – it provides this macaroni and cheese with the maximum amount of flavor.
Grate your own cheese for best results, but it works with pre-grated as well.
Breadcrumbs on the top would be good if that's how you like mac & cheese!
I like my top extra crispy. If you do not, I'd recommend covering with foil for at least the first 30 minutes, up until the entire time.
This can be prepped in full a day ahead (aside from baking) and baked prior to serving.
Whole wheat pasta is awesome in this, and is the way I usually make it.
Watch this 1-minute video to see how to make this baked macaroni and cheese!
Did you make this recipe?   Leave a review »
1 pound (16oz)  elbow macaroni (I often use whole wheat)
1 pound (4 cups) shredded extra sharp or sharp cheddar cheese
2 tablespoons all-purpose flour
¼ teaspoon ground mustard
Salt and pepper to taste
2 cups low-fat milk (whole works great too)
1 1/2 tablespoons butter (optional)
Preheat oven to 375°F. Spray or grease a casserole dish or a 9×13 pan.
Cook macaroni as directed on the package in salted water until tender. Drain when finished cooking.
While macaroni is cooking, combine 2 and 1/2 cups of cheese with dry ingredients (flour, ground mustard, salt and pepper).
Combine cheese mixture with hot macaroni and pour into the greased pan. Pour milk over macaroni. Top with remaining cheese and dot with butter (optional, but recommended).
Bake for 45 minutes or until firm and golden brown. I stick a knife in it to see if the milk is still runny or if it has firmed up.
(Optional) Let sit for 10 minutes before serving to further firm up.
Note: I like my noodles a little extra crispy—as you can probably tell from the photos. If you like a softer noodle, I'd recommend covering this with foil for at least the first 30 minutes of baking.
All images and text ©Rachel Cooks.
Verdict: Best ever baked macaroni and cheese.
Husband's take: He loves this recipe for mac & cheese.
Changes I would make: None – this is the best baked mac and cheese.
Difficulty: So easy. SO SO SO SO easy.
Looking for more macaroni and cheese? I have you MORE than covered!
Try:
One Pan Copycat Panera Macaroni and Cheese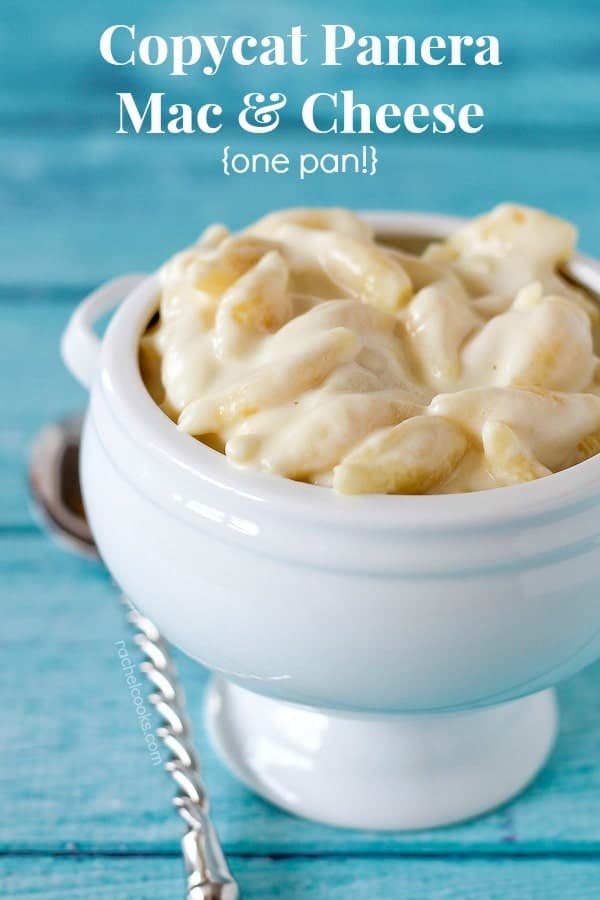 Slow Cooker Macaroni and Cheese
Pizza Mac & Cheese Muffins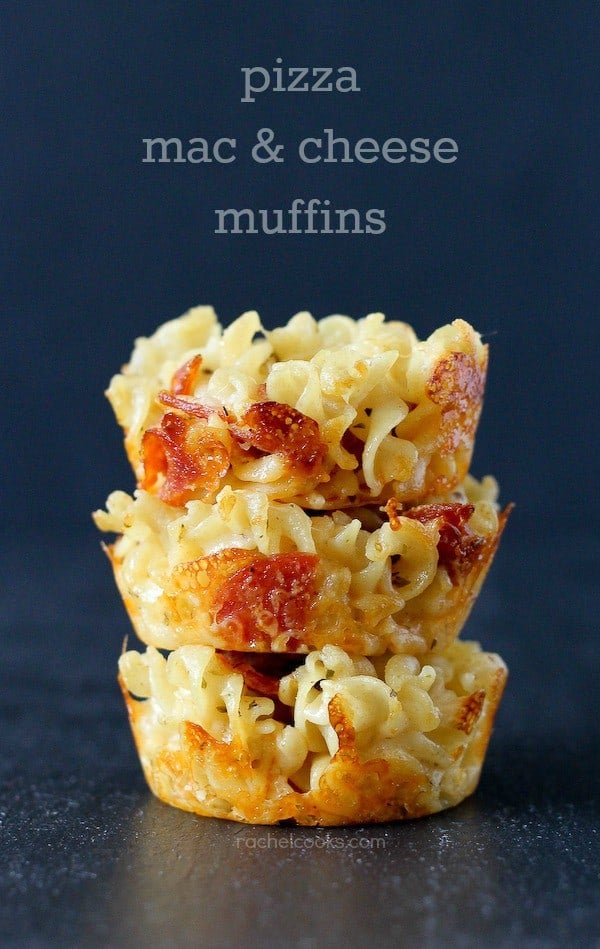 DIY "Easy Mac" (Microwave Macaroni and Cheese)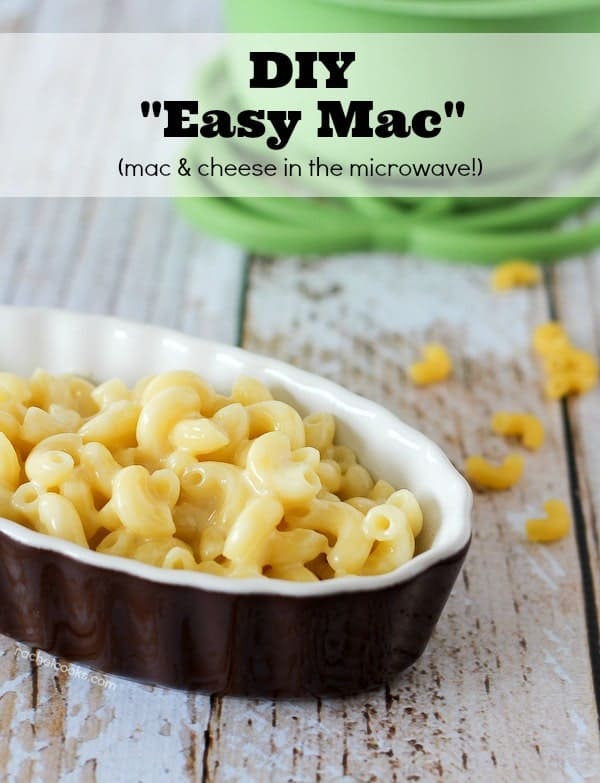 Never miss a recipe! Subscribe to receive new post updates via email and get a FREE ebook filled with 10 of our family's favorite recipes:
When you make a recipe from my site tag it with #RachelCooks! I love to see what you're creating!
Tips for the best macaroni and cheese you'll ever eat
Feel like you may still need some help? If you have time, jump over to this post for the juicy details: 18 Secrets to the Richest, Creamiest Mac and Cheese You'll Ever Eat or focus on these tips:
–Never stop stirring your milk once it hits the pan. If your skillet is too hot or you walk away and for a minute you could scorch the white sauce and it will curdle. It doesn't really hurt the taste, but it will look sort of clumpy. Some readers have called it "grainy". It only takes 5 minutes. Just hang out and stir until that sauce is thick enough to coat the back of your spoon.
–Use good cheese in your baked macaroni and cheese. That means avoiding bagged, pre-shredded cheeses because they contain cellulose (an anti-caking agent) that can in some cases cause your cheese not to melt as it should. -And speaking of cheese, you have so many options! My favorite is sharp cheddar and Swiss.
-Try to choose a melting cheese and a flavor cheese for the best flavor and texture in your baked macaroni and cheese.
–Do taste as you go. Taste your cheese sauce before you add your pasta. Is it bland? That can be because of the cheese you used or even the kind of salt you seasoned with. If it doesn't have enough flavor, add a pinch more salt, stir it in and taste it again until it suits you. -Feel free to add more pasta if you want to. Some people say that this recipe doesn't have enough noodles in it, but I've never had that problem. And yes, you should cook your pasta before adding it to the cheese sauce. Here's the pasta I use at home:
What should I serve with my macaroni and cheese?
I'm a classic Southern girl so I recommend the basics like green beans, homemade meatloaf, and some easy fluffy yeast rolls.  Avoid the temptation to make another starch like mashed potatoes. The macaroni and cheese will fill that role. Watch me make it here:
Watch me make the full recipe on YouTube.
1 1/2

cups

dry elbow macaroni

shells or cavatappi

3

tablespoons

butter or margarine

3

tablespoons

all purpose flour

2

cups

milk

not skim

1/2

teaspoon

each salt and pepper

2

cups

of shredded cheese

I like sharp cheddar and Swiss
Preheat oven to 350 degrees.
Bring a pot of water to a boil; add a generous sprinkling of salt the pasta.
While the pasta cooks, melt the butter in a skillet or pot large enough to hold the pasta when it's done.
Add the flour and stir over medium heat until the mixture is lightly browned; 1-2 minutes.
Add the milk and whisk to remove any lumps and add the salt and pepper.
Cook over medium-high heat until the sauce thickens and starts to bubble. About 6 minutes.
Stir in the cheese and whisk until smooth and melted. Turn off the heat.
When the pasta is almost done but still firm, drain it and add to the sauce.

Stir the pasta into the sauce and bake in a greased 2 quart dish (or an 8×8 pan works pretty well) 20-25 minutes until browned and bubbly. You can also skip baking it if you want it super creamy and just put it under the broiler to brown the top (keep an eye on it) and then serve. 
The thinner the dish, the less the bake time. I used a cast iron skillet and mine was done in 25 minutes. A thicker dish like a 2 quart casserole will take 40 minutes.
To make ahead, cool the pasta and cheese sauce once they have been mixed together, cover with plastic wrap and chill until ready to bake. Up to two days. Bake until hot in the center and bubbling around the edges. 
Baked Macaroni and Cheese Calories 395 Calories from Fat 189 Total Carbohydrates 33g 11% * Percent Daily Values are based on a 2000 calorie diet.
 Baked Mac and Cheese Recipe
We LOVE a good macaroni and cheese. This baked version is our favorite though hands down.
But really, it all comes back to this one. It's easy, cheesy, creamy, and perfect for potlucks or bbqs or the holidays. This recipe can also be adapted so many ways you'll want to make it every week.
How long do you bake mac and cheese:
Macaroni and Cheese is typically baked for 30 minutes in the oven at 350 degrees when using an egg to help set the milk and cheese mixture. If you aren't using an egg, additional cook time will be needed, from 45 minutes to up to an hour.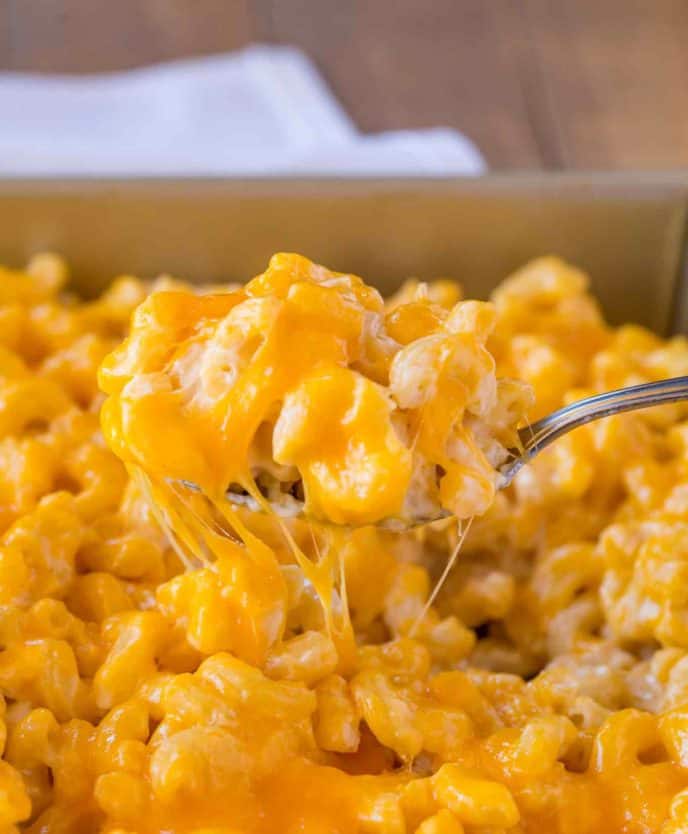 Frequently Asked Questions about Baked Mac and Cheese:
Do you Cover Baked Mac and Cheese with Foil? No, you don't cover it with foil as it will steam the insides instead of giving it a baked texture.
What toppings can you put on baked mac and cheese? We love a good buttered panko or buttered ritz topping. Melt the butter in your skillet then toast the panko/ritz crackers in the melted butter until slightly toasted.
Can you skip adding the egg? Yes, if you would like you can certainly skip the egg, just either cook the milk mixture for an additional 5 minutes or bake the macaroni and cheese for an additional 15-20 minutes.
What are the best cheeses for Mac and Cheese? Sharp cheddar, jack cheese, pepper jack cheese, mozzarella and gouda are all top favorites. Adding a harder cheese like Parmesan as anything other than a topping will result in a grainier mac and cheese filling. Of course any processed cheeses like Velveeta or American cheese are popular options as well to create a more creamy filling.
Can you skip the powdered mustard? Can you substitute regular mustard? I wouldn't do either. Skipping the powdered mustard removes a dimension of flavor that you know but may not be able to single out and adding prepared mustard would be too strong of a flavor.
Can you eat this Baked Mac and Cheese without baking it? If you want to enjoy this without baking, leave the egg out. I'd still at least cover it with the remaining cheddar cheese and broil it under the broiler for a couple of minutes to melt the cheddar. Also be prepared to cook the milk mixture an additional 6-8 minutes to account for the lack of baking.
Can I use pre-shredded cheese? I highly recommend against it for anything but the topping. Pre-shredded cheese has added ingredients in it which help to prevent the cheese from naturally sticking together. This also creates a less smooth and creamy texture to your macaroni and cheese.
Why do you rinse the pasta? I rinse the pasta in this recipe to remove the starchy coating that is in pasta water. We don't need any help in thickening our cheese mixture. I also let the pasta cool because using hot pasta is like adding a sponge to your mixture. Freshly cooked pasta finished in sauce is generally so delicious because hot pasta likes to soak up any liquids it can.
Can you make Macaroni and Cheese in the slow cooker? Yes, yes  you can: Slow Cooker Mac and Cheese.
Can you make Mac and Cheese on the stovetop? Yes, yes you can: Super Creamy Macaroni and Cheese.
Does this Mac and Cheese taste like Boston Market's? No, it doesn't, but this one does! Boston Market Mac and Cheese (Copycat)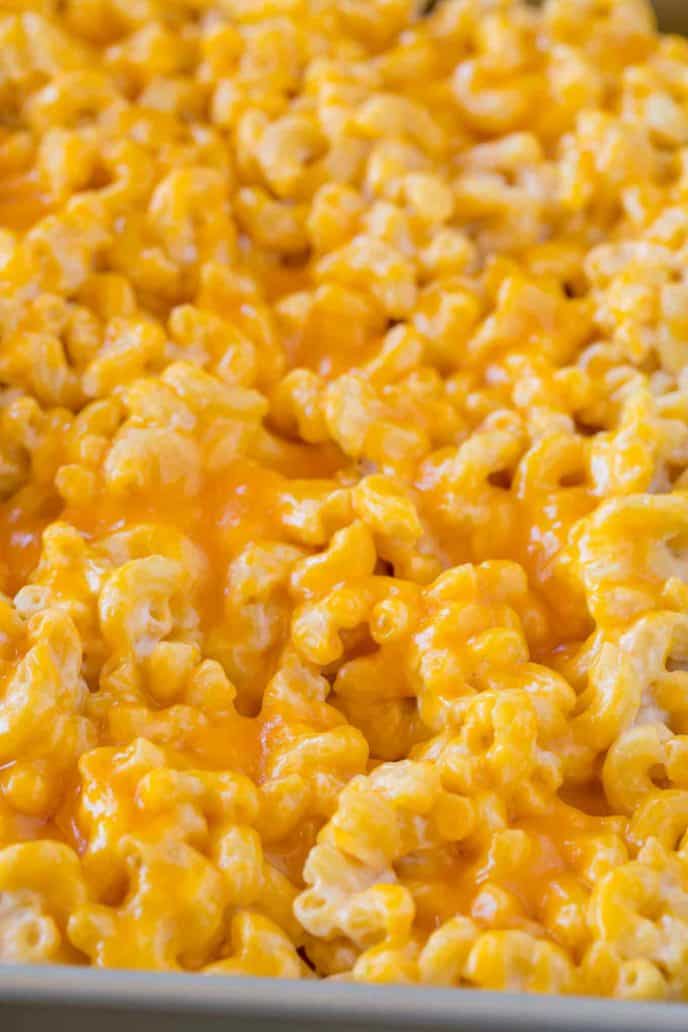 Additional Flavor Mix-In Ideas for Baked Mac and Cheese Recipe:
Bacon: This wouldn't be my site if I didn't immediately offer bacon as an option.
Jalapeño Popper Mac and Cheese: I use either fresh (for more of a punch) or pickled jalapeños, bacon, and 8 ounces cream cheese cut into larger cubes and dotted on top.
Tex Mex Mac and Cheese: Swap the mozzarella for pepper jack. Add in a can of diced chilis (4 ounces) and roasted corn. Also add 1/2 teaspoon more cayenne powder, 2 teaspoons cumin and 2 teaspoons chili powder.
Italian Mac and Cheese: Add in 1 teaspoon dried oregano, 1 teaspoon dried basil and minced garlic (3 cloves) to the butter mixture in the beginning. Swap the sharp cheddar for white cheddar cheese and top with shredded Parmesan cheese in addition to the white cheddar cheese.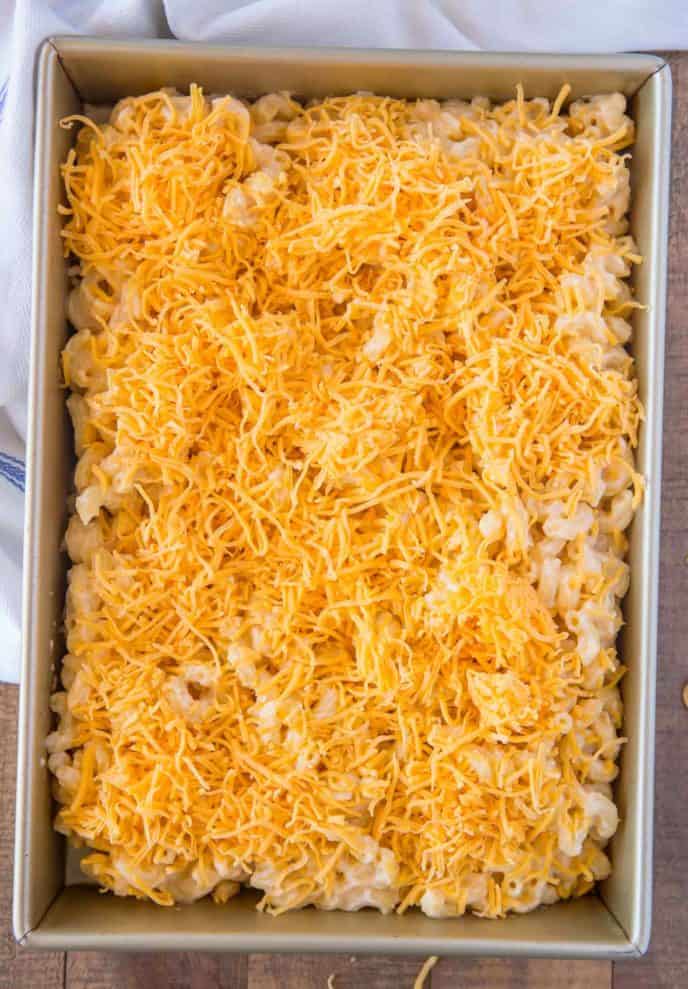 Save Recipe
Yield:

12

Servings

Prep Time:

30

minutes

Cook Time:

30

minutes

Total Time:

1

hour

Course: Side Dish
Cuisine: American
1

pound

elbow macaroni

1/2

cup

unsalted butter

1/2

cup

flour

2

teaspoons

powdered mustard

1/2

teaspoon

cayenne pepper

1

teaspoon

paprika

6

cups

milk

2

teaspoons

kosher salt

1/2

teaspoon

coarse ground black pepper

1

large egg

4

ounces

Monterey jack cheese

4

ounces

mozzarella

12

ounces

sharp cheddar

divided
Note: click on times in the instructions to start a kitchen timer while cooking.
Pre-heat the oven to 350 degrees.
Shred the cheeses, keeping 2 cups of the cheddar off to the side for the topping.*
Cook the pasta two minutes shy of the instructions, rinse and let cool. (We don't want the extra starch of the water making the mac and cheese too thick)
Add the butter to a large stockpot and melt on medium-low heat.
Add the flour, mustard, cayenne and paprika and whisk together until fully combined, cook for an additional 15 seconds.
Add the milk slowly while whisking to keep the mixture well combined.

Add in the salt and pepper and cook for an additional 5 minutes.

Remove 1 cup of the milk  mixture and let cool for a 3-5 minutes in the refrigerator in a larger glass measuring cup or bowl.

Add the egg to the cooled milk and whisk it well until fully combined.
Turn the heat on the pot back on to medium-low.
Slowly pour the egg and milk mixture into the rest of the milk while whisking very well.**
Add in the Monterey jack, mozzarella and 1 cup of the sharp cheddar and whisk until combined.
Add the cooled macaroni back into the pot and toss with the cheese sauce.
Pour into a 9×13 baking dish and top with the remaining 2 cups of shredded cheddar cheese.

Bake for 30 minutes, uncovered.
* I use blocks of cheese for my mac and cheese because shredded cheese is coated in a powder that prevents the cheese from sticking to each other. This also results in cheese that may not melt as fully and result in as creamy of a texture as we'd like.
** Removing the cup of milk, cooling, then adding in the egg allows for us to temper the egg which prevents it from immediately scrambling in the hot milk mixture.
All images and text © for Dinner, then Dessert, Inc.
Save Recipe