There's something about making baby food that can feel impossible. First you have to choose what to offer (seems simple, but choosing foods can take ages!). Then you have to decide which gadget is best for pureeing and which BPA-free safe-for-baby teeny tiny containers to use for storage. And this is all before you figure out how much makes a serving. Here's the thing. Making homemade baby food is not impossible. At all. You already have been feeding your baby! And you'll be feeding your kid for many years to come. So what's a little baby food? Before you know it your babe in arms will be eating whatever everyone else at the table is eating—just in smaller amounts. So savor this moment. The following tips should help to demystify the process of making homemade baby food and even make it fun.
EASY DOES IT.  Take a banana. Unpeel. Break off the tip and mash it with a fork in a glass (very safe for baby!) bowl. Add a little breastmilk, formula, or filtered water to thin it out. Congrats: You just made homemade baby food. That wasn't hard, was it? Use this same "recipe" with an avocado. (Eat the rest of the avocado on toast with a little salt. You deserve it after all of your hard work.)
GET INTO IT.  Chances are you have had zero time to cook beyond the basics since the baby was born. Think of this as your chance to get back to it! Relish the menu planning. What would your baby like? Is it the middle of the summer and you're all sweltering? Make a puree popsicle! Add garden herbs for flavor! The more flavor the better; the goal is a kid who happily eats a wide variety of nutrient-dense foods.
IT'S OK TO RELAX. Gone are the days of delaying foods in an effort to prevent allergies in kids — as long as they're healthy. So mix things up. Let them taste what you're eating. Delight in the faces they make as they experience so much newness.
LESS IS MORE. You don't have to go out and buy baby-specific gear; they outgrow it so quickly. Glass, stainless steel, or lead-free ceramic bowls you already own work well to feed babies from. To puree, pull out your ricer, potato mill, food processor, or blender. Reuse glass jelly jars for storage. Stainless steel ice trays are just the thing for freezing single servings.
DOUBLE UP! Eating grains for dinner? No need to make the babe something separate. Just put aside a portion of quinoa, barley, brown rice, or whatever you're making for her before you add too much salt. Putting aside a little of whatever you're cooking means you'll have a good stash of grains, veggies, meat, and fruit purees in the fridge at all times.
CHOOSE ORGANIC You knew we were going to say that, right? You'll limit your baby's intake of persistent pesticide residues and so much more.
STILL WANT ACTUAL HOW TO ADVICE?

Pick what you're going to feed the baby. Cut into small pieces.
Steam or boil, then puree, using the cooking water or filtered water (or breast milk and/or formula if you're just starting out) to thin it some. Your baby will tell you when they can handle chunkier purees versus smoother ones (i.e. they won't gag!). You cannot mess it up. If the resulting puree is too thin, just mix it into oatmeal or amaranth. If it is too thick, add more liquid.
If you prefer to bake (like a winter squash or a yam) instead of steam, go for it. Just scoop, then add liquid to puree.
  Enjoy!
How to Store:
Spoon purée into crevices of freezer tray (link to freezer tray at end of post)
Freeze overnight
Remove from freezer tray. Add to ziploc freezer bag with date
Remove from ziploc bag when ready to use
Reheat in microwave or stovetop when ready to serve
I absolutely loved this freezer tray. Each crevice holds 1 ounce of food, so if I wanted to reheat 4 ounces of baby food, then I'd remove only 4 blocks. The half circle shape also made it easy to push out of the tray. A plus was that this freezer tray had a lid, so I didn't have to worry about anything contaminating the food.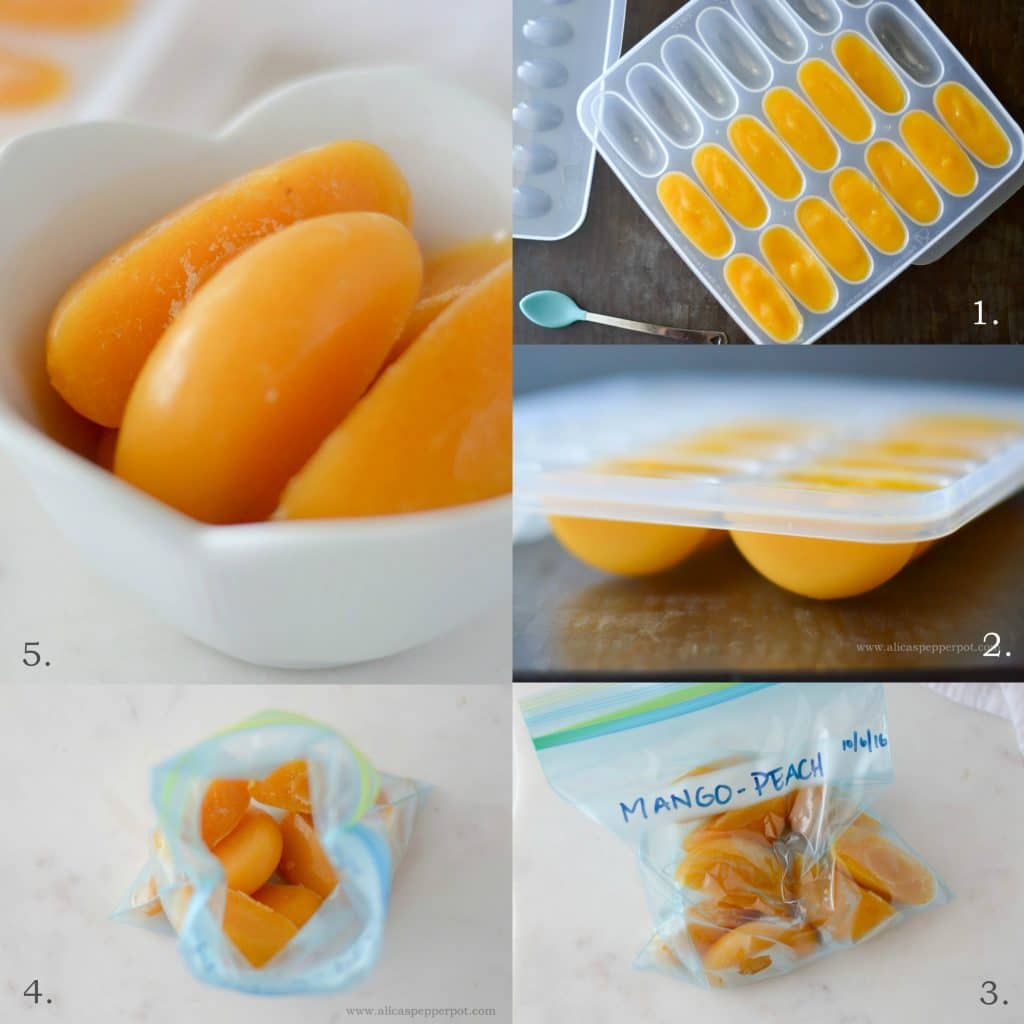 Cooked Purée
Most purées I made were cooked. This takes a couple of extra steps, but again, worth it when baby is hungry and all you have to do is reheat the food. This sweet pea purée is more of a stage 2 purée as it is slightly chunky in texture.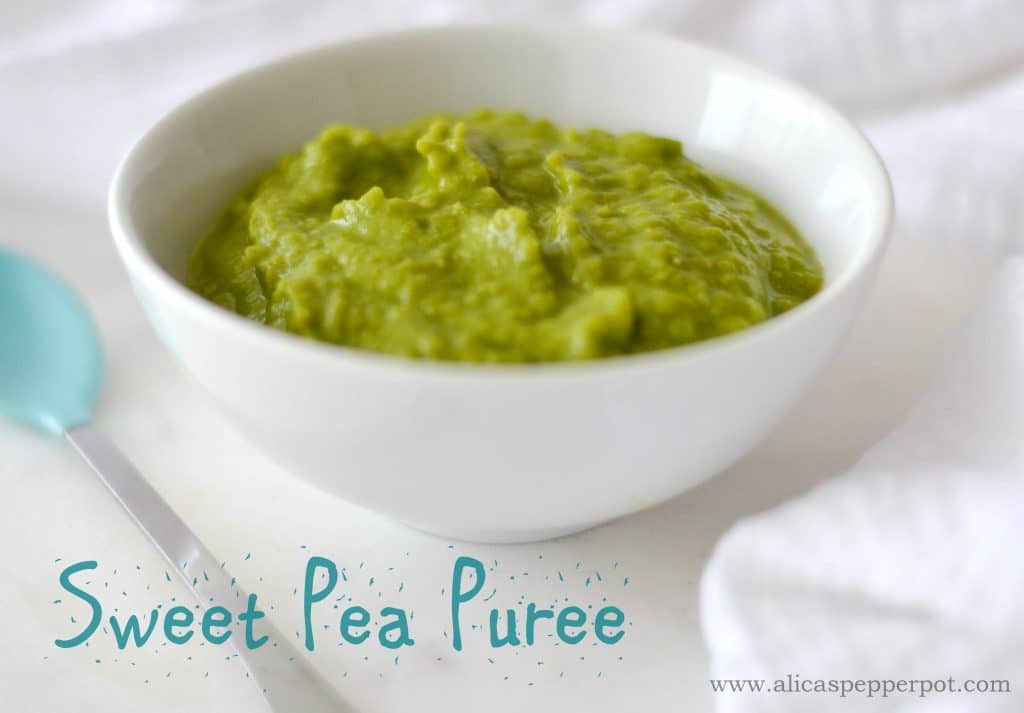 Method
Start with 1lb fresh sweet peas
Steam sweet peas until completely cooked
Add to food processor with 1/2 cup water (add more depending on desired consistency). Purée until smooth.
Let cool then fill crevices of freezer tray
Follow steps from mango-peach purée on storage and reheating.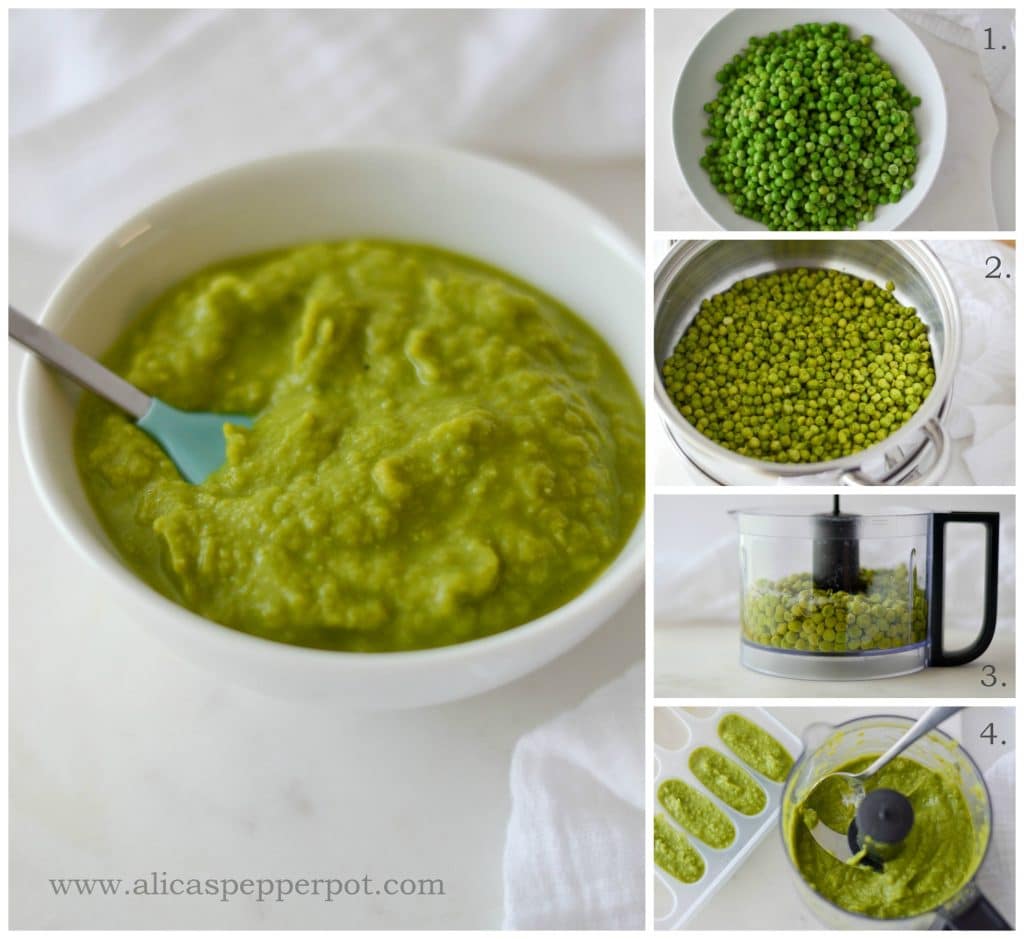 Storage Options
With my older son, I only used freezer trays and glass jars to store his food, but by the time my second son was born and ready for food, a lot of new products were on the market. One of which included pouches that could be filled with homemade food. I was quite excited for this as it was a game changer. I used it for a short time since he wasn't on purées for very long. Of these options, I'd highly recommend the freezer trays and pouches. The glass jars are great for reheating the frozen blocks.
Mumi & Bubi Freezer Trays
Sage Spoonfuls Glass Jars
Infantino Squeeze Station Pouches
My older son is now 3 years old and my youngest, 15 months. These are the methods I used to make their food when they were little. I hope you will find this post useful or inspiring if you don't know where to start!
Mango + Peach Puree & Sweet Pea Puree
Ingredients
1lb fresh mangoes
1lb fresh peaches
1 lb sweet peas
1/2 -3/4 cup water
Instructions
Peel and chop mango and peaches. Add all fruit to food processor. Pulse until smooth.
Spoon puree into freezer trays or pouches. Freeze overnight. Reheat to desired temperature when ready to serve.
For sweet pea puree: rinse and steam peas until completely cooked. Add peas and water to food processor. Pulse until desired texture is achieved.
Notes
Best for ages 5-6 months+
https://www.alicaspepperpot.com/how-to-make-store-homemade-baby-food/
Disclosure: Please consult with your child's pediatrician about making homemade baby food and when to start feeding your baby solids. 
Did you make and store baby food for your little ones? Please feel free to share what your process was like below.