Apple Pie Recipe For One, a classic recipe for homemade apple pie made with a flaky crust and sweet juicy apples. This single serving pie recipe provides you with a great apple pie dessert without the leftovers.
Click HERE to sign up to receive new recipes in your inbox! Jump to Recipe
I don't think there are many desserts that are more comforting than apple pie. In fact, an apple pie recipe made from scratch is a treasure.
Today I'm sharing a great single serving apple pie recipe that I'm sure you'll love. This pie recipe comes complete with a fool-proof crust recipe that's just the right size for this mini pie.
RELATED: 40 Easy Recipes For College Students
What do you need to make Homemade Apple Pie Filling:
This recipe is pretty easy and ready in about 30 minutes, you will need only a handful of ingredients and spices:
Apples – use your favorite apples.
Lemon juice – to prevent apples from browning.
White and brown sugar – if you a looking for a lighter in color filling, replace the brown sugar with white sugar.
Cinnamon, nutmeg, cloves, all spice – to add delicious fall flavors.
Water
Cornstarch – acts like a thickening agent and it cuts down in time, otherwise to thicken the apple pie filling you would need more sugar and the cooking time would be much longer.
Apple Butter Cake
Slow Cooker Apple Cider
Caramel Apple Madeleines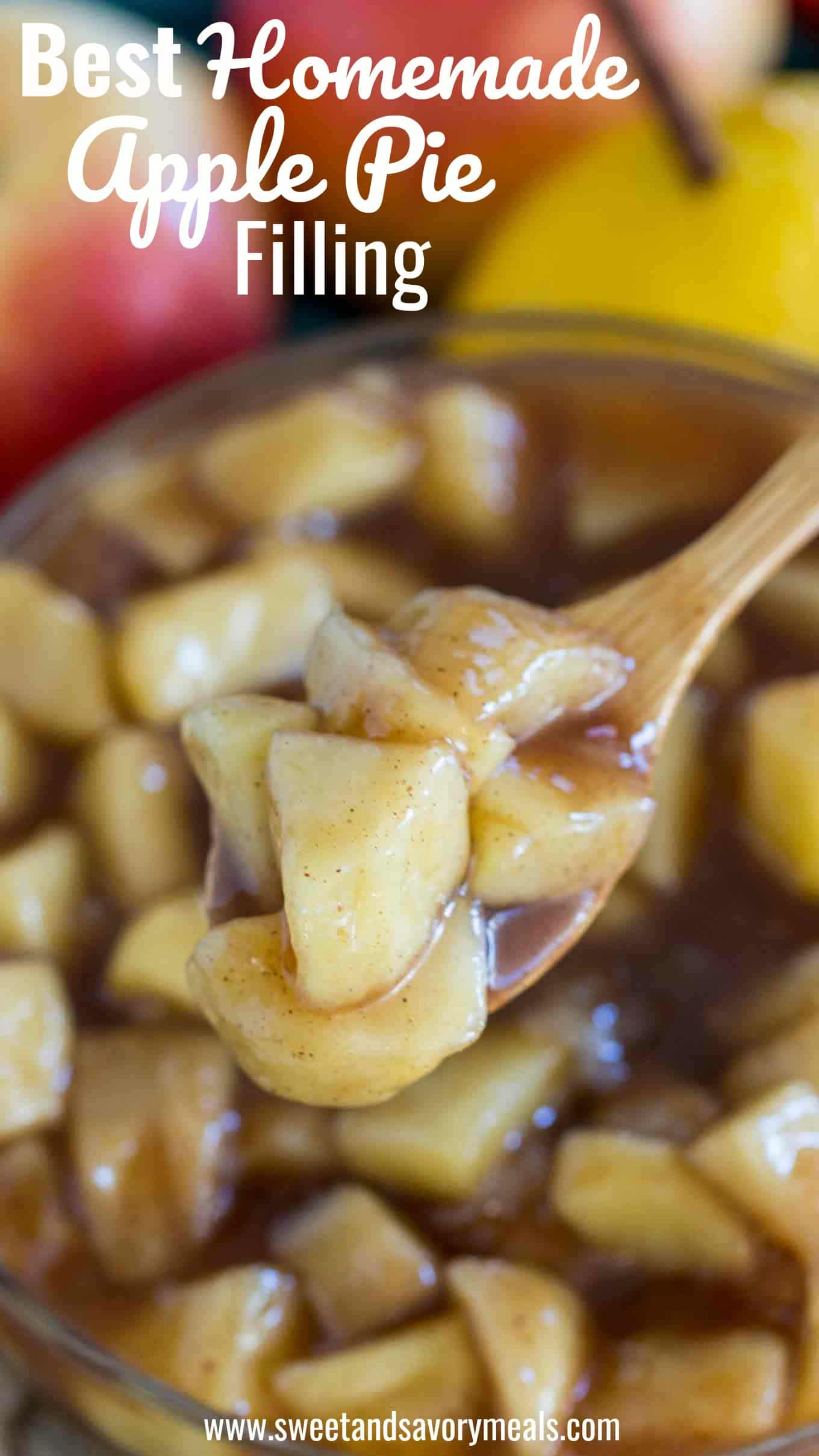 Technically you can use any apples, but I prefer to stick to widely available Gala, Fuji, Red Delicious or a mix of these. Honeycrisps, Granny Smith and Melrose are also delicious options. As a rule of thumb, for the best pie, choose a mix of sweet and tart apples, to have the best of both worlds.
How do you make apples for apple pie filling?
You have to wash and peel the apples. After that, you have to core them and either slice them or dice them, whichever you prefer more. I like to cut mine into 1 inch chunks so they maintain their shape and texture better.
After you diced the apples, add them to a large bowl and squeeze one lemon over top.  Also, you can drizzle with some store-bought lemon juice, stir to combine. This is done to avoid the apples from turning brown.
How to water bath can Homemade Apple Pie Filling:
After you peel, core and slice the apples, it is preferred to blanch them for 1 minute in hot boiling water. This is to ensure that the apples will be cooked through.
Transfer to a bowl, drizzle with lemon juice, and add the lemon zest if using. Follow the recipe instructions from the recipe card to prepare the apple pie filling.
Prepare the boiling water canner. Heat 2-3 (2 cups each) jars in simmering water until ready for use, but do not boil. Make sure the leads are clean.
Ladle the hot apple pie filling into the hot jars leaving about 1 inch headspace. Look for air bubbles and remove them, wipe the rim and jar clean. Center lid on jar and apply band until fit is fingertip tight.
Process jars in a boiling water canner for 25 minutes.
Remove jars and completely cool, preferably on a cooling rack.
Check lids for seal after 24 hours, they should not flex up and down when center is pressed.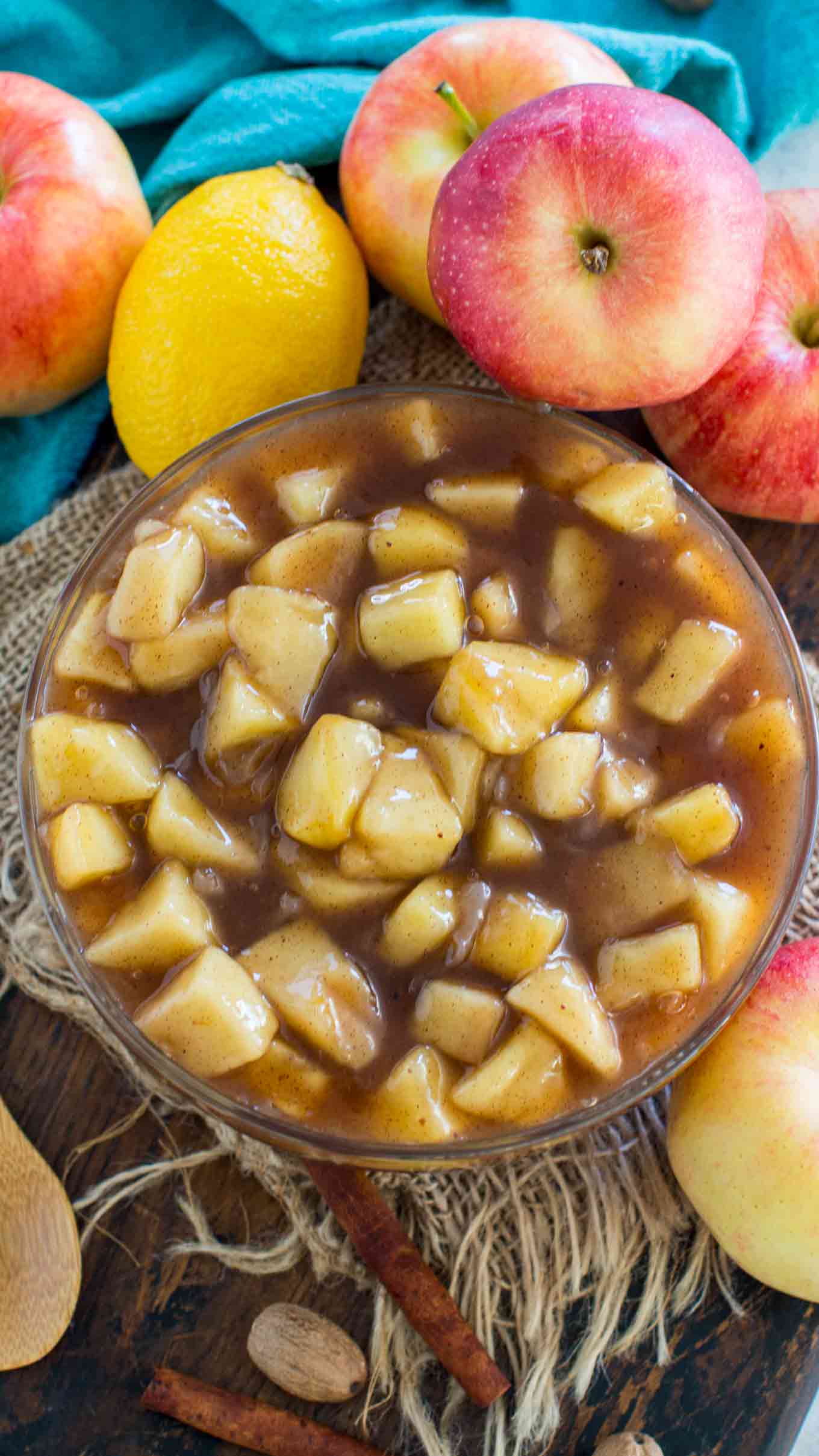 How to store Homemade Apple Pie Filling:
Let the filling cool to room temperature first, transfer it to jars or to an airtight container and store in the fridge for 10-14 days.
How to freeze Homemade Apple Pie Filling:
First, cool the apple pie filling to room temperature. Then, add it to an airtight container, or freezer gallon bags (lay them flat in the freezer).  You can freeze the filling for up to nine months with minimal loss of flavor.
How to thaw Homemade Apple Pie Filling:
When ready to use, remove the apple pie filling from the freezer, and transfer to the refrigerator to thaw gradually for 24 hours, or you can add it to a sauce pan and heat it up.
If you decide to heat it up, and the filling is too watery, mix 2 tablespoons of cornstarch with 2 tablespoons of water in a small bowl until fully dissolved and add the slurry to the apple pie filling.
Stir to combine, and let it simmer for 2 minutes, until it thickens. When the filling will cool off it will thicken more.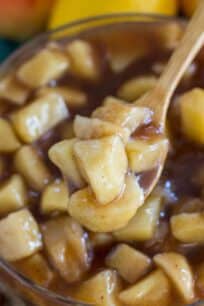 6

medium

apples or 7 cups chopped

peeled, cored, and diced – 7 cups chopped

1

lemon

zested and juiced

3 1/2

cups

water

1

cup

white granulated sugar

1/2

cup

light brown sugar

packed

1/3

cup

cornstarch

plus more if needed

1

teaspoon

ground cinnamon

1/2

teaspoon

ground nutmeg

1/4

teaspoon

ground cloves

pinch

all spice

optional

1/4

teaspoon

salt
Wash, peel and core apples. Chop them into 1 inch chunks.
Add chopped apples to a large bowl and add lemon juice and lemon zest. Stir to combine.
Place a medium saucepan over medium heat and add: water, white sugar, brown sugar, cinnamon, nutmeg, cloves, all spice, cornstarch and salt. Stir to combine.
Bring to a boil while stirring often, and boil for 2-3 minutes.
Add the apples, reduce heat from medium to low, cover saucepan with a lid and let the apples simmer for 6-8 minutes, or until apples have soften, but are nut mushy. Stir often.
If the filling is too watery for your taste, in a small bowl mix 2 tablespoon of cornstarch with 2 tablespoons of water until fully dissolved and add the slurry to the apple pie filling, simmer for 2 minutes to thicken. Keep in mind that the filling will thicken more once completely cooled, so while it may look a bit watery when hot it will thicken more.
Cool apple filling to room temperature, transfer to an airtight container or jars and refrigerate. The mixture will thicken more as it cools.
Calories: 218, Sodium: 75mg, Potassium: 162mg, Carbohydrates: 56g, Fiber: 3g, Sugar: 46g, Vitamin A: 1.3%, Vitamin C: 14.5%, Calcium: 2.6%, Iron: 1.8%
Show me what you made on Instagram and tag me at @sweetnsavorymeals or hashtag it #sweetandsavorymeals.
Peas and Peonies, LLC. owns the copyright on all images and text and does not allow for its original recipes and pictures to be reproduced anywhere other than at this site unless authorization is given. If you enjoyed the recipe and would like to publish it on your own site, please re-write it in your own words, and link back to my site and recipe page. Copying and/or pasting full recipes to social media or personal blogs is strictly prohibited. Sharing this recipe is very much appreciated and encouraged. Read my disclosure and privacy policy. This post may contain affiliate links.
Pre-Cooked Filling for Foolproof Apple Pie
I first read about par-cooked apple pie filling in Joy of Cooking, and have since come across several recipes that utilize a similar method.
The premise is the same in each: simmer apple slices on the stove with sugar and spices until tender (but not falling apart) and their released juices thicken. Then, just cool the filling to room temperature, fill the pie crust, and bake until golden.
It's that easy. And, frankly, foolproof. No more undercooked apples! No more gap in the crust! Say goodbye to overly-juicy pies! (How did this not occur to me sooner?)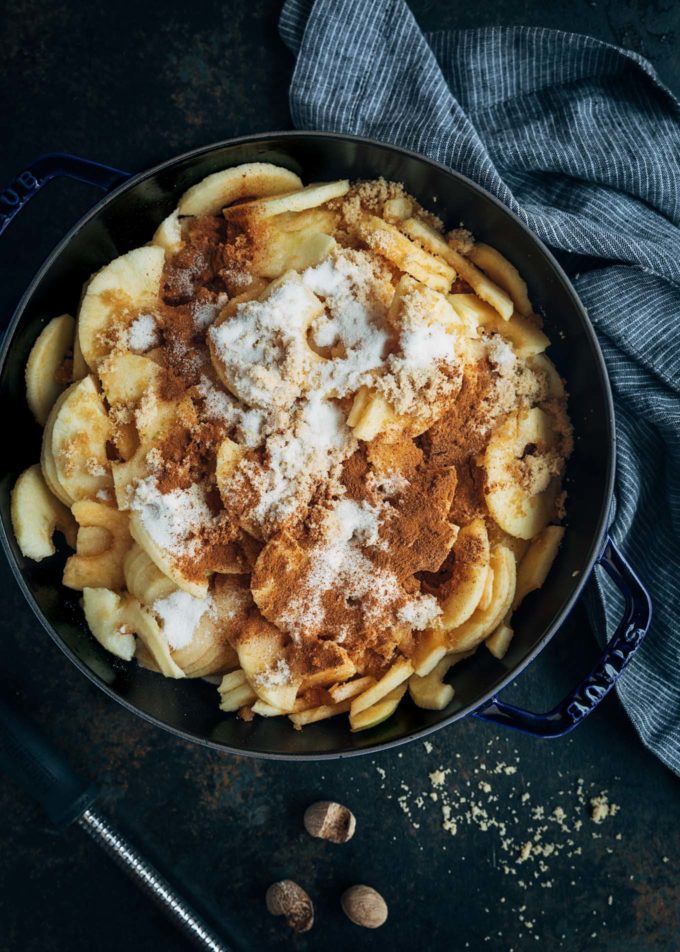 The Best Apples for Apple Pie
Particularly when par-cooking the filling, you want to choose an apple that isn't going to quickly break down into applesauce. There are several different varieties of apples to choose from that will retain their shape.
I prefer my apple pie to be on the sweeter side, so I tend to shy away from Granny Smith. My favorite combination of apples is sweet "Jonathan" with sweet-tart "Cameo," both of which I'm able to find at my local orchard in the fall. I also love using Fuji apples.
As the apples are cooking on the stove, I add a bit of apple cider to the pot. It ups the flavor ante a bit and brings a nice depth to the fruit's natural glaze.
Complement this with Saigon cinnamon, freshly-grated Grenada nutmeg, a little brown and white sugar, and an all-butter crust, and you have a truly gorgeous apple pie. It smells so good, your nose will be practically pressed up against the oven door while it's baking.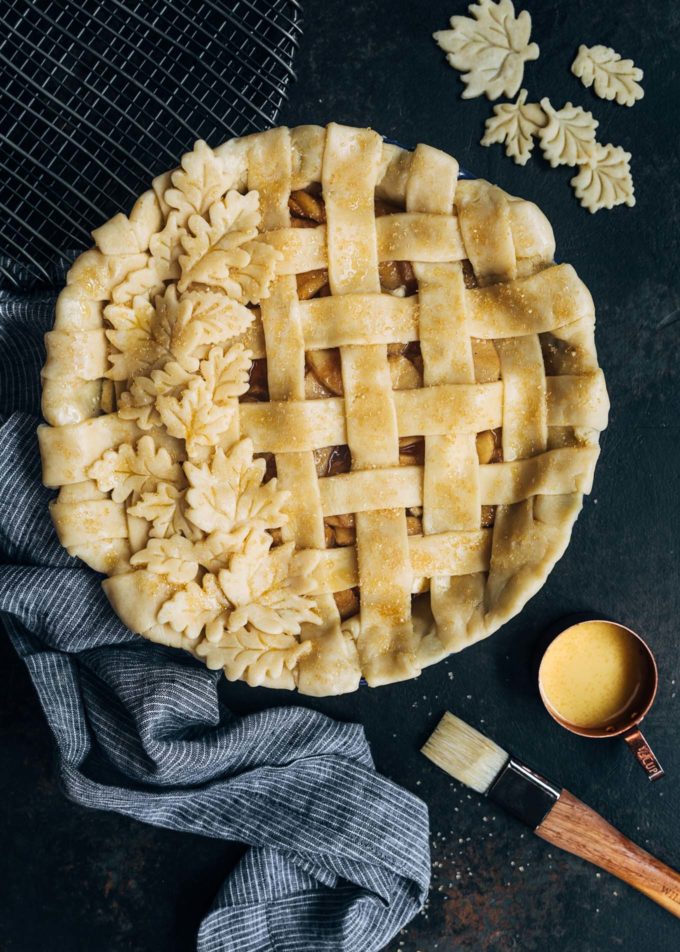 Serving Homemade Apple Pie
If you're an apple pie purist, this pie is incredible to enjoy on its own, just slightly warm. It's also a prime candidate for the à la mode  treatment. I love French Vanilla or Vanilla Bean ice cream.
A dollop of bourbon-spiked whipped cream is also a good choice. You could also drizzle the pie (and/or ice cream) with a bit of my Apple Cider Caramel for a decadent finishing touch.
No matter how it's served, this apple pie is sure to be a sweet (and stress-free) ending to any holiday meal!

Complete dessert with a wine pairing! Hugh Preece, Sommelier and Italian Wine Ambassador – Vinitaly Academy, suggests enjoying:
G.D. Vajra – Moscato d'Asti DOCG, Piedmont, Italy
"Beautiful soft color with green reflections, Aromatics of yellow and exotic fruits, herbs, and spice, Delicate and persistent bubbles on the palate, baked melon, lime sorbet and biscuit, well-balanced, flexible Moscato. Creamy and lightly mouthwatering finish."
Ingredients
For the crust
1

pound (4 sticks) butter, softened

3/4

cup white sugar

1/2

cup brown sugar, packed

2

teaspoons vanilla

4

cups all-purpose flour

1

and 1/2 teaspoons kosher salt

1/2

cup chopped walnuts or pecans

1

teaspoon cinnamon (or up to 2 teaspoons)

1

teaspoon nutmeg
For the apple mixture
3

pounds of a variety of apples, peeled (Golden Delicious and Granny Smith are what I used)

2

tablespoons fresh lemon juice

1/4

cup white sugar

1

teaspoon cinnamon

1/2

teaspoon nutmeg

4

tablespoons (1/2 stick) butter
Line a 9×13 inch pan with parchment paper. (This is optional. It makes it really easy to lift the bars out of the pan and slice them.) 
In a large bowl or stand mixer, beat 1 pound of butter until smooth and creamy. Add 3/4 cup sugar, 1/2 cup packed brown sugar, and 2 teaspoons vanilla and beat for 1-2 minutes, remembering to scrape the bottom and sides of the bowl. It should be light and creamy. 
Add 4 cups of flour and 1 and 1/2 teaspoons salt. Beat until just combined. Do not over mix. 
Add about 2/3 of the dough to the prepared pan. (Leave the remaining 1/3 of the dough in the bowl; we're not done with it yet)
Flour your hands lightly and press the dough into the bottom and up the sides of the pan. The crust should go about a half inch up the sides of the pan. Use a glass or a measuring cup to press the edges and bottom. 
Refrigerate the crust for 20 minutes. Don't skip this step! Cold shortbread going into a hot oven is what makes for amazing, tender crusts.
Preheat your oven to 375 degrees F. 
Bake the crust for about 18 minutes, until the the crust is golden brown. Set aside. Lower the oven temperature to 350 degrees F. 
Meanwhile, add the walnuts (or pecans) to the remaining dough in the mixing bowl. Add 1 teaspoon cinnamon and 1 teaspoon nutmeg. (The spices are totally up to you; add as little or as much as you like)
Mix on low speed just until combined. Cover the bowl and stick it in the fridge. 
For the apple filling, start by prepping your apples. You can use any combination of apple flavors that you like. A variety is always best for baking. (Granny Smith, Fuji, Golden Delicious, Pink Lady are all good options. I used half Golden Delicious and half Granny Smith.)
Squeeze about 2 tablespoons fresh lemon juice into a large bowl.
Peel the apples, core, and cut into 1/8 inch slices. See photos for my method. The thinner you slice them, the better!
As you slice the apples, toss them into the bowl with the lemon juice and mix around to coat them. Stir every couple minutes as you are slicing. This will stop your apples from getting brown.
In a large 10 or 12 inch skillet, melt 4 tablespoons butter over medium heat. Add the sliced apples (and any juice in the bowl), 1/4 cup sugar, 1 teaspoon cinnamon, and 1/2 teaspoon nutmeg. (Again, the spice level is totally up to you. Some people don't love nutmeg and you can just omit it entirely if you want.)
Simmer the apples over medium heat, stirring often, for about 12-15 minutes. If it looks like they are boiling too hard, lower the heat to medium-low. When the apples are tender and the liquid has mostly evaporated, turn off the heat. 
Pour the apples into the baked crust, leaving a half inch border along the edge.
Get the remaining crust dough out of the fridge. Use your fingers to pinch medium pieces of dough and drop them over the apples (see photos). 
Bake at 350 fro 25-30 minutes, until the top is golden brown. Cool and cut into bars. OR don't cool, cut out a falling-apart-piece right away, and top it with vanilla ice cream and My Favorite Caramel Sauce. You really can't go wrong here!
by The Food Charlatan
Apple Pie Crust Recipe
The pie crust is made from a simple crust recipe that I created when making my Chicken Pot Pie For One. This pie crust recipe provides the perfect amount to line a single mini pie pan.
I happen to love my mini pie pan, by the way. I use this pan all the time and I love that the bottom is removable which makes it easy to use.
Pro tip: Don't fear the dough. You'll only need flour, sugar, salt, butter, and water to make a perfect, buttery crust and it's super easy too.
If you don't want to make a pie crust, use my crushed graham cracker pie crust recipe instead.
RELATED:  15 Easy Single Serving Dessert Recipes
Apple Pie Filling
The apple pie filling is a simple mix of chopped apples, sugar, cinnamon and a bit of lemon juice mixed together and spooned over the crust.
Bake the pie for about 20 minutes or until the crust is golden brown.
If you add a scoop of vanilla ice cream to the pie, you'll have yourself the ultimate apple pie for one!
I use a 4.75-inch round tart/quiche pan or a 1-cup ramekin for this recipe. For best results use a dish of similar size.
If you would like additional information on the cooking and baking dishes I use in our "recipes for one", please visit our FAQ page.
For examples of the dishes used at One Dish Kitchen, please visit our Store page.
RELATED: Single Serving Comfort Food Recipes
Recipe: Apple Pie for One
1

apple

, peeled, cored and chopped

1

tablespoon

sugar

1/2

teaspoon

cinnamon

1

teaspoon

lemon juice
2½

tablespoons

all-purpose flour

¼

teaspoon

sugar

pinch of salt

1

tablespoon

butter

, chilled – plus 1 additional tablespoon butter, chopped to dot on top of apples

1

teaspoon

ice water
Heat oven to 375 degrees F.

Toss the apple slices into a large bowl and stir in the sugar, cinnamon and lemon juice. Let sit while you prepare the dough.
In a small bowl, combine the flour, sugar and salt.
Using a fork, cut in the butter until the mixture resembles wet sand.
Add the water and stir to form dough.
Transfer the dough to a cutting board and roll into a ball.
So the dough doesn't stick, sprinkle a little flour on the cutting board and on the ball of dough and using a roller or a large glass, roll out the dough to form a circle.
Lightly oil a small tart or pie pan. Fit the crust into the pan. Poke the bottom of the pie crust with a fork a few times.
Pour in apples and dot with butter.
Bake for 20 minutes or until crust is golden brown.
Calories 317 Calories from Fat 99 Total Carbohydrates 53g 18% * Percent Daily Values are based on a 2000 calorie diet.
The information shown is an estimate provided by an online nutrition calculator. It should not be considered a substitute for a professional nutritionist's advice.
This post contains affiliate links.  If I like a product and that product has an affiliate program, then I will link to that product using an affiliate link.  Using an affiliate link means that, at zero cost to you, I might earn a commission on a product if you buy something through my affiliate link. Click here to read my full disclosure policy.
We are a participant in the Amazon Services LLC Associates Program, an affiliate advertising program designed to provide a means for us to earn fees by linking to Amazon.com and affiliated sites.
Other recipes you might like…
How To Make Pancakes For One
Baked Chicken Tenders For One
Alfredo Sauce Recipe For One
No Bake Cheesecake For One
Pepperoni Pizza Monkey Bread For One
Cooking for One? Sign up and receive the latest Recipes for Oneand other bonus content.