The 2018 Bean Box Gift Guide ▶
Q: I'm a sucker for chocolate and coffee. What's the trick to making the perfect mocha at home? A: It's no secret that chocolate and coffee make a fabulous pair. As a chocolate and coffee lover myself, making mochas at home is an easy way to save some change and satisfy your chocolate craving. Here's a Few Easy Tricks:1. Fresh Coffee: It is important to use freshly roasted beans to avoid a stale, burnt flavor. It takes a whole lot of chocolate and cream to hide the taste of coffee that's gone bad (remember, coffee only has a two week shelf life).2. Let's Talk Chocolate: Don't skimp on ingredients. Save the cheap chocolate syrup for your ice cream! Your at-home mocha should be home to real chocolate. I'm a fan of this dark chocolate bar from Seattle Chocolates, but feel free to use your own personal favorite. 3. Make It Your Own: If you want to get experimental, try adding chocolate or cocoa powder to freshly ground coffee in its filter before brewing for a more infused chocolate taste.4. Keep It Classy: The choices of chocolate and coffee pairings are limitless! For a classic mocha taste, try a dark roast coffee and pair it with a simple dark chocolate or cocoa powder.Bonus Tip: Try our new Make a Mocha Box. It pairs freshly roasted coffee with artisan drinking chocolates. We hand pick coffees with chocolate tasting notes so they blend beautifully with the chocolate. It's the perfect gift for any mocha lover!Creative Chocolate & Coffee PairingsFor a salted mocha, try a combination of Lighthouse's Roaster's Choice and Seattle Chocolate's San Juan Sea Salt. To satisfy your fruity and chocolate needs, go for an African coffee like Slate Coffee Roaster's Ethiopia Guji and Jcoco's PB&J inspired Peanut Strawberry Baobob. If you're dreaming about the holidays, Fonte's Portofino Blend and Seattle Chocolate's Meltaway Mint is a nice creamy cup that will remind you of Christmas morning. Lastly, Fundamental Coffee Co.'s Kenya Kirinyaga and Jcoco's Cayenne Veracruz Orange make a velvety white mocha with a spicy kick. I've found this one perfect for Monday mornings when I need that slap-me-in-the-face or dump-cold-water-on-me kind of wake me up. Monday's are hard, people.
Simple Mocha Recipe
1 cup of brewed coffee
4 tablespoons of your favorite chocolate bar shavings or cocoa powder (roughly 1/4 cup)
1/2 cup of cream or milk
You can make this work with any amount of milk or chocolate as long as you keep it roughly 2 parts milk to 1 part chocolate.From here, it's pretty easy! Brew 8 oz. of coffee with your regular brew method. Add your chocolate into your milk and heat it up slowly using a double broiler or microwave. If melting in a microwave, heat the mixture for 30 second intervals and stir, until creamy and fully combined.Add the warm chocolate and milk mixture to your coffee and enjoy!
Add whipped cream and chocolate shavings on top to simulate a fancy coffee-shop mocha (mmmm).
Add a shot of Baileys Irish Creme, whiskey, or your favorite liquor for a very "grown up" mocha drink (double mmmm).
If you have an espresso machine, the "traditional" Italian mocha drink involves simply layering a shot of espresso, cold cream and, finally, shaved or melted chocolate on top– no mixing! Then you drink the espresso through a layer of cream and chocolate. Try our best coffees for espresso! 
Get creative, have fun barista-ing at home, and let me know if you discover any amazing pairs or recipes of your own!
Love coffee + chocolate? Don't stop at a Mocha. Check out ourDeluxe Coffee + Chocolate Tasting Boxand other artisan Coffee Gift Baskets and Boxes to find more exciting ways to pair coffee and chocolate.Get handpicked artisan coffee delivered fresh to your home with aCoffee Subscriptionor ourCoffee of the Month Club.And look no further for the perfectgifts for coffee lovers.
how to make a mocha (a home style simple mocha)
1. Ingredients to use: any instant coffee, sugar and cocoa powder, for substitutes refer the recipe below.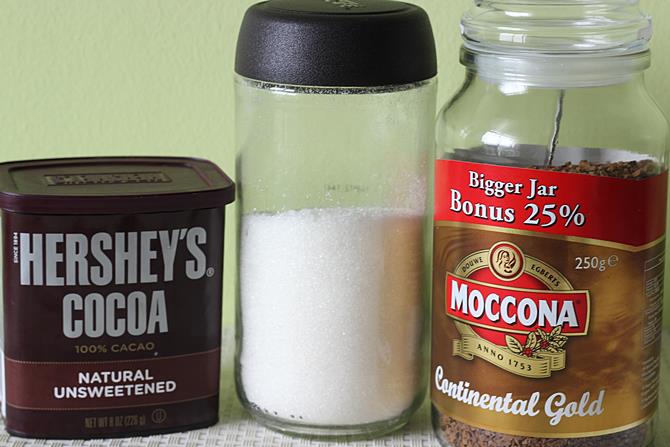 2. Add coffee, cocoa and sugar to a cup.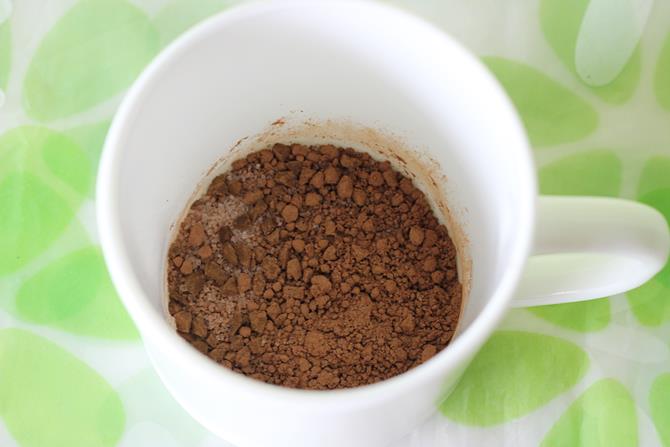 3.Add little very hot milk.Stir in to blend the ingredients well.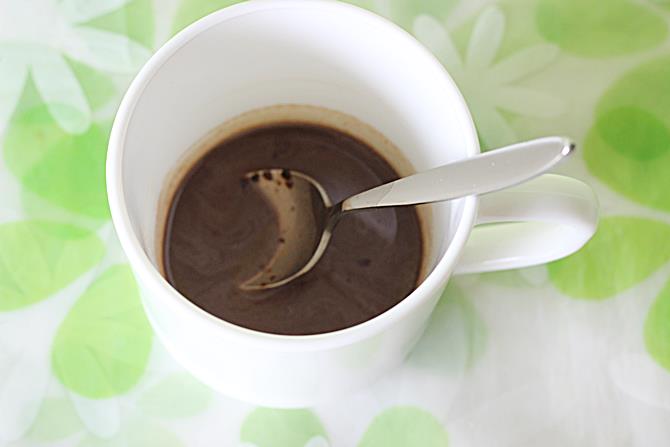 4.Add the rest of the hot milk. stir well.Top with grated chocolate, it is optional. This is what i love to enjoy, a simple mocha.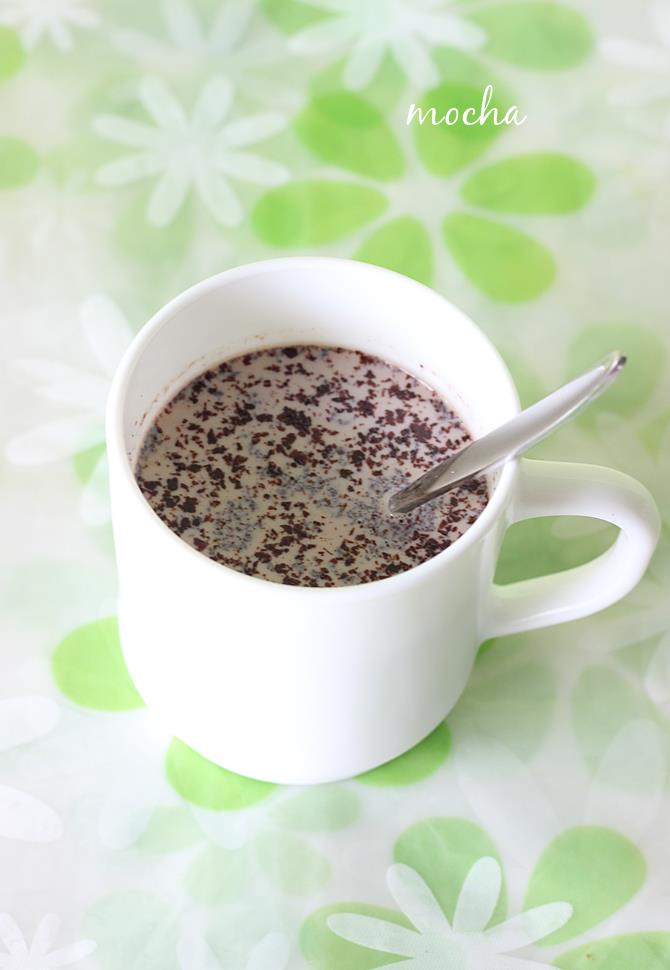 5. For topping (optional):whip the cream as you would whip any whipping cream and top it. If using coconut cream, Refrigerate coconut cream overnight. Transfer it to a bowl and just fluff up with a fork.If using coconut milk to make the coconut cream, refrigerate overnight and drain off the liquid. we need only the thick ingredient. Whip it till fluffy.Top your mocha with whipped cream.
Mocha Recipe – Yield 2 cups
Ingredients
Brewed coffee* – ½ cup or 50 ml
Dark chocolate** (at least 72%) – 30 grams
Milk (2%) – ½ cup or 50 ml
Optional toppings – whipped cream, chocolate shavings, cinnamon powder, marshmallows
*I use a pretty strong brew – 4 tbsp of medium-dark roast coffee to 1 cup of water. If you use a lighter brew adjust your milk and sugar quantities according to taste
** If you choose to use milk chocolate or white chocolate then cut down or eliminate sugar from the recipe to balance the sweetness
Cafe Mocha Recipe
Add the brewed coffee, chocolate, sugar and vanilla extract to a small saucepan and place it on very low heat until the chocolate melts. Stir continuously and make sure the mixture does not cook or simmer
Steam milk in the microwave or on the stovetop. Froth the milk using a frother. If you don't have one, use this simple method to froth it using a jar and a microwave.
Divide the coffee – chocolate mixture into two cups. Top with the steamed milk and froth. You can either leave it layered or stir through gently to combine
Top with your favorite toppings, sit back and enjoy the cafe experience!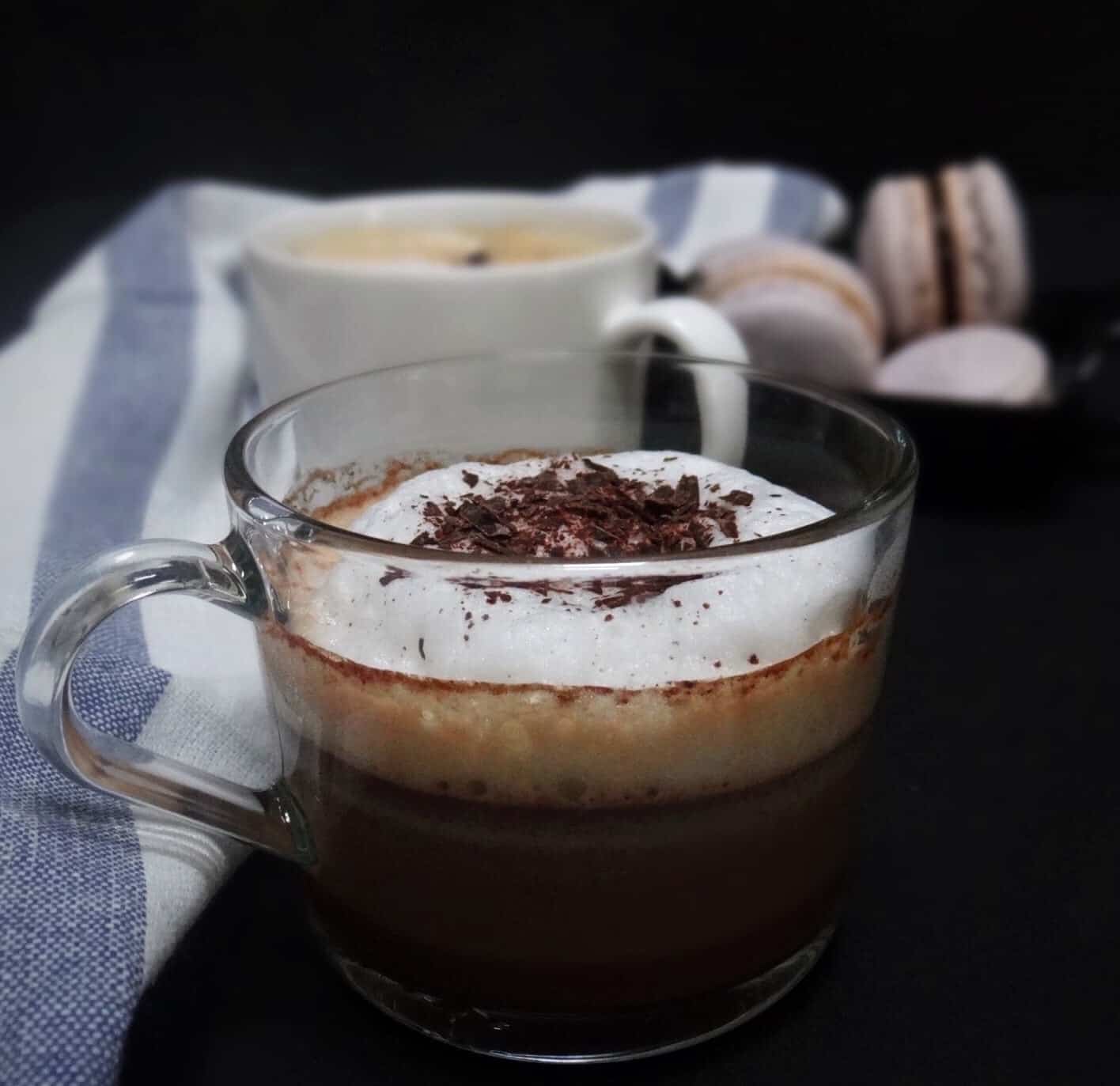 Iced Mocha Recipe
Freeze brewed coffee in ice cube trays overnight
Melt chocolate in a microwave and allow it to cool slightly
Blend coffee ice cubes, milk, sugar, chocolate and vanilla extract in a blender
Divide between two cups, top with whipped cream and chocolate shavings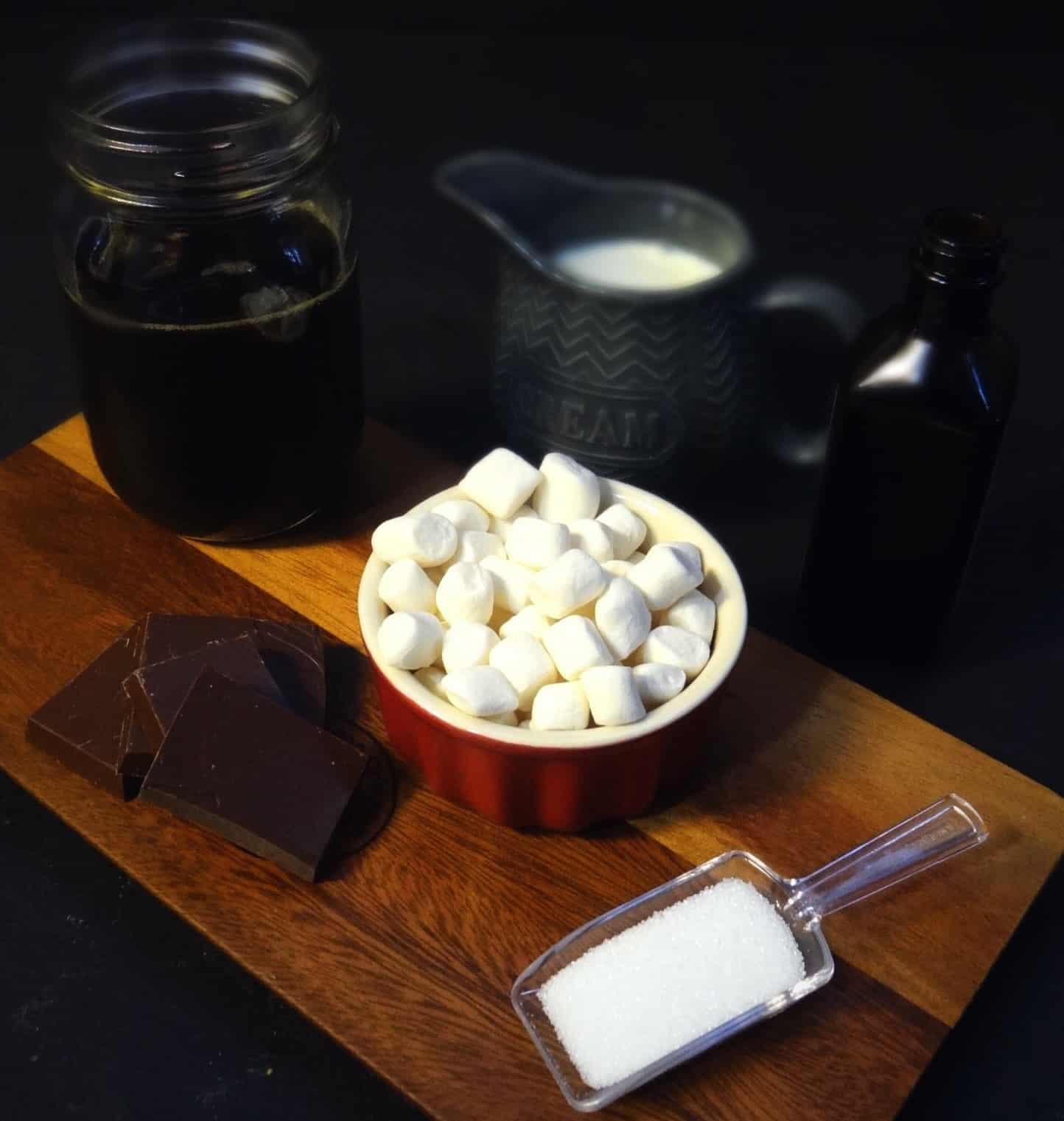 Categories
History of the term Mocha
The term mocha originally had nothing to do with chocolate or combining chocolate and coffee. In the late 1700's, one variety of coffee beans became extremely popular in Europe, because it had a chocolate taste. The Mocha coffee beans were named after the port of Mocha (Al Mokha) in Yemen, where the beans were shipped from. Mocha Coffee beans are known today as Arabica Beans. It is said that the original Mocha Coffee Bean has a chocolatey taste, and this is the source of the modern usage of the term mocha came from.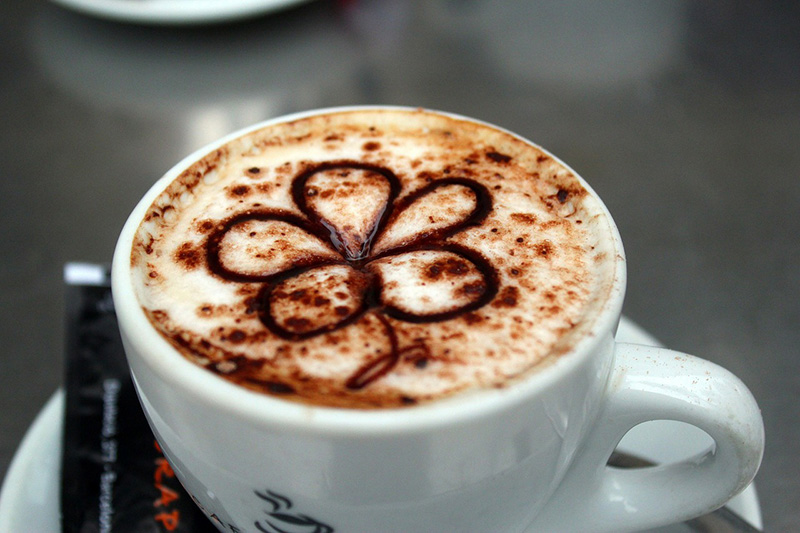 Ingredients for Mocha
freshly brewed coffee – double-strength, dark-roasted coffee is the best
chocolate syrup (instructions below)
steamed milk∫
whipped cream, a sprinkling of cocoa powder or chocolate syrup
Directions on How to make the perfect Mocha
Brew your double-strength coffee
Combine 1 tablespoon (15 g) cocoa powder or chocolate syrup with warm water and/or the sweetened cocoa powder. Combine equal parts of each and stir up in a small bowl. You'll need about 2 tablespoons (30 g) for one mocha drink.
Heat your milk on a stovetop or in the microwave
add coffee to mug, then milk
top with sprinkling of cocoa powder, or get clever and so some coffee art on top of your perfect, and sweet, mocha.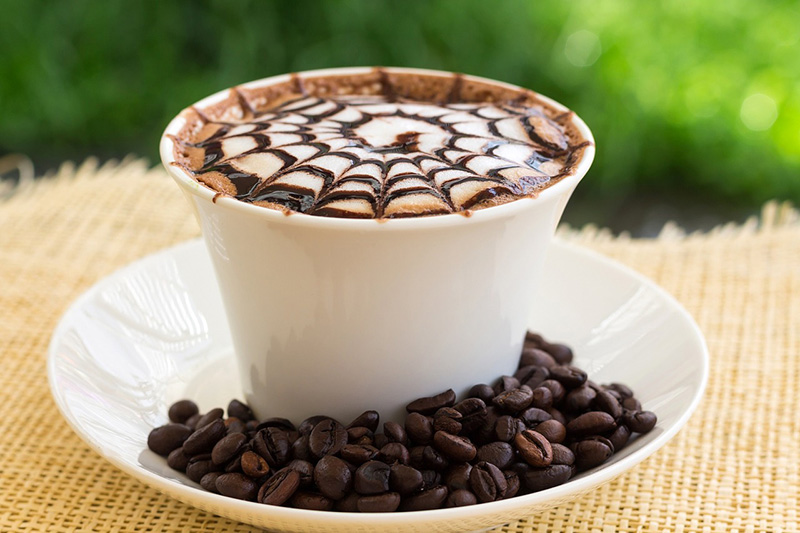 That is How to make the perfect Mocha.