Print Recipe Jump to RecipeThis post may contain affiliate links. See my privacy policy for details.
This Classic Manhattan Cocktail Drink Recipe is quick, easy and based on the original classic recipe. If you like whisky and vermouth, then this cocktail is for you. Rye is the traditional whiskey of choice, however commonly used whiskeys include Canadian whisky, blended whiskey, Tennessee whiskey or bourbon. The choice is up to you.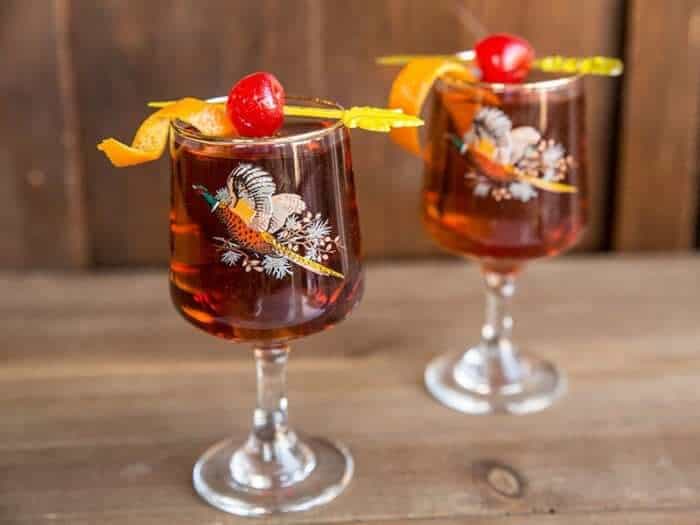 Manhattan cocktail drink
The Manhattan is an acquired taste for some
I think the Manhattan is an acquired taste.  When we made a batch for recipe testing purposes (hey, it's my job, what are you gonna do?) I think it was the first time I actually LIKED a Manhattan.  We also stumbled on a little addition that is optional and not a classic ingredient, but will sweeten up the drink a bit if you like that.
This little trick adds sweetness and complexity to your Manhattan
What is the secret ingredient? Cherry juice. Specifically, just a few drops of the syrup from the jar of Maraschino cocktail cherries.  Give it a try and see what you think.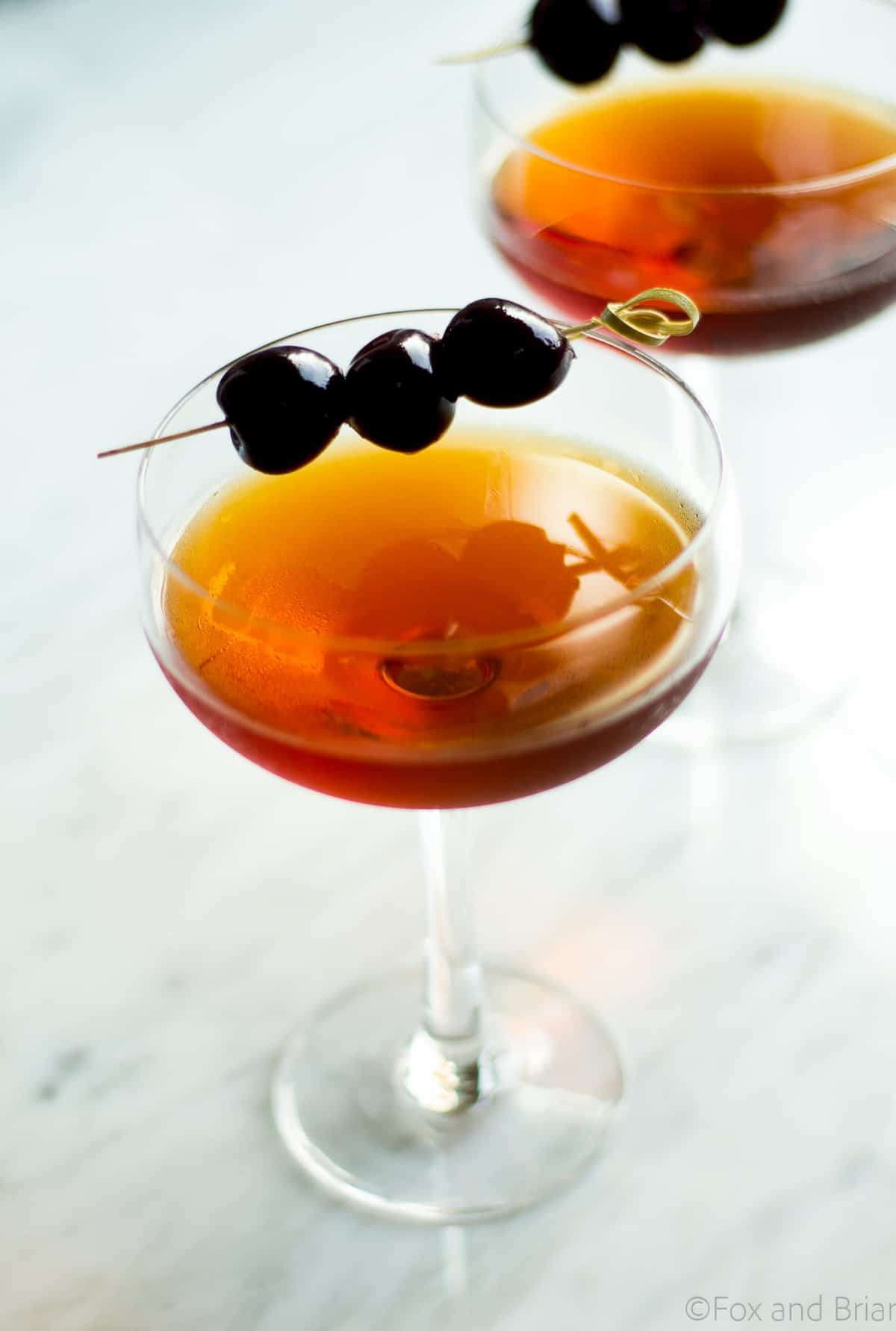 2 ounces Rye Whiskey
1 ounce Sweet Vermouth
3 dashes angostura bitters
2-3 cocktail cherries
A few drops of syrup from the cocktail cherries (optional)
Fill a mixing glass or cocktail shaker with ice.
Add whiskey, sweet vermouth, bitters and cherry syrup (if using).
Stir for 90 seconds.
Strain into a martini glass
garnish with cherries.
The cherry syrup is not traditional but gives the cocktail a slightly sweeter flavor. Perfect for people who are not whiskey drinkers or find the cocktail too overpowering.
Never use dry vermouth for this drink, only good quality sweet vermouth.
Some recipes suggest rubbing an orange peel around the rim of the cocktail glass; it is a nice tough but not strictly necessary. A dash of orange bitters can be added to achieve a similar effect.
The perfect Manhattan is stirred, not shaken.
No need to use your fancy ice for this; regular ice will do. We use ice to dilute and chill the drink before serving it.
Have you ever had a Manhattan?  What is your favorite drink?
If you make this recipe don't forget to tag it @foxandbriar and #foxandbriar on instagram and facebook!  I really love to see what you make!
Some things used in this post (affiliate links)…
If you like this, you may also like….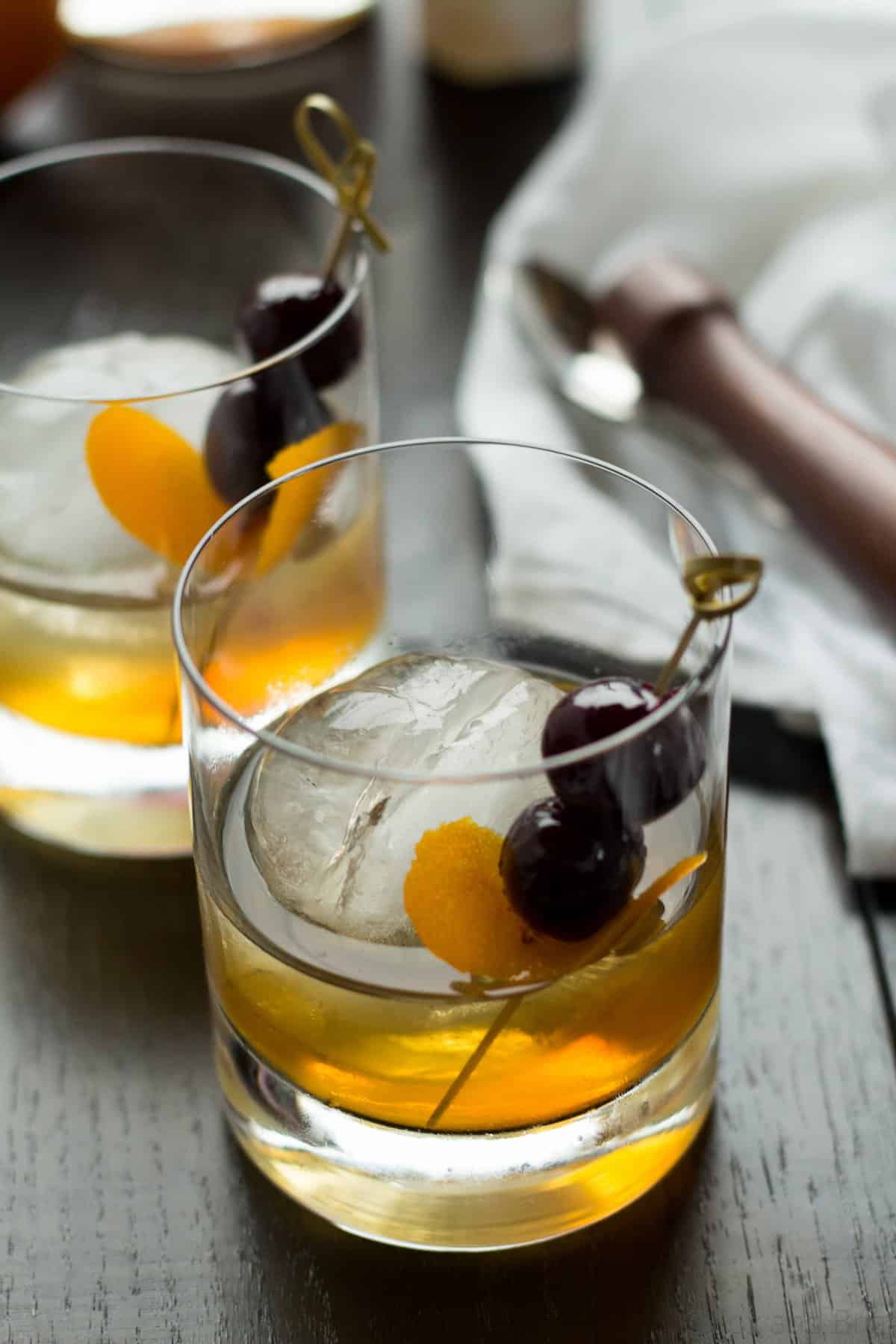 Apple Old Fashioned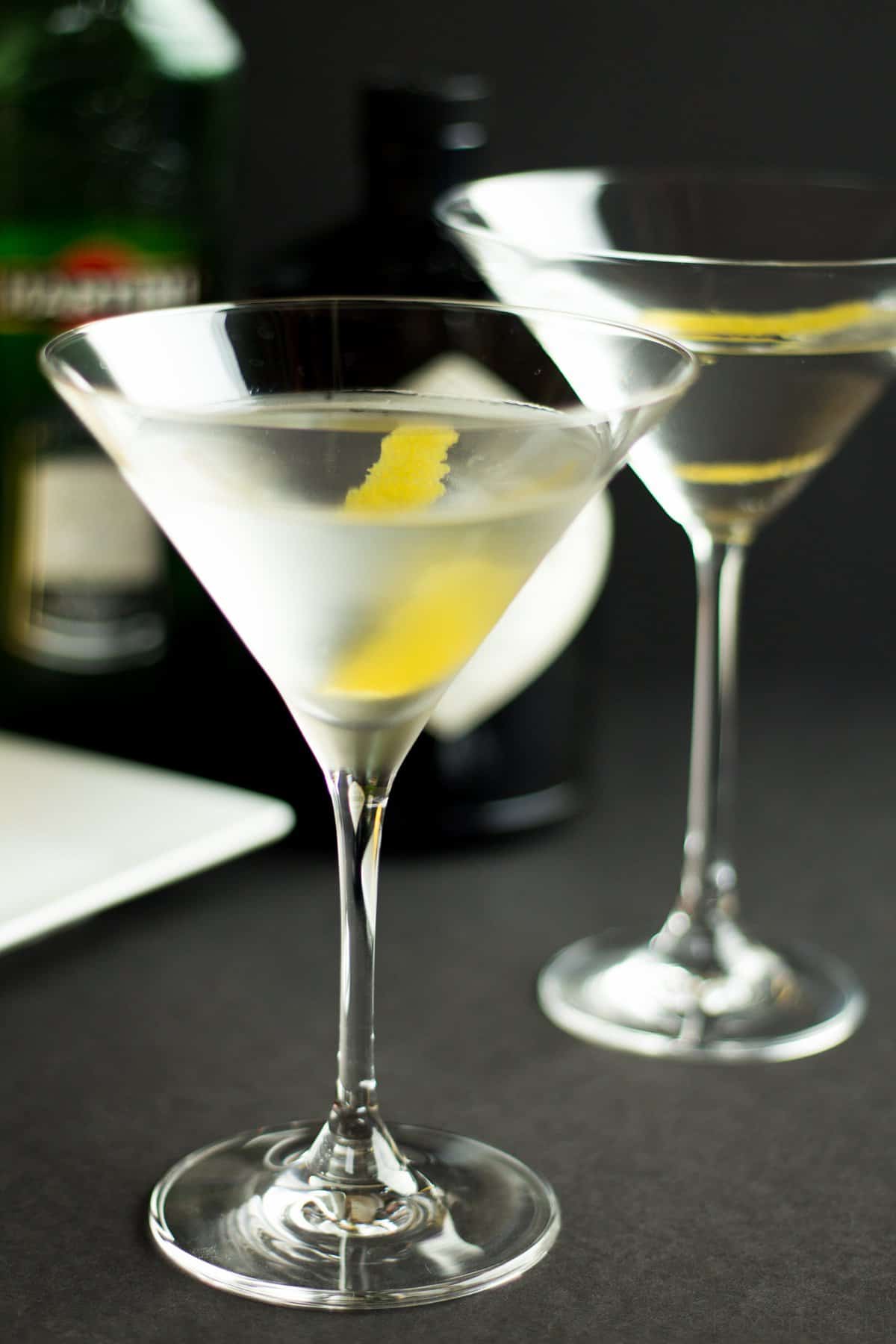 Perfect Martini
Disclosure: This post contains affiliate links, which means that if you purchase the items I recommend through the links I provide, I get a small commission. For more info, please see my disclosure policy. Thanks for supporting Fox and Briar!
 The Manhattan cocktail, a True Classic
The Manhattan cocktail drink is another one of those drinks that has been around for many years (it's thought to have originated in the 1870's) and was again made popular by the popular TV series, Mad Men. As I mentioned in my Gin Gimlet Recipe post, Karlynn and I recently hosted a Mad Men themed party in our vintage home bar.
Side note: You can get an inside look at how the room looks in Karlynn's latest post: How to Throw a Mad Men Party. 
As part of this party, we created cocktail stations centered around popular characters from the show, Mad Men. This was one of the cocktails I made for the party and it was very popular. Here's a look at the card I made; including the fun character profile; for the Joan Harris Classic Manhattan station. We didn't use shakers as it would be too messy for our guests, so follow the instructions on the actual recipe card below for a true Manhattan drink.
Joan Harris from Mad Men Manhattan recipe
What is the difference between a Manhattan and a Rob Roy?
The Manhattan drink is made with rye whiskey ( whisky if it's Canadian) and the Rob Roy cocktail is made with scotch.  One of the staples of the Classic Manhattan cocktail drink recipe is, of course, an easy drinking whisky. Since the show focused heavily on Canadian Club as their whisky of choice, that's what I based this particular Manhattan recipe off of. Canadian Club is a great choice for a few reasons; it's quite inexpensive and it's smooth enough that it mixes well (also makes a mean old fashioned).
Close up of Manhattan cocktail drink in vintage pheasant glasses with cherry and orange garnish
Side note: The glasses you see above are vintage pheasant glasses and are from our vintage barware collection. We actually have quite a few of these in various styles from the classic roly poly (commonly used for the old fashioned) to pilsner glasses. 
This is a strong drink meant primarily for sipping slowly (think port or similar) so use small sherry glasses similar to the above or a martini glass when serving.
How to Make a Manhattan Drink
To make a Classic Manhattan Cocktail Drink, you need the following ingredients:
Canadian Club whisky (or your whisky of choice)
Vermouth
Maraschino cherries
Angostura bitters – you can buy some HERE
To prepare, add 2 oz Canadian Club whisky to 1/2  or 1 oz of vermouth. Add in a dash of bitters and 1 maraschino cherry. Give it a stir.
Now turn on the fireplace, cozy up with your Classic Manhattan and enjoy!
Manhattan cocktail drink in vintage pheasant glasses with cherry and orange garnish