If you love the boho look, or just want to have a glorious cascade of flowers framing your face, we'll show you how to make your very own flower crown! This tutorial is suitable for fresh, dried, or preserved flowers and greenery (note: some dried products may be too brittle to construct your desired shape). With a little time and creativity, you'll soon have a custom, DIY Flower Crown!
Materials
Instructions
Using wired floral twine, measure out the length of the headband by wrapping it around the crown of your head. Make sure it rests comfortably where you plan to wear it. Add 1-2 inches on both ends and fold to create hooks to twist together. (Note: You can easily trim the ends once the crown is finished, so give it a little extra room to ensure a proper fit.)

Arrange your flowers into little clusters and trim the ends to 2-3 inches. Make a variety of combinations so you have plenty of options to work with when arranging them around the headband.

To use preserved rose buds in your arrangements, you will need to create a stem to secure it in place. Push floral wire from the base of the bud through the center of the flower. Bend the wire to make a hook and pull it back down through the base. Wrap floral tape around the wire to finish the stem.

Wrap floral tape around each set of flowers and begin to place them around the headband to envision your design. This will help you determine how many flower clusters you need to complete the length of the headband.

Once you have a full ring of florals, it's time to begin assembling. Lift your headband and attach your first flower cluster by wrapping it with floral wire. Continue attaching each cluster the same way until the crown is full and complete!

If you end up having any gaps or spots of wire that need covering, use a hot glue gun to attach single buds in their place.
Supply list:
Silk flowers in whatever colors you want (here are some nice ones, but for these, you may want to go to a store where you can choose in person). For tips on this, head to the "how to make a flower crown DIY" section below!
Natural floral wire for the base of the flower crown
Glue gun
Glue sticks that are meant for your glue gun size. Make sure to double-check this!
Wire cutters
Ribbon for the back of the flower crown (optional)
Accents like acorns, lady bugs, or rhinestones for decoration (optional)
Paddle wire to attach any special items (optional)
Flower Crown Base Option 2: the Twist Method
This base is best if you want a simpler or sturdier flower crown (for example, if you want to travel with it or have it survive a music festival). This method is pretty easy to do!
1. Measure for size. Measure all the way around your head with the wire, and pinch where the wire meets so it sits well on your head.
2. Secure the hoop. Twist the loose end of the wire (the one that's not attached to the roll) around the rest of the base so you essentially have a hoop or lasso of wire the exact size of your head.
3. Twist around, again and again and again. Using the roll of wire, twist around the halo until you've gone around it around three to five times. Clip the end of the wire and wrap it around the halo to secure it.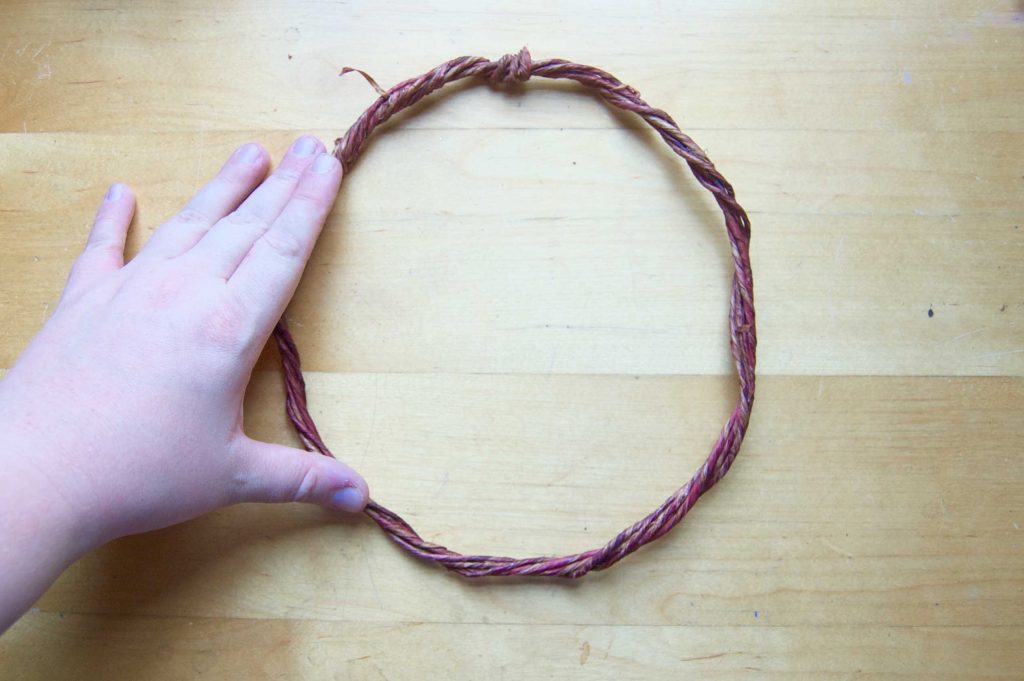 Now comes the fun part: styling and decorating your flower crown. I'm going to show you how I finished both these crowns in two different styles, so you can get some options.
How to make a flower crown DIY
Start by choosing a few colors for your flower crown. Here are some things to keep in mind when selecting flowers and colors.
Buy a silk bouquet if you plan on making only one crown. If you buy individual stems from the craft store or silk flower seller and you're only planning to make one crown, you're likely to run up a lot of costs and end up with excess. Bouquets are already selected to be a complementary color palette, and usually include several different types of flowers.
Buy individual stems if you want to make multiple flower crowns. Multiple individual stems allow you to mix-and-match.
Spring for quality. Silk flowers come in a whole array of colors, costs, and quality levels. The cheapest silk flowers will have only one or two colors or shades in the petals. The most expensive and realistic-looking flowers will have many different shades in the petals to make it look as real as possible. I recommend opting for these mid-level silk flowers, to make your flower crown look as beautiful as possible. It will last longer and you will get more wear out of it!
Filling the crown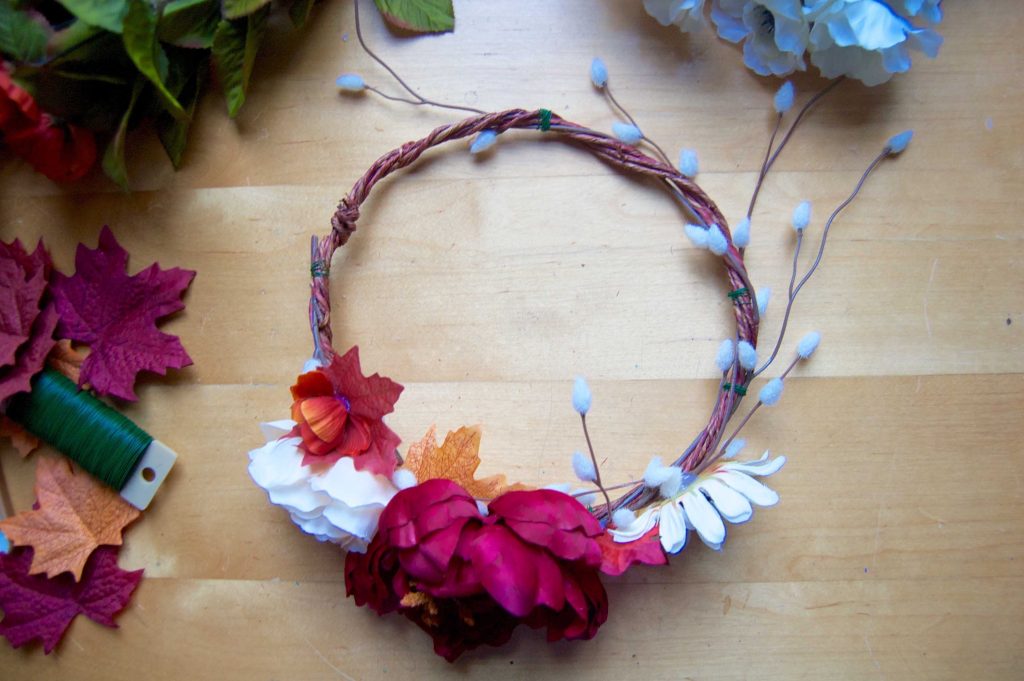 There's no magical method for putting together a beautiful flower crown. Like arranging floral bouquets, it just takes practice and a good eye. I recommend not going for a symmetrical design, but instead trying to make sure that every three or four flowers in a row look good together. The little bunch above looks nice by itself, but when I add to the crown, they should still fit aesthetically into the whole design.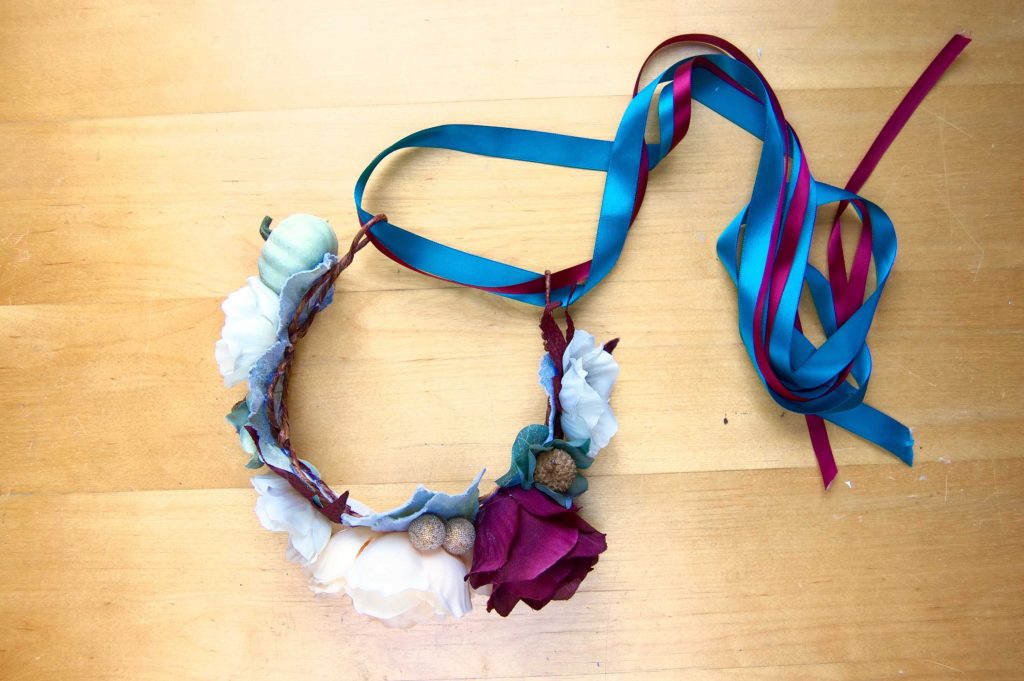 Also make sure that there's some variation in size and flower type throughout the crown. you can see in this overhead shot that some flowers stick out more than others, but none so much that they take away from the overall design.
Ukrainian headdress with fake flowers
To make fake flower head wreath by yourself, you will need:
thin, but strong wire;
set of fake flowers;
hot glue gun;
floral tape;
scissors.
Step 1 – make a frame for a wreath using wire. You can weave it in the form of a braid using three pieces of wire. You already know what to do, if you don't know the head size.
Step 2 – take a bouquet of fake flowers and cut the flower heads with scissors. It is preferable to cut flowers with a part of the scape, so it will be easier to weave them into a wreath.
Step 3 – fix fake flowers on the frame using a glue gun, and then wrap it with floral tape. Rotate flowers with different size and color grade.
Now you have a pretty spring-and-summer accessory.
Flower crown with ribbons
To create a wonderful wreath you will need:
colorful bands;
beads;
scissors;
headband;
hot glue gun.
First, we have to make flowers. There are many different methods of making a flower with a ribbon. But we will take a look at the simplest variant.
Step 1 – cut out a small circle of cardboard or hard paper. This circle will become the base of your flower and will be hidden under the petals. Also, you can cut out leaves from the green ribbon.
Step 2 – start gluing the tape to the top edge of the circle, forming a pleating.
Step 3 – continue to stick the tape in a spiral in 3 or more layers. When you reach the center, cut off the excess tape, tuck the tip and gently glue it.
Step 4 – drip a large blob of hot glue in the central part of a made-up flower and quickly fill it with beads.
Now, we shall proceed with making a wreath.
Step 5 – braid the headband with a green ribbon, fix its tip with glue. This will be our base.
Step 6 – stick the leaves along the outline of the headband. Put the elements with overlap, using different shades of green. Now, you can put flowers over the "leafy" base, fix them with the hot glue.
Ukrainian flower crown with ribbons is ready!
1. DIY Flower Crown Headband
Any DIY flower crown headband goes well with a romantic fashion style. If you want an easy-to-make accessory, go for one you can make yourself. It's cheap, beautiful and it goes well with many different outfits, especially the summery ones.
Level of difficulty: easyDuration: 30 minutesMaterials used:
2. Cute Floral Crown Headband
If you're wondering how to make a flower crown headband, you should know that you can save plenty of money if you go for a DIY project. That's opposed to buying one from a shop or handmade artists. Apart from that, DIY tutorials allow you the flexibility to add any flowers and materials that you really, really like.
Level of difficulty: easyDuration: 10-20 minutesMaterials used:
3. Big Flowers Flower Crown Headband
If you want to make a statement, the best way to do so is to go for big flowers when creating a floral crown. The technique of many DIY tutorials is the same. You will learn how to make a flower crown with real flowers either way. However, these will just need to be bigger ones.
Level of difficulty: easyDuration: 15-25 minutesMaterials used:
Wire
Big flowers
Greenery
4. Ethereal Flower Crown Headbands
If you like to achieve a more ethereal look, go for a white flower crown. It highlights an ingénue look, and it is the kind of flower crown headband that goes well with both casual and more elegant outfits.
Level of difficulty: easyDuration: 14-20 minutesMaterials used:
Clippers
Scissors
Ribbon
Floral tape
Floral wire
Your favorite flowers
5. Stunning, Easy to Make Flower Crown Headband
If you want a hair accessory that makes you stand out from the crowd, go for a red flower crown. Red flowers go well with any hair color, so you don't have to worry about color contrasts and matching accessories. Apart from that, the following tutorial allows you the flexibility to use whatever flowers you feel like.
Level of difficulty: easyDuration: 20 minutesMaterials used:
Wire
Flowers (any that you want)
Scissors
Green leaves
6. DIY Wedding Flower Crown Headband
A wedding is one of the most important days in a woman's life. Going for a wedding flower crown on such a day might be one inspired move. They have the power to highlight any outfit, including a gown.
Level of difficulty: easyDuration: less than half an hourMaterials used:
7. DIY Rose Flower Crown
Roses will always be trending. You see fake roses as accessories or as part of a cute flowery pattern. Naturally, a rose flower crown will always be a popular choice. If you want to find out how to make a rose headband, check the tutorial below.
Level of difficulty: easyDuration: 10-11 minutesMaterials used:
Wire cutters
Thick wire
Roses or any type of flower
Ribbon
Twist ties
8. DIY Simple Flower Crown
If you are not into oversized flower crowns crowded with plenty of colors, you can always choose a simpler but still beautiful flower crown headband. The following tutorial will show you that less is sometimes more. Making flower crowns doesn't have to take money or time.
Level of difficulty: easyDuration: 10-15 minutesMaterials used:
Fake Flowers
Vine Wrapped Wire
Wire Cutter
Floral Stem Wrapping Tape
9. Wild Flowers Headband
Nothing screams freedom and independence better than a flower crown made of wild flowers. So, if you're wild at heart, you know what kind of flowers would suit your style.
Level of difficulty: easyDuration: 9-15 minutesMaterials used:
Gardening wire
Tape
Wildflowers
10. Cool Flower Headpiece
A fabulous hairstyle deserves to a spectacular DIY flower crown. The following tutorial will teach you how to make a floral crown without too much effort.
Level of difficulty: easyDuration: 20 minutes or lessMaterials used:
11. Sweet Flower Crown Headband
Sometimes, the best flower crown headbands are the most unusual ones. Why stick to typical flowers when you can go for strawberries? They will make for a beautiful DIY crown to go with your outfit.
Level of difficulty: easyDuration: 30 minutesMaterials used:
Strawberries
White flowers
Greenery
Wire
12. Inspired Boho Flower Crown
Are you a big fan of boho chic outfits? Then you need some fine accessories to match your lovely fashion style. Why not give a DIY boho flower crown tutorial a chance? You'll simply love the end results.
Level of difficulty: easyDuration: 16-18 minutesMaterials used:
Flowers
Florist wire
Scissors
Florist tape
Glue gun
13. DIY Cheap Flower Crown Headband
If you don't want to spend too much money on flower crowns, you can always take matters into your own hands. In fact, create a headband you really like and manage to save money while you're at it, too.
Level of difficulty: easyDuration: 25 minutes or soMaterials used:
14. DIY Paper Flower Crown Headband
When it comes to versatility, most DIY flower crown projects use all sorts of materials from real flowers to fake ones, fabrics, fruit, and even paper! In fact, tutorials on how to make a flower crown with paper are pretty easy.
Level of difficulty: easyDuration: half an hour or soMaterials used:
180-gram florist crepe paper
Two pieces of 18-gauge green floral wire
10-12 pieces of 22-gauge green floral wire
Petal and leaf pattern
Tacky glue
Scissors
Wire cutters
Ribbon (if you want to)
Wax melting pot (optional)
Beeswax (optional)
Paintbrush (optional)
15. Amazing Flower Hair Crown
Nothing compares to a natural look that is highlighted by flowers, especially during summertime. If you ran out of accessories, you could always invest some time in a DIY flower crown.
Level of difficulty: easyDuration: 10-15 minutesMaterials used:
Artificial Flowers
Gardening Wire
Pliers/Wire Cutter
Gardening Tape
Scissors
Hot Glue Gun and Glue
16. Floral Garland Headband
If you are looking for a DIY cheap and easy tutorial, the following project will definitely come in handy. Not only will you learn to make a splendid flower crown headband, but you will also spend some money at the same time. So, it's a win-win situation. You get a beautiful DIY flower crown and save some money on accessories.
Level of difficulty: easyDuration: around 10 minutes or moreMaterials used:
Assorted Flowers
Stem Wrap Tape
Stem Wire (22 Gauge)
Cutting Pliers
Scissors
17. DIY Flower Crown for the Summer
A DIY flower crown can be the perfect accessory for a summer event. They're festive, colorful, and look absolutely stunning with a simple outfit. In fact, you can make sure your DIY flower headband will match your look.
Level of difficulty: easyDuration: 30 minutesMaterials used:
Silk flowers
Coated floral wire
Hot glue gun
Scissors
Electrical tape (optional)
18. Flower Crown for Autumn
Flower crowns look good during any season. Here's a tutorial on how to create the perfect flower crown for autumn. You can even sport a flower crown headband on Halloween.
Level of difficulty: easyDuration: 20-30 minutesMaterials used:
Moldable wire
Green flower tape
Wintry flowers and berry branches
Gilded leaves or metallic accents
Autumn leaves and flowers
19. Winter Flower Crown Headband
Flower crowns during winter? Why not? They'd certainly make people smile during those cold, cold days. And you can wear a DIY flower headband during Christmas time or on New Year's Eve.
Level of difficulty: easyDuration: 15-20 minutesMaterials used:
Florist Scissors
Wire Cutters
Hot Glue Gun
Needle Nose Pliers
Floral wire
Tape
2-3 thin branches with leaves
2-3 large flowers
8-10 small flowers/buds/pods
Green filler
20. Black Roses Flower Crown Headband
If you're into goth or pastel goth fashion style, or you just go to a lot of concerts, a black roses flower crown headband can do the trick. This kind of DIY flower crown highlights a pastel hair color like no other.
Level of difficulty: easyDuration: 30-40 minutesMaterials used:
Black fabric
Black thread
Fake black roses
Fake greenery