Face masks make a perfect skin care treatment to help with any type of skin problems.  It is one of the easiest ways to get healthy looing skin within a few minutes.
Overnight Skin Brightening Face Mask – 
Tomato contains fruit acid while raw milk contains lactic acid so this "high acid" overnight mask is very beneficial for clear and even looking skin tone. Read More.
Clear blackheads Face mask – 
This mask helps to even out blemishes, clear blackheads and reduced the size of pores naturally.  Read More.
The mask is rich in anti oxidants that help to deep clean pores, remove dead skin for a smooth skin, add a healthy glow, treat acne and wrinkles naturally.  Read More.
Healthy Skin Face Mask – 
This face mask is very good for lightening your skin tones by moisturizing and hydrating it. It helps to reduce your blemish and acne; it fights with fine lines and wrinkles. Read More.
Skin firming Face mask
Face masks help to instantly refresh your skin and brighten it, so once a week treat your skin with a face mask to rejuvenate it.  Click here.
Glowing skin Face Mask – 
Pull out excess impurities that are laying on and under the skin's surface. Deep clean up your face, get rid of oil, impurities and dead skin cells from your skin for clear glowing skin.   Click here.
Clear Acne Face Mask – 
Honey and cinnamon are two such products lying in your kitchen cabinet which forms a powerful anti acne face mask. Both are sources of anti bacterial properties that combat against acne.  Click here.
Anti-aging Face Mask – 
Aloe hydrates the skin and retains its elasticity. The egg gives the dose of protein essential for collagen synthesis.  Read More.
Deep Clean Pores Face Mask
If larger pores and unsightly blemishes are bothering you, here are some good ways to shrink them and reduce their appearance. Read More.
Clear skin Face Mask
Honey is naturally antibacterial, which makes it an excellent acne treatment, full of antioxidants. Along with lemon, it helps to treat acne scars, dark spots and dark circles.  Read More.
Choosing the clay for your face mask
Green clay: cleansing, detoxifying, toning and draws out impurities. Green clay is suitable for normal, neglected, oily skin and acne.
Rhassoul clay: light brown clay with wonderful exfoliating, cleansing and detoxifying properties. It draws out excess oils and impurities from deep within the skin. Rhassoul is also highly nourishing for the skin thanks to its high mineral content and has anti-inflammatory and antiseptic qualities.
White cosmetic clay (Kaolin clay): one of the most commonly available and versatile cosmetic clays it has a high mineral content, a gentle nature and absorbent properties. Ideal for sensitive, dry and mature skin types.
Fullers Earth: deeply cleansing it's used in masks to help absorb oils and prevent acne. Mix in equal amounts with Kaolin clay or clay of your choice.
Pink clay: A mild clay, rich in minerals. Great for gently cleansing and detoxifying sensitive skin.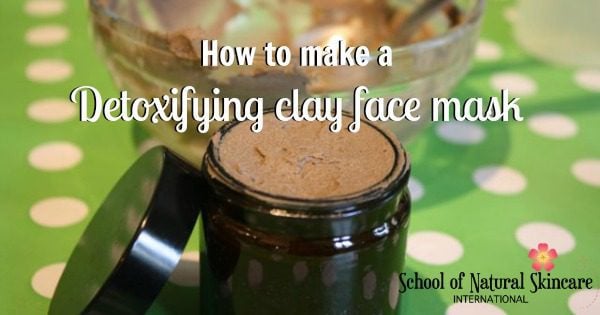 Moisturizing Greek Yogurt Face Mask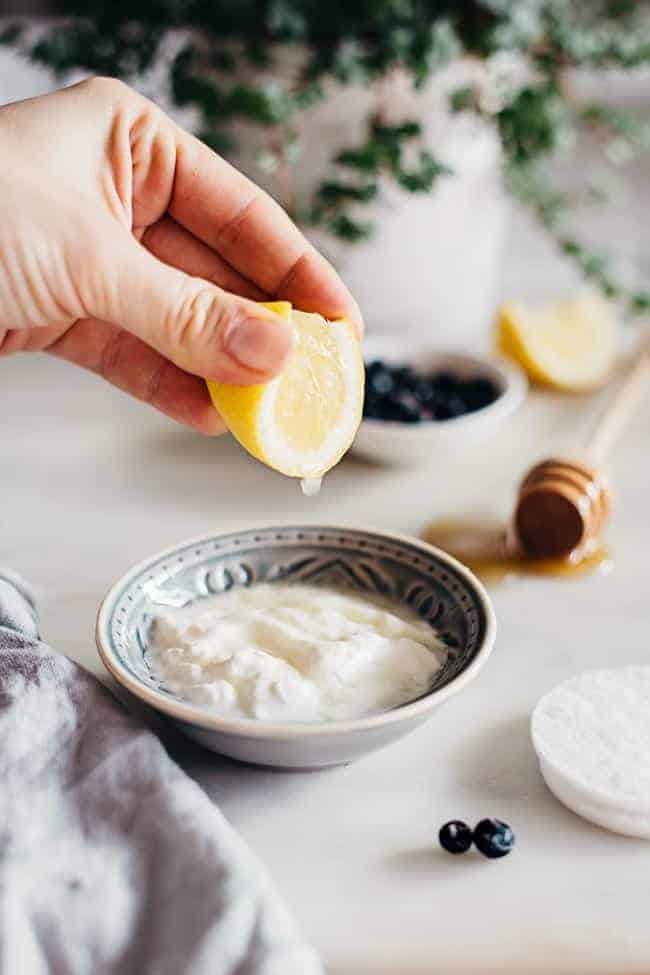 To make your own Greek yogurt face mask, you'll need:
A couple of tablespoons of plain Greek yogurt – go with full fat if you want even more moisturizing benefit. And definitely try to get organic.
1-2 teaspoons of honey
Optional add ins:
Squeeze of lemon –

the citric acid will also help brighten skin

Blueberries – blend in a few berries for additional antioxidants
Directions
Blend yogurt, honey and other ingredients together until you get a creamy paste. Then liberally apply to your face and neck with a brush or your fingers. Leave the mask on for 20 minutes then wash off with warm water. Apply moisturizer and enjoy your bright, glowing skin!
P.S. If you don't use all of the yogurt mixture on your face, you can totally eat the leftovers.
P.P.S. I had planned to include a picture of me wearing the mask … until the hubby recommended I take it out. Thanks honey.
Photos by Ana Stanciu
151