Share on FacebookShare on Twitter
Dream catchers are webbed and beaded circles hung with feathers from the base of the circle. Legend says that the purpose of a dream catcher is to catch dreams—that is, to trap bad or evil dreams and channel good dreams to the sleeper. In this tutorial, we will show you how to make a dreamcatcher in simple and easy steps:
Material you will need
One Metal or Wooden Hoop (~12cm diameter)
Woven Cord (approx. 260cm)
Cord String (approx. 260cm)
Feathers & Assorted Beads
Strong Glue
Let's start by wrapping the cord around the hoop.
Continue to wrap the cord around the hoop tightly. When you get back to the top use more glue or knot again.
With the left over cord, make a loop from which your Dream catcher will hang. You can attach a bead at this point too.
Now it's time to start creating the web. Tie the string to the top of the hoop. You need to make a curved shape with your string about 6cm down. Loop this over the hoop frame as shown in the photo above. Pull tight.
Continue to do this – moving around the hoop as you go. Try and make each section the same width and don't forget to be firm with your string.
When you reach the point from where you started, start moving over the string pattern you just made. See the pic above.
Continue doing so and add beads wherever you want.
Once you reached the middle, you will notice that the triangles formed are getting smaller and when it's difficult to move the cord, just tie the knot with any nearby triangle.
Now, you can hang feathers and beads with the help of strings at the bottom half of the hoop as shown above.
Cut off any extra strings, and your Dreamcatcher is ready to protect you from bad dreams.
This is the complete tutorial on how to make a Dreamcatcher easily.
DIY Fabric Scrap Dream Catcher
DIY Dreamcatcher from fabric scraps. If you have any fabric scraps lying around, this DIY dream catcher would be the perfect craft for you to make this weekend. Tutorial via A Little Craftin Your Day.
DIY Vintage Dream catcher. The old music sheets add more vintage charm to this piece of art work. via G 45 Papers.
DIY Butterfly Dream Catcher.
Lighting chandelier inspired dream catcher.
This is a colorful and attractive dream catcher made with different colored feathers, strings and beads. A great piece of art work for home decor!
Another intricate dream catcher. An audacious experiment with the design and use clocks, spoons, keys and other vintage pieces for decor.
Circle of Life Dream catcher. Create a great piece of artwork with circles for the hoop design. Then decorate with different colored feathers and small decorative items for more elegant and eye-catching look.
Giant Prosperity Diy Mandala Dream Catcher. DIY Mandala Dream Catcher with Cutting Edge Stencils. It is so much fun to make. Tutorial: My Pinter Ventures.
3 Simple Steps To Make A Dream Catcher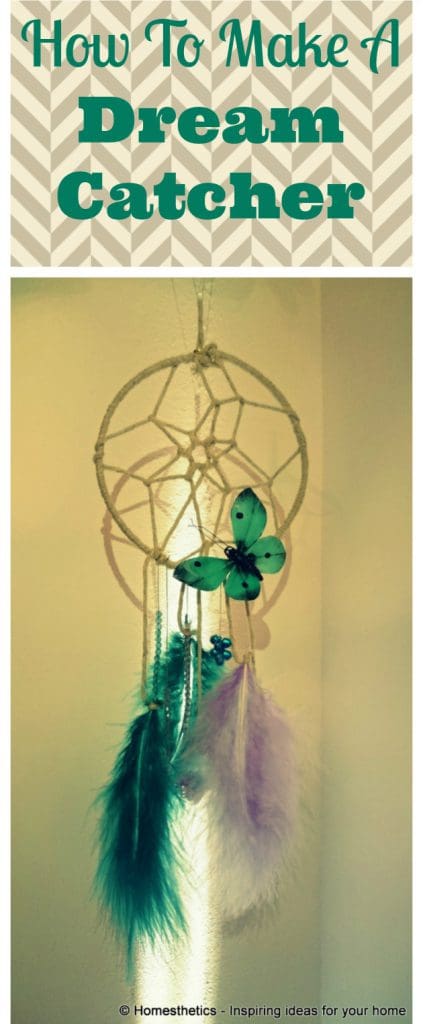 The Native American dream catcher is known to have a powerful history that originated in the heart of Ojibwe people, where the Asibikaashi, also known as the spider woman used the enchanted objects to protect infants.
The Native American dream catchers are constructed as a filter for dreams, it supposedly allow only good dreams to pass through the web created where the bad dreams got stuck. The first sun ray of each morning erased all the bad dreams captured through the night on the web, offering a clean filter for the night to come.
In recent times the dream catcher has lost its meaning along the way and is often overlooked despite its powerful heritage; the intricate items are mostly mass produced today, the natural materials being lost in the process. Only the ones that are truly interested by Native American dream catchers are manufacturing them by hand, personalized to a great extent, ready to be hung over the bed and ready to protect with their beautiful uniqueness. The short tutorial that follows will help you make a dream catcher; the process is simple and inexpensive.
Supplies Required To Make A Dream Catcher:
A hoop about 6 inches ~ 15 centimeters

Thread, yarn or twine

Feathers

Beads

Glue

Suede lacing
Step 1 – Purchase or Shape the Loop of the Dream Catcher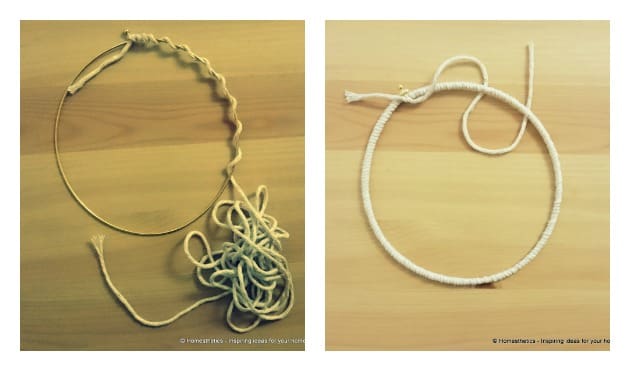 If you are to use a willow or grapevine it is recommended to soak it in warm water for approximately 30 minutes.

Bend the hoop next, secure the circle with a twist tie and land some heavy weights on it to make sure it remains all in a single plane.

Dip the entire loop in tacky glue and proceed by wrapping suede lacing (or twine) tightly.
Step 2 – Weave The Dream Cather's Web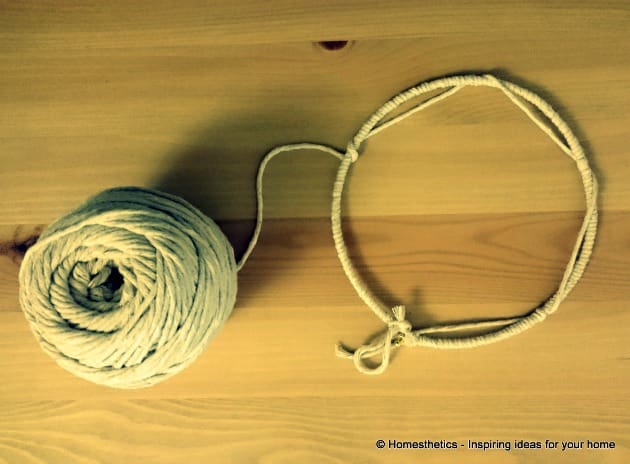 To make a dream catcher, one should start from the top, with a knot and place the connections about one inch apart

A conventional hoop can contain 8 to 10 jumps along the hoop on the first level

The last stop will mark the moment when you jump on tier two, on the midpoint of the first tier one hoop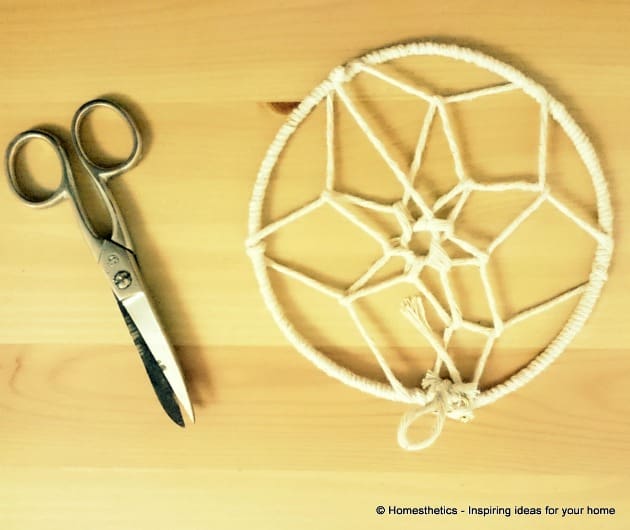 Step 3 – Finish The Dream Catcher With Custom Accessories
Tie the end of your thread when you are to unable to continue with the jumps, the middle should remain balanced

Add colorful feathers to your dream-catcher to highlight verticality; beads could also bring it a more natural, rustic vibe

Using heaver items in your composition will grant the dream catcher a beautiful, vertical position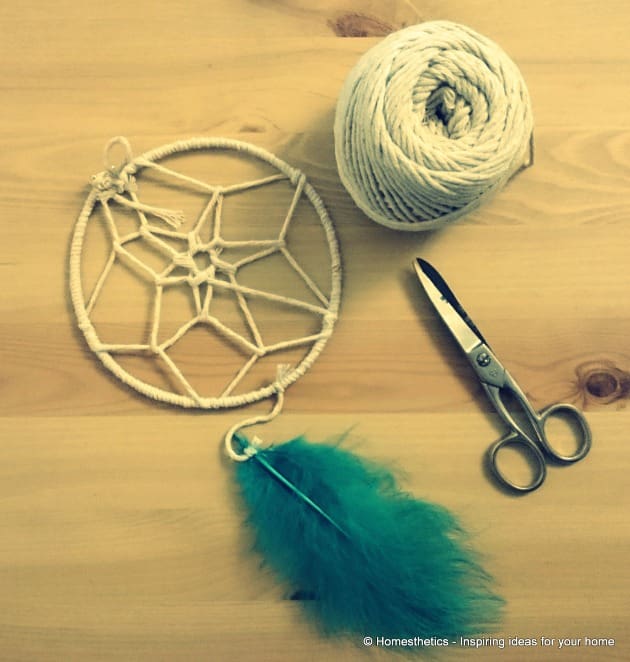 Photos Courtesy to Homesthetics Magazine
That is how you make a dream catcher.  Congratulations! Hopefully this is the first of many. One could consider creating dream catchers as beautiful DIY gifts.
Dream Catcher Tutorial Tips
The composition can become more complicated when the string used is thinner, allowing the web to be far more intricate, far denser and more graphic. One could also use a bigger hoop to obtain the same effect with thicker string.
Personalize you dream-catcher. Add your own personal elements. Layered or multi-hoop dream catchers can also be made. Get creative with simple elements and create something truly unique.
I hope this DIY dream catcher inspires you dream big and keeps you safe from anxiety about missing. It all starts with the dream! What do you think? We would love to hear your opinion on the subject in the comment section below.
DIY Dreamcatcher
To make the DIY dreamcatcher gift you will need:
Bright and colorful yarn
A wooden embroidery hoop
Glue gun
Aquarium rocks or shells
Feathers
Twine
DIY Dreamcatcher Step By Step
1. Tie yarn to one point of hoop, leaving 8+ inches to hang under the knot.
2. Wrap yarn around the hoop continuously until getting a web-like desired look.
3. Bring the yarn near the original knot, tie and let another 8+ inches or so hang (these are the beginning pieces that hang at the bottom).
4. Take contrasting yarn and start wrapping around the frame of the hoop. This also ensures the yarn won't slip and move.
5. Lastly, you'll want to glue "good dreams" into the web. I used neon aquarium rocks and painted some small shells. Rocks or beads can be used as well.
Finalize your dreamcatcher with more hanging thread, strings, twine, etc. I added some feathers glued to twine, braided some yarn, added a pop of neon embroidery thread. Ribbon, rope, lace can be used as well.
Packaging the gift up to give to your favorite ladies and encourage them to dream those bold dreams.
PS. While you have the yarn out creating this pretty woven yarn wreath and this yarn kids fort are both great ideas.
Project design and gorgeous photography by Carly Taylor for A Subtle Revelry.