If you're a social media professional or a business owner trying to navigate the world of Facebook Business Pages, the following situations may sound familiar.
There are rogue location Pages set up that you don't have access to. You need to manage your brand and respond to users commenting on them.
You have more than one Page set up for the same business, but don't want to lose any followers by deleting one of them.
You have multiple location Pages for a business, but none of them are set up under your main Page.
There are many variations of the above scenarios, and unfortunately, figuring out the solutions on your own can be a struggle with Facebook's limited guidance. In this article, I'll help you to learn the nuances, workarounds, and strategies for implementing the three major things you'll inevitably run into when managing Facebook Business Pages: Page Claiming, Page Merging, and Page Location Setup. Let's get to spring cleaning!
Facebook Page Claiming
Let's kick things off with Facebook Page Claiming. If you're in this situation, it means you don't have access to a specific Facebook Page for your business, but want it. When it comes to Page Claiming, there are two different angles—claiming Unofficial Pages and claiming Official Pages. Unofficial Pages are Pages created by Facebook that no one manages. They're created because someone checked into a place that didn't already have a Page or location associated with it. Official Pages are claimed Pages that have people tied to the Page managing it behind the scenes (admins), actively or inactively.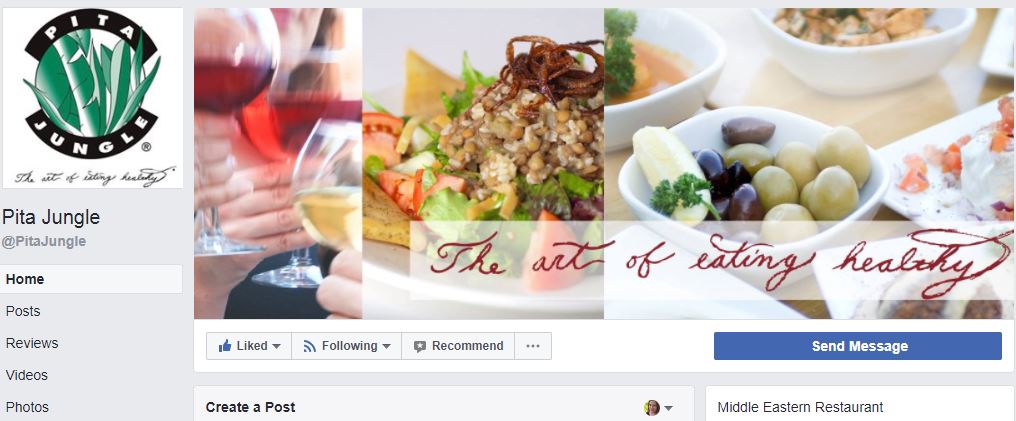 Claiming an Unofficial Facebook Page
When on the Unofficial Facebook Page, click "Is this your business?" on the top right.
If you want to merge the page into a verified Page you already manage, select that option and follow the prompts Facebook gives you.
If your Page isn't verified or that option isn't available for you, you'll move forward with the "Claim and verify with a phone call or documents" option.
You can opt to have Facebook call the number listed on the Page and then you can enter the verification code. Or, you can verify the Page with a business document like a utility bill or a business license.

If you opt to verify with a document, there is a wait time for a Facebook rep to review and approve the document. I've found that they get back to me within the day, or by the next day if I submit the request in the afternoon.Note: Facebook is buggy here and it may seem like nothing happened or it is continuously loading when you click submit. Most likely, your request did go through. Exit out of the status window and visit your Support Inbox to verify—you'll see your case to claim a place. 

If Facebook doesn't approve your document, you can respond to the email you receive or support message and attach a new document. Typically, they don't accept anything that could be publicly accessible, like a liquor license.
Once approved, you'll have access to the Page. You can then start actively updating it, deleting it, adding it as a location Page to an existing Page, or merging it into an existing Page. More on the last two options later in this guide.
Claiming an Official Facebook Page
Did someone create a Page for your business that you don't have access to? Facebook's official statement on this situation is, "Facebook is not in a position to settle disputes regarding admin roles. We cannot grant you a role on a Page and we cannot change your role on a Page."
If you're finding yourself in this predicament, here are some things you can try:
Communicate with your team or whomever may have access to the Page and see if they can add you to it.
Request the Page's removal by reporting a violation or infringement of your rights here.
As a last resort, you can create a new Page.
Facebook Page Merging
Facebook Page Merging is a handy tool when you want to combine two or more Pages into one. You may want to merge when multiple Pages are set up for the same business or business location, or when you claim an Unofficial Page and want to merge it into a Page you manage. However, there are restrictions and steps to take to be able to merge Pages, so let's dive right in.
Merging Requirements
You'll be able to merge two Pages if you meet the below requirements:
You have admin-level access to both Pages.
The Pages have similar names and represent the same thing.
The Pages have the same address if they have a physical location.
If one of the Pages is in a Business Manager, the other must be added to it as well.
I'll cover some workarounds to these requirements after we go over the merging process.
Merging Process
Here's how to merge Facebook Pages:
Visit com/pages/merge or business.facebook.com/pages/merge for pages in Business Managers.
Select the two Pages you'd like to merge. Then, select "Continue."
Select the Page you'll be keeping. The other Page will be removed—note the important considerations in the next section.

Facebook will confirm which Page you keep and which will be removed, then finish the merge request.
Keep an eye on your Pages. You should notice the merge completed within a few hours or less.
Important Considerations
It's very important to note that the Page you merge will only transfer check-ins and likes to the Page that you keep.
The old Page that's merged won't transfer posts, photos, reviews, nor the username of the Page to the Page you keep—these will all be removed. The Page you aren't keeping will also not be able to be unmerged.
Please merge cautiously!
Merging Problems and Solutions
Here are some common problems and solutions that come with merging Facebook Pages:
Problem: The names aren't similar enough to merge.
Solution 1: Change the name gradually to get it close enough.
Visit the About section on your Page.
Click "Edit" next to your Page Name.
The wait time between name changes is seven days.
Solution 2: On the About Page, when you don't have access to a Page, you can click "Suggest Edits" and then suggest an edit to the Page name.
Have employees suggest a name change on your Page that matches the other Page.
With enough suggestions, Facebook could send you a notification to accept the update to change your Page name.

Problem: You're trying to merge with a location Page set up under a parent (main) Page and it's not showing up as an option to merge into.

Solution: Even though you're an inherited admin from the parent Page, add yourself as an additional admin to the location Page itself.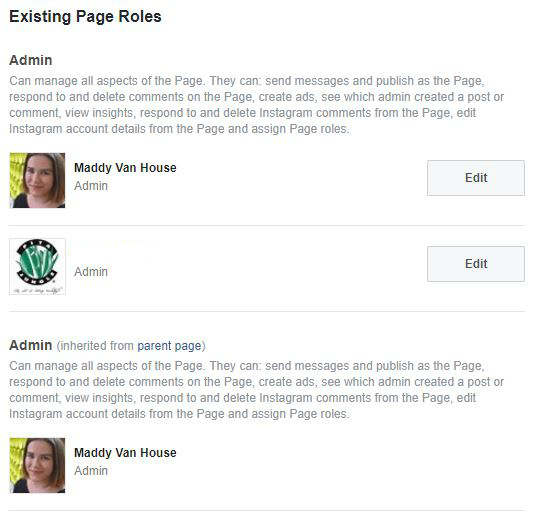 Now you will see the location Page as an option in the Page Merge window.
Once you complete the merge and no longer wish to have the location Page show up in your Page list, you can remove your added admin access. Doing so will still keep your inherited admin access to the parent Page.
1. Download Your Profile Information
First, let me back up and explain. You need to download your Facebook profile information because not everything will move to your new business Page when the conversion is completed. The only items transferred over will be your current profile picture and your current friends and subscribers (who will be converted to Likes). You'll also keep your current username.
You lose everything else. All of your posts, photos, bios and anything associated with the account. Yeah, I know. For the most part, you will be starting over. But if you want to recreate anything you had previously done, you'll want to first download your info to have it handy.
Here's how to download your profile information, according to Facebook. From the Account Settings page, do the following:
Click the account menu at the top right of any Facebook page
Choose Account Settings
Click on "Download a copy of your Facebook data"
Click Start My Archive
This file will contain virtually everything associated with your profile. I'm not going to list it all here because it is an extensive list. View Facebook's list of what is included in the file here.
3. Change Your Profile Name and Address
If you have an active business Page that you'll eventually want to merge with, you'll need to establish that this soon-to-be second business Page is a duplicate. So you'll want to change the profile name and physical address to be the same as that Page. (If you don't have an already active business Page, you can skip this part.)
Go to Account Settings to change your name
Go to your profile and click Update Info to access your address

4. Convert Your Personal Facebook Profile to a Business Page

Now that you've downloaded your profile information and assigned admins to applicable groups and Pages, it's time for the moment of truth.

Go here to convert your Facebook profile to a business Page. I'm not real certain of what steps are included because I'm scared to death to go too far into the process. But it looks like this:

This appears to be nearly identical to the process of setting up a Facebook Page for the first time. I'll let you find out for sure.

5. Merge Duplicate Pages

In some cases, people have both a personal profile in their business name and an existing business Page. So you're probably thinking: How dumb is that? I can't have two Pages! That's confusing!

Luckily for you, Facebook allows users to merge business Pages that represent the same thing. I know, it would have been easier to simply merge your Profile with the Page from the start. But you can't.

One potential obstacle is that you can only merge the Page with fewer Likes into the Page with more Likes. Your new Page that was just converted from a personal profile may actually have more Likes since your friends and subscribers were converted. That makes things tricky if you had an already established business Page with activity on it. You can merge them, but your content will be starting over.

Here is how to merge two existing, duplicate Pages, according to Facebook:

Go to the Page with the most likes. This will be the one you'll keep.
From the top of your Page, click Edit Page
Select Update Info
From the left sidebar, select Resources.
Click the Merge duplicate Pages link. This link will only appear if you admin two Pages with similar names.
A dialogue will show Pages you admin that qualify to be merged. Select the Page(s) you wish to merge. If you're merging Pages with a location, they must have the same address information.

And, from Facebook:

Merging Pages combines all your likes and check-ins, but all other content from the Page with fewer likes, such as wall posts and photos, will be permanently deleted. The Page with fewer likes will be removed from Facebook and you will not be able to unmerge it.