There are so many fun ways to decorate for Christmas, but one great way to tie your decor (or gift wrapping) together is with Christmas bows! You can choose the ribbon and color scheme yourself to make your Christmas decorations extra special. If you've ever wondered how to make a Christmas bow like you see in pictures, look no further!
We're going to show you how to make a Christmas bow out of ribbon four different ways, both big and small.
First, here are some things to take into consideration when purchasing your materials:
Consider double sided ribbon – Though double sided ribbon isn't required for all of these bows, we recommend it if you're worried about your ribbon getting twisted. Double sided ribbon ensures that the right side is always facing up!
Use wired ribbon for shape – If you want your bow to have a lot of shape or fullness, use wired ribbon so that it's easier to arrange.
Sharp scissors are key – Sharp scissors leave clean cuts, and make it easy easy to cut through multiple layers and wired ribbon. We used fabric scissors.
Ready? Let's get started!
How to Make a Classic Christmas Bow
The classic bow is what everyone pictures when they hear the word "bow." It is the easiest of the four to make. You can use either regular ribbon or wired ribbon when making a classic Christmas bow. We used wired ribbon, which allowed us to mold the loops into full shapes rather than having them lay flat.
Directions
Step 1: Create three loops with your ribbon. Two that face upwards and one middle loop that faces downwards.
Step 2: Cross the right loop over the left loop so that the side with the tail hanging down faces out.
Step 3: Fold the right loop down through the center loop.
Step 4: Arrange your bow and enjoy!
How to Make a Double Bow
For the double bow, we suggest using thin, non-wired, double-sided ribbon for best results. As you can see in the video, we use single-sided ribbon, which still works. However, one of the loops will be twisted, as you have to twist the ribbon on the second loop in step 2 so that the right side is still facing you.
Since you use your fingers as a guide when making these bows, they will be relatively small. You can apply the same technique using something wider, like chair legs, if you want to make a large double bow.
Directions
Step 1: Cut a length of ribbon. Ours was 18 inches long. Then, make a peace sign with your index and middle fingers and rotate them sideways. Place the ribbon over your index and middle fingers, leaving about 4 inches overlapping, and hold ribbon in place between your thumb and index finger.
Step 2: Wrap the ribbon down and around the back of your fingers once. Repeat one more loop so the ribbon is now facing downwards behind your middle finger.
Step 3: Bring the ribbon in front of your middle finger. The ribbon should still be facing downwards.
Step 4: Loop the ribbon up and behind your middle finger so that it is facing away from you.
Step 5: Bring the ribbon forward so it lays horizontally across the vertical loops of ribbon.
Step 6: Thread through the opening between your index and middle finger.
Step 7: Circle the tail back around so that it crosses the horizontal strip of ribbon, making an "x."
Step 8: Pull the tail up behind the "x" and cinch the ribbon together, tightening the center.
How to Make a Gift Bow
A voluminous bow is a great way to make your gift pop. If you want to go beyond solid-colored, store-bought gift bows, try making your own with patterned ribbon! We'll show you how to make a gift bow in six easy steps.
One-sided ribbon is fine for this type of bow. You can use non-wired or wired ribbon, though wired ribbon gives the bow a better shape. Since you'll be cutting through multiple layers of ribbon, you'll need sharp scissors, like fabric scissors, to create this bow. The gift bow uses a lot of ribbon (we used nearly 5.5 feet in our 4.5 inch wide bow), so if you plan on making multiple gift bows, be sure to stock up on ribbon.
Directions
Step 1: Measure how wide you want the bow, keeping the ribbon attached to the spool if you're unsure how many layers you want.
Step 2: Fold that length inwards. Continue folding until you have the desired number of loops (one fold equals one loop). Once complete, cut the end of the ribbon. You'll now have one big ring.
Step 3: Take the two ends of that ring and put them together so that they (and the loose end of the ribbon) are at the top center.
Step 4: Cut notches at the center of the ribbon. You should cut on the left and right sides about one-third of the way in on each side.
Step 5: Thread floral wire through the cuts and twist it tightly to secure.
Step 6: Pull and twist each loop to fill out your bow.
How to Make a Big Christmas Bow
This large bow is the perfect wreath bow. Use it to decorate your greenery, or place on your door or staircase to add festivity to your home! Single-sided, wired ribbon is best for this project. If you're unsure how big you want each loop, leave the ribbon on the spool while you're creating the bow.
Directions
Step 1: With the right side of the ribbon facing up, determine how long you want the tail of your ribbon to be.
Step 2: From that point, twist the ribbon so the side closest to the spool is facing wrong side up.
Step 3: Grab the end where the wrong side is facing up and loop it down towards the tail and back around to create a circle. Twist the ribbon so right sides are facing up on both sides. You should now have your center loop.
Step 4: Fold the ribbon back towards the bottom of the center loop to create your first side loop.
Step 5: Twist the ribbon so that the right side faces up and create another loop on the opposite side.
Step 6: Repeat until you've filled out your bow with the desired number of loops
Step 7: Cut a piece of floral wire and thread through the center loop and around the rest of the bow. Twist to secure.
Step 8: Measure your second tail so it's equal to the first and cut ribbon from the spool.
DIY Christmas Bow Styling Tips
Now that you know how to make Christmas bows, what are you going to use them for? Wrapping Christmas gifts is the obvious answer, but there are so many other unique ways you can decorate with bows and ribbons. Here are a few styling tips to inspire you.
Step 1
Hold the ribbon in your hand and leave a tail long enough to work as one end of your bow plus the length you'll need for the center loop.  When in doubt, leave more!  The tail should be in the front of your hand.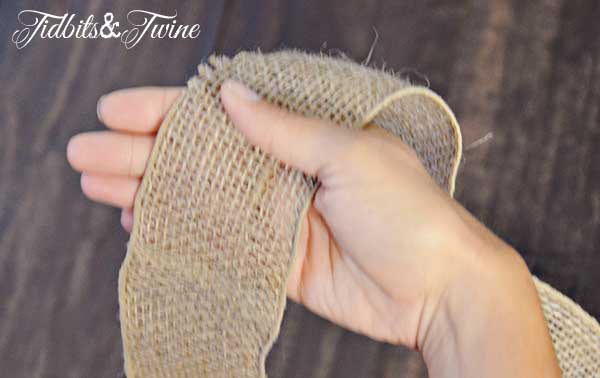 Step 2
Fold a length of ribbon backward to create a loop and pinch with it your thumb.  This loop will be the smallest (inside) loop on the left-side of your bow.  The tail of your bow will continue to hang down in front.
Step 5
When you have reached your desired size, you are ready to finish it off!  The number of loops you create and the size of the loops will depend on the size you want for your finished bow, but regardless, always use an odd number of loops on each side.  Here you can see that I have five loops per side going from smallest to biggest and one tail of the bow is on the front and the other (still attached to the spool) is on the back.
Step 6
This one was hard to photograph, so I'll do my best to explain!  In this step, you'll be creating the center loop of your bow.  Take the tail end that is on the front and create a backward loop with the tail end now going down over the top of the bow to the back.
Step 7
To secure the bow, use a length of wire that is twisted around the back.  Wire is ideal because it hold securely, but also allows you to move the loops around to spread out the bow when you're ready to fluff it.
Colorful Loop Bow
This adorable bow can be made in any color or any combination of colors. You just need ribbons in a few different sizes, a hot glue gun and something to adorn the center, as well as a clip. You just form the ribbons into flower loops and attach them all together. This is a beautiful bow that can be made in a number of different sizes depending on how much ribbon you use, so it's great for any occasion. Instructions – Theturquoisepiano
Flower Bow
Flowers are great for all occasions and you can make a flower bow really easily. You just need a piece of ribbon around four inches long and a bit of sewing supplies. This is a really easy project and you can make different bows using different colored ribbons. Remember to choose something special to adorn the center. Instructions – Littlebirdiesecrets
Ribbon Flower
This is another take on a flower bow and it is made with ribbon. You can adorn the middle of the bow with buttons, character pins or anything else that you want and these are so easy that you can make more than one for different occasions. Use red or green ribbon and add a whimsical snowman for the holidays or choose any color and adornment that suits your occasion. Instructions – Theribbonretreat
No-Slip Bows for Babies
Even if your little girl has fine or very little hair, there are bows that you can make for her that will not slip. This is a traditional looking bow with a twist. You add no-slip liner to the inside to keep it in place. The liner is what you would use in cupboards to keep cups or other items from slipping. This works great on bows and the traditional bow is really easy. Instructions – Makeit-loveit
Halloween Korker Bows
Ok, so Halloween is coming up pretty quickly and if you want something special for your little girl to wear trick or treating, a homemade bow is a great choice. These little curly korker bows are adorable and really easy to create. You can add a slew of different colors to make them really stand out or just use basic Halloween shades, whatever you prefer. Instructions – Brooklynsbows
Yarn Bow
This petite yarn bow is really attractive and can be made in so many different ways. You can use whatever colors you want and even mix and match if you want it to be really colorful. You will need an adornment for the center and a clip. You basically just wind the yarn around your fingers and then tie it together. It's easy and you can make several from one spool of yarn. Instructions – Craftsnob
Five Petal Flower Bow
This little bow is really easy to make, although it doesn't look it. It is a beautiful flower with five petals made from yarn or fabric. You will need to cut the ribbon to make it rounded on the ends and then just sew it together. Add embellishments in the center or leave it plain, it looks great either way. Instructions – Ribbonflowers
Disney Princess Ribbon Bows
Every little girl loves the Disney princesses and you can make your little one a bow in her favorite character. You just need ribbon, hot glue and a barrette or clip. These are relatively easy to make so you can make all of her favorite characters. These would be great for birthday parties to hand out to little girls who attend as party favors. Instructions – Entirelysmitten
Thanksgiving Turkey Bow
What could be more perfect for Thanksgiving than a turkey hair bow? These cute little bows are really easy to make. You will need brown, yellow, green and orange ribbon as well as a hot glue gun and a few other key supplies. If your little one doesn't have enough hair for a clip, just attach it to a headband. Instructions – Codylisa
Cupcake Bow
Cupcake bows simply scream little girl. These are really adorable and so yummy looking. You will need grosgrain ribbon in whatever colors you want. The icing is made from korker ribbon and a little hot glue holds it all together. What an adorable clip and you can make them in any color to suit any holiday or special occasion. Instructions – Girlythingsbows
Colorful Loopy Ribbon Bow
With a few different colors of narrow ribbon, you can create this beautiful loopy bow. You just loop ribbon together and tie to secure it. Do this with several colors, as many as you want, and then attach them all together on a clip. This is a great classic bow that looks perfect for any occasion and is really easy to make once you get the hang of the loops. Instructions – Theribbonretreat
Ric Rac Flower Bow
These little flower bows are perfect for girls of all ages, even moms. They are made with felt and you simply have to cut out your shapes and stack them on top of each other, gradually changing the size. Add a button or other adornment to the center and you have a really easy to make and beautiful bow for yourself or your little girl. Instructions – Theribbonretreat
Twisted Boutique Bow
If you have a little one in a pageant or you simply want an elegant bow for any occasion, these boutique bows are a great choice. You just need wide ribbon in any color, needle and thread and a little hot glue. These bows look great in all sizes so you can choose whatever width of ribbon you want and make them however long you choose. Instructions – Theribbonretreat
Spikey Pom Pom Bow
Pom pom bows are really popular and this spikey twist is great. It is made from ribbon, ric rac, felt and a few other supplies. It really is easier to make than it looks and any little girl would love sporting this in her hair. Once you get the pattern down, you can experiment with different colors for various holidays and other occasions. Instructions – Theribbonretreat
Piggy Bow
Using just a bit of grosgrain ribbon, you can create these stunning piggy bows that have loops upon loops. You just loop wide ribbon and then accent it with a narrower ribbon of a different color. These are great and really simple to create so you can make several of them in different colors for different occasions. Instructions – Tencowchick
Crocheted Bow
If you crochet, and even if you don't, you can easily create a beautiful bow for girls of all ages. If you are a beginning crocheter, this is a great project to get in some needed practice. Choose yarns of all different colors to create different looks. These would make great Christmas gifts for those of you who love to crochet. Instructions – Happytogethercreates
Snowman Bow
The holidays will be spectacular when you create these little snowman bows for your little girl. You will need white ribbon of course, and then other colors like black and brown for the accents. These are so cute and will make your daughter the hit of any holiday party. As complicated as they look, they are really simple to make and cost under $1 for each bow so you can make several if you want. Instructions – Howdoesshe
Butterfly Bows
Even though spring has come and gone, your little one will love wearing these adorable butterfly bows. Because they are so simple to make, you can have several in different colors and make them now so that you have them ready when spring returns. These are colorful and whimsical and simply adorable. Instructions – Tencowchick
Fabric and Felt Flower Bow
Flower bows are really not difficult to make and this one is so simple that you may find yourself creating several. You basically just cut circles from fabric, in whatever size you want your flower, and then fold those circles before gluing them together. Simple and really beautiful and you can create flower bows to match any outfit that your little one wears. Instructions – Theribbonretreat
Cheerleader Bows
Even if your daughter is not a cheerleader, you may want to create a few of these beautiful bows for her to wear. The longer ribbon makes them perfect for formal events or for cheering her little heart out. You can make these in any color and use any embellishment that you want. – those long ribbons would lovely flowing over a ponytail. They are easy to make and even easier to customize to make them perfect for your little girl.
Instructions – Sweetpeasandkisses
No Sew Fabric Bow
If you aren't really a fan of sewing, you can still create a beautiful flower bow. This really easy no-sew bow uses hot glue to hold it together. You just wrap the fabric and glue as you go along. Once you finish, just add any embellishment that you want to the center and you're set. This is a great bow for little girls and big girls alike. Instructions – Greylustergirl
Twisted Funky Hair Bow
You can make tons of twisted hair bows once you get the hang of it. These are great because you can add more and more ribbon to make them even bigger and funkier. Just choose ribbon in different colors and get started. They are relatively easy to make and again, once you get the hang of them you can create ribbons to your heart's content. Instructions – Mynameismomma
Felt Bow
Not all bows have to be made from ribbon and fabric. This is a great felt bow that will be perfect for fall and winter. Felt is really inexpensive and lets you create so many different things. Whether you choose a bow or a flower, these take very little time to make and you can choose to attach them to a barrette or a ponytail holder once you have finished. Instructions – Everynothingwonderful
Easy Fabric Bow
If you have a sewing machine, creating these little fabric bows will be a cinch. Even if you don't sew much, you can still hand sew the centers and have a beautiful little bow when you finish. Choose any fabric that you like. The great thing about these bows is that you can choose different textures and thicknesses of fabrics to create different looks. Instructions – Lookatmebaby
No Sew Baby Headband Bow
Baby headbands are simply adorable – and they keep people from assuming that your slightly bald baby girl is a boy. Anyway, these headband bows are easy and they require no sewing whatsoever. You just have to roll strips of fabric into a flower shape and then hot glue to hold it together. You can hot glue your flower to a plain baby headband or if you have a daughter with a little more hair, glue it to a hair clip or barrette. Instructions – Prudentbaby
Easy Traditional Bows
Making traditional loopy bows is easy and you can create these in many different sizes. If you need a smaller bow, simply choose a narrower ribbon and a wider ribbon for larger bows. You can also add additional layers to make them extra loopy. Just glue to a barrette or clip and you can create many different looks for different occasions. If you like the look of this simple bow and want to take it up a notch, have a look at this adorable bun do with a weaved ribbon and bow.  Instructions – Southernplate
Flower Power Bow
This bow is a great choice for older girls and teens. You just have to cut a flower shape out of some felt, glue a button or other adornment to the center and add a hair clip. Bobby pins work great for these and they are simple and really fast to make. If you have an older daughter or granddaughter, this is a great bow that the two of you can create together. Instructions – Abeautifulmess
Great Pop Bow
Pop bows are great and really popular. They are also really easy to create. You can choose ribbons of different colors to make them really stand out or do a single color for special occasions. You just basically have to loop the ribbon together and secure with a needle and thread. You can choose to leave strands of ribbon dangling if you want or cut them off to give the bow a different look. Instructions – Mooresmischief
Easy Button Bow
Wide ribbon is a great choice for these easy to make button bows. You just have to cut your ribbon into the length that you want and loop the two ends toward each other. Secure the center with a button or whatever you want and you are finished. You can sew the ends together or use hot glue if you prefer and then just add a clip or barrette to complete the project. Instructions – Skiptomylou
Classic Bow Made from Scrap Fabric
Any strips of fabric are perfect for making a classic hair bow. Just sew or glue the fabric into a square and then pinch it together in the center to create the classic bow-tie look. This is so easy that you can make a different bow for every day of the week. If you like to sew and you create outfits for your little girl, you can make bows to match with the leftover fabric. Instructions – Momtastic
Related Content
DIY Hair Bows
 Easy DIY Hair Bows 
   Need some 'Easy DIY Hair Bows'?  My daughter sent a video to me on Facebook showing How To Make Easy DIY Hair Bows For Little Girls.  Sophia wanted some hair bows after she saw one I had made for Memphis. 
   Memphis was in the 'baby contest' at the local Boone County Fair and needed a hair bow to match her little sailor outfit.  Having the name "Memphis Belle", it only seemed appropriate for her to wear a patriotic sailor outfit, right?  I looked for bows to match her outfit but found none.  They were all too big or the wrong colors.  So, I had to make one for her.  (She enjoyed the animals more than the contest that day.)
   Tiffany thought that it would be easier for Sophia to make one this way, which did not require hand-stitching like the ones I had been making.  She's right, but I am hoping Sophia finds a passion for sewing.
    Have you seen the bows you can make with a fork?  This technique is kind of the same principle.  After making the bows for the girls, I was trying to figure out a way to make a jig for making hair bows.   Well, someone had beaten me to it! What's more, it uses common items that everyone probably already has!
    Yep, there it is!  You'll need a piece of cardboard, 4 skewers, sharp scissors, a pencil, ruler, and ribbon.  If you are making a barrette, you will also need a barrette or hair clip and a hot glue gun.
   The cardboard piece I used is 3″ wide x 5-1/2″ for the smaller 3″ bow and
3″ wide x 7-1/2″ for the 3-1/2″ bow. 
Slide 4 skewers into the openings of the cardboard and straight through to the other side.
   Depending on the width of the ribbon you use and the width of the bow you want, mark intervals closer or farther apart.
    You can use a clip or clothespin hanger to help hold the ribbon end. 
First, clip the ribbon to the left side of the cardboard.
 Weave the ribbon over the top of the first skewer on the left side, under the second, over the third, and under the last skewer.
Fold the ribbon back over the top of the last skewer, under the 3rd skewer, and over the 2nd. 
Continue weaving under and over and back until you have something that looks like the example in the picture. 
This bow will have 2 loops on each side.
 The loose tails of the ribbon should face opposite sides.
    Place a thinner piece of ribbon in the same color, or a coordinating, or contrasting color, behind the woven ribbons and between the two center skewers.  (You could also fold the same kind of ribbon in on both sides to create a thinner version.)
The ribbon should be long enough to hang out above and below the woven ribbons.
Pull both ends down toward the cardboard, gathering the woven ribbons.
Pull up tight and tie an overhand knot with the ribbon.
Gently slide the bow up and off of the skewers.
To avoid frays, trim the ends at an angle or fold the ribbon in half lengthwise and cut an angle
to form a "V-shape" with sharp scissors.  To make the "V-shape", cut from the folded side, away from the bow, at a 45° angle toward the outer edge.
  Trim the thinner ribbon in the back and attach the bow to a barrette or hair clip with hot glue, catching the cut ends in the glue.
    There are so many different ways of making bows, but this method works very quickly and the end product looks really nice, too!  Aren't they cute?
   Maybe this little tutorial on "How To Make Easy DIY Hair Bows For Little Girls" will inspire you to make some for the little girls in your life.
How To Make Easy DIY Hairbows For Little Girls
Please follow and like us:
Step One: Cut Ribbon to Size
To make a medium sized bow measure 3 to 4 pieces of 24″ of ribbon then fold it in half.  Next cut 3 to 4 pieces of 18″ ribbon then fold in half.
As you can see from the picture below, most of the ribbons are folded over but there are also a few pieces that are not.  The small pile of  4 to 5 white ribbons measure about 12″ long.
This technique used 14 pieces of wired, grosgrain, and sheer ribbons  (24″ – 12″ in length) to make a medium sized bow.
Step Two: Stack the Ribbon
Start the ribbon stack with the larger, longer folded ribbons on the bottom then layer the different types of ribbon by alternation which way the fold goes. Alternating the folds will allow some folds will be on top and some on the bottom of the finished bow.
A few pieces of the chevron grosgrain ribbon and all of the white ribbons simply lay flat in the stack.
Step Three: Gather, Pinch, and Wrap
Find the center of the stack and pinch all the ribbons together in the middle. Then wrap the pinch tightly with a 24″ length of floral wire.
I love using these small wire cutters in all my crafting!
Step Four: Fluff into a Pretty Bow
Next "fluff" the bow out by forming the folds into loops and gently tugging the ribbons this way and that until you are satisfied with how the bow looks.
Use the floral wire to attach the easy bow to your favorite wreath!
Here's just a few of the wreaths and DIY Door Hangers I've used this Simple Bow Making Technique to decorate!
DIY Christmas Gifts to Make
Visit Ashley @ 3 Little Greenwoods's profile on Pinterest.
I link up with these fun parties!
Full Disclosure: This post contains affiliate links and/or is a sponsored post. I may receive compensation in the form of monetary compensation or product compensation in exchange for my review. I take pride in reviewing only products that fit my brand and will be beneficial to my readers. And while this post is sponsored or contains affiliate links, all the opinions are my own. Why do I do this? It will help me keep this DIY'ing Mama crafting for another day! For more on my disclosure policy click here.