Whew, we made it to the end of the week and through all of the balloon related posts this week.  In the final post, I'm showing you how to make a balloon arch without using helium.  It's all thanks to one little party decor gadget that has made all of these balloon posts possible.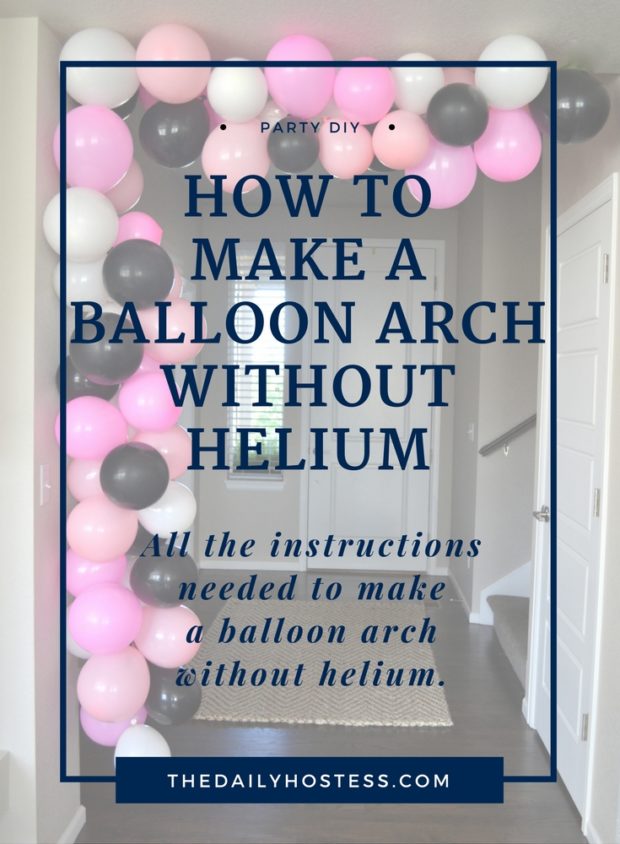 I recently hosted a #girlpower themed baby shower and wanted to make a fun statement piece, so I thought an arch would be perfect.  But have you priced a helium balloon arch?  They are expensive!  So this is a great alternative to shelling out so much money.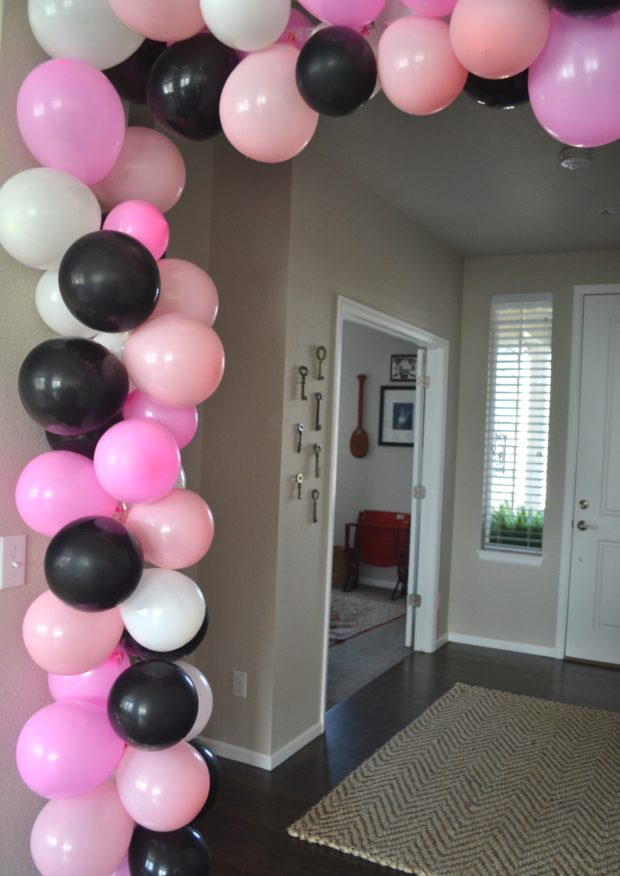 First I blew up balloons in various sizes, in various colors matching the party theme.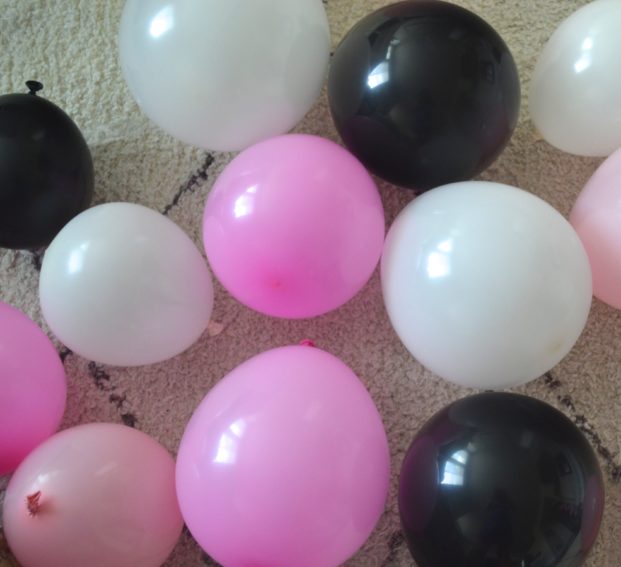 Here are all the supplies you need.
Next I used the balloon decorating strip and popped the tied end of the balloon through the holes. I promise, this balloon decorating strip is a game changer when it comes to doing anything with balloons.  This next picture isn't great, but you can see how the tied end of the balloon goes through the holes in the strip.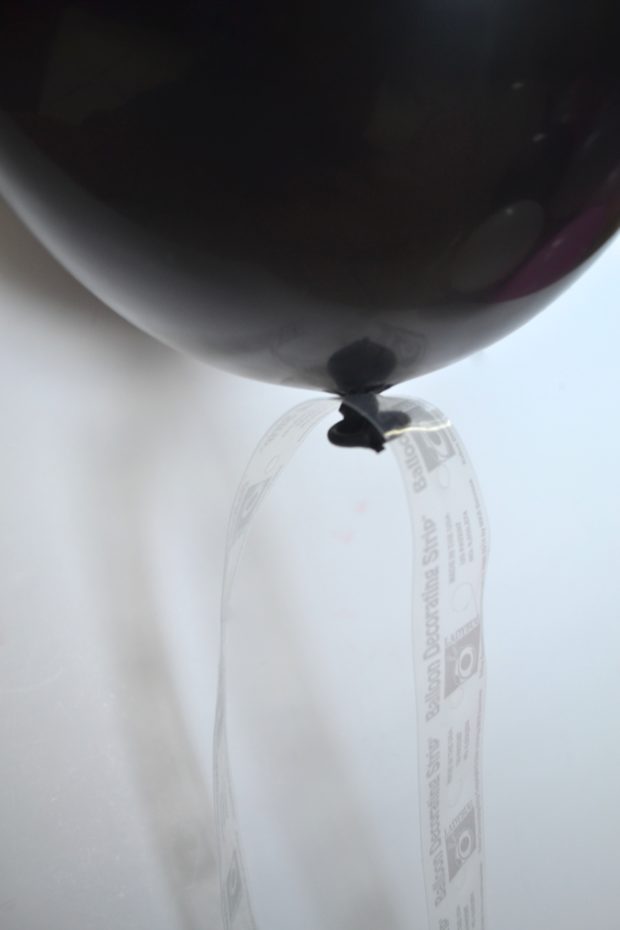 Just start popping them into the strip and fill in as necessary.  Then find a doorway to hang the balloons up.  I just taped the strip to the wall and ceiling.  You may have to adjust a few balloons once it's hanging to get the fullness you desire.  If spots look a little bare, just blow up another balloon and pop it through the hole.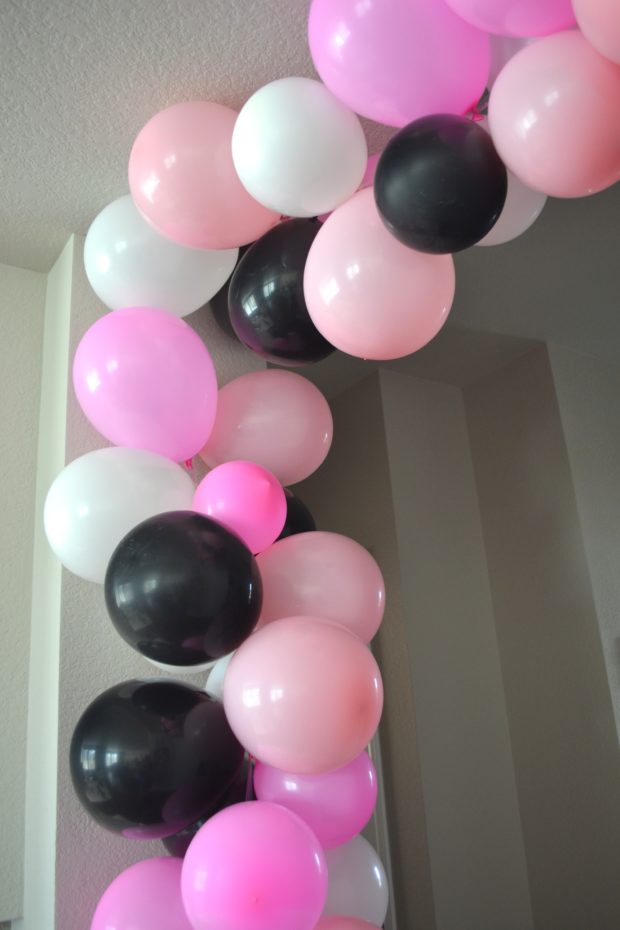 It makes a great entrance or backdrop to any party.  And all you have to spend out of pocket is about $8 between balloons and the decorating strip.  Although if you don't have strong lungs you may want to purchase a pump to blow up the balloons.  It only took me about an hour to make this whole arch.  So for not a lot of money and not a lot of time you can have a great statement piece at your party.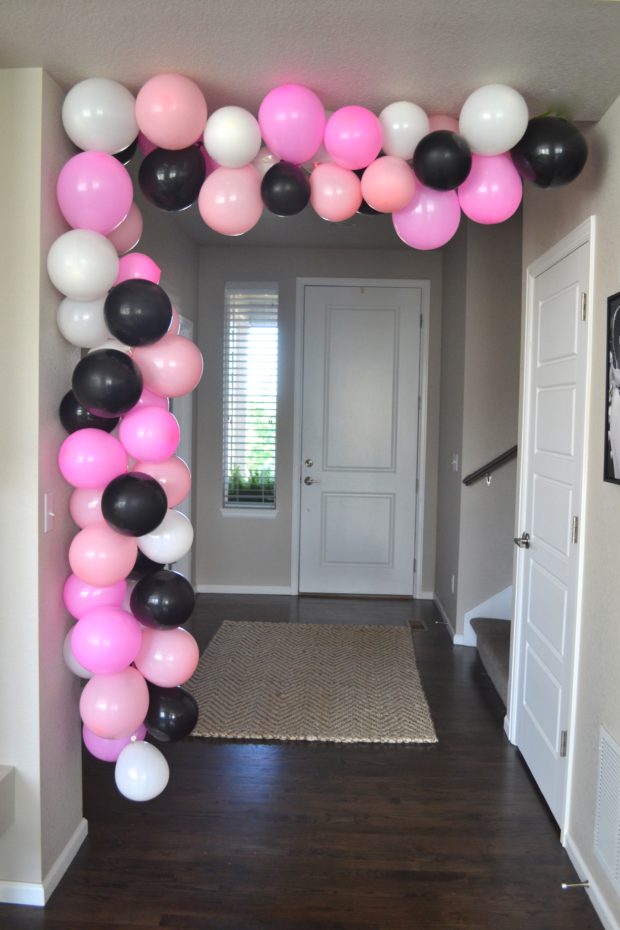 I was pretty surprised at how well the balloon arch held up too.  I finished the arch and hung it up about a week before the party and it was still holding up great the day of the party.
There are so many ways to use this method when decorating for a party.  Make an arch like I did, attach the balloon garland to stair handrails, hang a bunch from the ceiling to make a balloon filled background, or attach them to the front of a buffet table.  It would also look great if you tucked other things in between the balloons.  Flowers, streamers, leaves, or garland would look great and fill in any bare spots.
You can bet that I'll be having a lot more balloon arches and garlands at my upcoming parties, that's for sure.  Happy 4th of July weekend, be safe and eat a lot of bar-b-que.  If you need some last minute decor inspiration, don't forget to check out my patriotic front porch.

If you loved this simple DIY party decorating idea, take a look at a few others that are just as easy!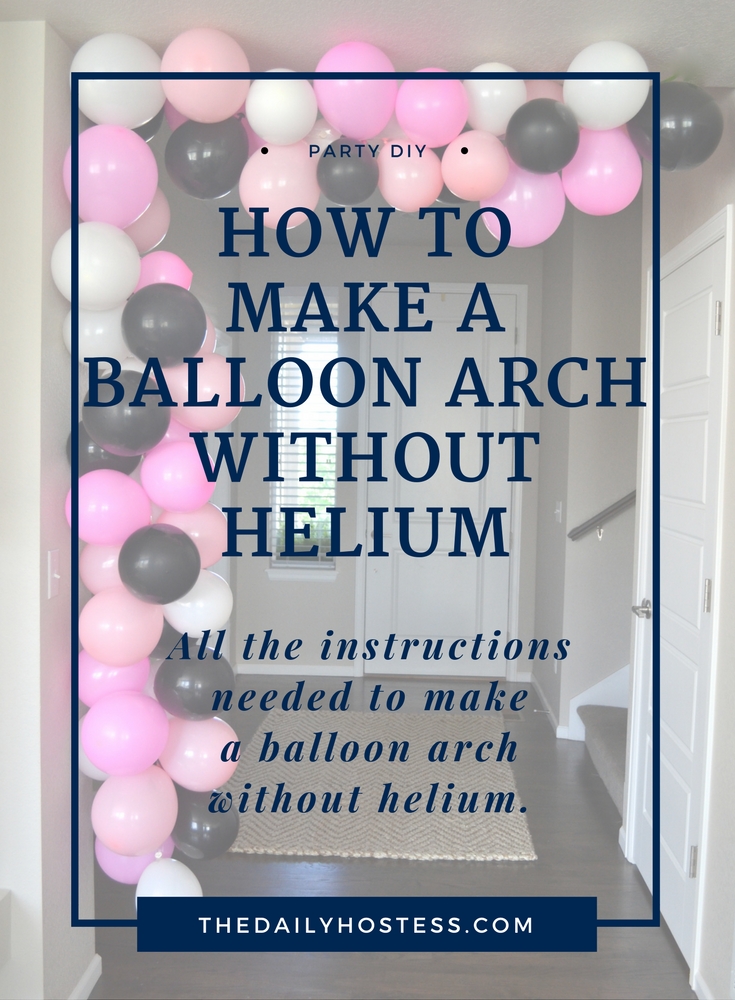 Materials: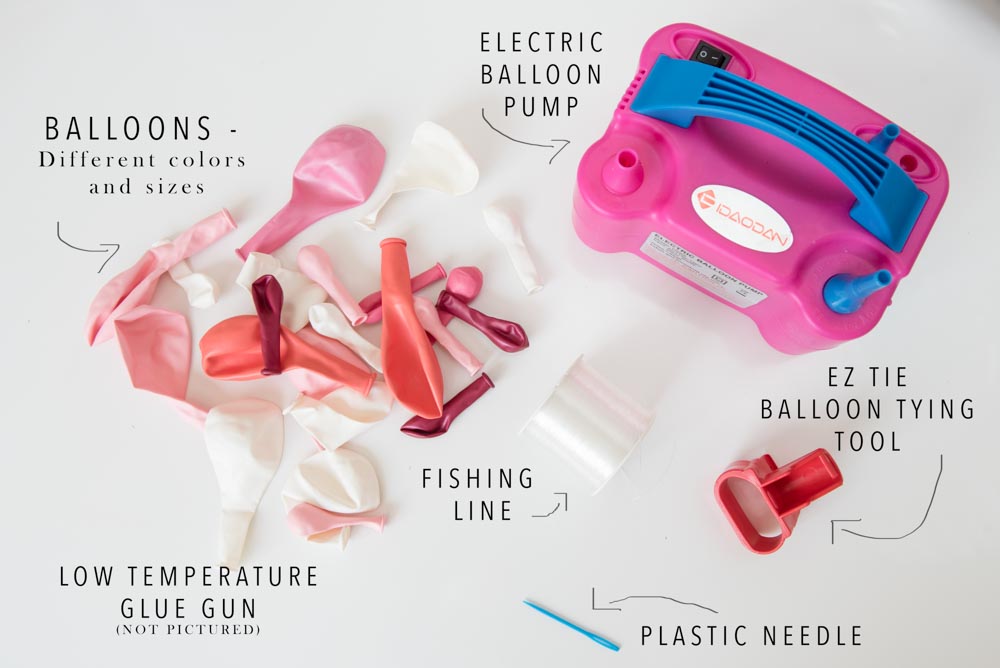 Electric Balloon Pump – Guys, this is a MUST HAVE.  Don't even think about doing this without an electric balloon pump.  For serious.  Other bloggers will try to tell you to use a hand pump like this one.  Don't listen to them. Lol. You'll be pumping up hundreds of balloons.  This is $25 well spent!
EZ Tie – Balloon Tying Tool – Another MUST HAVE. Trust me. This is the best invention.  Like, ever.  It allows you to tie balloons so quickly without hurting your fingers.  Once I got the hang of it, I was pumping and tying a balloon in seconds! You slip it on your fingers and wrap the balloon end around and through the space. You'll get the hang of it.   Buy it.  Don't even hesitate.  You can thank me later.
Balloons– the key is to buy balloons in different sizes! I used 5″ and 11″.   I didn't even know 5″ balloons existed until I started doing this project.  The mini balloons make all the texture in these arches.  You can choose whatever colors you want but consider getting a some balloon colors in both 5″ and 11″.
Fishing line – Any clear fishing line will do!
Plastic Sewing Needles – You'll use these to 'sew' the balloon tails together with the fishing line.
Hooks: You'll need to think of a way to attach your arch.  In this case, I was using the stair case but I also use these hooks in other spaces.
Instructions
1.  Inflate Balloons
Begin by inflating your balloons with air and tying with a standard knot.  You will need four balloons per tier of your tower.  It is critical that the balloons are inflated to the same size for proper styling of the column.
Expert tip: slightly under-inflate the balloons to gain more stability and reduce the likelihood of popped balloons.
2.  Tie balloons together
Tie all of your balloons into sets of two at the base of the knot. Then twist two pairs of balloons together to create a cluster of four balloons.  To achieve the look in this tutorial, tie balloons of the same color in a set of two and twist together with a pair of balloons in a different color.
3. Create the link
Tie two 260 Q balloons together (long skinny balloons used for balloon animals).  These will be used to stabilize and build your tower.  Tie the balloon link to your balloon topper.
4. Build your column
Begin building your balloon column by attaching your first four-balloon cluster to the balloon weight by tying the balloon link in a tight knot around the connected twist of the cluster. Then simply continue adding additional clusters or tiers by tying the twist with your balloon link. Rotate each tier 90° to achieve a swirled look for your balloon column.
Why not just use ribbon to connect the tiers? After many years of making balloon columns, the experts at Party America have found that ribbon can 'cut' and pop the balloons.
Expert tip: make sure to synch your balloon link tightly when stacking each tier.  This keeps your balloon column straight and tidy. For reference, a link made of two 260Q balloons will be long enough to connect six tiers.
5.  Top it!
Add a larger decorative balloon that matches your color theme to complete your balloon column! Connect with your balloon link or attached a helium balloon with ribbon for a fun floating topper.
Don't want to spend the time to making your own balloon column, no worries! Let Party America do it for you! Call us today to order.
(406) 656-0808