I love baked potatoes, but they take so long to cook. Potatoes need an hour (or more) to be tender in the middle with a crisp, crackling skin. Weeknight baked potatoes? Out of the question.
That changed one afternoon as I drove back from lunch. Jacques Pepin was on the radio, chatting about his new cookbook. Jacques is an encyclopedia of cooking tips, and he had a great time sharing them with the host of the show.
Then came the tip that nearly ran me off the road. His baked potatoes are done in thirty minutes or less. What? *At this point, I remembered the yellow lines on the road are for my safety, and the safety of all those other cars around me…
Thirty minutes? How? Jacques microwaves the potatoes while his oven pre-heats, giving them a head start. The result is perfect baked potatoes in half the time they normally take.
That was seven years ago; I have used the microwave technique ever since. Now, I'm almost ashamed to share this; it's barely a recipe. One ingredient, two steps. And I'm stretching to make it two steps. But I'll get over my shame. This is too useful a technique.
Recipe: Quick Baked Potatoes
Adapted From: Jacques Pepin, Fast Food My Way
Print
Print Recipe
Pin Recipe
Quick Baked Potatoes – jump start the cooking in the microwave, and they're done in a half an hour.
6 small russet potatoes (6-8 ounces each)
Start potatoes in Microwave: Turn oven to 425*F. Wash the potatoes, then poke each one three times with a fork. Microwave the potatoes on high for 6 minutes.
Finish potatoes in oven: Transfer the potatoes to the oven, and cook for 20 minutes, or until the skin feels crisp when a potato is squeezed. Remove from the oven and immediately cut a slice the top of the potato to let the steam escape. Squeeze from the ends to fluff up, and serve.
Variations:
Large potatoes, 12 to 16 ounces: microwave for 8 to 10 minutes before transferring to the oven, and bake for 25 minutes.
Notes:
*Salt and pepper the potatoes once they are split open. Garnish with one or more of: shredded cheese, sour cream, chives, bacon bits, jalapenos. Or a pat of butter. Or, my favorite, a pan sauce from sauteed pork chops.
*Find good, clean potatoes for this recipe. Baked potatoes work best when they're whole. The skin traps the steam inside, making the inside fluffy and tender. If you have to remove bruises or eyes, then the steam will escape, and the potatoes won't bake as well.
What do you think? Questions? Other ideas? Leave them in the comments section below.
Related Posts:
Basic White Rice Orzo Pilaf
Adapted from:
Jacques Pepin, Fast Food My Way *Enjoyed this post? Want to help out DadCooksDinner? Subscribe using your RSS reader or by Email, recommend DadCooksDinner to your friends, or buy something from Amazon.com through the links on this site. Thank you!
Time to Toss the Tinfoil
No need to wrap your potatoes with aluminum foil anymore! Skip that pesky step and instead rub the skin with olive oil and kosher salt. This process will create a buttery crisp exterior and ensure fluffy freshness inside.
MY LATEST RECIPES
Potatoes are Good For You!
Don't let the low-carb craze scare you away from a good potato dinner. They're actually very good for you! Here's why:
Potatoes have more potassium than a banana.
They're high in fiber, so potatoes in your diet can help lower cholesterol and decrease your risk of heart disease.
Potatoes are chock full of Vitamin C and Vitamin B6.
Plus, they're quite delicious!
More Potato Side Dishes
Potatoes are so versatile and go well with many meats and vegetables.  Here are a few of our favorites:
Pesto Potatoes – These diced potatoes are coated in pesto and roasted to perfection.  So easy and packed with flavor!
Roasted Potatoes and Brussels Sprouts – Another easy side dish!  The bacon adds a tasty dimension – a must try!
Roasted Red Caesar Potatoes – Red pepper, Caesar salad dressing, and Parmesan cheese flakes give these potatoes a unique Italian zest.
Grilled Foil Ranch Potatoes – These potatoes are great in the summer.  Throw them on the grill at your next BBQ.  The packets can be loaded with bacon, ham, onions, peppers, and/or cheese.  The clean-up is so easy!
Parmesan Baked Potato Halves – This is one of the most popular recipes on our site.  The potato halves are cooked in butter and Parmesan cheese giving the potatoes a crispy, flavorful topping.
How to Bake the Perfect Baked Potato
1

large

Russet potato

1

teaspoon

oil

vegetable or canola oil

Kosher salt

to taste
Heat oven to 350 degrees and position racks in top and bottom thirds.   

Wash potato (or potatoes) thoroughly with cold water. Dry well

Using a fork, poke 8 to 12 deep holes all over the potato.

Place in a bowl and coat lightly with oil.

Sprinkle with kosher salt and place potato directly on the rack in the middle of oven. 

Place a baking sheet on the lower rack to catch any drippings.

Bake 1 hour or until skin feels crisp but flesh beneath feels soft. 

Serve by creating a dotted line from end to end with your fork, then crack the potato open by pushing the ends towards one another. The potato will be hot and steamy so be careful!

NOTE: If you're cooking more than 4 potatoes, you'll need to extend the cooking time by up to 15 minutes.
SaveSave
SaveSave
What is the best way to bake a potato?
Answer: the pressure cooker.
Why? Well, you're not actually baking the potato. You're steaming it.
If you don't have an electric pressure cooker, or an Instant Pot as your friends probably all have, then you need to get one. Every time I use mine I love it more and more. I have made tons of Instant Pot recipes. To name just a few: Pressure Cooker Potato Leek Soup, Pressure Cooker Whole Chicken, and Pressure Cooker Shoyu Chicken. This appliance quickly replaced my crockpot which I only now use to keep ciders and side dishes warm before serving.
Not only will making baked potatoes in the pressure cooker save you time (compared to oven baked potatoes), but steaming them under pressure makes the inside of the potato completely moist, smooth, and creamy. In fact, this is how I make my mashed potatoes now. The only difference when making mashed potatoes is that I'll cut them in half, or quarter them if they are large, before cooking. Then, once done, I just peel off the skin when they're cool enough to handle and mash them up with all sorts of butter, buttermilk, roasted garlic, etc.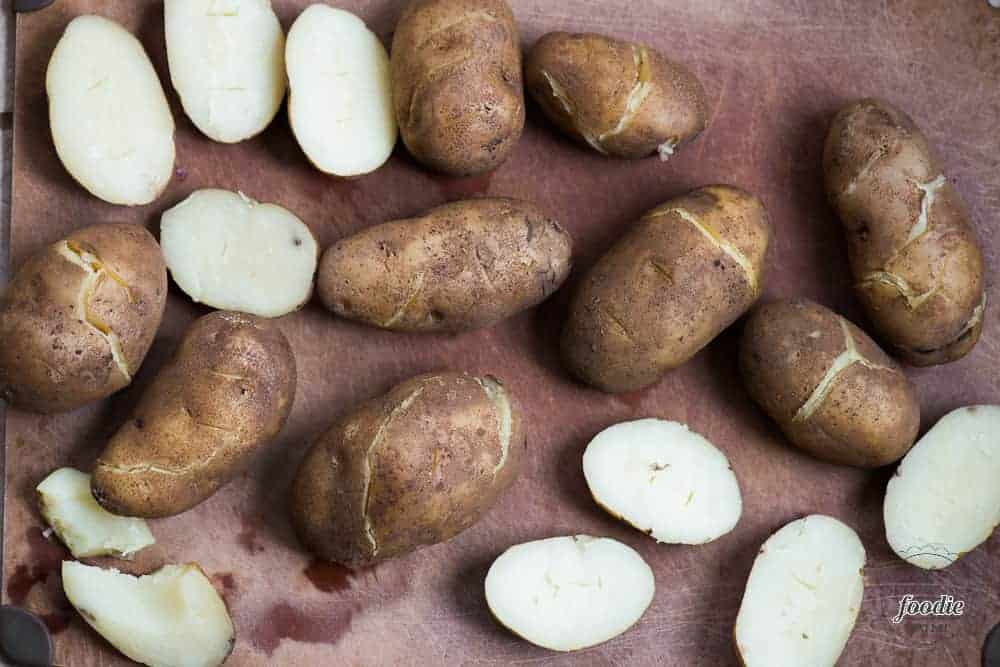 How to cook a baked potato?
Pressure Cooker (Instant Pot) – Cook up to 3 pounds at a time. Set potatoes on trivet, add one cup of cold water, and cook on high pressure for 12-20 minutes. The amount of time depends on the size of your potatoes. Allow potatoes to naturally release pressure for 10 minutes, then release remaining pressure. You can crisp up the skin in the oven with olive oil and salt if desired, but it is not necessary. Pros: fast, creamy and moist potatoes, easy, you can cook a lot at the same time. Cons: only works if you have a pressure cooker.
Oven – You can cook right on the rack or you can wrap in foil. Time and temperature can vary, depending on your preference. Oven temperature can be anywhere from 300 to 450 degrees F. Cooking time will range from 60 to 90+ minutes. Pros: They can cook while you prepare the rest of your dinner (and watch a show because they take so darn long). Cons: they take a very long time to cook, sometimes get dried out, different sizes will require different times.
Microwave – Heat on high 5 minutes, turn, then heat on high for another 5 minutes. More time needed if potatoes are large. Pros: this is the quickest method. Cons: you can't cook that many at the same time. Microwave baked potatoes are often very dry in the middle.
Grill or BBQ – Follow the same process you would bake potatoes in the oven. You will get similar results as well. Pros: If its a nice day and you already have the grill going, why not? Plus, you won't heat up your kitchen like the oven would. Cons: you need a lot of rack space and can't really cook anything else at the same time. It's not really an efficient way to cook baked potatoes.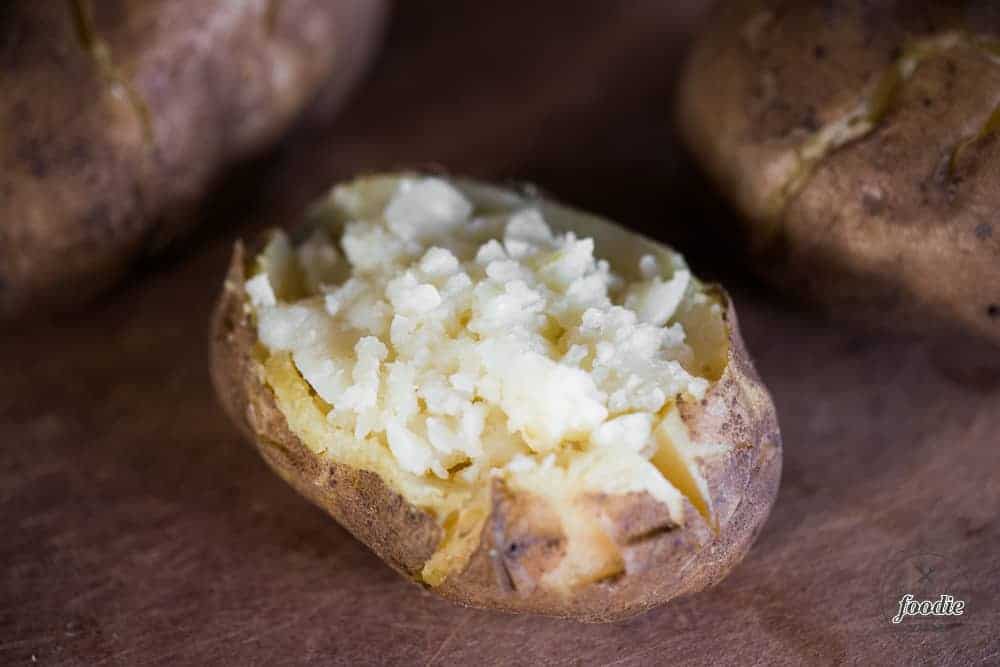 What is good on a baked potato?
Nothing quite beats a loaded baked potato. The topping selections could be endless. I could write a book on making the perfect loaded baked potato. I'll try my best to condense my recommendations into a few bullets below.
The start to serving up any perfect baked potato is butter, salt, and pepper. I recommend cutting an oval in the top of your potato and mixing in a high quality pasture butter. Kerrygold is my absolute favorite. Then add the right amount of salt and pepper. You can enjoy your baked potato just like this, or add more.
Sour cream, crispy bacon pieces, sliced scallions and minced chives are my favorite toppings.
Steamed broccoli and melted sharp cheddar and excellent on their own or in addition to all the toppings already mentioned.
Pulled pork or thinly sliced grilled steak take your loaded baked potato from side dish to the main event.
Last, but not least, you'll be in heaven if you smother that baked potato with some homemade queso. Mercy.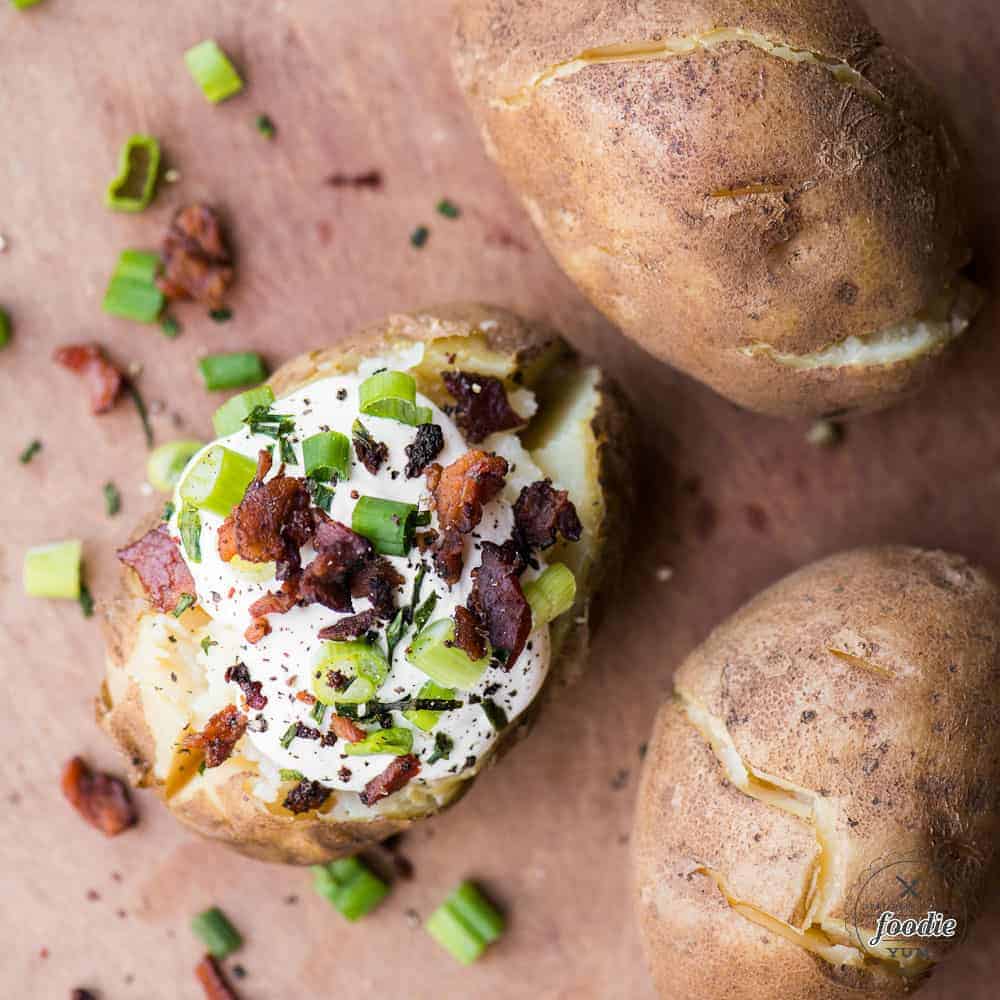 More tips and tricks when making baked potatoes:
Not everyone has been captivated by the Instant Pot, so I figured I would give you options. Regardless of weather you choose to cook your potatoes in the instant pot, oven, microwave, or grill, I recommend using russet potatoes. The cooking methods I described in this post work for any kind of potatoes (with slight variations to time), however if you want a traditional baked potato, you will want to use a russet potato.
No mater how you choose to make your baked potatoes, you should wash them with a scrub brush and then pierce them with a fork prior to cooking to allow some steam to release. If you use a knife to pierce the potatoes like I did for the potatoes in these photos, your potatoes are likely to split during the cooking process. Do as I say, don't do as I do (did)!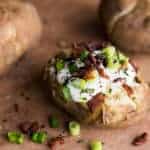 natural pressure release 10 minutes
3

pound

bag russet potatoes

scrubbed clean

1

cup

water

1

tablespoon

olive oil

optional

1

teaspoon

kosher salt

optional
Pierce potatoes several times each with a fork. 
Set trivet or rack into the pressure cooker. Add water. Place potatoes on top of rack. Seal lid.
Set to high pressure and cook for 12-20 minutes depending on the size of your potato. I had small to medium sized organic russet potatoes from Trader Joe's and set my time to 12 minutes, but if they are medium to large size increase the time to 20 minutes.
Once done cooking, allow to naturally release pressure for an additional 10 minutes. Then quick release the remaining pressure and carefully remove.
They are ready to serve as is, however if you'd like you can rub the olive oil and salt on the skins and roast on the rack of a preheated 400 degree F oven to take the skin from thin and dry to crispy and delicious.
To serve, cut an oval in the top. Scoop out the potato, mash up with some butter, and add it back in. Top with sour cream, crispy bacon, green onions, chives, steamed broccoli, cheese sauce – whatever you're craving!
Instant Pot Baked Potatoes Calories 149 Calories from Fat 9 Total Carbohydrates 30g 10% * Percent Daily Values are based on a 2000 calorie diet.