It seems simple enough. You lay down a few bricks or stones in your yard, set out some all-weather furniture, and you've got a brand-new patio ready for outdoor entertaining. It's as easy as making mosaic art, right?
Not so much. While a paver patio can be a relatively easy and inexpensive addition to your house landscaping, installing one requires careful consideration and planning. If installed incorrectly, paver patios are prone to moving, sinking, weed growth and other problems. Every climate presents its own unique challenges for landscaping design – Beaverton, Oregon rainfall, for example, can cause soil movement and drainage problems, which can undermine the integrity of your patio.
Whether you're doing it yourself or working with a landscaping contractor, the following are some tips for planning and installing a quality paver patio.
Create a Thorough Design
A quality paver patio starts with a careful design. Before you even begin drafting your plans, do some creative brainstorming and carefully examine all of the areas that will surround your patio. Keep in mind any future plans you may have for your house landscaping, such as a hot tub, grill, walkways, plant beds or lawn.
Size, of course, is the most important factor to nail down. Fudging on the size calculation can spoil your house landscaping design plans and cause big headaches later. Use precise measurements and take your time during the design phase. Choose your stones and borders wisely, and above all, be creative.
Lay the Foundation
A well-laid foundation is the key to a long-lasting paver patio. With improper base preparation, the patio will inevitably shift due to weather, erosion, settling, and ground movement. This may be the most difficult stage of the project, but it is the most important for proper installation.
Dimensions. Carefully mark out the dimensions of your patio. Then dig several inches beyond the outer edges to provide a more solid base and allow for adjustments in the layout later on.
Depth. The ideal depth of your foundation will depend on your area's climate. For most parts of the United States, you'll need at least four to six inches of compacted stone beneath your paver patio plus one inch of sand. Factor in the depth of your pavers to figure out how deep to dig. When in doubt, check with a landscaping contractor.
Slope. For proper drainage, your foundation should slope away from its center or the edge of the house at a decline of one inch for every four feet of patio.
Compaction. Proper compaction of the soil beneath your patio will help prevent any dramatic settling, which can destroy your project. Use a compactor to tamp down the subsoil before laying down any materials. Install a house landscaping fabric or geo-fabric layer, then lay down your crushed stone in layers of two to three inches at a time. Rake each layer until it's uniformly flat, lightly spray it with water, and compact it before adding the next layer.
The Finishing Touch
Like the last layer of homemade lasagna, the finishing touch is the easiest and usually not as time consuming as the prior layers. When laying pavers, strive for even and flush placement – nothing looks tackier than loose pavers. Cut the pavers only when necessary, and use a quality paver saw to avoid future cracks and fissures. If you see a stone or border that would benefit from a slight alteration in relation to your now-laid base, then by all means make the change. However, it is important to stick to your original house landscaping design plan.
Prevent the pavers from shifting around by adding a solid edge to your patio. You can use a cement lip, plastic or metal edging. When you're finished, spread fine sand over the patio and sweep it into the cracks to help hold the bricks in place.  You might consider using polymeric sand for increased longevity.
When it comes to landscaping design, Beaverton, Oregon homeowners are a sophisticated bunch, and a poorly installed paver patio can stick out like a sore thumb and there is nothing worse than spending several weekends straining your back only to end up with a patio that you are less than happy with. If you want to ensure a quality job, consult with a landscaping contractor before you begin.
BEFORE YOU START CHECKLIST
1. Check with your council
Pavers can usually be laid around your house without council approval. However, if you're doing a driveway or working in an area where water runoff is an issue, you may need to contact your local council. Some of the newer residential communities have covenants covering the use of driveway material. If so get authorization before proceeding.
2. Check you have all the right equipment
☐ Garden Gloves ☐ Wheelbarrow ☐ Spade ☐ Rubber Mallet ☐ Road Base
☐ Course sand
☐ Fine Sand – or Jointing sand ☐ Ear Muff ☐ Spirit Level ☐ String Line ☐ Cement ☐ Whacker Packer ☐ Brick saw ☐ Straight Edge ☐ Broom
STEP 3. LAYING THE PAVERS
STEP 4. EDGING AND LOCKING IN THE PAVING
Handy Tip: It does not hurt to also use a little of the sand and cement underneath the outer header course, as this will create even more strength!
STEP 5. LOCKING SAND & SEALING
Where to Buy Pavers in NJ
Braen Supply can meet all of your needs for purchasing pavers in NJ and NY. We carry a wide variety of natural stone, brick and manufactured concrete pavers so that you can find the perfect stone for your unique needs and desires.
We're happy to work with you in order to plan out your project, your budget and to determine how much material to purchase. We can also provide you with valuable tips for laying pavers and getting the most satisfaction out of your completed project. Our pavers are available at competitive prices and can be picked up or bulk delivered to areas throughout NJ, NY, PA and CT.
Before You Get Started
image courtesy of ShedKing.Net
Before you start building your garden shed or laying the paver shed foundation, you need to take a good look at the ground in the area you plan to install your new shed.  There are a few things to be taken into consideration before you choose your final location.
Slope
If at all possible choose an area that is already reasonably level. Not only will this make building a level paver shed foundation much easier, it will take fewer materials and less time to build.
Drainage
You should never build any type of foundation on ground that does not drain well. Ground that is continuously wet or subjected to flowing water is only likely to erode potentially causing significant problems further down the line.
Too Hard to Dig
No matter how you plan to install the pavers, try to avoid ground that is simply too hard to dig in or has a lot of rocks just below the surface. All you will be doing is creating more work for yourself or putting yourself in an almost impossible position.
Soil That is Too Soft
It should go without saying that you should not pick an area of your yard or garden where the ground constantly remains wet and soft. At least if you don't want to see your paver shed foundation and shed to tilt into the ground.
Paving Slabs – Choosing the Right Ones
Image courtesy of Watling Reclamation
The next good thing on our list is that pavers are very simple to find and come in an incredible array of sizes, shapes, and colors. You can go for the basic square concrete colored paver or step up to colors and patterns that extend beyond the walls of your shed to create a patio.
For the most part I prefer to use pavers that are 2 inches thick and 12 inches square. They are more than strong enough to support the shed when you build a proper paver shed foundation. At the same time, they are light enough for you to handle without too much strain. These should be readily available at your nearest discount hardware superstore or local garden store.
What Tools and Supplies Do You Need?
While you could simply lay the pavers on flat ground and call it a foundation, this is really not the best idea. But if you are going to build a paver shed foundation that will not only support the weight of your shed, but also last a lifetime, you will need a few tools and supplies to get the job done.  These include:
One or more bags of cement

One of more bags of builder's cement

A sufficient amount of gravel

Several pegs and a roll of string

A rubber mallet

A spirit level and a long 2×4

Sufficient pavers to cover the entire area

Stout leather gloves

Plastic or metal garden border

Vibrating compactor (from the nearest rental store)
It's Time to Start Digging
Now that you have the area needed for your foundation marked out, it's time to get started with the fun part. So, grab your favorite work gloves and shovel and start digging. You need to dig the area to a depth of approximately six inches. This will give enough space for the gravel base, the sand and cement filler, and the pavers, leaving them at or just above ground level.
Once you have the soil dug out to the appropriate level, it needs to be compacted. Break out that rented vibrating compactor and go to town. Depending on the size of your foundation, this shouldn't take very long. However, it is a very important step as your foundation needs a firm base to stand upon.
Add the Gravel
The next step is to add a one-inch layer of gravel to the hole. Be sure to use either 21A or 21B gravel as it contains fillers to help fill in the air gaps between the pieces of gravel providing you with a much firmer base.
Image courtesy of DIY Network
Once again you need to use the compactor to pack the gravel in place and create a smooth flat surface. Be sure to check your gravel layer using the 2×4 and spirit level to ensure it is perfectly level before proceeding to the next step.
Time for Sand
Mix together the sand and cement and then add a 2-inch layer of this mixture to the gravel. Smooth out the sand and then compact it to form a tightly compacted layer that is perfect level or as close as you can get to it. Making sure each layer is level is vital to the finished product. If one layer ends up being off kilter then every other layer you add on top of it will be off as well. The final result will be a shed that sits tilted and may end up being damaged.
Image courtesy of the DIY Network
It's Paver Time
Lay the pavers in the appropriate pattern covering the entire area and check each for level with the others. If you find any that are not level, you can use the rubber mallet to tap them down at each corner until they are level. Take your time with this step as any paver that happens to be out of level might crack or break once the shed is put in place, leaving a weak spot in your finished foundation.
Image courtesy of Paving Directory
Add the Border
Whether you decided on the plastic or metal garden border, take it and install it around the outer edges of the pavers. It needs to be placed as close as possible to the pavers, any gap only leaves a place for weeds to grow. Anchor the border to the ground using the spikes provided with it or stakes you have purchased separately.
Image courtesy of Pinterest
Finishing Up
Spread a layer of the cement and sand mixture used in the foundation over the top of the pavers. Use a broom to spread the sand into the gaps, filling them in until they are flush with the pavers. Using your garden hose and a fine mist nozzle, lightly dampen the entire surface of your new paver shed foundation and walk away.
The water will cause the blend of sand and cement to solidify, permanently holding the pavers in place and creating an exceptionally strong foundation. It will also seal the gaps between the pavers, helping to keep water, ice, and snow from getting under the pavers and causing them to lift or crack. If you don't do this step, your foundation is likely to fail earlier than it should.
Image courtesy of SmashingPlates.US
Extra Information You Need to Know
If you have never created your own cement/sand mixture, it should be mixed in the ratio of one-part dry cement to eight parts dry sand.

Once the sand/cement mix has filled in the gaps, sweep the rest of it off the pavers. This way they won't turn into a hardened mixture that will affect the way your shed sits on the pavers.

The best way to lay pavers is to start in one corner and work your way out. Once you have the sand/cement level compacted in place, you should avoid walking on it as your footprints could affect the how level the pavers are when they are installed.

Don't be tempted to use large size gravels such as 56s or 57s as they do not contain the extra fillers found in 21A and 21B gravels. These fillers help hold the gravel in place by filling in the air gaps between each piece of gravel. Their absence will allow the gravel to shift as the soil erodes over the course of time.

Your finished foundation should be at least 12 to 18 inches larger on each side than the shed to help reduce the risk of ground erosion and to keep your shed nice and level.
The 2nd item is the texture:
There are a variety of textures, which include non-tumbled(smooth), tumbled(weathered), embossed(contains dimples on the surface), tumbled & embossed, slate(looks like slate), and flagstone(looks like flagstone).
Non-Tumbled Paver Texture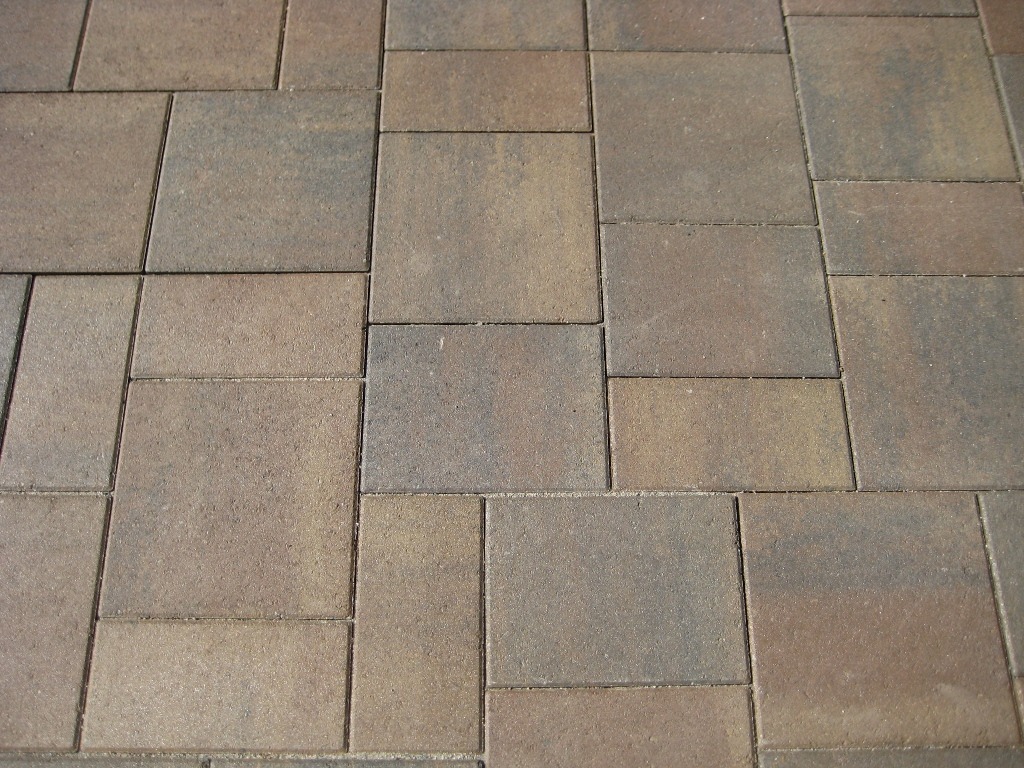 Tumbled Paver Texture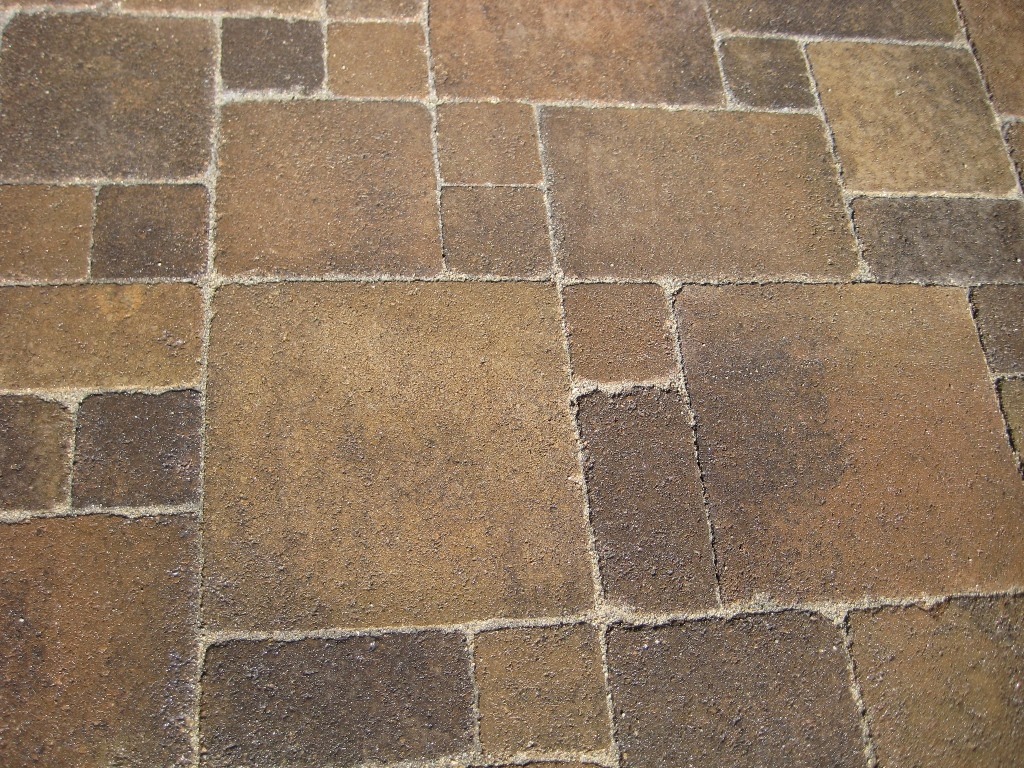 Tumbled and Embossed Paver Texture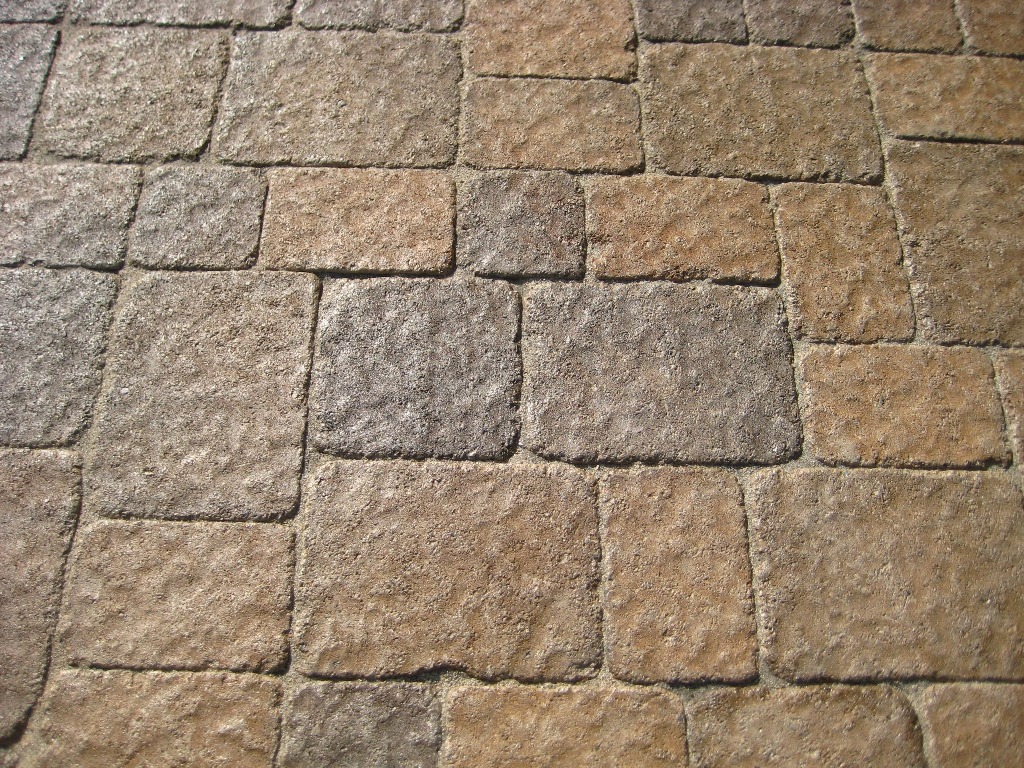 Slate Paver Texture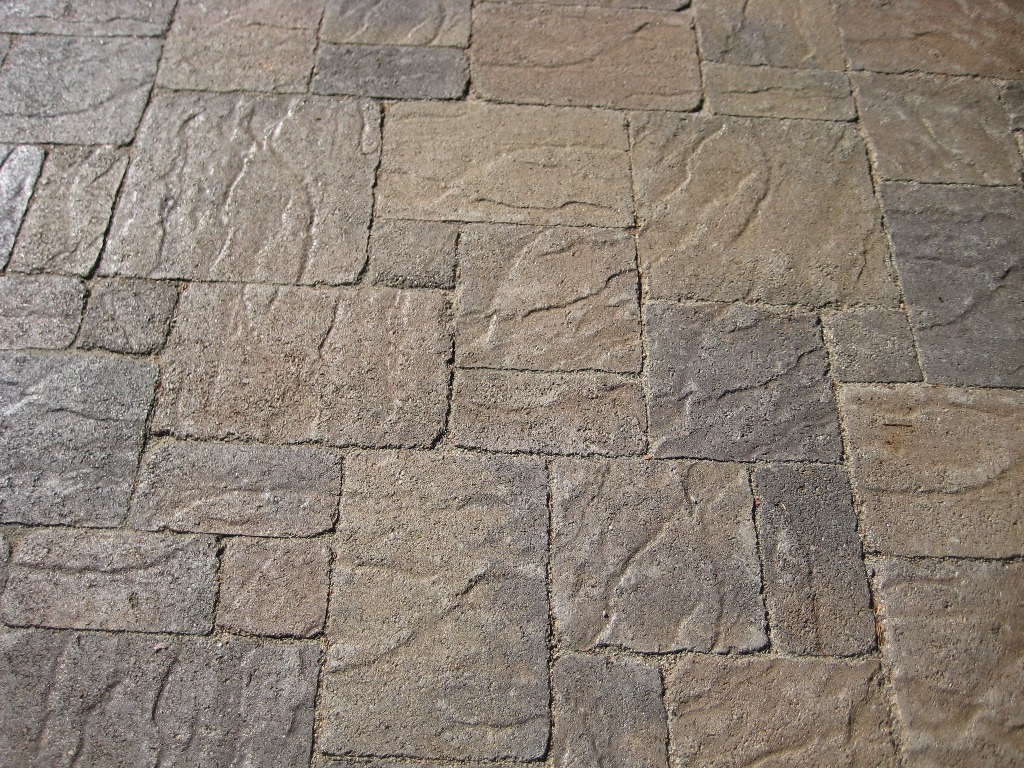 Flagstone Paver Texture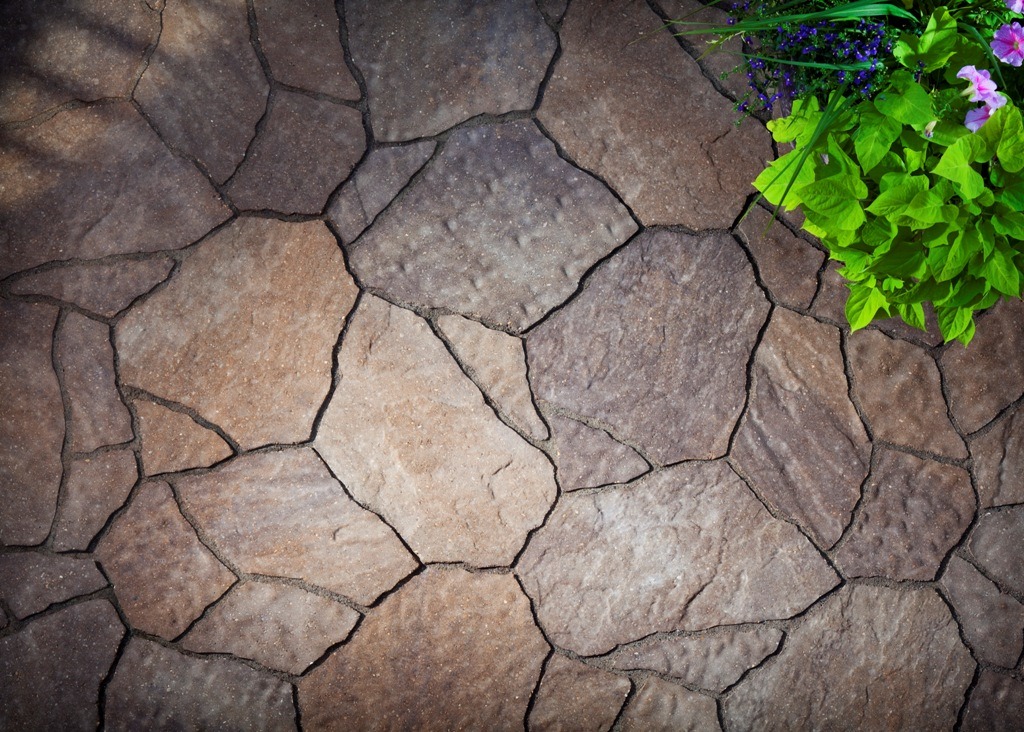 Old World Cobble Texture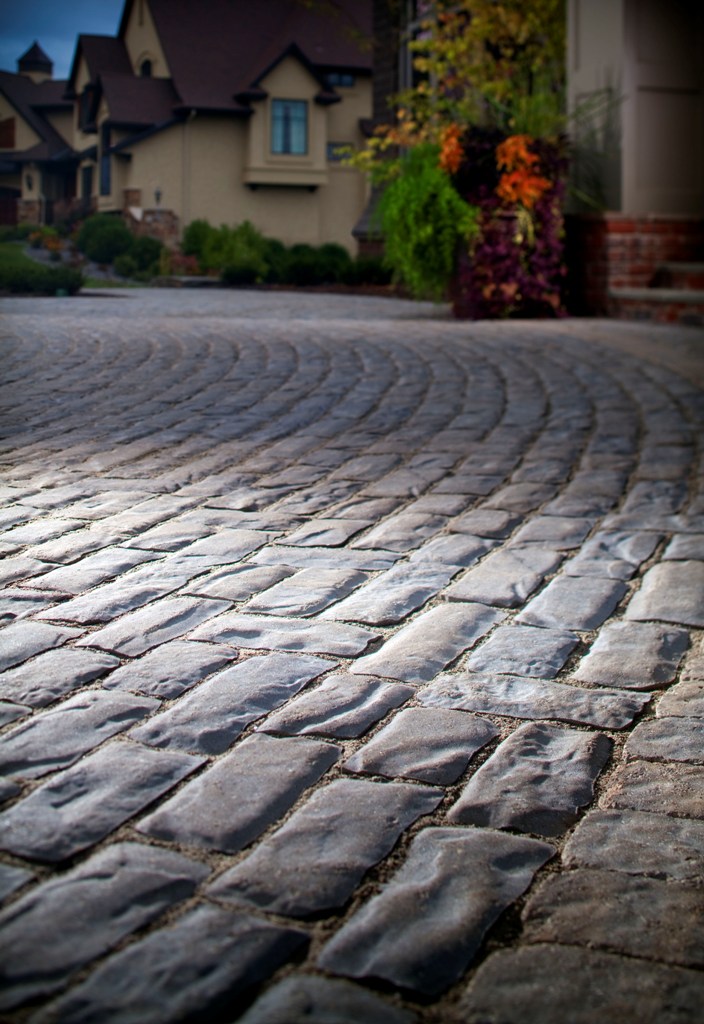 The last piece of information needed is the laying pattern.
As we have seen in the previous steps there are an overwhelming number of patterns that you can select, however, we will focus on the most popular in this article.
The patterns that are requested the MOST are the following: Random "I", Random Ashlar, Runner, and Herringbone.
Antique Cobble Random I Paver Laying Pattern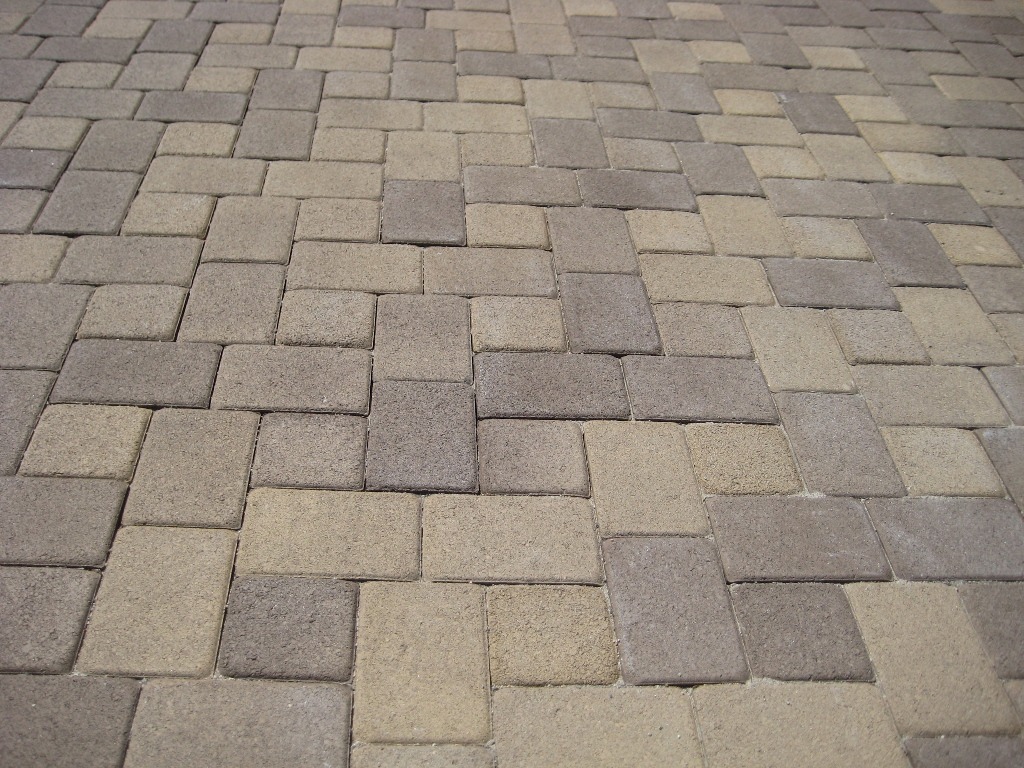 Antique Cobble Runner Laying Pattern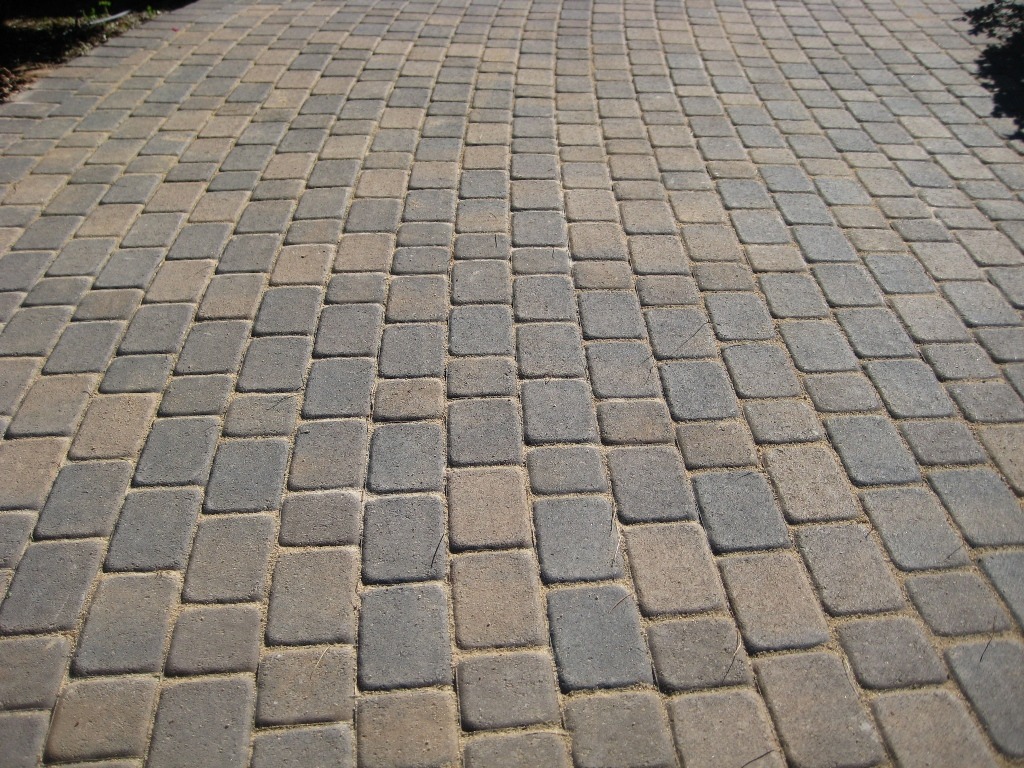 Herringbone Laying Pattern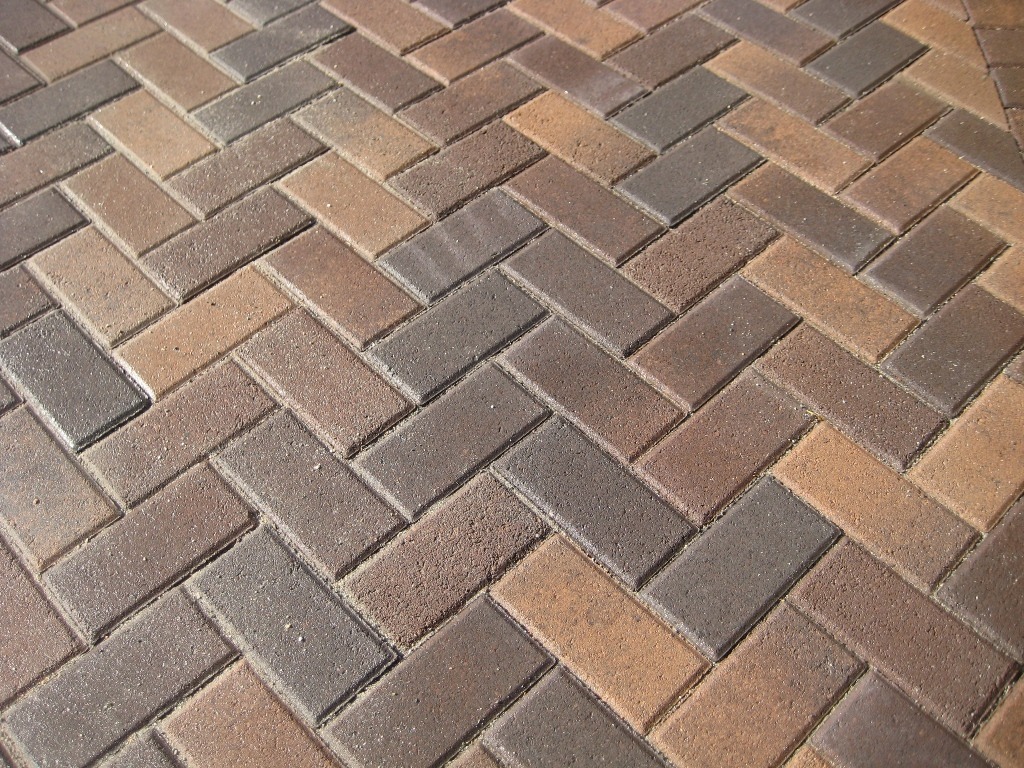 Ashlar Laying Pattern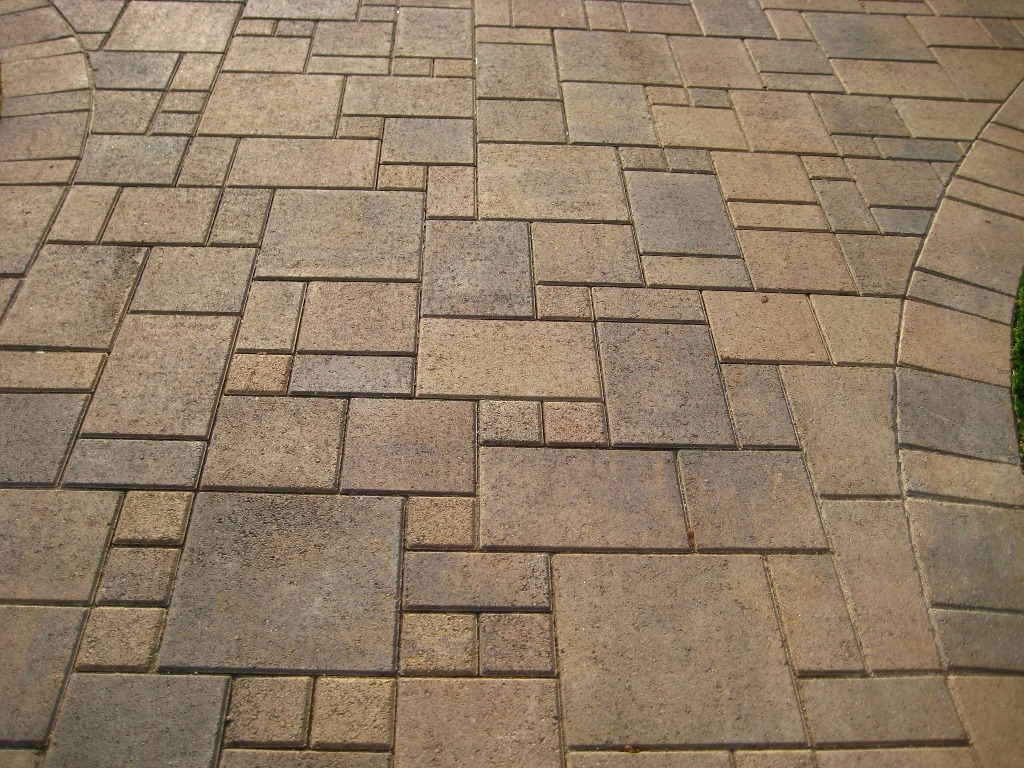 Paver Patio Design Idea #1
Angle of the field (think of the "field" as everything inside the border or perimeter)
There are 2 different laying angles in which to lay the pavers.
You can go with a 90 degree angle or a 45 degree angle off of any point you choose.
Most installs take the angle off of the point of entry/exist of their backyard patio.
You can also utilize both laying patterns in the same project.
For example, you could have your main patio area installed at a 90 degree angle, and then your raised patio area with your fire pit can be installed at a 45 degree angle.
This simple idea, can really add a lot of value to your project.
45 Degree Laying Pattern (Paver Design Ideas)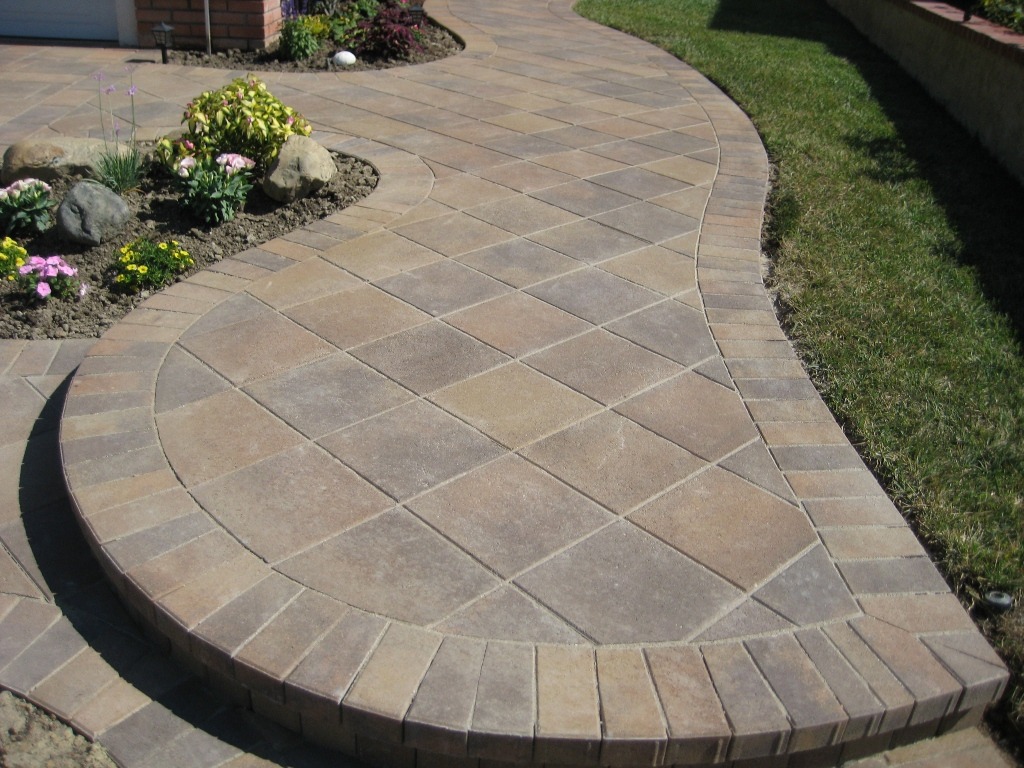 Paver Patio Design Idea #2
Pattern Inserts
In terms of inserts, the most popular insert is a circle kit or circle design that is inserted into the field.
The other popular insert is to insert a different laying pattern into the design to draw attention or accent to another area.
For instance, if you insert a different laying pattern where the patio table and chairs are going to be, or a different design inserted around the BBQ Island, Fire-Pit or Outdoor Fireplace.
Inserting Circle Patterns into Paver Design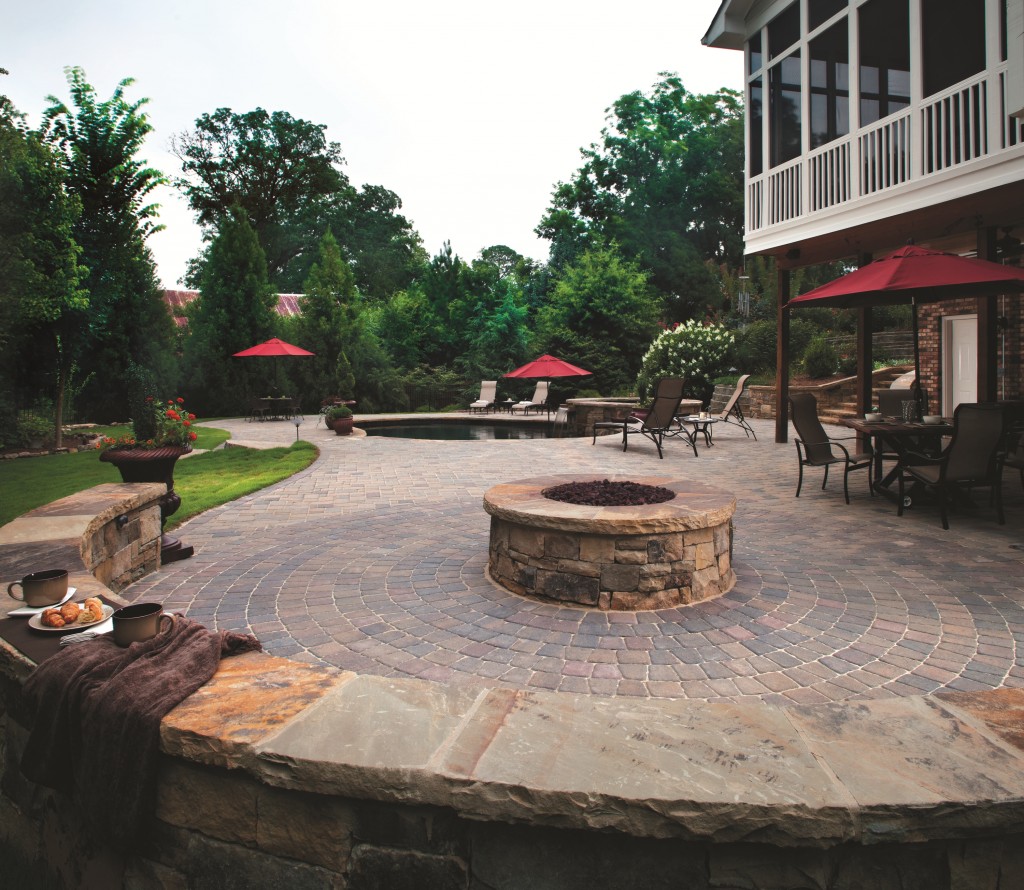 Paver Patio Design Idea #3
Borders and Banding/Ribboning
You can go with no borders which we see a lot with the flagtone paver(by oldcastle belgard), or most often we see the use of single, double and triple borders as well as banding used.
Depending on how large the area is, borders can add a significant accent to the project.
There are various ways to lay the paver borders and the most common are Soldier, Runner or Random.
Paver Banding – Design Ideas for Pavers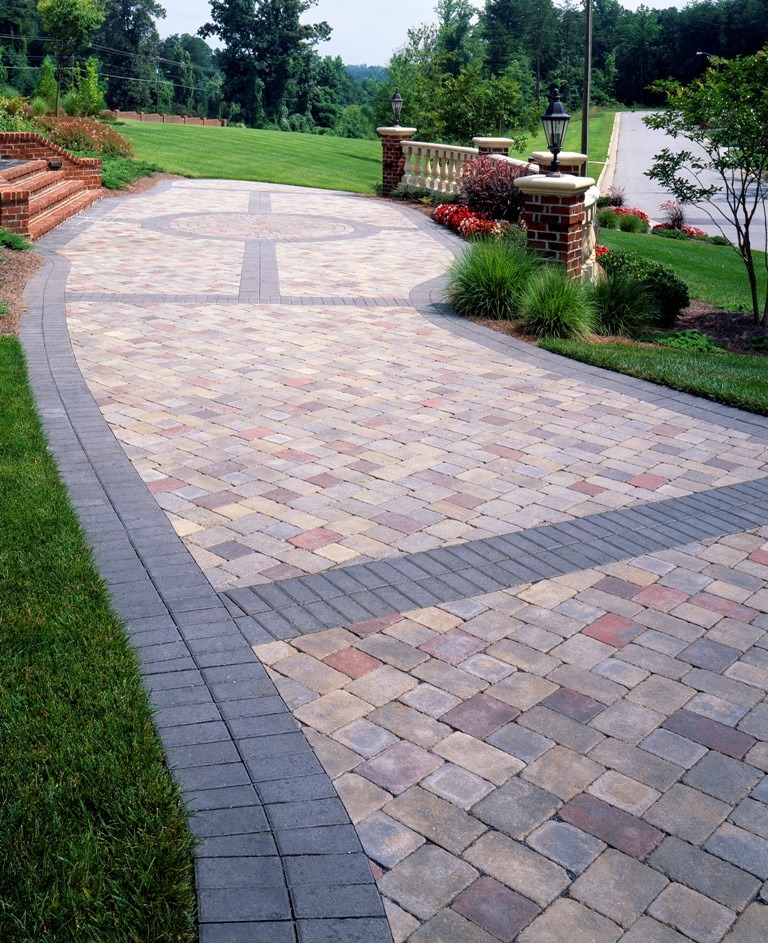 Paver Patio Design Idea #4
Accent Colors
Utilizing colors to accent the project can really add a nice finishing touch to the installation.
For example, if the majority of the colors in your patio are cream/brown/charcoal and then you accented the borders with a solid charcoal or even a blended charcoal, this would provide a frame for the project.
If you are interested in a more free flowing feel, then you will not want to use solid colors in the borders, and instead, you will want to maintain a consistent color scheme with both your main field and border colors.
Adding Accent Colors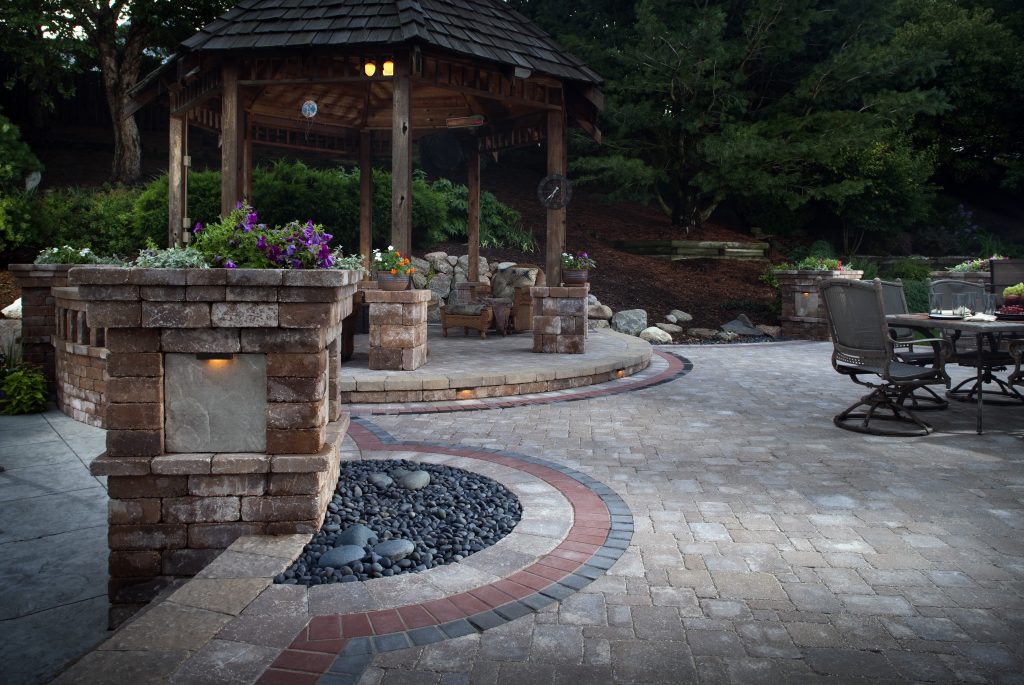 Paver Patio Design Idea #5
Textures
The most often seen texture design element is to insert a different texture into the border or to insert a completely different texture design element into the pattern.
For instance, if your main laying pattern consists of tumbled pavers, we often see a double border used, where the outside border stone in consistent with the field in that it is also tumbled, however, the inside border stone is a different color and the texture is changed to non-tumbled.
Changing the textures within a project can add a lot of depth and really set your project apart from the vanilla installations.
Combining Different Textures
Things you'll need
Paver Blocks equivalent to the required laying area

6mm Aggregates(crusher metal) 40-50mm thick below the pavers

Crusher Sand or fine river sand to spread over the laid pavers.

Wooden/Rubber Mallet

Earth Vibration Compactor of 5hp capacity

Marble cutter(if you need to cut pavers)

Earth removing Shovel (JCB if a huge project)
Step 1: Site Preparation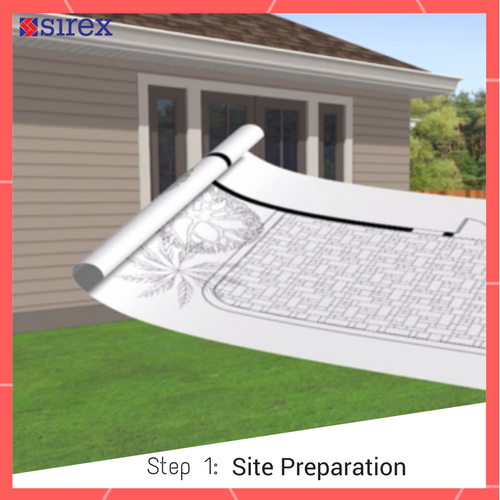 Contact the local utility providers to ascertain if there are any underground cabling or plumbing done. Identify the area that has to be paved
Mark line and levels.
To avoid water getting collected on the pavers, ensure pavers are at a slightly higher elevation than the surroundings. There should be a gradual slope away, starting from the base of the house.
Step 2: Excavating the area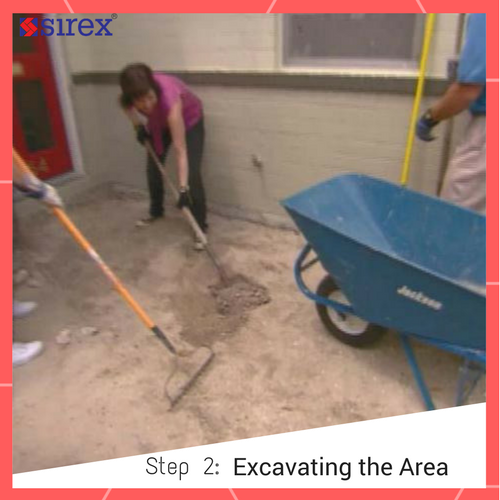 Earth can be excavated using a shovel or any suitable Earthmover depending on the size of the project.
The depth in which Earth is removed is dependent on several factors. You have to consider the height of the paver, base material thickness, slope required and the reduction resulting from compaction.
Ideally compaction (Vibrator compactor) takes place four times,  2 before laying and 2 after laying (will be explained individually during each step)
Note: Reduction in depth has to be calculated every time vibratory compaction happens.
Step 3: Preparing the Base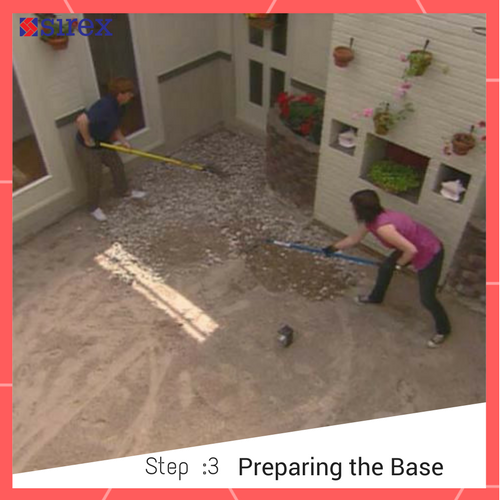 Once excavating earth is completed after keeping an account for the reduction during the vibratory compaction in the future stages, you need to prepare a solid base for Pavers.
The Earth is first vibratory compacted.
If the compaction is not done properly, settlement happens in the subgrade which will result in unevenness on the surface of the paved level.
A layer of aggregates (metal crusher) is laid which will act as the base for the final paved area.
For a medium vehicular traffic area, 40-50mm of 6mm aggregates would be sufficient.
After spreading the aggregates evenly, it is vibratory compacted again. Repeat the compaction process until you achieve the height you desire. A well-compacted base provides structural integrity and drainage to the final paved area.
It is common for people to add a thicker base of aggregates and a sub layer of bedding sand. From our decades of experience, we are convinced that this addition isn't necessary.
Also, concreting the base might appear to be increasing the strength of the base, but it restricts water percolation and the whole purpose of paving blocks is lost.
To keep the costs in control and to avoid blocking water percolation, we suggest you go by the method we recommend.
Step 4: Laying Pavers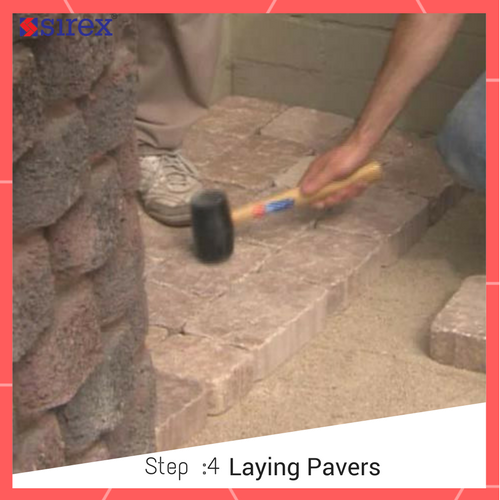 Start laying the selected pavers one by one, starting from the longest straight edge near the base of the building. Use a wooden/rubber mallet to firmly place every paver.
Place the pavers straight down, Do not slide them or kick them to place.
Also, Walk only on the paved area while laying is taking place.
Check periodically to ensure the straight level of the surface.
Vibratory Compact the surface again once laying is done.
Step 5: Cutting Pavers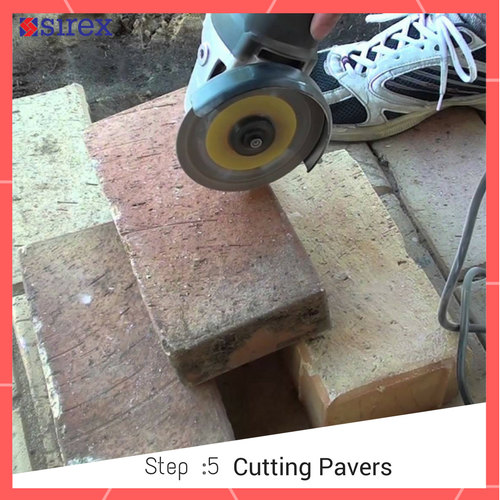 Cut the pavers accordingly to fit them to the edges. Don't curve/push the pavers just so you can adjust without cutting.
Use a Marble cutter to cut the pavers. Wet the pavers while cutting to ensure the heat generated and dust formed are subsided.
Preferably, cut the pavers slightly away from the site.
Step 6: Spread Sand over the paved area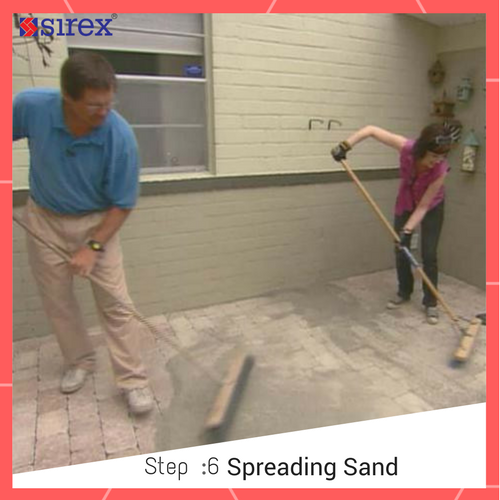 Use 2mm crusher sand to uniformly spread over the laid surface. The sand must be sufficient enough to fill the space between the pavers. Sweep the sand to push it to the gaps.
This is a very important step as the sand between the pavers ensures friction that enables interlocking property of the pavers.
Step 7: Final Compaction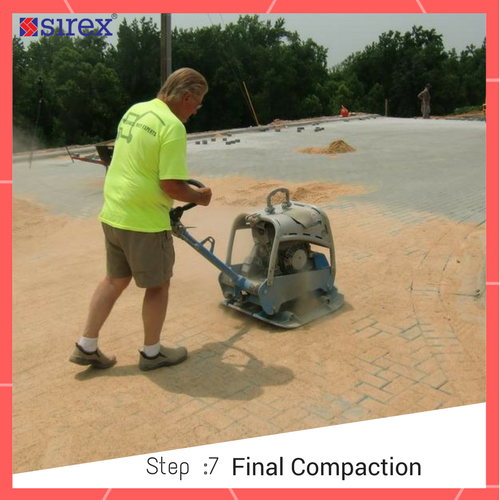 After pushing sand to the gaps, sweep away the excess and conduct a final compaction. Since there could be minute sand particles still remaining on the surface, you must attach a rubber pad to the bottom of the compactor.Or cover the base plate with 3 layers of gunny bags.
Step 8: Edge the Restraints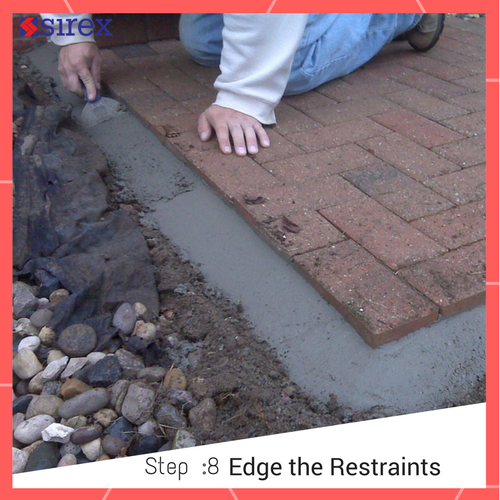 Use a small amount of mortar mix or kerbstones to restraint the edges from pushing outward in the future.
This is not a compulsory step as in most cases there would be natural restraints to restrict the outward movement.
Even though all the steps mentioned above might not be extremely difficult to Do-It-Yourself, we suggest professional laying contractors since it might be a bit difficult to find the appropriate tools required to complete the process.
Considerations Before Installing Pavers Over Concrete
One of the best ways to improve the look of your existing concrete driveway, walkway, patio or pool deck is to lay pavers on top of it. It's fairly easy for a professional paving company to do, but there are some things to consider before you get started.
It's important that your existing concrete is in good shape – no large cracks, a smooth surface, etc. Additionally, there needs to be enough room to add a paver on top of the concrete without it blocking any doorways or causing a tripping hazard.
Why You Should Hire a Professional
There are many tutorials and videos online for how to install pavers over concrete. While many people have tried to do this job on their own, it often leads to mistakes and poor results. If you're thinking of upgrading your concrete driveway, patio or pool deck, the best thing you can do is hire a professional to do the work for you.
There are many things to consider when installing paving stones such as creating a pattern, leveling the pavers, properly spacing out pavers, cutting pavers, installing on curves and more. For these reasons, it's best to let a professional paving contractor do the work for you.
At Pacific Pavingstone, we have decades of experience installing paving stone driveways, patios, pool decks and other outdoor spaces. We understand the challenges that homeowners face when installing pavers over concrete. By letting us handle the work, you'll benefit from a better final product that's completed quicker, freeing up your time in the process.
We've completed tens of thousands of paving projects, and we can help you assess whether an overlay is the right option for your paving project.
Whether you're looking to upgrade your driveway, patio or pool deck, Pacific Pavingstone is here to help you with your next paving project. Contact us today for a free consultation!