Install Kodi on Amazon Fire TV and learn how to use Kodi on Fire Stick with its many features and the many articles posted here and with our famous Beginner Blueprint Guides. This article will tell you how to use Kodi on Amazon Fire TV by installing it connected to USB. Previously we posted other methods for sideloading Kodi, and you can read about them and utilize them as well. I usually find myself using all the various ways available.
It is easy to plug in the Fire TV and Amazon Fire TV Stick to a USB port on any computer today, and it will come right up as storage. This does not mean you can go anywhere you want in the directory on the Fire Stick. You cannot see the system folders. You only see what you should see in terms of a consumer, not a tinkering hacker. When I connect my Fire Stick to my Ubuntu PC, it comes right up.
Just a word of advice, unmount it before you disconnect it. If you are on Windows, make sure it is safe to remove the device. The reason being is some Android devices leave little traces of having been there. I once had a Fire Stick pulled out of the USB port unsafely, and it kept coming up with a blank screen when I connected it to my TV again. To fix it, I had to put it back into my computer and unmount it. I suspect it thought it was still a storage device when I connected to the TV. Usually, it optimizes itself again after that, but in one case it did not for me. So, make sure you remove it safely.
How to Install Kodi Krypton Version 17 or Higher on Amazon Fire Stick
Launch Amazon Fire Stick and click on "Settings" from the home screen.
Go towards the right and find the "System" option.
After opening "System", scroll down to "Developer Options".
Enable ADB Debugging, USB Debugging, and Apps from Unknown Sources.
Return to the main menu and click on the "Search" option.
Type in "ES Explorer".
From the results provided, click on "ES Explorer".
Press the "Download" button.
Wait for the process to complete and then click on "Open".
Scroll down and click on "Tools".
Select the "Download Manager" option.
Enter https://troypoint.com/kodistable into the path box, name it KODI, and hit the "Download Now" button.
After download completion, select the "Open File" option.
From the list of options, select "Install".
Press the "Install" button again.
Wait for the "App Installed" notification.
Go to your "Apps Library" and enjoy using Kodi.
How to Install Kodi Jarvis Version 16 or Below on Amazon Fire Stick
Plug your Amazon Fire Stick into your TV, along with the USB power cable
From the main menu, scroll down and select the "Settings" option
Click on "System" and then head towards "Developer Options"
Enable ADB Debugging, USB Debugging, and Apps from Unknown Sources
Go back to the main menu and click on the "Search" option
Enter ES File Explorer and then move on to install the app
Once done, open ES File Explorer and click on "Tools"
Go to "Downloads Manager" to add URL
Enter http://mirrors.kodi.tv/releases/android/arm/old/kodi-16.0-Jarvis-armeabi-v7a.apk
Name the source KODI and hit the "Download Now" button
Once the application gets the link, press the "Install" option
Enjoy using Kodi Jarvis on Amazon Fire Stick
Amazon Fire Stick Kodi Channels
There is nothing more relaxing than watching your favorite entertainment on a big screen using Amazon Fire Stick. However, since the catalog of movies/TV series may somewhat be limited, many users may prefer using Kodi on their Fire Stick devices. If you are one of those individuals, here are some Kodi add-ons that you must definitely consider installing:
Covenant
Poseidon
Flixanity
Rising Tides
Deliverance
Bob Unleashed
Quantum
Genesis Reborn
Gurzil
Salts
Sports World
Elektra Vault
Channel Pear
Mobdro
cCloud TV
Planet MMA
iStream
Ares Fitness
BAMF TV
TV
How to Install Kodi on Amazon Fire Stick Using Downloader
Plug in your Amazon Fire Stick into the TV
Go to "Settings" and then click on "System"
From the list, choose "Developer options"
Enable "Apps from Unknown Sources"
Go back to the Home Screen and install "Downloader"
Once done, open the app and enter: http://kodi.tv/download into the Browser
Scroll down and select "Android" and select the ARM 32-bit link for whatever release you choose
The download process will begin and a pop-up box will appear
Click on the Install button for both prompts
Wait for "App Installed" notification
Access Kodi from "Your Apps & Games" menu
Getting ES Explorer and Downloader
There are many ways how to use Kodi on Fire Stick. If you have an older Fire Stick or TV device, you may have even used apps that only work when it is rooted. Amazon has many apps today for downloading files and transferring files to other devices. If you cannot find it in their main app store, you will find it in their underground app store.
Sideloading with developer apps
Not all apps for sideloading are underground apps that require the device to be rooted. For instance, many people use developer apps, and we have talked about how to use those apps here before as well. Developer apps and methods of debugging will become more common for Fire TV because the newer devices cannot be rooted. We already have a guide for using the most commonly used developer apps. [Read: Install Kodi on Amazon Fire TV in a few simple steps ]
Sideloading apps from the Amazon cloud
Some of these apps may be marked as incompatible in the app store. This does not mean you cannot use them, it means you cannot install them from your Amazon cloud. In fact, you cannot install Kodi on Amazon Fire TV or Amazon Fire Stick through Amazon's cloud at all. Amazon wants to make sure they limit the apps you need because they want the Fire Stick to a propriety device. Fire TV is their platform for streaming media, not yours.
I guess that is a mean way of putting it, but it is not really to deprive the consumer. Amazon basically wants everyone to use their version of every app in the end. That is why you often see unexpected arrivals of known apps in their app store. And, anyone can develop an Amazon app, so if it is not officially compatible it is because the developer does not meet the stricter criteria to be dubbed an Amazon app. It does not mean it doesn't work. It actually means it is not officially part of Amazon's platform for approving apps to meet their criteria.
You can, however, push ES Explorer and Downloader to a device or put it in the cloud for download.
APK downloader browser extensions
If you want to install Kodi on Amazon Fire TV and Fire Stick or make your Fire devices more like other Android devices you may have, using ES Explorer and Downloader to get the APK over the Internet with a URL is one option. This usually works, but many times a URL may not work with a downloader or sideloading app. Though the file is downloadable, it may not be downloadable through the app's UI. You can always get the APK another way and install with the help of a USB port and cord.
APK downloaders are available also as browser extensions. If you navigate to Mozilla's Firefox website or the Chrome Web Store and do a search, you will see them. I happen to most like Direct APK Downloader because it will download directly from the Internet to any Android device using Google Play. It also uses your Google Play credentials.
Another great thing about the Direct APK Downloader is it will ask you what kind of device the APK will be installed on. This is important for an APK downloader to have. Many apps depend on a specific version of an APK.
Copying the APK to Fire TV Stick
Once you have the APK downloaded to your computer, you can simply copy and paste it over to the Amazon Fire TV directory you want to install it from. Just copy and paste the APK over to either the Download or Downloader folder and open the apps as you normally would with ES Explorer or Dwonlaoder and install the APK.
Launch Kodi for first-run
After you install Kodi on Amazon Fire TV, it is time to go into Kodi for the first time.
If you see an annoying icon that changes from an orb to a file icon, that means you did not close ES Explorer. This happens when you use the home button instead of the back button on the remote, which is the only way to close an app on the Fire Stick by the way. If you use the home button to leave an app every time, you are leaving every app open when you do. This I have seen confuse many people when their Fire Stick keeps slowing to a virtual halt. Use the back button to close apps and the home button to keep them open.
Now that you have installed Kodi, you may want to learn how to use Kodi. You can set up all kinds of features, add-ons, and external software to use with Kodi. To learn how to use Kodi on Fire Stick, you could also read one of our Kodi blueprint beginner guides. There is one for how to use Kodi on Fire Stick and another great guide for Kodi itself.
We have many articles here to help you in the future, and many future articles. You may have more fun than you bargained for, and there are a lot of great add-ons you can check out. Since you are on the Amazon Fire Stick, Android apps can be installed. Not every app may work as intended because the remote may be hard to handle. If you connect a compatible Bluetooth keyboard that should eliminate any issues. The remote apps do not work for all incidents. I use a Bluetooth keyboard with most of my sideloaded apps. If you do want a remote app that works better than the rest, I suggest Cetus Play.
Install KODI on FireStick with Android smartphone
If you're using a Android smartphone or tablet, then nothing could be simpler than this. Also it's very convenient.
Here how you can install KODI on Firestick step by step.
First make sure that both the Android phone and FireTV Stick are connected to the same WiFi network.
On your Fire TV stick, go to the Settings using the right arrow key > of the remote's navigation ring.
Then go to the Device option, and then from the Device option, go to Developer options.
Now turn ON both ADB Debugging and Apps from Unknown sources.
On your Android smartphone or tablet, open up Play store, and search for the application Easy Fire Tools, or just click here.
Then install the application and open it up, and hit the Agree button.
You could see the app interface after launching it, it's something like below.
Next you need to search for the Fire TV stick on the same network, use the icon highlighted below.
If the fireTV STick is on the same WiFi network, the app should be able to find it without any problem.
After the search is finished, you could also add the IP permanently.
Now tap on the Plug icon to connect to the FireTV stick. When connected, this icon will turn

green

.
Now you have two option, either install KODI from Play Store, or let this app download KODI for you and install it. We'll go with the second option for now.
Tap the hamburger menu icon on the left, and select Media Center.
Click on the Refresh button, and click then click on the Download button. This will take some time to complete.
After the download is complete, just tap the Install button. The app should start transferring the KODI apk file through ADB.
Now back to your Fire TV stick,  long press the Home button to launch shortcuts, and select Apps.
From the Apps and Games, select KODI and press the middle select button of the Remote to launch KODI.
So, that's all you need to do to install KODI on FireStick with the Easy Fire Tools android application.
I've to say this app beats other competitors in almost every aspect. It has other useful features like KODI configuration backup and restore, managing the running apps, taking screenshots.
Few KODI settings like buffer mode and read factor are not available in the GUI. The only way to set them either use ADB manually or use this app.
Sideload KODI on FireStick with PC
The second option is to sideload KODI apk file from a PC, running any operating system.
If you have everything ready, then it's arguably the fastest method to install KODI.
The steps are simple enough to be followed by everyone, regardless of the operating system, either it Winows, macOS or Linux.
Enable ADB and App installation permission on FireStick
This step is to be done on the FireStick. If your're on the home screen, use the right arrow key of the remote's navigation ring to go to the Settings menu.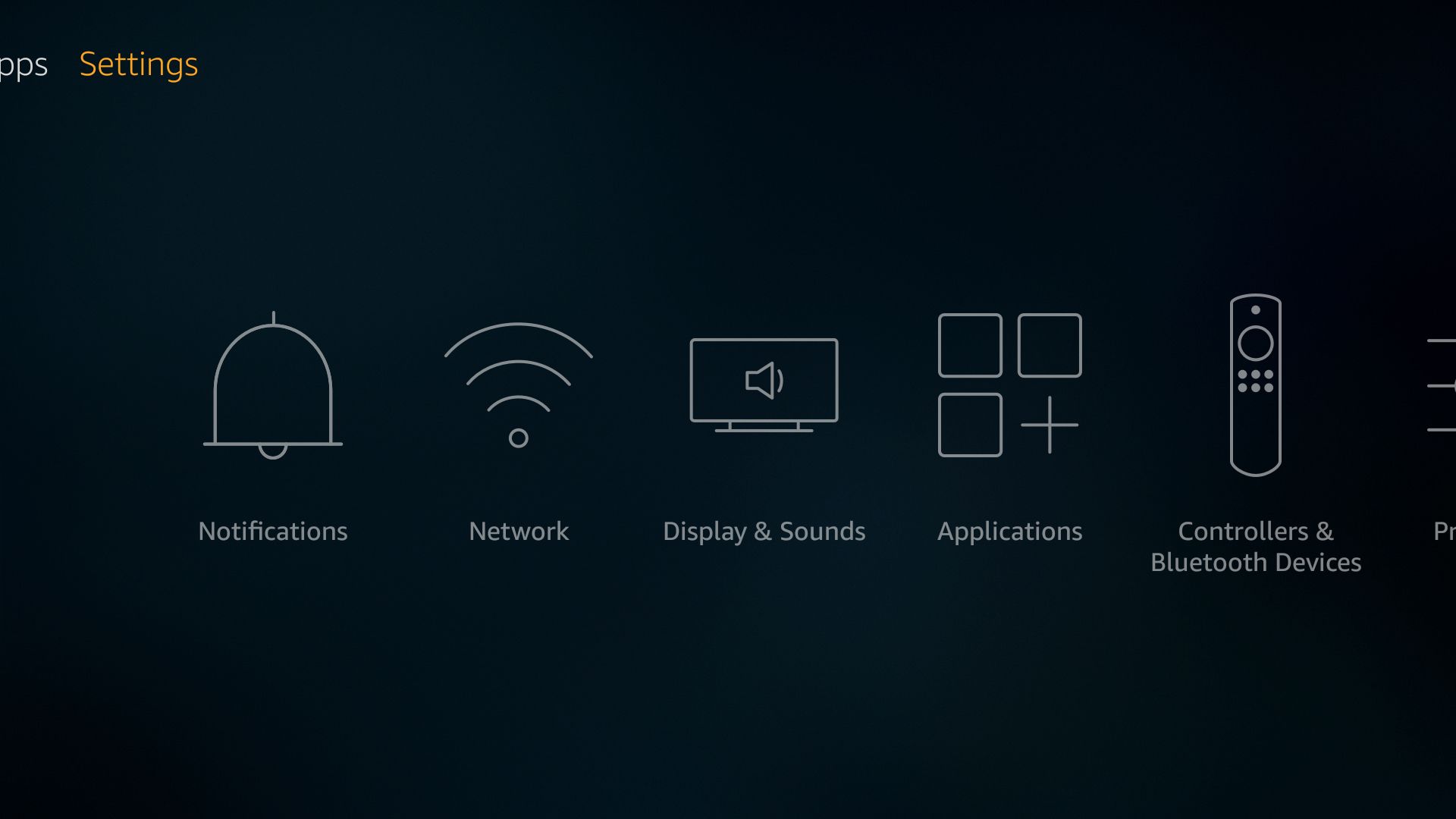 Then from setting go to the Applications menu.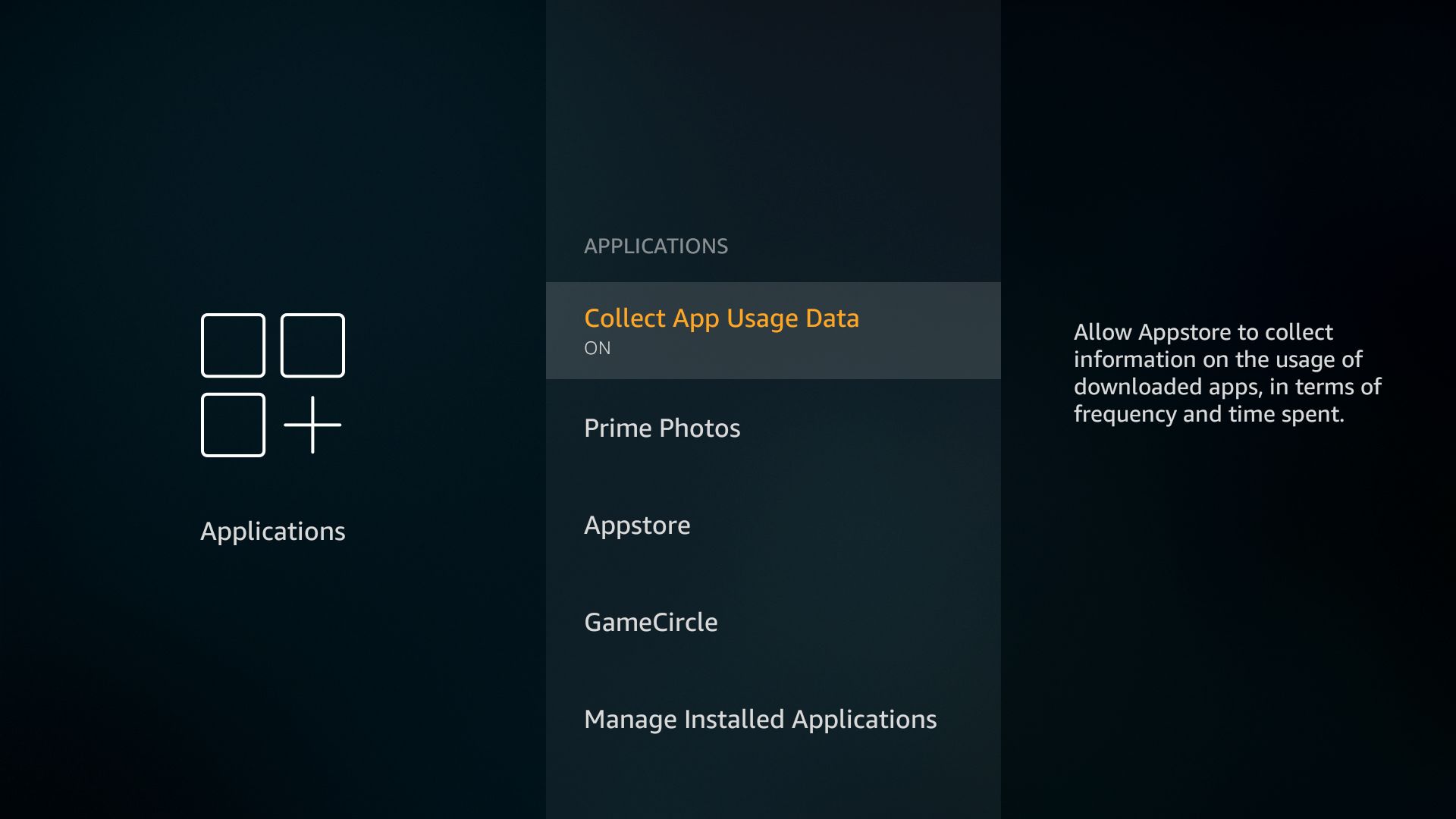 After that turn off the Collect App usage Data option.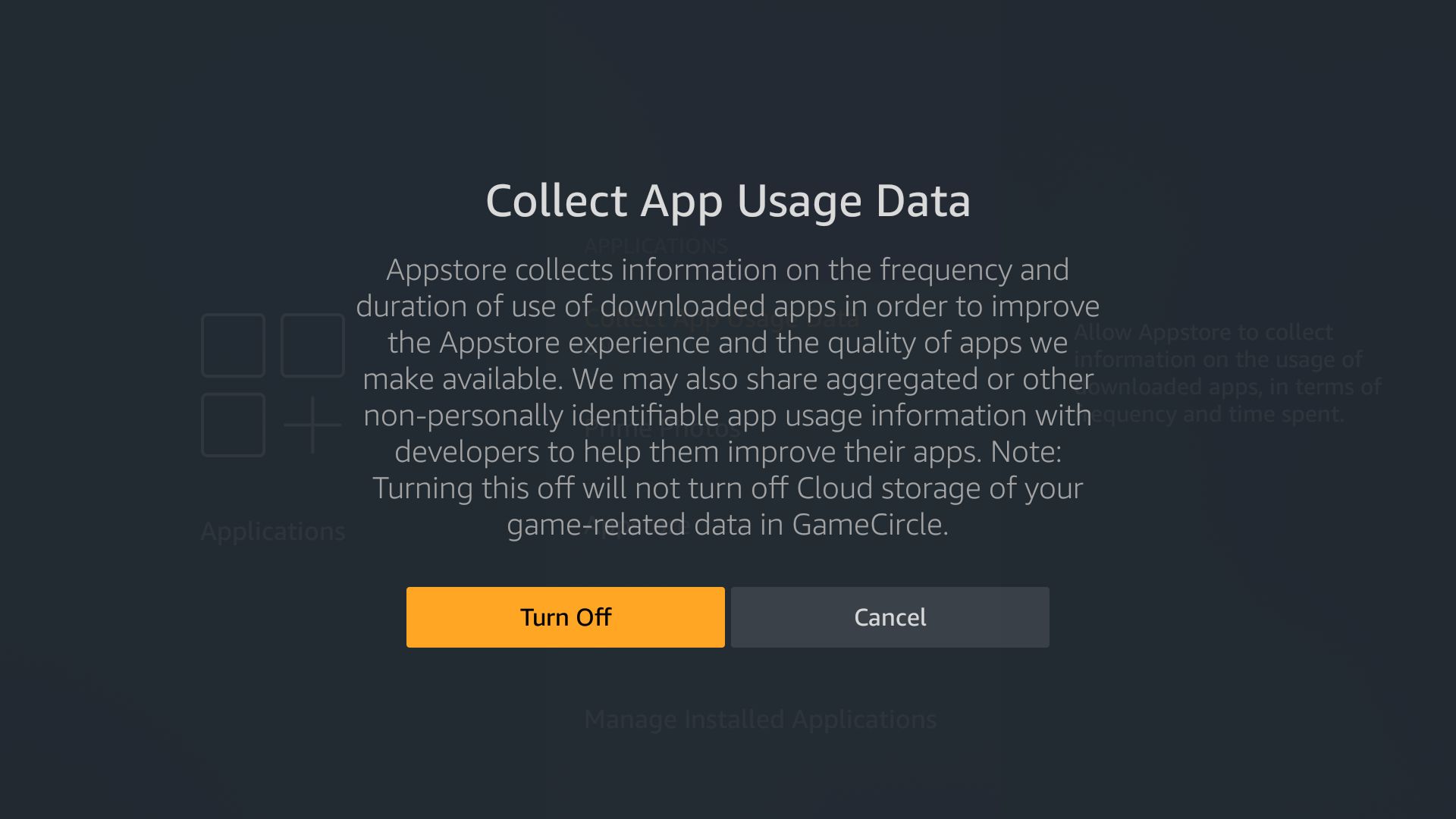 Next go back one step, and then go to the Device option.
From the Device option, Go to Developer options, and turn on both ADB Debugging and Apps from Unknown sources. We need to enable both of them to sideload KODI on FireStick.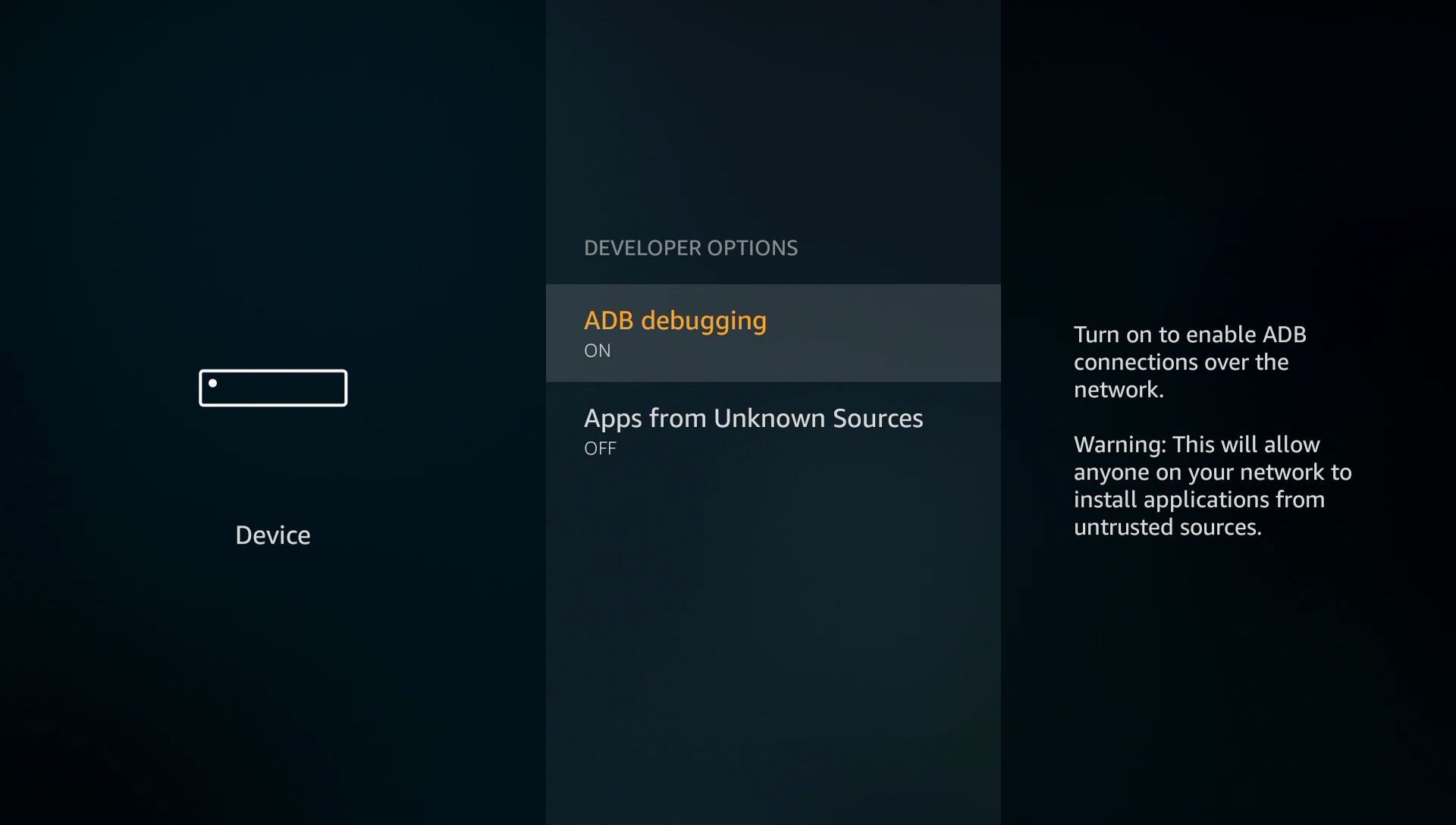 Finally go to the About menu, then go to Network Option. Note the IP address from there.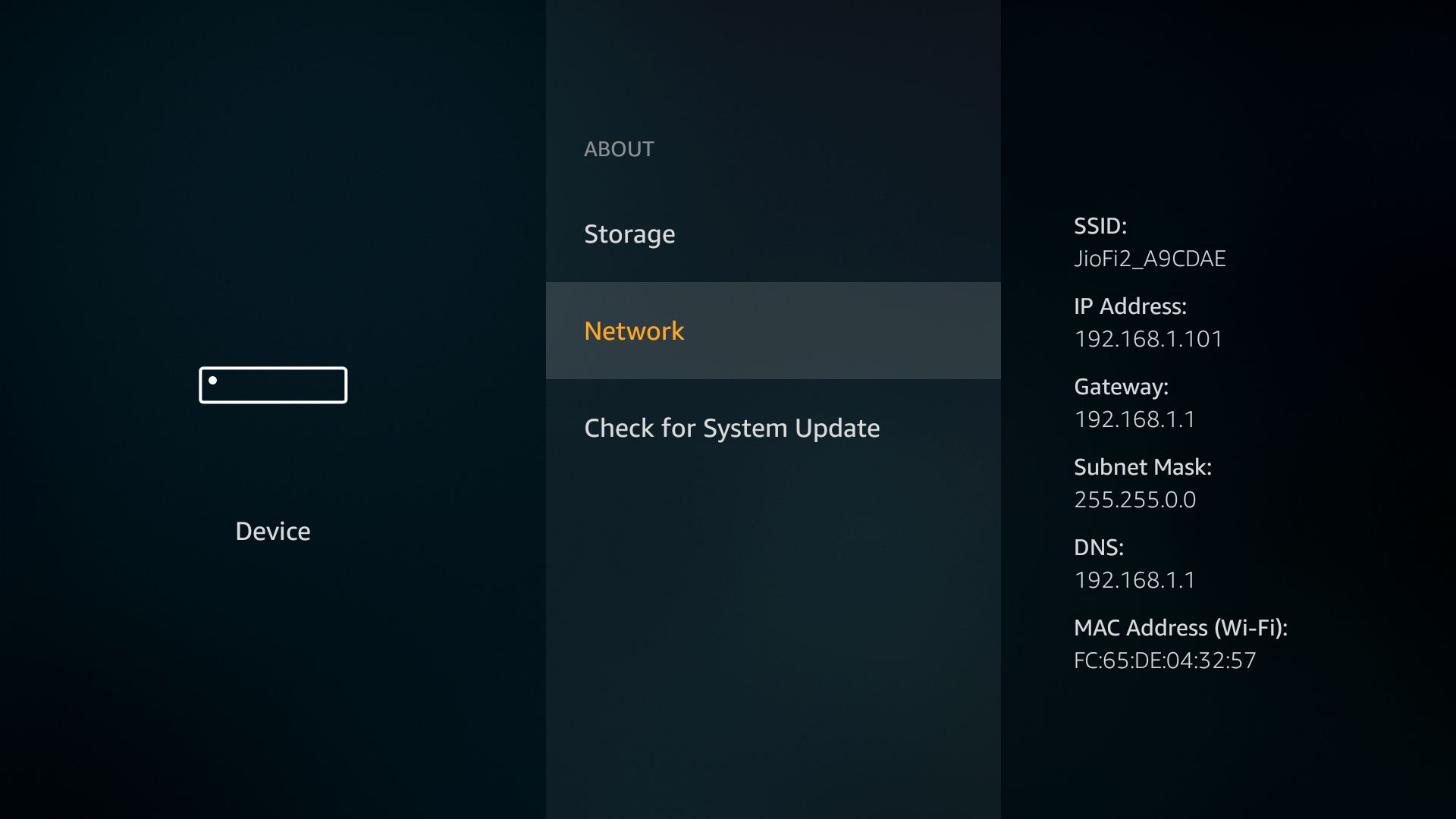 That's all you need to do on the Fire TV Stick, won't take more than 1 minute.
Download KODI from official site
This step is to be done on a PC, running any operating system.
Amazon's Fire TV Stick runs FireOS, which is based on Android. So, we need to download the KODI apk file to install it.
KODI is not available on Amazon's app store, download the latest stable release from the official site.
Here's the direct download link, http://mirrors.kodi.tv/releases/android/arm/kodi-17.6-Krypton-armeabi-v7a.apk
The CPU of FireStick is a 32 bit ARM processor, hence we've to download the ARMv7A build of KODI.
This step is optional, if you already have adb installed, then skip this step.
Install adb on Windows: First get only adb and fastboot minimal files for Windows from Google.
Unzip that archive, go to the unzipped folder. Then Press the Shift key, and you should be able to open up a Power shell windows there.
On Windows, installing the adb command line tool is a bit painful. Either you need to download the whole Android SDK or use any of the minimal adb installation method as mentioned here.
Install adb on macOS: If you're a bit comfortable with the Mac OS Terminal, then it's very easy.
First download the adb and fastboot binaries.
wget -c https://github.com/simmac/minimal_adb_fastboot/archive/master.zip
Then unzip the archive,
unzip minimal_adb_fastboot-master.zip
Finally install it by running the install.sh file.
cd minimal_adb_fastboot-master/ ./install.sh
That's all, now you should be able to use adb command from the Terminal app.
Install adb on Linux: On Linux, it's very easy to install adb, specially if you're running Debian or any other Debian based distro like Ubuntu.
sudo apt-get update sudo apt-get install android-tools-adb android-tools-fastboot
Sideload KODI on FireStick
Finally it's time to sideload KODI, first note exact the location(path) of KODI. Or if you're on Windows, copy the KODI apk file to the ADB folder.
At this point, the Fire TV Stick and your PC/laptop must be connected to the same network, and then can connect to each other.
First, check if they can connect to each other or not, use the ping command.
ping 192.168.1.101
In my case 192.168.1.101 is the IP address of the FireStick, most probably it's different for you. Sometimes ping command may not work, if ICMP is disabled on the router, but that should not cause any problem.
Now, run the commands below one by one on Windows to install KODI via ADB on the FireStick.
adb.exe kill-server adb.exe connect 192.168.101 adb.exe install kodi-17.6-Krypton-armeabi-v7a.apk
Note: Don't forget to change the IP address and the apk file name according to your, else it won't work.
This should take some time to transfer the apk file and install it, and you should get a Success message.
On Linux and macOS it's the same procedure to sideload kodi on firestick.
adb kill-server adb connect 192.168.101 adb install ~/Downloads/kodi-17.6-Krypton-armeabi-v7a.apk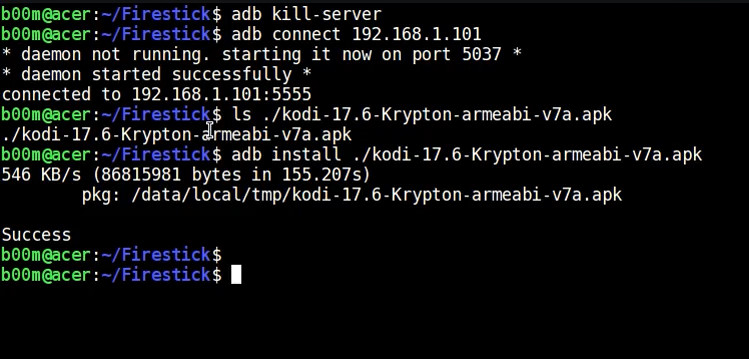 Here we're assuming that the apk file is located under the Downloads folder of the user, you may need to change that path too.
Launch KODI on Fire TV Stick
Back to the Fire TV Stick after completing the installation, long press the Home button

to launch the shortcuts.
Select the application from there, and navigate to the KODI application with the help of navigation ring of the remote.
KODI will take some time to launch for the first time, and you should be able to use it withing 1 minute.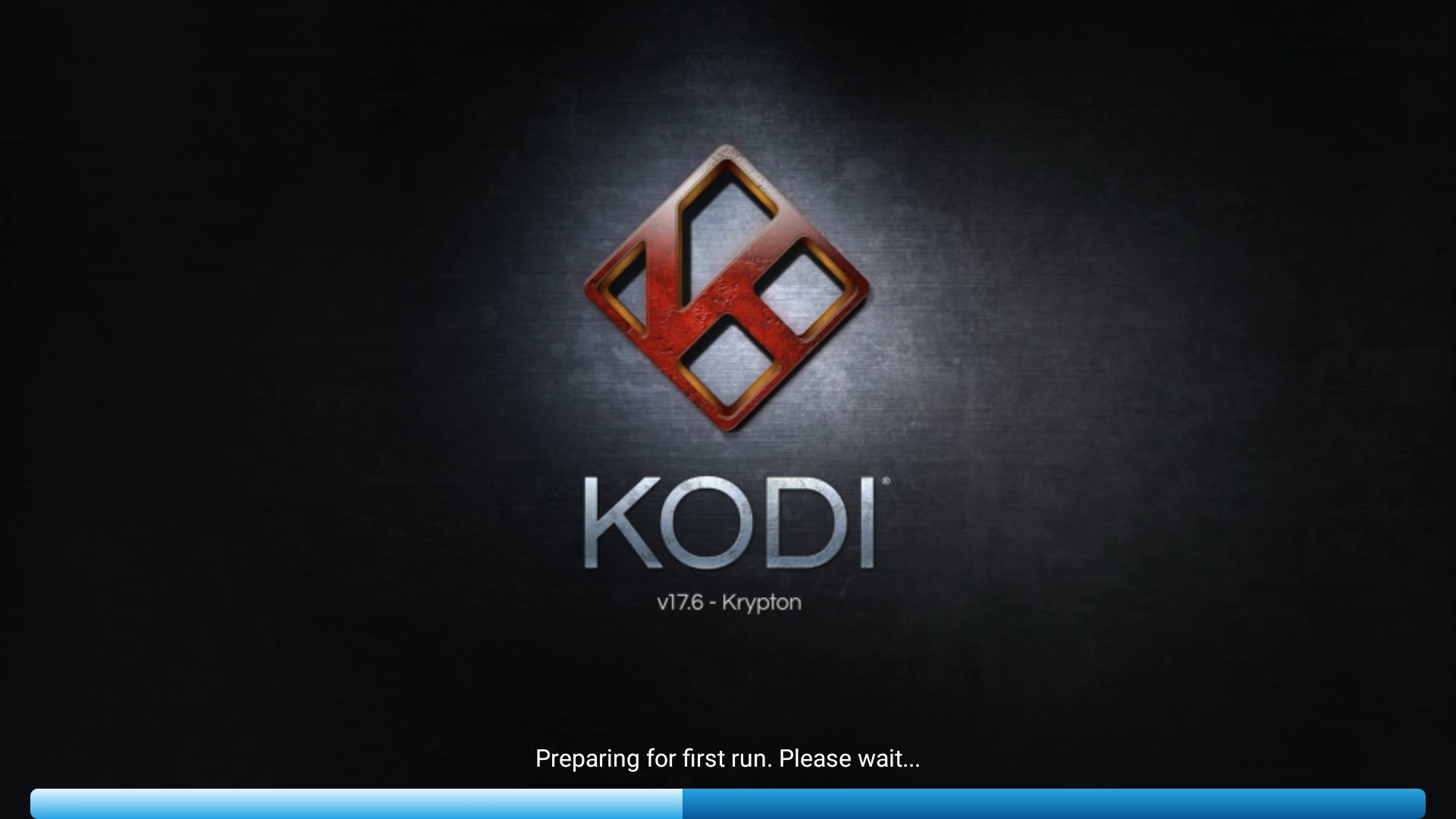 So, that's all you need to do to install kodi on firestick via sideloading the apk file from a PC/laptop. It's my favorite method, also I hope it's simple enough to understand.
Download and install KODI on FireTV Stick with ES File Explorer
So, if you don't want to any of the above method, or don't have either a PC or any android device you can use the ES File Explorer application to install  kodi on firestick.
ES File Explorer combines the functionalities of a downloader and  apk file installer, so to make the process simple, I'm going to use it here.
But beware, ES File Explorer is a shady software, I'd recommend to uninstall it ASAP you can.
Below the steps you need to perform to download kodi on firestick using it.
First you need to enable App installation permission from unknown sources. If it's not enabled already, go to the Settings using the right arrow key of the remote. Then Go to the Device section.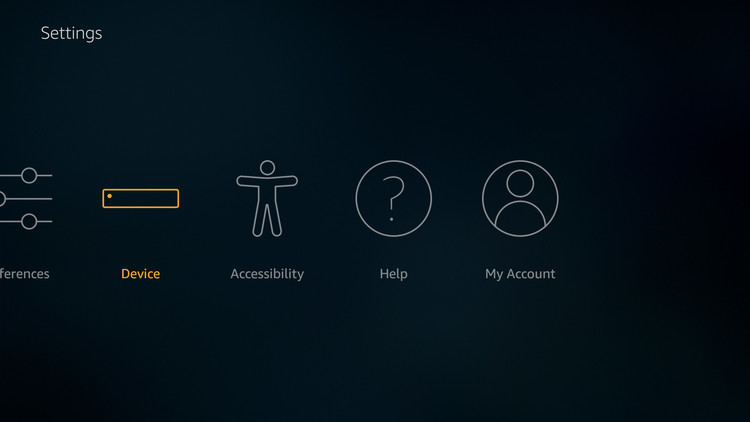 From the device section, go to the Developer Options.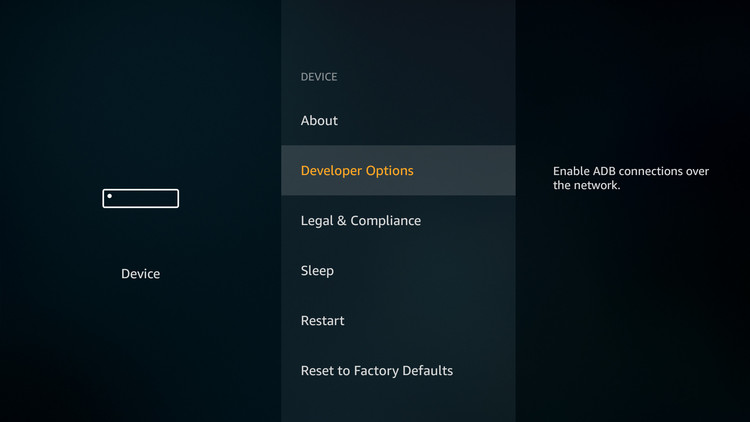 Now on the developer options, turn on the Apps from Unknown sources.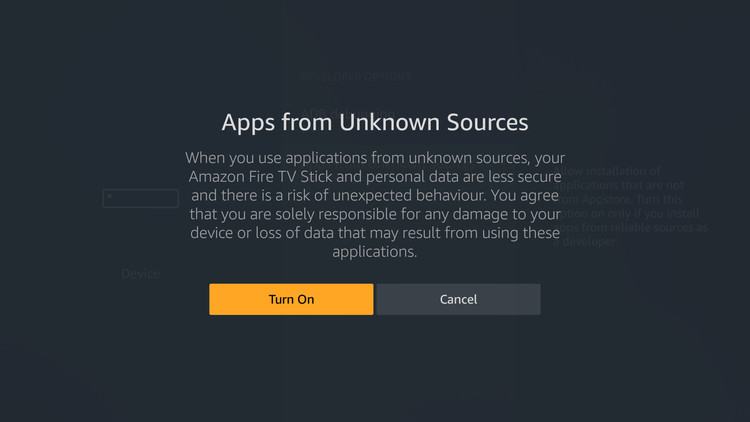 You can see that the App installation permission from unknown sources is ON.
Now go to the Home by pressing the Home button on the remote, and use the left arrow key 
KODI, WHEN INSTALLED ON YOUR AMAZON FIRE TV DEVICE, USES YOUR WIRELESS CONNECTION TO RETRIEVE THE PIRATED CONTENT
When you set up your Amazon Fire TV Stick, you enter your wireless username and password.  That way, your Amazon Fire Stick can connect to the internet automatically as soon as you plug it in.
The problem is that any apps you use (here, Kodi), ALSO USES THAT SAME WIRELESS CONNECTION.  This connection has your real IP address exposed and shared with the internet.
It doesn't take a genius to realize that they can file a copyright infringement lawsuit against the website providing the content, and force it to hand over the web site logs or analytics for a particular page hosting the copyrighted movie you connected to with your exposed IP address when you used your Kodi-enabled Amazon Fire Sitck to view or download that copyrighted movie.  And once they have your exposed IP address, they now have TWO WAYS to sue you in a copyright infringement lawsuit:
Subpoena the ISP who owns that exposed IP address and have them expose the identity of the account holder (the typical way a "John Doe" lawsuit is filed), or
Subpoena Amazon.com to have them expose the account information of the customer who purchased that particular Amazon Fire Stick.
Step 3 – Setup you Amazon Fire TV
Next we will have to setup our Amazon Fire TV. Just follow the instructions that came with the Amazon Fire TV.
If you run into issues, go through the original article where several issues and hints can be found.
To setup a Amazon Fire TV, you will need to setup an Amazon account, but only a username, password and billing address are needed. You do not need to enter credit card info or anything like that.
Make sure the Amazon Fire TV is working, and has a network (wired is recommended, but WiFi fill work as well) connection that works. This should be the same network of course as used with the computer/laptop we are going to use for this article.
p.s. I love Amazon Prime, so I can really recommend it. It;s totally optional! But if you'd like you can sign up for the free 30-day trial of Amazon Prime. Even if you'd do it just for the 30 trial days, you'd enjoy free 2-day shipping, and thousands of songs, movies and TV Show and yes, you'd support us with that as well … 

Step 4 – Prepare your Amazon Fire TV for Kodi
Before we can upload Kodi to our Amazon Fire TV, we will need to do a few minor settings.
 Enabling Developer and Unknown Sources Options
On the home screen of your Amazon Fire TV, scroll down to "Settings".
Scroll to the right to the "System" option and select this, where you'll select "Developer Options" and enable "ADB Debugging" (set it to "ON").
 If available, enable "Apps from Unknown Sources" as well.
When done, press the return button on your remote, so you're back in the "System" menu.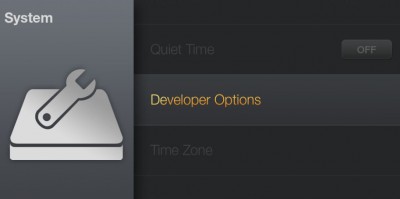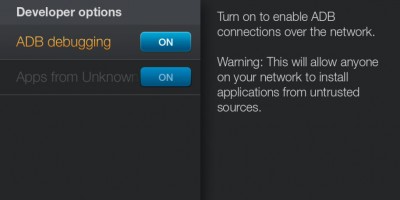 Find the IP address of your Amazon Fire TV
Still in the "System" menu, scroll up to the "About" option. There you scroll down to the "Network" option.
Here we will find the IP address of our Amazon Fire TV, in the example below 192.168.2.88 (yours will very likely be different).Write this IP address down, we will need the IP address in a next step.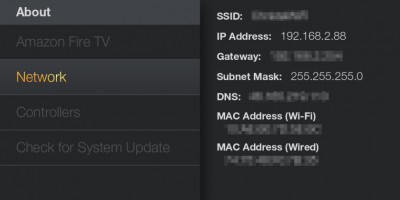 Step 5 – Sending KODI to your Amazon Fire TV
I assume you have your computer (desktop or laptop) up and running, and that you have installed (!) ADBFire.
Some AntiVirus software, under Windows, might give a false positive when using AdbFire.Disable your AntiVirus temporary or allow the execution (if your AntiVirus allows this).
Your Mac might consider this application from an untrusted developer, so you will need to change some settings.Go to "System Preference" – "Security Privacy", under "General", check "Anywhere" at the "Allow apps downloaded from" option. Note that it is required that you install ABDFire in the Applications folder!!!!
Do NOT try to run ADBFire straight from the ZIP (Windows) or DMG (Mac) archives! It will not work!
OK, now that we have ADBFire installed, start it up. The v2.x ADBFire will look something like displayed below.For those who've followed the original article, you will notice that Jocala has done quite a bit of impressive work with ADBFire.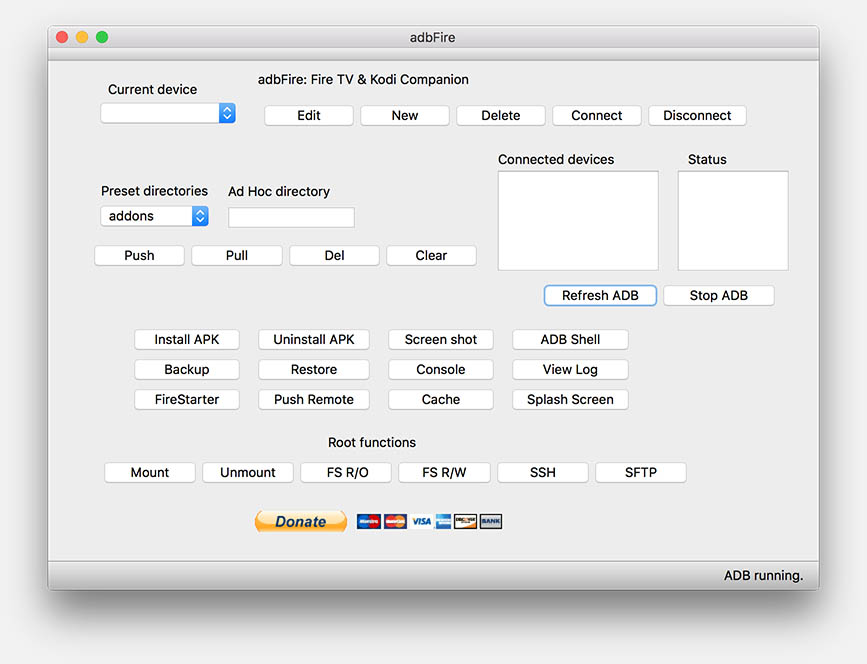 Now we need to tell ADBFire where to find our Amazon Fire TV – we will need the IP Address from our Amazon Fire TV for that, which you did write down in the step before.
In ADBFire, click "New", a window will popup where we ONLY fill in the following:
Give it a name you will recognize in the future, for example "AFTV Living room". We enter this in the "

Description

" field.
Enter the Amazon Fire TV IP address into the field "

Address

".
Do NOT change any of the other settings unless you really know what you're doing.
When completed, the window could look something like this, and you can now click "Save".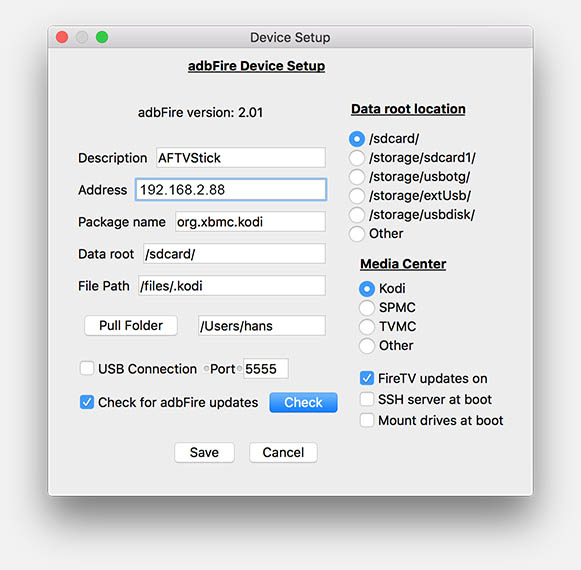 After you have clicked "Save", you might have to wait a few seconds, but eventually the dropdown under "Current Device" should show you the device we've just "created".

To connect to your Amazon Fire TV, click the "Connect" button.
In the lists "Connected Devices" you will see the IP address of your device, and in the list "Status" it should [eventually] say "device". Once that's the case, we're good to go for the next step.
To install KODI, click "Install APK". A dialog will open, where we will select the KODI APK file that we downloaded in step 1.Click "OK" or "Open", and in the next dialog window ("install …") click "Yes".
The upload will take a while, you can see the progress bar at the bottom:

Once completed, a message will confirm that KODI has been uploaded, click "OK":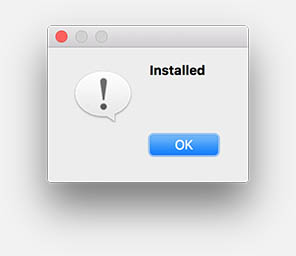 Step 6 – Install and Start FireStarter
FireStarter is a great little tool for the Amazon Fire TV. You can find it at GitHub as well, but with ADBFire we don't need to worry about that.
The coolest thing of FireStarter is that it "catches" pressing the "Home" button on your Amazon Fire TV remote. In essence the usual action (showing the Amazon Home Screen) will be completed, but in an instant of a second, the FireStarter will show it's own "home" screen, which will show a link to Kodi, the Amazon Home Screen and the Amazon Fire TV settings.
Anyhow, let's install FireStarter.
With ADBFire still connected to your Amazon Fire TV, click the "FireStarter" button. A dialog will popup where we click "Install". After a few seconds (it's pretty fast). Once completed, a dialog will popup informing you about that.
NOTE: Newer adbFire versions (2.03+) no longer have a "FireStarter" button, and FireStarter can now be found in the menu "File"  "Install FireStarter". Since FireStarter has been blacklisted by Amazon, it might not even work or the function to install it might be removed from future versions of adbFire all together.
Next: get FireStarter started.
To get FireStarter started, the first time, we need to go to the Amazon "Home Screen" (press the "home" button on the Amazon Fire TV remote).
Scroll down to "Settings", scroll to the right to "Applications", press the "Select" button on the remote, and scroll down to the "Manage Installed Applications" and select it. A list of installed Apps should appear now.
Now scroll down to "FireStarter" and select it. A new "list" appears where we select "Launch Application". Right after launching FireStarter, you will see a screen like below …. and this is the screen that will appear each time you press the "home" button on the Amazon Fire TV remote: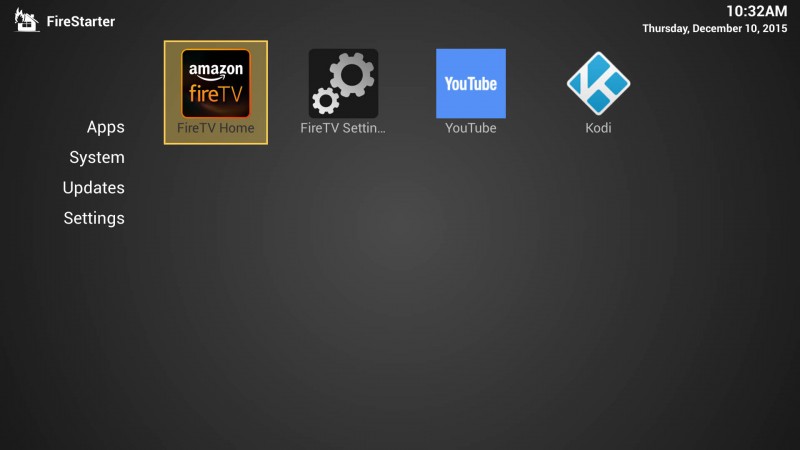 You're done now … start KODI and it will run the "first time" setup.