Having a flatscreen TV on a stand or furniture can be a danger to children and pets who might act in a manor that could cause an unsecured heavy TV to tip and fall. Wall mounting your TV with in wall cord management, risks can be reduced substantially, according to the TVSafety.org website
With their tall, thin structure, flat-panel TVs are very susceptible to tipping over, which can cause property damage, personal injury or even death. As the statistics below show, tipping TVs are a big problem.
A TV can fall with the force of thousands of pounds. That is 10 times more powerful than being hit by a NFL lineman.
On average, one child dies every two weeks when a TV or furniture falls onto him or her.
2/3 of TV and furniture tip-over fatalities involve toddlers.
While it does not actually hide the TV power cord inside the wall, PowerBridge has been engineered to meet National Electric Code and meets strict UL product safety testing standards.
PowerBridge hides the ugly cords that connect to your TV from your devices like your cable box, DVD player or game system and provides electrical power connection for the TV safely and easily and out of reach from small children and pets.
Hide Cables in the Wall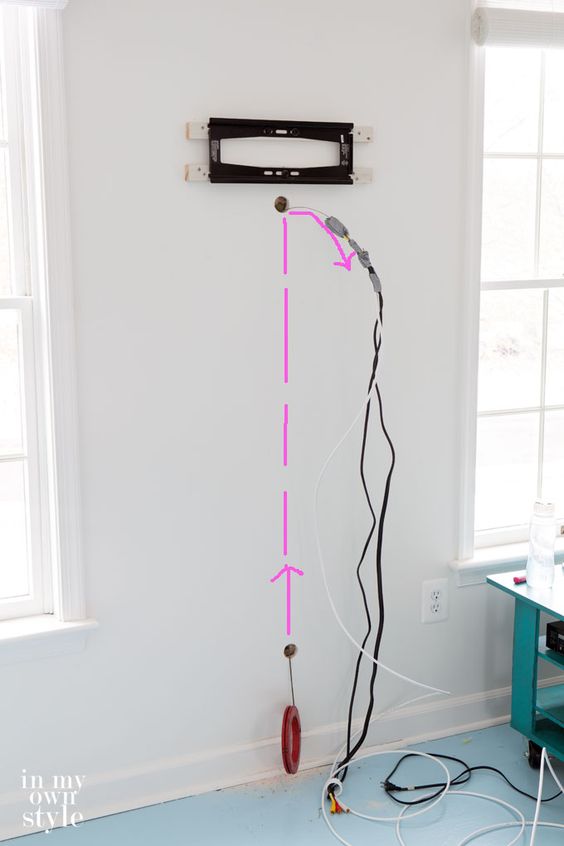 If you are carrying out some other structural work or are giving the room a decorating make-over, it is well worth considering creating space within the walls to take the new wires of your TV. This is a particularly good idea if you plan on having a wall-mounted TV, where a trail of cables dangling down beneath can somewhat ruin an otherwise modern and sleek decor scheme.
Most new builds use stud walls for their internal partitions which makes the job of hiding cables away within in them easy. Simply drilling a small hole behind the TV, with another directly below at floor level, means cables can be fed down and through before being plugged into sockets behind your TV stand or entertainment unit.
In the case of solid or brick walls, it is better to create a false wall or decorative panel instead (see below).
Use Built-in Storage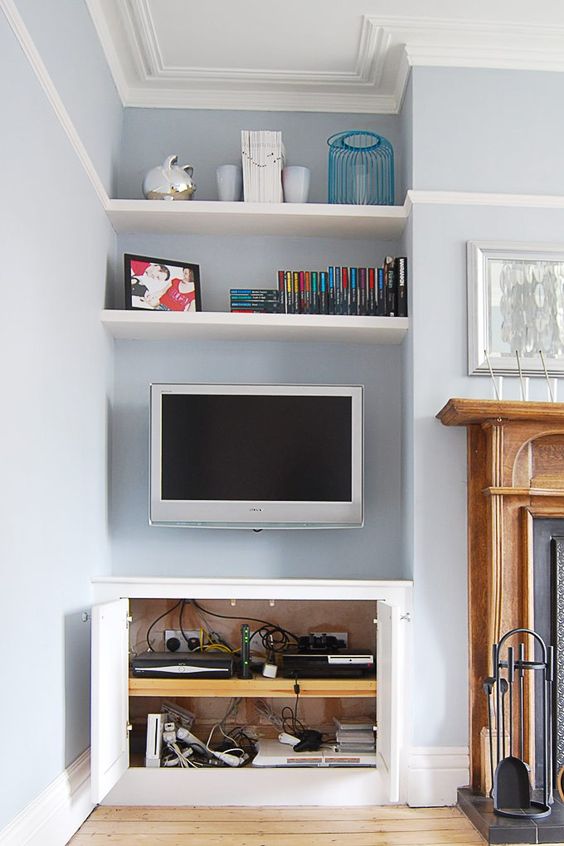 A TV unit is one of the best way to conceal TV cables and wires. Whether you choose a ready-build cabinet or a bespoke TV stand, most are available with cut outs at the back of the construction through which cables can be neatly threaded.
A TV stand with storage or shelving will not only make cable management a doddle but will also make storing entertainment boxes, DVD player and games console easier.
Clever Cord Covers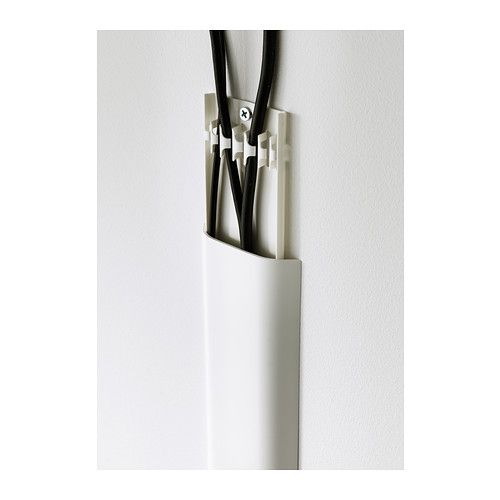 Cable covers, plaster or metal trunking or cable tidies are all ready available, designed specifically to hide TV cables, Some are self-adhesive, sticking directly to the wall, whilst others can be screwed in. Many cable covers can also be painted to match the wall colour and become almost invisible. These are a great option for wall-mounted TVs, whilst cable tidies come in a variety of lengths and thicknesses and can hide up to around six cables and are a good option for behind TV stands, avoiding that tangled mess of unruly wires.
Create a False Wall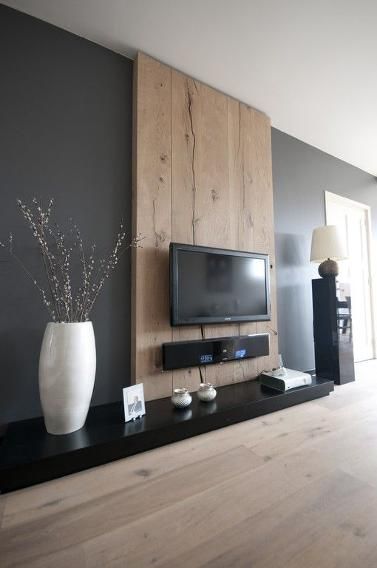 Those with solid walls or who would prefer not to start drilling through stud walls should consider constructing a decorative panel or small section of false wall on which to mount the TV. A simple MDF, plywood or timber panel, either painted, timber clad or covered in wallpaper can be fixed to the wall with the cables running behind it. Not only will this keep cords and cables tucked nicely away but it can also become a striking feature of the room, creating a focal point.
Use Decorative Boxes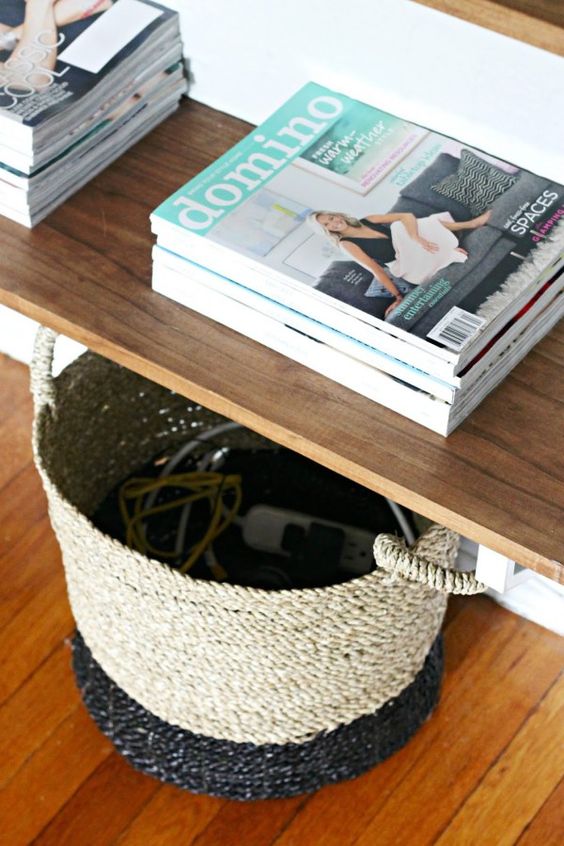 Using decorative storage boxes or baskets within TV stands is a quick and easy solution to tidying away a mass of unsightly cables and wires — as well as complementing the room's decor. Simply holes within the back of the boxes and use them to store extension leads and adaptors along with the lengths of leads that come with them.
Sneaky Tricks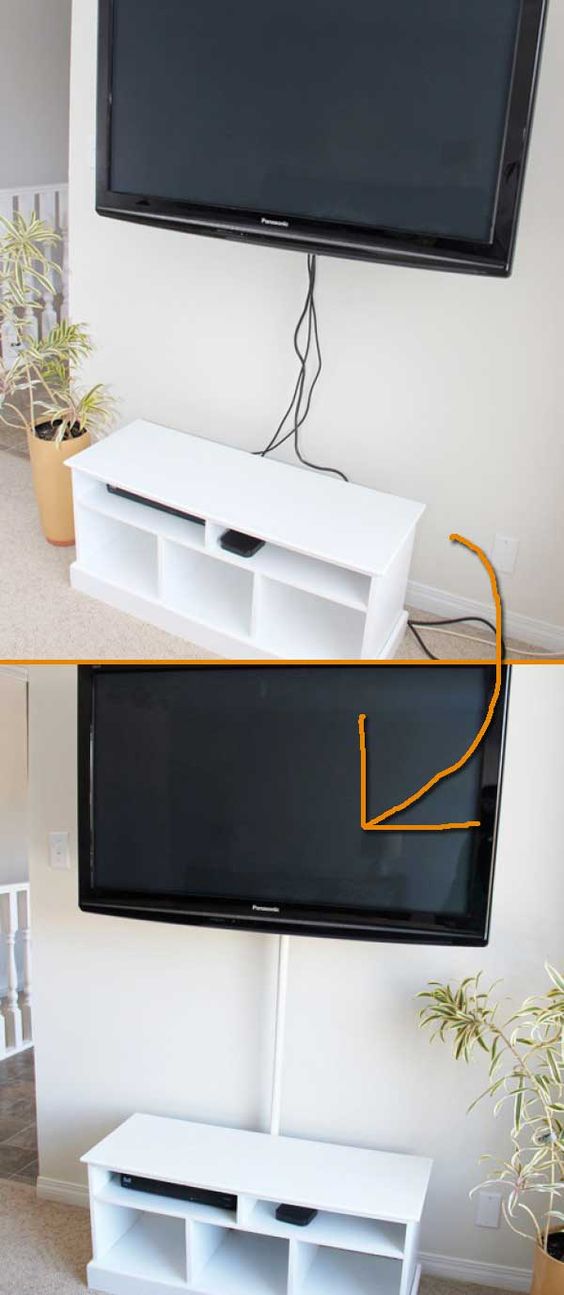 Amongst some of the more ingenious ideas for hiding away cables, shower poles and copper pipe feature highly. Hollow shower poles make a fantastic cable covers can be fixed to the wall beneath wall-mounted TVs, concealing the cables and taking them right down to the floor space behind the TV or entertainment unit. Copper piping lends and industrial look and works in a similar way.
2-) Mark where you want the inlet and the outlet
Mark where you want the outlet (which goes directly behind the TV) and inlet (which goes near an existing power outlet) with the supplied template. Be sure to follow these guidelines:
The outlet should go behind the TV so it doesn't show once it's all done.
Outlet and inlet should go between studs and in the same stud space (the inlet will generally go vertically below the outlet). Also make sure there's no header (a horizontal stud) anywhere between where the outlet and inlet will go. Use a stud finder!
The inlet should be no more than 60″ from the outlet AND no more than 60″ from an existing power source.
Use a bubble level when tracing the template to make sure it's straight.
4-) Thread the romex 14/2 gauge wire through the outlet and inlet holes
Drop the romex 14/2 gauge wire (provided in the kit) through the outlet hole and and pull the bottom out through the inlet hole. Make sure the wire doesn't drop completely through the outlet hole!
5-) Thread the romex 14/2 gauge wire through the backboxes
Now that the appropriate wires is in the wall, we need to attach it to the outlet and inlet. Start by threading it through the provided outlet and inlet backboxes.
6-) Connect the outlet box to the romex 14/2 gauge wire
It's time to start connecting! Connect the romex 14/2 gauge wire to the outlet box by matching up the following wires:
Pair black wires
Pair white wires
Pair green wire (in the outlet) to bare wire (in the romex wire)
7-) Thread the romex 14/2 gauge wire into the holes of the inlet box and thread the appropriate wires through the corresponding holes:
Thread white wire into hole labeled "W"
Thread bare wire into hole labeled "G"
Thread black wire into unlabeled hole
10-) Clamp the romex 14/2 gauge wire to the backboxes
Once the backboxes are attached to the appropriate outlet and inlet boxes, align and clamp the romex 14/2 gauge wire to the snap clamps in the backboxes.
13-) Plug it in!
Plug the TV power cord directly into the outlet and attach the extension cord provided in the kit to the inlet and to an existing wall outlet. Once you connect the inlet to your power you should see a green light appear in the outlet you just installed.
Now re-attach the TV to the wall in front of the newly installed outlet and enjoy!
Here's what our space looks like after going through this process:
So that's how to hide TV wires in the wall! For more DIY and home decor advice check out Inexpensive Tricks to Make Your Old Home Look New Again, DIY Craft Corner Bar, and How to Transform your Kitchen Without Doing a Full Renovation.
***And don't forget to PIN THIS POST for when you're ready to hide those pesky wires!***
Woo! This project was featured by Domestically Creative and the Merry Monday Link Party! Feel free to check 'em out!
Cable Management
Use zip ties to keep multiple cords bound together. It makes them easier to tuck behind furniture.
Make a fabric sleeve to hide the flat screen TV wires if it's mounted above a mantle.
If you prefer a more decorative cable management, here's a tutorial for a no-sew ruffled wire cover.
Remove the bottom and sides of a pretty square basket to hide cords on a shelf.
Contain your cords in a nifty Tic-Tac container.  This is a great way to keep all your cords in one place.
Hide computer wires under your desk using binder clips. The power strip is mounted on the underside of the desk, too. Fantastic cable management!
Attach fabric around your desk for a pretty and functional cover for all your wires and under-the-desk knick-knacks.
Here's another alternative for hiding a single cord (perhaps to a lamp): use command hooks to keep the cord up off the floor.
Fabric and magnets can easily hide cords behind a metal stand or shelf with minimal fuss. Plus, you can change out the fabric easily whenever you redecorate.
Cover Up Cords
A tension rod and valance (or dust ruffle) can hide lots of cords on a shelf or above the washer and dryer in your laundry room.
Use a wire basket and zip ties attached to the bottom of your desk to help your cords stay put.
If there's no possible way to move a cord out of sight, cover it with rope or twine for a rustic look.
Washi tape can add lots of fun colors to cords. Fun idea for "hiding" cords in a kid's room!
Small Command hooks can help you with cable management by contouring cords to even the curviest of furniture.
Need a quick fix?  Use TP tubes to organize your wires.  You can even label the different slots.
How many cords are around your night stand? Cut a hole in the back for a power strip, and put the devices in the drawer. It'll keep you from waking up from those little flashing notification lights through the night, too.
Here's a cheap and easy cable management idea anyone can pull off: yarn wire covers! Just pick a color that matches your wall background or flooring, and wrap the yarn around bundled wires. Easy peasy!
Want MORE Organization Tips?
Join our email list!  We will send you a e-book with over 100 hacks that will revolutionize your house.