Eyelashes are very important for every woman and because I care a lot about mine and always consider various treatments in order to make them look longer and basically denser, I too was really scared when several of them fell off. I was actually panicked by the fact that I could see a space in my lash line and in my opinion, I thought that looked really bad. However, if you're in the same situation as I was several weeks back and you're panicking about it, don't. There are many things you can do to grow your eyelashes back and have them looking amazing. So how fast do eyelashes grow back? Well, let's take a look at it, shall we?
Taking Care Of Your Lashes
You need to take very good care of your eyelashes if you want them not to fall. That is why you should:
Throw out the makeup (eye makeup especially) every 4 to 6 months
Try and be gentle with your eyelashes and don't rub them too hard
Use a recommended eyelash enhancement product
Natural Remedies for Thicker and Longer Eyelashes 
Eyelash Moisturizers
Well-moisturized eyelashes become more elastic and appear fuller instantly! If you continue using natural moisturizers daily, they will be more protected and as a result grow healthier, possibly thicker and longer. The surface of each lash will be sealed with a thin oil film, which will help to withstand damage from chemicals and mechanical breaks. Natural oils like coconut, castor,  jojoba, olive, almond, argan and shea butter are rich in medium chain fatty acids, which can penetrate deeply into eyelash structure replenishing moisture.
For the best results, use cold-processed oils. They are fully natural and have not lost their nutrients in processing.
DO NOT  use oils if you wear eyelash extensions!
 How to Grow Eyelashes with Coconut Oil
Coconut oil is one of the best eyelash moisturizers. Besides conditioning lashes, it fights dandruff and other fungal infections. To achieve best results use it daily on your clean eyelashes.
The best way to apply coconut oil is to use an applicator similar to an eyeliner brush, or a q-tip dipped in melted oil. Alternatively, you can buy a ready to use oil packaged similarly to mascara.
Despite the immense benefits of these natural conditioning oils, they have not been proven to change the length of healthy full grown eyelashes. Please read further how to make your eyelashes longer here.
Good Natural Practices to Keep Your Eyelashes Longer
Brush your eyelashes often.  These massaging movements stimulate proper blood circulation; more so, it's a good hygienic practice.
Avoid rubbing your lashes often to prevent loss and damage.
Be careful when using eyelash curlers; they damage eyelashes. Learn about a less damaging procedure to permanently curl and tint your eyelashes.
Use natural eyelash moisturizers regularly for the best benefits.
Avoid using other eyelash products alongside natural remedies.
Always remove make-up properly. The best way to remove mascara is to soak eyelashes in makeup remover, gently wash moistened lashes with a soft cloth, then rinse with clean water.
Avoid waterproof mascara as much as possible.  It requires additional rubbing, which may cause damage to lashes or even cause them to fall out. Also, the waterproof remover contains more irritating chemicals than a regular one.
Reserve false eyelashes for special occasions only. Learn how to properly apply and remove falsies to minimize possible damage.
Use only gentle facial cleaners. Regular soaps have high pH levels that can dry and irritate eyelids, affect hair follicles, and make your eyelashes more brittle.
 Bonus Tip on How to Keep Your Lashes Healthier and Longer
Learn easy facial yoga to improve your eyes health and appearance.
I hope that these new tips will help your lashes be their best. After learning about good natural remedies, you may want to update your mascara for a healthier version. Learn how to shop for a good mascara here.
If you enjoyed this article, please click on  –> –> 
Home remedies for longer and stronger eyelashes:
1. Castor oil
Amazingly, one of the best home remedies and tips on how to make your eyelashes grow longer is pure and simple – use organic Castor oil. It can make your eyelashes ticker, stronger and make them grow faster. Simply apply Castor oil with a brush to your lashes and eyebrows when you go to bed and leave it on for the entire night, and it will moisturise and encourage hair growth naturally. Castor oil is also excellent for softening the lips, therefore, if your lips are dry and chapped, don't forget to dab what's left on your fingers straight to your lips, and you will wakeup in the morning with soft and kissable mouth.
2. Vitamin E
Another trick on how to make your eyelashes grow longer is using Vitamin E oil. You know that vitamin E is good for treating blemishes on your skin, but did you know that it will also help your eyelashes to grow thicker too? Just break open a couple of vitamin E oil capsules and apply it to your lashes with a brush to nourish them and thicken them up.
3. Other natural oils
Many natural oils can also help to make your eyelashes grow longer. Here are some wonderful oils that can help nourish and strengthen your eyelashes, boosting hair growth: olive oil, coconut oil, avocado oil, sweet almond oil, linen oil, sesame oil, rosehip oil, Argan oil and burdock root oil. Just soak some oil (or oil blend) on a cotton wool ball and wipe over your lashes before you go to bed. Wash off in the morning with lukewarm water. These natural oils will nourish and moisturise your eyelashes, improving the growth and keeping your lashes strong and healthy.
4. Green Tea
Green tea can be used on your lashes as well. Make some green tea, let it cool and then swipe it over your lashes with some cotton wool. The caffeine and flavonoids found in green tea will help maintain the growth of existing lashes and stimulate new growth too.
5. Aloe Vera 
Aloe Vera is a wonderful home remedy that can be used for various purposes. If you want to nourish your eyelashes and make them grow thicker and stronger, apply some fresh Aloe Vera gel right to your lashes before going to bed, using a clean mascara wand, the same way as you would apply mascara. Thanks to vitamins and powerful nutrients, Aloe Vera gel will improve the growth of your eyelashes and make them stronger.
6. Avoid using fake eyelashes
Another good tip on how to make your eyelashes grow longer and thicker is to avoid using fake lashes or eyelashes extensions, because even though it might be a quick fix to the problem, but in longer-term, it will only damage your lashes even more. When you take them off you are likely to remove some of your real lashes as well, so it is best to avoid fake lashes altogether, or use them only when it's absolutely necessary.
7. Remove all makeup at night
The longer your lashes are free from makeup, then the better they will 'breathe' and grow. Always remove all your eye makeup at night time to give your lashes a chance to rest or, even better, remove it as soon as you get home.
8. Eat healthily
Eating a healthy and balanced diet is another important key when it comes to good health and it also can help your eyelashes grow longer, thicker and stronger. Just like your hair, your lashes need a good supply of vitamins and minerals to grow, so make sure to eat plenty of fresh vegetables and fruit, lean protein, as well as whole grains to properly nourish your body and helping your eyelashes grow better.
9. Brush your lashes
Brushing your lashes will clean out any dust and dirt particles and encourage a good blood supply to the lashes. You can buy little lash combs, made specifically for the job. Daily eyelash brushing will work as a gentle massage and it can really help to make your lashes grow longer and thicker.
10. Leave your lashes alone!
Always be gentle with your lashes, they don't like being treated harshly. Avoid rubbing your eyes or pulling on your lashes when you are removing makeup, otherwise your can get premature under eye wrinkles and fine lines, but you can also pull out some of your eyelashes and prevent the growth of other ones that stay in. Be gentle.
11. Massage your eyelids
And finally, another easy tip on how to make your eyelashes grow longer and stronger is eyelid massage. You can stimulate the hair follicles of your lashes by gently massaging your eyelids. If you do this regularly, you will see a real difference in your lashes quite quickly. Just be careful not to be too harsh though when you do the massage, or you will do more harm, than good.
How to make your eyelashes grow thicker and longer? Do you have some other tips? What are your favourite home remedies for eyelashes growth?
Feel free to share your thoughts in the comment section below.
Stay happy!
TweetGooglePinterestDiggRedditStumbleupon
Makeup Tips and Hacks to Make Lashes Appear Longer and Thicker
Sometimes what causes our lashes to become brittle or to fall out is the way we apply our makeup or go about our days. We have put together a few tips and tricks for keeping your lashes looking healthy and beautifully long, even if you do not use anything else.
• Avoid using fake lashes. When you use eyelash extension and fake lashes in general, it is a quick fix with long-term dire effects. You will end up damaging your lovely strands instead with the glue and ripping them off. Only use them when absolutely necessary and avoid otherwise.
• Remove makeup at night. Lashes that are devoid of makeup will grow stronger and healthier since they can breathe easier. Removing makeup at night at least allows them to repair after a day of being slathered in mascara. If you can spend a few days a week without makeup on your lashes, that is even better!
• Avoid rubbing and pulling your lashes. You will rub your lashes when you are tired, when the lids are itchy, or simply subconsciously. You often end up pulling on your lashes when you try to clean off the makeup.
Be careful not to be too rough on them because they simply are not strong enough to withstand rough handling and will fall out. Plus, you are more likely to get premature wrinkles with all that pulling.
• Use baby powder coating to make eyelashes look longer. For fuller lashes, you can try swiping on a layer of mascara, adding a layer of baby powder, and adding at least one more layer once the whole of the lashes is covered. It will ensure a thicker look without the clumps. Just use a natural version.
• Use baby powder alternatives. For those who do not want to take the risk of baby powder, use corn starch or arrowroot or even dry milk powder instead on the lashes for the same results as with the product you are replacing.
• Use eyelash primer under mascara. Always go with this trick in the book, since you want to protect against possible damage as much as possible. Use a primer with pro-keratin, which also strengthens the lashes, as it protects against harsh ingredients in the mascara itself.
• Invest in hypoallergenic mascara. For sensitive eyes especially, a hypoallergenic mascara can help reduce irritation. Inflammation means you are losing your lashes.
• Do not use mascara so much. The less you use it, or the fewer coats you put on, the faster and stronger your lashes will grow.
• Avoid waterproof mascara. Weak eyelashes will suffer greatly due to the ingredients in these types of products, which are meant to stick well and fully onto those lashes of yours. The formulas are very potent and can cause more problems than do good.
• Do not tug with a lash curler. Instead of tugging, simply press the lash curler on. Even when you wash your lashes to clean it of mascara, be careful not to pull on the strands. Rubbing and scrubbing can have worse effects.
• Use lash-enhancing eyeliner. Yes, such a thing exists. While you can easily use lash-enhancing mascara as well, you might want to also opt for the best eyeliner that is liquid and with the peptides needed to strengthen the follicles where you swipe it on.
Photos via @atlantip, @studiomascara
Castor Oil for Lashes
People have been using castor oil for lashes and hair for ages. In fact, rumor has it that men in ancient Egypt rubbed the stuff into their scalp to prevent baldness. And it's no wonder why – this thick, viscous oil is chock full of omega-6 fatty acids, vitamin E and proteins – all of which are incredibly nourishing for hair follicles.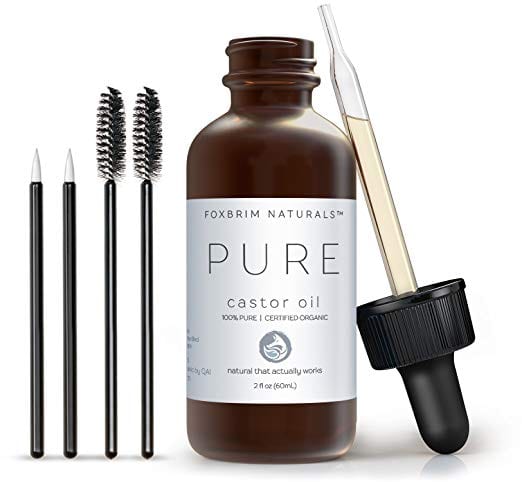 Although I've known that castor oil is great for your hair – I often sleep with a mixture of castor oil and EV olive oil applied to my roots – I only got the idea to try castor oil on my lashes after both my mom and sister reported thicker lashes and brows after months of doing the Oil Cleaning Method (OCM).
The OCM, in case you don't know, is a popular method of cleaning your face with oil. I never had the guts to try it 'cause I have acne-prone skin but my mom and sister are braver than I and they've been doing it for months.
One unexpected side effect they have had from OCM is that their eyelashes and brows are a little fuller and a little thicker. They both attribute it to the castor oil that touches their eyelashes during every oil cleansing and stays on their lashes overnight (since they only wipe the oil off their face with a towel and then use cleaning grains afterwards).
Although I've only tried castor oil for a few weeks, I can say I love the feeling of it on my lashes. It's thick and heavy and I apply a light layer over my lash enhancer and I feel like it helps to lock in nutrients and prevent eyelash shedding.
And, of course, you can always whip up some homemade eyelash growth serum with this stuff!
Oh, and did I mention that a huge bottle of castor oil only costs $11 and will last you forever?
Coconut Oil for Eyelashes
Using coconut oil for eyelashes is a brilliantly yummy-smelling way to deep hydrate your lashes. It's has a much lighter consistency than castor oil and does not "weigh down" your lashes as much when you apply it on your eyelashes.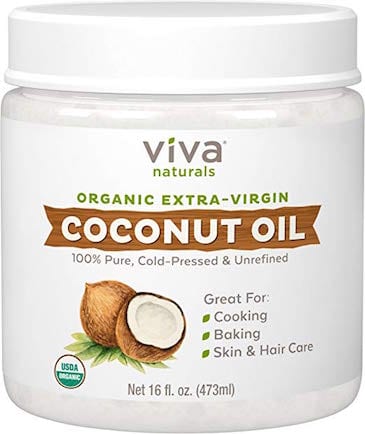 This stuff is one of the best home remedies for longer eyelashes since it also has a natural pulling action that draws out impurities and finds its way into your eyelash follicles to stimulate regrowth.
If you've ever used coconut oil on your skin, you'll also know that coconut oil has fantastic absorption. The oil is really light while nourishing at the same time – making it a perfect eyelash nourishing oil to wear during the day.
I like to add just a dab of pure coconut oil to my eyelashes – with or without mascara – to keep them moisturized throughout the day.
Make sure you get the best coconut oil for your lashes – I like Viva Lab's Organic, GMO-free, Extra Virgin Coconut Oil for my skin and lashes!
Emu Oil for Lashes
I absolutely love, love, love Emu oil – this stuff is a godsend for scars as well as for natural eyelash growth. It is all-natural and incredibly nourishing for your lashes. I used this stuff for a month straight after I lost a great deal of my lashes thanks to eyelash extensions and it really made a difference.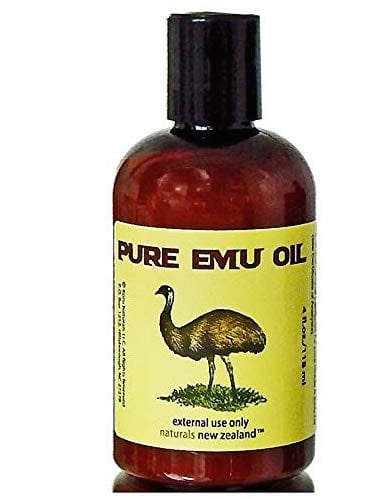 Emu oil won't be for everyone since it's not a plant-based oil. It actually comes from the rendered and refined fat of the emu bird so if you're a vegan (and only use vegan beauty products), this is a lash-enhancing home remedy you'll want to avoid.
That being said, emu oil is fantastic. It deep conditions lashes since the stuff easily penetrates and stimulates dormant hair follicles into producing hair again. Very nourishing, very rich – great for your skin, hair, and your eyelashes.
I like this brand of Emu oil as it is 100% pure, undiluted oil that is non-comedogenic and hypoallergenic.
Olive Oil for Lashes
Ah, good ole' olive oil. This is one natural oil you're likely to have in your kitchen cabinets already.
And we all know the many benefits of this rich, nutritious oil – it's been used for ages to soften the skin, condition hair as well as to promote thick and long hair growth. It also happens to be one of the most popular home remedies for longer eyelashes since it moisturizes your lashes, helping to protect it from damage and shedding as well as to promote the growth of strong, healthy lashes.
If you're using olive oil on your eyelashes, make sure you opt for the best kind. Zoe's Organic Extra Virgin Olive Oil is my favorite for beauty purposes as it has a lovely smell, especially for olive oil (I love the moisturizing effect of olive oil but usually can't stand the smell on my skin or hair).