This Grilled Lobster Tail recipe shows you how to prepare lobster tails in 2o minutes or less! You will be left with succulent, tender lobster tails grilled to perfection with garlic, butter, and parsley in the end!
Hubby and I have visited the Caribbean on several occasions and always love to sample the local fare. One of my favorite things to nosh are Grilled Lobster Tails, simply prepared with butter, loads of garlic and parsley. Cutting the tails in half, they create their own little cooking vessels for tender, sweet meat.
The lobster you eat in the Caribbean is most likely the local spiny lobster, as opposed to a Maine lobster. You can tell the difference by white spots on the tail and they are usually a little smaller than their northern cousins.  Spiny lobsters are less sweet than Maine and are therefore perfect for the added flavor of garlic.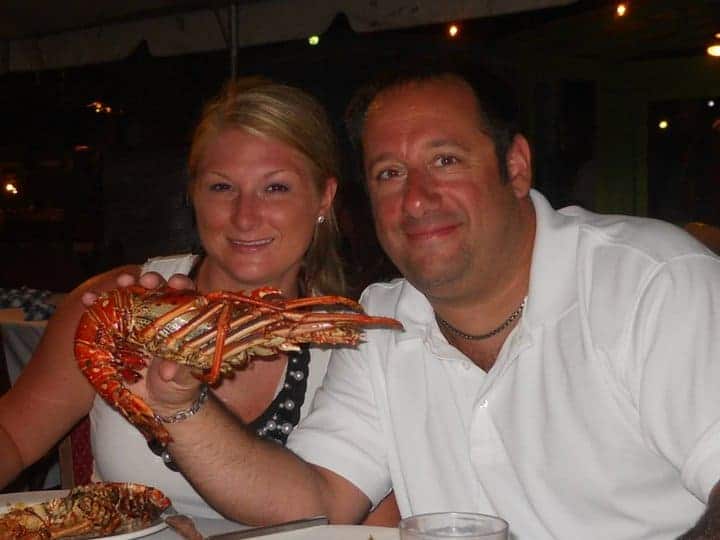 Hubby and I in St. Lucia eating Spiny Lobster at a street festival.
You also want to aim for smaller (and cheaper) tails. Lobsters have very long lives and continue to grow. Older lobsters have less flavor and tougher meat. Smaller tails will also ensure even cooking. Go too big and you need to poach to prevent drying.
We buy ours frozen, as lobsters need to be cooked or frozen soon after harvesting, so unless you are buying a live one, they will surely be frozen. Luckily, at our store, once per month they go on sale for $5 per tail, so I buy a bunch and save them for later. Serve with Grilled Beef Filet with Garlic Brandy Butter or Portabella Crusted Strip Steak.
Tools for making Grilled Lobster Tails:
Ramekins– I like giving folks their own individual sauce cups. Then you don't have to worry about double dipping! Ramekins are also great for ingredient preparation and baking mini soufflés. If you want extra garlic butter sauce on the side, these are perfect!
Kitchen Shears– Sometimes kitchen shears are more efficient than a knife. Jobs like snipping herbs, cutting meats or making your biscuits into fourths are good examples! Always make sure to hand wash anything with a blade, as the dishwasher will dull the edges.
IF YOU LIKED THIS GRILLED LOBSTER TAIL RECIPE, YOU'LL ALSO LOVE THESE:
Course: Main Course, Main Dish
2

lobster tails

1/4

cup

unsalted butter

4

garlic cloves

,minced

2

tablespoons

flat leaf parsley

,roughly chopped

Fine sea salt and black pepper
Using kitchen shears, cut lobster tails down the center vertically and symmetrically.
Combine butter through parsley in a small bowl, microwave until melted.
Heat grill to high medium-high heat. Place lobster tails on the top grill rack, meat side down for 3 minutes. Turn and spoon butter mixture over lobster meat. Close lid and grill for and additional 5 minutes or until meat is white and pearly.
Remove and lightly season with fine sea salt and freshly ground pepper.
Enjoy your Grilled Lobster Tails!
Calories 131 Calories from Fat 99 Total Carbohydrates 1g 0% * Percent Daily Values are based on a 2000 calorie diet.
Is Lobster a Healthy Seafood Choice?
While I really enjoy lobster, I have often wondered if this bottom feeder is a clean and healthy seafood option. I did a little research to find out.
One lobster tail has less than 1 gram of fat and close to 20 grams of protein. Lobster is a rich source of zinc that we all need for blood clotting and immune system support. It is also a great source of selenium, a mineral that is necessary yet hard to get enough of. Selenium supports thyroid function and protects cells from damaging free radicals.
The tomalley of the lobster is basically the liver. This is the green, mushy stuff you see when you remove the back area shell. This is pretty tasty. However, since it is the lobster's main filtering system, it may be better to simply toss that aside as it may contain minute amounts of toxins.
Grilled Lobster Tails and Lobster Roll Recipes
Grilled Lobster Tails
Aside from your Foreman Grill, you will need a cutting board, kitchen shears, and a good sturdy chef's knife.
Ingredients:
2 whole lobster tails in the shell, fresh or frozen
1 TBS cold butter
Olive oil for coating the grill
Total time: 19 min – Prep time: 10 min – Cook time: 9 min
Directions:
1. If the lobster tails are frozen, leave them in the refrigerator to thaw overnight. Then, place them on your countertop to completely thaw before grilling.
2. Heat your Foreman Grill to high, approximately 5 minutes.
3. While the grill is heating, place the tails shell side down on a cutting board. Using kitchen shears cut the thick membrane that covers the flesh down the length of the tail. Flip the tail over and cut it in half lengthwise right through the shell. You will need a large, sturdy chef's knife or cleaver to get through the shell. Repeat with the other tail.
4. Cut the butter into small pieces. Place the pieces of butter between the shell and the flesh along the length of each tail section. This will take a little effort using your fingers. You can wear disposable gloves for this if it feels strange to you.
5. Coat the bottom section of your grill with olive oil. Place the lobster tail pieces, shell side down, on the hot grill. Close the top. Cook for approximately 9 minutes until the flesh is just opaque and milky in color.
As the lobster cooks the butter will melt and baste it. The shell acts as a vessel to retain the moisture in the flesh. Place the cooked lobster on your cutting board to cool a bit while you get started on the rolls.
Lobster Rolls
Ingredients:
Meat from 2 grilled lobster tails
1 celery stalk diced small
2 TBS mayonnaise
2 tsps fresh lemon juice
Celery salt and freshly ground pepper
2 top-split hot dog buns
2 tsps butter
Directions:
1. While the grill is still hot, brush it with the butter and lightly toast the buns.
2. Remove the lobster meat from the shells and dice it. Place this in a bowl with the celery, mayonnaise, and lemon juice. Mix well to coat.
3. Place the lobster mixture in the toasted buns and season the top with a little celery salt and pepper to your liking.
You can serve this with avocado slices or shredded lettuce on top and crispy potato chips on the side.