It is a sad fact that double chins only look good on the two-and-under crowd. For the rest of us, it is usually not a look we want to rock. What makes the double chin even more frustrating is that it sneaks up on you regardless of your body type, lurking as an unwelcome feature on your neck, and being virtually impossible to conceal no matter how you angle your head. That dratted double chin is not only unflattering in photos, but it can add decades to your appearance, and is also notoriously difficult to eliminate. Is there no hope?
Never say never, ladies! If you want it gone, we're here to help. Here are some tips we've found that might aid you in getting rid of that double chin for good.
2. Chin-lifting products
Once you've got some good habits going, you'll want to invest in some of these products to help maximise your efforts in getting rid of that double chin. Keeping your neck and face hydrated will also ensure that the skin remains plump and taut, eliminating the overall appearance of your double chin.
Whether your weapon of choice is a cream, serum, or mask, there is something for everyone here. Have a look at our selection below:
Clarins Shaping Facial Lift Lipo Drain Serum
This serum is specially formulated for Asian ladies, and contains a complex of three plant extracts that targets puffiness and excess fat in the face and neck: Baccharin to define facial contours, Horse Chestnut to reduce puffiness, and Blue Button Flower that reduces trapped fat. 
You'll definitely want to read the attached leaflet to learn more about their recommended 2-minute manual lifting method – users have tried it, and swear by it for working wonders. 
Clarins Shaping Facial Lift Lipo Drain Serum retails for SGD 79 on Lazada.
Innisfree Soybean Energy Neck Cream
Fans of K-beauty products, this is for you! This cream is non-sticky and lightweight, and therefore a breeze to apply and leave on. It contains highly concentrated fermented Jeju soybean extract that replenishes your skin's moisture and keeps it firm.
Apply this at night in an upward motion, and give yourself a gentle neck and jaw massage while you are at it.
Innisfree Soybean Energy Neck Cream retails for SGD 28 at Innisfree stores.
Bliss Thinny Thin Chin Neck Firming Cream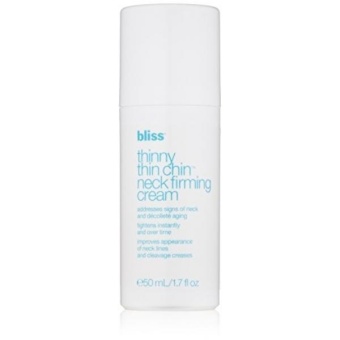 This is a cult favourite among beauty bloggers and Instagrammers. This citrus-scented cream promises to firm, tone and hydrate your chin and neck skin, and has a lifting effect on your chin.
The key ingredients are algae extracts and pullulan, which have the ability to significantly tighten the skin. Other ingredients include pumpkin seed extract, evening primrose, sunflower seed oil, yeast and urea. Massage this into your skin two times day.
Bliss Thinny Thin Chin Neck Firming Cream retails for SGD 65 on LookFantastic.
ChinUp Mask
This is a really clever neck-lifting and firming home-kit which has been designed to provide instant and very visible results within half an hour.
The makers promise that the results can last for up to five days and can be easily maintained with regular use of this mask.
It contains Vitamin E, Corum 9235, Q10 Coenzyme, Hyaluronic Acid and SkinTronics, all of which work together to improve blood circulation and improve the contours of your face.
ChinUp Mask is available on Qoo10.
3. Facial exercises
Are you already working out five days every week, and seeing those kilos drop from other parts of your body – except your face!
If this sounds like you, you'll want to start doing these two things regularly: a gentle face massage to keep those neck lymph nodes clear, and facial exercises that specifically tone your neck and jaw muscles.
We've sussed out simple exercises you can do without interrupting your normal day to day routine! You can easily do them when you're taking a break from work, or even when you are in a phone call. No more excuses, ladies. 
Kiss the Ceiling
Stand and tilt your head back, looking up at the ceiling. Pucker your lips and basically "kiss the ceiling."
Keep your lips puckered for five seconds. Relax your head and lips. Repeat this 10 times.
Stick Your Tongue Out
Facing forward, open your mouth wide. Count to five and stick your tongue out slowly until you cannot extend it further. 
Return the tongue to your mouth over another five seconds. Repeat this 10 times.
Roll that Neck
Stand and drop your chin forward to your chest. Slowly turn your head to the right. Hold your head for a five count.
Slowly rotate your head back down until your chin touches your chest. Continue and rotate your head to the left. Hold your head for a five count. Repeat this 30 times.
Tongue on Teeth
While standing up straight, open your mouth as wide as possible. Place the tip of your tongue against the inside of your bottom row of teeth. Inhale through your teeth.
Exhale while making an "ahh" sound. Continue this 15 times. Relax.
Chin Flutter
While facing forward, carefully slap your lower jaw with the back of your hand with a fluttering motion. Don't be too hard or too soft. Repeat this at a constant pace 30 times.