Designer purses are the only type of bags us girls desire to have. Unfortunately things such as environmental stress, allergies, and water retention cause bags underneath our eyes. There are plenty of beauty hacks to resolve under eye woes, and identifying the root cause will let you know which remedy is right for you. Wondering how to get rid of bags under your eyes? These top tips will have you fresh-faced and de-puffed.
It's Never Too Early
Dark circles, puffiness (otherwise known as bags), and sagging underneath eyes can happen to women of all ages. For those in their 20s, dark circles are not a blemish to write off as something that only happens to older women. There are plenty of makeup tips that help diminish the appearance, but how to get rid of bags under your eyes in your mid-to-late 20s starts with getting enough rest, hydration, and shying away from overexposure to sunlight.
Your Kitchen Is Your Best Friend
DIY treatments, like resting cold tea bags on your eyelids, is a great start on how to get rid of bags under your eyes. It looks like something from a sitcom, but the caffeine and antioxidants from tea boosts the circulation around your sensitive eye area. After brewing tea as normal, place the tea bags in the fridge until cool. Then place the tea bags on your eyes for 10-15 minutes. The tea bag treatment can be done daily and is an inexpensive way to get rid of bags under your eyes. You will start to see results over time but this is especially helpful for those who wear a lot of eye makeup.
Hack Away
Other beauty hacks include using potato or tomato juice and applying it directly to your under eye area. It sounds crazy but grating a potato and using its juice on your skin is beneficial – potato juice contains vitamins and antioxidants. It can even be mixed with lemon juice for added nutrients like Vitamin C. Just be sure to not get any juice in your eyes.
No time for DIY? These quick makeup tips guide you on how to get rid of bags under your eyes in just a few minutes.
Perfect Your Skincare Routine
Simply washing off all of your makeup at night does wonders for the skin. It allows the skin to breathe and not be irritated by products throughout the night. Not washing off eye makeup creates dark circles and puffiness.
When All Else Fails…
Another easy fix for getting rid of bags under your eyes is concealer. But not just any concealer. Brands like Kat Von D and Nars make some of the best concealers on the market. The rich, creamy textures easily blend with skin and provide full coverage.
For more beauty hacks, like how to get rid of bags under the eyes, follow LiveGlam on Instagram and sign up for our monthly makeup subscription boxes.
Causes of dark circles and bags
The reason we get dark shadows and eye bags has a lot to do with our lifestyles, so detecting what the causes of our eye woes are can help us to banish them from our faces for good.
1. Sleep (or lack of)
We can't express how important a good night's sleep is for a whole multitude of reasons, but there really is such a thing as beauty sleep. A lack of shut eye can make the skin appear pale and reduces circulation, which is why dark circles appear. Everyone's different so figure out how much sleep you need and stick to it – it'll work wonders for your peepers! It's also important to completely remove all make up (with a clean flannel) as leaving eye make up residue can cause ageing.
2. Dehydration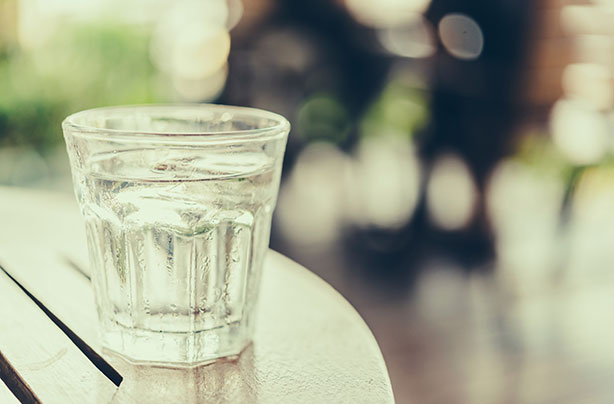 Hands up who's guilty of not drinking the recommended amount of water every day? Yep, us too. But drinking enough water is so important, especially when it comes to anti-ageing. Every organ in the body needs water and our skin is no exception, as it's cells depend on water to function efficiently and repair damage. Noella Gabriel, who is in charge of treatments and product development at Elemis, told the Express 'The drier and more dehydrated the skin is, the more it emphasises existing lines, so things can look much worse than they are.' Aim to drink 1.6 litres of fluid a day and you'll really feel the benefits.
3. Allergies
Who'd have thought that being allergic to something could be having an unwanted affect on our eye bags and circles? Allergies like hay fever are actually a common cause of skin discoloration under the eyes, and food allergies in particular could cause constant puffiness. Make sure you track down the cause of your allergy and tackle it, and you'll soon notice an improvement in your eyes.