0
Share on FacebookShare on TwitterGooglePinterestLinkedin
It's like the air has been punched out of you.
Even if you saw it coming.
Even if you initiated it.
Breaking up with your romantic partner is one of the most painful life experiences you'll ever have.
The longer the relationship and the more intertwined your lives have become, the more agonizing the pain.
You loved this person. You had hopes and dreams about your future together. He or she was your companion, confidante, and lover.
There is a chemical bond that occurs between two people who are romantically connected, and it's hard to dissolve that — even if it's the best thing for both of you.
If you initiated the breakup, you might feel guilt, confusion, sadness, anger, regret, and loneliness. You might also feel a huge sense of relief if the relationship was going south, but even the relief is tinged with grief.
Most healthy-minded, compassionate people don't enjoy causing pain to someone they care about.
If you were the one broken up with, well, you may just want to go crawl in a hole and die. It feels like an assault to your very being.
You might wonder, "Am I not lovable? Am I not desirable? What's wrong with me that he/she doesn't want to be with me anymore?"
You will likely go through the typical five stages of grief and loss:
Denial and isolation
Anger
Bargaining
Depression
Acceptance
Loss is a natural part of life, and even thought it is incredibly painful, it can teach us many lessons if we choose to accept them.
It's hard to see those lessons during the initial tsunami of emotions that come with splitting up. But once the emotional chaos calms a little, you'll do yourself a favor by approaching this painful life passage with mindfulness.
WHY LOSING A RELATIONSHIP HURTS SO MUCH
Relationships form the basis of meaning in our lives. And not just your interpersonal relationships, but even the relationships you have with your job or your identity or your possessions. But because humans rely so much on our social lives to survive and thrive, our relationships with each other carry an extra special weight.
Therefore, when you lose a relationship, especially one that was so important and central to your everyday life, you lose that associated meaning. And to lose meaning is to lose a part of yourself. So all of these things are intimately connected — your relationships, your sense of meaning and purpose, and your perception of who you are.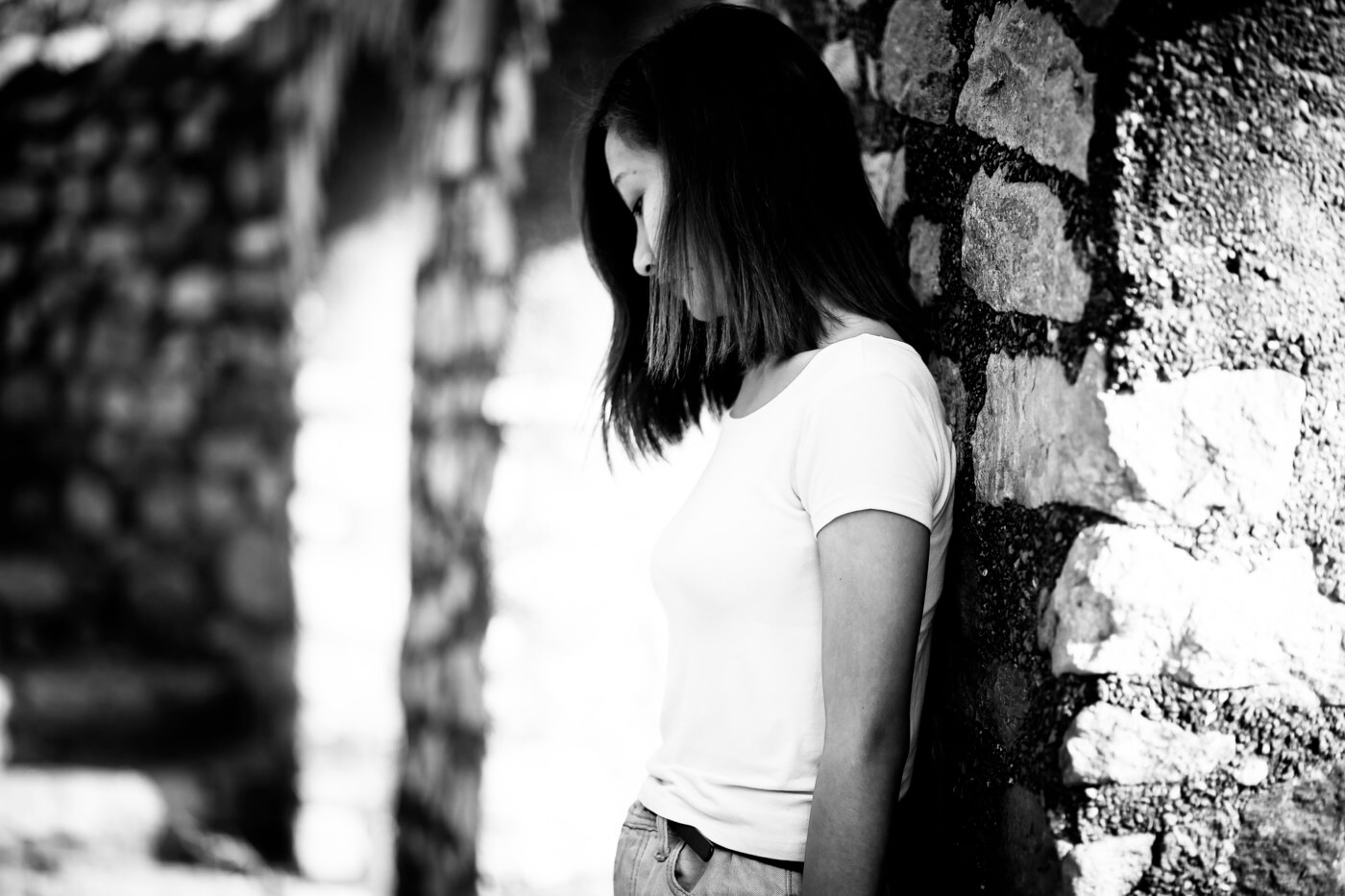 That feeling of emptiness we all feel when we lose someone we love is actually a lack of meaning and lack of identity. There is, quite literally, a hole inside of ourselves. Everything becomes a blank void, empty of any real purpose, and we might even begin to wonder if there's really any point to life at all.
If you wallow in this kind of thinking for too long, you end up clinging to the past, desperately trying to "fix" everything to somehow get your old life back.
But the hard pill to swallow here is this: part of you is now dead and gone. It's time to accept that and start rebuilding your life so you can move on.
SEE THE RELATIONSHIP FOR WHAT IT WAS
Another way to separate yourself from your past relationship and move on is to take an objective look at what the relationship was really like. If part of the story you tell yourself is, "We were so perfect for each other. We should be together forever! Why doesn't he/she see that?" then I'd bet you're falling victim to more than a few biases that you're simply not aware of.
First, we tend to see the past through rose-colored glasses. "Everything was great back then. Well, maybe not perfect, but like 98% of the time, we were just the best couple ever. What happened?"
The truth is, our memories are pretty shitty, and we often only remember the things that fit into whatever story we want to believe right now. In this case, we remember the good times most because that's what we want our reality to be right now.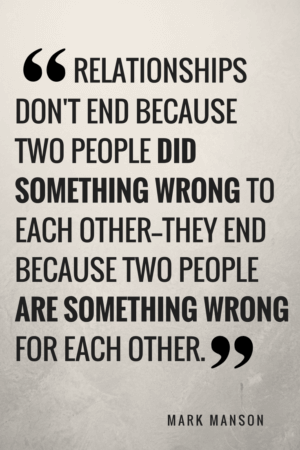 And if you can't objectively see if/when you're doing this, it's possible your relationship failed because, in reality, it was a toxic relationship. Toxic relationships only ever survive on drama, and as the drama ramps up to keep the relationship going, you become dependent on that drama, or even addicted to it. And then you're really fucked because now the meaning you derive from that toxic relationship is skewed and distorted. You start thinking that irrational jealousy or controlling behavior or dickish and snide comments were somehow actually signs of their undying love for you.
So I'm here to tell you this: Relationships don't end because two people did something wrong to each other—they end because two people are something wrong for each other.
FIGURING OUT WHAT YOUR NEEDS REALLY ARE
Conflicts in relationships almost always arise because one or both people aren't getting their needs met in some way. And it's often the case that those needs are either not communicated effectively or someone's needs are being ignored. Either way, the root cause of the problem is a lack of awareness of one's needs. Relationships end when someone decides the cost of not getting their needs met is no longer bearable.
Our fundamental emotional needs include:
Status. Feeling important or superior; feeling challenged.
Connection. Feeling understood and appreciated; shared values and experiences.
Security. Feeling safe and reliable; feeling trust.
We all have these needs in our relationships, but we all prioritize them a little differently. And disproportionately valuing one need over the others often causes issues in our relationships that might even develop into long-term patterns.
The key to understanding what went wrong in your past relationships and having better relationships in the future is identifying your needs and your partner's needs and figuring out ways to meet them.
If you're someone who can't seem to figure out why your relationships all end the way they do or you seem to have the same problems in your relationships over and over again, then check out my 28-page ebook that dives deep into emotional needs.
The Origins of Love and Pain
Before diving into the practical how-to of healing, let's first look at what love is, where it comes from, and why we experience so much pain when it ends.
Photo: melissa
I believe that love is a universal energy infused in all forms of life. It is something that lies within the core of every one of us. When we are in a state of conscious awareness, the intense feeling of love and connectedness is clear and undeniable. When we are in this state of clarity and inner peace, our thoughts and actions are based in love and truth.
Within the depths of our souls, we are all connected by this unifying and essential energy of life – love. We occasionally experience glimpses of this deep connection through various and accidental happenstances, such as:
A gratifying and intimate conversation with another person. Sharing and expressing your thoughts honestly and openly.
Creative expressions such as playing music, writing, drawing, dancing, cooking, designing or even computer programming.
Meditation, prayers or communing with your chosen religious group.
Communing with nature during a hike, a walk or while sitting by the bed of a river flowing beautifully in front of you.
During sexual orgasm (The Dalai Lama has written about this.)
When we fall in love with another person, we are essentially experiencing the love that was within us all along. The person is merely acting like a mirror reflecting our soul back at us. Technically, we can't "fall" in love, because we are already made of love. The other person, much like a musical instrument, is the catalyst allowing us to recognize the beauty that's already within us.
Because of our lack of understanding that love resides within us, and that we actually have the power to invoke it on our own, we credit it to the other person for giving love to us. This feeling is so strong and extraordinary, that we become addictive and possessive. We want to capture it and keep it fixed, so that we can – at last – keep this heightened feeling forever.
The desire and dependency to keep this form fixed, becomes a source of self identification that artificially justifies who we are as physical beings. We become attached to the fixed idea of how our relationship should go and our ego quickly becomes the main investor in this fund of a relationship.
The truth is that, everyone and everything is in a constant flow of change. The changes in us and in our external circumstances are inevitable and undeniable. When we change, the dynamics of our relationships change – not just romantic ones, but also friendships, family ties, and our relationships with co-workers.
Over time, some relationships strengthen and some grow apart. When people grow apart, it doesn't mean that either one of them was a bad person, but rather that they've learned all that they needed to from the other person, and that it's time to move on.
When it's time to move on, we hold onto this invisible box that contains an idealized and fixated form of how things should be. We unconsciously and instinctively fall into the false believe that we must stop the love when we are no longer romantically involved.
Because we attribute love as being 'to' this other person external to us, pain happens when we forcefully try to kill the love, which is actually within us.
Let's repeat: Pain happens when we forcefully kill the love that's within us.
When we forcefully try to kill the love within us, it physically feels as if someone has stabbed a knife into our heart, and a sharp pain surfaces in our chest area. In reality, we are that someone doing the stabbing, because we are trying to sever our innate connection to love and our Soul is now bleeding. Our Soul is crying for help, asking us to stop the stabbing, to stop the pain.
Parting Words: Healing from Breakup
"Every relationship will end someday, whether by break-up or by the death of one partner. Relationships have cycles. They are born, they live, and they die. Just like every part of life. It is merely a part of life."–Tom Stine
Socially, we view the end of a relationship with a negative connotation and give it the label of a 'failure'. Just because a relationship has ended does not mean that the relationship was a failure. Both parties likely gained something substantial in either learning about themselves or for the benefit of future partnerships.
Capture the beauty of time shared together, and note the valuable life lessons learned. Be thankful for having experienced love, and know that you are a better person because of it.
No challenge is ever presented to us, if we are un-able to handle it.
For those currently in relationships, cherish and honor your partner for who they are as form and formless Beings. Accept the reality that life is full of change, and dance with the changes and challenges as they come. And when they come, view each one as an opportunity for personal growth – when you do that, nothing is lost.
All is well, and so be it.
** What are your experiences with dealing with breakups? Any words of wisdom for others going through it? Share your thoughts and stories with us in the comment section. See you there!