2018 was supposed to be the year of video for many bloggers, the year we start making money on YouTube and other video sharing sites.
Then YouTube threw up a big middle finger to small blogs with less than 1,000 subscribers, making it harder to make money.
But is the change in YouTube's advertising policy really an issue? Should the fact that you won't be able to run ads on your videos keep you from making money on the world's second most popular search engine?
Let's look at how much money people make on YouTube, from the YouTube celebrities to smaller channels like you and me. Then I'll show you how to make money on YouTube regardless of how many subscribers you have, income sources for your videos that will make many times over what YouTube ads pay.
What Happened with the YouTube Advertising Change?
So if you haven't been active on YouTube yet, you might not have heard about the new change in advertising policy. It all started last year when advertisers complained about ads being shown on racist and low-quality videos.
Protecting the money rather than its video creators, YouTube instituted a policy that channels would need 10,000 lifetime views before they could make money on ads embedded in the videos.
It didn't help.
Complaints kept coming in from advertisers of low-quality videos and questionable channels so YouTube drastically increased the requirements starting this year.
Video creators now need 1,000 subscribers and at least 4,000 hours of watch time over a 12-month period. Both of these are extremely high hurdles.
I've analyzed over 200 YouTube channels and found creators with less than 1,000 subs get an average of three to five subscribers for every video uploaded. That means between 200 and 300 videos before you're likely to reach enough subscribers to qualify to make money on your videos.
Even YouTube channels with 1,000 subs are being kicked out of the program because of the 4,000-hour requirement. If the average watch time per video is around three minutes, you need a constant stream of videos and new views to hit that 240,000 minutes each year to stay in the program.
How Much Money Does YouTube Pay You for Advertising?
To see why I could care less about the change in YouTube's advertising policy and how to make money on your videos, you have to start with how much YouTube pays for ads.
Most bloggers start making money with Google Adsense on their blogs. The pay sucks, averaging between $0.006 and $0.015 per page view, but it's quick and easy.
YouTube ad rates are even worse.
YouTube shares 55% of its ad revenue with video creators and books an average of $7.60 per 1,000 ad views. That means you get about $4.18 for every 1,000 views of ads shown on your videos.
That's just $0.0042 per view and doesn't even count if someone clicks off the ad before a certain time has passed.
I know it's a lot of numbers but stick with me for a second to see just how crappy a deal this is.
If you publish two videos a week and get an average of 500 views on each, an extremely ambitious goal, you'd still make less than $20 a month.
How Much Do Famous YouTube Celebrities Make?
Everyone gets pulled into the myth of making money on YouTube by the millions made by a very few YouTube stars. Exact income isn't shared but estimates are pretty easy to come by with the top ten all making more than $10 million a year from ads on their channels.
Six-year old Ryan of 'Ryan's Toy Review' is estimated to make $11 million by opening and playing with toys in videos for his 10 million subscribers. I think my 5-year old son is responsible for about half of the views on the channel.
Daniel Middleton is estimated to have made $16.5 million by playing Minecraft in videos for his 18 million subscribers.
But think about those numbers. NBC gets about 18 million viewers for its Sunday Night Football broadcasts, the #1 rated show on TV. If the show was on YouTube, it would make just $1.2 million for the 17-game season…
YouTube celebrities are getting millions of views on each video and making a fraction of what is being paid on traditional media. You have to reach nearly 12 MILLION PEOPLE a year with your videos just to make YouTube a full-time job based on what you make with ads.
Set up Your Channel for Monetization
Once your have an audience, you can start to think about earning some money. YouTube does have a formal process you need to go through before you can do this.
Begin by enabling your account for monetization. The first step of this is to join the YouTube Partner Program. You have to agree to their terms, basically agreeing that you won't do anything fraudulent.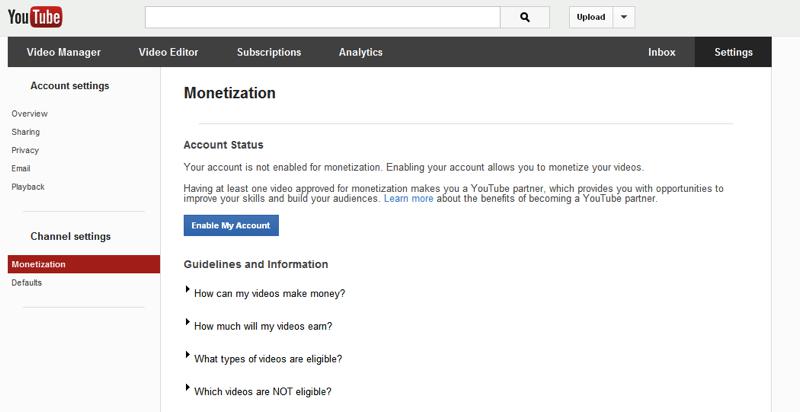 YouTube then asks you to set up an AdSense account if you haven't already got one. This process is relatively straightforward. You will need to tell Google where you intend to use the ads – in this case, your YouTube channel. Be aware that there are some parts of the world where you won't be able to operate a Google Adsense account to monetize your videos. Google publishes a list of the acceptable countries you can monetise YouTube in.
If you already have an Adsense account, perhaps because you already use it on your blog, your application will be approved immediately, and your YouTube channel will simply be added to your existing account.
Once you have created an AdSense account (or tied your YouTube channel to your existing account), you are taken to your Upload Defaults screen. About halfway down the list of options is a tick-box labeled "Monetise With Ads." You need to click this box, and you will be asked to confirm that you own the copyright to your videos and that you understand what you're doing.
It is important to emphasize that you can't monetize videos with other people's' copyrighted material in. This includes background music (even if you legally purchased the music from somewhere like the iTunes store).
Choose Your Ad Formats
The Uploads Default screen is also where you select the types of ads you want showing on your YouTube channel. YouTube give extensive advice on the different kinds of ads you can choose to place in differing places on your YouTube page or within the videos themselves.
The most obvious ads are those that appear within the videos – they are intrusive, and viewers usually can't avoid them. However, you can also choose to place ads around your videos.
It is important to remember, however, that you are not going to earn money simply because the ads are there. How many times have you clicked on straight past an ad when watching a video yourself. Viewers have to actively interact in some way with an ad for it to earn you money.
Your ad options are:
Display ads beside your video – you will be paid either when a viewer sees or clicks on the ad, at the advertiser's discretion
Overlay ads (small ads at the bottom of a video) – you only get paid if a viewer clicks on the ad to expand it
Skippable video ads (ads at the start of a video that a viewer can skip after five seconds) – you get paid if a viewer watches the whole ad (or at least 30 seconds if it's longer). These are the most common type of YouTube ad.
Non-skippable video ads (ads at the start which viewers can't skip over) and Bumper ads (short ads at the start of a video on mobile) – you get paid if a viewer watches an entire ad
Midroll ads (ads in the middle of a longer video) – payment depends, but usually, a viewer has to watch an entire ad for at least 30 seconds)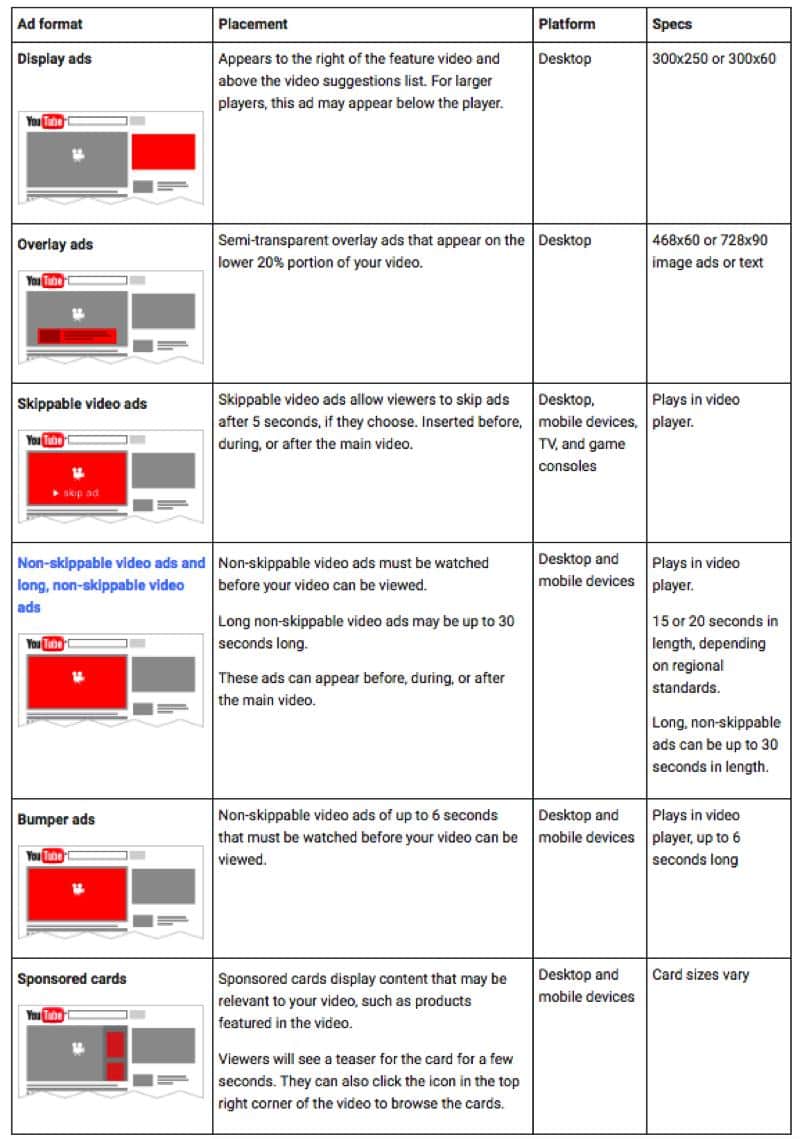 Be careful if you are tempted to use non-skippable ads. You need to have built up a dedicated audience who love you first. Most people do not have the patience to sit through a non-skippable ad unless they have a real desire to see the video.
An important point to remember.
You won't get paid just because you have ads on your videos. Your viewers have to actively watch your ads! BUT, most viewers skip ads! So you need high numbers of viewers first, to have enough of them bothering to click on your ads.
How do YouTubers get paid? Very slowly, if they don't build an audience first!
Ensure Brands Want to Advertise on Your Videos
Just because you have monetized your videos, there is no guarantee that AdSense will serve you up with ads. They will only place ads on your videos for those brands willing to associate themselves with you.
You need to make certain that your videos meet YouTube's Advertiser-friendly Content Guidelines. In short, advertisers are unlikely to advertise on your videos if they contain any of the following:
Sexually suggestive content
Violence
Inappropriate language
Promotion of drugs and regulated substances
Controversial or sensitive subjects and events
Of course, in some cases, this will depend on your target audience. There are many examples of videos containing swearing that attract advertisers – it hasn't exactly harmed PewDiePie's relationships with brands.
If you really want to be successful in monetizing a YouTube channel you need to cater to a popular demographic. You are far more likely to gain advertising support if your videos target Generation Y or Z than if you make videos for Baby Boomers, who have never taken to YouTube in the same way as the younger generations.
Measure Your Performance
YouTube provides you with some analytical tools to help measure how well your monetized videos are doing.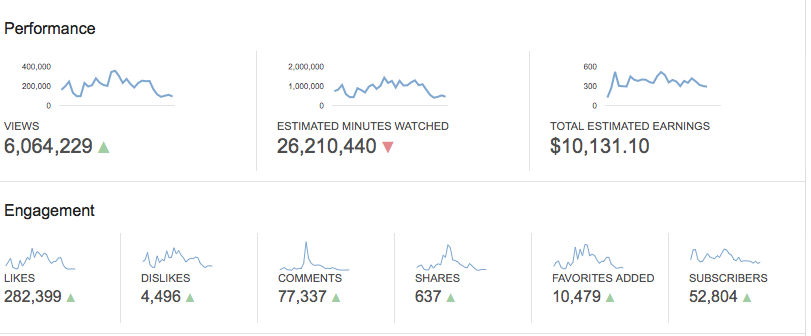 You can view the estimated earnings for your channel and videos in your YouTube Analytics Revenue report. This shows any applicable estimated:
revenue from all Google-sold advertising sources for the selected date range and region
ad revenue split into AdSense revenue and DoubleClick Revenue
transaction revenue derived from YouTube Rentals
revenue from YouTube Red for the selected date range and region
Note you are only seeing estimated results in this analytical report. You will find finalized revenue downloadable monthly reports available approximately 10 days after the month's end.
You will also receive an Ad Rates Report. This provides data on YouTube ad revenue, estimated monetized playbacks, cost per mille (CPMs) and ad impressions for the ads that run on your content. You can use this to compare how the different ad types you use have performed over time, and you can modify your ad type selections as a result.
Get Paid
Assuming that you have gone through the above process of setting up your channel for monetization, have advertisers happy to serve their ads on your videos, and have viewers watching (and not bypassing) your ads, you will start to earn some income.
There are a few setup steps necessary for payment. You need to confirm that Google are using your correct payee name and address, and you need to verify your address.
You also need to select your form of payment from checks, electronic funds transfer (EFT), EFT via Single Euro Payments Area (SEPA), wire transfer and Western Union Quick Cash.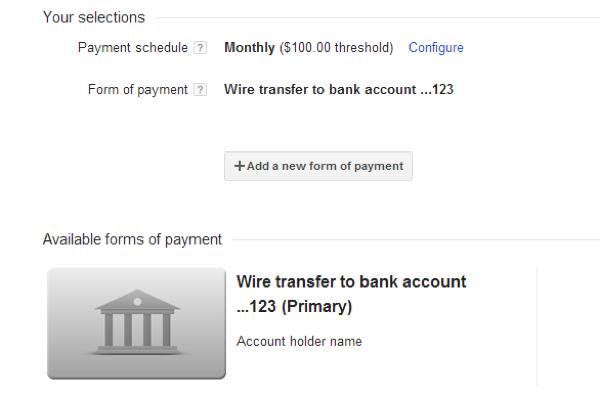 Depending on your location you may need to provide Google with your tax details within your Adsense account.
Google won't pay you until you meet a payment threshold. This varies depending on your currency, but in the case of US dollars, the threshold is $100. This means that you need to earn at least $100 before Google processes your money and pays out.
If you meet the payment threshold, and there are no problems with your account, Google will pay you at some point during the following month, the exact date depending on the payment method you selected.
You will love it when you receive that first payment. But you will need to do a huge amount of promotion and continually build up your audience if you want your payments to be anything like an acceptable primary income.
How to Make Money on YouTube – the Real Way
Making money blogging or on YouTube has never been about selling advertising space. I'm always amazed when I read a blog post and have to scroll through four ad blocks within the content. It's so annoying and how much is that blogger really making off the ads?
Making real money has always been about finding the income sources that pay more, the income strategies that don't depend on millions of monthly views.
Affiliate advertising is a good start but still not the best income source for bloggers and video creators. I make an average of $0.09 per page view from affiliates, that's from people clicking through to an affiliate and then signing up for the service.
Sure, it's harder to get an affiliate commission than it is to simply get someone to click on an ad but the payout is much higher.
Making money with affiliates on YouTube works the same way it does with a blog.
Find three or four affiliates that speak directly to your target audience, that solve a common problem.
Create a video reviewing the service and how it helps users
Create a demonstration video specifically for your auience
Interview other users of the affiliate
Copy your affiliate link in the description to the video, preferably within the first few lines
Sponsored videos are another way to monetize your YouTube channel without having to rely on embedded ads. Again, this works the same way as sponsored posts on your blog.
Talking with other video creators, I've found an average rate of between $0.05 and $0.15 per view for sponsored videos. So if you get an average of 500 views each video, you can charge a sponsor about $50 to mention them during the video.
That's more than 20-times what you'd make from YouTube advertising!
The final way to make money on YouTube, and this should be your goal in blogging as well, is to create your own courses and products. Any time you remove the advertiser and connect directly with your viewers for your own products, you are going to make more money.
This means quick products like self-publishing and printables as well as the higher-value products like video courses. If you can convert just one viewer in every 1,000 views to your $250 video course, you'll have made $0.25 per view…more than 59-times what you would make with YouTube ads.
Want more ways to make money blogging and on sites like YouTube? Check out Make Money Blogging, a step-by-step into nine ways bloggers make thousands a month. I start with the easiest and fastest ways to make extra cash before detailing the strategies that make thousands a month. No fluff or general ideas here, just a step-by-step guide to getting each strategy set up to make money every month.
Making money on YouTube doesn't have to depend on advertising and it certainly doesn't mean being held back by new YouTube advertiser policies. Learn how to make real money blogging and with videos by using the income sources that make more money per view.
Tip #1: Hone your craft
So you want to learn how to make money on YouTube? Then my first tip is… stop thinking about how to make money on YouTube.
When you first start your channel, you don't want to focus too much on the money-making aspect. Because the reality is that there is no quick way to earn money from YouTube. You can't simply upload a couple of videos and hope one of them goes viral.
First, you need to learn the foundations of being a YouTuber worth following. You must consistently upload high-quality content and grow your channel. It is only at this point that you will be able to monetize your channel. I mean that literally; YouTube doesn't allow creators to turn on monetization until they're proved their mettle.
My first tip to make money on YouTube is to hone your craft. There are three things you should do:
Set the stage
You don't need to have the best or most expensive equipment to get started on YouTube. It's not about the camera you own, but rather what you do with that camera to create your own personal brand of content. You could even use a smartphone if you're short on other options.
But what you do need is a reliable setup that is capable of filming good quality videos. The two main cornerstones of quality will be:
Image stabilization

— No one wants to watch shaky, jerky video footage. Consider investing in a tripod. Or, if you prefer handheld footage, try using a wider lens or a lens with optical image stabilization.

Audio

— Never neglect audio. Your viewers want to be able to hear you clearly. Be mindful of sounds that could affect audio quality (such as wind or traffic). Try to minimize background noises, and if necessary, acquire a microphone to record crystal-clear audio.
You can always purchase new and better equipment over time. But if you want to commence a lucrative online career and make money on YouTube, you must ensure that you have what you need to provide an enjoyable watching experience.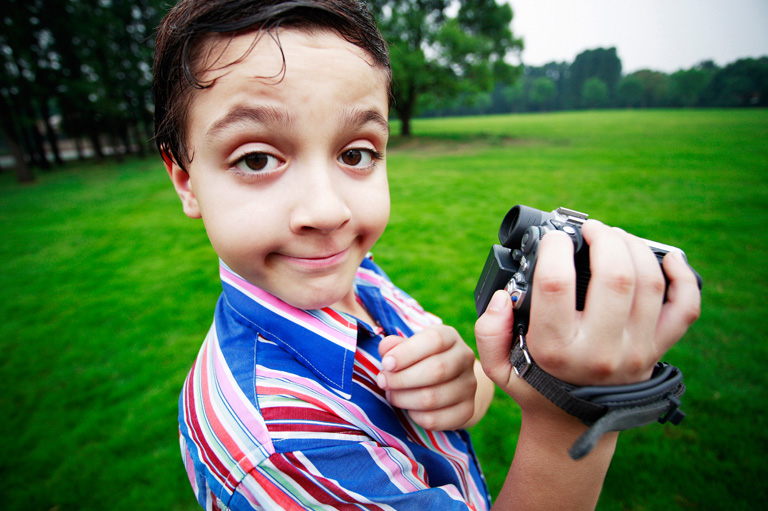 Start off on the right foot — use the right equipment to make your YouTube videos.
Establish your process
I'm going to use that word again — consistency. Growing your YouTube channel will require a constant stream of video uploads and communication with your audience. Whether you choose to post videos every day, a couple of times a week, or once a fortnight, you should be trying to form a schedule that your viewers can rely on.
As time goes on, you will be able to perfect your creative process. But for now, take note of how you move from conception to completion of your videos.
Learn how much time you need to research, write a script, shoot the content, edit the video, optimize the video and share it with the world. Knowing each step will allow you to refine your video-making process.
Plus, you'll be able to understand how many videos you're capable of producing; don't commit yourself to a once-a-day upload schedule if you're going to burn out in a week. Remember, everything you're doing should be about more than making money. It should still be enjoyable for you to do!
Know your brand
Consistency is a big deal on YouTube — not only with your upload schedule but with the content itself.
Every video you make should undoubtedly have a unique edge, but the overall style and tone should stay the same. Your brand should remain the same.
Having a deep understanding of your brand will help you to create more authentic, honest, passionate video content.
If you're just starting out, defining and cultivating your brand is a crucial step. But sometimes even established businesses could do with a bit of clarification.
Sit down and ask yourself some questions about your brand identity. What do you do? What is your content about? Who are you trying to reach? What do you want your brand to achieve? If you don't understand your own brand, you can't expect your audience to rally behind it.
Tip #2: Create valuable content
It is essential — both for the growth of your YouTube channel and for the consequent income opportunities — that your content creates value for your audience.
But what exactly is "valuable" content?
Essentially, valuable content means videos that give the viewer an emotion to feel. Creating value on YouTube can come in many different forms.
Maybe you're teaching your audience something; the value of your content is that people can gain a better understanding or learn how to do something.
Maybe you're making the audience laugh; your channel becomes valuable in its ability to provide a sense of escapism and entertainment.
You could be providing recipes, workout tips, DIY instructions, life coaching vlogs or any other form of content. The thing that matters most is this: your audience must be made to feel that watching your video will, in some way, make their life better.
If every time your audience watches your videos, they are bored out of their minds, told something they've heard a million times before, or made to feel bad about themselves — I can guarantee they won't continue to watch.
Next time you are preparing to create some new content for your YouTube channel, ask yourself: if someone watches this video, will their life be better?
Create valuable content that gives your viewers something new that they haven't experienced elsewhere. At the end of the day, only good videos stand to make a substantial income. If you really want to make money on YouTube, you cannot afford to be second-best.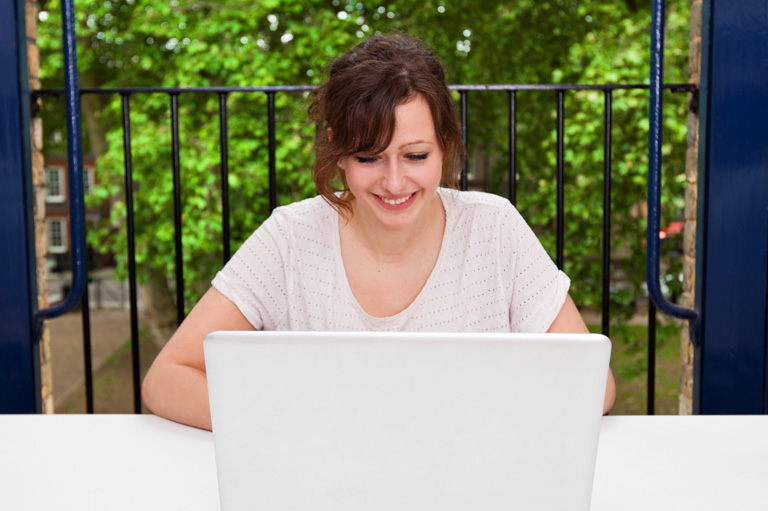 If you want to make money on YouTube, your video content must provide value for your viewers.
Tip #3: Develop an audience
You can't make money on YouTube if no one is watching your content. Successful YouTube channels are formed by a loyal, engaged community of viewers. So how do you get discovered and build a viewership on YouTube?
Find your niche
If you want to start a profitable YouTube channel, stick to your passions.
I've seen many creators who become obsessed with the idea of gaining hundreds of subscribers. They want to go viral, they want to make money on YouTube, and eventually, they lose sight of that individual message they wanted to share with the world.
YouTube success is most often achieved by creators who produce passionate content for a niche community. Figure out what your "thing" is — that special something that is unique to your content. Pour your heart out, be emotionally sharp, and make the videos you enjoy creating. Your authentic enthusiasm will be one of the most influential means of attracting and growing a loyal audience.
Check your analytics
YouTube offers some useful analytics in your Channel menu. Here you can identify your audience's age, gender, geographic location and watch time. You can see the number of views on each video and your traffic source (how your viewers are finding your videos). After you've monetized your channel  (more on that soon), you will also be able to view estimated earnings and ad performance.
These tools enable you to see which videos are resonating with your audience, and which ones aren't. If you find that your content isn't attracting the right viewers — or many viewers at all — you will be able to make changes and improve your channel.
Engage with your audience
If you want to become successful and make money on YouTube, you must connect with your audience on a personal level. That means building a community and generating higher levels of engagement.
In the words of YouTube megastar Lilly Singh, the connection between creator and audience on YouTube is "deeper than casual consumption: it is an active, engaged relationship" based on support and trust.
Engaging with your audience doesn't have to be complicated or even particularly time-consuming. Try these simple steps:
Interact

— If you're just starting out, you may choose to respond to every single comment you receive. But even something as simple as clicking the heart button on a viewer's comment can start to establish a rapport.

Ask questions

— Invite conversations with your viewers. Encourage video replies by asking them what they liked about the video and what they want to see more of in the future.

Be an active user

— Embrace other YouTubers by watching, liking and commenting on their videos. This activity can get you noticed by potential subscribers, and help your audience gain a better understanding of who you are.
Importantly, engaging with your audience will provide a sense of community for your channel and promote long-term growth. Draw people in and convince them you are someone worth following.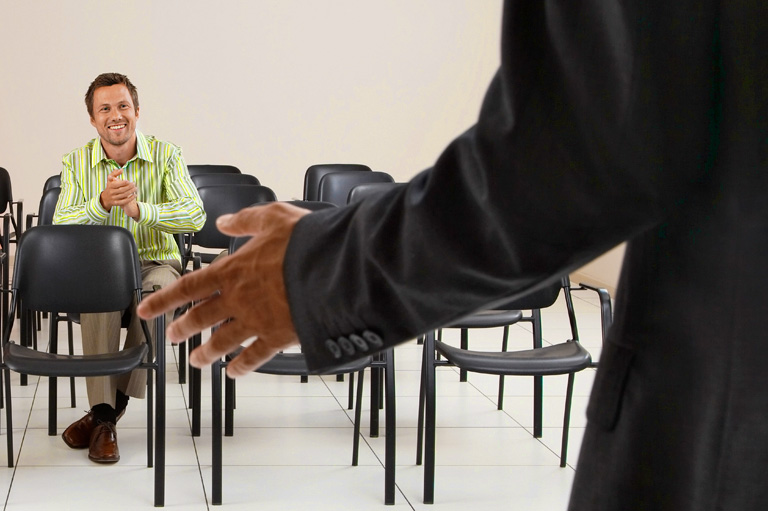 Grow your YouTube audience by engaging with each viewer in a personal way.
Tip #5: Leverage other marketing channels
Don't rely on YouTube alone when it comes to marketing your videos. The more visibility your content has, the more views you will get and the more money you will stand to earn.
Two of the best ways to get your videos out there, apart from YouTube itself, is through emails and social media networks.
Build an email list
An email list is the easiest way to connect directly with your audience.
I've worked with some big YouTubers over the years who don't have an email list — that's crazy to me! Even if you have several million subscribers, email-direct marketing will provide you with the opportunity to directly and personally communicate with your audience.
Use your videos to promote a basic webpage where you can collect your audience's email addresses for email marketing.
It can be a great idea to offer extra value to people who subscribe to your email list. You could have a fun quiz, provide a free e-book, post videos exclusively for email subscribers, and so on.
Once you have encouraged followers to join your email list, send an email each time you post a new video. You might be surprised by how many of your YouTube subscribers remain unaware when you release content, so building an email list can be a crucial step on your crusade to be able to make money on YouTube.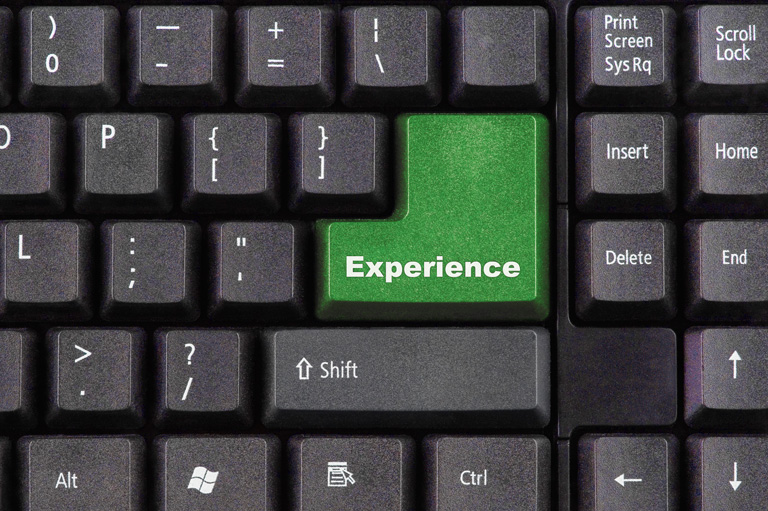 Don't let your subscribers miss out on your videos. Use email marketing to enhance your brand experience!
Promote with social media
Social media engagement is a big player for your brand. Create a profile for your business on Facebook, Twitter, LinkedIn, Google+ or wherever it is your viewers are hanging out. Then work those platforms each time you release a video.
Share a link to the YouTube video directly. Embed the video into a blog post or landing page on your website, then share a link to that, too.
You could also promote your video through quality social bookmarking sites like StumbleUpon or PearlTrees. Sites like these can be an excellent referral source. They provide extra social signals for your content, which Google and other search engines will often consider to be a positive ranking factor.
Tip #6: Do YouTube SEO
At the Viewership agency, we encounter many people who are trying to succeed on YouTube but don't know much about organic search optimization.
Before you create a video, you must consider the keywords and phrases that summarize the content.
Take another look at that video up top. My keywords here were obviously "how to make money on YouTube". And you'll see that phrase in my heading, in the description, and in the tags.
YouTube SEO enables you to get views when you first release a video and ideally will keep it ranking highly in the future.
Optimize your videos
Optimizing your videos is all about making it easier for potential subscribers to find and watch your content. Make sure you're ticking everything off your checklist:
Write a compelling title

— Your video titles should be concise (no more than

70 characters

), creative and informative. Give insight into what your content is about; viewers who know what they're about to see are more likely to watch till the end.

Create eye-catching thumbnails

— Making a customized thumbnail can give your content a polished, professional look. Keep in mind that

over half of your audience

is using a mobile device; make the image and information easy to see.

Include video descriptions —

YouTube's search and discovery system relies heavily on the content you put in the video description. Prioritize the most important information and keywords in the first few sentences.

Google Trends

can help you identify the most searchable keywords to use.

Add web links

— Use the video description and annotations to link to your website, blog, social media channels or newsletter signup page. Linking is a useful way of maximizing traffic and improving audience engagement.
Invest in AdWords
There are so many businesses out there that produce videos for their brand, putting in the time and effort to create superb content, but don't put any money into advertising.
If you want your business or brand to make money on YouTube, you have to be willing to invest in the right advertising platforms. An effective advertising strategy will help accelerate your channel's growth and drive more subscribers to your content.
Google AdWords is one way you can promote your channel to YouTube viewers with PPC (pay-per-click) ads.
Simply link your YouTube channel to an AdWords account, create an ad, set your budget, and target your desired audience. You can create in-stream advertisements that appear before or after a video, or in-display ads that appear alongside a video or on the search results page. If you'd like to know more, I've got another article where you can learn everything you need to know about buying YouTube subscribers with AdWords.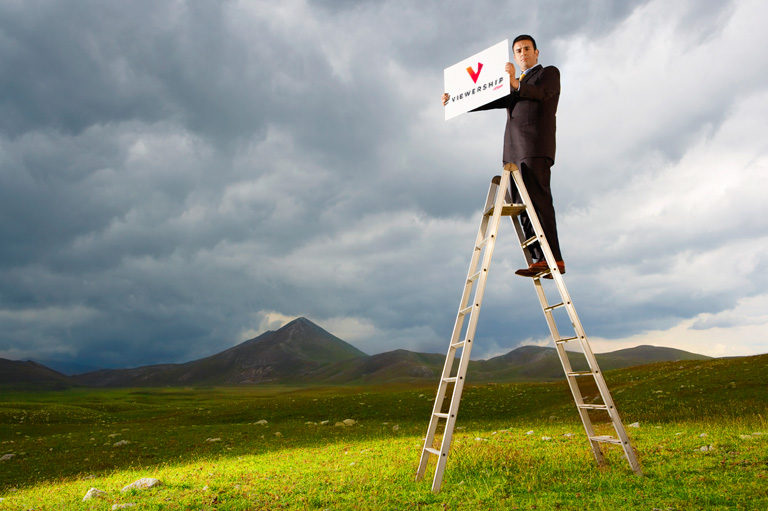 Let's get your brand noticed and start making money on YouTube!
#1. Create Youtube Channel
You can start your youtube channel just by logging through your gmail account but that solely, will not give you any money. To make money, you must follow all the steps described under the heading how to earn money from youtube (below).
To start, open youtube.com with your Gmail account.

Click on the bar beside the Youtube logo on the left corner.

Click on My Channels from the drop down menu (as shown in the image above) 

A box with heading 'Set up your channel on YouTube' will appear, with your name highlighted. 

Update channel with your personal information. 
Pro Tip
Create a custom YouTube URL instead of the default youtube URL to get organic search visibility.
#6. Promote
Promotion of a video starts with your content idea itself. People have a tendency to share their innovation with their loved ones and the loved ones to their loved ones. Saying that when you start making a video, people around you become curious about the completion of your project.
These people are your initial viewers. Start promotion with expanding this thought to your marketing strategy and thus it will be your first step:
Social Currency: It's an old African saying that "It takes a whole village to raise a child". To make your video go famous, it must be liked and shared by your social circle. This is your Social Currency, which will multiply at the latter stage. To earn social currency, share, what you have created, with all the people you know. Engage them by sending e-mails, tweets, Facebook shares, LinkedIn and every source you are using now.
Time to expand: Use as much video platforms as you can. Go find your audience on Dailymotion, Vimeo and Flicker. Use these platforms too, to get shared. This will strengthen your channel's popularity, and if you drop your channel link with your video, people will come tied with that link to your youtube channel. (It has one more benefit. If you will put your youtube channel's link on other platforms, it will be a Dofollow link. This Dofollow link will increase your channel's PA and it will rank better in search result).
Social Appearance: Let people on the internet know that you are doing something. Increase your social presence. Explore your idea everywhere into the social platforms, and expand your presence to different platforms you are not using like Google+, Reddit, Myspace and Quora.
SEO: Focus on SEO strategies and let your channel get listed on top of every search related to your niche. Although nowadays people have different opinions for SEO, but this is a thing that does not deserve to be get ignored. If you can afford time and strategies, you must go for SEO optimization of Youtube Channel.
Mutual Collaboration: 'You refer my content, and I will do the same for you'.

Once you have few viewership, from the above steps, ask channel within your niche (but not your direct competitor) to advertise for your channel, or you collaborate with them to get visibility to their audience. This way you will accumulate their audience, and you can also do this for them (or you can support them in some other way. Do not worry, they will ask your support when they will need it. It is completely a "Give and Take" relation).

Paid Advertisement: You can use the paid promotion system of Facebook, Twitter or youtube to promote your channel on social media. You can also opt for paid youtube promotions, called Youtube Ad Campaign. But it is not advisable to go for paid services into your initial days. Once your incoming viewership gets saturated through all the previous steps, then you must go for paid campaign.
#7. Monetizing Youtube Videos
The famous way to make money from youtube is through advertising. Advertising has been present since youtube was born and is still playing a major role for youtubers to make money. Here is a quick overview.
You can read this quora thread to know more about how much does youtube pay per view.
But earning from youtube is not limited to CPM (Cost Per Thousand Impression), you can make money on youtube by many more methods.
Ideally, there are five ways which have proven, with time, to be the best methods to earn money on youtube.
Advertising: (Obviously CPM, I have included it here to show you all at one place) Youtube ad revenue sharing is the highest opt method for earning money on youtube. You can link your youtube channel with Adsense (Detail below) and enable Adsense ads on your videos. Now for every view on your channel, you will get 55% of the ad revenue. Youtube keeps the other 45%. On an average you make $1 to $2 for 1000 views on your video.
Affiliate Marketing: Giant marketing agencies are not completely dependent on their own channel of content distribution. They pay a good amount to the channels who already have a fan base. This can be done in simple steps. Approach any affiliate marketing agency in your niche, show them your audience and when they agree, link one of their products into your video description. The marketing agency will pay you a decent cut from every conversion. This amount can be anything from Rs. 100 to Rs. 1000 for every conversion through your link.
Direct Promotion: Widely used as sponsorship. The advertising company pays you a fixed amount for their collaboration with your youtube channel. You can call it another form of affiliate marketing with a slight difference. Here you will have to show a description of their products into your video. In exchange , they will pay you certain amount which can vary from Rs.5,000 to any amount you are able to charge depending on your popularity.
Paid Videos: Paid youtube videos are emerging as a unique and high gross source of income. Here you give highly valuable information to your audience by charging them with a price tag on the video. This way, you do not have to share any revenue with anyone i.e. all that you make is yours.
Crowdsourcing: Like Wikipedia, there are many non-profit websites which give every information for free and they do not put any ad to earn revenue. But to keep the website working, they need money. So they ask their audiences to donate money for their expenses. Like that, you can also give free information to anyone and ask them for a favor. Believe me, people donate a huge amount to these channels.
Tell me, what I missed!
Earning money from home now a days is not tough when all the internet is flooded with loads of option to make dollars. All you need is a determination to perfect your skill and show people what you learned till now and share with them what you are planning to learn. They will come to you for your next episode.
But for that, you should decide now that you will start a youtube channel, or at least you will start calling yourself a youtuber from now on. Rest will be done as you follow all the directions I have given above.
If you loved THIS post, Then share with someone You Care!
Reader Interactions
Google Adsense & YouTube Monetization
YouTube offers their Partner Program, which allows you to monetize your videos through ads. To become a partner, you must apply through the Creator Studio section of your YouTube account under 'Channel' and then 'Monetization'.
You will also require a Google Adsense account for payment and a minimum of 10,000 total views to be eligible.
Adsense is an advertising network run by Google that helps publishers place targeted ads onto mediums such as YouTube videos. When a user clicks their ad, the publisher will be charged a certain amount in hopes that user will return a greater profit.
As a content creator allowing ads to be placed onto your channel, you will paid through something called CPM (Cost per mileage). In this case, CPM is actually per 1,000 views and can be anywhere from $1-3 on average. This means if you were to receive 10,000 views on a monetized video, you could expect $10-$30 in ad revenue.
Pros of using Adsense:
Passive income.
Great for YouTuber's new to monetizing their channel
Easy and quick setup.
Cons of using Adsense:
Lack of other revenue streams.
CPM varies and can require very high view count to be sustainable income.
By all means use Adsense as a strategy to monetize your channel, but if you want to approach it like a business, you need to diversify. Try out at least one of the following ways to make more money from YouTube and you'll see a healthy jump in revenue.
YouTube Merchandise
Never forget that you have a brand that people follow and support. You'll be very surprised at how many people will be willing to pay you for branded merchandise to show off as a fan. This is a route many YouTuber's take that can generate high amounts of revenue depending on your subscriber base.
So, what exactly should you sell? Here are some ideas:
T-shirts
Hoodies
Hats
Bags
Luckily for you there are many companies like Printful that will print your designs on products like these and ship them around the world.
You can create graphics using Photoshop or Gimp (which are free) and upload them to their website. When you receive an order you simply plug in your customers information, choose the right product and design then it's shipped away.
If you'd like to work more intimately with a design company, search for local ones and pitch them your idea. You can hold onto bulk orders of merchandise and ship it to subscribers yourself, which they'll deeply appreciate.
We recommend that you use a storefront such as Shopify or Shoplo to start selling. Both require a monthly subscription but give you an online store capable of taking payments, creating blog posts, and much more. WordPress and Woocommerce, are free but will require you to pay for web hosting.
You should also go through YouTube's official guide on creating merchandise for your channel.
Affiliate Marketing on YouTube
One of the most effective ways to generate passive income through YouTube is by using affiliate marketing. This is a simple business model that involves you promoting another business' products for commission.
You don't have to worry about shipping, tracking numbers, inventory and all of the other responsibilities. Once you refer a customer, you get paid and don't have to worry about anything else. It's YouTube channel monetization made easy.
If you visit many of the top YouTuber's like Casey Neistat, you'll notice that they place affiliate links in their video descriptions. Normally these are links to the gear they use themselves which they make some very nice commissions from.
There's no better affiliate marketing program to begin with than Amazon's. You can sign up and start promoting any products you want through YouTube and your other social media profiles. If you have a website as well, add links to content but make sure that it's relevant.
You don't have just stick to Amazon though, there are endless affiliate programs that you can use to make money from your YouTube videos. To find some, visit Google and enter searches such as:
Keyword + affiliate program
Keyword + affiliate network
Keyword + become an affiliate
Enter any keywords that are related to the kinds of videos you make. Check out a few different programs and apply to them. They should display their commission rate and what products you'll be promoting. Once you get accepted, add some affiliate links to your videos and you'll have another avenue from which you can make money off of your YouTube videos!
Creating a Dropshipping Business
If you've dabbled in internet marketing even for a little bit, you've definitely come across dropshipping. It has been all the craze within the past couple of years but for good reason.
It's a low risk and high reward business model that's perfect for beginners. You list a wholesalers products on an online store such as Shopify and fulfill the order through the supplier once a customer pays you. Normally it will take place as such:
You add the suppliers products to your online store.
A user purchases from you through a payment gateway such as PayPal.
You order through the supplier and they ship it to the customers address.
You're left with the remaining profit.
Either you will manually mark up the price or you'll be given a special discount code when you order through the supplier. With a solid YouTube channel like yours, you can expect to make some steady sales.
I highly suggest that you begin sourcing products from Aliexpress since you can begin instantly and there are great profit margins to be made. If you happen to use Shopify, there's an app called Oberlo that will save you tons of time by bulk importing products. They also have a great amount of documentation on dropshipping to get you started.
If you want to find domestic wholesalers, search Google for:
Keyword + wholesaler
Keyword + dropship
Keyword + resell
Reach out to any you find through email or phone explaining you're a new business looking to source products. It's wise to mention that you have an established YouTube channel and social media profiles, so you just need products to begin. You should get plenty of responses doing so and they'll assist you in getting started.
Become a middleman by marketing these products on your YouTube videos and channels you'll begin to see even more profits from your YouTube activity.
Who Can Make Money on YouTube?
We already covered the good news: YouTube does pay content creators.
The bad news is that most people that load videos to YouTube will never see a dime. And many of those that do actually get paid won't be making enough to leave their day jobs.
For you to earn anything, your videos have to attract not only a lot of viewers, but also viewers that are willing to engage with the ads. That means they have to actually watch a decent portion of the ad before clicking that "skip" button (you know the one, you've probably clicked lots of times yourself), or actually click on the link that shows up at the bottom of the screen during the ad.
Those who are popular enough can reach the point of earning thousands on the website, but it's a rare few that reach that point. The platform hosts billions of videos, so your competition is pretty fierce.
So don't quit your job or base all your future hopes on YouTube. But if you like creating videos anyway and you want to see if your hobby can start to pay off, it doesn't hurt to take the proper steps that make it possible to get paid by YouTube.
Note: In early 2018, YouTube made changes to its Partner Program. In order to be eligible for monetization, accounts must have accrued 4,000 hours of watch time in the past year and reach 1,000 subscribers. Follow the steps below to opt-in to the program so once you reach that threshold, you can make money on YouTube!
7 Steps to YouTube Monetization
If you want at least a chance at making money on YouTube, here's what you need to do.
Step 1: Set up your YouTube channel.
If you already have a Google account, as most people do, then use that to login to YouTube. If you don't yet have a Google account, start by creating one here, and then go ahead and log in to YouTube.
Once you're logged in, click the Upload button in the top right of the screen and you'll receive a prompt to create a channel.
Click "Create Channel" and you're done.
Step 2: Create your video plan.
Now you need to make some decisions about the videos you're going to upload. If you really want to gain subscribers and encourage engagement, then your goal should be to build a following of people that like your videos enough to subscribe to your channel and return again and again.
A good video plan therefore needs to do a few things:
Make sure you

understand the audience you want to reach

.

Brainstorm a list of topics for videos that will appeal to that audience.

Create a schedule for your videos. You're more likely to gain and attract followers if you upload consistently at regular intervals.
You might want to spend some time during this step perusing some of the most popular videos in your space to see what people respond to. You don't want to do the same thing that other content creators are doing, but you can glean some insights into what works best to apply to your own videos.
Your plan doesn't have to be set in stone, but having a plan in place to guide you will help ensure you stick with it and approach your YouTube channel in a strategic way that's more likely to pay off.
Here are 6 tips to help you make more money from your music on YouTube (this holiday season and beyond)
Making money from your music on YouTube isn't just a holiday thing, but this busy music season is a perfect time to make sure you're doing all you can to take advantage of this increasingly important revenue stream.
1. Sign up your entire back catalog for CD Baby's YouTube Monetization program
The obvious early step to earning money from your music on YouTube… is getting set up to earn money from your music on YouTube!
In the digital age, your music doesn't have a shelf life — and you never know when one of your songs will find its audience. So sign up ALL your songs, old and new.
2. Encourage your fans to create user-generated content
It's the holidays! One of your songs might be the perfect soundtrack to someone's ugly-sweater video Christmas card, or as the background music to a classic home movie of kids unwrapping presents around the tree.
Here are a couplr ways to get people to use your music:
Email your fans and let them know they're free to use your songs for their holiday videos, wedding videos, family reunion videos, company or school projects, vacation slideshows, etc. Your songs are already in heavy rotation in these peoples' households; might as well be in their crazy cat videos, too! If one of them goes viral, you'll make even more money.
Host a video contest where you ask your fans to create music videos for their favorite of your songs. Whether its footage of a dance party, a stop-motion animation, or a bunch of kids lip syncing, these kinds of videos can add up to serious ad revenue from YouTube. Plus, you'll get to share your favorite of these entries through your website, newsletter, and social.
3. Put your most important links at the top of your video descriptions
For any videos you upload to your own channel, be sure to include the URL to your website or preferred music store right at the top of the description. You want viewers to be able to click through without having to scroll down or hit the "show more" button. Don't make people search.
In addition to all the other things YouTube has become, it's also the #1 preferred listening platform for younger music fans. Make it easy for them to hear your music. The more videos you make available, the more opportunities you have to earn ad revenue.
If you don't have the time or budget to shoot that many "proper" music videos, you should at the very least upload simple album art videos for every song. Important: if your distribution through CD Baby includes streaming services, we will deliver Art Track videos to YouTube for you!
5. Record a holiday greeting video
If it's not in the cards to film a video for a Holiday single or to shoot a live performance, just use the camera on your smartphone and say hi to your fans. Post it on YouTube, embed it on your website, and spread some cheer!
6. Use smart calls-to-action, cards, and end screens
YouTube offers a number of tools to enhance your videos and to drive further engagement. Be sure to explore all your options within your YouTube channel, including adding cards to your videos that will encourage purchases, boost channel subscriptions, increase views, and more. Also be sure to check out end screens!
What are your tips for boosting YouTube activity (and ad revenue) this holiday season? Let us know in the comments below.
[Take your YouTube presence to the next level with Illustrated Sound. Click HERE.]
[Photo of YouTube app in iPhone from Bloomua / Shutterstock.com]