Some of the links in this post may be from our sponsors. Policy Page
Each month when I get my Comcast bill in the mail, I die a little bit inside.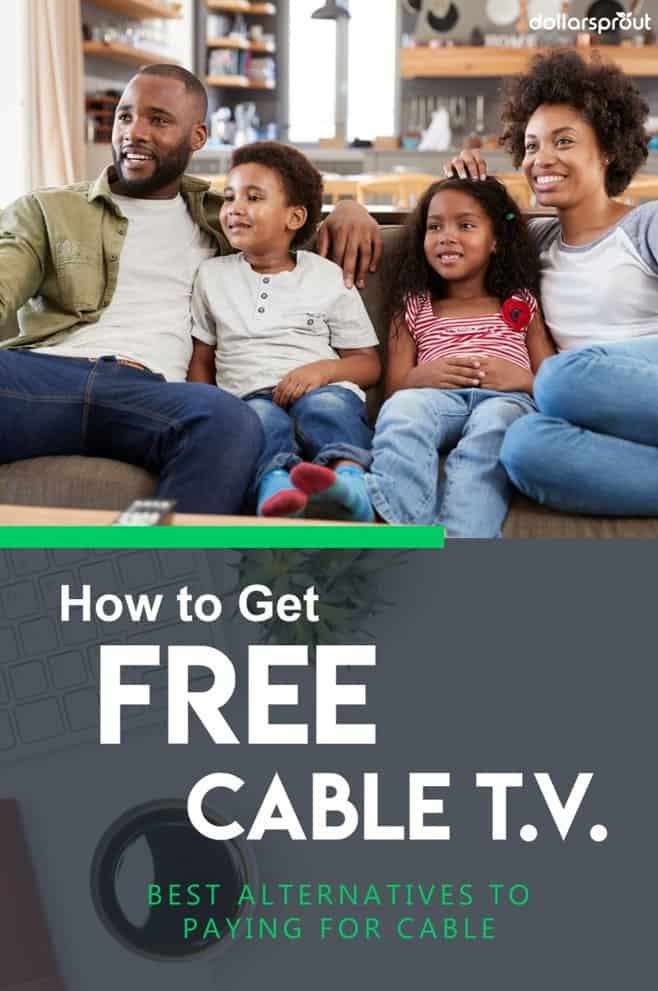 After paying $144 a month for cable and internet for the past two years, I recently decided to start researching how to get free cable TV — if that's even possible.
Of course, I know that nothing in life is truly free. But I still wanted to investigate this a little bit, especially since I'm not ready to completely cut the cord.
I wouldn't be the first one drop cable, though; the U.S. cable industry lost 410,000 subscribers during the first quarter of 2017. People clearly want to save money on cable.
Install an HDTV Antenna
Remember those trips to Grandma's house and you had to adjust the rabbit ear antennas in a particular direction every time you changed the channel?
Let me tell you; antennas have come a long way since you went over the hills and through the woods to see Grandma. Some people say that with an HDTV antenna, their picture quality is clearer than with cable or satellite.
I currently use rabbit ears and I can access my local networks –ABC, CBS, Fox, and NBC– clearly and I even get a few additional channels including:
CW Channel
MeTV
Grit
PBS
QVC
Home Shopping Network
In all, I get about 20 channels in my rural area but could get up to 35 channels if I lived in our nearest town. If you live near a major metropolis like Phoenix, you can get up to 109 channels from an HDTV antenna! And, you don't have to mount an antenna to your roof to access all of these channels.
Head over to Antenna Web to see which channels you can get from your home. And, AntennaWeb will also recommend which type of antenna you need to install to get the best picture quality:
Directional antenna
Multi-directional antenna
Omni-directional antenna
Depending on your terrain and how far you live from the broadcast towers, you may need to buy an antenna that mounts in your attic or on your roof. AntennaWeb can help you determine which antenna to buy.
Summary
The first step to cutting the cord and getting free cable tv legally is to start using a HDTV antenna as you can potentially get every channel you currently watch for free over the air or with an on-demand streaming device from Roku. If that still isn't enough, you can supplement with a contract-free online streaming plan that offers on-demand or live TV for a fraction of the cost you're currently paying.
Whatever you decide to do, the good news you're saving a ton of money as soon as you make the decision to end high-cost cable services. Also, if you have tried any of these mentioned above or you have a question, please ask in the comments below and we will be sure to answer and help everyone out at the same time!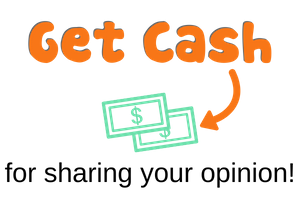 You can get paid for sharing your opinion with Survey Junkie. With a TrustPilot rating of 8.7 out of 10 and over 3 million members, start earning cash today with Survey Junkie!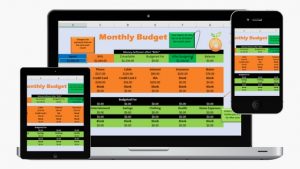 It's Extremely Simple to Start Today
You Will Get Help Along the Way!
Step-by-Step Video Directions to Get Started!
100% FREE
To Pay Down Debt and Start Saving, click here.
Start the Cash Flow Formula
How to Watch Cable TV for Free Without Paying the Bill
Wait a minute. Is that even legal?
Yes, you can watch cable television for free and still be able to call yourself an upstanding citizen.
Here's something you need to know about cable companies: they will always go out of their way to convince you to pay ludicrous amounts of money to support your television viewing hobby.
After some digging, I've found several ways to enjoy cable TV (legally) without paying a single dime to cable companies.
2. Sign up for A Free Video Streaming Service
The internet offers a wealth of video streaming services that won't require you to dip into your own pocket.
If you doubt that even for a moment, feel free to check video streaming sites such as TV Box, TV.com, and Series Cravings, just to name a few. They are completely free, and some of them won't even require you to sign up for an account. How convenient is that? They're also DMCA compliant so you can rest assured that they are completely legal.
Crackle TV
If you love to binge-watch movies and TV shows for free, then you'd do well to give Crackle TV a look. Originally called "Grouper," the network was rebranded as Crackle TV after Sony Entertainment purchased the company in 2006.
A word of warning: the Sony-owned streaming service runs ads within the content at set intervals. Granted, it can be a little annoying. But then again, the service is completely free so I can't really complain.
Even as a free service, Crackle offers a lot of quality programming. While the content on Crackle TV rotates on a monthly basis, you'll find no shortage of TV shows and movies to keep you entertained.
One perfect way to describe Crackle TV is that it's like Netflix, but it's free and it runs ads.
Amazon Prime Video
Amazon Prime Video is a video streaming service available for Amazon Prime members. If you're not an Amazon Prime member and don't have plans of being one, you can still get Prime Video for less than $10 a month.
Prime Video's offerings are nothing to sneeze at. For starters, the service offers access to thousands of movies and TV shows. Better yet, you get free two-day shipping as an Amazon customer and unlimited access to a library of eBooks!
Netflix
Most television nerds will tell you that Netflix is the best thing since sliced bread. And they'll go on defending that stance — that is if you can pry them from their screens. To date, the billion-dollar streaming service now has over 75 million subscribers. And while Netflix isn't a free streaming service, it more than makes up for it with high-quality programming.
With popular TV series like Stranger Things, Daredevil, and House of Cards, Netflix has become a major player in the world of movies and television.
Netflix offers a free-30 day trial, so you have more than enough time to sample the streaming service. As is the case with all free trial offers, you have the option to cancel anytime before the trial ends if the service is not your cup of tea.
If you decide to continue with the service, you can choose from three different plans, including:
Basic: For $7.99 a month, you can stream unlimited movies and TV shows in standard definition.
Standard: For $10.00 a month, the Standard plan allows you to stream unlimited content. The plan also offers HD video quality and the option to watch on two screens at a time.
Premium. You get unlimited content, the option to watch in HD and Ultra HD, and the capability to watch on four screens at a time. Pretty much the perfect subscription plan for the entire family.
Even with the most expensive plan, you pay only a fraction of what you'd end up spending on a regular cable package. If you pick up a small side hustle, you can pay for your Netlfix without dipping into your regular monthly budget.
3. Stream Cable TV Online Yourself for Free
Why pay for a monthly cable subscription when you can access the same programs on the web? You're already paying monthly for a high-speed internet service, so you might as well maximize your subscription by streaming cable TV on the internet for free!
Use TV.com
As the website name itself suggests, TV.com is a website that focuses on television programming. It's a good place as any to keep tabs on your favorite TV shows and to keep up with the latest news on the television front.
Another good reason to stick around is the website's robust community of television geeks. Aside from giving you a comprehensive list of TV shows to enjoy, you also get to talk about your favorite shows with other members.
Visit the Network websites
Network websites such as FOX.com, ABC.com, and NBC.com allow you to catch their respective TV programs on the same day they air. While you won't get to see their content live, you're still getting a good deal considering the fact that they're offering the service free of charge. Besides, you can always watch episodes from previous seasons while waiting for the current episode to be released on the site.
Use Classic Television Online
Want to take a trip down memory lane and relive the television classics without paying for a monthly subscription? Easy. Just go to the Classic Television Online website and you can have access to a comprehensive list of vintage television shows. From daytime shows to prime-time specials to memorable late night interviews, there's a lot in this collection to indulge your nostalgia for days on end.
Purchase a Roku Device
Roku has been the streaming device of choice by many for years, and for many good reasons.
With its smart capabilities, excellent interface and a slew of awesome features, Roku has revolutionized the way we enjoy movies and TV shows in the comfort of our own homes.
By connecting your Roku device to your TV, you can enjoy past and current episodes from different networks and cable channels for free.
With the advent of 4K and HDR technology, Roku continues to lead the streaming device market, edging out competitors like Apple TV, Amazon's Fire TV, and Chromecast.
Watch YouTube Videos
YouTube has evolved beyond being just the largest online video platform in the world. In 2017, the video hosting service ventured into the world of internet TV by launching YouTube TV.
YouTube TV might be new to the game, but it's already made a big impact on account of its impressive package of networks.
With over 60 networks already under its belt, YouTube TV is staking its claim as the best cable TV alternative in 2018.

Determine Which 'Free Cable TV' Method is Best for Your Household
As you can tell by now, there's no better time to cut the cord than now considering the extensive options you have at your disposal. The best way for you to get free cable television will depend on several factors: your location, budget, and personal preference.
You can't go wrong with any of the above suggestions. Basically, anything is better than paying and arm and a leg for cable, month after month.
Like this article? Pin it!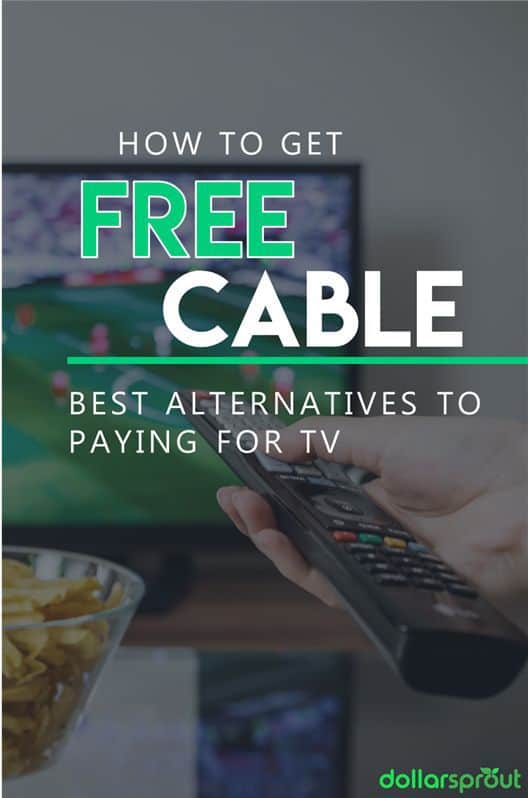 3. Watch free TV online
A lot of channels, including major networks, actually post full episodes of their shows online.
Really!
You wouldn't necessarily think it, but a lot of networks post their programs on their websites, and you can watch them for free!
Often, the content the networks post online will only be available to watch for a limited time, but it's still free TV!
How to set it up
All you need to do is think about the channels and the networks that you like, and then visit their websites.
When you visit a network's website, look out for a tab that says something like "videos" or "episodes".
To get you started, here are a few examples of channels and networks that offer free content online:
Food Network
ABC
NBC
Discovery Channel
Fox
The Cartoon Network
Nickelodeon
This method of getting free cable TV is probably the easiest and it requires no upfront payment either.
Tip: If you don't like watching TV on your phone, laptop or computer, and prefer to watch stuff on the TV, then don't worry. All you need to do is buy an HDMI cable, and then use it to connect your PC to your TV, and then you can stream the content that way.
Check out this article for more information on how to do it – it's really easy!
And, the best part is that you can get an HDMI cable from Amazon for just $6.99! Check it out here.
A Word About Sports Channels and Cable TV
One of the very biggest complaints I get when I mention ditching the cable TV package for a free or cheap alternative is that guys (and gals) won't have access to the large selection of sports channels that come with cable TV packages.
If you're a die-hard sports fan like my little brother is, this is a valid argument. The NHL, NFL MLB and other sports organizations have taken advantage of the opportunity to make a little (or a lot) extra cash by limiting sports viewing to those who subscribe to cable TV packages.
Although you may not be able to watch much in the way of professional sports for free, there are a couple of streaming options that have pretty heavy sports channel selections and often cost less than many basic cable TV packages.
Here are two of the most popular.
Sling TV
Sling TV offers three different packages that you may find cheaper than cable TV. The Sling Orange package costs just $20 per month and offers a sports channel lineup that includes ESPN, ESPN2 and ESPN3.
We all know that ESPN is one of the leaders in sports broadcasting, so this could be a great alternative to an expensive cable package that includes sports offerings.
Sling TV also carries another package called Sling Blue. For just $25 per month you can have access to different sports channels including:
NBC Sports Network
Fox Sports 1
Fox Sports 2
Fox and NBC Regional Sports Networks
NFL Network
Both Sling Orange and Sling Blue offer other sports channels too for a minimal add-on cost. Channels available with add-on include NHL Network, EPSNU, Motorsport TV, Stadium, ESPN Bases Loaded, The Golf Channel, ESPN Goal Line and several more options as well.
Also, if you're a big fan of Fox Sports and ESPN, you can save $5 a month by getting an Orange/Blue combination package for just $40 per month.
This is a much cheaper cost than many cable TV packages that include sports channels. Check your local cable company offerings to find out whether it's better to get cable or to go with Sling for your sports channel fix.
Much of the answer will depending on which sports channels you like to watch. Bonus: Sling TV viewing options come with many other cable channels as well to offer television entertainment to those in your family who might not be serious sports fans.
The Sling TV channel options offer something for everyone, including kid-friendly channels such as The Disney Channel, Cartoon Network and Nick Jr., and other popular favorites such as HGTV, AMC, TNT, The History Channel and more.
FuboTV
FuboTV was originally founded as a way to cater to soccer fans looking for game viewing options. The current cost for the FuboTV Premier package is $39.99 per month, with a current special that allows you to pay only $19.99 for the first two months.
FuboTV carries a substantial number of sports channels, including:
Fox Sports North
Fox Sports North Plus
NFL Network
NBA TV
BEIN Sports
CBS Sports Network
BIG TEN Network (BTN)
NBC Golf
Fox Soccer Plus
And dozens of other sports viewing channels. This is by far the most comprehensive service I found when researching streaming services that cater specifically to sports fans.
Although the price is up there with the Sling TV combo package, you may still find it cheaper than many cable packages offered in your area.
When I researched cable packages in our major metropolitan area, I found that I would have to spend at least $70.00 a month for anything that comes close to offering what the Sling Combo package and the FuboTV package offer in terms of sports channels.
So, even if you spend $40 a month on cable alternatives, you can likely still save a decent amount of cash every month by making the switch.
If you are one of those people that gets serious enjoyment from your sports viewing options, alternatives such as Sling and FuboTV could bring you some financial relief while still giving you access to your favorite sports shows and games.
As mentioned above, there are plenty of options for getting access to cable TV's basic channels without having to pay for a cable TV package subscription.
Having been without cable TV for several years now, I estimate we've saved in the range of three to four thousand dollars just by cutting the cord and signing up for streaming services that happen to come with the bonus of free access to many popular cable show channels.
If you are big into saving money, you just can't pass up that kind of extra cash in your bank account. If you're still holding on to your cable pack, consider switching to a streaming service that offers free access to many of the cable channel shows.
Or consider watching online directly from your favorite cable TV channel web sites. I'm guessing you'll find one or more of these cable alternatives more than sufficient for your TV viewing needs, and a nice way to add more cash to your bank account as well.
Have you cut the cord yet and/or moved onto a cheaper cable TV alternative?
Our Low Cost Home TV Setup
Here's how we watch TV at our house.  Keep in mind that this package isn't free, but it is lower in cost than the above mentioned $720/year package.  Things we needed:

MY LATEST VIDEOS
TV:  A TV to watch your shows on!  –  Cost:  Free (you probably already have one)
PlayOn Media Streaming Software:  The PlayOn software allows you to stream online video from popular services like Hulu.com, Netflix, Amazon Video, the big networks and a myriad of others straight to your TV through a networked media device (see below).  They also have a feature if you pay for the "Plus" version of the software that allows recording of series of shows, and automatic skipping of commercials.  They even allow you to record your favorite Netflix or Amazon shows so you can take them with you on the go (with no need for internet). It's essentially a home DVR for online video. Cost: Limited functionality free version, or one time fee of $59.99 for lifetime license. Monthly or yearly subscriptions are also available.
Networked Media Device – Like Our Xbox 360:  You can get a brand new Xbox 360 for around $200 nowadays, sometimes cheaper if you buy used or refurbished.  We just got our second one for $75 from a friend. Tons of other networked media devices are compatible as well including Ipad, Iphone, Google Chromecast,  Playstation 3, HP Mediasmart TVs, and Nintendo Wii and Roku devices. Check the link above to see if your device is supported. –  Cost:  Free-$200 (depends on if you have one of these already. If you don't have one already, I recommend the uber-cheap $35 Google Chromecast or Fire TV)
Affordable Home Internet Plans – FreedomPop offers 100% free home broadband.  There is a one time cost of $99 for their home wireless hub (act as a both a modem and rougher in one), and you get 1GB of data a month completely free. You'll need a little more data if you're into streaming videos a few times a month, but you could easily get by with their 10GB/mo plan for only $18.99 if you only watch shows a few times a month like me. Check them out here.
Video Streaming Services:  There are tons of online video streaming services like Hulu.com, Netflix,  Amazon.com Instant, CBS.com, YouTube,  Comedy Central, HGTV, and ESPN that support the PlayOn software!  The software also now supports plugins, so additional channels are appearing all the time including the Food Network, NBA/NFL content, and others! –  Cost:  Free
UPDATE: Check out my updated cord cutting package and recommendations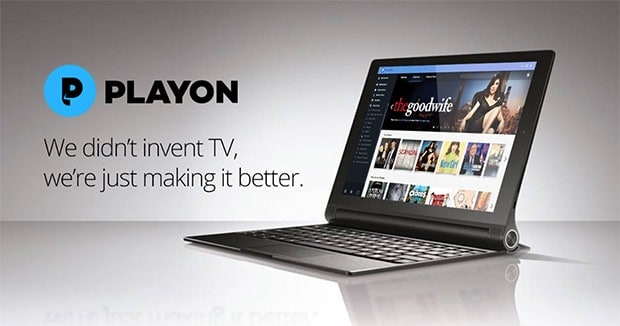 In our case, we already had everything at our house, except for the PlayOn software.  So for this setup we paid $59.99 for a lifetime license for the PlayOn software, plus the $8.99/month for the basic Netflix streaming package (get it, it's worth it!).We were also already paying for Amazon Prime, so we got free streaming TV shows and movies with that membership.
The total cost was $168 for the first year, and $108 for every year after. That is a lot cheaper than if we were paying for cable!
Here's a video showing how easy it is to install PlayOn.
For a more detailed look at installing Playon, check out this post on Installing Playon.
So here's how the above cited items are setup at our house in order to stream video from the web, to our TV
The PlayOn software is installed on our home computer connected to the network.
Once installed PlayOn has a media server running in the background that pulls in shows from major video content providers, and allows the PC to pull in the video streams in the same way that a web browser does. From there you can set it to record shows, record entire series, or record new episodes. Or just watch a stream live.
Video is watched on the desktop via the included app, or is sent over the home network and played full screen through a connected device. In our case that means the Xbox 360, Nexus tablet, MotoX Smartphone or Chromecast connected to our 50″ Plasma TV.  We can control playback via a smartphone or tablet via the PlayOn app. We can watch our shows on whatever devices we want!
Here's  an explanation of how Playon works from the software's website:
PlayOn is a streaming hub which organizes all of your favorite online streaming sites and all of your personal media into one convenient location on your PC…It offers content discovery & management and functions as a media server and online DVR all wrapped into one easy-to-use interface.
Watch Free Over-The-Air HDTV

The setup I talked about above is only one way to get free or low cost TV content.   Another way we get free content at home is through the free over-the-air HDTV channels that are now available to everyone who has a HDTV tuner and an antenna.  Did you know that 94 of the top 100 watched shows are shown on network television – that you can get over-the-air?
If you have a TV with a built in digital tuner and a simple HDTV antenna, you should be able to just turn your TV on, do a channel scan and get all the network TV stations in their full HD glory! In fact, in many cases you'll get a higher definition signal when watching over the air as they are often sent in lower definition via your cable provider.
Check for your local digital stations here.
Which antenna do we use? We have the Mohu Leaf 50 digital HDTV antenna (review at the link).  We love it and we are able to pull in 35 strong channels over the air, and another 14 with a low signal! I'd also recommend the SMARTenna from Channel Master.
If you're one of the 10 people who still have a regular TV, you'll need to buy a digital converter box to watch TV in conjunction with your antenna, and once you get one, you will then get tons of crystal clear TV stations for free!  When we switched to watching Digital TV years back we instantly gained about 5-10 TV stations because some channels have the main channel, and then sub channels as well.
Honestly we could probably survive on our over the air channels alone, although my wife likes to have our cable TV fix every once in a while – which is why we have PlayOn.
Watch an unboxing and setup of our digital antenna that we use to watch over-the-air TV channels here:
Over-The-Air DVR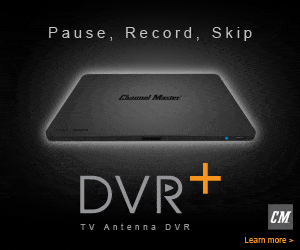 If you're using an antenna like the Mohu Leaf, you can also buy an over-the-air DVR, similar to what you would use from your cable company, but with more features in some cases.
Some of the better OTA DVRs include:
Tablo DVR: The Tablo DVR allows you to watch live TV, record shows or record series, much like a cable company DVR. It also allows you to watch recorded shows or live TV on all your devices like set top boxes, phones, tablets, etc. A comprehensive Tablo review can be found here.
Channel Master DVR+: Channel Master DVR+ will allow you to record shows or watch live TV, in addition to viewing streaming video from a variety of sources. Rumored to be adding more streaming TV channels and possibly Sling TV into their guide soon. Channel Master DVR+ review here.
HDHomeRun Extend Tuner & DVR: The HDHomeRun Extend is a network over-the-air tuner that will sync up with their HDHomeRun DVR software, or with a third party software like Plex to watch Live TV and record your favorite shows. I use it in conjunction with Plex Media Server and it works great! Read a full HDHomeRun Extend review here.
All three of the ones listed above allow you to record over-the-air shows and then watch them on your TV. On the Tablo and HDHomeRun you can also stream them to a tablet, phone or the TVs in your house using devices like the Fire TV, Roku or Chromecast (Adding a Slingbox 500 to the DVR+ will accomplish the same). Definitely worth looking into if you're a cord cutter.
Watch Free TV Online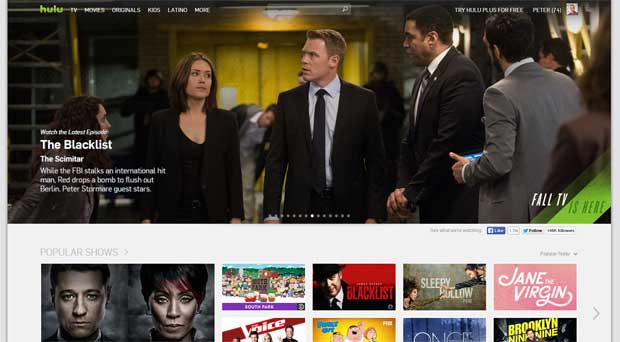 In addition to the options above, you can also watch TV for free through a variety of websites online.  While it isn't as fun to watch the shows on a small computer monitor, it is still a good option I think.   Many of these online options may be available for streaming through the PlayOn software in the future as well.
UPDATE: You can now watch video from any streaming website on your TV using your Google Chromecast. Check out details of how to stream video from your computer to your TV here.
Hulu.com: probably the best one out there in my opinion, already works through PlayOn, but you can watch it on your computer as well if you'd like.
TV Network Websites: ABC, NBC, CBS all have good full episode streaming options available.
Crackle.com: Watch tons of movies and TV shows.
Pluto.TV: Tons of free content in a cool online TV network format that's compatible with Chromecast and other devices.
Veoh.com: Tons of content, including TV shows!
Sidereel.com: I'm new to this one, but it looks to have lots of good free TV options.
AOL Video: Both short and long video clips and full shows.
There are a ton of other free video sites out there, this list only lists some of the ones I found to be the best.  Have some free online video options that you use?  Let us know about them in the comments and maybe I'll add them to the list.
Rent Movies And TV Shows – And Use The Library
Another low cost option to get your TV and movie fix is to either rent your TV shows and movies, or to get them from your local library. My favorite options are:
Redbox:  Redbox allows you to rent a new release movie for $1 a night,  which is an extremely low cost movie rental option. Search for coupon codes online for free redbox rentals, and it can be even cheaper!
Netflix.com:  Slightly more, but the added convenience of keeping the movies and TV shows as long as you want, and being able to stream a selection of movies and TV shows over the computer, or networked media device.  Netflix is getting better all the time, now with great original series like House of Cards. Find all plans and how to maximize your return on this post:  How Much Netflix Costs.
Amazon Instant Video: Amazon Prime members can stream hundreds of movies and TV shows included in their $79 yearly Amazon Prime membership.  Other premium or recent movies and TV shows may have a purchase or rental cost.  Amazon Instant streaming is now integrated with Xbox 360 and a variety of other media players.
Vudu.com: Watch hundreds of TV shows and movies for a low cost.
Sling TV: Online streaming cable replacement service. Starting at $19.99. Ready my full Sling TV Review here.
Fubo TV: Fubo TV is a relatively new streaming service that has a ton of live TV stations, and specializes in sports content – for $34.99/month.   Read a full FuboTV review here.
PlayStation Vue: – $39.99/month:  This service has quickly become my favorite cable TV replacement streaming service.  It offers a ton of channels and an unlimited cloud DVR, ability to get local and national sports channels and more. Read my full PlayStation Vue review here.
Your Local Library: Your local library will most likely have  a decent selection of DVD movies that you can check out for a week or more.  My local library tends to be a bit picked over, but if you get on a waiting list you can usually find movies or TV shows you'd enjoy watching.
Borrow From Friends: Borrow movies and TV shows from friends and family.  They already own a ton of DVDs, they may as well get some use out of them!
Conclusion
A lot of people pay a lot of money in order to be able to watch the TV shows that they want, when they want.  In the process they end up spending upwards of $500-1000 a year, mostly for programming that they don't watch.  If they would just look a little deeper they might find that there are a lot of free or low cost options out there, and they can get a lot of the same TV shows, movies and other video content for free.
My suggestion?  Read this article, do some research, and find your own low cost option for watching the TV shows that you love.  If you put a few of these tips above into practice, you can save thousands of dollars, just like we have.
Do you have other suggestions for low cost or free options for watching TV?  What setup do you have at your house, or do  you still pay for cable or satellite TV? Are there shows that you think you can't get by using these free video options?  Tell us your thoughts in the comments!
UPDATED POST: Cutting The Cord And Getting Your TV On The Cheap
What TV Stations Do I Get Free?
I am currently getting
CBS
NBC
ABC
FOX
ION
PBS
The Weather Channel
WLRN (the educational station with the concerts and such)
and a few other networks in crystal clear high-definition, and I didn't have any of the things I just mentioned
In addition to that, I'm getting a bunch of SD stations as well:
FXM (Fox Movie Network)
BET
COZI
Antenna
Bounce
MEtv
Decades
ION Life
Qubo
H&I (Heroes & Icons–formerly Movies! I think)
and some other obscure Spanish, shopping & local stations
DO NOT MISS:  My Experience With Chase For A HARP 2.0 Refinance
What Equipment Do I Use To Get Free HD TV?
This is the best part!
Nothing at all!
All I have is my television which had a built-in HD tuner, and a cable connected to the wall jack.
As you can see above, there isn't a cable box.
And I swear that I didn't conveniently remove the antenna just for this article!
So how did I get this extra, premium programming?
Oh, you're going to love this:
It's so simple it's disgusting.
I scanned for it!
Yes, that's all I did to get all of those networks free of charge.
All I had to do was go to my television's setup, and tell it to scan for available stations.
When it finished after an hour, it had found all of the standard stations which is included with the basic HOA package, plus about 32 or so "digital stations".
The best part was the tv's built-in tuner also pulled in those in-between HD versions!
After the scanning was done, all I had to do was go through the channels one at a time and when I came across one that was in standard def, I simply removed it from my available channels.
Now, I know what you are thinking…this must be some sort of fluke, like when you were a kid and set the tv to channel 2 and the cable box to the porn channel and you could see it semi-clearly.
I'll be honest, I was skeptical too.
DO NOT MISS:  When Investing You Really Need To Think For Yourself
So I went to my parents' house and conducted a little experiment.
You see, they have a completely different cable provider than I have, and they have newer television sets.
The results were the same as mine, except better.
On their television, the digital music stations came in with the sound and picture, where I only get the sound (making it difficult to know what the heck is even on that station).
So that told me all I needed to know–this wasn't something relegated to only my television or my cable provider.
You can try it for yourself one evening or weekend when you have a little spare time.
Who knows, maybe you will even have better results.
Either way, if you feel like cable service is too expensive already, now you can really get your money's worth!
I get it, this trick won't work for everyone. Or you may want/need more variety than what you can get. If that's the case: Try out Hulu which has a large selection of broadcast-type television shows, as well as originals.
If that doesn't work for you, then maybe Amazon Prime will be more to your liking. Not only do you get the free 2-day delivery on eligible purchases, but you get the Prime Video included which I've actually been loving lately (more for the movies than tv shows).
Or, if you want cable networks without the high cost, you can get 7 days of Sling for Free to try. Then if you like it pay as little as $20/mo with other plans available to add even more channels.
Have you tried this simple technique? What have been your results? Let us know and please include your city/state too. Even though this will vary based on televisions and cable companies maybe someone from your area can get it to work narrowing the problem down to your TV!
Getting Free Cable Channels
There are now several ways to get cable channels without cable. These options are via the Internet, so you'll need to connect your computer to your TV or get a special device (like TiVo). But if there are cable shows you can't live without, check out these resources to see if they are available without cable:
Amazon Prime: This is my first choice, and what we are going to use as soon as I get our antenna set up. With the Amazon Prime, you not only can stream TV shows and movies, but you also get streaming music and free shipping on products ordered from Amazon.
Netflix is also a solid streaming choice. It offers the following:
Instant TV + DVD rentals: With instant movies and TV from Netflix's unlimited plan, you can still check out up to three DVDs at a time throughout the month. So you get the best of both worlds, and the instant TV/movie feature doesn't cost anything extra.
Set-top device options: If you don't want to connect a computer to your TV, there are several alternative devices (NetFlix calls them Instant Devices) that can stream the TV/movies. These Instant Devices include the following:

TiVo HD DVR: With TiVo, not only can you stream NetFlix, but you can also record TV shows for playback later. If you chose this option, make sure you get the HD DVR version, which is required for digital TV.
Xbox: If you have a gamer in the house, the Xbox can also steam Neflix video.
Roku: The Roku digital video player is designed specifically to stream NetFlix video. The box costs $99.
Blu-Ray Players: Both LG and Samsung blue-ray players can stream NetFlix video. According to NetFlix, look for LG models LG BD370 or LG BD390 and Samsung models BD-P1600, BD-2500, BD-P3600, BD-P4600.
Hulu.com: Through Hulu you can watch hundreds of shows and moves for free. Shows include:
The Daily Show
The Colbert Report
The Office
House
30 Rock
The Simpsons
There are other options as well, such as iTunes or Amazon Video.
TiVo or DVR without Cable
We currently rent a DVR from our cable company and pay a monthly fee. Total monthly cost is $20. Without cable, there are two good options–TiVo and MythTV. We have chosen TiVo for several reasons, but MythTV is an interesting option, particularly if you like to build things.
TiVo: The TiVo box comes in three different models: TiVo Series2™ DT DVR, TiVo HD DVR, and TiVo HD XL DVR. For those that want high definition TV or to record over-the-air transmissions (which we do), the TiVo Series2™ DT DVR is not an option. We are going with the TiVo HD DVR because it offers everything we need at a reasonable price:
Save up to 20 hours of HD programming (or 180 hours of standard definition) at one time
Record two shows at once
Works with cable and antenna; does NOT support satellite
Use CableCARD decoders from your cable company to replace your cable box
Supports high definition TV
The TiVo box costs $299, but is currently $30 off from Amazon. The XL model can record up to 150 hours of high definition TV. But with a price tag of $599, it's just not worth the money for us.
You also have to pay for a service plan with TiVo. The lifetime plan is $399, which is likely the option we'll pick. You can also get a 3-year plan for $299, and they offer yearly and monthly plans as well. At these costs, it will take us a little over two years to recoup our money. But add in the savings from not paying for cable, and the time period shortens considerably.
MythTV: MythTV is open source software that allows you to build your own digital video recorder. This is not for the faint of heart, but if you're comfortable with source code and tackling big projects, it can be a money-saver.
If you've made the switch from cable to free digital TV, please share your experience and any tips or tricks you learned.
Topics: Smart Spending
Cheap Cable TV Online

Sling TV
Sling TV is cheap cable TV over the internet. It's only $25 a month and provides full access to ESPN, FX, TNT, TBS, AMC, Adult Swim, Disney Channel, Food Network, HGTV, Cartoon Network, and much more. Sling TV has a lot to offer, so check out my review of Sling TV for information on all the channels available.

PlayStation VUE
PlayStation Vue, like Sling TV, offers a way to watch live cable TV online. While more expensive than Sling TV it does offer more channels. However, be aware that the service has been riddled with issues if your internet service provider uses dynamic IP addresses (which most do.) You can find out more about this in my post on PlayStation Vue.
back to top
Stream Local TV
The following channels will allow you to stream prime time shows on your local TV networks. However, you miss live events and local sports. You also can't watch shows until a few days after they are. For a more comprehensive solution check out how to Watch Local Channels Online.

ABC

CBS

FOX

NBC

The CW

PBS
back to top
Free TV Channels
Did you know that there is free cable TV online? Some of the cable TV websites below offer a little content online without a subscription to a cable or satellite TV provider. However to unlock all the content available you will need a cable TV provider login. I know a few folks that share a relative login and watch all the free cable TV they want. . . not that I would condone that or anything.

A&E

Adult Swim

AMC

Animal Planet
BET On Demand

Bravo

Cartoon Network

CMT

Comedy Central

Discovery GO

E!

Esquire Network

Freeform

FX

fyi

GSN

Hallmark Channel Everywhere

HBO GO

HGTV

IFC
Investigation Discovery

Lifetime

LOGO

MSNBC

MTV On Demand

Music Choice

Nat Geo

Nat Geo Wild

Oprah

Ora.Tv

Oxygen
Pivot
Pop

Showtime Anytime

Smithsonian Channel

Sundance

Syfy

TBS

Telemundo Now

The History Channel

TLC

TNT

Travel Channel

truTV

TV LAND

USA

VH1 On Demand

Vogue

Watch Cooking Channel

Watch Disney Channel

Watch Disney Junior

Watch Disney XD

Watch DIY Network

Watch Food Network

Watch HGTV
Watch TCM

Watch Travel Channel

WE tv
back to top