Welcome to my pocket square folding guide where I am showing you the 5 most basic and classic ways to wear your pocket squares. For those of you who are looking for more eccentric folds, also check out my 50 ways to fold a pocket square feature on my blog. If you haven't tried accessorizing your suit, shirt, and tie with a pocket square then the seven reasons below should be convincing enough to give it a try:
A pocket square adds nice color and more live to suit, shirt, and tie.
The pocket square is a perfect complement to your necktie.
A pocket square instantly adds a touch of sophistication and elegance to your ensemble.
Using a pocket square allows you to "dress up" or "dress down" an outfit.
Best "bang for buck" accessory! – The pocket square earns you lots of style points for little money.
Expand your wardrobe – Wearing a pocket square gives the same suit a different look each day.
Last but not least, a pocket square allows you to add more personal style to an otherwise uniform looking outfit.
Fold #1 – Classic, Sleek, & Elegant
This fold, also called "Presidential Fold", is one of the easiest ways to fold a pocket square. This fold is best for elegant attire ranging from formal business dress to black tie. Typically a classic white pocket square made from silk or linen is used for this fold.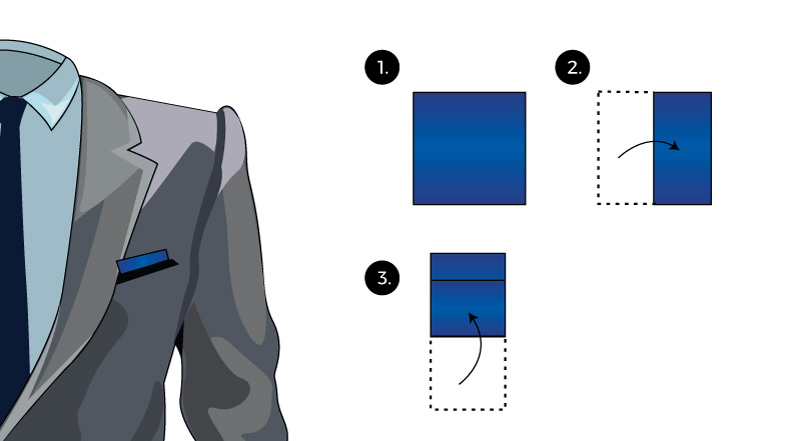 Instructions:
Lay the pocket square on a flat and clean surface.
Fold the pocket square in half.
Fold one side up. How much of the pocket square you fold in is depending on how deep your jacket's pocket is.
Tug the folded pocket square into your breast pocket so that about 1/4 of an inch is visible.
Fold #2 – One Tip Up
Another popular way to fold the pocket square is the triangular "one tip up" fold. It suits any type of pocket square and dress code. Personally, I like this fold with a solid colored, non-white, pocket square.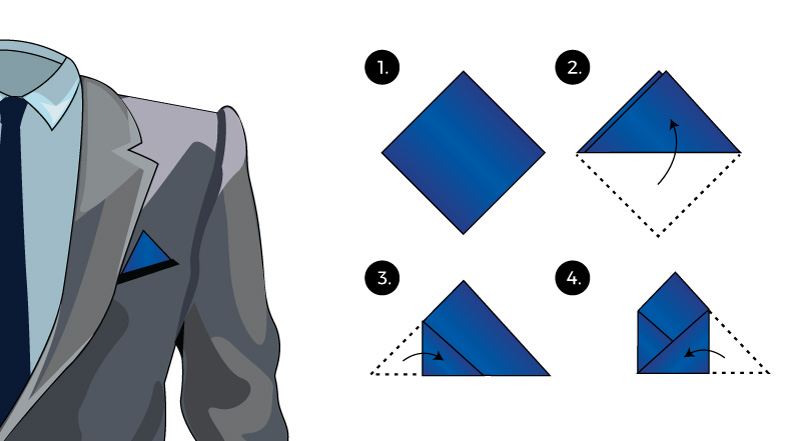 Instructions:
Start out by laying the pocket square on a flat surface.
Fold one corner in so that you get two overlapping triangles.
Fold one side of the triangle in.
Do the same on the opposite side.
Finally place the pocket square in your jacket's pocket.
Fold #3 – Unique & Sophisticated
Looking for a somewhat different pocket square fold? Then this fold, sometimes also called "two tips up" fold might be perfect. It suits any pocket square color & pattern. Personally I choose this fold for patterned pocket squares accessorizing a casual-sleek outfit that is rather sophisticated than formal.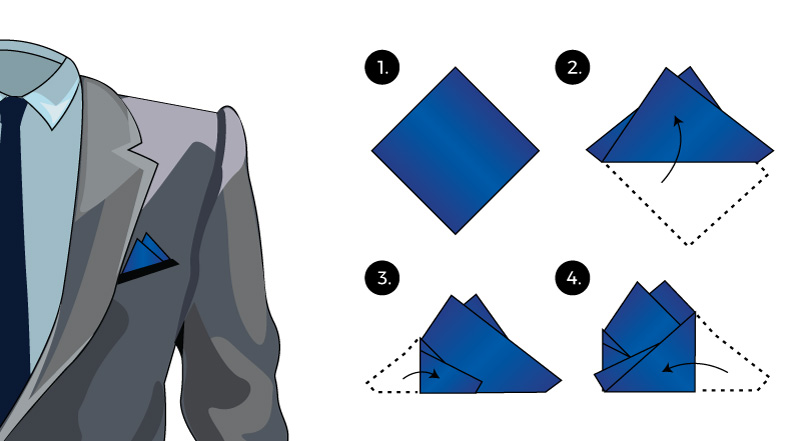 Instructions:
Place your pocket square on a clean & flat surface.
Fold one side over so that you get two triangles that overlap. I prefer the look of having one tip higher than the other (see illustration above).
Now fold one side in.
Do the same on the opposite side.
Place your folded pocket square in your breast pocket and you are already done.
Fold #4 – The Pocket Square Aficionado's Fold
This type of fold that is sometimes also called "three tips up" or "crown fold" is perfect for patterned and colored pocket squares. Although this fold would suit formal attire, I like it most with when paired with blazer jacket or sports coat.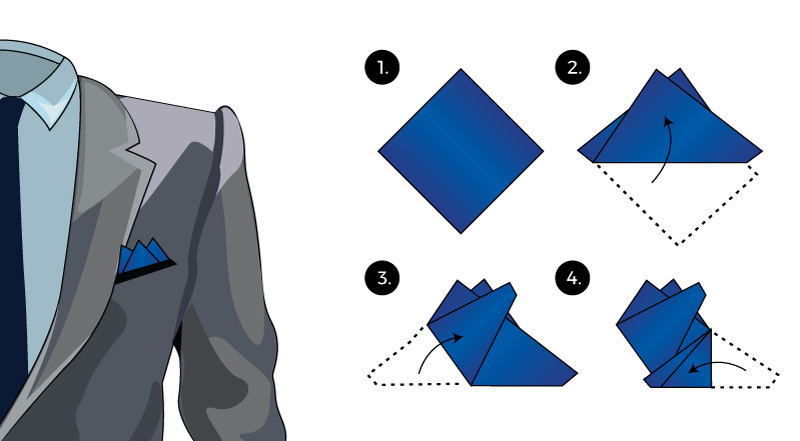 Instructions:
Lay your pocket square on a flat surface.
Fold one side in so that you have the look of two triangles – creating two tips.
To create the third tip, fold in one side as shown in picture #3 above.
This step creates the base which will keep the pocket square in place. Fold in the opposite side and make sure to create a strong fold with the palm of your hand.
Place the folded pocket square into your pocket and you are done.
Fold #5 – The Casual Fold
This type of fold, sometimes also called "Puff fold", is ideal for a more casual-sleek outfit. It looks best when used for patterned pocket squares. I particularly choose this fold for pocket squares that have unique paisley patterns, tartan checks, and polka dots. This fold is less suited for formal attire.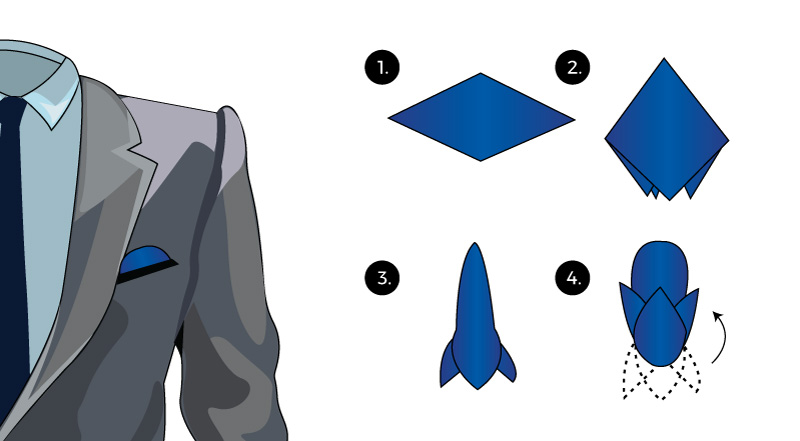 Instructions:
Place the pocket square down flat.
Now pick up the pocket square by pinching it near the center.
Slide the hanky trough your other hand as shown in picture #3.
Now flip the pocket square upside down.
Finally tug the pocket square in your breast pocket. Don't over-think this fold, the fold should look casual and a bit uneven.
Why Wear One?
Pocket squares really took off in 1920s with men flaunting the glorified handkerchief in their breast pockets, pride of place for all the other flappers to see. Nowadays, the pocket square is very much back in fash – just take a look at Pitti Uomo and trackside at race day. But for some, it's considered more an optional accessory to a suit, casual blazer or sports jacket, while others don't even know what it is. To get you in the sartorial mood, here are the smart reasons to invest in one today:
Pocket squares style up a stoic suit, taking it from business smart to weekend chic – instantly.
Changing pocket squares can give the illusion that you own several suits and separates, without even changing your shirt.
Pocket squares inject personality and individual style into a look, which can be difficult with the formal constrictions of tailoring. The whole idea is to play around with fabric, colour and pattern, leaving your suit and shirt as the canvas.
The Straight Fold
Perfect for: formal occasions such as black tie and a corporate office.
Best with: cotton fabric squares as the cloth tends to fold sharper on the edge, compared to silk. A white pocket square is a classic that all men should own. Blue, navy or pastel, black and a flecked neutral pattern look dapper for sophisticated soirees.
How to fold: start with the pocket square laid flat. Fold in half from left to right, then fold the bottom up the meet the top, but only three-quarters of the way. Then fold the whole shape in thirds, so the middle section will fit in your suit jacket pocket.
One Corner Fold
Perfect for: semi-formal occasions such as cocktail attire or adding a smart edge to casual tailoring.
Best with: all fabric types, just base your choice – silk, wool or cotton – on slant of your look. Play around with sartorial prints when going cotton – checks, stripes and dots – and silk – in a saturated block colour or sark neutral – to make the most of the sheen.
How to fold: lay the pocket square in a diamond shape. Fold upward in half. Bring the left and right bottom corners to meet in the middle (it should ressemble an envelope). Fold the square bottom up toward the top, but not all the way, leaving a peak.
Two-Peak Fold
Perfect for: those wanting a stand-out fold that's relatively easy to manoeuvre.
Best with: silk squares, as the two-point's poignant points means you go let loose with the fold. Accentuate the artistry with a flashy colour and pattern: checks or geometric prints fair well with the angular peaks.
How to fold: start with a diamond shape. Bring the bottom corner up to the top corner, but slightly to the side, to create the twin-peaks shape. Then, cross the left hand side corner over the right side corner meeting past the middle. Now, fold the new square shape bottom to the top, but not all the way.
Three-Peak Fold
Perfect: business attire and men who want to show-off their pocket square repertoire.
Best with: Cotton squares to accentuate the fold lines or 'crown' effect achieved with this style. Opting for a pattern? Keep in gingham check or polka dot the print doesn't get lost in the folds.
How to fold: start with the diamond square. Fold the bottom corner up to the top just to the left of the top corner. Fold the left side towards the right, and up to the right of the middle point of the crown. Turn the pocket square around and adjust the points of the crown. Tuck as needed and place your pocket square in your jacket pocket so all three points are visible.
The Casual Fold
Perfect for: lazy people and for men who want the sprezzatura look; like all this just happened naturally.
Best with: silk squares, as they are more fluid to move and create volume. Again, accentuate the artistry with colour and pattern, this time going crazy for florals or a graphic print.
How to fold: lay the pocket square flat. Pinch the middle of the fabric, and elevating the cloth off the table and letting the corners fall naturally. Then, hold the middle of the pocket square with your index finger and thumb, folding the bottom upward so it ressembles a bunched flower. Stylishly shove it in your pocket.
What To Look For
FabricYou basically have three fabric choices with the pocket square: cotton, silk and wool/cashmere. Or a blend of two. Polyester exists but its a cheap alternative to silk. Cotton should be considered for the straight fold, offering a crisp edge when pressed, appearing elegant with squared off finish, perfect for a tuxedo. Silk offers a subtle sheen to a matte cotton jacket, and plumps up nicely for a casual square fold. Wool and cashmere add a wintry texture to a mohair suit, very English countryside.
ConstructionMost pocket squares – like the name suggests – are flat square pieces of cloth, not oblong like a neckerchief. If you want hand-made craftsmanship, opt for a square that has rolled edges. Unlike machine-sewn edges, these are hand-rolled for a seamless finish and are void of exposed stitching, which can look casual. And like silk and cashmere, come at a higher price.
Colour & PatternKick off your pocket square collection with plain colour styles first for simplicity and ease into your current tailoring (you needn't go buy a suit because your pocket square doesn't match). White, navy and burgundy are great starting points, in a block colour  – one silk, one cotton.
Also venture into print, sticking to timeless tailoring patterns such as checks, paisley and pinstripes as well as polka dots. Look to saturated jewel tones – turquoise, jade, sapphire and ruby – as well as black, grey and white – perfect for the office.
Now, flick your eyes above for the 20 best pocket square brands for men this season.