I wasn't planning to finish the walkout basement right away — partly due to the cost and partly the amount of extra time it would take. But slowly throughout the building process I kept taking steps toward finishing it telling myself each time that "doing this makes sense, and I'll draw the line here."
The first step was when the electric classes from WACTC got involved. They didn't have many opportunities to wire houses, and the basement presented a good project. So I revised the basement electric plan to include a bedroom, a living area with a kitchen, and a bathroom. There was a logic to the layout and I figured it would only take a day to frame the necessary walls. The wire, boxes, and studs for walls totaled about $700.
The ICF foundation walls and the exterior frame walls had to be boarded with 1/2 in. drywall to cover the exposed EPS foam of the ICFs and the kraft facing of the fiberglass insulation. The exterior walls account for about 1/3 of the drywall surfaces in the basement, leaving only the ceiling and interior walls to be done. With the WACTC carpentry students doing most of the work the only extra cost was for drywall and screws — about $400.
I could have left the basement with just unfinished drywall but one thing lead to another and in a couple days we had the joints taped. This is where I drew the next hard line — painting. I figured the electric students could install the light fixtures, switches, outlets, and cover plates, and sometime in the future I could paint when I had time. But their schedule left about a week open before they could finish up the electric — a week where I squeezed in spray painting the primer on the ceiling and walls and sprayed the finish ceiling paint. And over the course of the next week, with Addison's help after school, we rolled all the walls. Drywall compound and paint — $300.
When I placed the interior door order I vacillated whether to order the four doors needed in the basement. Ordered as a whole-house package the prehung doors ran about $160 each. Ordered separately the basement doors would have cost about $200 each. So ordering the basement doors along with the upstairs basically got me one free door. Doors – $650.
Looking at the basement at this point with the doors installed, surfaces painted and lighting installed the only thing that gave away that you were in a basement was the rough concrete floor. I shopped around for some simple economical tile and found some for 63 cents / sf. Yeah I know you get what you pay for; but I figured it was a basement and there was little risk of the glazed tiles cracking over a concrete slab. It took me a few evenings and a day to set and grout all the tile. Rob, the tenant moving into the house, came by a couple of days to help so that moved things along. 650 square feet of tile, thinset, and grout – $550.
The hard line came at finishing the bathroom and kitchenette. The future bathroom was left with untaped but primed drywall and the rough concrete floor. It will be used as a storage room for now.
I figure I spent less than $3000 in materials to finish the basement. I don't have a tally on my labor or the free help from the WACTC electric and carpentry students, but I'd guess that would run about $10,000 in value. A back-of-the-napkin calculation puts the value cost per square foot to bring the basement from rough and unfinished to mostly finished at only $20 per sf.
Boost the Airflow
The coldest room in the basement is usually the room farthest from the furnace. Boost the airflow on long duct runs with an in-line duct fan. These fans are easy to install, but they do require a power supply. Some are hardwired and some plug into an outlet, but either way you'll need to leave an access to the junction box, which can be accomplished with a panel or a cover plate. In-line fans can run 24/7 or be installed with an optional thermostat or be wired to turn on when the furnace fan turns on. Six-in. fans, like the one shown here, are available online or at home centers. Four- and 8-in. fans are also available.
Build Walls on the Floor
If you have enough space, it's easier to build the walls on the floor and then tip them up into place, but you need to plan ahead. Build and install all the perimeter walls first, and then build all the interior walls, stacking them in some out-of-the-way corner as you go. Don't install any interior walls until they've all been built; that way you won't frame yourself out of open floor space.
Run Pipes Behind Walls
It's a lot easier to run plumbing behind a new wall before it's nailed into place. That way you don't have to drill a bunch of holes through studs. Assemble the pipes and tape them to the foam insulation temporarily. Tip up the new wall, and hang the pipes on studs before nailing the wall permanently into place. That will make it easier to attach the hangers. The downside of this method is that you do lose a little floor space.
Plane Down Sagging Joists
Hold a straightedge across joists to make sure they form a flat surface for the ceiling. If any joist sags 1/4 in. more than the one next to it, you'll end up with a noticeable bump in your basement ceiling. Snap a line from the bottom edge of one end of the joist to the other and use a power plane to shave the board straight.
Before you start, make sure there are no nails or screws embedded in the wood. Make several passes, each shorter than the next, until you cut down to the line. Power planers are loud, so wear hearing protection along with a dust mask and safety glasses.
Straighten Bowed Studs
Use a 4-ft. level or some other straightedge to check for bowed studs. Even if you personally checked every stud in every wall when you built it, new lumber can twist and bow as it dries. If a stud is bowed in, fill the gap with drywall shims made from paperboard (think cereal box) like the ones shown here. (Bundles of shims are available at home centers.) Start with longer strips and add layers of shorter strips until the gap is filled.
If the stud is bowed out and you can get to the back side of it, use a reciprocating saw to slice into the side that's bowed in. Cut far enough so the back side opens up when you press on the front side. Insert a shim in the kerf to hold the stud where you want it. Drive a nail through the separated area to keep the shim in place and add a little strength to the stud.
Test the Airflow
It's a lot easier to troubleshoot the problem of poor airflow before the drywall is up. On remodel projects use an anemometer to check the airflow at each register first. This ABM-100 Airflow Anemometer is made by AAB and connects to the headset jack on your smartphone. You can find this instrument online. After downloading the free app, all you do is answer a few simple questions about your ducts and hold it in front of the register box. The numbers, which tell volume and velocity, will depend on the size of the room and the size of the ducts.
Don't Insulate Over a Heated Floor
In-floor heating systems are great for heating a basement, but installing thick, heavy carpet and heat-resistant padding over them is a sure way to reduce their efficiency. High R-values are a good thing for walls and attics, but when you're covering in-floor heating, lower is better.
Most carpeting is made of similar materials, so the type isn't as important as the thickness—thinner is better. Carpet padding, however, is made up of different materials with different insulating properties. Waffle rubber padding is a good choice, with an R-value of 1 for a 3/8-in. pad. Urethane is a poor choice, with an R-value of 1.62 for a 3/8-in.-thick pad.
Glue Down the Tack Strip
Ready to install carpet? You can buy a tack strip made specifically for concrete, but it's always hit-or-miss whether the nails in the strip will penetrate. For a guaranteed solid connection, pull out the nails and glue down the strip with epoxy.
It's rare for both the floor and the strips to be perfectly straight, so cut the strips into halves or thirds (pruning shears work well). It's easier to get smaller pieces to lie flat. Wipe the floor clean before you start. Construction adhesive will also work, but you'll need to wait a couple days before installing the carpet.
Raise a Beam
If it's in the budget, removing that head-bonkingly-low beam in your customers basement is a doable project. You'll need an engineer to tell you whether you can reuse the existing beam or need a bigger one. A lumberyard will be able to refer you to an engineer. Build temporary walls to support the joists before you remove the existing beam. Cut out a space in the joists for the new beam. Slide in the new beam and support each end. Finish by attaching the floor joists to the beam with hangers.
Use Screws on Hard Lumber
Old lumber gets hard and brittle, so nailing into it can be extremely frustrating, even for the pros. A pneumatic nail gun will penetrate old wood, but it also tends to split it. If you need to connect new walls to old existing walls or attach soffits to old floor joists, make sure you have some self-tapping construction screws on hand before you start. Screws work better on old wood and create a super-strong connection. However, you might still have to pre-drill screw holes when you're working with really brittle wood.
Install Skinny Lights
Many basements have low ceilings, which is why recessed lights work so well. But sometimes ducts, pipes or beams get in the way, leaving no room for the cans that house the lights. That's where LEDs come in. You can buy low-profile LED recessed lights that look like typical recessed lights but fit into standard round electrical boxes. These lights are available online or at home centers.
Fill the Low Spots
No matter what type of flooring you choose, the floor underneath must be smooth and flat. You don't want to feel bumps under the carpet or hollow spots under plank flooring. And an uneven surface is a common cause of cracked tiles, especially large tiles. Holes deeper than 1 in. and large cracks need to be patched, but uneven sections and low spots can be filled with self-leveling underlayment.
Vacuum and then mop the floor first; let it dry, and then roll out the recommended primer. Unless you have less than 10 sq. ft. to fill, get a helper so you have one person to mix the underlayment and the other to work it around with a squeegee. Don't do the mixing right next to the area you're working on; the dust could interfere with adhesion.
Quiet Noisy Pipes
If you've never spent much time in your unfinished basement (why would you?), you may have really noisy drainpipes but not even know it. Before you bury them behind drywall, have a helper run water, drain bathtubs, empty a washing machine and flush toilets while you hang out and listen for loud swooshing noises. If you do have a noisy pipe, wrap it with carpet padding. Use a quality duct tape or zip ties to hold it in place. If the home center near you doesn't sell carpet padding by the foot, stop by your local carpet store, which may be able to give you some free scraps.
Form a Flat Ceiling
The bottom edges of floor joists are not always on the same plane, especially in older houses. You could spend two days trying to plane them all into alignment, or you could sister new lumber onto the existing joists. Make sure the flooring system is structurally sound and doesn't need additional bracing before establishing the new basement ceiling height (learn more about structural repairs).
Install a straight 2×4 on the worst joist, and use that as a reference to snap lines on walls. Nail on new, straight boards to the sides of the joists even with the lines on the wall. To work in large rooms, pull a string tight and use it as a guide. It's easier to avoid ducts, plumbing pipes and electrical wires if you nail up 2x4s. Use larger-dimension lumber if the joist spaces are relatively uncluttered and you want a stiffer floor on the first level.
Pump Waste Water Away
Running supply lines to a basement wet bar is easy, but sometimes there's not an easy way to install a drainpipe. The solution: Get a gray-water pump and direct sink water wherever you want. These pumps are easy to install and small enough to fit inside a cabinet. They will work for dishwashers and laundry sinks as well. But they're not made for solids, so always keep a strainer in the basin. The one shown here is a Saniswift residental gray water pump made by Saniflo.
We'd Love to Hear From You
Do you have a jobsite or tool tip that makes your work-life easier, safer, or just more fun?  Why not share it with your construction comrades? Plus, you can show off your professional prowess to your family and friends.
Click the image below to send us your Pro Tips! Please include an image if you can. We will contact you if we run your submission on the site.
Originally Published on sitename.com
1. Check the Foundation
Before starting any construction in your basement, assess the state of the foundation. It's not uncommon for basements to possess leaks or cracked walls, which call for foundation repair before any other work can begin.
Basements can develop cracks in the walls from settling or stress. These weaken the concrete, and can lead to later foundation issues if you don't get them repaired.
If there are serious foundation issues, act quickly and make the proper repairs. Otherwise, the stability and safety of your home will be placed in jeopardy, which makes your basement renovation more challenging.
Some indicators of serious foundation issues include:
Soft concrete
Cracked, bulging, or curved outside walls
Horizontal cracks
Doors that won't latch properly
Stuck windows
Cracks on any floors in your home
Cracks in the flooring
Bowing or slanted floors
How to Finish Your Basement Walls
If the walls of your basement are currently nothing more than bare concrete, this should be the first place to start. Finished basement walls will not only make the space look complete, but also warm and inviting – especially once the heating ducts are added. Here are the steps to take to finish your basement walls:
Step #1: Banish Moisture From Your Basement
If your basement is damp, or regularly puddles after a storm, you must waterproof the entire room before finishing it. Otherwise, your hard work will be ruined literally overnight. Here are some quick ways to waterproof your basement:
Redirect downspouts away from your foundation.
Regrade the slope of your lawn to drain water away from the basement.
Use dampproof or waterproof coatings on interior walls.
Add a drain that leads to the storm drain or a pit with a sump pump.
Step #2: Install Insulation and Drywall
Assuming you already have your wall frames constructed, the next step will be to install insulation in the spaces between each stud. There are three choices of insulation: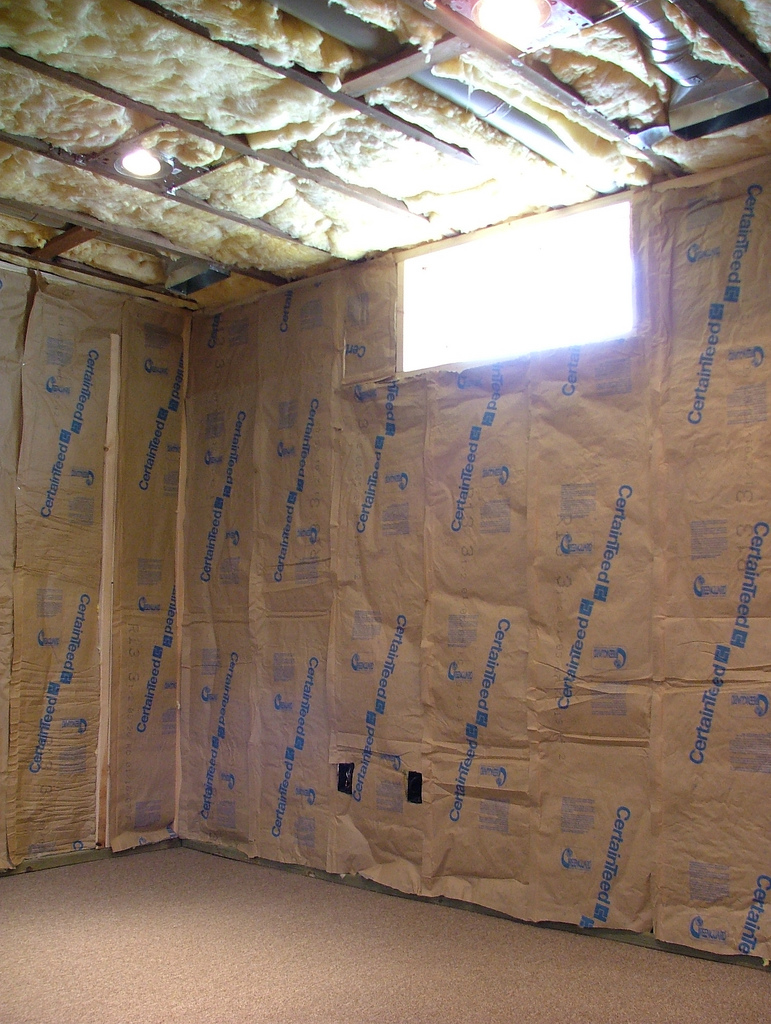 Batts: Large blankets of insulating material, generally the cheapest insulation option.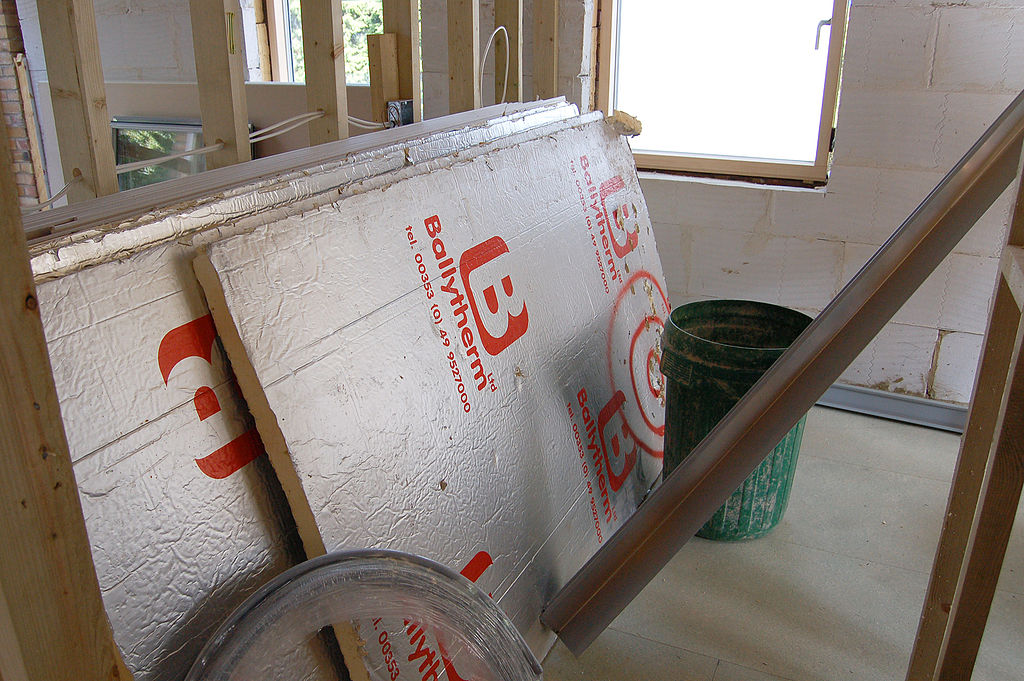 Rigid foam: Rigid sheets of extruded polystyrene that are applied to the wall with adhesive. More effective, and more expensive, than batts.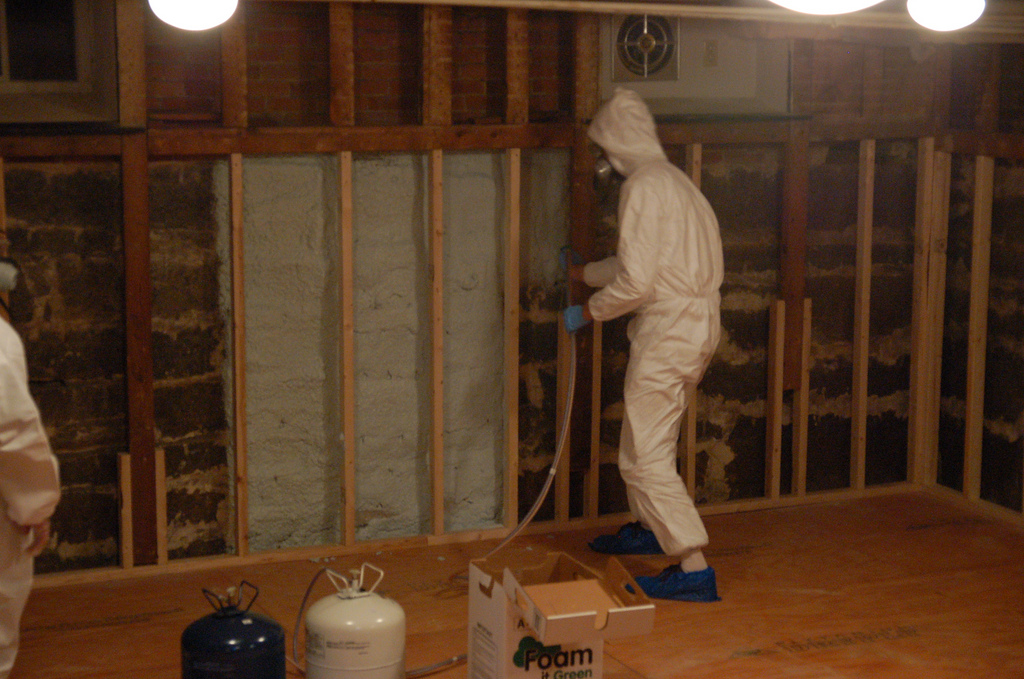 Spray-in-place foam: The most effective, but costly, method of insulation that most experts agree is the best way to insulate a basement wall.
After installing your insulation, you can begin hanging your drywall. If you've hung drywall before, then the process should come easily to you. You will secure the drywall to each stud using drywall screws and a drill, making sure not to tear the drywall paper surface. You shouldn't see any plaster around the nail head. You can choose whether to hang your drywall vertically or horizontally, though in most cases hanging drywall horizontally is the way to go.
Step #3: Account for Outlets and Windows
Trace the outline of your outlets into the drywall sheet that will cover the segment of wall with an outlet. Using a drywall knife, cut out the material and install using the method above. For windows, measure out the dimensions and cut the appropriate shape out of the drywall only after you've secured the sheet to the wall.
How to Finish Your Basement Floor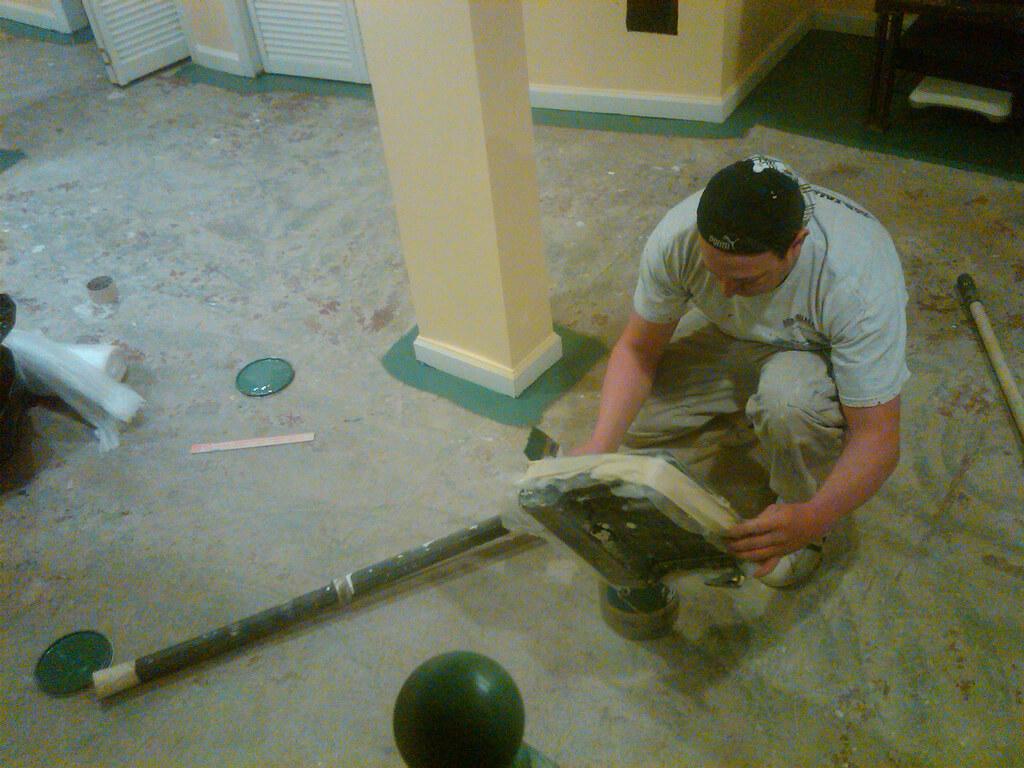 After the basement walls are finished, it's time to turn your attention to your floors and ceiling. For flooring, its best to use waterproof materials to prevent damage from the inevitable flood or leak that will occur. Here are some popular basement flooring options to consider:
Step #1: Choose a New Flooring Material
Laminate:A popular basement flooring option is laminate, though it's better to use laminate flooring that snaps together so that if the subfloor warps, you won't have to tear them up.
Wood:Using wood flooring may seem like a bad idea for a basement. However, as long as you properly insulate the subfloor and account for expansion of the wood during humid weather, you can get away with a hardwood floor in your basement. Though a leak from upstairs could still spell doom for your new hardwood floor.
Tiles:Installing tile flooring in your basement gives you the best of both worlds. Tiles will make it easy to clean up after a flood or leak while still giving your finished basement a floor that looks just as good as the other options.
Step #2: Determine the Best Way to Install Your Flooring
If you are using laminate flooring that snaps together, you can install directly onto the concrete subfloor. However, most other flooring options will require building a new subfloor using plywood and polystyrene sheets, or at the very least will require installing a moisture barrier.
Installing a new basement subfloor is as simple as laying down sheets of polystryene insulation and then laying plywood on top. You will secure the new subfloor using concrete screws driven into pre-drilled holes in the concrete floor. After the plywood is installed, you can use it as a base for installing virtually any kind of flooring you'd like. Here is a quick guide explaining the various methods of installation for flooring options that require a new subfloor.
How to Finish Your Basement Ceiling:
When it comes to your basement ceiling, there are two potential paths you can take: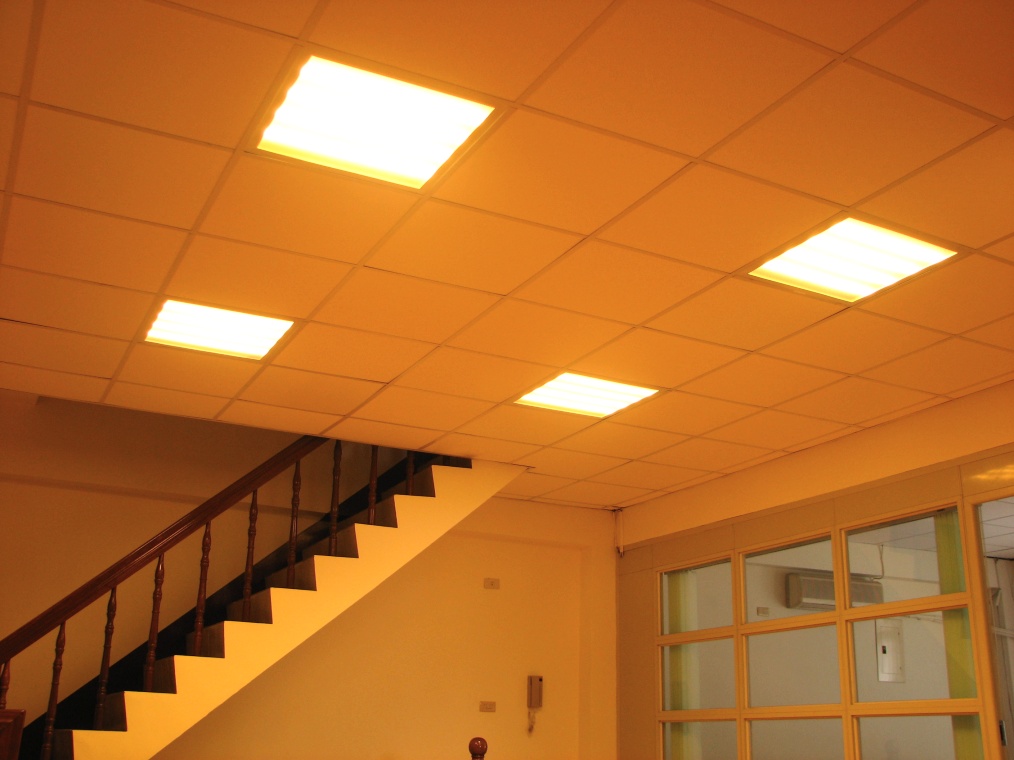 Drop-Ceiling:This is the cheap and easy option that you'll find in a lot of homes. It accomplishes the job of covering exposed pipes and floor joists, but regular ceiling tiles may look a little blasé. However, there are some different design options out there, such as Mio's FoldScapes ceiling tiles that add a sculptural element to drop-ceilings.
Installation can be done with minimal tooling. All that's required is a hammer, nails and wire cutters. The materials themselves can be purchased together from a kit, making this option even easier. From there, its just a matter of following the instructions included with by the manufacturer. Popular Mechanics also has an excellent guide you can reference for drop-ceiling installation.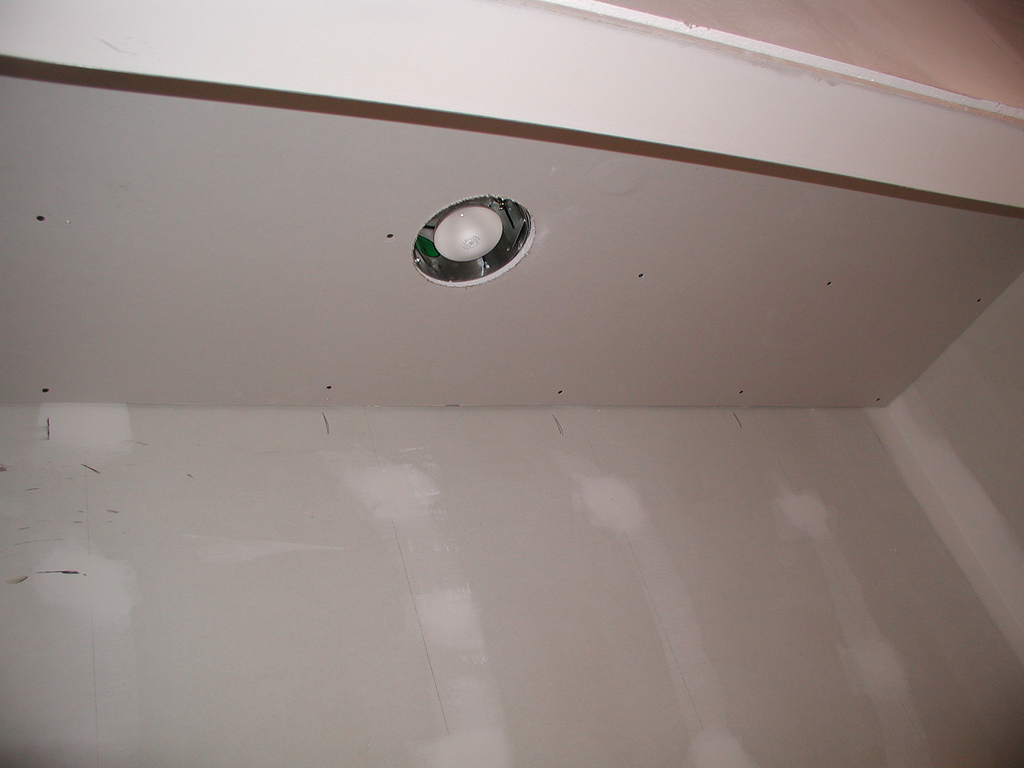 Drywall Ceiling:Hanging drywall on your ceiling follows roughly the same procedure as hanging drywall in any other room. The only difference is that you'll need either a drywall jack or a friend to help you secure the drywall sheets in place while you screw them in. Otherwise, you'll be following roughly the same process as finishing your basement walls. Here's a quick guide to follow when installing drywall on your basement ceiling.
Learning how to finish your basement is the first step to creating a big, beautiful subterranean dwelling where your kids can play, watch TV or simply leave you alone for a few minutes before you go crazy. It can also significantly boost the value of your home, with a 69% return according to House Logic. So the next time you walk down the basement stairs and flip on the light, just remember that you are sitting on a potential home improvement goldmine.
Types of Basement Space Have Different Values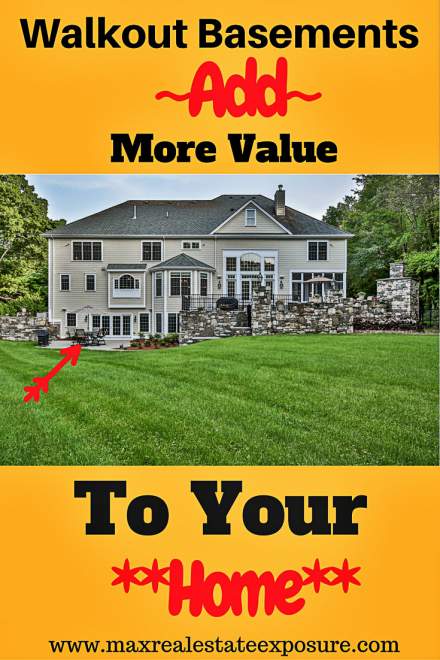 The kind of finished space in the lower level of your home can have an enormous impact on the value a buyer will be willing to pay. Essentially there are three types of grading on a home site that will determine the value in which you can get out of a finished basement. The three kinds are:
A full walk-out basement – this is the most valuable type of living space because you can have regular size windows, sliding glass or atrium door. A full walk-out basement allows you to have a significant amount of natural light. With natural light, a finished lower level often does not feel like a basement at all. The other benefit of a full walk-out basement is to be able to exit the home through a regular door and not a bulkhead. The walkout basement often allows for a great area to have a beautiful patio and other landscape features. You can see some great examples of walkout basements at Houzz.
A partial drop in grade – with this set up you are still able to have some full-size windows. However, you may or may not have the ability to have a full-size door. The grade of the land does not allow for it. This type of set up is not quite as attractive as a full walk-out lower level. The other term used for this situation is a garden level lot.
A non-walk-out basement – this is the least attractive type of basement space. You have four concrete walls and no natural light other than through some tiny standard basement windows. Never under estimate the value of having natural light in a cellar area!
While these are three forms of basement space based on the grading of the lot, there is also other general characteristics that can change the value of a basement. For example, does the area have a "dropped ceiling" or is it plastered like the above grade levels? Does it have the same finish trim work and doors the upstairs has? The more a basement feels like above grade space, the better value it will command!
What Are Popular Finished Basement Features?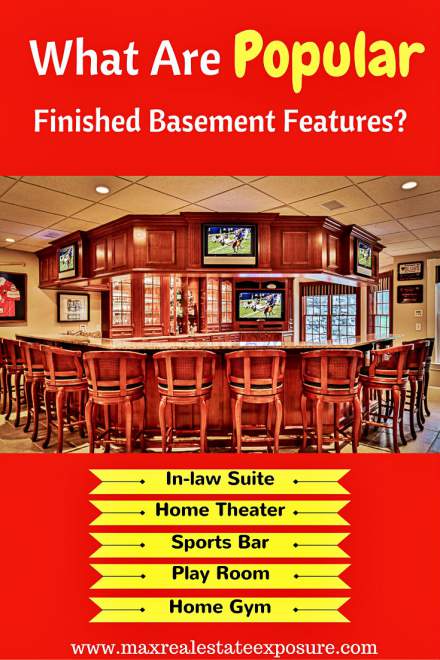 In my area of Metrowest Massachusetts, which I am sure applies to other areas of the country as well, there are certain features that buyers love to find in a finished basement space. Here are some of the popular uses for a basement:
An In-law suite – there are lots of home buyers who look for the opportunity to have a parent live with them. Finding an in-law suite in a finished basement is sometimes easier to find than an addition added above grade. If the home has a walk-out basement it's even better as it allows for easy access in and out for an older adult. Just be sure to research whether you will be allowed to add a second kitchen. Some cities and towns have regulations that prohibit adding a second kitchen to a home.
Home theater – Some of the theaters in homes today are just incredible. You don't even need to go to the movies anymore to get a similar kind of experience in your own home. HGTV has some awesome home theater ideas with photos worth a look.
Sports Bar/Man Cave – ask any male if he would like to have a place to hang with friends having a beer and he is bound to say "hell ya"! The sports bar has become a very popular feature to have in a luxury home.
Play Room – there are lots of buyers who want a place for their kids to hang out with friends. Even if buyers have younger kids, a finished basement allows the perfect opportunity to get the toys and games out of other areas of the home.
Work Out Room or Home Gym – There are lots of buyers who love the thought of being able to work out in their own home rather than join a gym. Home gyms are a great feature to have for numerous buyers in a finished basement space.
Wine Room – there are a small percentage of buyers who would kill to have a dedicated space for their wine. See some cool examples of wine cellars here.
Guest bedroom – some buyers don't need a full in-law suite but a place for an occasional guest or family member who visits every now and again.
As mentioned above, just remember some buyers may or may not be willing to pay for these kind of basement features.
Watch Out For Agents Who Make Valuation Mistakes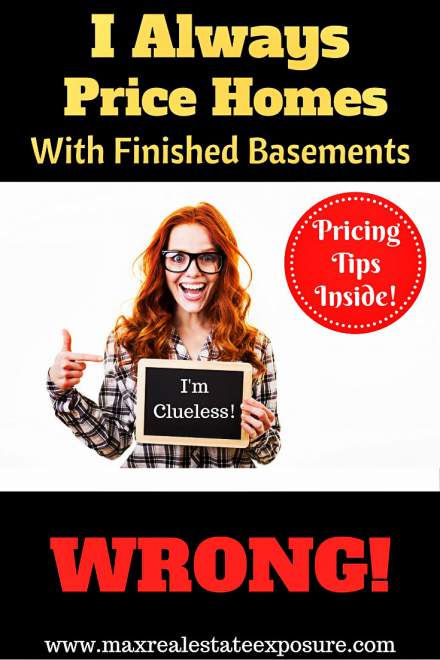 If you are thinking of selling your home and have a finished basement, you are probably wondering how much value it adds and therefore how to price your home. Pricing a home correctly is an art and a skill. Unfortunately, there is a fairly high percentage of real estate agents who do not know how to accurately price a home. When there is finished basement space involved the chances for error increase even more.
Making valuation mistakes happens more frequently with finished basement space because some agents like to lump the basement finished space into the overall square footage of the house. This is a HUGE mistake. As mentioned previously, finished basement space does not have the same value as above grade space!
For example, lets say there are two homes located in the same neighborhood with similar amenities and features. Home "A" has 3000 square feet all above grade. Home "B" has 2500 square feet above grade and 500 square feet in a finished lower level. All other things being equal home "A" will have a higher value than home "B". Home "A" is worth more because above grade space is considered more valuable.
There are some agents who would incorrectly use these two homes as "comps" and justify the value based on gross living area. This is why price per square foot is not a good value indicator. Real Estate agents who use price per square foot as a means to value a property almost always get the price wrong.
From Fannie Mae appraisal guidelines on how appraisers should value finished basement space:
"Rooms that are not included in the above-grade room count may add substantially to the value of a property, particularly when the quality of the finish is high. For that reason, the appraiser should report the basement or other partially below-grade areas separately and make appropriate adjustments for them on the Basement & Finished Rooms Below-Grade line in the Sales Comparison Approach adjustment grid.
For consistency in the sales comparison analysis, the appraiser should compare above-grade areas to above-grade areas and below-grade areas to below-grade areas." This is how a real estate agent should value a basement as well!
Other than comparing living areas correctly, this is how to price a home accurately. Here you will see that valuation needs to be done "apples to apples". Sold properties should be emphasized along with homes under contract. What is for sale is important but not nearly as much as what has sold. Remember your neighbors home price can change at the drop of a hat. Who know if it is the right price. Sold properties offer concrete data points that can be used to establish accurate values.