In the past two years I have designed four dress collections (Time flies!). Each time I've shared a collection here we have received tons of requests for a how-to post about fashion sketching. I am self-taught (and still learning!), but I thought it would be fun to share a little bit about my process. I hope that some of you feel inspired to pull out your pens and pencils and notebooks today. Fashion sketching isn't nearly as intimidating as I once thought it would be.
1. Create a good croquis. A croquis is the basic drawing of a model pose that you can trace over and over again while sketching your fashion ideas. You can find croquis to use online or in books, or you can create your own. I created my first croquis years ago by tracing a pose on a vintage pattern. Typically, croquis are exaggerated tall model forms. But what if you want to design for someone else, say a child or a plus sized woman? Make your own! Here's how I do it…
1. Print a photo that has a good pose and body form that you want to design for. I chose a couple photo with my husband because sometimes I enjoy designing "his and her" looks. 2. Using window light, trace the basic body shape on a new piece of paper. 3. Use your new croquis, by tracing over it with a fresh sheet of paper, to sketch your own new designs over and over again. Fun, right?!
2. Don't stress, just practice. Instead of stressing over getting the perfect sketches, just start where you are and practice. Before I shared any of my sketches (even with my friends) I was sketching for a whole year in secret notebooks. Each time a notebook was full I would rip out my favorite designs and start a new one, throwing the rest out. Nothing can replace quality practice time. It's the only way to grow and develop. You'll gain confidence as you go!
3. Focus on developing a style of your own. There are a lot of things that determine the unique style of your illustrations. Do you want to use watercolors, markers or colored pencils? How will you illustrate the faces on your models? How much styling will you include? All of these little details will work together to create a look that is distinctly yours! Focus on creating sketches that express your unique aesthetic with each element.
Resources I recommend: When I first started learning to sketch, my pal Mallory let me borrow Figure Drawing for Fashion Design. It was super helpful for learning the basics. I also highly recommend The Fashion Sketchpad (pictured above). It is a notebook with 420 figure templates to sketch on. I have been using it for a few years and absolutely love it for quick sketching and traveling!
Thanks so much for reading. If you love to sketch fashion ideas, feel free to leave your own tips and resources in the comments! xo. Elsie
Tips for Drawing Clothes for Kawaii Characters
Drawing clothes for kawaii is like dressing up a chubby doll. You have to visualise how the kawaii body fits underneath the layers.
Let's start by looking at a kawaii body of a boy and a girl:
Boy and girl bodies are very similar in their construction. Both are plump and rounded, child-like. A few differences to notice are:
Boys have slightly wider shoulders than girls.
Girl bodies are more curvy. Look at how girl legs are a lot more shaped, where as boy legs are just straight.
Boys' stance is wider and firmer; girls' stance is more elegant.
Girls' body is shaped like a pear, with a hint of a hip line. Boy's body is more like a barrel, with no visible waist line.
Keep these points and shapes in mind when visualising and drawing the clothes. Think of the volume of the body underneath the clothes, imagine the clothes going around the body, hands, legs and head.
How to Draw Basic Kawaii Clothes
Now that we understand the kawaii bodies, let's see how we can "dress" them up in basic skirts, pants, shirts and shoes. You can use these examples as starting points, and add your own design adjustments and embellishments.
I left the blue pencil lines poking through the clothes to show how the clothes really wrap around the body shape.
How to Draw Kawaii Hats & Anthro Hats
I made a separate section for kawaii hats, since I wanted to practice drawing heads with hair and faces defined. And I just wanted to have some fun
This is the first time I am using colour and Copic markers, and scanning in coloured drawings. This adds a new set of challenges! For example, colour intensity seem to fade during the digitising process, and it has to be brought back in post-production. This takes time. On the other hand, colour adds a whole new dimension to the impact of the drawing, so it's well worth it.
Animal (Anthro) hats and Tokidoki Cactus hats
Below are a few examples of kawaii animal hats, also known as Anthro hats. Anthros are kawaii human characters in animal costumes, which makes them unbelievably cute!
I have included Tokidoki in the Anthro round up, since Tokidoki Cactus Friends are human characters dressed in plant costumes, rather than animal costumes. But the idea is the same.
Eight Ways to Draw Fun Kawaii Hats
Here are examples of fun ways to dress up your kawaii characters in hats. Most of the inspiration for these hats, and the animal hats above, comes from Chris Hart's book Manga for the Beginner Kawaii. I will list it in the References section below.
How to Design a Complete Kawaii Character
Now, let's put it all together. We've looked at a body of a human kawaii character, and how to draw the clothes on the body. We've also looked at a few hats and fun accessories.
Steps to design a human kawaii character
Sketch the body (use example in the beginning of this post).
Add a basic outfit to dress the character. To get ideas, use examples of basic clothes and hats from this post.
Decide on the theme for your character. Is she/he sweet, anthro, goth or something else?
Add decorations to the clothes that go with the theme.
Below is my version of this exercise. First, I show (again) a kawaii body. Then, kawaii body with clothes on it. I've left the blue lines visible to show the body construction and how the clothes fit around it. The third drawing shows the same two dressed characters, but with construction lines removed.
Step 4
Let's give a finished look to our dress. Using clear and beautiful lines circle the drawing, erasing unnecessary and superfluous lines. Add some folds and hatches as in our example, it will make the drawing more realistic.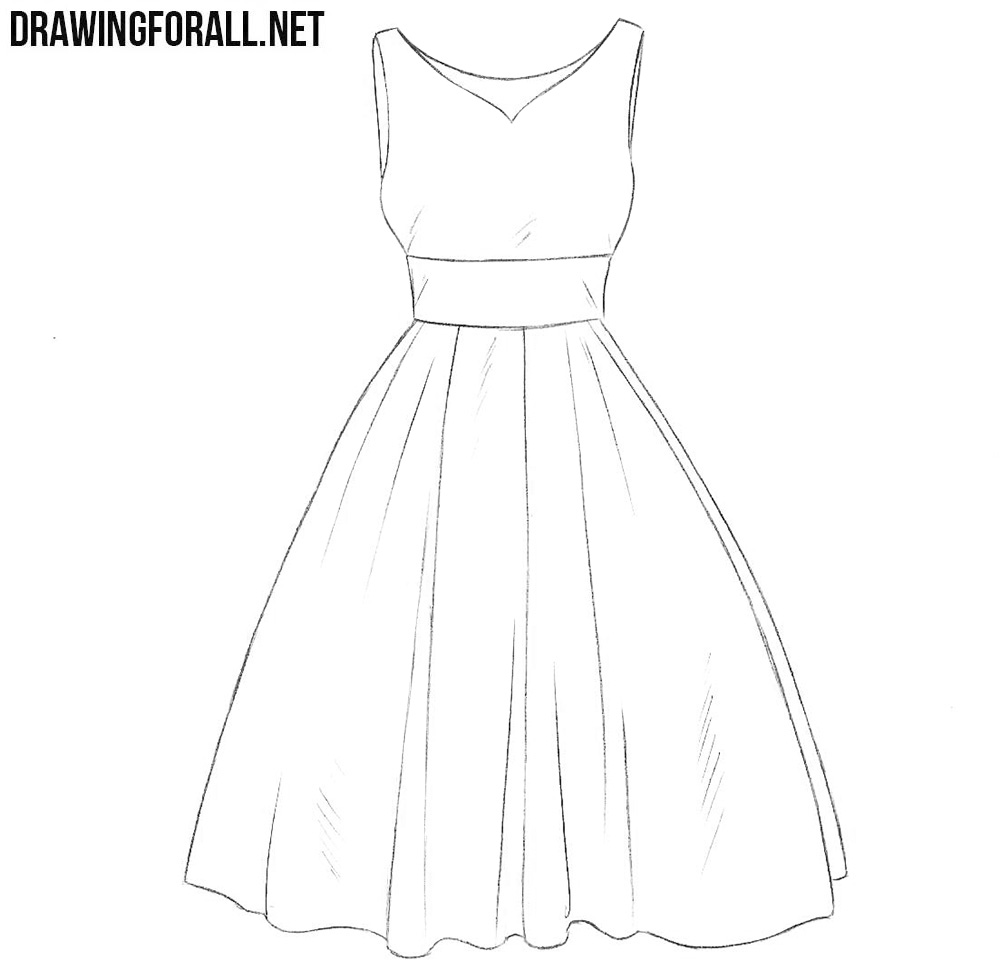 So, it was a fairly simple drawing lesson in which we showed you How to Draw a Dress Step by Step for Beginners. Did this lesson help you improve your drawing skills? Tell us about it in the comments, because your opinion is very important to us.