If you deleted your Instagram account and you want to recover it, you must know that according to Instagram's policy, you can't get back your previous account nor the username that you used before. However, if you disabled it temporarily, you can reactivate an account at any time.
If you decide to delete your account instead of disabling it, you won't be able to reactivate it.
.
Open your Instagram App. To reactivate an account that has been disabled temporarily, you simply have to log onto your account again.
This action appears very simple, but it can be more complex than it seems. Instagram is very strict about reactivating accounts.
You must also consider that if you deactivate your account temporarily, Instagram disables it only for one week.
Enter your username and password. If these credentials successfully restore your disabled account, that means that your account is active again!
If on the other hand, this step didn't work out and you couldn't sign in, you will need to reset your password.
Reset your Instagram password
If you couldn't reactivate your account by logging in, you can try a second option: Reset your password.
Actually, if you don't remember what your passcode was, this is also how you can recover it or change it for the future.
Click on the link "forgot password?" below the log in button.
Enter your username or the email address used to create your Instagram account. If you entered the info correctly, you will receive an email with the steps to reset your passcode.
If you are already logged into your account and you want to change your password, you must access settings from your user profile. Tap on the three dots located on the top right corner of the screen. You will immediately find the option "Change Password".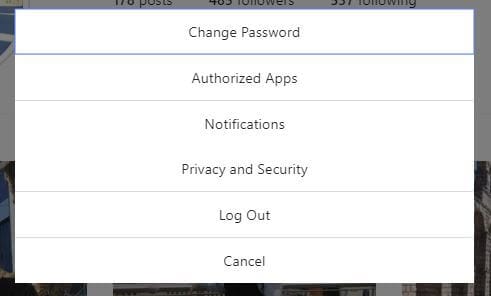 Instagram's Terms of use
If you can't recover your passcode, you didn't deactivate your account and you don't know why, you should review Instagram's terms of use to determine if your account has been terminated. Depending on the gravity of the violation, you may or may not be able to reactivate your account.
Avoid violating Instagram's community guidelines
You can avoid getting your account deactivated by publishing videos or photos that are aligned with the community guidelines established by this platform. These are some of them:
Post photos and videos that belong to you, that is, content that you can claim as yours.
Any photo or video that you upload must be appropriate for all ages. Don't share sexual or violent content or nude images. Besides, avoid content that could encourage self-injury.
Be respectful with other members
Don't send spam: Repetitive comments are not allowed, neither is manipulating the service for commercial purposes, discount codes or web pages.
Avoid violating Instagram's terms of use
If you don't follow the rules below, Instagram can terminate your account without previous notice:
You must be at least 13 years old
You must not sell or transfer your account to someone else
You must not ask for information to access other accounts
You may not post violent, discriminatory or sexual content
You must not send spam to other users
Don't create accounts by non-authorized means like bots or automated devices
You must not restrict another user from using Instagram
You must not transfer any virus or code of destructive nature
You must not access Instagram's private API
Never use Instagram for illegal purposes
You are responsible for any action that happens through your account
NEVER share your password with anyone, including tools: some apps help you programming your content but some might ask you for your passcode, this is not safe. You can click on this article about how to program on Instagram automatically if you want to know the pros and cons.
Back-up copy
Instagram lets you save all the files shared on its platform on your device So, all the photos and videos uploaded on Instagram will also be saved on your cell phone.
What happens if after following these steps you don't recover your account?
If you couldn't get access after following all these steps, the best you can do is to contact Instagram directly to know what's going on. You can get in touch with them through the following:
Enter Instagram's Help Center from the Internet: You can report broken features here, find instructions or report accounts that violate Instagram's rules.
From your account you can tap on the option "something's not working". If you can't log into your account, click on "I can't log in" to find the instructions to restore your account.
Access to the Privacy and Safety Center and click on the option "Report Something" and you will be able to report the problem with other users or your own account.
Open Instagram Facebook page. You can go to www.facebook.com/instagramEnglish. This is the best way to send a direct message, since there is no support email.
To make sure you get a response from Instagram, there are a few things that you should consider when you write the message:
Try not to sound upset: there are more probabilities that you will receive an answer if you send a clear and impartial message.
Be specific: Don't say simply "I can't log in". Try to be clear and state the problem and the measures you took to try to solve the problem.
Add a screen shot with the problem: This will help the support team to understand the problem
Make sure you include your username (but don't add your password)
Don't wait for an answer.
How to reactivate an Instagram account? was last modified: September 7th, 2018 by Sara Martín
Delete Instagram Account Permanently
Before proceeding please note that on deleting the account permanently you won't be able to reactivate it again. All your posts will be deleted forever. Also, you cannot create an Instagram account with the same username which you are deleting.
1. Log in to your Instagram account.
2. Follow this Delete Instagram account permanently link.
3. After this, you need to select the reason and enter your password.
4. Finally, click on "Permanently delete my account".
Screenshot from Chrome(Desktop)
I saw Instagram users queries on various forums asking that they temporarily disabled their Instagram account but were not able to login after it. They think that their account is deleted permanently. Let's see what actually happens after deleting your Instagram account.
Part 1. How to delete Instagram account on iPhone
You can delete your Instagram account with the help of two kinds of separate deletion. One involves in temporarily deleting your Instagram account, while the other lets you delete your Instagram account in its entirety. Both of these methods will teach you how to delete Instagram account on iPhone. And here is the first one:
a.

How to delete your Instagram account temporarily

This method will enable you to delete your Instagram account temporarily. You can do it for many different reasons, including to focus on something much more productive, or to study for exams. Once you are done with whatever you wanted to do while you suspend your account, you can just restore it whenever need be. To learn how to delete Instagram account on iPhone temporarily, you will need to follow the given steps below.

Step 1: The first step is to open the Instagram application from your iPhone and then log into your profile.

Step 2: The second step on how to delete Instagram account on iPhone is to go on the top right corner of your profile. Open it and you will have the option of your account which will contain 'Saved', 'Story Settings', 'Edit Profile', 'Change Password', 'Two-factor Authentication', 'Posts You've Liked', 'blocked Users', 'Switch to Business Profile', and finally the option of 'Private account.

Step 3: Click on the edit profile option and locate the option of temporarily disabling your account. Once you have located it, you will need to click on it.
And so your account will be deleted temporarily. The application will also ask you a reason for doing so, which you can answer by choosing the following options:
Just need a break
Trouble getting started
Created a second account
Privacy concerns
Want to remove something
Too busy/ too distracting
Can't find people to follow
Too many ads
Something else
Choose the option that is viable to you as the Instagram will act upon it accordingly. But whenever you feel like coming back to Instagram, all you will need to do is enable your account again and you will receive all of your content back on your Instagram account quite easily.
But if you want to learn how to delete Instagram account on iPhone permanently then you should follow the next part of this article.
b.

How to permanently delete your Instagram account on your iPhone

This is the type of deletion that is entirely serious. As once you go through with it, you will lose all of your Instagram content and will not come back from it. All of your memories, messages, and connections will be lost, never to come back. Whatever may be your reason, you have to be completely sure that you absolutely want it. So here is how to delete Instagram account on iPhone permanently, just follow the given steps and you will be successful in your endeavor.

Step 1: Open the official Instagram website on your iPhone and log into your Instagram account.

Step 2: Locate the section of 'Delete your Instagram account'.

Step 3: Click on it and then choose the reason why you want to delete your Instagram account as mentioned before and select it.

Step 4: Re-enter your password in the box below and then click on 'Permanently Delete My Account'.
Your account will be permanently deleted with all its content. But after deleting it all of your data, your comments, your chats, and your connections will be lost forever. But there is a way through which you can just erase all of your Instagram data only on your iPhone to just protect it from hackers without deleting your account permanently. And so, let us move on the method to learn how to delete Instagram account on iPhone without deleting the account permanently.
Part 2. How to delete your Instagram data and fragments from your iPhone permanently
This is the method through which you can delete your Instagram data without deleting your Instagram account personally. This method is perfect if you think your phone is compromised and you especially need to delete all of its data on your phone. But all that cannot be done by simple iPhone settings but instead, requires the help of an external software that is specially designed to do such a task.
This software is called the iMyfone Umate Pro, which is one of the most popular data eraser software specially created for iPhone and iOS devices. It is used to delete your iPhone data permanently and so can be used to delete your iPhone data specifically.
Here are few of the iMyFone Umate Pro's features:
It will erase all of your data and will delete everything with just one tap of a button, and no one will be able to recover it again.
It will erase all of your files from your iPhone permanently and will leave no trace on your device.
The software can be used to erase thumbnails, passwords, pictures, cookies and even text files from any of the chosen applications.
The software can also be used for deleting private fragments created by third party applications including Instagram, Kik, WhatsApp, snap chat, etc.
So with further adieu let us learn how to delete Instagram data using this software.
How to erase your Instagram data using iMyFone Umate Pro
And here are the steps you can follow to learn how to delete Instagram account on iPhone with the use of iMyFone Umate Pro:
Step 1: The first step you need to follow is download iMyFone in your computer and install it.
Step 2: Connect your iPhone to your computer using a USB cable.
Step 3: Open the software and select the option of 'Erase All Data' mode.
Step 4: tap on the 'Erase' option and type the word 'delete' in the confirmation box.
All of your Instagram data will be deleted from your iPhone, but your Instagram account will be accessible with all of your data intact. It is our hope that both of these methods have helped you understand how to delete Instagram account on iPhone.