Little boys are about to become little men and it is time to let their haircuts embody what kind of men they will be. This article has all you need.
Even the little guys can have big style and there are hundreds of little boy hairstyles to choose from to bring out the personality in every little man, but it can be hard to pay for everything that a growing boy needs. In order to make things a little easier, strike a haircut off the expense list and learn how to cut the perfect head of hair for the perfect little boy.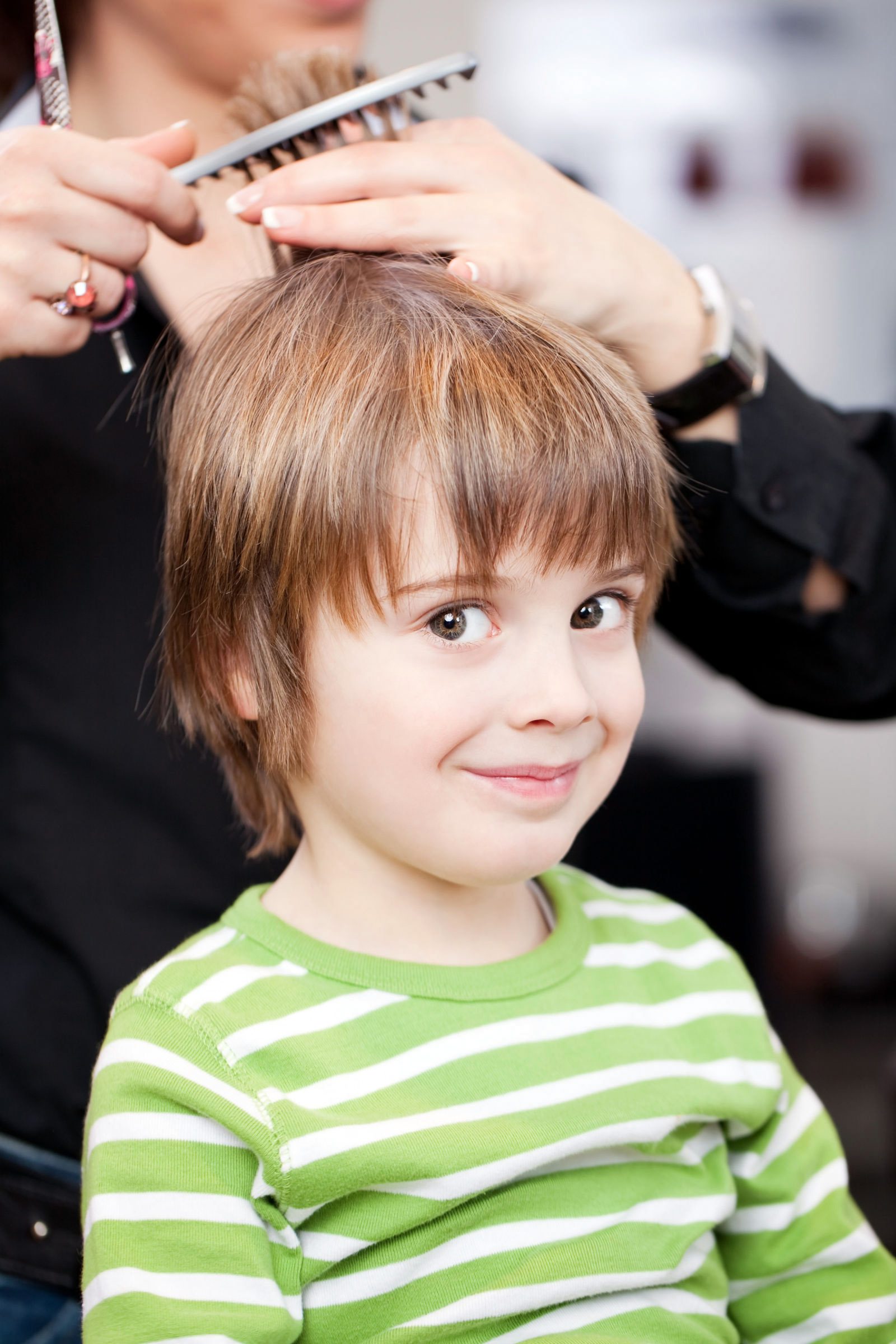 Cutting
For little boy haircuts, always hold the hair up when cutting lengths on the top and determine the length using the fingertips. When cutting or trimming the bottom, use a comb to comb the hair down and cut from the bottom.
Make sure to cut the same length all around at first and then go back through for any layering. Also, comb the hair in the desired areas before beginning the cut. Only use the ends of the scissors when cutting and always cut one small portion of hair at one time.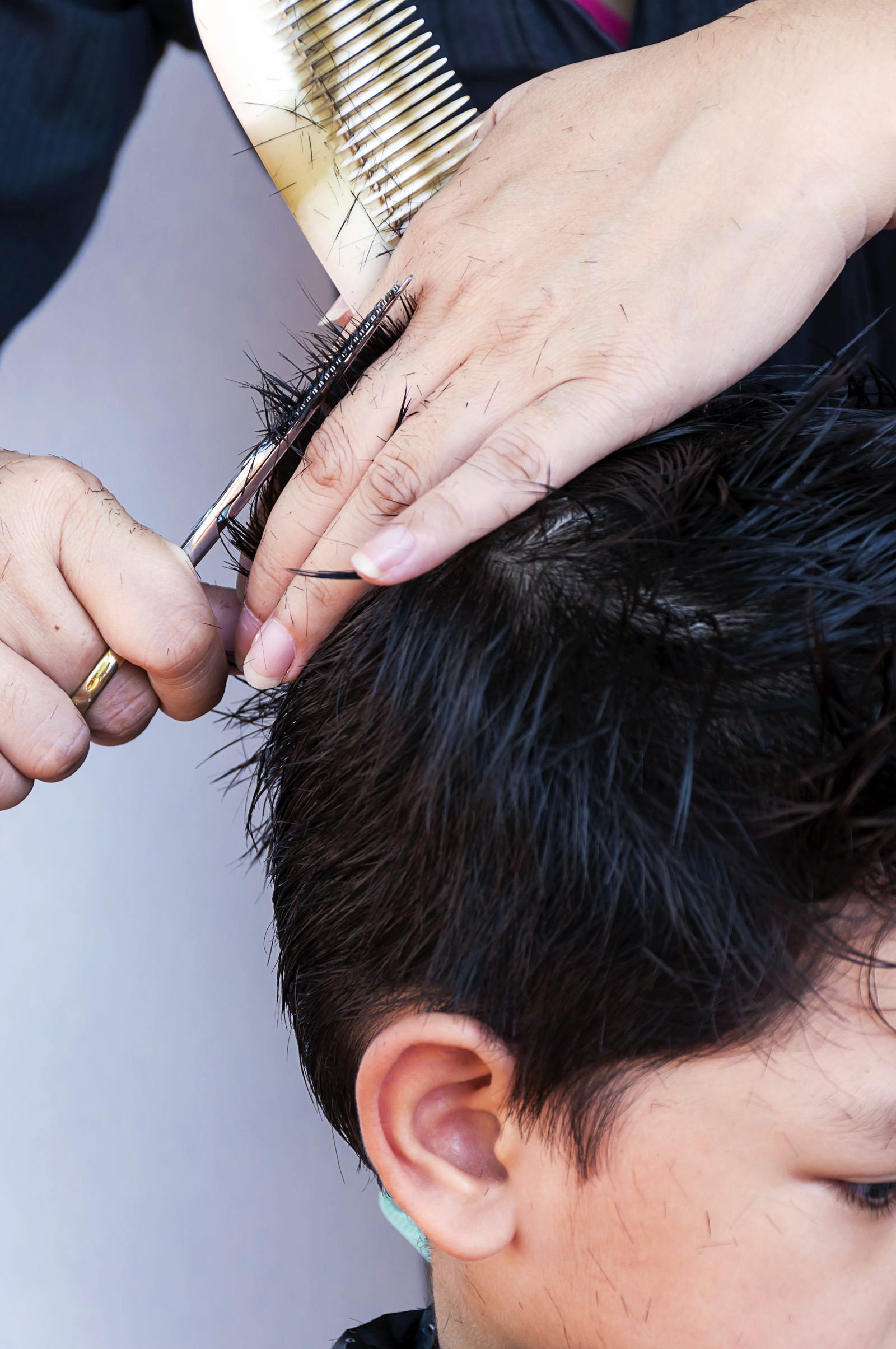 Layering
When going back through a cut for layering, hold the hair up in the same way, but do not worry so much about cutting all the hair the same length. The point of layering is to add texture to the hair. Rather than cutting along one straight line, use a short of hacking technique where the hair gets trimmed into smaller and differentiating lengths. This is only going to be done on the top layers where texture is needed.
Keep this same idea in mind when cutting bangs, do not just do one clean cut but rather several wispy cuts to create a soft look. Razor blades are also often used instead of scissors to cut hair with a lot of texture. When using the blade, cut the hair in a slanted motion, making the hair get cut with a more chopped appearance as it goes down.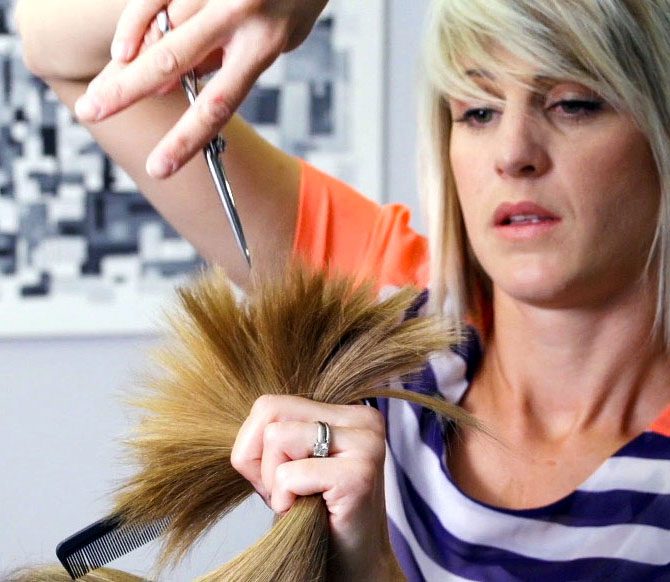 Blending
Use clippers to blend different lengths of hair between the top and the bottom for little boy haircuts. Start from the top, creating the longer lengths first and, once the top is complete, use the clippers to cut the shorter lengths.
Once the clippers reach the line where the hair starts to get longer, use a comb along with the clippers to trim the very tips of the hair in order to make it blend with the shorter areas rather than creating a distinct line between short and long.
Another way to blend is by using a clipper head that is in between the sizes used for the top and the bottom, just make sure only to blend and not go too far up on the top.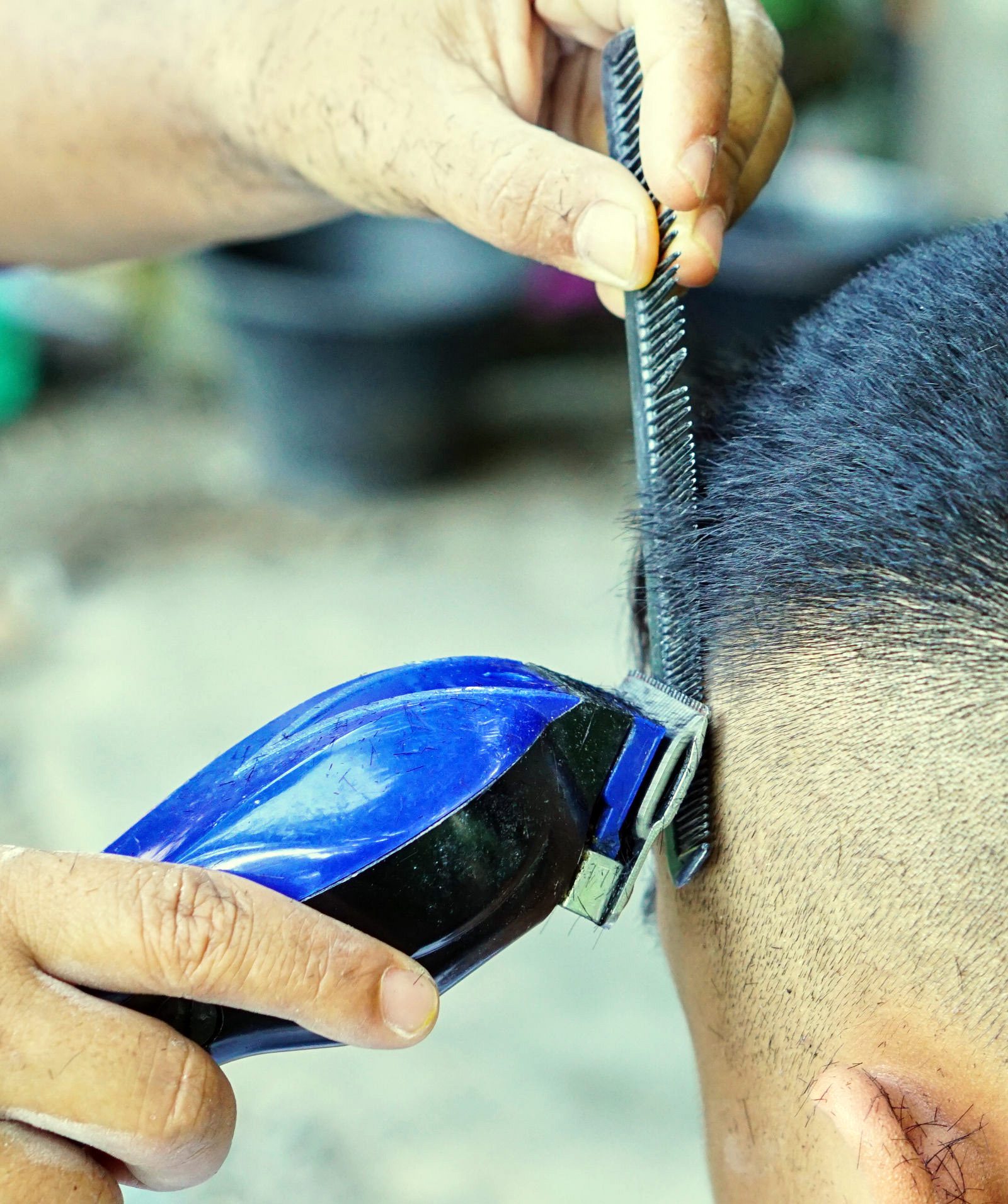 Clipper Lengths – Stand-Alone Clippers: used around the ears and neck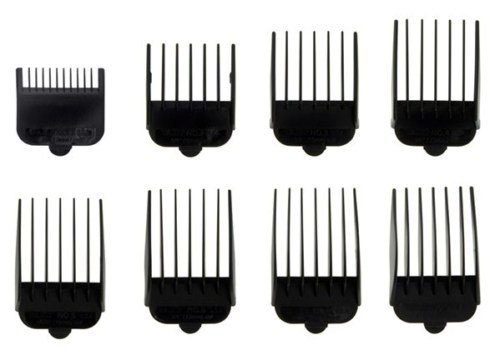 #1: one-eighth of an inch#2: one-fourth of an inch#3: three-eighths of an inch#4: one-half of an inch#5: five-eighths of an inch#6: three-fourths of an inch#7: seven-eighths of an inch#8: one inch
With any cutting technique, it is suggested that someone practice in order to get the hang of any technique before trying it out on their children.
Need more inspiration? Here are a few examples of the most popular little boy's haircuts:
#1. Faded hairstyle with side-part
The faded hairstyle with a side part is one of the cutest ways to style your toddler's hair. It stays put for a long time and thereby, there's much less chance of them messing it up. It's quite easy to get too.
How to get it: Neatly trim off the hair such that there is a light fade starting off from a little lower on the scalp. Use a gel preferably to make the side part and comb it neatly. Your shiny little scout is ready to go!
#2. Crew Cut
A crew cut is yet another short haircut that naturally looks good on younger boys. It keeps their hair clean, non-messy and cute too. It also makes for a good summer haircut.
How to get it: The crew cut is usually got by a professional as it needs to be done carefully, leaving not too short or not too long hairs on the scalp. The edges are to be trimmed neatly in the shape that we want. A little hair left in the front can be styled if you want it that way.
#3. Short and curly
For those kids who have a naturally curly texture of hair, a great way to show them off while looking adorable is to leave some really cute short curls on the top of the head. Curls can be a bit hard to maintain, which is why we leave them on the top not letting them reach the neck.
How to get it: It is simple in that all you have to do is leave the curls just the way they are after you've trimmed off the excess hair. The edges are to be done neatly so that it makes the curls stand out.
#4. Skater haircut
A skater boy haircut is that wherein some of the frontal hair falls over the forehead in a rather fashionable and cutesy style. Older boys can carry the skater boy haircut really well compared to toddlers as it needs to be watched out for.
How to get it: The skater boy haircut is just a modification of a regular haircut in that you leave some more hair at the front of the hair. And yet, it is better to get a professional to do this cut for your kid as it is not as easy as it seems to be.
#5. A spiky updo haircut
A spiky hairdo is one of the most appealing hairstyles for little boys. Done well, this can be a hairstyle that's sure to make your boy look cute and groomed up at the same time. And then surely, your mischief-loving little guy is surely going to like it.
How to get it: Getting the haircut to an optimal length is the first step. We then comb the hair out neatly and then apply gel to it to make it stiff. It can then be made to stand up, either all of it pointing towards one direction or disproportionately. Either way, it looks great on just about any kid.
#6. The classic toddler cut
A classic toddler haircut is that which lets the hair adapt to the shape of the scalp almost completely and is generally of an optimum length of about the haircut number 5. This is something that's widely done on toddlers. Not much styling is needed if we can get this right.How to get it: It is easy and can be done at home by moms as well as a hairstylist. All you have to do is trim the edges as the hair grows out naturally each season.
#7. Disproportionate fringes with short sides
Fringes are yet another great way to style your kids' hair as they are worn best by little boys. In this hairstyle, the fringes aren't just at the frontal part of the hair like it's usually done but are all over the head pointing at different angles.
How to get it: Half of the job is done if we get the fringes right. This should preferably be done by a hairstylist. They are then made to point out everywhere creating not so much of a messy but more of a disproportionate look.
#8. Flipped side bangs with undercut
Bangs can also be done sideways instead of having them fall on the forehead for a more groomed look. Side bangs can be especially alluring on kids. The sidebang with an undercut is a great combination that made it a recent hit.
How to get it: Get bangs carefully sorted out such that they can be combed into side bangs. This is not entirely an easy task and better left to a hair stylist. The rest of the hair is then trimmed into an undercut.
#9. The mushroom cut
The mushroom cut is a highly popular little boys' haircut that has been first made somewhere in the 80's when it's become a huge hit. Even today, a lot of mom's opt to get their kid a mushroom haircut as it is one of the most appealing haircuts for little boys.
How to get it: The mushroom cut consists of evenly cut out hair from the center on the edges of the scalp with a sort of a low fade. This is best done by a professional hairstylist.
In the 25 years I've owned my children's hair salons, I've had thousands of parents bring their children in for the First Haircut.
I guess you could call me The First Haircut Expert! Since it's such a momentous event, and often fraught with all kinds of emotions (good and bad), I've put together a list of my tried and true tips to help you prepare for the big day.
Tips for Making Your Child's First Haircut Fun & Easy!
When to Cut
I have seen babies as young as two months come in for their first haircut, while others don't visit the salon until they are 2 years old. Keep in mind that every child is different and there is no certain age at which they need that first cut. Here are some signs it's time for  your baby's first haircut:
When hair starts to get in your baby's eyes or is bothersome on his or her neck
When "fly-a-ways" on the sides start to look like wings
When people start saying that your son is such a cute little girl!
Preparing for the First Haircut
A haircut is a new experience for your child, so you should prepare yourself for any tears or fears that might arise. In fact, I've noticed over the years that sometimes it's the parents who are more scared than their children! Follow these tips to assure and avoid the scaries!
Bring your child with you to your own haircut appointment to show them what to expect; or bring them to the salon where they will be going to a few days before the actual haircut.
Bring a extra shirt in case they don't want to wear the cape. (Sometimes it helps to remind little boys that super heroes wear capes!)
Pick a time that is good for your child; not nap time, snack time, or that cranky hour inbetween.
If you are not going to a kid's salon, ask which stylist is the best for working with children. Many stylists don't like to work with kids and book the appointment with that person.
If you're not going to a kids salon, bring a book, a favorite toy, or a lollipop. Boredom is sure to bring out the worst in both of you! At my salons, children can sit in race car styling chairs and watch a video of their choice. We supply lollipops, balloons, we even will blow bubbles or sing songs to keep your child happily distracted.
During the First Haircut
Even the most prepared children can get the "first haircut jitters" when the time comes. Here's my advice on having a fuss-free and positive salon experience:
Do not use the word "cut," which may be scary for some kids. Say "trim" or "style."
Use nicknames like "wind machine" for the blow dryer or "Mr. Tickle" for the buzzer so they're less afraid of the noise.
Remember to relax! If you are nervous or overly emotional, your child will pick up on it right away. As I mentioned earlier, a baby's first haircut is often harder for the parents than it is for the child!
If your baby is having a hard time sitting in the styling chair or fussing let him or her sit on your lap during the haircut. Don't worry, we won't make you climb in the race-car chair!
Remember to save the first lock of hair for your Baby Book! Your child's hair will probably change in color or texture as he or she gets older. In my salons, we commemorate the occasion with a personalized "First Haircut Certificate" complete with a snippet of the child's hair!
The more fun you can make the trip to the salon, the better!  Follow my tips for your child's first haircut, second haircut, their third haircut, and so on until getting a haircut is simply a breeze for all of you!
When? Haircuts for Babies
I'm in no rush for my babies to grow up… even when it comes to adorably mixed boy hairstyles, I can wait as long as possible before starting his haircuts for babies and cutting all his mixed curls off. Getting a baby haircut can dramatically alter the way a little boy looks and we've all heard about haircuts altering curl pattern and hair texture.
Little Boy Hair Cuts
I'm not sure that's true but I do know that every baby's hair will grow at different speeds, with varying thickness, patterns, and texture. Whereas lots of hair will make one-year-old baby boy hairstyles very easy, other babies might not have any hair at all! Deciding when or if to get infant boy haircuts is therefore totally up to you. Don't go by age when deciding when to get baby's first little boy curly haircuts. Instead, focus on these 3 questions. If any of the answers are "no", wait a few more weeks or months…
Does my toddler boy have enough hair to cut with scissors?
Does my stylist know how to cut curly hair for boys?
Will my baby/toddler sit still in order to safely get through little curly boy haircuts at this age?
How? Boy Haircuts with Curly Hair
My guy was a toddler by the time he got his first two-year-old boy haircut and I don't regret waiting. Though not technically a baby anymore, he still seemed so small sitting in his airplane. His toddler boy haircut was short and trimmed, using only scissors to keep is curls natural. Here are 3 things I've learned about boy haircuts with curly hair to be mindful of…
How to talk to a barber is an important skill to have when communicating your expectations for your curly hair baby boy. I'm not saying we need to learn how to cut boys haircuts, but we can learn a few key phrases to explain the look we're aiming for.
You don't have to use clippers on your mixed boy haircuts, especially when baby ears are still developing and super sensitive. Frankly, I knew my toddler would never hold still with buzzers by his hairline and opted to only use scissors for all of his boy toddler haircuts.
Think about how you want the hairline to look before sitting your curly hair boy in the barber seat. Many barbers will assume you want "lined up" edges (which means using the buzz to create straight lines around their hairline), but I always opted for natural hairlines with our two-year-old boy haircuts.
Toddler Boy Hairstyles
So now that we have the basics of when and how of a baby boy haircut, let's move on to the fun stuff of toddler boy hairstyles!!! Finding your own vibe and hair cutting style for boy will impact the way your son is percieved. Sure, hair is just hair but it's fun to get creative!
Generally speaking, many haircuts for little boys with curly hair will be shorter on the sides longer length at the top. Clippers can be used at varying lengths and are often used for the sides, although you can ask for scissors to be used too. Most baby boy hairstyles will embrace their naturally curly hair and is a great way to go for a baby first haircut style.
Here are our a few good haircuts for boy curls:
Trimmed Afro: This cut would take the natural shape of his mixed curly hair and trim it up into an even baby fro. Totally cute, but also a very modest haircut in terms of a hairstyle of baby boy. This was our guy's first haircut!
Mini High Top Fade: Short on the sides with longer length on top is the natural progression from a trimmed afro. It's a clean hair style combines all the best haircuts for 3-year-old boys. You can leave style for curl definition or comb out for an afro if you have enough texture.
Related: First Buzz Cut for Little Boys
Curly Faux Hawk: If you're looking for cool boy hairdos for your curly hair boy, you'll want to check out the Curly Faux Hawk. I wrote up our experience with this – and specifically how to talk to your barber to achieve the look – so check out the post below. Definitely big kids hairstyles for boys that anyone can rock!
Curly Man Bun: This is where my lil boys haircuts are currently at and, I have to say, the curly man bun is as cute as it is easy to maintain. We started moving towards this curly hair style years ago – during his 4 year old boy haircuts – and are still sticking to it. For starters, we save a ton of money! My husband was able to learn how to cut toddlers hair by watching videos, but cutting a boys hair is much easier when you keep a hard part and don't worry about fading. One thing to be mindful of: cutting baby hair is a no-no with a man bun if you want a natural hairline because that hair will need to grow long enough to pull up into the bun. So keep the edges natural up top! (I'll write more about his adorable Curly Man Bun soon!)
Related: How to Talk to Your Barber for a Boys Faux Hawk
Source: againstallgrain / ethanthegreatmodelkido / gabe_k_moore
Shaved: Daddy D shaves his head and I know several moms of little boys who do the same. I'm not one of them. I love my boy's beautiful curls too much to see them gone, even for just a short while.
That would be the one reason why I cut his hair sooner, rather than later: I want to make sure his hair stays healthy. The day after a deep condition, my baby boy's curly hair is tightly coiled and snug to his scalp. So if you're wondering how to curl a boy's hair, sit under a hair steamer for awhile!
Related: Collection of Haircuts for Boys with Curly Hair
We reviewed a bunch of topics in this post on haircuts for boys with curly hair. From learning how to talk to your barber and which tools they'll use to deciding which age is best for baby's first haircut, I'll leave you with what I tell my kids anytime hair becomes a topic of discussion:
The most beautiful hair is healthy hair. Take care of your curls and they'll take care of you!
21. Classy Short Hairstyle With Choppy Layers
This is one of the best hairstyles not only for kids but also for grown-ups. In this hairstyle, the hair at the middle should stand erect. Compared to the mohawk, this one is less aggressive.
23. Undercut
These days, we usually discover this particular hairstyle everywhere. Not only in grown-ups but also among little kids. There are actually different variations on this hairstyle. You can choose the one that you desire the most.
26. Fade With Side Part
This is considered as the revised style of the crew cut. In this hairstyle, the sides and the back are slick and smooth. You can have a lot of options for the top. You can either spike it or part it or just comb it forward.
29. Crew Cut with a Twist
Now, you can turn the vintage style of crew cut into the perfect hairstyle. All you have to do is to add a little twist into it. You can do this by having wavy long strands at the middle.
30. Classic Taper
This hairstyle is perfect for boys who do not have too much time for taking care of their hair. The back and the sides are reduced. However, you can style the hair on the top.
42. Undercut with Spike Hairstyle
43. Awesome Boys Haircut
We always want our little boys to look good.  Having a cute hairstyle and a trendy outfit can really make them look like a real man and give them the confidence they need in the years they need it the most! What is your favorite hairstyle for your little guy?
Hi! My name is Chantal and I LOVE accessories and jewelry. Me and my husband John, run an inspirational blog and shop with over 4000 curated accessories and jewelry. We have traveled around the world to find the latest products, negotiate the best prices and find the best quality. We have managed to make our passion for feeling and looking good into our work. On Men's Stylists, we combined powers with our best friends to bring you the latest beauty, health and apparel advice to make you feel good from the outside and inside. I'd love to hear from you so feel free to reach out to me with questions!
Cool Boy's Haircuts
From classic cuts to popular trends, these are the best haircuts for boys in 2018. Whether you want an easy style that will look cute without hair product or a stylish new hairstyle that may require some effort but look absolutely adorable on your kid, these are the most popular boys haircuts you'll find!
Comb Over with Hard Part and Skin Fade
The comb over continues to be one of the most popular haircuts for boys. Versatile and dapper, this modern comb over hairstyle is paired with a fade on the sides and hard part. If your little boy has thick, straight hair, he can get away with styling the look naturally without product. However, a good pomade or gel for kids will offer a beautiful shine with some control for special occasions.
Curly Fringe with High Fade
While curly hair can be difficult to manage and style, curls can add a unique texture unmatched by other hair types. With a taper fade haircut on the sides and long curly hair hanging off the forehead, this trendy hairstyle stands out. The style also delivers volume and movement without rigidity, making it a perfect school boy haircut for active kids.
Slick Back with Mid Fade and Design
For a more edgy fade haircut for boys, try this slicked back fade with hair design. The mid fade looks great on the sides and back, and the unique blending is super modern and short. With short to medium-length hair on top, boys have the ability to style a variety of great looks. This textured hairstyle features a brushed back top for easy styling.
The faux hawk has always been a cool hairstyle for little boys. With short sides and long hair on top, kids are able to style some of the best hairstyles. To style a kids faux hawk, use a strong pomade or gel to push the hair towards the middle of the head. Loose, textured, and natural has been the growing trend in recent years, so this faux hawk for little boys is on point and worth trying.
Textured Quiff
This textured modern quiff works well for slightly older boys. With a short fade or undercut on the sides to accentuate the longer hair on top, the quiff hairstyle will require some styling prowess. To keep it in place and styled nicely all day, boys will need a medium to strong hold pomade or cream. Considered very fashionable, we highly recommend this look as a middle school boy's haircut.
Spiky Hair with Low Fade
Short spiky hair styles for boys can look good neat and structured or loose and messy. With a low taper fade on the sides, a line up along the hairline around the temples, and a hard part shaved into the sides, this awesome hairstyle is fresh. You'll also notice that the spiky hair is paired with combed over hair in the back, combining two cool styles.
Textured Crop with Design
Some simple haircuts for boys only require faded sides and short hair on top. With so many short to medium-length hairstyles to choose from, sometimes the easiest look is to style messy, textured hair on top. Use a light hold product, sweep the front to the side, and you have a classic finish that will work on all types of hair.
Angled Brush Back with High Fade
This angled brush back offers a middle ground between a slick back and comb over. With a clean fade haircut on the sides and thick hair, this hairstyle would look good on boys of all ages.
Brush Up with Taper Fade
If you want to change up your little boy's hairstyle, skip the flat and boring styles and brush up his hair. The classic taper on the sides highlights the beautiful, shiny long locks above. And instead of a traditional comb over, create a little pompadour in the front for added volume.
Buzz Cut with Skin Fade and Shape Up
Easy boys haircuts don't get any better than the buzz cut. But if you think the buzz cut fade is too simple, clean up the hairline with a shape up and throw in a sweet hair design. In fact, hair designs for boys have been all the rage this year as parents and barbers find creative ways to transform normal, boring styles.
Comb Over with Low Drop Fade
The comb over is a timeless haircut that looks good in most settings. Whether you need a stylish school haircut or an adorable hairstyle for church, this style always comes together beautifully. Plus, it can be tailored in many ways. For example, ask your barber for a hard part to highlight the parting from one side to the other. Or style with a good pomade for a crisp finish as opposed to a textured, natural look.
High Top Fade with Line Up
The high top fade is a retro hairstyle that's still popular in barbershops today. Particularly good with black hair, the high top requires little black boys to grow out their hair. Make sure you see a skilled barber before asking for this cut as it requires a keen eye for detail.
Ivy League
The Ivy League haircut represents a smart, elegant hairstyle for young boys. While this version has been updated with a fade cut on the sides for a more modern style, the crew cut on top with the side swept fringe maintains the classic look.
Pompadour with High Skin Fade
The modern pompadour is a beautiful, classy hairstyle. Perfect for fashion-forward boys, the high skin fade all around creates all the contrast necessary to focus the eyes on the sweet styling on top. This textured pompadour fade is styled with a matte hair product for a natural finish.
Mohawk with Shaved Sides
The mohawk with shaved sides is the edgy version of the faux hawk. Spiked up with a strong hold hair product, this awesome styling looks a lot less menacing when paired with a cute kid's face.
Quiff with Low Fade
This great boys haircut combines two trending styles – the fade and quiff. The low taper fade on the sides works well for a young gentleman, but the snazzy modern quiff delivers a splash of fun.
Undercut Fade with Textured Fohawk
Outgoing and bold, the boy's undercut is one of the coolest hairstyles. The short to medium hair on top offers the ability to style a number of different haircuts. While a textured fohawk is pictured, little boys can style a slicked back undercut, messy fringe, or natural spikes.
Hard Side Part with Tapered Sides
The side part haircut is a classic, iconic hairstyle for boys and men. However, add in fresh tapered sides and a shaved line for a hard part, and you have a modern version that stands out.
Burst Fade Mohawk
The burst fade mohawk looks best on black boys. The burst fade haircut curves skillfully around the sides to the back of the neck, and the thick, wavy hair in the middle provides the ultimate finish. Not everyone can pull off a cute burst fade mohawk with a hair design, but if your kid can, we highly recommend it.