Advertisement
Whether you're hosting a small get-together or a big public event for your business, Facebook makes it easier than ever to send out one big blast to let people know they're invited.
Click on Events under the Explore section of the left hand sidebar.
Click the blue Create Event button.
A dropdown menu will appear allowing you to create a private or public event. Make your selection. The following steps will be almost identical regardless of your selection, but you can't change privacy settings after creating an event.
Fill in the form with the details of your event: Upload a photo or video to your event, the recommended photo dimensions are 1920×1080 pixels. Fill in the event name, date, location, and a description. You can also select whether guests can invite other guests and whether or not the guest list will be visible to others.
Click Create.
Once the event is created, you can invite guests, share posts to the event page, and edit your event details after the fact — except of course the privacy settings.
Public vs. Private Events on Facebook
There are three main differences between public and private events:
Public events can be hosted by a Facebook page you manage, whereas you will have to use your personal profile to host private events.
You can select posting privileges to the page with public events but not with private events.
In addition to adding a photo or video, private event hosts can also choose one of Facebook's pre-made themes available for all sorts of different events: birthdays, parties, travel, holidays, and more.
How to create an event on Facebook
Create an event from a personal Facebook profile
1. Log in to Facebook and head to https://www.facebook.com/events/
2. On the left-hand side select "Create event"
3. Choose whether you'd like your event to be private or public. It's important to remember that once you create a public event you cannot change it to private at a later date. Here are the differences provided by Facebook between a private event and a public event to help you make an informed decision:
Private Facebook Event: Only the people who have been invited to this event can see it. Guests can invite their friends if the admin allows it (you get to choose this) and if invited, these people can view the event description, photos, posts and videos. No one outside of those who have been invited can see the event. You cannot share a private Facebook event, only invite people to view it.
Public Facebook Event: A public event is visible to anyone on or off Facebook. Anyone can see things like the event description, photos, event discussion and videos. The event may also be discoverable in search.
Good to know: private Facebook events can only be created from a personal profile. If you are creating an event from your Facebook business page, there is no way to make the event private. All Facebook Business pages events are set to public as default.
4. Create the event
Now you have chosen whether to create a public or private event, you can add all of the details to your event.
This includes information such as:
Your event name
An event photo or video
A location
The frequency (if your event is annual, or reoccurring, you can select this here)
The date and time of your event
Any co hosts (for example a venue that may be hosting your event)
A ticket URL
If you'd like to hide the guest list from the public, or from other people attending the event, you can uncheck the box that says "Display guest list".
With public Facebook events you can also add SEO information to help your event become more discoverable. This includes a category, description and keywords.
For example, if you were running a marketing event you may want to add keywords such as "marketing", "social media" and "London". The next time someone searches "social media event London" they could find your event, helping to increase registrations.
Once happy, you can click "Create" to make your event, or save this as a draft to return to later. To find your draft event revisit https://www.facebook.com/events/.
You can also see under "Event Host" that you can choose whether to host the event from your personal profile, or by a Facebook business page. If you wish to host the event through your business, select the dropdown and choose the business account. You can also set up an event directly from within your Facebook business page using the guide below.
Create a Facebook event from a Facebook business page
Follow these instructions if you want to make a new event on Facebook with a business page as the host. Just remember that this event will be public and discoverable by anyone on, or off, of Facebook (there is no way to create a private event from a Facebook business page).
1. Open your business page on Facebook
2. Use the dropdown next to "Share" and select "Create Event"
3. Add all of your details such as the event name, location, time and description
How to make an event private from Facebook's website
When you've chosen the privacy setting of your event, click "Invite Friends" to add friends to the guest list. Check the names of the people whom you want to invite and click "Save." Then, click "Save" or "Create" to finalize the event. Facebook will then take you to your event, where you can share posts, upload photos, invite more guests, and edit event details. While editing the details of an event, hosts of Guests and Friends events or Invite Only events can also choose to prevent guests from tagging the event as a location or viewing the guest list.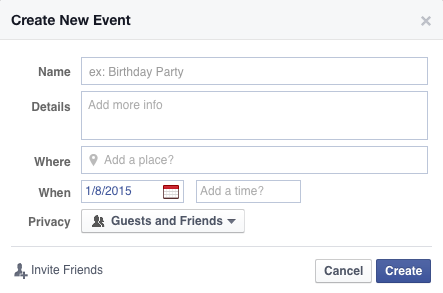 Source: Facebook.com
How to make an event private from Facebook's iOS app
If you're creating and editing your event from one of Facebook's mobile apps, the privacy settings are the same, but where you'll need to go to find them is slightly different. To create an event from the Facebook app for iOS, tap the button with three horizontal lines, choose "More" and then "Events," and tap the plus sign at the top. From there, tap "Privacy" and choose your privacy settings, then tap "Done." From there, the app will take you to your event, where you can invite guests, share posts, upload photos, and edit event details. To change the privacy settings of an existing event from your iPhone, follow the same steps.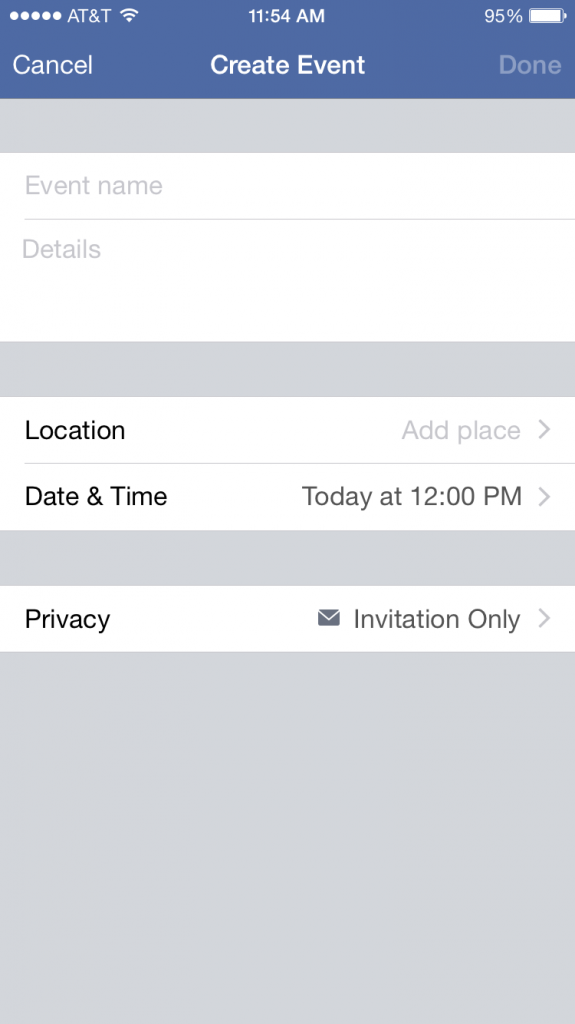 Source: Facebook
How to make an event private from Facebook's Android app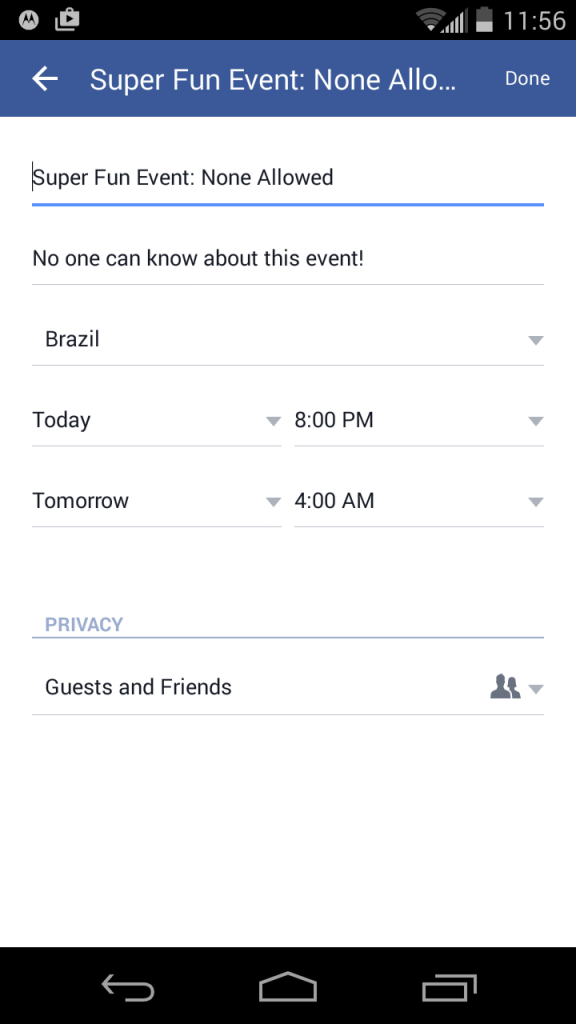 Source: Facebook
To create an event from the Facebook app for Android, tap the button with three horizontal lines, tap "Events," and then choose "Create" at the top right. Fill in the event name, details, location, date, and time. Below "Privacy," choose the audience with whom you want to share your event, then tap "Done." You'll be taken to your event, where you can invite guests, share posts, upload photos, and edit event details.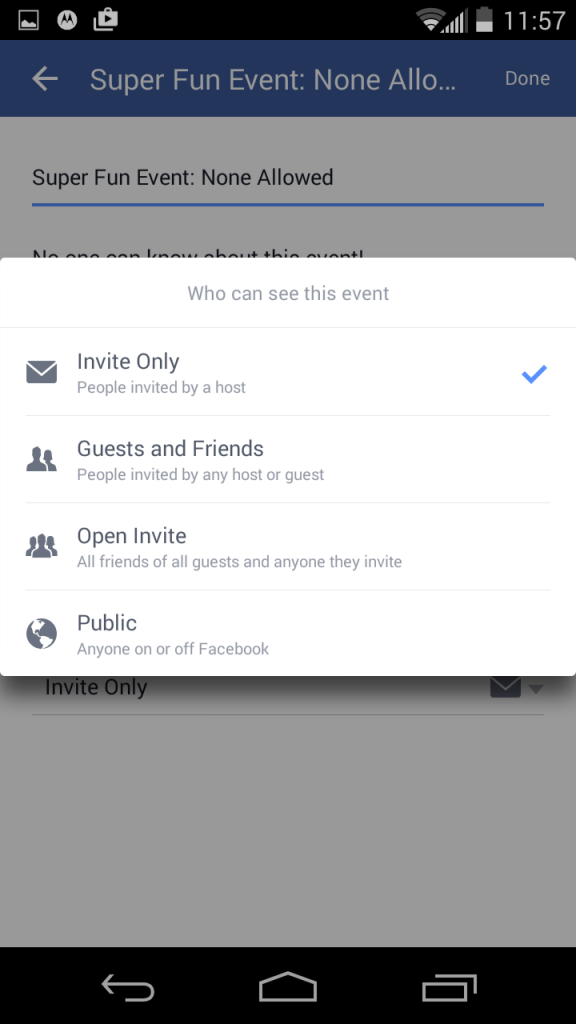 Source: Facebook
To adjust the privacy settings of a Facebook event from the Android app after you've created the event, go to the event and tap "More," then choose "Edit." Under "Privacy," tap "Change" and choose the new setting. Then, swipe down to update and tap "Save."
What is the Facebook Event Photo Size?
Before you begin creating your Facebook event, you will want to create a Facebook event photo with the right size and dimensions. The correct Facebook event photo size has the dimensions of 1920 x 1080 pixels. This is equivalent to an aspect ratio of 16:9.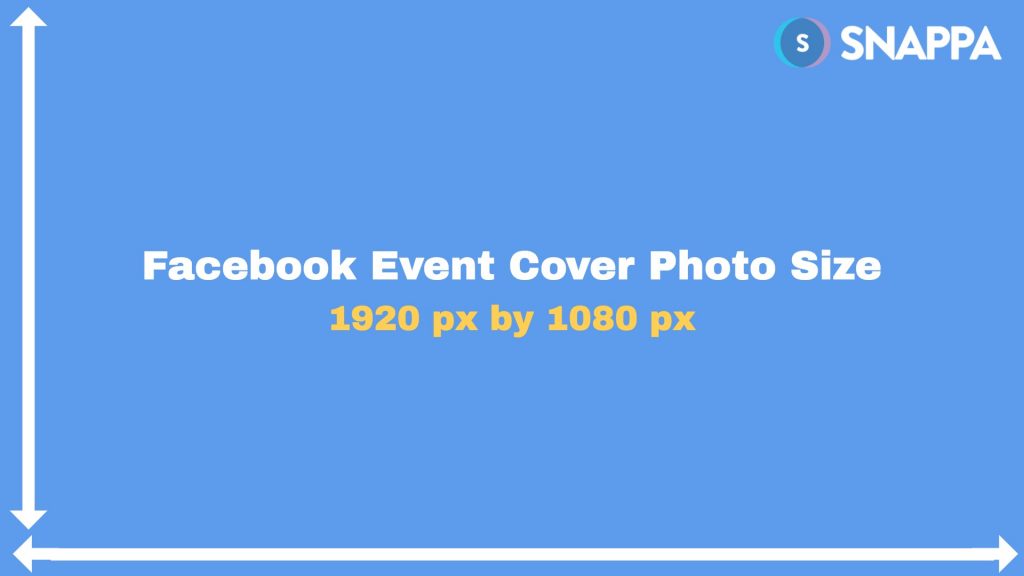 Anything smaller than 1920 pixels wide and Facebook will automatically increase the size of your event photo to fit. This will cause a loss in quality of your photo, so you want the dimensions to be exactly 1920 x 1080. If your event photo is too wide in length or too tall in height, Facebook will crop it.
If you're looking for an easy way to create a Facebook event photo banner with the right size, you can use a free tool like Snappa.com. We even offer a variety of different Facebook event cover photo templates with the right sizing and dimensions!
How to Create a Facebook Event
Now that you have your Facebook event cover photo created, it's time to get your event set-up.
What you first want to do when creating a Facebook event is navigate to the far-left menu on Facebook and find the Events tab. Once you've found the Events tab, you should then proceed to click + Create Event as directed by Facebook.
You will then be prompted to select the options of having either Public or Private event. Once you've selected that, a new window will appear for you to fill out the details for your Facebook Event.
Upload the Facebook event cover photo

that you made using Snappa.

Create a

name

for your event. Pick something that stands out.

Write a Facebook

event description

so that your invites know what the event is about.

Choose the right

date and time

for the event to start and for the event to end.

Pick a

location

that is clear to those invited (Include correct full address).

If your event is public, select relevant

keywords for tags

so people can find your event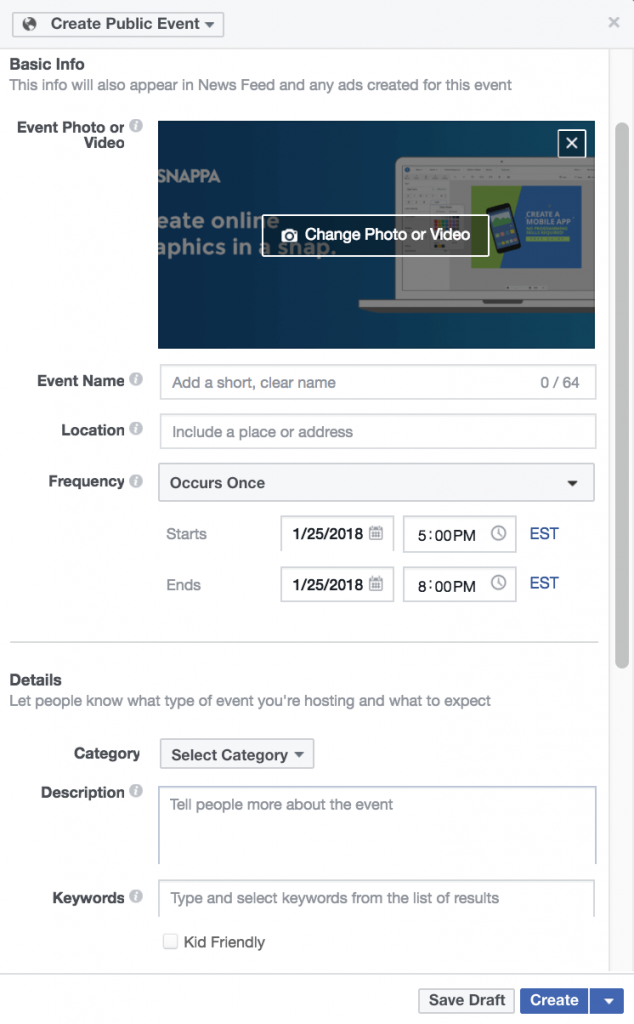 Final Thoughts
Creating a Facebook event is so simple that it would be a missed opportunity for you not to use it for your brand. The days where you had to send physical invites or call individuals to tell them about your events are over and you can achieve just as much traction with the click of a button.
Additionally, you now have more ways to interact with your event attendees and you can answer any questions or clarify any details from the comfort of your office. Remember to use the right Facebook event photo size and to create strong visuals throughout your event. Come up with an attractive name and a clear description to anticipate excitement to drive positive results.
If you guys have any other tips or tricks when creating a Facebook event or if you guys have any questions about Facebook event photo sizes, feel free to comment them down below!