Whether you're considering building a brand new website or want to redo your current website, you're faced with some basic, but important, decisions.
In this guide, we are going to help you with these decisions by showing your choices and explaining how specific options will fit your unique needs. We'll cover everything from understanding what type of website you need and choosing a domain name, to the finishing touches that will help you launch your website successfully, no matter what your goals are.
Also, we'll show you how to use specific tools or systems to create your site. As an example, we'll explain how you can make a website step-by-step with one of the most popular content management system (CMS) WordPress.org.
The essential steps to launch a website:
Understand what type of site you need
Pick a domain name and hosting provider
Install and setup WordPress CMS
Design your site and make it look great
Write and prepare your content
Test before and after launch
We hope that you are excited at the prospect of having your website. Now, let's look at what are the steps you need to take to get it right.
Design your site and make it look great
The design of your website is essential, and people will form an opinion about your business based on the look and feel of it. Visitors will make an instant decision (in 3 seconds or less) whether to stay on your site or move on. To make an impact, it's important to have great design.
Depending on the type of the website and the way you choose to build it, you will have some options as far as selecting a design for your site. If you decide to use CMS or web builder, you will be dealing with the pre-made theme and templates. Key things to keep in mind about your website design are the following:
Use clean design
Make sure it's mobile optimized
Fit your site's niche and goals
One or two columns layout is the best option
Use unique design elements
Make it easy to navigate
If you are looking for customized options using some of the platforms mentioned above or creating a website from scratch, you can turn to professional web designer/developer.
Write and prepare your content
Content is information that will be presented on your site. It's important to create and maintain useful, unique, and clear content so your visitors can easily understand your message. Poorly written and badly presented material can frustrate and discourage visitors from staying on your website or coming back.
There are two questions you have to consider when creating content:
Is the content relevant and exciting to your audience?
How should the content be presented to your target audience?
Today, search engines reward (by ranking them higher) websites that make an effort to create quality content to educate people in their niche. You will have to make sure your content is: unique, relevant, legit, and current.
Once you have an overview of your website plan/sitemap, you can drill down to the specifics of the content you need to create for a website launch. It will be important to create evergreen content (content that will not be changing much and will appear on the static pages) and also important to have fresh content appearing on your website on a regular basis.
Test before and after launch
Beta testing. Launching your website is an exciting process and people eager to get it live as soon as possible. With all the excitement, often people ignore the testing step. It's critical you test your website before it goes live. The testing process can seem overwhelming, and you are not sure where to start. We are here to tell you that it's not that complicated, you just have to check the following points carefully:
Content related materials (spelling, punctuation, etc.)
Design related elements (images, fonts, etc.)
Web development items ( live URLs, broken links, etc.)
Search engine optimization details ( title tags, meta data, etc.)
Network administrator areas (hosting, backup system, etc.)
Post-launch. Once your website goes live, you need to have a strategy in place on what to do next and how to maintain your site. Here are some basic things to consider:
Prepare your site for promotion.
Prepare to measure website stats.
Find maintenance if and when needed.
Make sure you backup your site.
Collect visitor's feedback.
Frequently Asked Questions
Creating a website is not as complicated as it was before. Today, you don't have to know much about technology to develop and successfully run your own site. That's because there are more than few popular content management systems that are designed for the users. So, the first thing you should do is to choose a content management system. Although it depends on the site you want, we would strongly suggest self-hosted WordPress.
Choose a reliable hosting provider for your site and register a domain
Install and set up WordPress
Choose a theme and customize it to your needs
Find best plugins, install them and configure
The cost of making a website depends on a lot of different factors. If you decide to build your site with WordPress, you can get a new site for less than $50. For example, hosting a WP site with Bluehost will cost you only $2.95 per month, and that includes the registration of a custom domain! You will definitely need to invest a few bucks extra on a premium theme (which will probably be something in a range of $40-120), maybe a few premium plugins (on average, a plugin will cost you about $70), but that's pretty much it.
On the other hand, if you want a custom website, you should go much deeper in your pocket. For a quality custom design, you will have to pay something in a range of $1,000 – $3,000 when working with a freelancer, and don't be surprised if an agency asks more than $10,000 for a custom design. Custom e-stores might cost you up to $50,000.
WordPress is the most popular content management system, and because of that, the internet is swamped with tutorials, articles, videos and different guides that will help you to learn WordPress. But you don't have to go far and dig deep to find what you need. We at First Site Guide have prepared everything you will need to learn WordPress.
Majority of businesses today have gone online. Which means that a lot of domains are unavailable, especially those that end up in .com extension. So if you are trying to register a new domain, the chances are it is already taken. But don't worry, there are still ways to go around that:
See If the Domain Is for Sale – although your preferred domain might be taken, you can still get it in some cases. You can go to Domaintools and check if the domain you want is open for sale.
Set Up Domain Monitoring – if you set up a domain monitor, it can notify you when your desired name becomes available.
Try different extensions – while yourdomain.com might be taken, try registering yourdomain.net, yourdomain.eu or yourdomain.io.
Use a different keyword – if you can't get the business name for your domain, you can always use a different name or maybe a keyword. Try to think of a slogan or a catchphrase that would be a good fit.
Whatever you decide to do, don't rush because Bluehost allows you to skip the registration of the domain. So you can focus on building your website, while you can register the domain anytime later.
It's not a question of choice anymore – if you want to run a proper site, you just have to switch from HTTP to HTTPS and secure the blog. Luckily, Bluehost has made it easy for everyone to make the switch. After logging in, it takes just one click to secure your site with the SSL:
Login to your Bluehost account
Click on "My Sites" from the menu
Choose "Manage Site" option (it shows on the main screen)
Select the "Security" tab which is located on top of the page
Toggle the "Free SSL Certificate" switch by clicking on it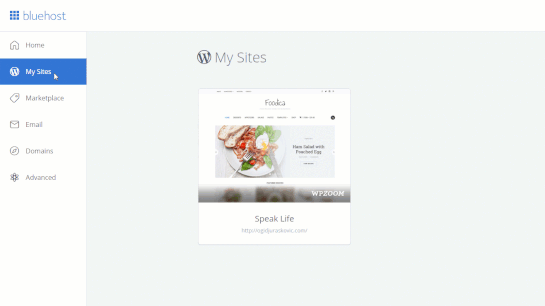 Please note that it might take several hours before the SSL certificate becomes active on your site.
We hope you've enjoyed this guide to creating a website. Remember that nothing you do in website creation is permanent. Many websites evolve as time goes by. The key is to do the best you can in the beginning with your website and to always look for opportunities to improve it. There are always more things to learn, so feel free to visit our Resources and Guides pages to improve your webmaster skills.