Geofilters on Snapchat are popular and powerful.
Visit any city and open up your Snapchat app and you'll see them. (If you have location tracking enabled in the app.) 
There are literally hundreds of thousands of these filters available around the world.
Understanding Snapchat Geofilters:
Before we dive into the 3 reasons why these Geofilters are beneficial for businesses, let's be sure we understand what they are.
I'm going to answer a few commonly-asked questions about these filters.
What are Snapchat Geofilters exactly? 
Snapchat Geofilters are location-based, in-app "ads" on Snapchat.
How do you access them? 
Take a snap and swipe right. When added to your story, these filters add extra "juice" to your stories through an additional animation.
Extra juice to your story means more entertainment value. We all know the more entertaining you are, the more views you'll get.
Are they easy to create?
Very.
Here's how to do it:
Go to Snapchat.com, click "Geofilters"
Pick either "Community" (meant for cities/locations) or "On-Demand"
Next, you'll design or upload your filter. Worth noting is that uploaded files must be transparent.
Select the geolocation.
Pick the date range: you can select 30 days out.
Buy it: you'll wait around 48 hours for your filter to be approved or rejected.
Using Geofilters to benefit your business:
Now that you understand what a Geofilter is and how to create one, it's time to discuss the benefits to businesses that use them.
Here are the 3 reasons why these filters are beneficial for business:
Available to anyone: The best part about Geofilters is that you don't have to be creating content on Snapchat to make one. Anyone can create a Snapchat filter and submit it to Snapchat for a specific location and timeframe. This means that as a business, you can create filters without having to craft an entire Snapchat strategy for daily content creation.
Huge reach: These filters amplify your presence in a specific location. Anyone in the location you selected will have the ability to access your filter. As a business, this means that you can create unique, creative filters at your different locations. For instance, MGM Resorts use Snapchat Geofilters to provide a different experience at each of their properties. They create customized filters for each property; these filters align with the look and feel of each specific resort.
Drive brand awareness: Geofilters provide an amazing opportunity to grow brand awareness. Utilize your brand's fonts and color scheme when designing your filter. While Snapchat doesn't allow you to include phone numbers, usernames and/or websites, you can add characters and slogans. Get creative with how you can create a unique character that reflects your brand and is fun for your audience to engage with by adding to their story.
Whether you spend more time on Snapchat creating or consuming, you've seen these Geofilters at play.
Whenever I'm somewhere new, I'll take a snap and swipe right to see what Geofilters are available for use.
Geofilters are engaging; using them helps make your story more entertaining.
Do you use Geofilters in your story?
Share your thoughts in the comments below!
Step 1: Design Your Filter
To begin making your own filter, visit the Snapchat Geofilter website. Here, you can choose between a community geofilter, personal, or business. Because the Business section allows branding, that's the one to choose.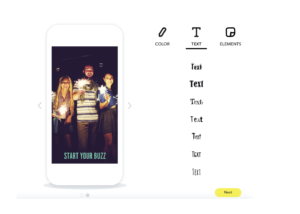 This is where the creation process begins. Here, Snapchat has plenty of pre-made templates for your business. At the top left, you can scroll through their categories and see the templates below each. Once you choose one (we chose just text) you can edit certain elements. By double clicking on the text, a menu will pop up giving you the option to change the color or the font family, give it a glow, or delete it altogether.
You can also choose to upload your own photos to the filter, so long as they comply wit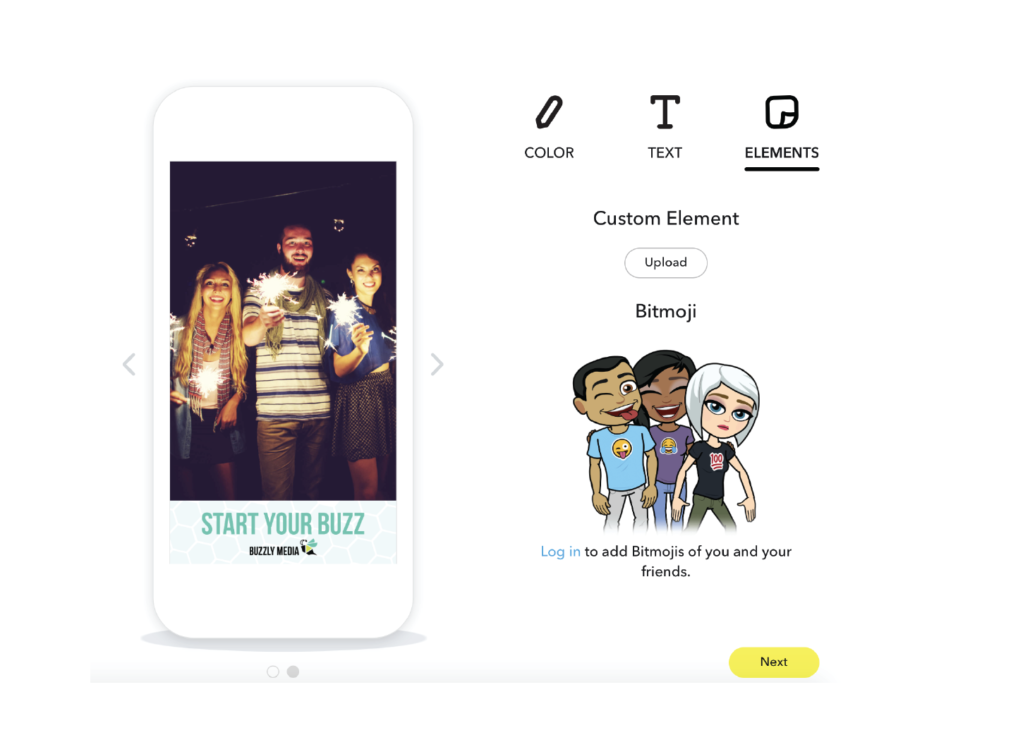 h Snapchat's submission guidelines. At the top right there is an 'Elements' section. This would be a perfect place to upload your logo as a .png if you have one!
Remember that you can click and drag your text and elements around the screen template. You can also add as many as you would like and resize each to your liking.
If you're curious as to what your geofilter looks like with an actual picture in the background, don't worry! Snapchat covered that, too. Just click the left or right arrow next to the phone and they have an example photo. This is a much more accurate representation of your geofilter, instead of looking at it over a boring gray box.
Step 3: Map Your Filter
The next step is drawing a fence around where you want your geofilter to be applied. You can enter in an address to get the map centered around the location, and then click the "Draw Fence" button at the bottom of the map. Drawing a fence isn't as simple as clicking and dragging; it's a matter of placing four or five dots around your area until they all co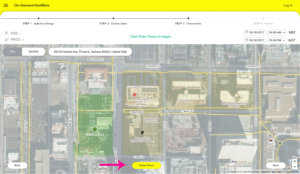 nnect. In this example, we'll use Arizona State University as our location.
You'll know that your fence is complete when the area inside of it turns green. If it's red, this means that your fence isn't large enough – Snapchat has a 20,000 square foot minimum for their fences. Keep in mind that the larger your surface area, the more costly the geofilter will be. You should draw your geofence a little bigger than your business, to make up for the sometimes inaccurate technology of geofencing. However, your geofence only needs to cover your specific location. The idea is that people in a targeted area will be more likely to use it because it is more relevant.
What is a Snapchat Geofilter?
As you are reading this article, you may be wondering what exactly a Snapchat Geofilter is. One of Snapchat's most interactive features, Snapchat Geofilters allow users to show off their location with a fun photo overlay that typically displays the name or logo of a particular brand or business.
Users love these overlays because they are a timely and creative way to share their day-to-day activities with other users. Businesses love them because they are a fun way to improve brand recognition and get the word out about sales and special events.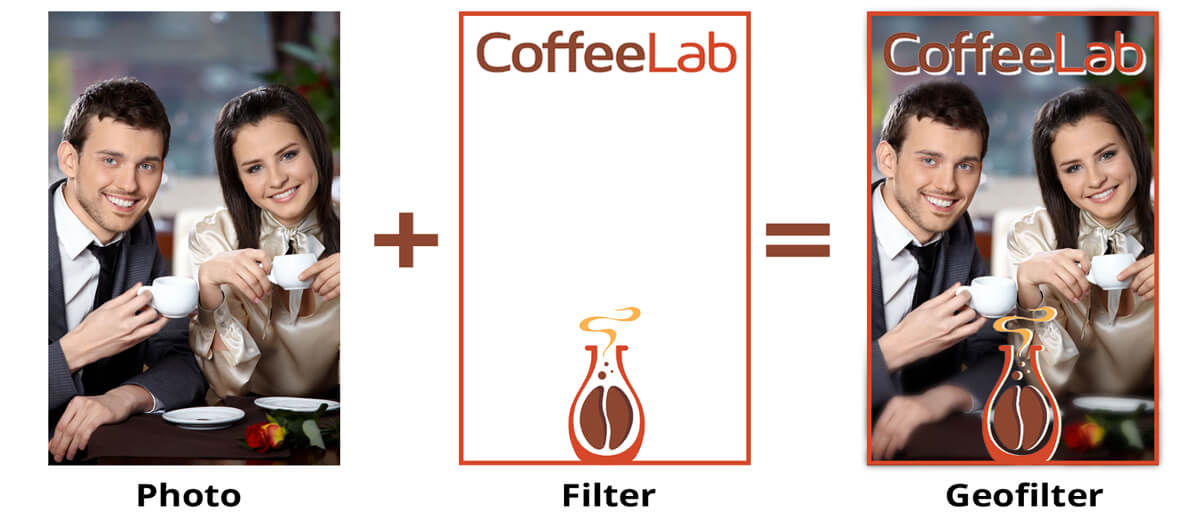 Step2: Upload your Geofilter
If you've manually designed your filter you will go to this link and click upload under the 'Use Your Own' box. You then simply locate the file on your computer and select it to upload.
If you used the Confetti app and paid to save and download your filter you will need to send it to your computer (email is probably the easiest way to do this). You can then follow the step above and upload the file as if it has been created on your computer.
If you used Snapchat's own design tools you will have already visited that link and once you've completed your design you simply click the yellow 'Next' button at the bottom left hand side of the screen to continue to the next step.
Step 3: Choose the dates for your filter to run
Choose the dates you would like your filter to run for from the calendar:
If you're running an event consider starting the filter a couple of days before so that people who arrive in the area early can start using it. The more exposure you can get for the filter before the event, the more likely people at the event already know the filter exists and use it on the day(s).
The maximum date range for an on-demand Geofilter is 30 days, and the shortest is one hour. Although you can't run one filter for more than 30days, you could create the same filter again and submit it for the following 30 days.
Step 4: Choose the area in which you want the filter to be available
After choosing your dates, the next screen will allow you to draw a location on a map where the filter will be available.
The default location is in the US so simply use the search box to search for United Kingdom, or the particular town you want to target. You can then view this town on the map and draw your specific location. You can also search by postcode and then draw the specific location around the pinpoint of the postcode.
As location accuracy on mobile's isn't always reliable I would recommend making your location slightly larger than it actually needs to be to account for occasions when users phones aren't reporting an accurate location. Snapchat advise you to draw a location which doesn't use too many points or thin areas.
The area must be between 20 thousand and 5 million square feet.
In the top left hand corner of the screen you'll see that the price for your filter changes based on the area you select. You can also adjust the dates in the top right hand corner to test how much different date range and location combinations will be.
Upon clicking the next button you'll be taken to a payment page where you can confirm your order.
You can change the order whilst it's under review but once it has been approved you would need to cancel and resubmit the order to make any changes.
Although you can set-up your filter and submit it and complete payment, it is not always guaranteed to run if Snapchat decide to sell the location to another advertiser or there is excessive demand. Their T&Cs state that this cost will be refunded if the ad does not run. Snapchat also won't allow Geofilters to appear in the same place where Live Stories may be running. Keep this in mind when planning any other marketing activity which might rely on the filter.
If you are running multiple filters remember to name them descriptively so you can tell which one you are looking at when reviewing your results.