Many mothers pass down a heritage of kitchen secrets to their daughters. This would probably be the case in my household if I hadn't completely renovated my diet to manage my autoimmune disease. My mom's ancient cookbook binder contains scraps of Danish pastry recipes passed down from her grandmother, and these treats would wreak havoc on my digestive system in all their glory of white flour and powdered sugar.
However, there is one recipe that my mom passed down to me that I will forever treasure: the perfect baked sweet potato. I've come to rely on this foolproof method any time I prepare sweet potatoes and now I've tailored it for various sizes of potatoes with perfect results.
How I bake a sweet potato
Follow the recipe below to perfectly bake a sweet potato, without having to test and guess when it is done. Here are the methods to the madness:
Don't coat the sweet potatoes in or wrap them in foil. This is often required in baked sweet potato recipes, but it is time-consuming and not necessary. I've also found that this helps the skin separate from the sweet potato flesh, making it easier to peel and eat after baking.
Prick the sweet potatoes with a fork before baking. This improves the texture and helps the sweet potato separate from the skin.
Don't place the sweet potatoes on a baking sheet – put them directly on the oven rack. I've found the baking sheet to be unnecessary.
Place a sheet of foil or a baking sheet on the bottom rack of your oven (but not directly on the bottom of the oven). This catches any syrup that may drip from the sweet potatoes. Don't worry, sweet potato juice isn't going to gush out and dirty your oven, there are just a few drips that turn into charcoal on the foil.
Leave the sweet potatoes in the oven after turning off the oven. The residual heat continues to cook the sweet potatoes without burning them, so they get exceptionally tender and moist.
The Foolproof way to Bake a Sweet Potato
Put baking sheet lined with foil on the lowest rack of your oven. (Don't put the foil directly on the bottom of the oven.) This will catch any of the syrup that may escape from the sweet potatoes. For easy cleanup, simply remove the foil and throw it away after baking the sweet potatoes.
Don't preheat the oven. Prick your sweet potatoes each 2-3 time with a fork, then place them directly on the oven rack in the middle of the oven, above the rack with the foil. Turn the oven on to 425.
Bake for 45 minutes for sweet potatoes/yams that are 2-3 inches in diameter. For sweet potatoes that are up to 4 inches in diameter, bake for an hour. For super large sweet potatoes, bake for an hour and 15 minutes.
After the time has elapsed, don't open the oven but turn it off. Let the sweet potatoes sit in the oven for at least 30 minutes but up to an hour. Remove from the oven and eat immediately, or remove the skin and store in a container in the fridge.

Get the Instant Pot Sweet Potatoes Recipe!
Did you make this recipe?   Leave a review »
4-6 medium sweet potatoes
1 cup of water
Steamer basket
Scrub skin of sweet potatoes with a brush until clean. Pour water into Instant Pot. Place steamer basket (the one that comes with the Instant Pot works great) in the bottom of the Instant Pot. Place sweet potatoes on top of/inside steamer basket.
Secure the lid and turn valve to seal.
Use the manual mode of Instant Pot and set to pressure cook on high for 15 minutes.
Allow pressure to "release naturally" – takes about 10 minutes.
Once the pressure valve lowers, remove lid and serve immediately.
You can also store in the fridge for 3-4 days in an airtight container.
serving size: 1/2 of 1 medium sweet potato
Yield: 4-6 sweet potatoes, Serving Size: 1 serving
Amount Per Serving:
Calories:

58 Calories

Sodium:

36mg

Carbohydrates:

13g

Fiber:

2g

Sugar:

3g

Protein:

1g
Actual nutrition may vary depending on how recipe is prepared.
All images and text ©Rachel Cooks.
Verdict: This will probably be the only way I make sweet potatoes from here on out!Husband's take: He doesn't love them plain but he loves when I dress them up!Changes I would make: None are necessary. If you have humongous sweet potatoes, you might need to increase cooking time slightly.Difficulty: Ridiculously easy!
Never miss a recipe! Subscribe to receive new post updates via email and get a FREE ebook filled with 10 of our family's favorite recipes:
When you make a recipe from my site tag it with #RachelCooks! I love to see what you're creating!
For how long should I cook sweet potatoes in the instant pot?
You should cook the sweet potatoes on high pressure and the timing depends on the size of the potatoes:
Small sweet potatoes – 18 minutes
Medium sweet potatoes – 25 minutes (the most common ones you find at the grocery store)
Extra large, long sweet potatoes – 35 minutes
After you cook the sweet potatoes in the pressure cooker, remove them from the pot and let them fully cool.
Remove skin from the sweet potatoes and add the flesh to a large bowl.
Mash cooked sweet potato with a fork or potato masher, add some melted butter and season appropriately.
You only need two ingredients: sweet potatoes and cold water. You will also need a trivet or steamer rack.
How many sweet potatoes can you add to cook into the Instant Pot?
I like to add the sweet potatoes only in one layer, I usually prefer to add 4 small or medium sweet potatoes when I cook them. You can add a few more and stack them, but make sure the sweet potatoes don't stay in the water, they will get mushy, also don't over-crowd the pot. I used a 6q Instant Pot for this recipe.
Pin This Instant Pot Sweet Potatoes Recipe to your Favorite Board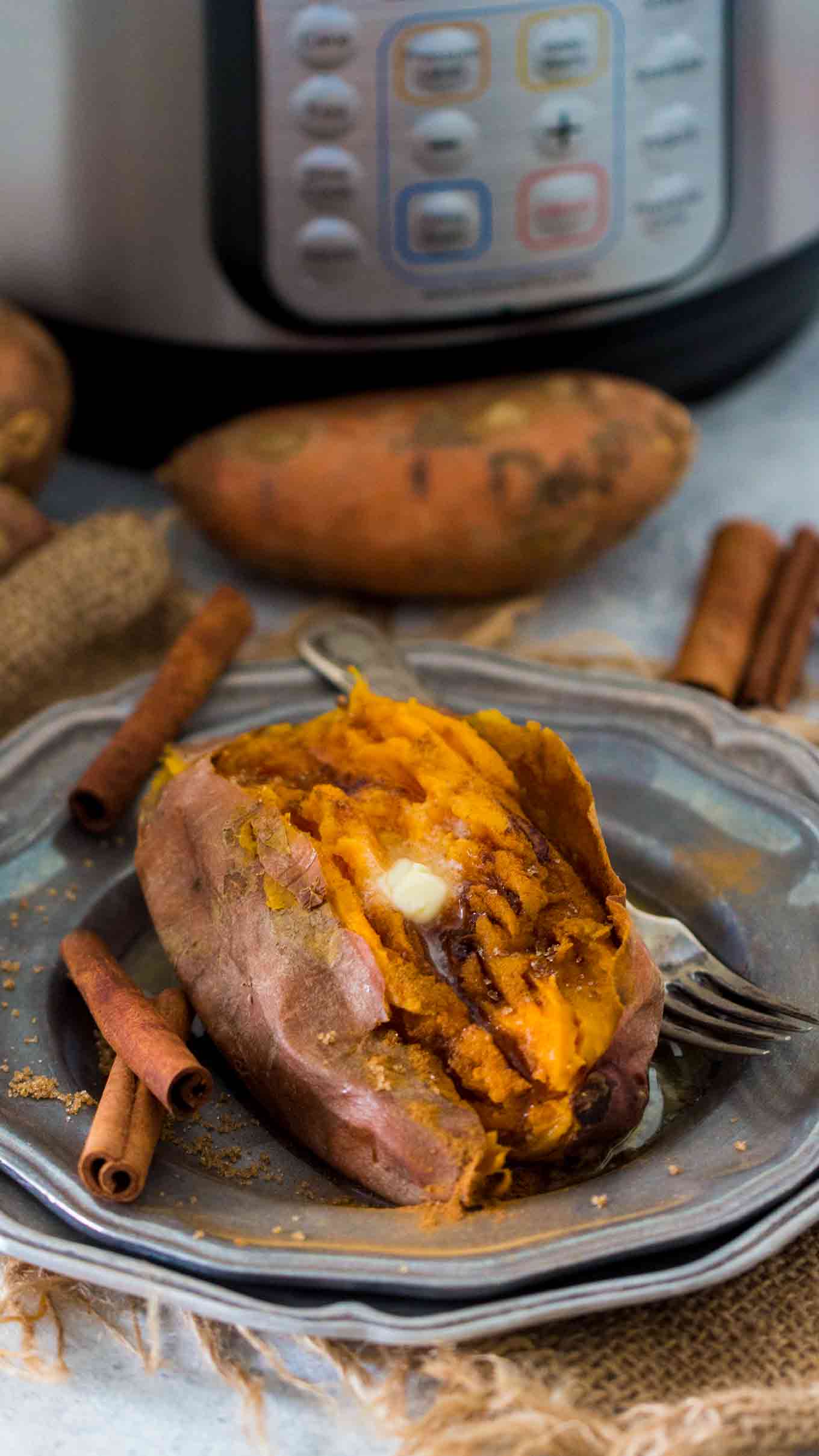 Instant Pot Sweet Potatoes toppings:
Butter, cinnamon and brown sugar – for a sweet version
Refried beans, salsa, cheese, cilantro and sour cream
Cheddar cheese, cream cheese and jalapeno poppers
Leftover chili beans and parsley
Bacon, gives and sour cream
Here is a step-by-step video for the Best Instant Pot Sweet Potatoes Recipe: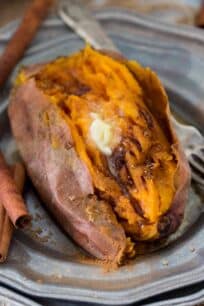 2

– 4 whole sweet potatoes

small or medium size

1

cup/250ml cold water
Rinse and scrub the sweet potatoes well in cold water.

Add the cold water to the Instant Pot and add a trivet or steamer rack.
Arrange the whole sweet potatoes on the rack, and close the lid. Make sure you seal the valve.
Pressure cook the sweet potatoes based on size:

Small sweet potatoes – 18 minutes

Medium sweet potatoes – 25 minutes (the most common ones you find at the grocery store)

Extra large, long sweet potatoes – 35 minutes

Once the potatoes are cooked and the Instant Pot beeps, do a 10 minute Natural Release. Open the lid carefully and serve the sweet potatoes with desired toppings.
Calories: 55, Sodium: 36mg, Potassium: 219mg, Carbohydrates: 13g, Fiber: 1g, Sugar: 2g, Protein: 1g, Vitamin A: 184.4%, Vitamin C: 1.9%, Calcium: 1.9%, Iron: 2.2%
Show me what you made on Instagram and tag me at @sweetnsavorymeals or hashtag it #sweetandsavorymeals.
Peas and Peonies, LLC. owns the copyright on all images and text and does not allow for its original recipes and pictures to be reproduced anywhere other than at this site unless authorization is given. If you enjoyed the recipe and would like to publish it on your own site, please re-write it in your own words, and link back to my site and recipe page. Copying and/or pasting full recipes to social media or personal blogs is strictly prohibited. Sharing this recipe is very much appreciated and encouraged. Read my disclosure and privacy policy. This post may contain affiliate links.
Roasted Sweet Potatoes Recipe: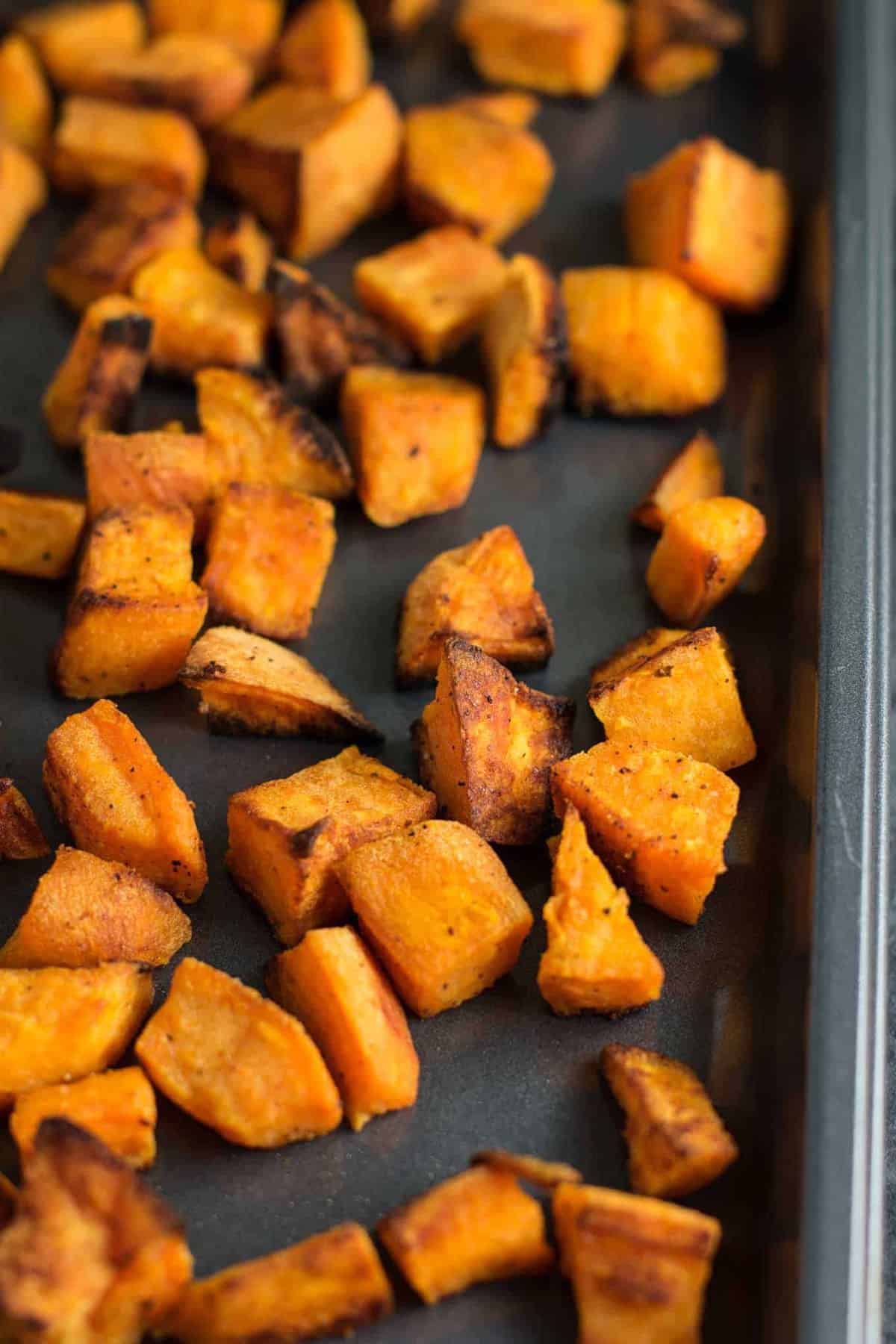 These easy roasted sweet potatoes are made with just 5 ingredients and ready in less than 30 minutes. Versatile enough to eat for any meal of the day!
2 large sweet potatoes, diced into small chunks
1/3 cup olive oil
1/2 teaspoon of pepper
1/2 teaspoon garlic powder
salt, to taste (I used 1 teaspoon)
Preheat oven to 450 degrees
Toss diced sweet potato chunks with the remaining ingredients in a bowl until everything is oily and coated
Spread out on an even layer on a baking sheet
Roast at 450 degrees for 10 minutes, then flip and stir
Roast an additional 10-15 minutes, until the edges start to blacken slightly and crisp, but are not burnt
Did you make this recipe? Be sure to leave me a star rating below!