Wondering how to cook spaghetti squash?  The key to getting long, spaghetti-like strands is in how you cut it (and the conventional advice is all wrong!) Check out this hack for the best, pasta-like spaghetti squash.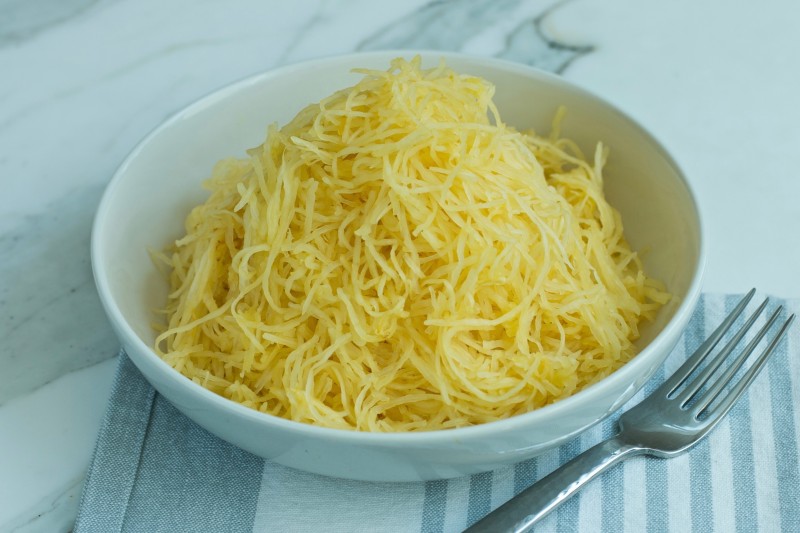 How to cut spaghetti squash?
Spaghetti squash is like any other hard squashes you find in the autumn, like butternut squash, acorn squash or pumpkin. Cutting through it is scary/dangerous and requires concentration. Think cutting a watermelon but 3 times harder to pierce.
Peel a band around the middle of the squash. I don't mean peel deeply, just peel off the outermost layer. The fear of cutting the squash is of the knife slipping while you're putting a lot of pressure on the vegetable.
Place your squash into a plush kitchen towel to help anchor it while cutting in half.
After you wash the spaghetti squash be sure to dry it really well. Water is your enemy and will raise the risk of the squash slipping and you injuring yourself.
Use a serrated knife. I use my rock 'n chop (I know, I know its from an infomercial but I LOVE IT).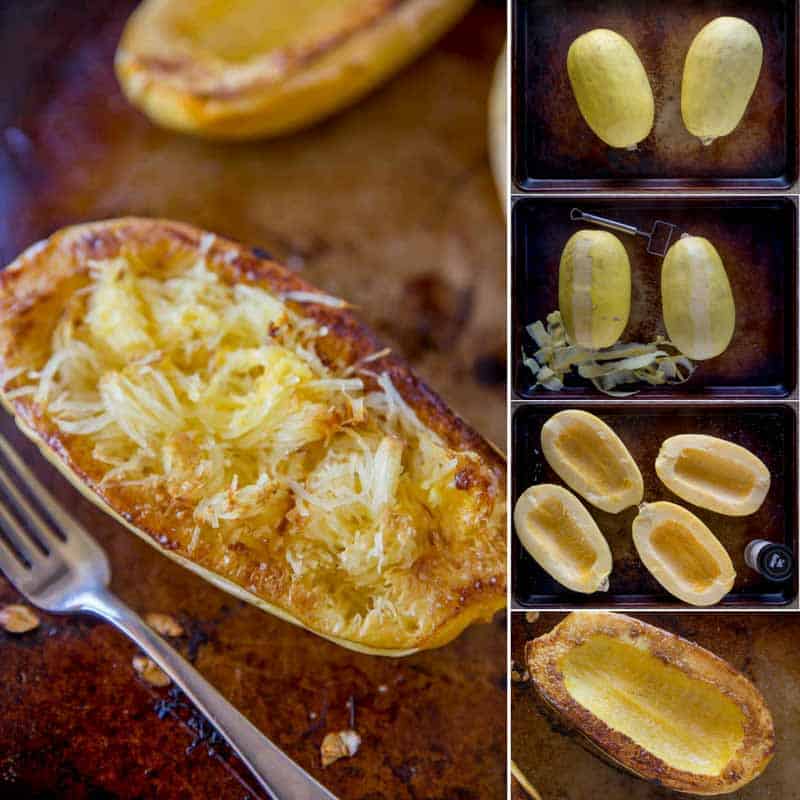 What do I season Spaghetti Squash with?
Classic: Salt, pepper, oil.
Greek: Salt, pepper, garlic powder, rosemary, dill, oregano, olive oil.
Italian: Salt, pepper, basil, oregano, garlic powder, olive oil.
Steakhouse: Salt, coarse black pepper, thyme, butter.
Mexican: Salt, pepper, cumin, cayenne, oregano, canola oil.
Middle Eastern: Salt, pepper, cumin, coriander, oregano, olive oil.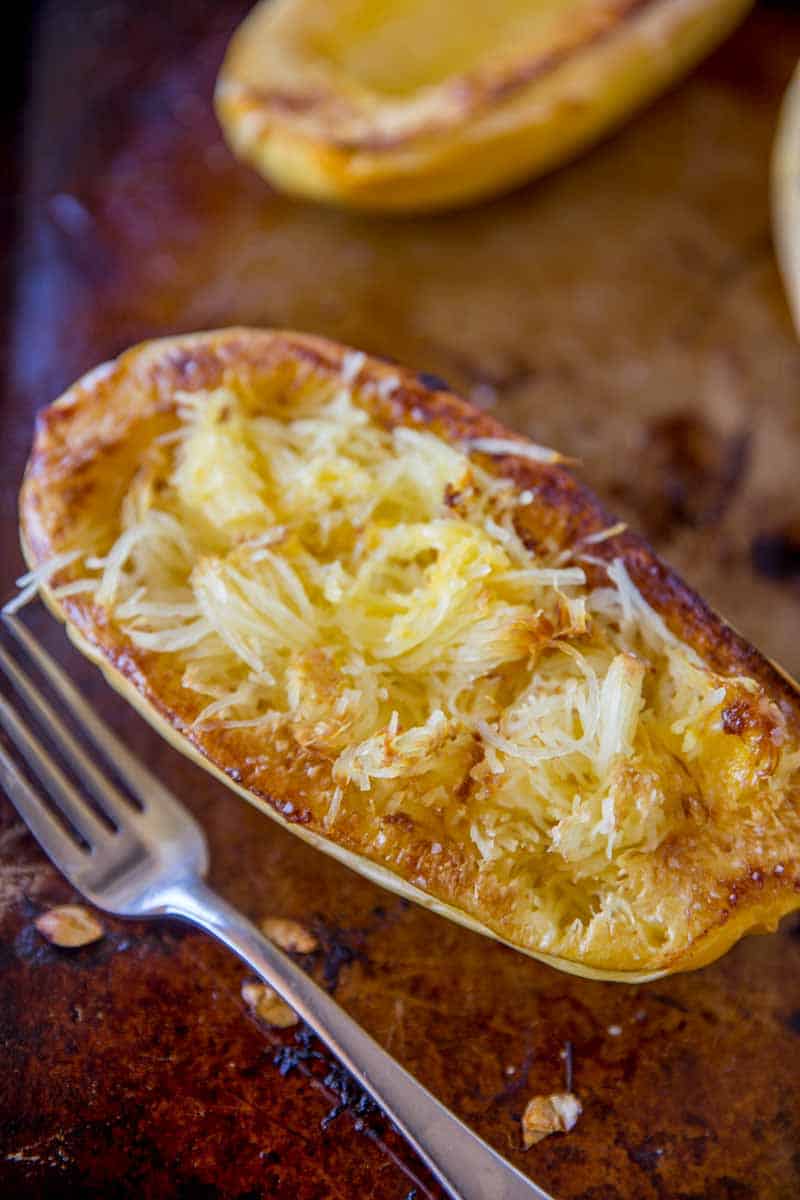 How long can you keep spaghetti squash:
Cooked:  Refrigerate 

baked spaghetti squash

leftovers and use within three-five days.
Uncooked: At room temperature, you can keep spaghetti squash for 1-2 months until you see signs of spoilage (look below).
Freezing Instructions: You can freeze baked spaghetti squash strands for 4-6 months if you put it in a freezer safe container and remove as much air as possible. I add a bit of oil to the squash to give it a second barrier of protection.
How do you pick a good spaghetti squash:
Golden yellow in color.
Look for one WITH a stem, that is firm and feels heavy for its size.
Avoid ANY cracks in the skin and check for soft spots (this is indicative of a spoiling squash). You want spaghetti squash with a firm, dry rind free of soft spots and cracks.
Avoid any that seem moist or don't have a stem as they may increase the risk of internal spoilage that you may not otherwise feel or see.
If the squash is shiny it is likely not ripe yet, so avoid it.
Baked spaghetti squash may seem like a bit of departure from the most popular recipes on the site. BUT I have some big news brewing that I can't wait to share with you all about some new recipes you're going to love me for in the new year when all your dietary resolutions are strongest. We're up to our eyeballs in development now!
spaghetti squash recipes
A lot of spaghetti squash recipes involve swapping out pasta for baked spaghetti squash because it's healthier for you, and tastes delicious. You feel satisfied without the heavy carbs. Below are some of my favorite "pasta" spaghetti squash recipes!
If you want to try some stuffed baked spaghetti squash recipes my friend Allyson has a few I love! Broccoli Cheese Stuffed Spaghetti Squash and Caprese Stuffed Spaghetti Squash are both hits with our whole family.
Tools Used in this How to Cook Spaghetti Squash tutorial:Vegetable Peeler: I've been using this peeler for 7 years and it is still as sharp and as easy to peel as EVER. Also, it peels in the thinnest layers so you don't waste food.Rock 'n Chop Knife: My favorite kitchen tool (the knife I love is the second from the top) I've had it over a dozen years and it is going STRONG.Sheet Pan: A classic, inexpensive sheet pan that is high quality and can hold up to high temperatures in the oven.
Save Recipe
Yield:

4

Servings

Prep Time:

5

minutes

Cook Time:

40

minutes

Total Time:

45

minutes

Course: Main Course, Side Dish
Cuisine: American
2

spaghetti squash

washed

1/2

teaspoon

kosher salt

1/8

teaspoon

ground black pepper

1

tablespoon

canola oil
Note: click on times in the instructions to start a kitchen timer while cooking.
Preheat the oven to 400 degrees.

Using a peeler, peel a band around the squash (picture a rubber band that goes over the stem) to remove the shiny outermost layer.
Using a heavy knife, slice the squash in half.
Scoop out the seeds and extra fibers in the center.
Season with the salt, pepper and oil and rub it all over the cut side of the squash.
Place cut side down onto a baking sheet and cook for 40-45 minutes.
Remove from oven, turn over and using an oven mitt to hold it (it will be SUPER hot), scrape out the squash with a fork into spaghetti like strands.
All images and text © for Dinner, then Dessert, Inc.
Save Recipe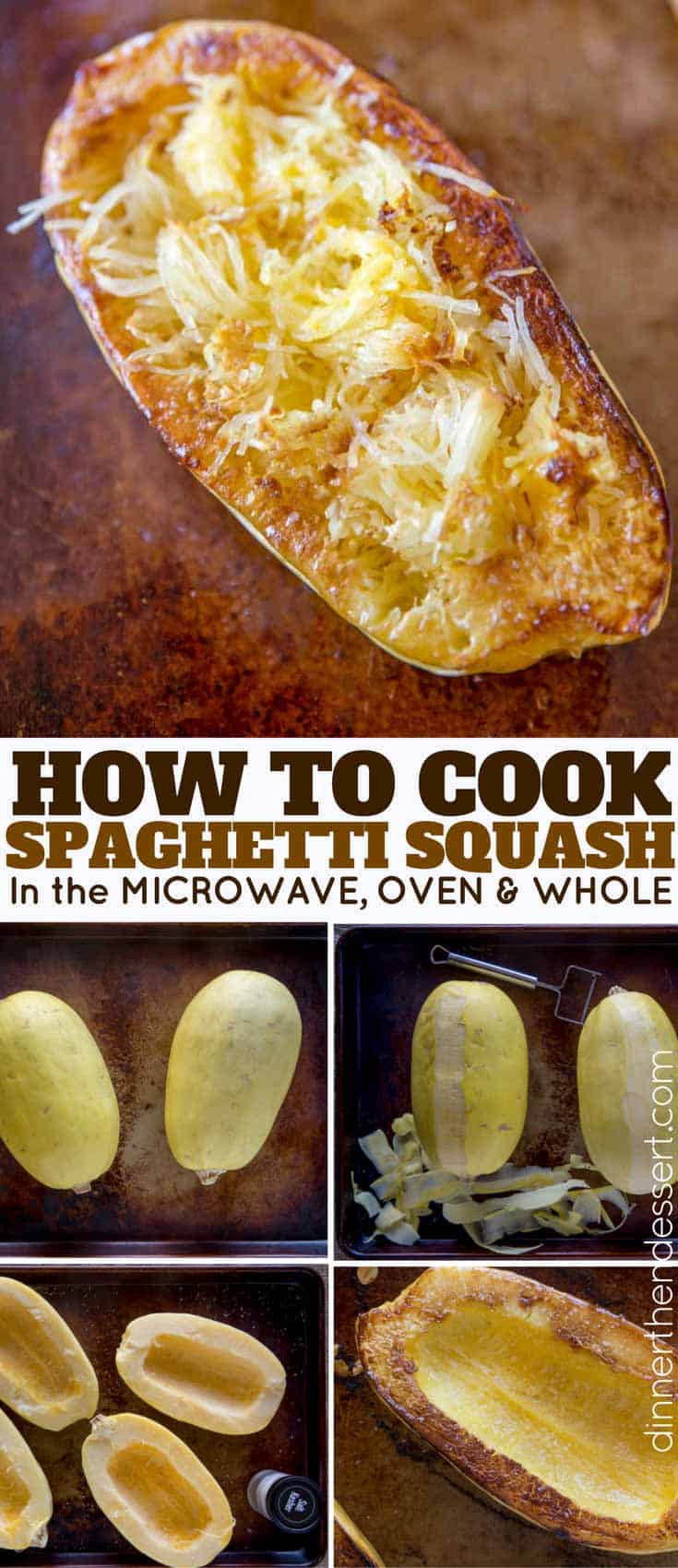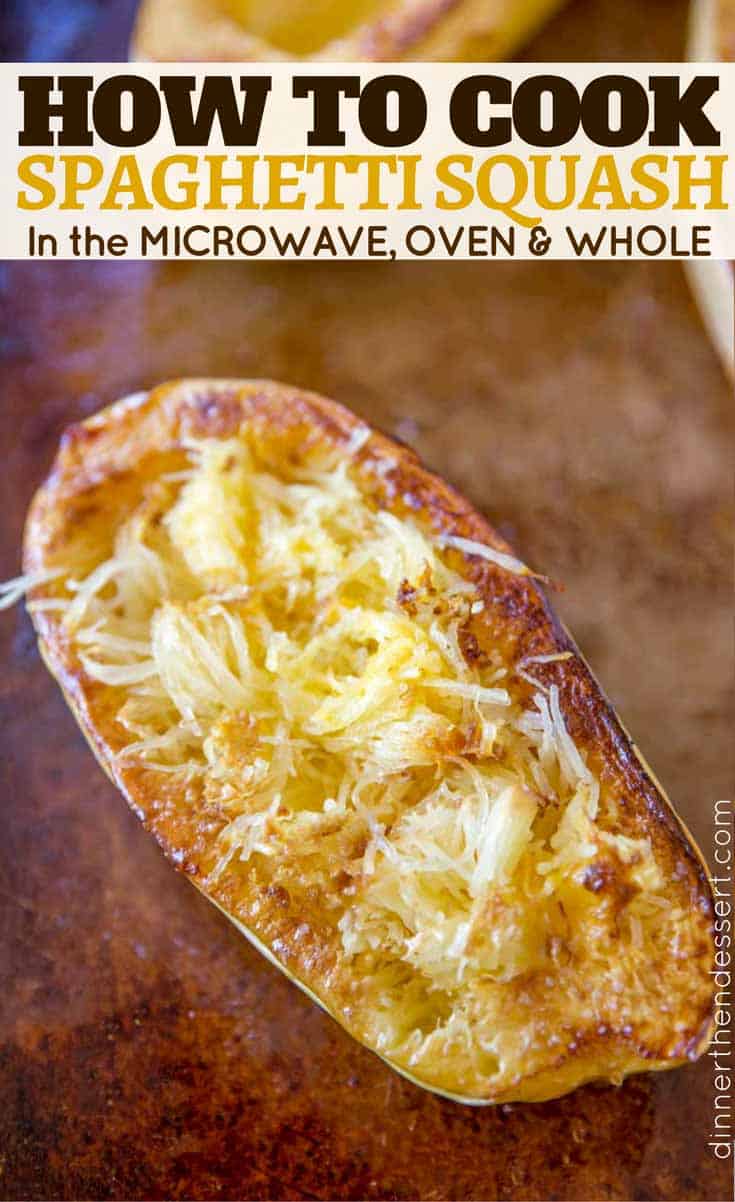 How to Cook Spaghetti Squash in the Microwave
1. Start by Choosing a Firm Squash that is free of soft spots and cracks.
2. Cut it in half lengthwise using a large sharp knife.
3. Use a sturdy metal spoon to scoop out the seeds. Tip: you can rinse and roast them just like you would pumpkin seeds.
4. Set the squash flesh-side-down in a baking dish and add about 1/2 inch of water to the pan. Tip: Feel free to cook just one half and save the other half for another day.

5. Microwave the squash, uncovered, on high for 10 to 15 minutes (sometimes longer) until the squash deepens a bit in color and a little knife can slide easily into the flesh.
6. Let cool enough to handle and run the tines of a fork through the squash to unearth the spaghetti-like threads.
Follow along for more cooking tips and healthy recipes over on Instagram 
As to how to serve your spaghetti squash? Keep it simple by drizzling with olive oil and a pinch of salt and pepper or serve underneath this Meaty Mushroom Marinara Sauce. Alternatively, check out one of our family's very favorite winter dishes Spaghetti Squash Lasagna or head here for 10 Tasty Spaghetti Squash recipes
…I've also got my eye on these Spaghetti Squash Fritters with Sriracha Mayonnaise over on Cooking Light.
Why yes you CAN cook spaghetti squash in the microwave. It's this easy! #cookingtips Click To Tweet
Use a large sharp knife and cut the squash in half through the stem.
Scoop out the seeds with a spoon. Roast the seeds, if desired, or discard.
Set the squash flesh-side-down in a baking dish and add about 1/2 inch of water to the pan.

Microwave uncovered on high for 10 to 20 minutes until the color deepens and you can easily slide a little knife into the flesh. The time can vary considerably.

Let cool enough to handle and run the tines of a fork through the squash to unearth the spaghetti-like threads.
What is spaghetti squash?
Spaghetti squash is a variety of winter squash that's oval and yellow, with flesh that ressembles spaghetti strands when scraped once it's cooked. It's delicate in flavor (a little sweet though much milder than butternut squash) and watery. Its texture is a little crunchy and stringy which is why it is a popular choice to use as a substitute for pasta or Asian noodles. It usually measures between 8 to 14 inches in length and weighs 2 to 3 pounds.
How long does it keep?
Stored in the fridge or on your counter, a spaghetti squash that's uncut will last between 1 to 3 months.
Cooked and scooped out of its flesh it can keep for 3 to 5 days in the fridge.
You can also freeze it in small portion for a few weeks. However, many people have reported that this method isn't recommended as the squash gets quite watery and mushy once thawed.
What are the health benefits?
It's very high in vitamin A which is good for strengthening the immune system and encourages bone growth. Vitamin A is also essential to healthy vision. 1 cup of spaghetti squash contains about 10% of your daily vitamin A intake according to USDA.
It's rich in vitamin B which helps maintain healthy skin and hair, helps in the production of new cells and preventing heart disease. It also breaks down carbohydrates and may aid in alleviating migraines.
It contains manganese (our bodies only need small amounts of it at a time). Manganese regulates blood sugar levels, aids in the absorption of calcium and promotes healthy tissues and sex hormones.
It contains Omega-3 and Omega-6 fats which help prevent inflammation, which help diminish symptoms of auto-immune disease related to skin and joints.
Spaghetti squash is also loaded with plenty of other vitamins and minerals: potassium, magnesium, copper, phosphorus, sodium, selenium, calcium, iron, zinc, thiamin, folate, vitamin K, riboflavin, niacin and pantothenic acid.
Spaghetti squash nutrition
Serving: 1 cup (or 101g cubes)
% Daily Value*

Total Fat

0.6 g

0%

Saturated fat

0.1 g

0%

Polyunsaturated fat

0.2 g

Monounsaturated fat

0 g

Cholesterol

0 mg

0%

Sodium

17 mg

0%

Potassium

109 mg

3%

Total Carbohydrate

7 g

2%

Dietary fiber

1.5 g

6%

Sugar

2.8 g

Protein

0.6 g

1%
| | | | |
| --- | --- | --- | --- |
| Vitamin A | 2% | Vitamin C | 3% |
| Calcium | 2% | Iron | 1% |
| Vitamin D | 0%               | Vitamin B-6 | 5% |
| Vitamin B-12 | 0%    | Magnesium | 3% |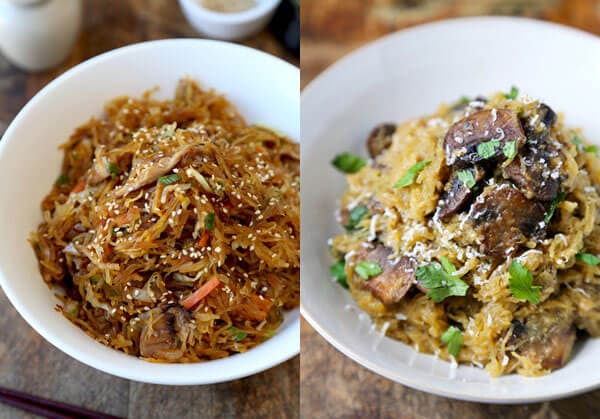 How to Cut Spaghetti Squash Correctly
Most conventional recipes advise you to cut the squash down the center, length-wise, and that's in fact what I used to do. But, my spaghetti squash strands would always come out short, and not very spaghetti-like. They key to long strands it to cut the squash into 1-inch thick rounds like this: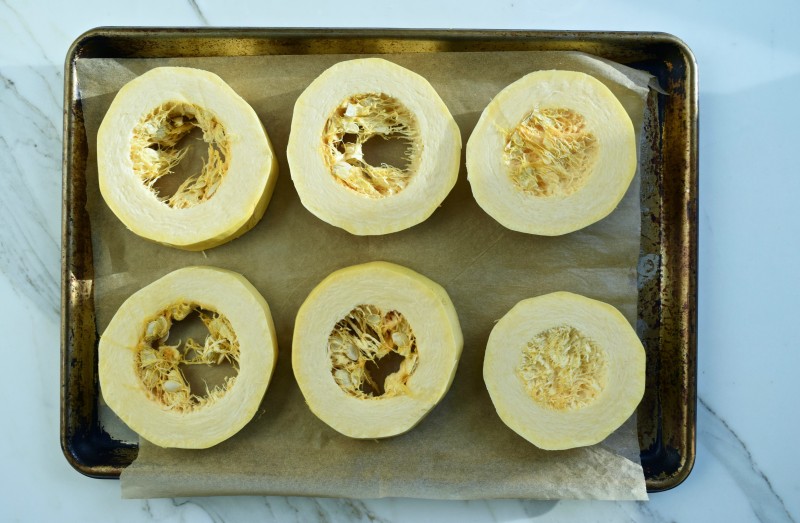 You can scoop out and discard (or reserve for another use) the seeds either before you cook it or after. They are easy to remove either way.