Jump to Recipe Print Recipe
I grew up eating collard greens on a regular basis. I mean, they are pretty much the quintessential southern food. And we ALWAYS cooked them in some sort of pork fat – ham hocks, smoked neck bones, or even pig tails. It wasn't until my adulthood I that realized the beauty and deliciousness of sautéed collard greens!
Hear me now, believe me later… You don't even need bacon (or chicken stock for that matter) to make delicious sautéed collard greens. After eating vegan for a season, I discovered that you can have perfectly tender and flavorful greens in just about 30 minutes! And enjoy them without any animal fat. Trust me!
The Process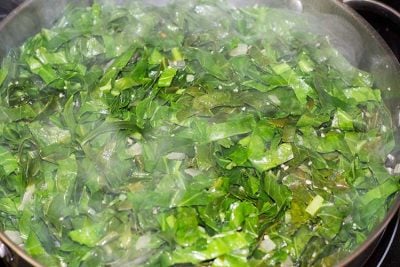 ★ Did you make this recipe? Please give it a star rating below!★
1/4

cup

olive oil

1/2

cup

yellow onions

diced

2

Tbsp.

garlic

minced

1/4

tsp.

red pepper flakes

2

Tbsp.

white wine vinegar

2

lbs.

collard greens

1

cup

vegetable stock

2

tsp.

sea salt

1/2

tsp.

black pepper

1 1/2

tsp.

sugar
Remove leaves from stems and wash thoroughly at least twice. We usually let them soak in the water on the first wash to help any stubborn grit loosen to be washed away. A little grit goes a long way, and can ruin eating them.

Cut away as much or as little of the stem from the leaves as you like. The stems can be tough and bitter, so we remove quite a bit.

Stack 7 or 8 leaves and roll them tightly, like you would a cigar. Then thinly slice across the rolled greens. At this point, we usually wash them one last time.

Using a large sauce pan over medium-high heat – add oil and onions and cook for a few minutes, until onions are softened and translucent. Then add garlic, red pepper flakes, and vinegar. Cook for about 1 minute, but don't let the garlic become brown.

Add collards, stock, salt, pepper, and sugar and cook for at least 25 minutes, depending on how soft you want the greens. Stir them frequently to ensure even cooking, but keep them covered when not stirring. They should be perfect when all of the liquid evaporates.
If all of your greens won't fit in your pan at first, cooke them for a few minutes then add the rest (in batches if necessary). The greens will cook down in size pretty quickly.
Calories 115 Calories from Fat 63 Total Carbohydrates 10g 3% * Percent Daily Values are based on a 2000 calorie diet.
THIS POST MAY CONTAIN AFFILIATE LINKS. TO FIND OUT MORE VISIT OUR DISCLOSURE PAGE.
What Are Collard Greens?
Collard greens are dark, leafy greens with a tough stem, related to the turnip, mustard greens, and kale family. These iron and vitamin-rich greens do best when cooked low and slow and often with a smoked meat, like a ham hock or bacon. While tasty, this method of cooking greens isn't often conducive to weeknight meals, so we re-vamped the traditional southern braised greens to be ready for any night of the week!
MY LATEST VIDEOS
How Do You Prep Collard Greens?
Start by cutting out the tough, fibrous stem. You can do this easily by laying each collard green on top of on another, rolling them up and slicing out the stem.
Next you want to wash them really well. Greens can hold a lot of grit, so you want to fill a large bowl with cold water and submerge the greens. Swish them around for a moment to get all of that grit out, and then let them sit so all the dirt settles to the bottom. Then pull out the greens. If they were especially dirty you may want to repeat this step once or twice more until the water is clear.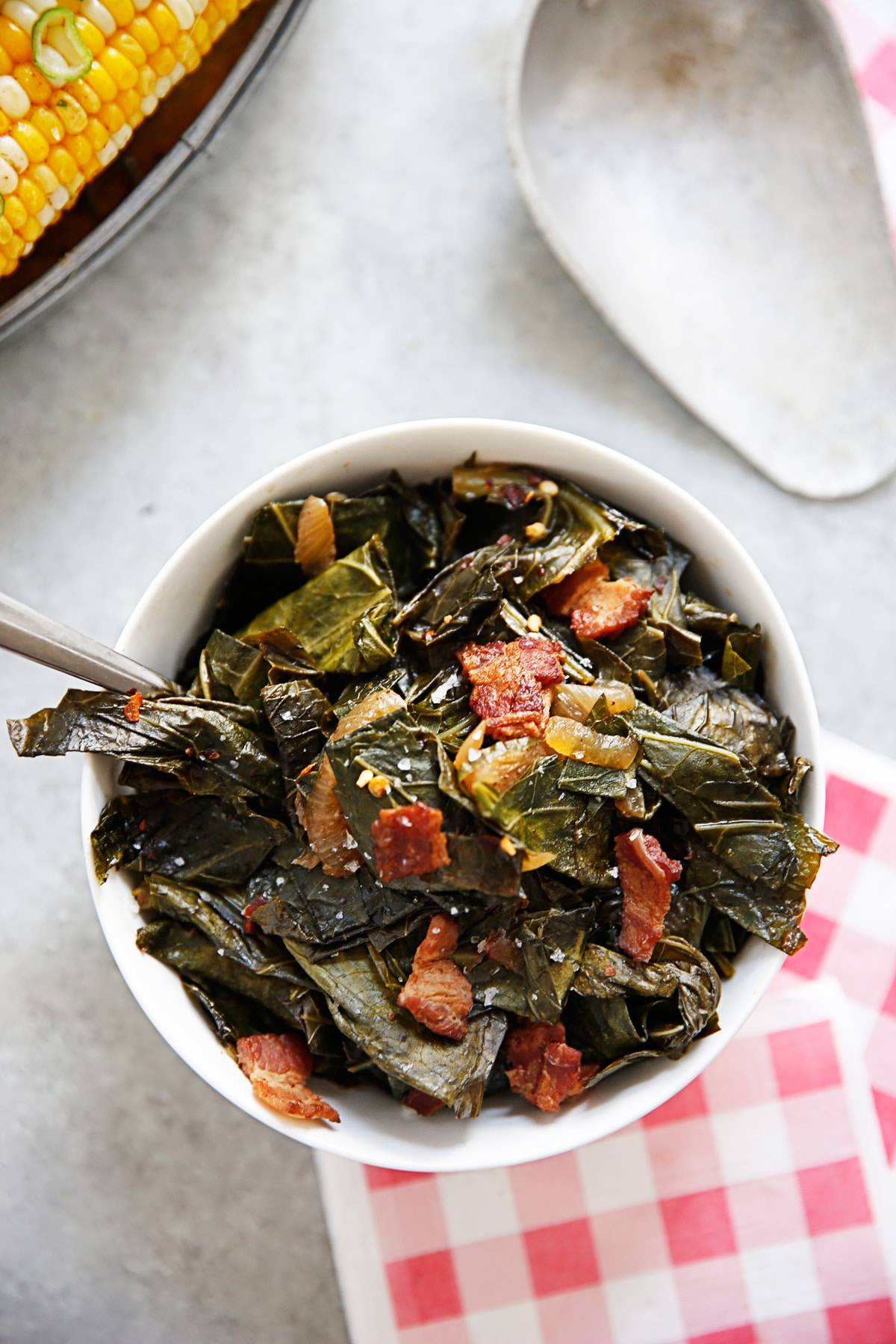 This week we're taking a trip down south and dishing out a new recipe each day to complete the ultimate Southern Fried Chicken Dinner! Each day this week we'll be sharing a recipe to complete an epic southern dinner!
Stay tuned for the rest of the week for the Ultimate Southern Dinner:
Heat a large heavy bottomed pot over medium-high heat and add bacon. Cook, stirring occasionally until crisp, about 6-8 minutes.
Lower heat to medium-low and add sliced onion. Cook until beginning to soften, 7 minutes, stirring to prevent burning.
Return heat to medium heat and add 1/4 of the collard greens and 1 cup chicken stock. Scrape up any browned bits on the bottom of the pan and let the greens cook down a bit until you can fit more in the pan. Continue to add more greens until all are able to fit in the pan.
Cook, stirring occasionally until the greens are completely wilted down and have changed color to a dark green, about 25 minutes. Add more liquid if it has evaporated before the collards have cooked down. 
Add coconut sugar and apple cider vinegar and and continue to cook until most of the liquid has evaporated from the pan, about 5 more minutes. Taste and season with red pepper flakes, and salt if needed (though do taste, as the bacon will add quite a salty flavory). Serve immediately.
Collard greens, especially those from the farm, can be really gritty! Make sure to wash well by plunging the greens into a large bowl of cold water and letting them sit for 30 seconds. Remove them from the water by pulling them straight up without disturbing any dirt that fell to the bottom of the bowl. 
There may be affiliate links in this post! By clicking on them, or purchasing recommended items I may receive a small compensation, at no cost to you! However, I only recommend products I absolutely love and use in my own home! Thank you for supporting Lexi's Clean Kitchen when you shop! See my privacy policy for more information about this, the information we save, and more!