Whether you need to mirror your phone screen or use your iPhone as a remote, we've rounded up the most common ways to connect your iPhone to your TV and how to do it.
The simplest way to get video from your iPhone (or another iOS device) to your TV is to just plug it in. You'll use the HDMI port on your TV for this, and you'll need the following:
HDMI cable to connect to the TV
Adapter to connect the HDMI cable to your iOS device
Apple sells the adapters you'll need. The fare is typical of Apple—expensive, but the product is well-made. Apple always recommends that you buy its products rather than knockoffs, but if you want to save some money, you can also pick up an adapter from Amazon or another third party that will get the job done. Just make sure it supports High-bandwidth Digital Content Protection (HDCP).
Once you have the HDMI cable and TV adapter, the rest is easy:
Connect one end of the HDMI cable to your TV.
Connect the other end to the adapter.
Plug the adapter into the Lightning port on your iOS device.
If you need to charge your device while using it, plug one end of a Lightning to USB or Dock Connector to USB cord into the second port on the adapter and plug the other end into a power source.
Switch to the HDMI input on your TV.
If you prefer the wireless life, connect your iPhone to your TV easily with an Apple TV and Apple's AirPlay wireless protocol. This lets you stream content directly or mirror your device's display on your TV.
The setup is about as easy as it gets:
Make sure your iPhone and Apple TV are on the same Wi-Fi network—otherwise they won't see each other.
Open Control Center on your iOS device. On iPad or any iPhone other than the iPhone X, do this by swiping up from the bottom of the screen. On iPhone X, swipe down from the right of the notch.
Tap the AirPlay Mirroring button. (It looks like a triangle pointing up to a rectangle.)
Select your Apple TV from the list that appears.
Chromecast users can use their iPhones to cast to any TV with a Chromecast or Chromecast Ultra plugged in. This is a more affordable option since the Chromecast dongles cost only about $35.00.
Plug the Chromecast into the HDMI port on your TV.
Open a Chromecast-supported app on your iPhone or iPad.
Tap the Cast button. (It's a rounded rectangle with a Wi-Fi symbol in the bottom left corner.) Select "Chromecast" from the list of available devices.
Whatever combination of devices you have, there's a way to get your content on the big screen. Get connected, and then kick back and enjoy the show!
Mobile Device to Big Screen TV
Zwift is currently available for iPhone and iPad only. An Andoird version is expected to be released in 2018. You need the following to run Zwift on your iPhone or iPad and broadcast it onto your TV:

Bluetooth Compatible Smart Bike Trainer. If you bought your trainer in the past couple of years, then it's probably Bluetooth compatible.
Digital AV Adapter to HDMI: This is a little adapter that connects to your iPhone/iPad lightning port and lets your display whatever on your screen to an HDMI equipped TV.Alternatively, if you don't want to use a digital AV adapter, you can use an Apple TV to Airplay content on your iPad/iPhone to your TV. This method works ok but you might experience some disconnects or lags.  
ANT+ to Bluetooth Bridge (optional):  If you have other ANT+ only devices that you would like to use, you can use an ANT+ to Bluetooth bridge as mentioned above.
If you don't want to use an ANT+ to Bluetooth bridge, you can use the Wahoo ANT+ Key. This key allows your phone to connect to ANT+ devices. Unfortunately, this key is only compatible with 30-pin phones. So it will not work with iPhones after the iPhone 4s. You will need to purchase a 30-pin to a lightning adapter in addition to the ANT+ Key.
Personal Computer to Big Screen TV
You can run Zwift on your personal computer. Zwift is compatible with Windows 7 or greater or Mac OSX 10.8. Zwift is graphics intensive and a minimum of 1GB dedicated graphics card is required to run Zwift without running into issues. If you want to broadcast it to a big-screen TV, then you might want to consider something a little more power to get a 1080 HD picture. Zwiftalizer is a great tool that can provide you with some benchmarks and information on how your system will run Zwift.

What You Need:
Some Mac Laptops don't have an HDMI cable, so you will need a Thunderbolt to HDMI adapter. Check your laptop ports.
Zwift on Apple TV
Zwift on Apple TV is the cheapest and simplest way to get on Zwift. All you need is a Bluetooth compatible trainer and a 4th generation Apple TV or the latest Apple TV 4K. You can get one for around $150 for the 32GB version. You don't need the 64GB unless you plan on downloading a lot of other contents. The actual Zwift app is only about 650 MB.
What You Need
Apple TV 4K or Apple TV 4th generation (Shop Apple TV on Amazon)
HDMI cable

Zwift Companion

App (available for iOS and Android)
ANT+ to BLE bridge. This is optional if you want to connect ANT+ only devices.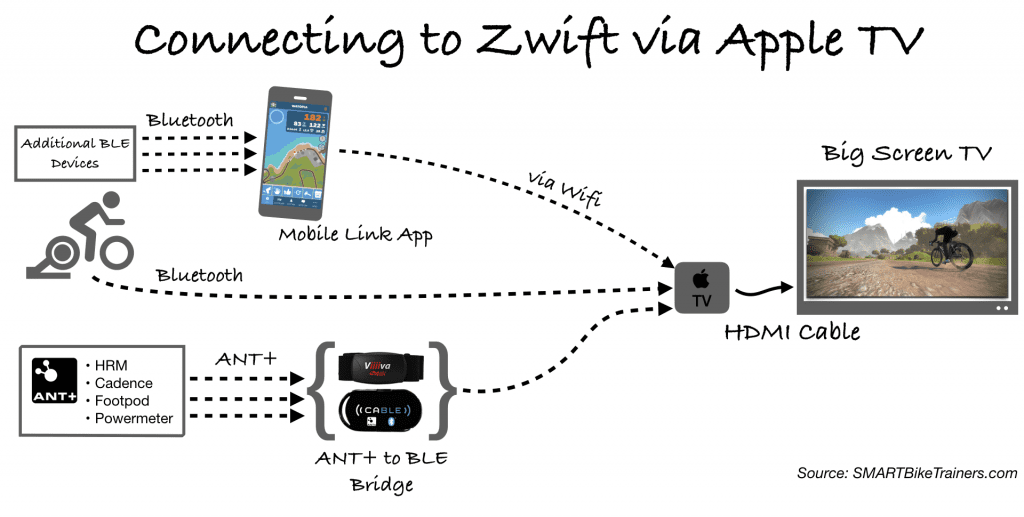 Apple TV only supports 2 Bluetooth devices connected. So if you have a CycleOps Hammer, or a Wahoo KICKR connected to Zwift on Apple TV as a power source and controllable trainer, then you used one open Bluetooth connection and you are left with one. You can use the last connection for any other Bluetooth device such as a Bluetooth compatible heart rate monitor or speed and cadence sensor.
Some smart trainers can also calculate your cadence. For example, if you have a Tacx NEO, then you can pair the NEO as a Power Source, Cadence, and Controllable trainer. This uses only one Bluetooth channel.
Option 2: Go Wireless with Anyview Cast
Nearly all modern TVs support a way to connect to devices wirelessly – a sort of over-the-air HDMI. Depending on your TV, you might see it called Anyview or Miracast or just plain old Screen-Mirroring. You'll have to have both devices connected to the same home network, but chances are that's already happened. 
Windows devices
On Windows machines, this couldn't be simpler. In the Action Centre that swipes in from the right there is a little button called 'Project'. Tap that and you'll be presented with option to duplicate the screen, extend so that you're across both screens, or just use the second screen. Tap the one you want, hit Connect to a Wireless Display and select your TV.
Android devices
It's a little more complex because of the differing user interfaces you'll get depending on your tablet or phone manufacturer. You'll usually find it called something along the lines of screen share or dual screen or screen cast. Once again, this is a simple matter of ensuring your mobile device and TV are one the same network, then selecting your TV from the list of accessible devices.
Because of all the differences between devices, wireless screen sharing can be a little tricky at times and it might be easier to go with our next suggestion.