What is the most challenging part of essay writing?
Some name the process of thesis clarification, others mention essay hooks and writing an outline, but our reader Emily has knocked spots off them all when asked to share tips on writing essay conclusions!
Don't worry, Emily, you are not alone.
Finishing your essay isn't less but sometimes even more challenging than starting it. Our writers know it firsthand, so they give consent graciously to share expert tips on creating strong conclusions for college papers.
Keep on reading to master this craft once and for all.
Why do you need essay conclusions?
A conclusion provides closure and drives main points of your essay one last time. It's the chance to impress and give readers understanding why your paper matters. In other words, your conclusion should answer the question "So what?"
Give the audience something to think about after they finish reading your essay.
A conclusion should give completeness to your paper. Ending it on a positive note would be a good practice.
It's not about introducing new ideas but summing up your writing. The goal is to restate the thesis, summarize the essay's body, and leave readers with a final impression.
Key aspects to remember:
A strong essay conclusion restates, not rewrites your thesis from the introduction.
A strong essay conclusion consists of three sentences minimum.
It concludes thoughts, not presents new ideas.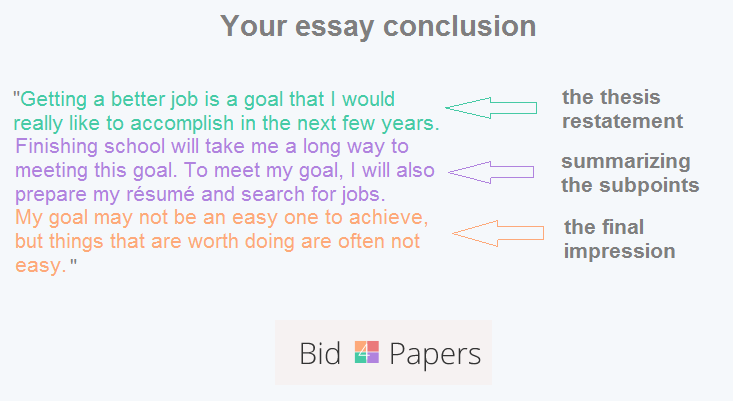 Example source: Purdue OWL
So, here's how to end an essay.
IELTS Conclusion Quick Tips
Never write any new ideas in your conclusion. A conclusion should always simply restate the ideas you have in the rest of the essay. New ideas should be in the main body and not in the conclusion.
Make sure you answer the question in the conclusion. The conclusion should state what you think about the question and make it clear how you feel about the issue.
Vary your language. Just because you are restating the ideas you have in the rest of your essay, doesn't mean you use the same language. Instead you show the examiner you have a wide vocabulary by paraphrasing.
Don't try to include everything. You are not required to go into detail, you have already done that in your main body paragraphs. Instead you will just summarise your main points.
Always write one. It is very difficult to get a good score in task 2 if you haven't finished your essay with a conclusion. Even if you are running out of time, make sure you write one.
Two sentences are enough. 
Linking Phrases
First you should start with a linking phrase, but some are better than others . Here are some examples:
Finally
In a nutshell
In general
In conclusion
To conclude
Finally isn't really suitable because it indicates that you are making a final point and therefore a new idea. Finally belongs in the main body of your essay, not the conclusion.
In a nutshell is too informal and we should never use it in IELTS conclusions.
In general tells the reader you are going to talk generally about a topic. This is not what we are going to do in our conclusion and we should therefore not use it.
In conclusion and to conclude are the only two linking phrases you should use to start your conclusion. They tell the reader exactly what the paragraph is about and they are formal.
End with Reflection
When used well, reflection is a great way to convey feelings without telling the reader how you felt – or how they should feel. Reflection offers the writer's thoughts about what is happening or has happened. Reflection can include thoughts about the moment or thoughts looking back, about the experience. Reflection can add clarity, as we see the writer thinking through the experience. This concluding moment is from James Baldwin's "Notes of a Native Son":
. . . I wished that he had been beside me so that I could have searched his face for the answers which only the future would give me now.
Bret Lott, in his short essay, "Brothers," reflects on childhood memories of his family, taking him into the present with his own two sons:
What I believe is this: That pinch was entry into our childhood; my arm around him, our smiling, is the proof of us two surfacing, alive but not unscathed.And here are my own two boys, already embarked.
When writing your own conclusion, think about what you want your readers to take away from your story. Then think about how best you can show it. Ending with reflection may work great for one story, but not another. Concluding with dialogue may sound forced. You seldom can go wrong with images. Think about what feeling, emotion, or question you want to leave your readers with, the take-away, then pick the type of conclusion that best suits the piece. If you've done your job showing the event or experience throughout the narrative, the conclusion will come naturally.