When spring arrives, I want to throw open the windows and let the fresh air in.  But sometimes letting the fresh air in also let's all the dirt and grime that's been building up over the winter months right into the house.  Prevent this from happening by using our 8 steps cleaning windows.  
These steps you'll turn your dingy windows into perfectly clean windows that are ready for spring.
Oh, and if you're looking for the window washing checklist, you'll find it in the Free Resource Library.
Don't have access?  Scroll down and sign up to get instant access to the Resource Library and come back often because I love adding new freebies for you!
The first step to perfectly clean windows is to establish your window washing kit.  Having your kit assembled with the proper products will ensure you get your windows as clean as the professionals.
If you have windows that tilt in you won't need a ladder unless of course, you have windows that can't be reached without one.  Because I'm afraid of heights, I always hire out the cleaning of my windows and very high light fixtures.  If you have someone in your home who's willing to get on a ladder, then have them help you.  If not, don't risk a fall because you're too anxious completing the task.
The Expert Professional Top Secret Window Cleaning Solution
I'm going to give you my top-secret cleaning solution recipe…ready…here goes….
Palmolive or Dawn Dish Detergent and water. That's it!
You can save yourself a ton of money by using either brand of dish soap to get your windows sparkling clean. I've tried a lot of them, and I always come back to Palmolive or Dawn.
Some people recommend vinegar and water. Here's why I don't: it doesn't suds up. The suds are important to lubricate the rubber as it passes over the glass, making it a lot easier to turn the squeegee. They also make it easier to see any watermarks that need wiping off. The suds also help to show up areas that need more scrubbing because the pattern of the bubbles separate more where there is a finger mark or some other dirt.
How to Clean Windows?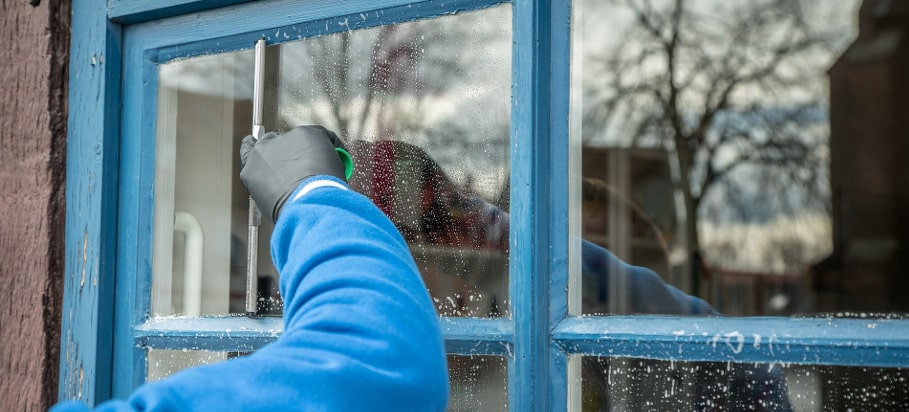 To clean up your windows follow these simple steps:
Pick a time when the sun isn't falling directly onto the windows. Otherwise, the solution will dry out quickly because the glass will heat and you'll have to repeat the cleaning process.
Remove curtains, blinds and window screens, if you have any. You'll clean them separately later.
Mix an eco-friendly window cleaning solution of one part warm water and one part white vinegar. Fill up one spray bottle and a small bucket with the solution.
Spray down the window from top to bottom. Make sure it's soaking wet.
Wipe down the frame first. Don't skip this step or otherwise all the dust and grime from the frame will get across the spotless glass soon after you've finished it's cleaning.
Scrub the window gently with a mop or a window scrubber. That's how you agitate all dust, dirt and stubborn stains and make them easier to remove.
Soak up the sponge in the bucket and rinse the window thoroughly.
Use a squeegee to scrape the solution off the glass with a fluid motion. You can either squeegee the window from top to bottom or you can use the professional "S" technique window cleaning.
Grab a clean towel and wipe the edges of the window frame and sills so there's no water dripping. Wipe the blade of the squeegee from time to time to avoid streaks on the glass.
Dry up the window with a microfiber cloth for a gleaming appearance before moving to the next one.
Enjoy the final result!
There are some important steps you need to consider when cleaning your windows on the inside and on the outside. You can add to your window cleaning step-by-step list the following advice:
How to Clean Inside & Outside Windows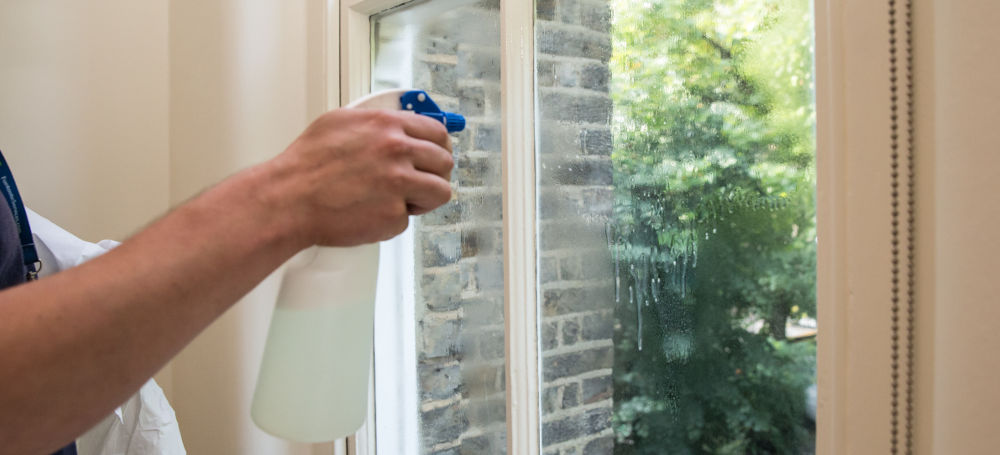 Lay a plastic drop cloth or old large towels on the floor under the windows and on the sills to protect them from any water damage and scratches.
Remove the dust and dirt along the inside window edges. Use a brush, a soft broom, an old cloth or your vacuum cleaner to clean the seams and cracks around the window borders.
Clean away any cobwebs, bird faeces, squashed insects, and other general dirt and grime that has built up on the outside of your windows and frames. You need to be thorough otherwise, you risk leaving behind dirt which could smear your window panes after the first rain even if you have washed them sparkling clean before that.
When washing high and out of reach windows from the outside you will need an extendable pole or a stepladder to reach them. If you use a stepladder, for a safety precaution leave the bucket with the cleaning solution on the ground. Don't put it on the ladder or even hold it in hand. You can lose balance and fall down which can cause a fractured limb. That's why if the windows are difficult to reach and dangerous to clean better seek help from professional window cleaners.
Professional Window Cleaning All Year Round with Fantastic Services
We are certified:
How to Clean uPVC Window Frames
One of the most common types of window frames nowadays is the uPVC. According to the British Plastics Federation, in the UK over 85% of the window replacement projects include uPVC materials. They are preferred more than the other window frame types because they are long-lasting and require less maintenance. Anyway, even their colour alternatives vary, the most chosen one is the white which makes the spots of dirt more visible.
During the years of practice, we assumed that the best way to clean uPVC window frames is to:
Lay down old towels on the sill and on the floor to preserve from damages.
Step on a ladder or a stable chair to reach higher spots.
Clean hard-to-reach surfaces with a vacuum cleaner or an extendable feather duster.
Fill a clean bucket with 1 litre of lukewarm water and mix with 1 cup of vinegar.
Soak a microfibre towel and clean off the grime from the inside and outside of the frames.
Wipe down the excess water.
Use a window frame cleaning solution to restore the polished look of the uPVC frames.
Many struggles from mould build-ups, so here are the steps on how to remove mould from your uPVC window frames:
Mix bicarbonate soda with lemon juice to make a paste.
Put from the solution on the affected area.
Leave it for ½ an hour.
Scrub with a toothpaste to remove the mould
Wipe with a towel.
However, there are some common mistakes you should avoid when cleaning uPVC frames:
Use only white towels or washing clothes because colourful rags will leave marks on the frames.
Don't clean with strong detergents such as bleach as it may corrode the frames.
Avoid cleaning the frames with the same solutions you use on the glass as some of them might be too abrasive.
How to Clean uPVC Windows Sills
To keep stainless standard white uPVC windows sills in a suitable appearance all you have to do is a systematic wipe down with warm soapy water.
To ensure the best stylish look for your uPVC windows sills:
Clear up as much dust and dirt as possible with the vacuum cleaner and use a toothbrush or Q-Tips to clean the window tracks from the inside of the sills.
Get a clean bucket and mix 1:1 warmish water and vinegar along with several drops of the dish soap.
Use a sponge to rub the stains, if there are obstinate leftovers, you can add a small amount of baking soda.
Finnish by wiping off any liquid left on the window sills with a clean and dry cloth.
uPVC windows are easy to maintain hence for best results vacuum the tracks and the sills every 2 weeks. Use the universal cleaning solution – the mix of water and vinegar – and polish them with a microfiber cloth. This will avoid dirt from building up in the future.
Cleaning products to avoid in the process of washing uPVC windows sills:
Scouring pads – don't scrub the gentle uPVC surface or you may regret your actions;
Wire sponge – another one product that's good for cleaning purposes, but it's better to leave it in the kitchen;
Cif cream – it's suitable for your bathroom tiles but not for cleaning sills;
WD40 – might be the can with a thousand uses, but cleaning windows and sills is not one of them;
Bleach – one very aggressive chemical agent that contains chlorine (that isn't good for your health neither).
* These tips are relevant for the uPVC types of windows sills. If you have wooden ones, just make sure you don't wet them too much.
How Professional Window Cleaning Can Help You Live a Better Life
Improve your living by following these simple steps when hiring a professional window cleaner. Here's what you can do:
Hire trained window cleaners. They know the nuts and bolts of window cleaning as they've passed rigorous training.
Look out for the right equipment. Buckets, squeegees, water fed poles, window vacs, e-cloths… all these cost a lot, take up the precious storage space in your home and you need to learn how to use them the right way, too. You can save yourself from all that trouble by hiring well-equipped window cleaners.
Expect professional results. Cooking on your own (unless you are a chef) and having a meal at a quality restaurant makes a difference. The same goes for professional domestic window cleaning and DIY window cleaning.
Minimise the property damage risks. If you damage your windows by scratching or breaking them while you are cleaning the glass, you have to pay for the replacement from your own pocket. Professionals know how to avoid damage and in a rare case of something going wrong, they have an insurance to cover the damage.
Think about your health and safety. You don't have to climb ladders and risk your own safety just to get streak-free windows. Also, using chemicals can negatively influence your health. You can easily avoid these dangers because these days most of the window cleaners work from the ground by using water fed poles and purified water.
Free yourself from the hard work. Cleaning windows is not an easy task so why do it on your own? And when you consider the health conditions or disabilities that might prevent you from excessive physical activities, hiring someone else might be your best option.
Free up some time for yourself or your family. With so many things on your list, it's obvious that the currency of the 21st century is time. What might take you a day or two, the professionals will complete in less than two hours.
Prevent your glass windows from corrosion. Acid rain, polluted air and other artificial corrosion agents can damage the gentle surface of your precious window glazing. Your maintenance costs, in the long run, will be less by preserving in a good shape what you already have.
How to Avoid the Most Common Window Cleaning Mistakes
There are several things that might go wrong while cleaning windows. To avoid the most common window cleaning mistakes you should:
Refrain from using chemical cleaning solutions. To keep your family's health, it's advisable to make your own eco-friendly solution. This is a more efficient way to clean the windows.
Avoid the use of hazardous equipment. Many people clean their hard-to-reach windows from the outside by themselves. This may be risky for your health because you can break limbs or sustain even some riskier and life-threatening injury. Instead, you can call for professional help with this task.
Forget about the newspapers. Many households use them for wiping and polishing the glass. Well, this is another mistake. Newspapers will only move around the grime and the ink will leave even more dirt. This will stain the surface of your windows – definitely not the result you were looking for.
Stop cleaning with the wrong tools. You shouldn't use rough brushes or scrub pads when cleaning the frames. You can easily scratch the glass surface of the windows. Rather than this use a soft microfiber cloth and other proper window cleaning equipment mentioned above.
Тake extra care when cleaning tinted windows. This type of windows come with many benefits but require some special attention. To avoid any damage follow our useful tips and tricks on how to safely clean tinted windows.
Eco-friendly Window Cleaning Tips
What is your window cleaning routine? Do you use synthetic products to keep your windows bright and shiny? If that's the case, you have to get familiar with some hidden dangers connected to the most commonly used household window cleaners: