It's spring cleaning season! Have you started cleaning out and freshening up?! Today we share some super-easy tips and tricks for cleaning a shower head. While keeping your shower clean is a challenge in itself, it's easy to forget about the device that regulates the flow of water. The shower head is where the water comes out, yet it can be the dirtiest spot in the room if you let it become encrusted with mineral deposits and mildew. So it's time to look up, acknowledge the grime, and get it clean! Read on as we show you how to clean a shower head… [Spray Jet Showerhead from RH Modern]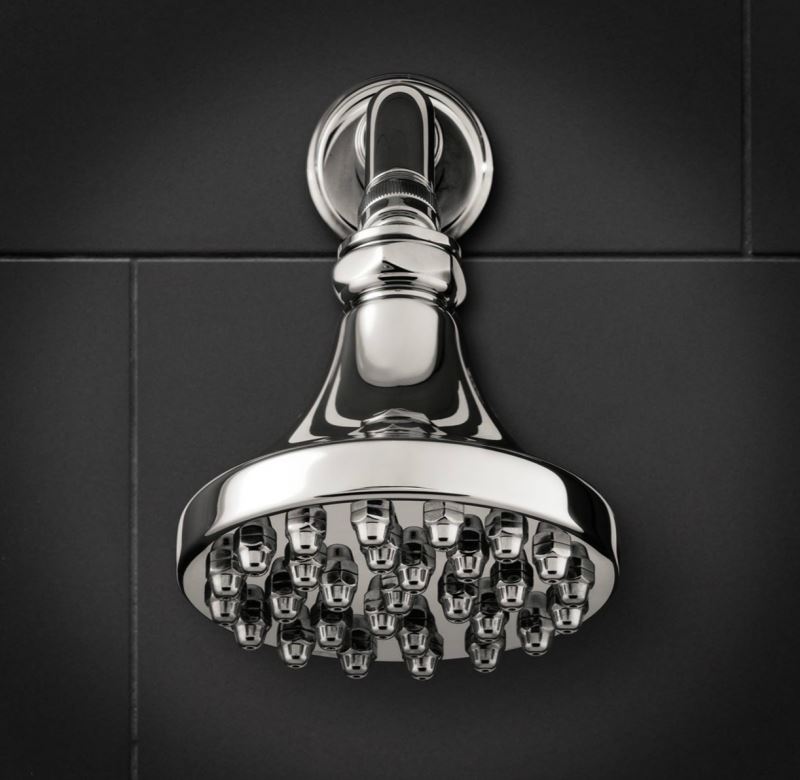 Shower head from RH Modern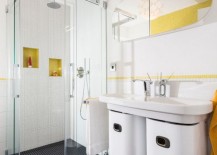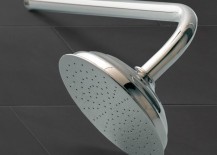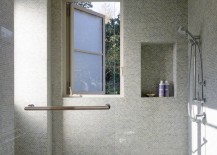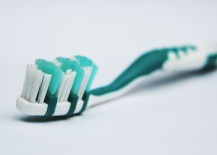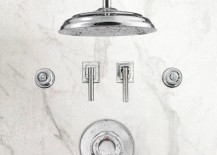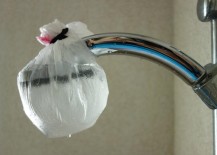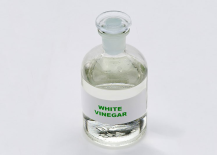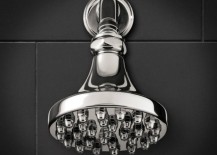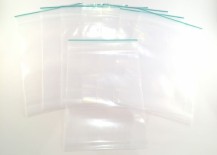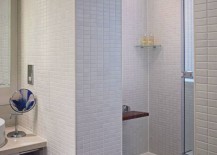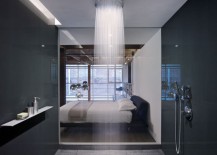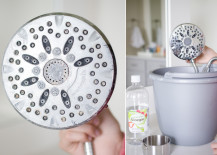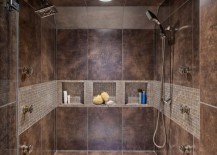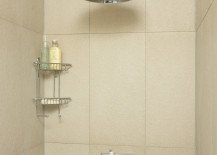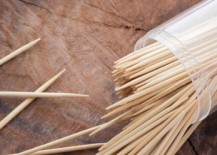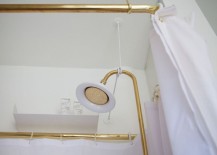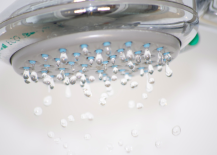 An Easy Soaking Solution
Let's start with an easy way to keep that shower head clean! This method works well for small- to medium-sized shower heads, and it involves no toxic chemicals. [photo from Lonny]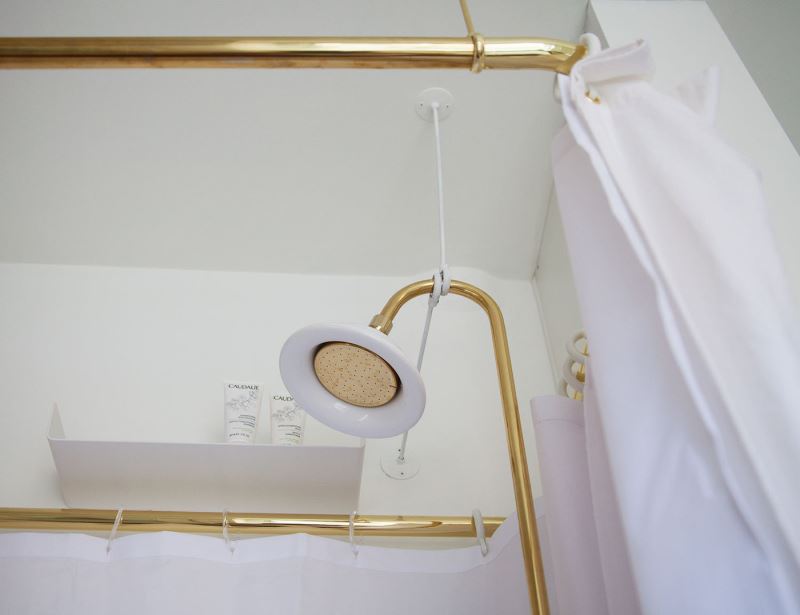 Gold-toned shower head in a chic powder room
We begin by focusing on the ingredients you'll want to have on hand! For starters, purchase a bottle of white vinegar. The larger your shower head, the more vinegar you'll need, so get ready to grab an extra large bottle if necessary. [photo from She Finds]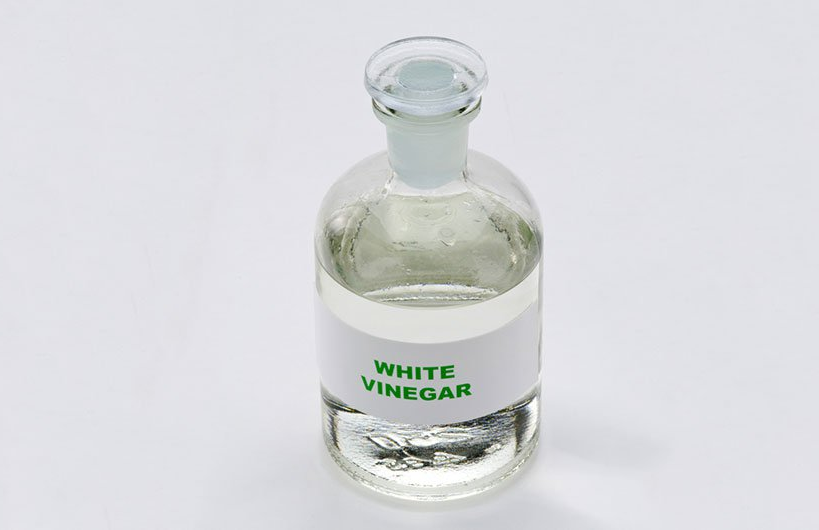 White vinegar
Next up: a plastic bag. Again, the size of your shower head will determine the size of the bag you will need. In some cases, a food baggie will work well, while in other cases, a larger bag will be necessary. You will also want to have a rubber band, a piece of string, or a twisty tie on hand for securing the bag to the shower head. Confused? Don't worry! We're getting to the good part! [from Dutch Snacks UK]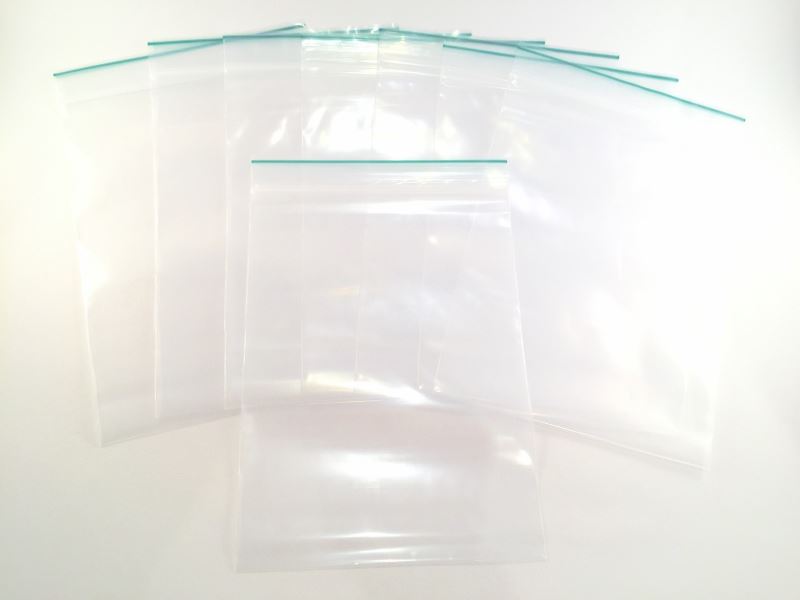 You may need extra large baggies
While vinegar will do a lot of the work for you, you will still need a couple of supplies for the more detailed cleaning. Toothpicks are great for clearing those tiny holes in the shower head. [photo from The Evans Group, LLC]

Have toothpicks on hand for detailed cleaning
And of course, nothing beats a toothbrush for scrubbing! Don't feel obligated to buy a new item. An old toothbrush will definitely do the trick! [photo from Delta Dental of Arkansas Blog]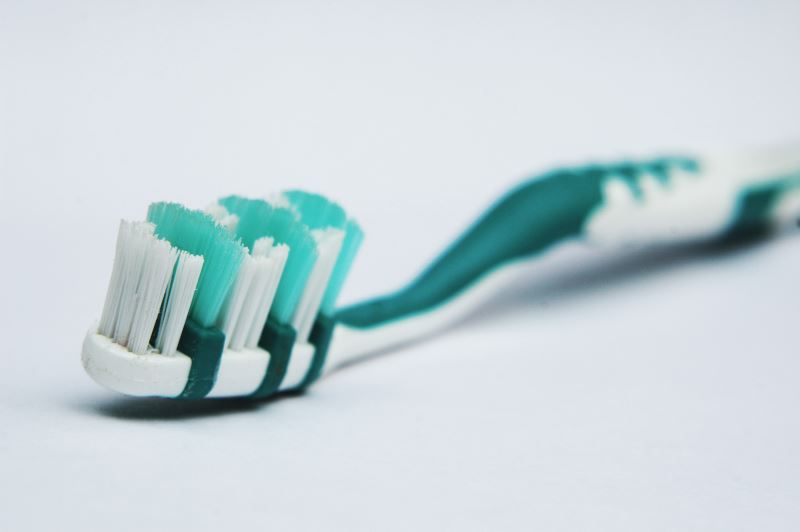 Use an old toothbrush to scrub away debris
Here's how the vinegar soak is done… Simply fill a plastic bag with vinegar and attach it to your shower head using a rubber band, a twisty tie or a piece of string. If using a rubber band, it can be helpful to have it in place around the shower head before you attempt to attach the liquid-filled bag! Make sure the dirty part of your shower head is completely submerged in the vinegar. [photo from CuriousNut]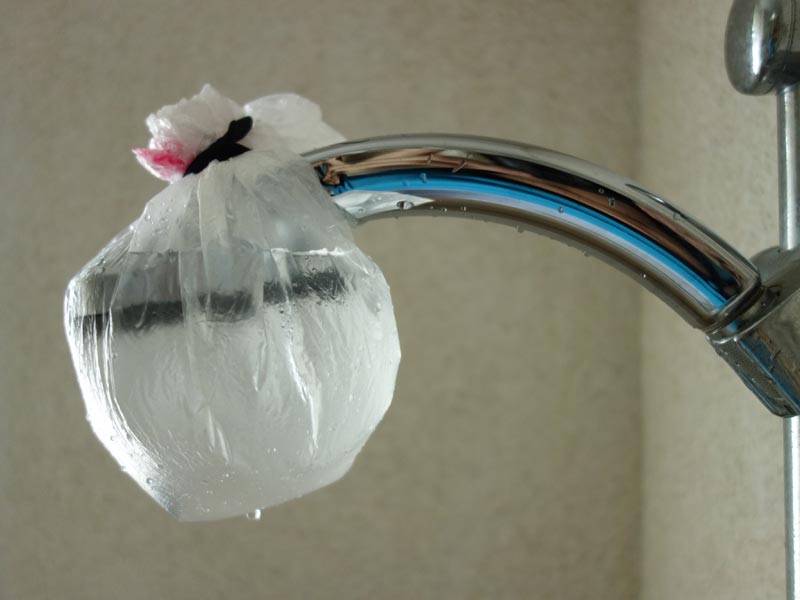 Soak your shower head in vinegar
If your shower head is on the large side and/or removable, there's another option you can try for the vinegar cleaning method. [photo from Lonny]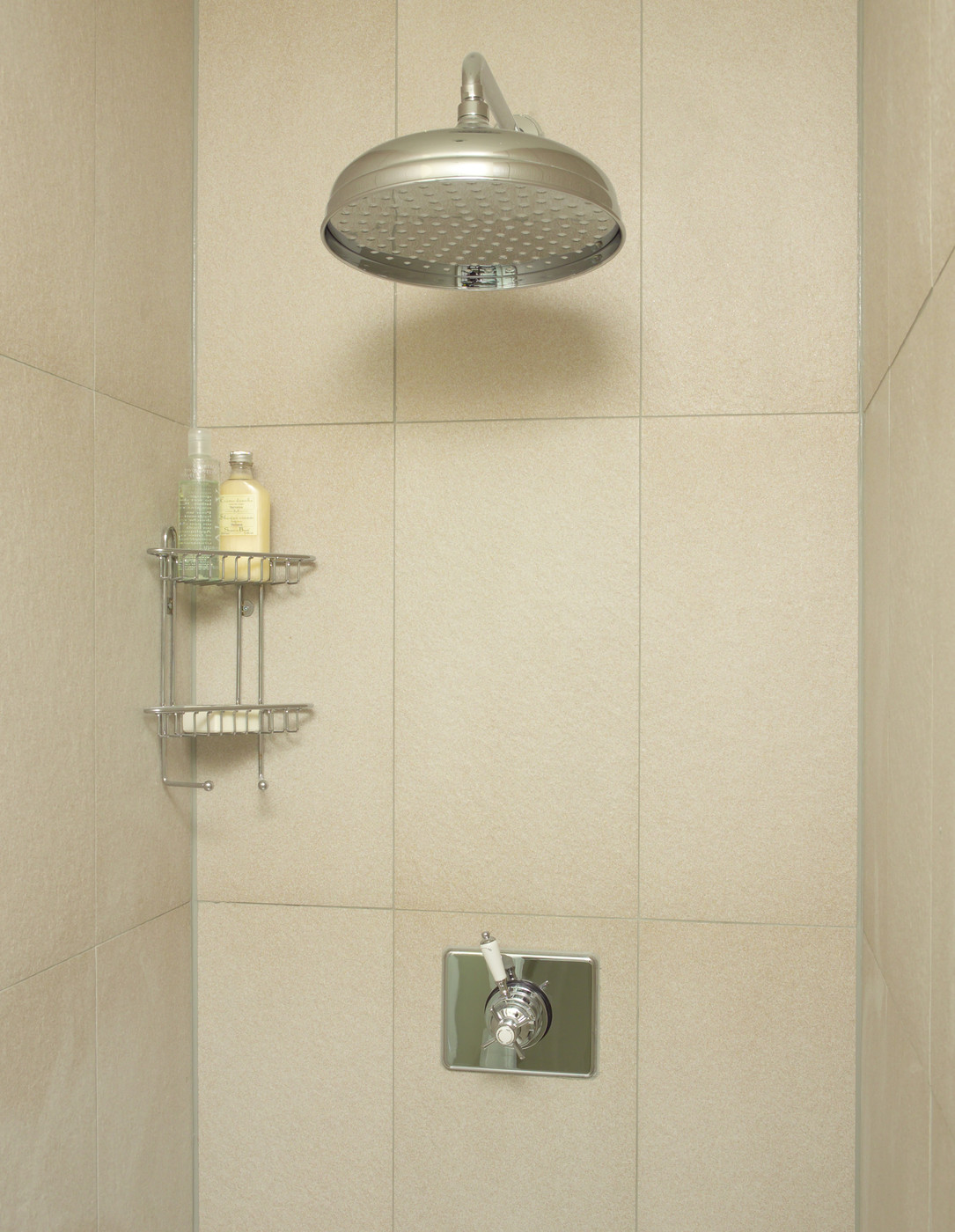 Large shower head in a tiled shower
Soaking the shower head in a large container is a very effective strategy! Start by carefully removing the shower head… [Sunflower Showerhead from RH Modern]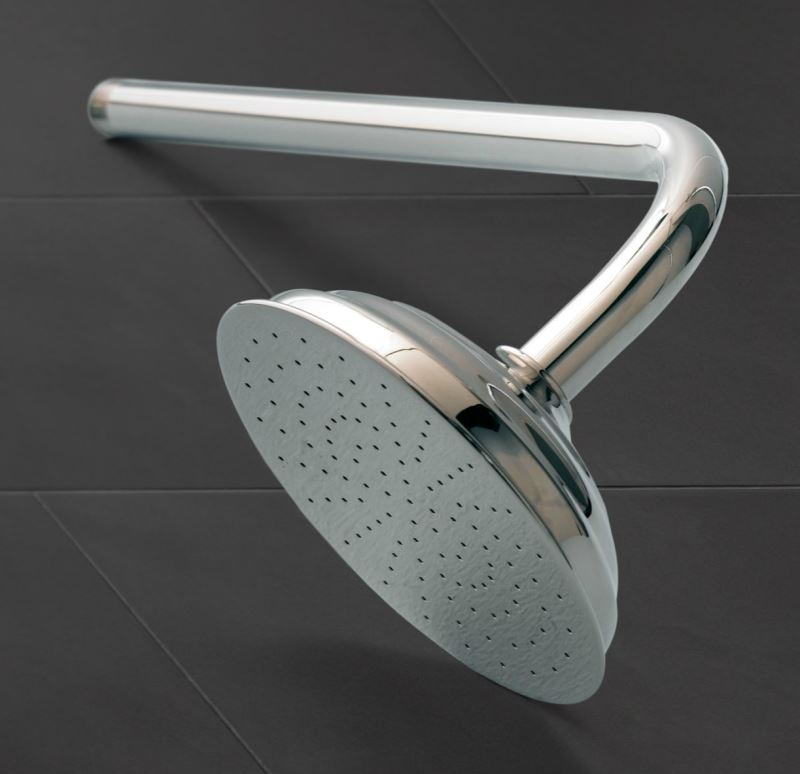 Sleek shower head from RH Modern
Now soak it in a bucket or another large container filled with vinegar. Yes, it's that easy! [photo from The Krazy Coupon Lady]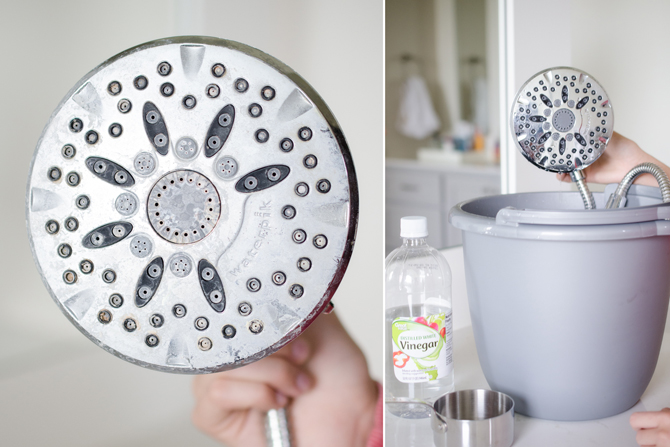 Have a bucket on hand for soaking
Whether you tie a vinegar-soaked baggie around the shower head while it's still attached or you use the bucket method shown above, soaking times will vary, depending on the level of debris that has accumulated. In fact, recommended times range from 30 minutes to overnight. Use your best judgement, and remember that you will follow up with a toothbrush and possibly toothpicks to remove particles that have been loosened by the vinegar. It will be easier to scrub away debris and re-open blocked spray holes after a good soaking. Finish by wiping the shower head with a cloth. [photo from Greatest Shower]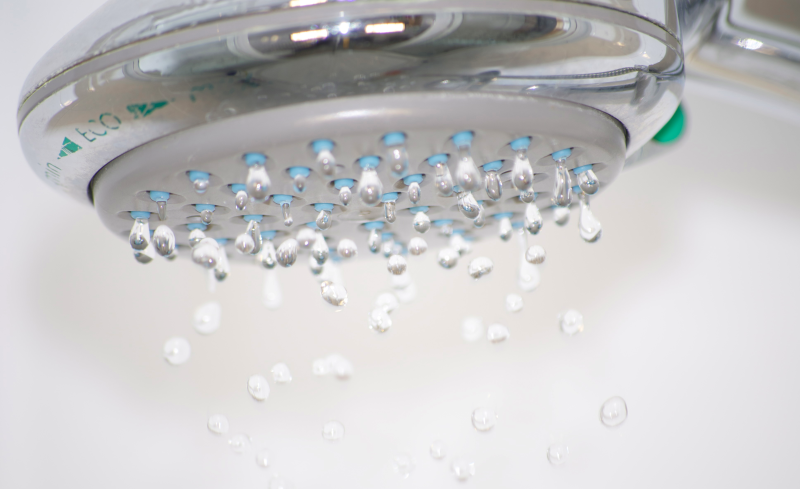 A clean shower head!
As a final step, let the water run through the shower head once it has been reattached. This will give those final deposits and particles a rinse so your shower head is sparkling clean and ready to go!
For Tougher Cleaning Jobs
While the method above is super easy (and kind of fun!), there are some shower heads that are a bit trickier to clean… [photo from Aleck Wilson Architects]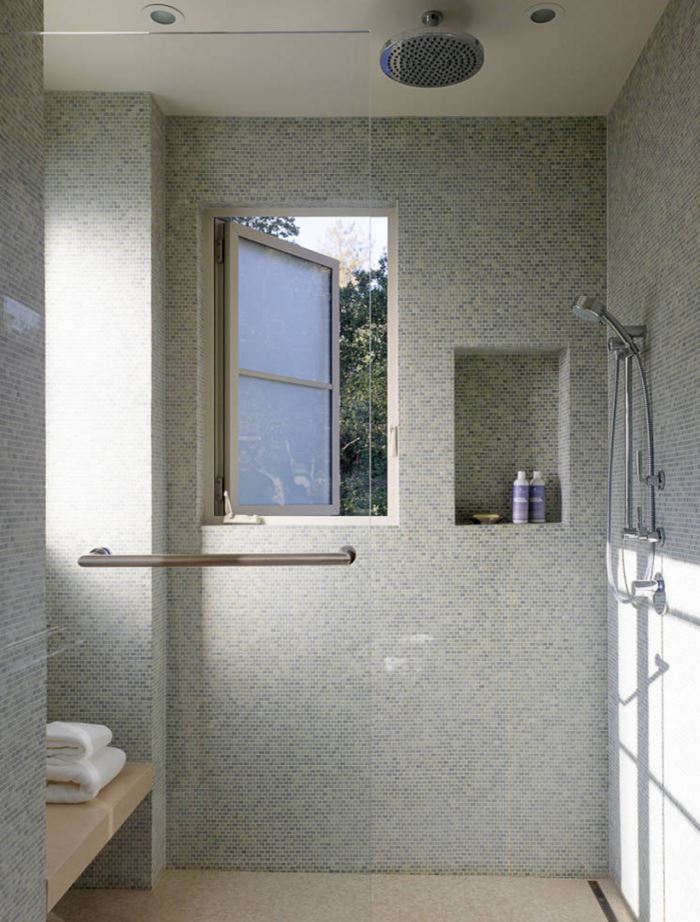 Multiple shower heads in a tiled bathroom
Some are so large, it might not make sense to fill a huge container with vinegar and soak them. [Hansgrohe's oversized Raindance Royale showerhead, photo by Bruce Damonte, from Hansgrohe USA]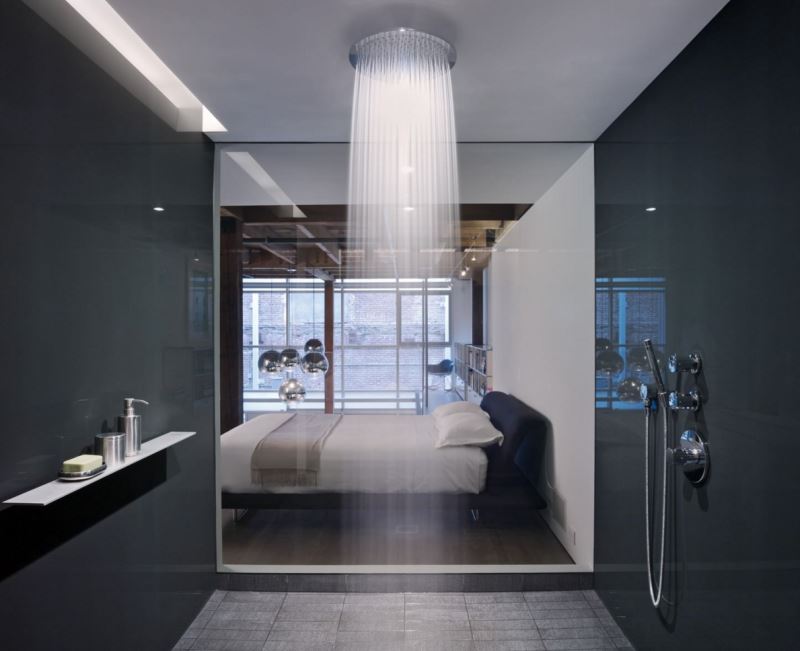 Water cascades from a large shower head
In other cases, you may have a ceiling-mounted shower head, as well as a hand-held sprayer. You may choose to soak each of them in a vinegar-filled baggie or to detach them and soak them in the same large container… [photo from wedi GmbH]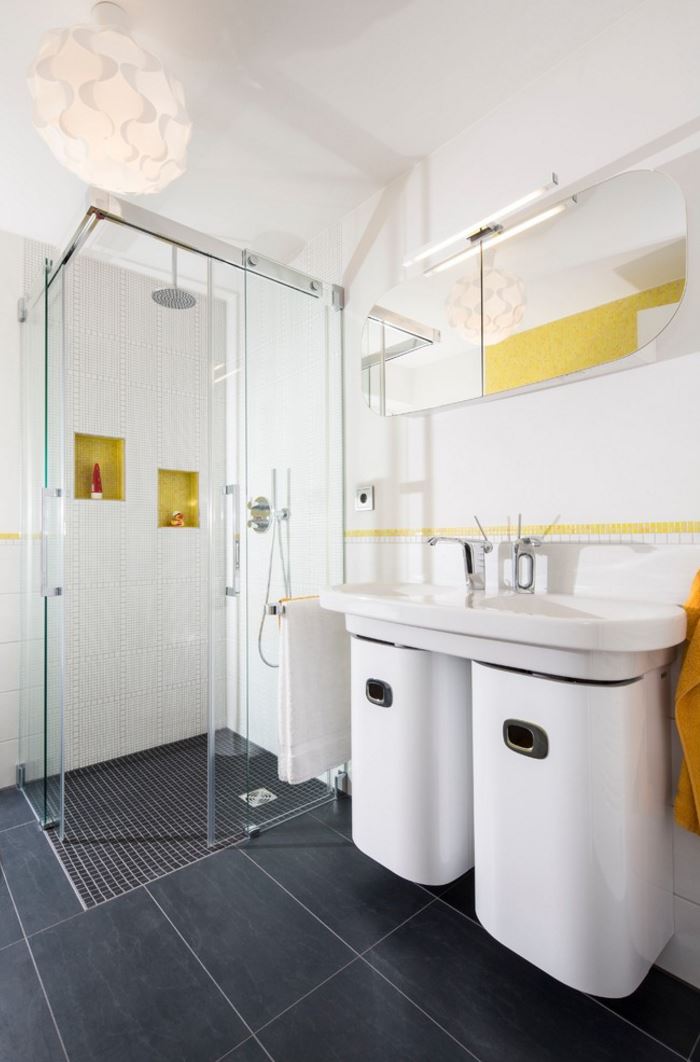 Clean bathroom with a sleek shower head
Perhaps your shower has both fixed and hand-held shower heads, as well as 6 body sprays! That's a lot of vinegar soaking! [from Drury Design]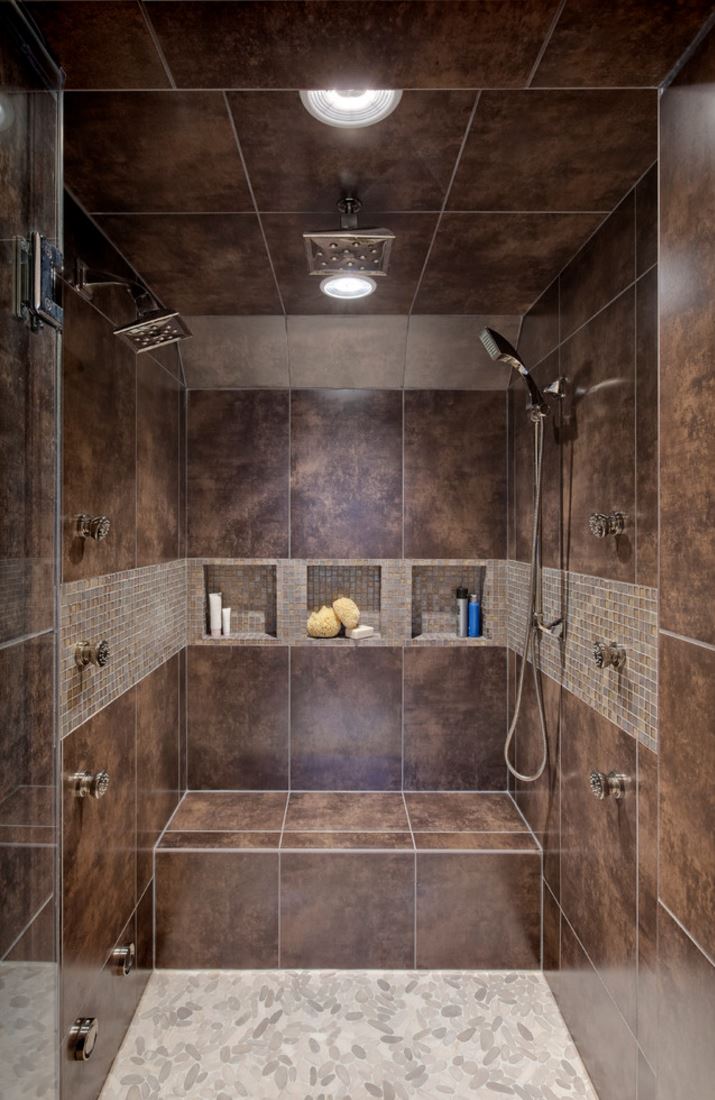 Earth-toned shower with more than one shower head
And don't even get us started on this one… [from David Churchill Architectural Photographer]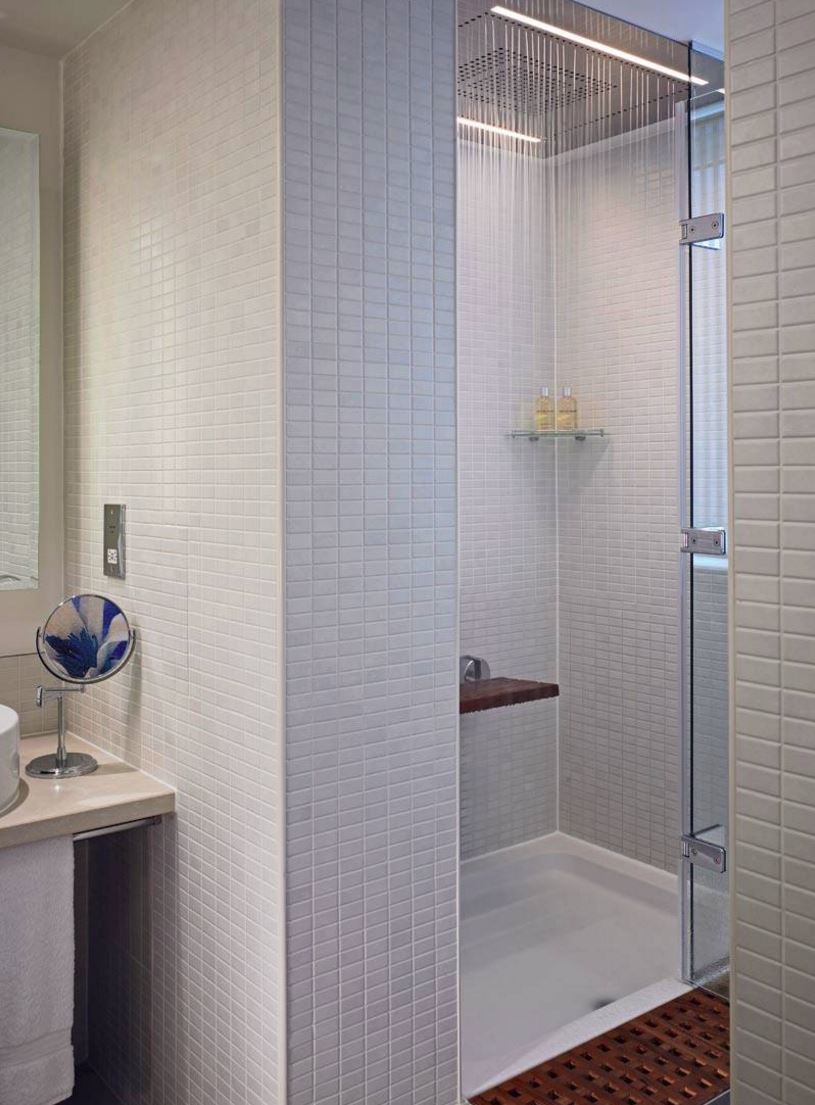 Giant shower head in a compact shower
For larger shower heads, you can always try scrubbing them with a toothbrush and vinegar, then rinsing (without soaking them first). But if you have a specialty shower head, you will want to consult the manufacturer or check your manual for cleaning advice. This may involve disassembling the shower head and cleaning specific parts, and you may be warned against using certain chemicals or household items as cleaning agents. [Kingston Brass Showerhead with Shower Arm from Kohls]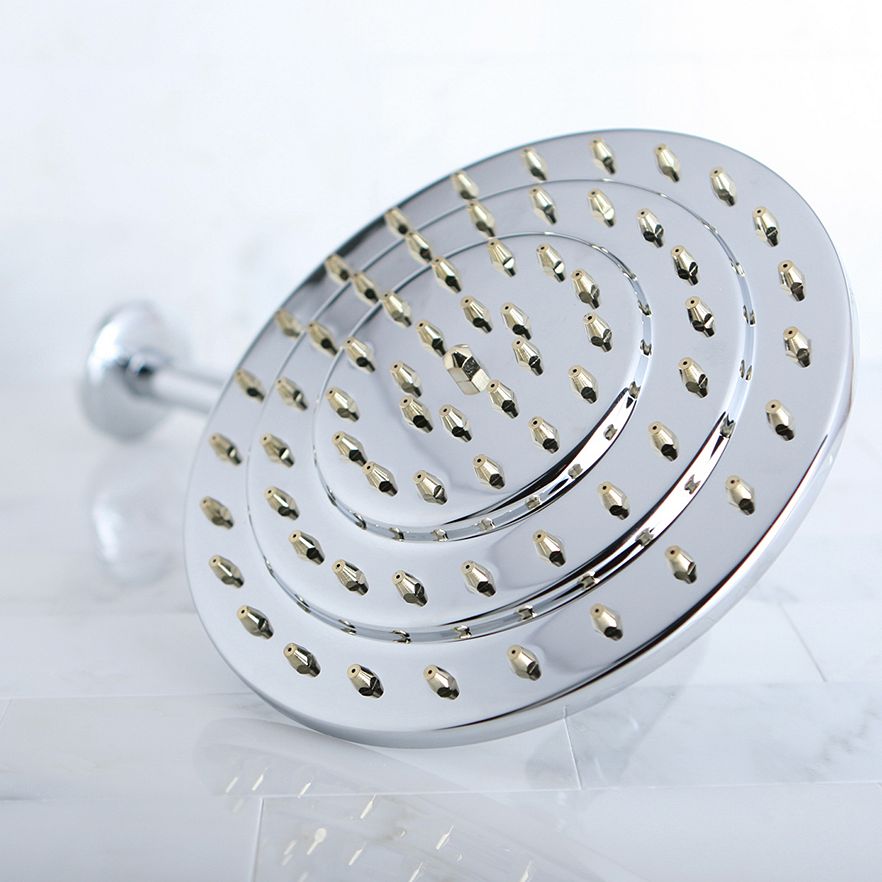 Wipe your shower head clean
Regardless of your shower head or chosen cleaning method, remember that regular cleaning and maintenance keeps everything running smoothly! [Ceiling-Mount Rain Showerhead from RH Modern]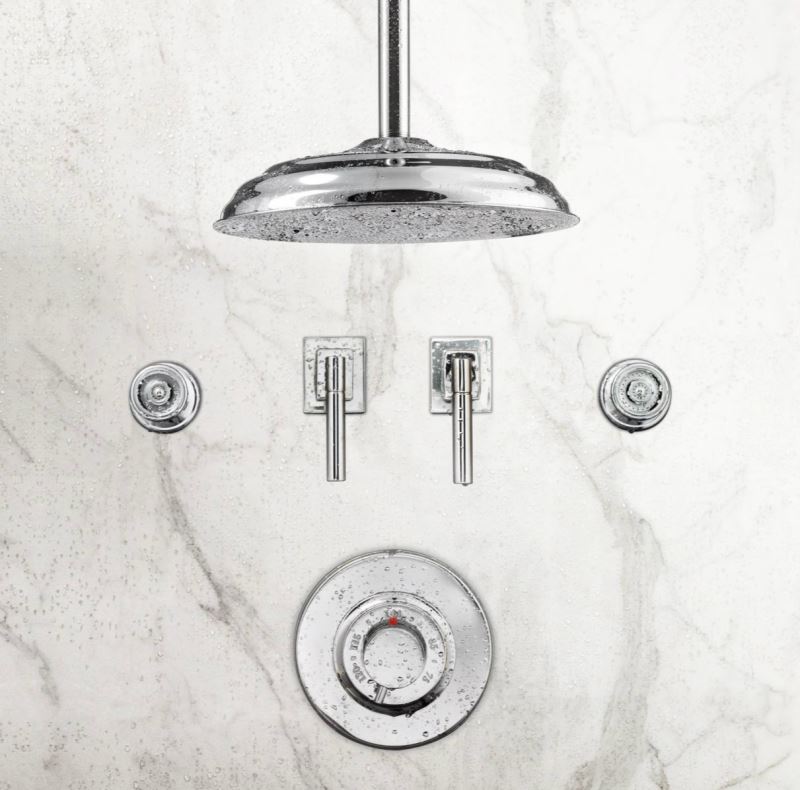 Ceiling-mount shower head from RH modern
Thanks for reading! We at Decoist wish you a Happy Spring Cleaning Season!
Liked the story? Share it with friends.
The Importance Of Understanding How To Clean Shower Heads
When talking about water hygiene and clean water, the number one risk to human health and life is Legionella bacteria, that can lead to Legionnaires Disease. If contracted, Legionnaires Disease can cause serious health issues. Even if you are otherwise fit and well, you have about a 1 in 10 chance of dying. Survivors often experience long term debilitating conditions such as damage to respiratory systems, acute kidney failure, sepsis, loss of limbs, and more.
All cases of Legionnaires Disease are caused by inhalation of water 'aerosols' containing Legionella bacteria. These aerosols can be caused by domestic showers as they produce water droplets, often at high pressure, and of varying sizes.
As inhalation of airborne water droplets is the main route of infection for Legionellosis, showers pose a high risk, highlighting the importance of understanding how to clean shower heads effectively in order to improve cleanliness, reduce scale and bacterial contaminants within the shower head and hose, and to minimise the risk of contracting Legionnaires Disease.
If you feel that you need training in the area of Legionnaires Disease risk management for your business, please visit our training website HERE.
Whilst anyone can contract Legionellosis, certain conditions put individuals at higher risk:
Over 50 years of age
Smokers
Heavy drinkers
People suffering from chronic repository or kidney disease, diabetes, lung and heart disease
Anyone with an impaired immune system
To reduce the risk of Legionella growth the HSE recommends the cleaning and descaling of shower heads and hoses at least every 3 months, which is why it is important to understand how to clean shower heads effectively and thoroughly.
Often people think that typical household cleaning solutions are the best method to clean shower heads and hoses, but unfortunately, these fail in several areas:
Most products only work to descale the surface of the shower head, and don't penetrate the inside where the majority of bacteria reside and thrive
Most products do not sterilise or disinfect any part of the shower head
Most products don't allow themselves to be diluted sufficiently and cost-effectively to allow full submersion in a bucket or similar container to allow the shower head and hose to soak for a period of time (optional, but a good idea for a guaranteed deep clean)
When it comes to cleaning your shower heads and hoses the very popular and well-known Showerhead Plus range of liquids and gels has proven effectiveness in legionella (and other) bacteria control.It does this by effectively removing both scale deposits and bacterial contaminants inside and outside of the shower head and hose, and is even suitable for chrome fittings at the right dilution.
The Showerhead Plus range is available in 10 Litres, 5 litres and 500ml Gel containers, allowing you to choose the right size container for your needs, and giving you the freedom to dilute the solution as you see fit for your requirements.
Shower Head Plus is an acid based, ready to use descaling solution encompassing a proprietary biocide.
Click here for more information 
How To Use Showerhead Plus To Descale and Disinfect Your Shower Heads
PLEASE NOTE: It is always recommended to wear suitable eye and skin protection when using cleaning chemicals
For Cleaning Removable Shower Heads and Hoses:
The main goal is to dismantle, clean, and descale removable parts, heads, inserts and hoses where fitted.
To remove heavy deposits: Use Showerhead Plus liquid neat – caution should be used when using neat on chrome fittings. Please test in a small area first.
For routine and regular cleaning: Immerse in a solution of 1-part Showerhead Plus liquid to 3 parts water.
For routine and regular cleaning of your shower head and hose:
Physically clean the head with a soft brush to remove loose deposits or soap scum
Use a sturdy plastic bucket. Immerse the shower heads and hoses in a solution of 1-part Showerhead Plus liquid to 3 parts water – enough to cover the shower heads and hoses.
Leave to soak for 2-15 minutes.
Any remaining loose scale can be removed by gentle rubbing.
Rinse thoroughly with clean water.
Examine fittings to confirm cleanliness
Frequency for prevention of Legionella bacteria: It is recommended by the HSE to descale and disinfect shower heads Quarterly.
Did you know?
Showers have been the source of many outbreaks of Legionnaires' disease.
Shower Head Plus had proven effectiveness in Legionella bacteria control
For Cleaning Fixed Shower Heads:
Click here for more information
For fixed shower heads that cannot be dismantled, Showerhead Plus Gel is the ideal product to disinfect, descale, and clean shower heads.
How to use Showerhead Plus Gel:
Showerhead Plus Gel is a one-stop solution to descale and sanitize shower heads, plumbing fittings, and sanitary ware that cannot otherwise be removed for cleaning.
Showerhead Plus Gel has been developed for use on vertical surfaces and fixed fittings that cannot be dismantled and immersed for treatment. the product is applied by using a brush or other suitable applicator.
Physically clean the head with a soft brush to remove loose deposits or soap scum.
Apply Showerhead Plus Gel over the surface to be descaled and cleaned and allow to soak for five minutes
Rinse thoroughly with clean water
Inspect the surface of the shower head or fitting and if any scale is present then repeat step 2
When the Shower head or fitting is clean and scale free apply a further coating of Showerhead Plus Gel over the surface of the shower head or fitting
Allow a minimum of one-minute contact time for the disinfection process
Rinse with copious amounts of clean water
Examine fittings to confirm cleanliness
Why Your Shower Head Needs Cleaning
If you're asking this question, then you are most likely getting fed up with the following problems:
Almost no water coming through
Scale and build-up are blocking the openings
It looks dirty and gross
All of the above are the result of build-up over time. Some of us have hard water coming out of our pipes and it leaves hard traces of lime and calcium deposits. For some, it's simply debris that has gotten into the water main and getting stuck.
Whatever the case, you don't need to suffer from a problematic shower as the solution is very simple.
Video: See How It's Done
We really like Melissa from Clean My Space. Here is a video that shows exactly how the first method is done.
How to Clean Your Shower Head! Easy Bathroom Cleaning Ideas (Clean My Space)