Earlier this fall, Apple released an update to iTunes (version 12.7), which removed Apps and Tones (ringtones and alert tones) from the software. While purchased apps and ringtones can still be downloaded from the App Store or iTunes Store, respectively, on your device, any custom made ringtones can not be synced. Fortunately, there is still a way to get those custom sounds on your iOS device in just a few simple steps.
How to Make Custom Ringtones on Your iOS Device
1. Download GarageBand for iOS
The first thing before digging in on this process is to make sure you have all the necessary pieces in place. Start by downloading GarageBand from the App Store or ensuring you have it installed. Most newer iOS devices came with GarageBand pre-installed, but in the event that you deleted it, go grab it from the App Store.
2. Find Your Desired Song
To make your ringtone, you'll want to make sure you have a song (or sound clip) on your device. This can be accomplished in a few ways. Purchased iTunes songs, or non-Apple Music music synced from your computer should be downloaded via the Music app. You can also place any mp3 or other audio file in Dropbox, iCloud Drive, or other file provider supported by the Files app, and download it locally through Files. Using Files is especially great if you already have ringtone files or sound clips on your computer and want to turn them into text alerts or ringtones on your iPhone.
3. Fire Up GarageBand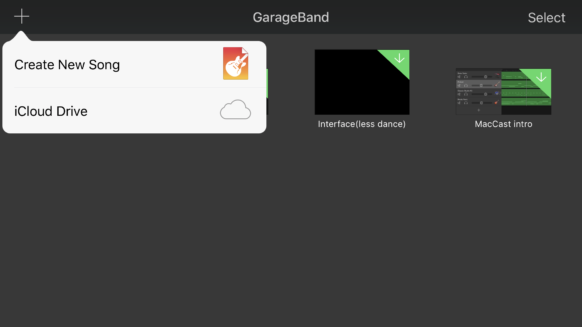 To get started, launch GarageBand and tape the + and "Create New Song". When prompted with the recording type, select AUDIO RECORDER.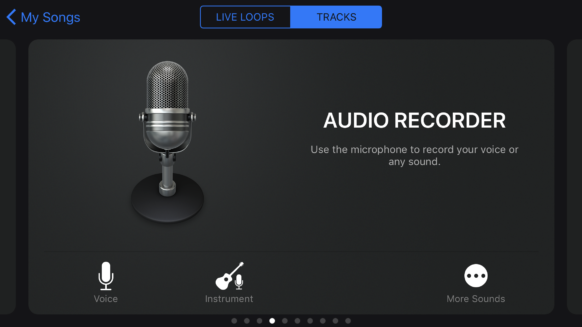 4. Switch to Track View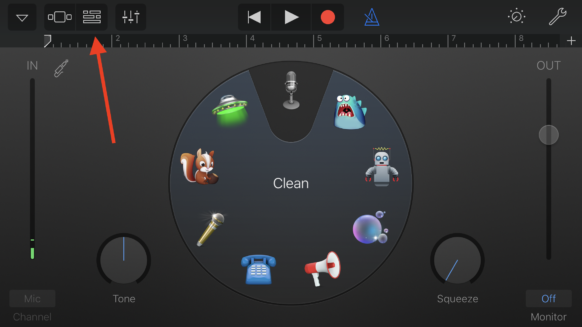 Once you have your new song project, you'll want to switch to the track view instead of the recording interface. This is accomplished by tapping the multitrack button (the stacked boxes) in the top left of GarageBand.
5. Add Your Song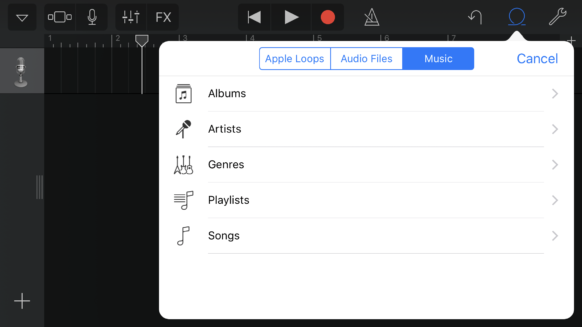 Once in the track view, you'll see a loop icon in the top right. Tap this and you'll see a pop-up with 3 selectors. If your song or sound file is in Files (iCloud Drive, Dropbox, etc.), hit Audio Files. If you downloaded it (or synced it) through the Music app, tap Music. Navigate to your source audio, press and hold, and drag the song or audio file to the track in GarageBand.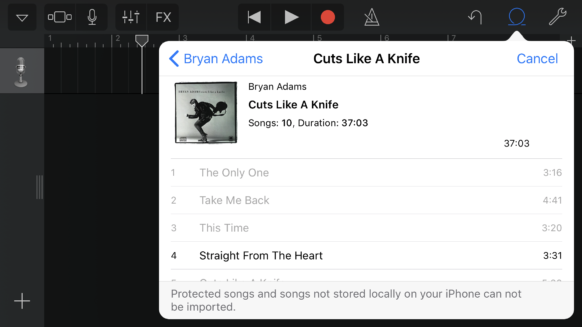 6. Trim and Edit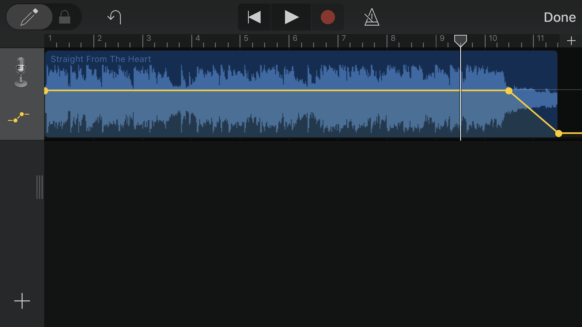 Once you have the song in GarageBand, you'll probably want to cut it down to just a small section (the chorus, a guitar riff, etc). Do this within the GarageBand editor as you would any other audio track. If you're not familiar with editing in GarageBand, most of it is very straightforward drag and tap to trim and cut songs. You can also get fancy and fade out at the end if there isn't a clear end to the tone. Keep in mind that ringtones are limited to 30 seconds, so anything longer will get trimmed when you export it.
7. Save Your Project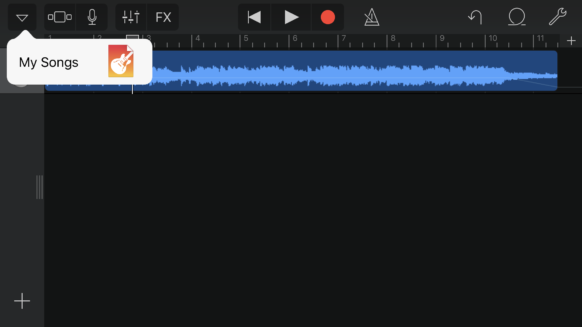 Once you have your desired section of song or audio file, hit the upside-down triangle in the top left corner and return to the "My Songs" list. This will save your project and get it ready to export.
8. Export Your Ringtone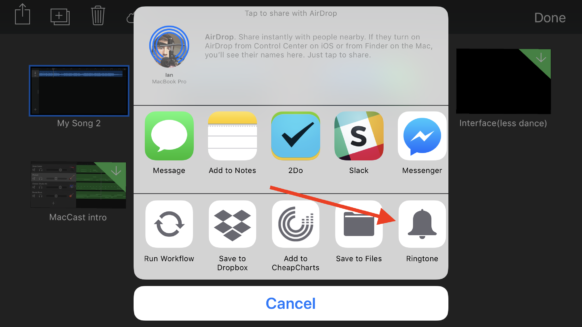 Press and hold on the project (likely called "My Song") until it enters wiggle mode. Press the share icon in the top left to bring up the share sheet. In the action row (the bottom one), you should see a "Ringtone" option. Tap "Ringtone" to start the export process.
9. Name Your Ringtone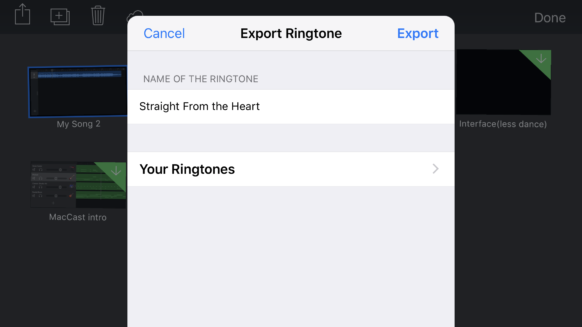 Before the export happens, you're prompted to name it, which will be the name that displays in settings when selecting your ringtone. Give it a title and tap "Export."
10. Use Your Custom Ringtone

Once exported, you'll be prompted with a dialogue to "Use sound as…" which lets you set it as your standard ringtone, text alert, or assign it to a contact. You can also tap "OK" to continue, which will save it to your device's sound library without changing your current ringtone and alert settings.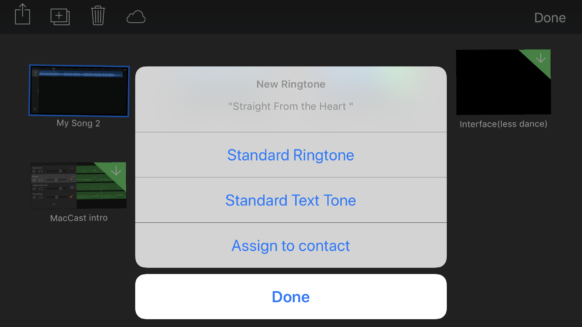 11. Change Your Ringtone
Once you've finished making your custom ringtone, you can always change it by going to Settings > Sound & Haptics > Ringtone (or Text Tone).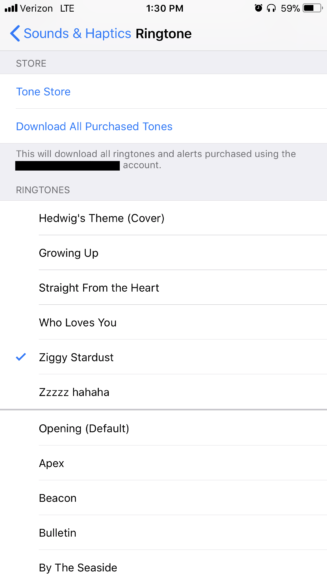 From here, you'll see all the iOS default sounds, as well as all of your purchased and custom ringtones. You can also set a ringtone for a specific contact in the contacts app.
So how did it go for you? Did you find any songs that worked especially well as as a ringtone? Let us know in the comments below.
Next Up iPhone X Component Cost Estimate Comes in at $357.50 Topics customGarageBandhow tohowtoringtonetutorial
» How to make Ringtones using iTunes 12.7 & higher?
Follow the steps given below to get your desired ringtone for your iPhone:
Launch iTunes on your Computer/Mac.
Make sure, you're on Songs option under Music category.
Now, right click the song that you want to set ringtone in iPhone. [Make sure you have a song synced from your Computer/Mac. This method doesn't work for Apple Music Subscribers. To add Music to iPhone manually, you can follow this guide. 'How to Transfer Music from Computer to iPhone!']
Select Song Info.
As soon as you select it, A window will appear. Select Options.
Here, select the checkboxes next to Start and Stop timings of the song.
Now change the song length. The length of the song should be 30 seconds maximum. If it is more that 30 seconds, you won't be able to set it as a ringtone. Apple doesn't allow that. So now, change the Start and Stop time to make the song length maximum 30 seconds.
When you're done setting up the timings, press OK.
Now, keeping the song selected, head over to File option on the main menu bar.
Select Convert and hit Create AAC Version. [In case, if you don't find the Create AAC version option, use the CONTACT FORM on the website to contact me, I'll give you the solution.]
As soon as you hit this option, you should see a new AAC version of the song just below the original song. Now right click this new AAC version of the Song. Select Show in Windows Explorer (or Show in Finder for Mac users.)
This should open up the folder location. Now copy this song and paste it to you Desktop. [After pasting the song onto your Desktop, do not forget to delete the AAC version of the song from iTunes Library. Because, this AAC version may create an issue while dragging the ringtone into iTunes in the later stage of this article.]
Now, change the file extension of the song (Not the file name.)Make .m4a to .m4r.Just replace 'a' with 'r' [If you don't find this .m4a file extension for your Song, CLICK HERE to know the step-by-step procedure OR you can always use the CONTACT FORM on the website to contact me and I'll give you the solution.]
When done, tap outside anywhere. It should give you a pop-up. Select Yes.
Now connect your iPhone to Computer/Mac. Select little iPhone icon near the top side. Scroll down to ON MY DEVICE section.
And now, DRAG the ringtone file (.m4r file) over ON MY DEVICE section. If dragging doesn't work for you for some reason, try COPY and PASTING the ringtone onto TONES tab from the Desktop. [If nothing works, you can always use the CONTACT FORM on the website to contact me and I would love to resolve your issues.]
Now go and hit the Sync button located at the bottom right hand corner of the iTunes window.
You'll that iTunes starts copying ringtone to iPhone. Wait until the process finishes. And when syncing is over, disconnect the iPhone.
Now go to Settings > Sounds > Ringtone on your iPhone, and you should find your latest ringtone right there. Just tap it to set your default ringtone.
That's all! Enjoy your new ringtone on your iPhone.
You can create Text Alerts as well using this same method. Just make sure that ringtone length is less than 8 seconds.
So, make and enjoy your new ringtones for iPhone using these simple steps.
And if this helps, do not forget to share it with your friends and loved ones!
» WANT TO WATCH THE YOUTUBE VIDEO PLAYLIST WITH ALL DIFFERENT RINGTONE TRICKS?
If you wish, you can check out my YouTube video playlist which has a collection various tips and tricks for making ringtones for your iPhone, iPad or iPod Touch.Hope You'll like it!
Make Ringtone from iPhone Music without iTunes
The below steps will demonstrate how to create custom ringtone for iPhone without iTunes on computer, using GarageBand for iOS:
Download and install GarageBand from the App Store.
Launch GarageBand and choose Audio Recorder from the Instruments screen.
Tap on the Metronome icon (the triangular icon next to the Record button) to disable it. This will prevent any count-in sound to occur during playback.
Tap on the Tracks icon (third from the top left) to bring up the Tracks view.
Next, tap on the '+' icon on the timeline at the top right corner to bring up the Song Sections screen.
Tap on 'Section A' and slide up the counter to 30 under Manual. Make sure Automatic is turned off. This will extend the track to 30 bars long.
Tap on Done to close Song Sections.
Tap on Apple Loops icon (next to the Settings icon from the top right) and go to the Music tab.
Browse your Music Library for the song that you want to create a ringtone from.
Now tap and hold the specific song and drag it upwards to reveal the Tracks screen. Release your hold when the song is positioned at the beginning of the first bar. The selected song will be imported for editing.
Adjust the slider on both sides to crop the portion of the song you want to keep. Ensure to drag the cropped section to the beginning of the first bar.
You can optionally add additional tracks if you want to mix multiple songs or edit the current one.
Finally, when you are satisfied with the editing, tap on the little Arrow icon on the top left corner of the screen and choose My Songs from the drop-menu. Your custom song will automatically be saved to the GarageBand library.
Add Ringtone to iPhone without iTunes and Computer
Now that you have created the custom tone, setting it as your iPhone ringtone is easy. The below steps will guide you to do this:
Launch GarageBand go to My Songs (tap on the Arrow icon in the top left corner and select My Songs), if you're on some other screen.
Tap on Select from the top right corner of the screen. This will enable selection mode.
Tap on your custom song in the GarageBand library to select it, and tap on the Share button in the top left corner of the screen.
Select Ringtone from the Share menu and provide a suitable name for the new ringtone.
Finally, tap on Export to save the selected GarageBand song as a ringtone.
Once the ringtone has been exported, GarageBand will prompt you to "Use sound as…" a "Standard Ringtone" or a "Standard Text Tone". You may also choose to assign to particular contacts.
Alternatively, you can set the music or song as an iPhone ringtone by going to Settings >> Sounds >> Ringtone and selecting it among the list of available tones.
Note: By default, iOS allows ringtones to be 30 seconds long at the most. If your GarageBand song is longer than that duration, iOS will automatically crop the first 30 seconds while exporting.
The ability to export a song as ringtone can usually be achieved with similar apps that support importing media from the music library, and which has Ringtone option in the Share menu. As of now, we could only find GarageBand that supports these features.
Easiest way to set custom ringtone on iPhone
The main title of this article may emphasize the words "without computer", but in fact, the GarageBand based solution above might not be suitable for all. Some users may not prefer to keep such a heavy app installed on their devices, just for the sake of setting custom ringtones. There is an easier, more convenient way; however it requires you to connect your iPhone to a computer (wired or wirelessly).
WALTR is an intuitive app for Windows and Mac that allows you to transfer music, videos, iBooks, Audiobooks and ringtones, from your computer to iPhone as simply as dragging the particular file into the application window. WALTR automatically recognizes the content and copies it to its respective native apps on your iPhone.
The latest version of WALTR now supports automatic wireless connectivity over WiFi. When enabled, WALTR 2 will automatically recognize and pair up your iPhone with computer, provided both of them are connected to the same WiFi network.

The steps below will guide you to create and set a custom ringtone on your iPhone using WALTR:
Create your custom ringtone using any suitable sound editing tool like Syncios MP3 to M4R Converter (offline tool) or MP3Cut Audio Cutter (online tool). Ensure that you save the custom ringtone in M4R format.
Download and install WALTR on your Mac or PC.
Connect your iPhone to your computer via USB or WiFi (WALTR 2 required), and launch WALTR. The app should automatically detect the iPhone.
Drag and drop the custom ringtone (M4R file) from your computer into WALTR's application window. The file will be automatically transferred to your iPhone as a ringtone.
To choose the newly transferred ringtone as your current one, open Settings >> Sounds >> Ringtone on your iPhone and select it among the list of available tones.
The free version of WALTR 2 gives you a 14-day trial. Post trial period, you need to purchase the product to continue using it. WALTR 2 costs $39.95 for a single license, $59.95 for a Double Pack and $89.95 for a Family Pack (5 licenses). But for 7labs readers, there's an exclusive discount of 10% (up to 59%) on all WALTR 2 licenses.
Alternatively, WALTR Original is available at $29.95 for a single license, $49.95 for Double Pack and $79.95 for a Family Pack (5 licenses). 7labs readers get a special discount of 40% (up to 72%) on all WALTR Original licenses.
If you find any other app providing these features, and lets you export music files as ringtones from the music library, do let us know in the comments below.
How to enable/disable emergency alerts on your iPhone X?
AMBER or America's Missing: Broadcasting Emergency Response and other kinds of emergency government alerts are being relayed to your iPhone through the same Notification Center system. Turning on emergency alerts on your iPhone is highly recommended to help you identify what your iPhone has for you to check on when it sounds, whether or not it is urgent and important. Here's how to access and manage the emergency alerts settings on your iPhone X:
Tap

Settings

from the Home screen.

Tap

Notifications

.

Scroll to the

Government Alerts

section at the bottom of the screen.

Tap the slider to enable or disable options for

AMBER Alerts

and

Emergency Alerts.
These are important alerts sent by local government agencies that aim to notify you about serious things like extreme weather, missing kids and emergency alerts for safety issues.
You will know if these options are enabled or turned on when the slider appears green. They are enabled by default though but just in case you've turned them off previously, you might as well have to reconsider turning them on or at least leave one enabled while the other is disabled.
These alert settings however are only used in the United States so if you are leaving in other countries, then these settings may not apply or not present on your iOS device.
Also note that you cannot customize the sounds used for Emergency and AMBER alerts on your iPhone. Furthermore, these alerts are not affected by Do Not Disturb settings on your iOS device. This means they can and need to get through even if DND is enabled on your iPhone X.
How to set or change notifications for incoming email on your iPhone X?
If you are relying much on emails for your daily business or personal transactions, you can set your iPhone to sound a specific alert tone for every incoming email message. This will help you evade from missing any important email to read or respond to. Here's how to set and manage incoming email alerts on the new iPhone X:
Tap

Settings

from the Home screen.

Tap

Sounds & Haptics.

Tap

New Mail.

Tap to change the

Vibration and Alert Tones.
The new iPhone X also allows you to customize your notifications with different alert styles for you to quickly respond to emails, calendar invites, messages, and more.
To add or change an alert style for a notification, head over to S

ettings-> Notifications->

then select an app to change alert styles on.
Among the alert style options you can choose from are as follow:
Allow notifications

– allows you to get notifications from the selected app when enabled.

Sounds

– lets an app play a sound to alert you when a notification is received.

Show on Lock Screen

– lets you view notifications from the app on your Lock screen.

Show in History

– lets you view previous notifications from the selected app.

Banners

– lets you choose how you want notifications to show when your iPhone is locked. If you want to have alerts appear on the screen then go away, tap Temporary. Otherwise, tap Persistent to keep alerts remain on the screen until you act on it.

Show Previews –

lets you select what you want to see when you get a notification like a text message.
These options can be turned on or off by tapping on their respective switches or sliders.
How to set or change ringtones for calls and text tones on your iPhone X?
Setting a custom ringtone for significant people like family members and relatives is a great way to determine an important call or message even when your iPhone is inside your purse or pocket. Here's how to configure or edit ringtones for incoming calls on your iPhone X:
Tap

Phone

from the Home screen.

Tap

Contacts

.

Tap the contact you wish to configure ringtone for.

Tap

Edit

.

Select

Ringtone.

Tap the desired ringtone to use.

Tap Done to apply the new changes.
Note: You cannot assign a ringtone to contacts that are stored on the SIM card or internal memory or Phone storage.
To change or update text tone on your iPhone X, follow these steps:
Tap

Settings

from the Home screen.

Tap

Sounds & Haptics.

Tap

Text Tone.

Change the alert tone as you desire.
The iPhone X text tone is set to Note by default.
WhatsApp Custom Ringtone for Individual Contacts
The ability to change ringtones for individual users was only recently added to iOS via an WhatsApp update for iOS on August 5th, 2015. Follow the steps below to setup Custom Ringtones for individual contacts.
1. First go to the AppStore and update WhatsApp to the latest version.
2. Launch WhatsApp on your iPhone.
3. Make sure that you are on the Chats screen and choose the contact for which you want to set a custom ringtone.
4. Next tap on the Contacts name to launch your contacts profile page (See image below)
5. From the Profile page, tap on Custom notifications option.
6. Tap on Message Sound or Ringtone and select a sound that you want to associate with this contact.
7. Tap on Save to save your selection.
How to Use WhatsApp on iPad
5 Best WhatsApp Alternatives