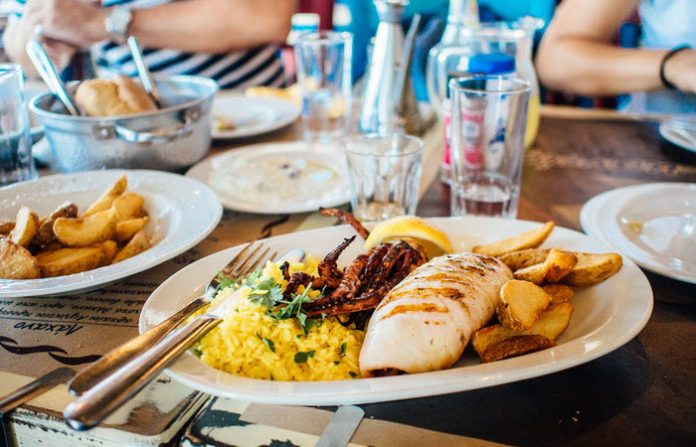 I've got a secret to tell you.
Your body has one powerful tool it can use to start burning fat like crazy. That same tool can also make you gain weight and store all those excess fats in all areas of your body.
Can you guess what it is?
It's your thyroid.
It's that tiny gland located in your neck, right below the Adam's apple. It has dozens of different functions and effects, but perhaps the most important one is metabolism regulation.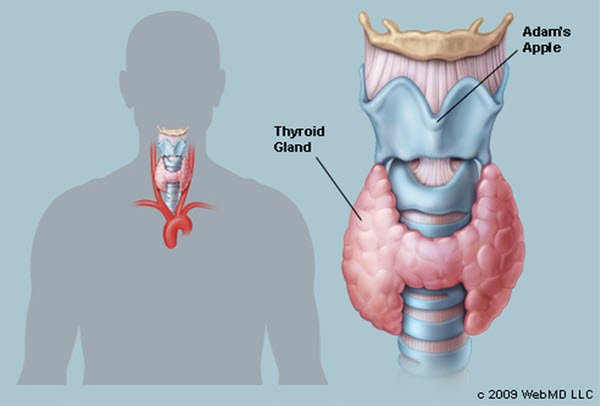 Via webmd
In layman's terms, metabolism is the speed and intensity of all biochemical reactions and processes happening in your body. It is defined by a lot of different factors, among which endocrine regulation plays a crucial role.
Actually, that's why some people are naturally thin while other folks are chubby.
Imagine it as an engine and the fuel is your body fat.
The faster it goes, the more fuel it burns.
Sounds great, doesn't it?
So, how do you kick-start your metabolism, especially if its natural rates are much lower than you'd prefer? Is there a way to safely tweak your endocrine system to boost the rate of your body's chemical reactions?
That's where your thyroid plays a crucial role.
Quick Recap
If you want to boost your metabolism and lose weight for good, one of the most reliable ways to do that is to support the function of your thyroid gland and to help it to produce more thyroxine (T4).
This hormone is inactive itself but quickly transforms into triiodothyronine (T3), boosting your metabolism big time. We can't elevate our T3 levels directly, but T4 is under our control.
To keep it soaring and healthy, keep track of the following things:
Have enough iodine in your diet. Stack on seafood and don't worry about having too much of it. You can't get an iodine overdose from eating shrimps.
Control your selenium intake. Most people don't get enough of it but if you want to have healthy thyroxine levels, you should. Snack on 1 to 3 Brazil nuts each day and you'll be great!
Zinc, zinc, zinc. Another micro-nutrient that most Westerners don't get enough of in their diet is zinc. Don't follow their path and get your zinc straight for a healthy thyroid. To do so, just carry a pack of pumpkin seeds with you every day. These little fellas are not only a fabulous source of fibers but also a sheer zinc bomb! One cup per day gives you more than half of the recommended daily amount.
Keep track of your vitamin C. No, no need to eat lemons. Instead, opt for guava, blackcurrant, red peppers, and kiwi.
Go for a walk! 10 minutes of sunlight exposure is more than enough to make your body produce the vitamin D it needs. Just don't forget to put on your sunscreen after those 10 minutes, not before them.
See Also: 5 Healthy and Delicious Juice Recipes for Easier Weight Loss
Like this Article? Subscribe to Our Feed!
The Balancing Act: Healthy Eating, Exercise, and a Little Indulgence Too!
For most of us, there's a balance between the good things and the not-so-good things. (I'm talking to you, French fries.) My point is, it's hard to always eat healthy. Which is why I host a quarterly cleanse, where I give you a structured meal plan to focus on eating the foods that will help us feel the best.
To learn more about the Simple Green Smoothies meal plans, click here.
There are special occasions when we want to indulge, it's hard to eat healthy all the time when traveling. You know the drill. We do our best. And I don't believe in punishing ourselves for enjoying a treat now and then.
What I'm a big proponent of is eating healthy as much as possible and participating in a regular exercise routine. That looks different for all of us with our varied interests, schedules, time constraints, and lifestyles. There's nothing that will help boost your metabolism more than exercising and building up muscle. More muscle means more fat-burning capabilities. So when we're talking about boosting up your metabolism, exercise goes hand in hand with healthy eating. Certain foods have fat-burning and metabolism-boosting abilities and adding them into your diet can help magnify weight-loss efforts.
A Good Sweat + Proper Fuel = results
When we exercise (I'm including cardio, weight lifting, and things like Cross Fit), we do burn calories, but if our muscles are in need of nutrition, they'll go for the easiest source first… and that's not necessarily going to be body fat. Give your body energy (i.e. high quality calories) to power it through a workout. The workout will in turn help build more muscle, which burns more calories (i.e. fat) the rest of the time. See how nicely that works? It's a beautiful thing!
These are some foods that experts recommend if you're trying to boost your metabolism and burn fat:
Nuts – whole, preferably raw and unblanched (almonds, walnuts, pecans); good fats and protein; almonds contain L-arginine (an amino acid) that when used pre-workout can help the body burn more fat
Eggs – high in protein which helps boost metabolism; the body digests the protein and uses the fat and calories for fuel
Berries – low in sugar but still sweet, high in fiber, high in antioxidants; helps burn fat; can help to improve blood flow
Apple cider vinegar – the acetic acid in ACV helps with blood sugar levels
Fatty fish like salmon, tuna, mackerel, and sardines – protein to help build muscles, anti-inflammatory omega-3 fatty acids that help the body burn fat for fuel
Grapefruit –high in phytochemicals that stimulate the production of the hormone adiponectin which helps the body break down fat
Green and white tea – caffeine in tea gives a natural boost of energy' antioxidants in tea may help accelerate fat-burning by aiding the liver in converting fat to energy
Chili peppers – capsaicin, the compound found in pepper aids the body in converting food to energy and abdominal fat loss; also works as a natural appetite suppressant
Spinach + other leafy greens – chock full of vitamins and minerals and fiber
Whole grains – like oats and brown rice; high fiber; slow-burning to keep you fuller, for longer and fuel the body
Coconut oil and olive oil – healthy fats that help you feel satisfied when they are consumed; coconut oil is easily digested for quick energy
Avocado – healthy fats, fiber, and vitamins, particularly B6 which counteracts cortisol, a stress hormone that contributes to weight gain via belly fat stores
Flaxseed – high in omega-3 fatty acids
Cinnamon – polyphenols (powerful antioxidants) boost the metabolism and help regulate blood sugar
Watermelon and tomatoes– rich in beta-carotene (form of vitamin A) and lycopene (good for the heart and help discourage fat storage), hydrating, high in fiber
Pears and apples – high in fiber plus contains pectin; helps keep you fuller for longer and naturally sweet
Grapes – high water and fiber content
Celery – very high fiber, uses more energy to digest than it provides (i.e. negative calories)
Dark chocolate – 70%+ cacao content is the important part; cacao contains high concentrations of polyphenols that push the body to burn fat
Fat Burning Smoothie Recipe
This Fat Burning Smoothie is a little more hardcore than our other recipes, but we believe it will help you see results more quickly when combined with an exercise program. We hope you give it a shot and love the results as much as we do. Happy blending!
Print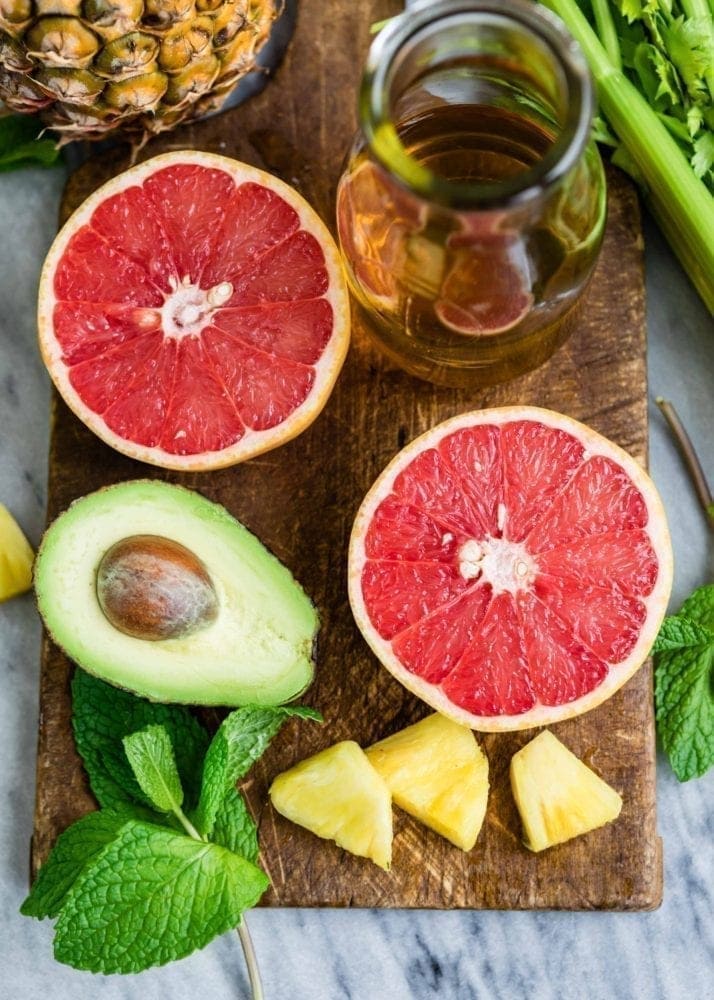 Make fat cry by adding this fat burning smoothie into your day. The natural ingredients are paired together to help boost your metabolism and burn fat in one delicious drink.
2 cups spinach
1/4 cup fresh mint leaves
2 stalks celery (chopped)
1 cup brewed green tea (cooled)
1 large grapefruit (peeled and seeded)
2 cups pineapple chunks (frozen)
1/2 large avocado
1/8 teaspoon ground cayenne pepper (optional)
Place spinach, mint, celery, and green tea into blender.
Puree until smooth.
Add remaining ingredients.
Blend again.
The pith and peel of the grapefruit are extremely bitter, but are beneficial in small amounts. To lessen the bitterness of the grapefruit, remove the fruit from the inner membranes as well as peeling before using.
Tag @simplegreensmoothies on Instagram and hashtag it #simplegreensmoothies
avocadoceleryfat burninggrapefruitgreen smoothiePineappleSpinach