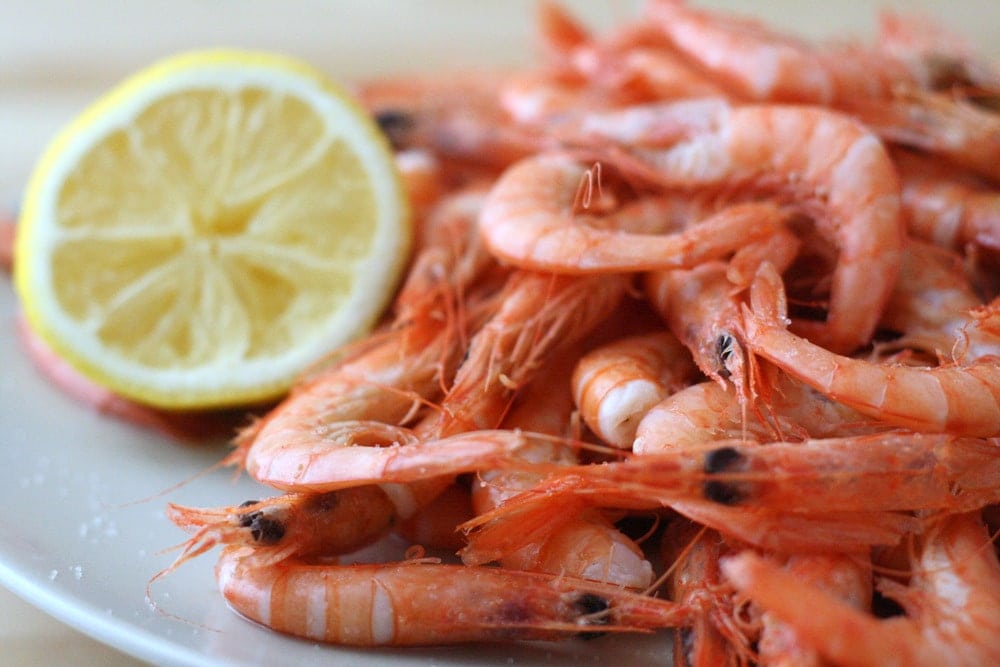 Delicious boiled shrimp.
Spring is in the air and that means I'm in the mood to cook! The local markets are starting to fill up with new goodies (think strawberries, asparagus, peas and the very first cherries– my favorite!) and the longer days mean I have more energy to start making dinner at 8pm (such is Spain!). One of my favorite recipes for warm weather are these simple boiled shrimp; fast, easy and absolutely delicious.
Most Spaniards adore boiled shrimp/prawns (as an American I call them shrimp) and there are plenty of delicious varieties to be found throughout Spain (try the gambas rojas de Huelva— incredible). Depending on which you buy, the cook time may vary slightly, but the technique is the same. The trick is to boil the shrimp until they are just cooked, and place them immediately in ice cold water, so that the shell will pop off but the meat remains super tender. Perfect Boiled Shrimp (Gambas Cocidas)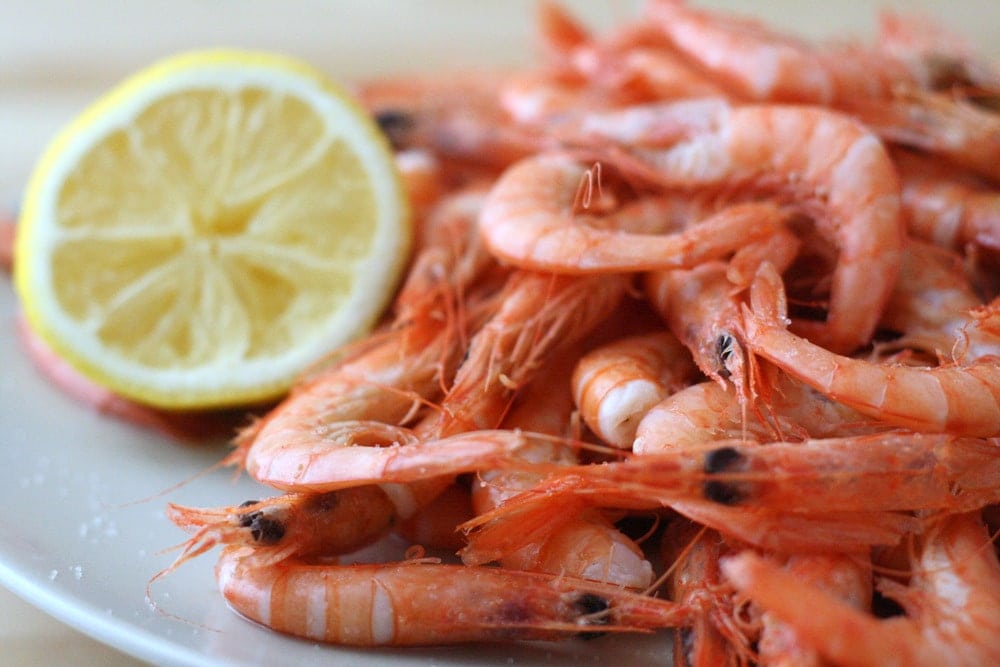 About 2 pounds (1 kilo) of raw shrimp (prawns), in Spain both gambas and langostinos (shrimp and gumbo shrimp) will do!
Water (pay attention to the amounts below, it's important!)
Plenty of ice (at least 2 cups)
4 tablespoons sea salt
Slotted spoon
First prepare the water bath– put about 4 quarts of cold water into a big bowl and add ice and sea salt. Stir the mixture until the water is ice cold and some of the salt has disolved.
Add another 4-5 quarts of water to a large pot and bring to a rolling boil.
Add all the shrimp at once and give a slight stir.
Adding the shrimp will stop the boil for about a minute or so, when the water starts to boil again and the shrimp change color and start to float to the top, take them out right away– don't overcook!
Remove as fast as possible with a slotted spoon and add them directly into the cold water bowl. The water should still be cold even when all the hot shrimp are added– if not, add more ice!
After 15 minutes drain the shrimp and serve, or put in the fridge covered with a moist paper towel for up to one day.
In Spain we serve as is, sometimes with sliced lemon. People peel them with their hands and don't worry about deveining. If you prefer to shell and devein before serving you certainly can, but it's really not necessary!
If you follow my boiled shrimp recipe and make sure to use plenty of boiling water and plenty of ice water, you'll end up with the most perfectly tender shrimp you've ever tried! I highly recommend using great quality raw shrimp of course (if you happen to be in Spain this should be easy!). Frozen shrimp will never be the same and if using they must be completely defrosted first.
I adore the simplicity of these refreshing shrimp and could snack on them with beer or manzanilla (dry sherry) all day long!
Professional eater, writer, cook, food tour operator. Fascinated by food and its history. Loves: a gooey slice of tortilla, fish markets, homemade cocktails, train travel. Hates: Overhyped restaurants, wine snobs, long menus, mediocrity. Check out my food tours at www.devourtours.com.
Step by Step
Try to find fresh shrimp that is 16/20 in size.
Fill a large pot with 4 quarts of water. Squeeze the juice from the lemons then toss in the lemon halves, onion, thyme, garlic, bay leaves, Old Bay, and peppercorn to the water. Bring to a boil for 5 minutes.
Add shrimp and return to a boil.
Once it reaches a boil, cover and remove from heat. Let sit for 5 mins.
Drain shrimp in a colander and dip the colander in an ice bath to stop prevent overcooking. Enjoy with cocktail sauce or use in a recipe that requires cooked shrimp.