Facebook is the world's most popular social network, and with that comes a load of problems. Not only do you have to deal with all the regular trolls you find online, but crazy exes, stalkers, and fake profiles looking to con you are all permanent fixtures.
Thankfully, you can block these kinds of users. Let's look at how.
1. Add chatterboxes to your "Acquaintances" list
So, you added a long-lost friend you remember fondly from high school, but they're peppering your news feed with random links about their favorite TV shows, silly cat photos, and endless snapshots of their kids. It's not that you want to slam the door on all their updates, mind you—just, well, most of them.
Here's a quick, relatively painless solution: add your too-chatty friend to your Acquaintances list.
Once you do, Facebook will pare down the number of news feed updates you receive from them to a bare minimum. For example, you might still get notified that a far-flung Facebook acquaintance got married or landed a new job, but you'll get sweet relief from the daily kitty snapshots.
Oh, and don't worry: your friend will never know that you relegated them to your Acquaintance list.
To add a friend to your Acquaintance list on the Facebook web site:
Hover your mouse over their name on their timeline or in your news feed.
When you see the pop-up window with their profile photo and a "Friends" button, hover your mouse over the Friends button. Doing so will reveal a new pop-up menu, starting with "Get Notifications."
Select the "Acquaintances" option.
To add a friend to your Acquaintance list on Facebook for iPhone or Android:
Tap the name of a friend in your news feed, tap the Friends button, then tap Edit Friends Lists.
Tap Acquaintances, then tap Done.
Bonus tip: To hide a post of your own from the folks on your Acquaintances list, choose the "Friends except…" option from the audience selector (the pull-down menu that sits right next to the Post button). When you select "Friends except," you'll see a big list of all your friends, as well as a search field; type "Acquaintances" to select your entire Acquaintances list.
Related: 5 ways to keep hackers out of your Facebook account
2. Block downers from your news feed
Here's another scenario: you have a pal who won't stop with the links to depressing news stories, the "I hate my job" updates, the bitter political rants, and the off-color, not-so-funny jokes. You're not quite ready to unfriend your bummer of a buddy, but you need a break from seeing their name in your Facebook news feed.
Well, guess what: you can completely block updates from that downer of a friend in just a few clicks.
To block the posts of a specific friend on Facebook for iPhone, Android or web:
Click or tap the three-dot menu button in the top-right corner of a friend's post; doing so will open a pop-up menu with a series of options.
To permanently block the friend's posts from your news feed, click or tap "Unfollow [name of friend]." Don't worry—you can always follow an annoying friend again if you change your mind.
If you only want to take a breather from a friend's posts, tap "Snooze [name of friend] for 30 days."
Last but not least, enjoy the silence.
Related: Make your Facebook news feed default to "Most Recent" rather than "Top Stories"
Bonus tip: You can unfollow whole batches of friends using the Facebook app for Android and iOS. Tap the More button (in the bottom-right corner of the screen for iOS, or the top-right corner for Android), scroll down and tap News Feed Preferences (on Android) or Settings and then News Feed Preferences (on iOS), tap "Unfollow people to hide their posts," then start tapping faces.
3. Banish a frenemy to your Facebook Restricted list
Say you foolishly added your conniving boss as a Facebook friend your first week on the job … and now you're regretting it. You're thinking twice about every photo upload and every update you post, but unfriending your boss isn't an option. What to do?
Try this: put him or her on your Facebook "Restricted" list—a "friend list" for friends and frenemies who you're this close to unfriending.
Once you banish someone to your Restricted list, they'll no longer see any of your updates, photos, or other Facebook activity—or at least, nothing that you haven't flagged as "Public" in your privacy settings.
In other words, putting a frenemy on your Facebook Restricted list is as close as you can get to unfriending someone without actually unfriending them.
To put a friend on your Restricted list on the Facebook website:
Hover your mouse over their name in your news feed or on their timeline, wait for the pop-up window to appear, then click the Friends button.
Scroll all the way down, then click Restricted.
To put a friend on your Restricted list on Facebook for iPhone:
Tap a friend's name in your friends list or on a post of theirs in your News Feed, tap the Friends button, then tap Take a Break.
Under the Limit What [name of friend] Will See section, tap See Options, then tap "Hide your posts from [name of friend]." Doing so will put the friend on your Restricted list.
To put a friend on your Restricted list on Facebook for Android:
Tap a friend's name in your friends list or on a post of theirs in your News Feed, tap the Friends button, then tap Edit Friend List.
Scroll all the way down, then tap Restricted.
Bonus tip: Want to see a list of all the friends whose posts you've blocked from your news feed? Go to your news feed, hover your mouse over the News Feed link in the top-left corner of the page, click the little gear icon, then click Edit Preferences. A pop-up window should appear with lists of friends who you've seen the most in the past week, along with a second list of unfollowed friends. Change your mind of any of them? Just click the "+ Follow" button next to a name.
Note: This article was originally published in February 2013, and has been updated and expanded to account for Facebook's ever-changing privacy and sharing settings.
Answer
Friends
Most likely you have figured out how to hide your friend's posts. You can hover your mouse over any post on your wall and an "X" will appear in the upper right corner. When you click on it, you'll get some choices.
Hide this post
Hide all posts by the person who posted
Hide all *insert application name here*. This will only show up is the post is associated with an app, like Farmville. It's my favorite option as all those application alerts drive me crazy. But, a quick click and you'll be bothered by Farmville (or Zombieville, Horoscopes, or My Dog Just Ate Dinner etc.) no more.

Non-Friends
If the person you want to block is not one of your friends, you won't get the same option. You won't see anything at all. You may think you are out of luck, but it isn't so. You'll just need to go to your privacy settings to add them to your block list.
Go to Account –> Privacy Settings
Select the "Block Lists" section at the bottom of the screen
In the "Block Users" section you can enter their name (as it appears in Facebook) and/or email address.
Select "Block"
Once you block someone, that person can no longer be your friend on Facebook or interact with you (except within apps and games you both use and groups you are both a member of). However, you can easily unblock them from the same page if you ever decide you want to see their posts again.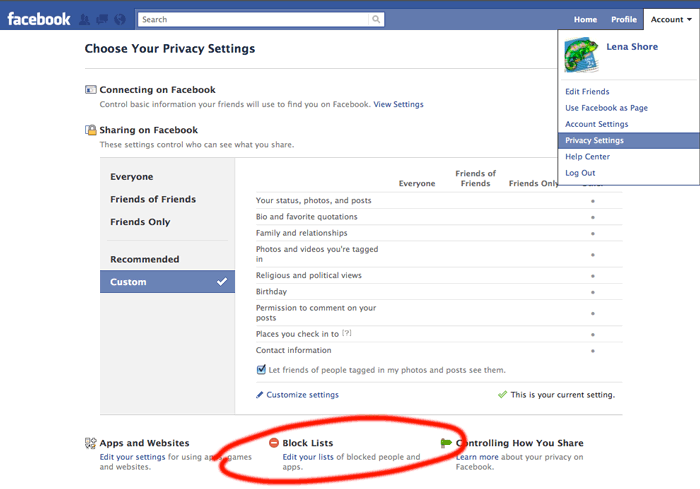 NOTE: Facebook likes to changes things pretty often. So, if you can't find it they could have moved it into a little different area.
Step 5: You're Done!
The person you blocked will be listed under "Block users" on your Facebook settings. To unblock your friend, click unblock. Unfortunately, because blocking someone deletes them off of your friends list, you would need to resend them a friend request to restore them to your list after unblocking. For more information on blocking users, visit the Facebook Help Center.

Recommended Articles Related to Facebook Advertising:
Was this article helpful in teaching you how to block someone on Facebook? Leave your thoughts on the comments section below!
Comments
comments
How to Block Someone in Facebook Messenger from the Web?
Visit https://www.facebook.com/ using a web browser on your PC or Mac, such as IE, Edge, Firefox, Chrome, Safari, etc. Log in your Facebook account with your username and password. Click on the lock icon from the top right corner to expand a drop-down menu like below.
From above Facebook Privacy Shortcuts menu, you can find a section "How do I stop someone from bothering me?" Input a name or email, then search and block people from there. Once you block people from Facebook website, when you run Messenger app on iPhone or Android, they will also be blocked in your Messenger app on the phone. iPhone users can also refer to this guide to block and unblock people in Facebook app on iPhone.
How to use Blocking Option in Facebook to control of your profile safety from frauds peoples
Facebook has provided the "Blocking" feature option to control unwanted invitation message and wrong people to bothering you without your permission.many option to facebook friend block without unfriending them. blocking option includes the privacy setting for your Facebook account.
Blocking option in Facebook.
Go to  left top down arrow in the top bar menu
Click on settings from the Settings menu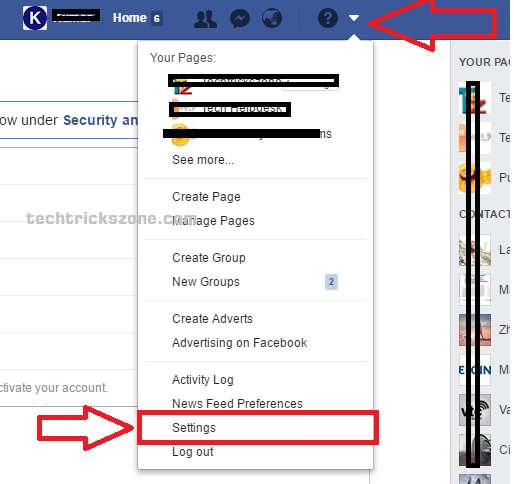 Blocking: click blocking option from the left side menu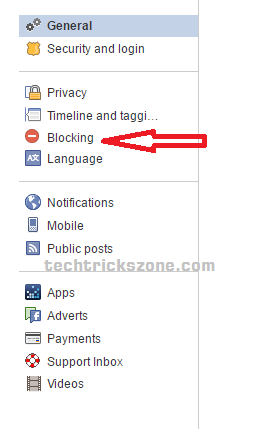 Inside blocking you will get an option, block friends unblock friends, unfriend, block invitation, app invite block, event invite block. blocking friend in the Facebook account will also block for the Facebook messenger.
How to Block friend in Facebook: (2 methods)
Blocking friend in Facebook means that friend cannot see you post on your timeline, tag you, invite you to events or groups, start a conversation with you, or add you as a friend. Sharing with them your Facebook post and activity you need to unblock user and add as friend again able see like a normal user.
Click on friend profile whom we want to block
Click the (…) horizontally dot next to message option.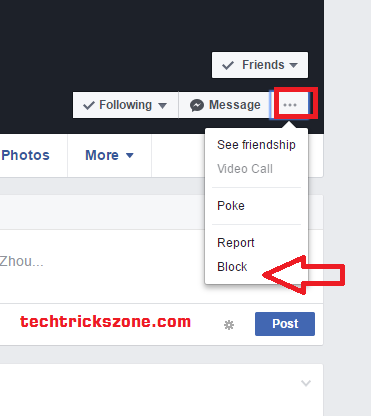 Choose block option from down list and confirm next confirmation,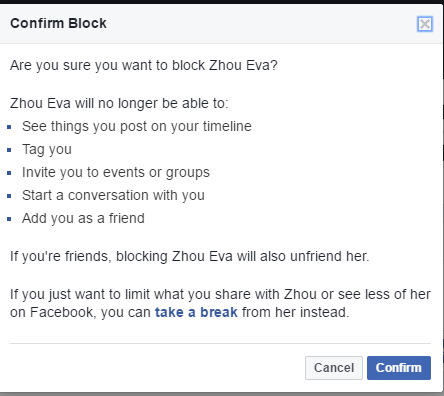 Go to Settings  –> blocking and find option Block user to add your friend to block list.

See Also

–Hide Whatsapp Chat History From Friends with Password Lock (2018)
How to Unblock friend in Facebook
Once you have blocked any friends in Facebook and you want to unblock them if your mind change then follow option given below. After unblocking user can visit your profile and can send you friend request again.
Go to Settings–> Blocking à find the options block user
Click the unblock button in front of user you want to unblock.