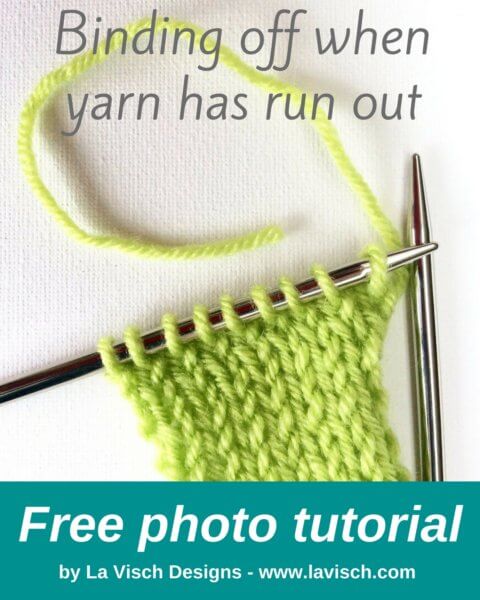 Of course you always make sure that you have enough yarn left to bind off your project. I myself like to weigh the amount of yarn each row or round uses when I'm nearing the end of the project (or yarn!) to make sure enough enough left to bind off. Depending on the type of bind off I plan on using, I know I have to reserve about twice or three times the amount of the last row.
However, it won't hurt to know more about binding off when yarn has run out, in case of emergency. You know, in that very rare situation that you have lost that game of yarn chicken… Mind you, this is really only an option in special cases, because this bind off tends to be quite tight. This lack of elasticity makes it not really suitable for things like neck openings of sweaters or projects to be blocked out significantly for best results, like lace.
Bind-Off Solutions 
This week on Ask Me Monday, the focus was on Bind-Off Solutions to make your knitted cast-off edges tidier, stretchier, or sturdier. Watch the recorded version of the broadcast to learn the: Wendy's SSK Bond-Off, Jeny's Surprisingly Stretchy Bind-Off, and K2together Bind-Off methods. 
Tune in (almost) every Monday at 12pmCT on Facebook for a tutorial, Q&A, yarn scoop, and more! 
Resources
Wendy's SSK Bind-Off, was taught to me by Yarnivore's Wendy Pohlhammer
I found Jeny's Surprisingly Stretchy Bind-Off via Knitty.
The K2together Bind-Off came for "Cast on, Bind off" by Cap Sease
Where Can I Use the Bias Bind Off?
It's a great choice anywhere your bound off edge is going to be visible:
collars
sleeve edges (if you're doing a bell or other shaped sleeve edge)
necklines
top-down shawls where all the sts aren't bound off at once
You can also use it if your stair step edge is going to be hidden by another set of knitting, such as:
necklines
shoulders
shawls where an edge is picked up
Once you learn this simple technique, you'll be finding a ton of places to use it! It's a great way to add some easy polish to your knitting!