So you've decided that you'd like to become vegan, but where do you start? Transitioning to a vegan lifestyle can seem really daunting but often the idea of a big lifestyle change is a lot scarier than actually doing it. If you focus on making one change at a time the progression to veganism will feel quite natural. It's important to go at your own pace and to decide on a method that works best for you. Here are some ideas and guidelines to structure your transition to veganism, just be sure to tailor them to your specific needs.
Learn as much as you can
Before you even begin the transition the first step is to start familiarizing yourself with veganism. This will really help you feel prepared and knowledgeable as you begin changing your lifestyle.
Learn the benefits of a vegan lifestyle and educate yourself about the practices and costs behind the production of animal products. Find your own personal reasons for being vegan, there's loads of them.
Learn how to optimally nourish your body on a plant-based diet.
Start reading ingredients lists – Learn how to tell if a product is vegan and familiarize yourself with the less obvious animal derived ingredients that show up in unsuspecting products.
Be on the lookout for vegan products at your local grocery store, research vegan friendly restaurants and grocery stores in your area.
Read, watch, learn. Seek out vegan documentaries, books, magazines, websites, blogs, forums, and people. They can offer valuable insights, support, and will help you to feel more confident in your transition.
Add to your diet before you subtract from it
Begin incorporating more whole grain, beans, legumes, nuts, seeds, and tofu into your diet. Familiarize yourself with their preparation, storage, and uses.
Start collecting and experimenting with vegan recipes that appeal to you.
Find a few different quick and easy vegan meals that you enjoy and get comfortable preparing them.
Switch out milk for a non-dairy alternative such as almond or soy. This is an easy switch for most people but there's a lot of options, so experiment to find which you like best.
Begin Planning Your Transition
This is where you need to seriously think about what is going to work best for you. There are plenty of ways to go vegan you just have to find what's best for you. Here are some common options and some different ideas for ear approach. Find something that appeals to you and tailor it to your needs!
1) Vegetarian Followed by Veganism:
Go vegetarian and then move onto veganism either in one step or by cutting out dairy and eggs one at a time.
Making the transition:
Remove all meat from your diet, including fish and poultry. Take care not to increase your consumption of eggs and dairy to take the place of meat, focus on including more plant-based protein sources instead.
Pay attention to ingredient lists, avoid products containing gelatin, rennet, and other animal products (excluding dairy and eggs).
If you haven't already, begin incorporating more whole grains, beans, legumes, tofu, nuts, and seeds into your diet.
Once you feel comfortable to move forward you can start phasing out dairy, eggs, and honey. Feel free to do this all at once, one food group at a time, or as slowly as you need to.
2) Slow Transition from Omnivore to Vegan:
Slowly cut out animal products, starting with the easiest and leaving barrier foods to the end.
Slowly lessen your consumption of animal products while simultaneously increasing the number of plant-based foods in your diet. Continue until you've eliminated all animal products from your diet.
Making the transition:
Remove any animal products that you won't miss in your diet.
If you haven't already, incorporate more whole grains, beans, legumes, tofu, nuts, and seeds to your diet while simultaneously cutting down on the animal products that you'll miss the least.
You can gradually cut down on all animal products or remove one food/food group at a time.
Remove barrier foods after you feel comfortable with all of the other changes in your diet.
Pay attention to ingredient lists, you may find it easier to begin avoiding the less obvious animal derived ingredients one at a time. You can also choose to overlook them until you've removed all obvious animal products (meat, seafood, dairy products, eggs, etc.) from your diet and you feel comfortable eating mostly plant-based foods.
3) Go Full-On Vegan:
Cut out all animal derived ingredients and incorporate lots of whole grains, beans, legumes, tofu, nuts, and seeds for a healthy vegan diet.
Swap out all of your favourite non-vegan items for vegan alternatives. Many people find that relying on vegan burgers, hot dogs, deli slices, cheeses, etc. can really help ease the transition when cutting out animal products all at once.
Making the transition:
If you want to dive right in, feel free jump into veganism straight away! You'll want to continue educating yourself so that you're as prepared as possible. For a further crash course in veganism, make sure to learn about:
Some people find relying on vegan alternatives and convenience foods very helpful in easing the transition to veganism. They're often high in protein, fortified with lots of vitamins and minerals, quick and easy to prepare, delicious, and familiar. However, some veggie burgers, veggie dogs, vegan deli slices, etc. are highly processed. Once you begin to feel comfortable with your vegan lifestyle, the use of these products can be lessened. There's nothing wrong with eating the products in moderation, but they shouldn't be used as your main source of vitamins, minerals, and protein for the long-term.
Veganism is much more than a diet, it is a compassionate lifestyle. These guidelines are mostly for transitioning to a vegan diet as that tends to be the most difficult part of becoming vegan. It's also important to learn about vegan alternatives for other products in your life, such as personal care items, clothing, shoes, and other household items.
Take Your Next Step
Just by having read this article, you've gained some great advantages over most aspiring vegans. No matter your level of commitment, the information you've read here will help you enormously. To recap the main points:
A starter book like But I Could Never Go Vegan! will make your transition smoother, quicker, and more enjoyable.
Take nutrition seriously. Vegan for Life will help you to steer clear of the most common deficiencies that can arise on a vegan diet.
Make your first cookbook an easy one. The Simply Vegan Cookbook is a perfect choice.
The quickest way to move towards a diverse vegan diet is to master the preparation of these five foods: smoothies; sandwiches; salads; stir-fries; and roasted vegetables.
Learn how to shop affordably at natural food stores, and check out your local farmer's market for fresh local produce. Our Amazon.com grocery page will enable you to further round out your diet.
Yelp and HappyCow will help you discover your best vegan dining options. There are almost certainly some fantastic local possibilities that you don't yet know about.
In a pinch while traveling, you can always turn to Subway's Veggie Delight without cheese or mayo. Or order Taco Bell's Bean Burrito "Fresco Style."
Don't feel isolated! There are probably plenty of vegans near you. Use Meetup.com to find them, and make plans to attend your nearest vegan festival. You can find even more fellow vegans at your local farm animal sanctuary.
Above all, remember that if it's not fun, you're not doing it right. Going vegan is all about discovering as many new foods as you can, from as many places as possible. You'll know you're headed in the right direction when you notice you're taking more pleasure from food than ever. Just stay focused on constantly trying new foods, and you'll be amazed by your rapid and effortless progress.
VEGANUARY OFFERS
Anyone who registers for Veganuary here

 

https://veganuary.com/register

 

and emails me their welcome email, I will give FREE access to my online program The 21 Day Plant Powered Shred Cycle 1.
Anyone who buys a copy of Veganuary's book

 

How To Go Vegan

 

and emails me a selfie of themselves with the book (like in the picture above), I will give you FREE access to my online program

 

The 21 Day Plant Powered Shred Cycle 1.
Anyone who signs up to either The 42 Day or 90 Day Plant Powered Shred programs in January, will receive a copy of

 

How To Go Vegan

 

for FREE.
Buy the book here on Amazon…Email me here… [email protected]
2. Remember that whatever you pay attention to grows in your mind.
If you focus on what's going wrong in your life—especially if you see it as "bad luck" you can do nothing about—it will seem blacker and more malevolent.
In a short time, you'll become so convinced that everything is against you that you'll notice more and more instances where this appears to be true. As a result, you will drown yourself in negative energy and almost certainly stop trying, convinced that nothing you can do will improve your prospects.
Not long ago, a reader (I'll call her Kelly) has shared with me about how frustrated she felt and how unlucky she was. Kelly's an aspiring entrepreneur. She had been trying to find investors to invest in her project. It hadn't been going well as she was always rejected by the potential investors. And at her most stressful time, her boyfriend broke up with her. And the day after her breakup, she missed an important opportunity to meet an interested investor. She was about to give up because she felt that she'd not be lucky enough to build her business successfully.
It definitely wasn't an easy time for her. She was stressful and tired. But it wasn't bad luck that was playing the role.
Fatalism feeds on itself until people become passive "victims" of life's blows. The "losers" in life are those who are convinced they will fail before they start anything; sure that their "bad luck" will ruin any prospects of success.
Scroll down to continue reading article
They rarely notice that the true reasons for their failure are ignorance, laziness, lack of skill, lack of forethought, or just plain foolishness—all of which they could do something to correct, if only they would stop blaming other people or "bad luck" for their personal deficiencies.
Your attention is under your control. Send it where you want it to go. Starve the negative thoughts until they die.
I explained to Kelly that to improve her fortune and have "good luck", first decide that what happens is nearly always down to her; then try to focus on what works and what turns out well, not the bad stuff.
Then Kelly tried to review her current situation objectively. She realized that she only needed a short break for herself — from work and her just broken-up relationship. She really needed some time to clear up her mind before moving on with her work and life. When she got her emotions settled down from her heartbreak, she started to work on improving her business' selling points and looked for new investors that are more suitable.
A few months later, she told me that she finally found two investors who were really interested in her project and would like to work with her to grow the business. I was really glad that she could take back control of her destiny and achieved what she wanted.
Your "fate" really does depend on the choices that you make. When random events happen, as they always will, do you choose to try to turn them to your advantage or just complain about them?
1. Veganize your favorite comfort food.
Think of a food you absolutely love and can't imagine life without?Is it French Toast? Or perhaps your favorite pasta dish? Maybe it's the creamy decadence of créme brúlée. For me, it's a saucy, juicy, sauerkraut-filled Rueben. Whatever your  comfort food of choice is, there is a satisfying way to veganize it. That is one of the purposes of My Darling Vegan so if you need help veganizing your favorite meal, email me. Seriously. Because once you have a good veganized version of your comfort food of choice, veganism starts to feel a lot more doable.
2. Go meatless until dinner.
This is a common approach taken by people who are trying to reduce the amount of animals they consume. It can be very easy to eat plant-based for breakfast and lunch – you probably already almost do. And it makes the transition easier when you allow yourself something familiar at dinner time. Need some go-to vegan breakfast and lunch recipes?  Try these fan-favorite Blueberry Overnight Oats for a quick and simple breakfast. Or my favorite breakfast, Easy Vegan Scrambled "Eggs". Get all my breakfast and lunch recipes here.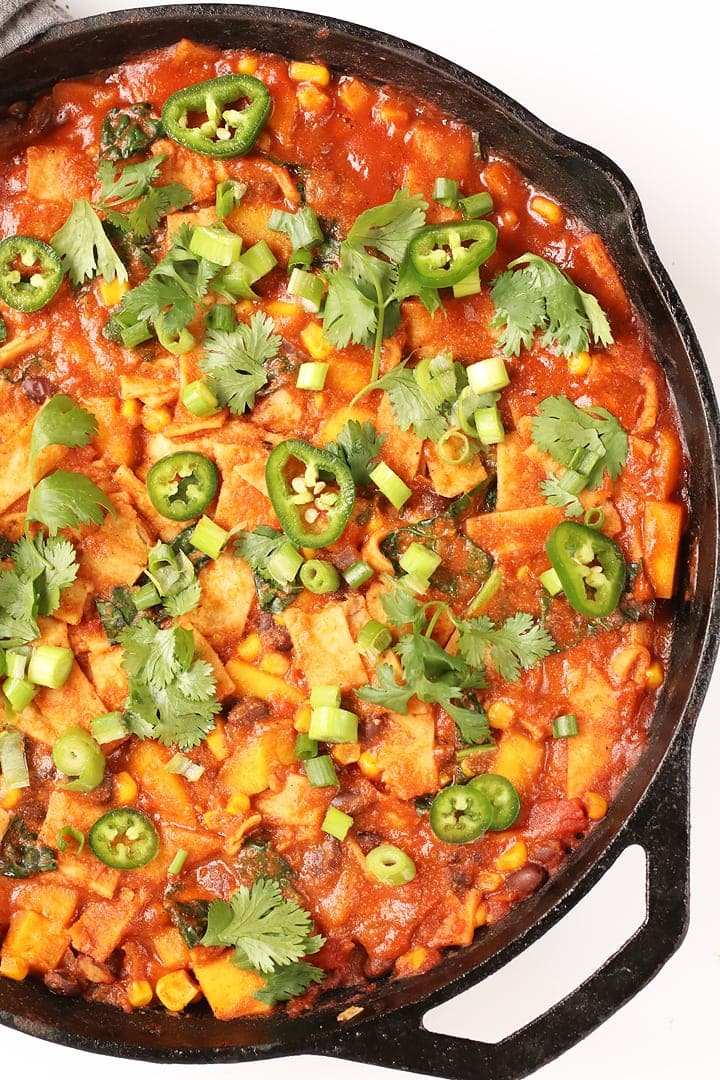 3. Add one vegan dinner to your weekly rotation. 
Turns out vegan dinners aren't that hard either! Start with one simple plant-based meal to add to your dinner rotation. Make sure it's hearty, packed with flavor, whole food dependent (rather than processed foods), and easy to make. You want a meal that you can look forward to, that highlights vegetables, satisfy your tastebuds, and doesn't require a lot of prep work. A couple of my favorite easy, flavor-packed dinners include: Vegan Skillet Enchiladas, Pesto Pasta with Sun-Dried Tomatoes, and Red Lentil Cauliflower Curry.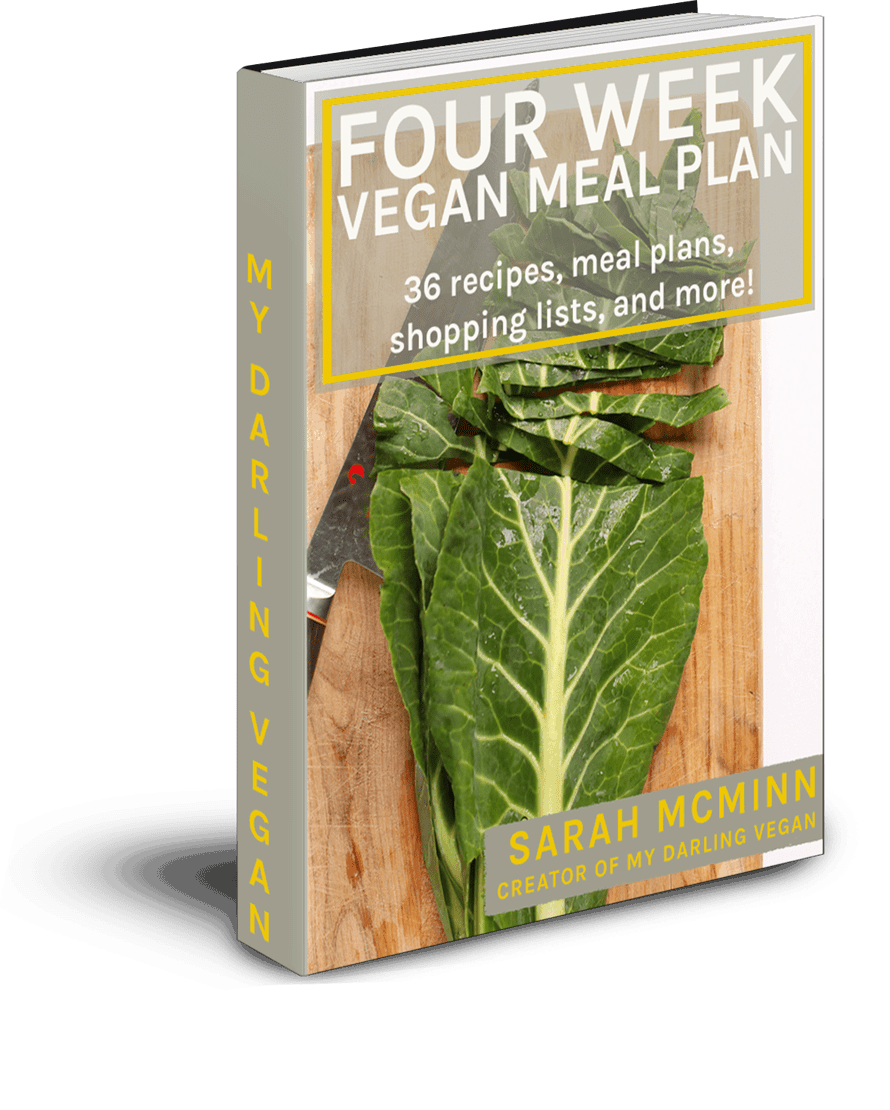 4. Get your hands on some resources.
Better yet, make a vegan meal plan! Check out my 4 Week Vegan Meal Plan to get all your meals, shopping lists, and recipes planned out for a whole month. Or if you're not ready to commit to a month, spend more time on My Darling Vegan. This blog is meant to be a resource for everyone, specifically those who are new and transitioning to the vegan lifestyle. Here you'll find hundreds of recipes that use simple to find, whole food ingredients with minimal prep. And I'm not the only one out there doing this! Find your favorite bloggers, cookbook authors, and influencers and follow them. Again, if you need specific suggestions, email me!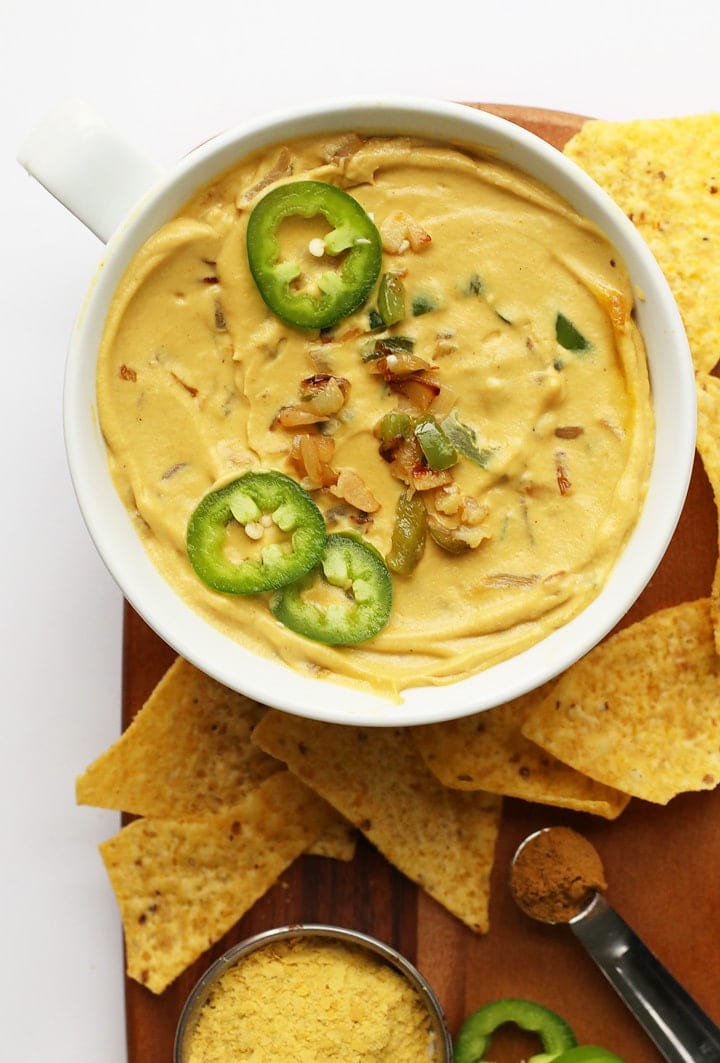 5. Try something new.
When you first start eating plant-based everything feels new. Don't get overwhelmed by it. Make it an adventure. Have you tried Tofu Bacon yet?  How about Cauliflower Queso? Or, my favorite, Cashew-Based Ice Cream. Maybe these foods sounds strange, but give them a try. Don't think of them as an exact replacement, but a vegetable-based alternative to the foods you know and love. You might find a whole world of plant-based foods open up to you. When that happens, veganism is the opposite of deprivation, expanding your food options beyond expectation!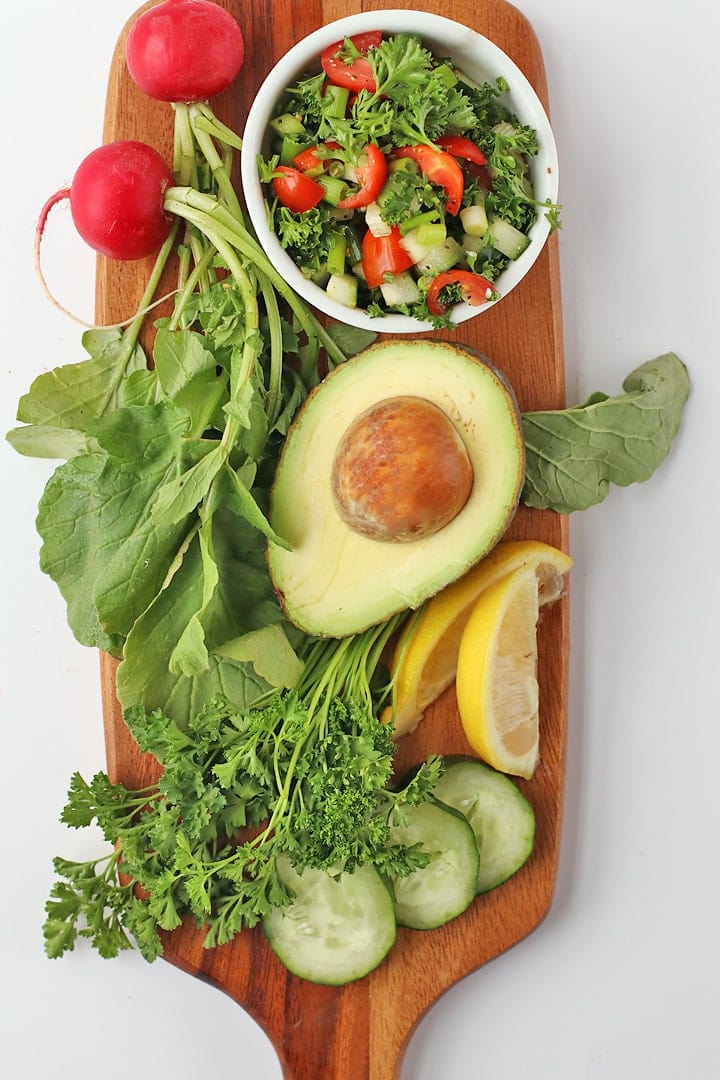 7. Remember, going vegan doesn't mean deprivation.
Like I said earlier, veganism can open you up to a whole world of food you didn't know existed. And most of your favorite foods can be veganized. People are always impressed with my vegan desserts, unable to imagine how desserts can be made without eggs, butter, or cream. It's so easy, friends! Here's a simple guide to replacing eggs for most desserts. At well-stocked grocery stores you can find great milk, cream, and butter alternatives. And as a result you can make desserts like this Chocolate Chip Skillet Cookie or these Strawberry Shortcakes or a Classic Carrot Cake. Even with my degree in French Baking and Patisserie, I'm here to tell you that any dessert can be veganized.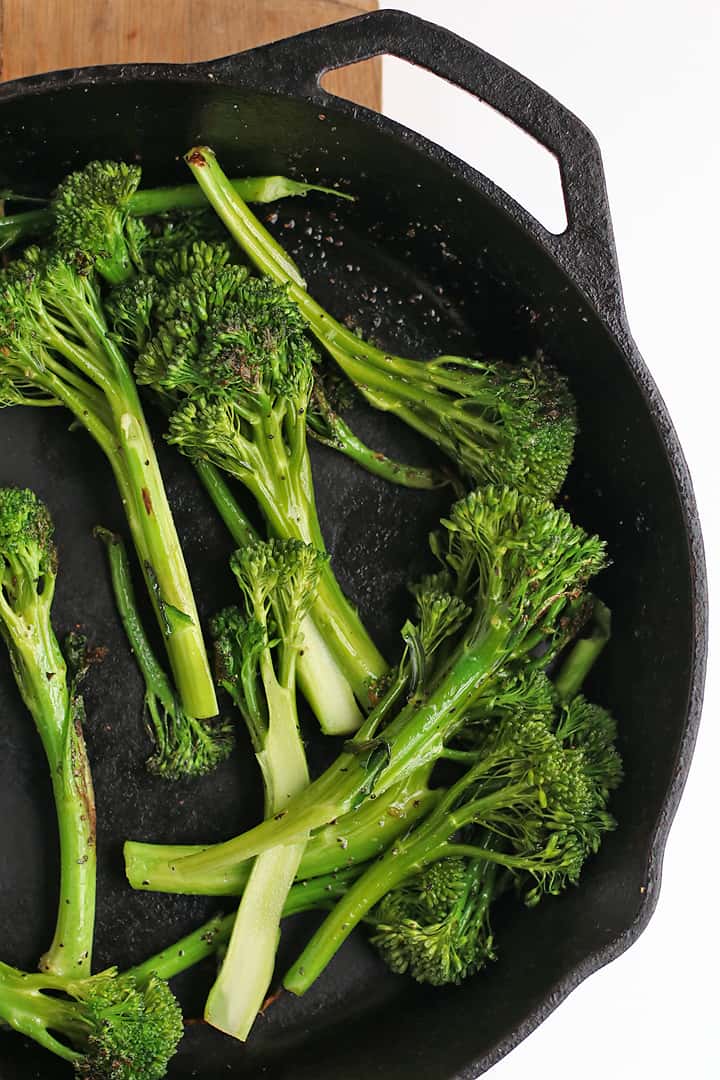 The Importance of Protein
One important thing to keep in mind is that without meat and eggs, your body isn't getting the amount of protein its used to. So it is up to you to make sure you compensate for this and have a nutritionally balanced diet. An easy way to do this is to increase your intake of protein-rich foods such as potatoes, whole-wheat bread, legumes, quinoa, green leafy vegetables such as spinach.
Also, by adopting a vegan diet, you completely deprive your body of Vitamin D, so compensate for this by getting at least 10-15 minutes of sunlight on your hands or face, two to three times a week.
The vegan lifestyle is a very rewarding one. In addition to being healthy, you'll also be making a positive impact on the environment.  There are many vegan support groups you can join to make your transition a little easier such as our Facebook Fan Page.
Other great communities can also be found online as they can provide helpful tips on how to keep your diet nutritionally balanced and where to find vegan-friendly food and products.
Becoming a vegan will be easier with the help of other fellow vegans so be sure to visit our Fan Page any other group you feel comfortable with.
Good luck on your vegan journey!

Comments