With 800 million monthly active users, Instagram has become one of the most popular social media channels. But that's not all; Instagram also has the highest interaction rate compared to all the other channels, according to Quintly. This high interaction rate is exactly why brands are flocking to the platform to partner with influencers.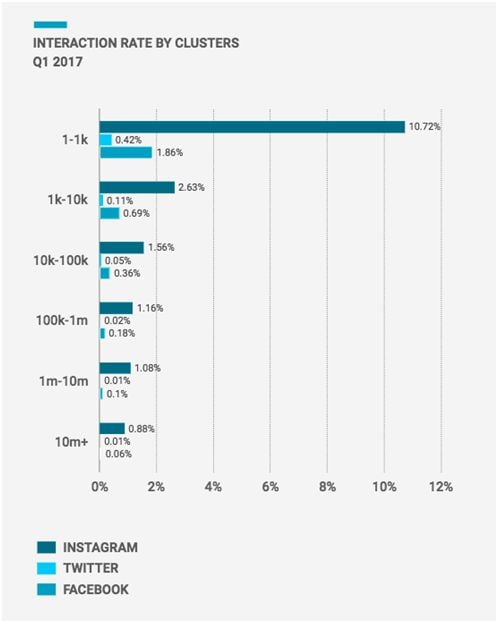 Image Source: Quintly
So if you're planning to become famous on the internet, Instagram is the perfect platform. In fact, the Quintly study cited earlier found that follower growth rate is the highest on the channel compared to all other social media channels. Even other influencers are vouching for Instagram, with 91.9% of them choosing it as their number one platform in a Hashoff survey.
Earning fame on Instagram gives you an excellent opportunity to earn thousands of dollars even for a single post. You may not earn much as a micro-influencer, but macro-influencers like Zoella and Cameron Dallas charge as much as $17,000 for each Instagram post. Influencer Marketing Hub has compiled some useful facts about Instagram influencer payments, if you'd like to learn more.
Convinced that you should be investing your time and effort into Instagram? Here are some useful steps you can take to become famous on the platform in less than a month:
#1: Define Your Niche
You may have a lot of interests and talents – whether it's in fitness, fashion, lifestyle, writing, etc. And you're free to use Instagram to create content related to all these niches at a time. The problem is that most of the audience you're attracting may not share all these interests. And if you keep creating content that's not relevant to their interests, you could end up losing followers.
For example, if you attracted some followers with your style-related posts, you may lose their interest if you keep sharing your poetry or recipes with them. So it would be wise to first define which specific niche you want to specialize in and build your influence in. This will help you gain a clearer idea of what type of content to focus on, what type of audience to attract, etc.
If you take a look at the content created by influencers like Alex Aldeborgh (daisybeet), you can see that everything is about healthy food. So the audience she attracts is comprised of people who want to eat healthy. She has clearly defined her niche, which has made it easier for her to build her following.
When Izea created a list of micro-influencers in June 2017, she had about 41.2k followers. As of the writing of this post, her following size has already increased to 66.2k.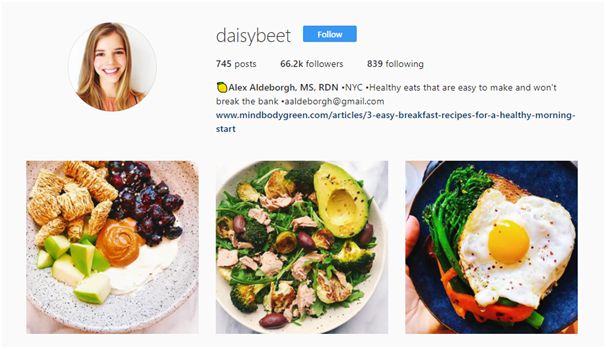 There are some cases in which you can focus on more than one niche if they are relevant to each other. For example, fitness enthusiasts could create content related to exercising and healthy eating, which means your niche would be fitness and food.
#2: Decide on Your Aesthetic
If you look at the Instagram accounts of the most popular influencers, you'll notice one thing – there is a certain aesthetic they maintain in all of their posts. Some influencers uniformly post photos in bright, uplifting colors with warm undertones. Others may maintain a clean and crisp aesthetic with photos in cold undertones.
Similarly, you should decide on what aesthetic you want to maintain. But make sure it suits your niche and your personality.
Here's an excellent example of a micro-influencer, Amelia, who has clearly defined her aesthetic. You can see that she has taken a minimalistic approach with her beauty and makeup posts. All of the photos have minimal colors with cool undertones.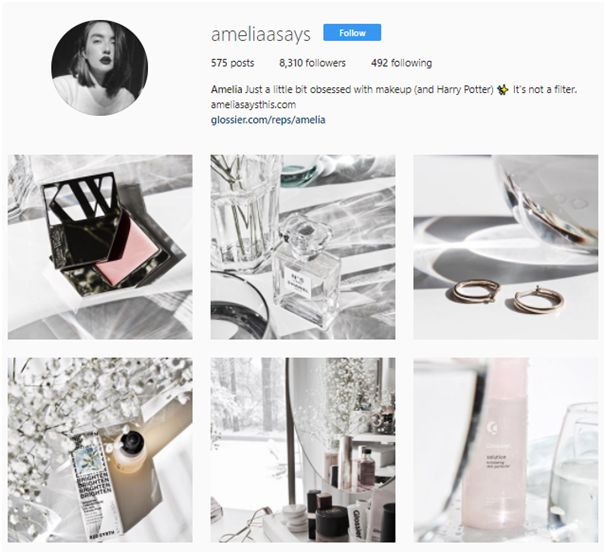 The goal of defining your aesthetic is to immediately attract any user that visits your profile. It can show prospective followers that you're dedicated and you're consistent. It gives a professional appearance to your account and could be appealing to brands that are in search of prospective influencers.
#5: Build a Relationship with Your Followers
There may be some accounts you follow that never respond to your comments. Although you have no hard feelings towards them, there's a good chance you wouldn't hesitate to unfollow them at some point. You don't really feel a connection to them if they don't even take the time to engage with you.
That's exactly why it's vital for influencers to build lasting relationships with their followers. The goal is to establish loyalty so you don't lose them as followers. You should take some time to respond to your followers' comments to show them that you're listening. You could answer their questions, or even give them a simple acknowledgment such as a "like" on their comment.
Although this step may not necessarily grow your following, it's going to win the loyalty of your existing followers. This ensures that you don't lose some of the followers you've already won over. You'll build a stronger bond with them so that they consider you more like a friend than just an internet personality.
Here's an excellent example of micro-influencer Liz Wible (lizandlavender) responding to comments from her followers. She personally responds to each of the comments, even if it's with just emojis. This shows them that she values their input, and helps her to win their loyalty.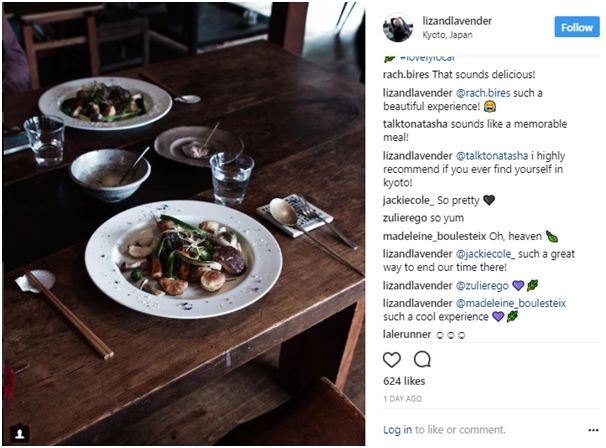 This step is also important to convince prospective brand partners to work with you. They'll be able to see you interacting with your followers, guiding them with their purchase decisions, providing them with useful and relevant tips, etc. This can help prove to them that you can effectively market their products or services.
#6: Don't Forget a Call-to-Action
Finally, there's also your call-to-action, which you should always include in every post. Remember that Instagram isn't just a broadcasting platform, but rather a conversation platform. It's where you can build lasting relationships with people who share the same interests as you.
So instead of simply sharing your post and explaining what it is about, it's important that you also guide your followers on what they should do next. If you want to drive more engagement on your posts, you'll need to include a CTA that tells followers exactly what they need to do.
You could ask them a relevant question, and invite them to answer it in the comments. You could ask them to make use of the unique hashtag you've come up with when creating their own posts. Or you could even get them to check the link in your bio. Whatever the case may be, make sure your followers have a clear sense of direction.
An increase in engagement rate for your posts could boost their visibility. And increased visibility improves your chances of gaining more followers.
Beauty influencer Adri (sortofobsessed) always ends her post captions with a question to encourage her followers to leave a comment.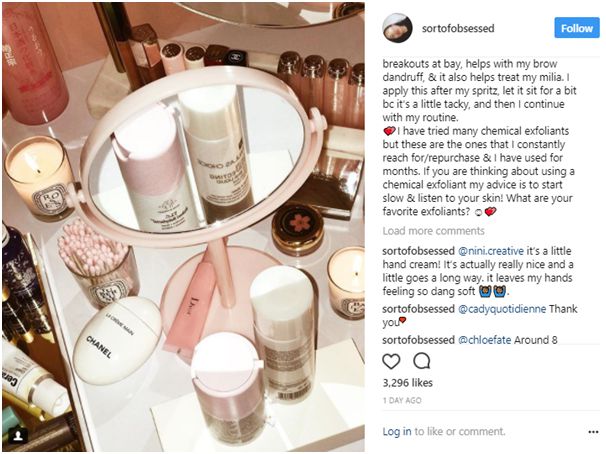 List your skills and pain points
Write down the top 3 skills that you need to achieve fame. Write down the top 3 pain points that stop you from reaching them. Now, set some time-bound goals and milestones in order to achieve the level of excellence in your niche/industry.
Here is an example that should explain this technique. Suppose you want to become an actor and Leonardo DeCaprio is your favourite actor.
Write down why you like the acting career trajectory of Leonardo and his 3 skills. Say these skills are his acting performance, real-life presence and fashion sense. The next obvious step would be studying acting at a school. But your major pain point is financial limitations.
Then, you can proceed towards your motto by joining a local theatre group. Keep performing and enjoying the art of acting at this local theatre community. Meanwhile keep hustling of ways to scale to the next stage.
Try to find scholarship opportunities at the top Drama schools and be on the lookout for sponsors. Or maybe give some auditions for movies.
As for the fashion sense and real-life presence, you can study courses/books on colour, fashion, personality development, etc. I hope you get the drill.
Effectively market yourself and keep at it to get your big break
It might take time to break into your field of interest. You will sometimes get compliments, sometimes not. It's going to be a bumpy rid but make sure you keep the energy levels high. As long as you keep improving yourself and keep showing up you will make it.
Publicity and public relations are going to be one of the most important assets at your disposal. You will need to market yourself effectively on the right platform to get your first break. You can start contacting and cold-calling people for opportunities.
At the first contact, don't try to sell yourself. You should just be willing to offer help. Just network and let them know you are available.
Communicate your skills and experience succinctly to convince folks to give you that first break. This first break can be writing a novel, your first music gig, first acting assignment, etc.

Make use of the Internet's goldmine: Social media
The Internet (read as social media) is a powerful resource to promote your talent and skill. The best part is that it is cheap (most tools even free) and easy to use. As you have already decided the skill you want to be known for, you can publicize and broadcast your work on the Internet.
If you want to become a writer, start blogging, keep improving your writing skills, start interacting with other bloggers.
You might even land your first novel. Or if you want to perform a stand-up comic act, music act or a dance: upload your videos on YouTube regularly. Ensure that everything you share on the Internet is of superior quality.
Have a look at Derek Muller who owns a YouTube channel Veritasium. He is doing a PhD and uses YouTube effectively to present concepts of physics. He has done a brilliant job and already has over a million subscribers.
You can learn lots about building your audience, interacting, and engaging with them, handling criticism and much more by this activity. All these skills will be beneficial for you for life and simultaneously, you will be pursuing your aimed artistic endeavour.
Saying 'No' to lucrative choices
Suppose you want to become a national football player. You get a call to play as a captain for the regional club team. But you are also selected to play for the national team.
The problem is that you got selected as an extra in the squad (if someone from the main team gets hurt). You will need to say 'No' to one of them and make a judgment call.
Here is when that 'scale' on which you want to achieve fame comes into picture.
If you want recognition only in your community, the club team might do but if you are the ambitious kind you will take a shot at the national team (although you get a place in the extras).
Conclusion
Let the masses find you. Let that director discover you through a play. Or let that publishing house discover you through your blog. Meanwhile, you can keep up the marketing.
However, don't sit idle, keep refining your skills. No one will like a hollow person who only likes to talk and is only average.
None of the talented famous people aimed at fame. They always tried to get better at their art. They focused on beating their own best.
You also need to work your ass off and forget about being famous now – Only then will you should reach the destination you aimed.  That was your how to become famous guide.
Why don't you tell me your takeaways from the post using the comment box below?
Those who genuinely stand out, have two things in common:
1. They want it badly enough –
People talk about wanting to write and blog professionally all the time. I get emails non-stop. They see a guy like Leo Babauta of ZenHabits and want to create what he's created (or a slightly smaller version).
The problem is most aren't seeing the whole picture (or refuse to accept it). Leo used to be a full-time Journalist in Guam. He also had a family of 8 to support. He had every excuse why he didn't have the time to pursue a side project (let alone create one of the biggest single author blogs in the world). But you know what he did instead? He wrote articles during every spare second he had – lunch breaks, early mornings, nights and weekends. He wrote 10-20 articles a week. Did you hear that??
For him, there was nothing he wanted more than to have his own business and have his freedom and time to spend with his wife and kids.
How many of you are willing to write 10-20 articles a week on top of a full-time job and more than full-time family? That's what I thought.
You get what you put in.
If you don't want something bad enough then stop trying. It's a waste of time. But once you come across a cause or goal that truly matters to you, anything's possible.
"He who has a why to live can bear almost any how."

~Friedrich Nietzsche
2. They're willing to compete on a totally different playing field –
Or maybe they plow their own field altogether…
A few years ago Chris Guillebeau could have started yet another personal development blog about living the location independent life, yada, yada, yada.
Instead, he decided to coin the term The Art of Non Conformity and build his business and movement around the seemingly ridiculous quest of visiting every country in the world.
Who does that?
A million people blog about world travel. But I only know of exactly one who blogs about visiting every country on the planet.
Sure it's a massive, crazy goal, but life's a lot more fun going after those anyway. As of today, I think he only has like 20 or 30 left to visit…
You have to stop competing on the same level as everyone else.