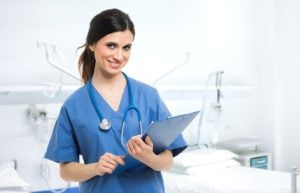 Nurse Practitioners (NPs) are advanced-practice registered nurses who provide comprehensive care to patients. Not only do nurse practitioners provide diagnostic care and treatment, they also focus on preventive health maintenance. Nurse practitioners are first and foremost nurses, which means patient education and holistic care is a large part of their practice. Depending on the state in which they practice, oversight by physicians may or may not be required.
The Education Pathways Towards Becoming a Nurse Practitioner
The duties of a Nurse Practitioner are varied. They record and analyze the medical history of patients, conduct physical exams, order tests, prescribe certain types of therapy and more.
Different medical settings and states have different requirements in terms of national certification and the exact nature of the education NPs must have. However, a master's degree is the bare minimum anywhere. By definition, NPs are specialized in one or more patient population focus area: family/individual across the lifespan, pediatric (acute or primary), adult-geriatric (acute or primary), neonatal, women's health, or psychiatric/mental health.
The following educational pathways exist for those looking to become an NP:
Master of Science in Nursing (MSN). It will take around three years to complete this course of study, which will include core courses in the areas of pathophysiology, health assessment, and advanced pharmacology.
Doctor of Nursing Practice (DNP). DNP programs often include advanced courses in leadership, population health, and typically culminate in a final capstone project.
Nursejournal.org created this video to help clarify the sometimes confusing process of becoming a Nurse Practitioner. We hope you like it!
Prerequisites for Studying Towards Becoming an NP
In order to become an NP, a number of steps have to be followed first. These are:
Earning a nursing undergraduate degree. For students coming from a field other than nursing, this can be done through accelerated programs that include both undergraduate and graduate-level training.
Becoming a registered nurse by passing the NCLEX-RN.
Completing a graduate degree in the field of nursing.
Obtaining an Advanced Practice Nursing license.
Obtaining certification in a specific patient population focus.
Information is widely available on how to complete these five steps in preparation for a career as a Nurse Practitioner.
Working as a Nurse Practitioner
There are many places where you could work as a nurse practitioner. You could work in community care programs, hospitals, physician's offices, the military, the prison system and more.
The salary you could earn as an NP is another interesting thing to consider. Salaries tend to vary based on where you work and how long you have worked in that field. Information is available through the Bureau of Labor Statistics, which highlights the various factors that influence earning potential for nurse practitioners.
The median annual wage for nurse practitioners as of the latest BLS report (May 2016) was $100,910. However, as this is the median, it means half of all nurses will earn more than that, while the other half will earn less. The bottom 10% of NPs earned an average of $72,420 that year, and the top 10% earned $140,930, which is a significant difference. It is also important to look into the benefits that different employers offer.
For instance, they may offer childcare, bonuses, flexible schedules, education reimbursement programs and so on. Furthermore, those who earn the highest salaries tend to do a lot of shift work, meaning they are at work during evenings, weekends and holidays. Additionally, they may regularly be "on call." All of these things mean that they will earn more money overall.
Job prospects are very good for nurse practitioners. Indeed, the nursing profession is growing faster than any other profession in the country.
There are a number of things contributing to the growing demand for NPs and the strong growth the field is experiencing, including:
An aging population that is placing a greater demand on healthcare services.
Unhealthy lifestyles leading to more health problems. Obesity, which is now common even in young people, is a major concern for healthcare workers, as various medical conditions are associated with it.
The Affordable Care Act and the more recent American Health Care Act have led to more people being able to access healthcare.
Outpatient care is growing exponentially. Some of the treatment that is now available includes same day chemo, rehabilitation and surgery.
In general, nurses have great prospects for employment; however, Nurse Practitioners consistently rank among those with the most opportunities. This makes the career even more appealing to RNs interested in taking the leap to begin working in advanced practice. Although it may take several years to get to that level, most say that it is well worth the effort.
Why Are Nurse Practitioners So Important?
Nurse practitioners can diagnose and treat patients as well as perform procedures. They differ from physicians in that their patient care approach is more holistic. Being nurses, they gather information about a patient not only to include physical symptoms, but psychosocial and environmental information as well. They are skilled in education, and therefore can spend time teaching patients and family about disease processes, treatments, and healthcare prevention as well as diagnosing acute health issues.
According to the American Association of Nurse Practitioners, nurse practitioners can also help lower the cost of healthcare, as patients who use NPs as their primary care provider have fewer emergency room visits and shorter hospital stays. Additionally, they help to fill the gap with the primary care physician shortage in the United States. They also tend to have high patient satisfaction.
Nurse practitioners are advanced-practice registered nurses who have completed a Master's of Science in Nursing (MSN) or a Doctor of Nursing Practice program (DNP).
To advance to a master's degree or doctoral in nursing, a student must complete an accredited nursing program and obtain a Bachelor's of Science in Nursing (BSN). Upon graduating with a nursing degree, successful completion of the NCLEX-RN is needed for licensure. The length of time it takes to obtain an MSN depends on the nurse's starting point:
Nursing students enrolled in a BSN program complete in about four years
RN to BSN takes about two years
BSN to MSN takes about two years
BSN to DNP takes three to four years
MSN to DNP takes one to two years
Additionally, both online programs and classroom programs are available to accommodate students. Both types have pros and cons depending on students' needs, therefore researching individual schools is encouraged.
Research nurse practitioner programs.
Nurse Practitioner Careers and Outlook
Nurse practitioners are valuable members of the healthcare team. As providers, teachers, leaders, and patient advocates, nurse practitioners approach patient care in a holistic manner to ensure patient needs are met at the time of visit.
Nurse Practitioner Responsibilities & Duties
NPs have many responsibilities and duties. These may include:
Provide acute (i.e. illness) and preventive care (check-ups)
Take a patient history
Maintain their own patient panel
Order diagnostic testing/therapies
Order prescriptions
Assist in surgery
Admit, transfer, and discharge hospitalized patients
Collaborate with specialty departments as needed, refer patients appropriately
Assess patient/family needs
Provide education to patients/families
Promote family-centered patient care
Nurse Practitioner Specialties
There are many areas in which a nurse practitioner can specialize. The following are areas in which an NP can obtain formal certification:
Acute Care NP: may work in the emergency room, ICU, urgent care clinic, or operating room. They may perform duties such as:

Rounds on hospitalized patients
Managing the patient's hospital stay
Assisting in surgical procedures
Inserting central lines, intubating, suturing, performing lumbar punctures
Ordering diagnostic tests/treatment and formulating a plan based on the results
Writing orders for nursing/ancillary staff
Learn more about ACNP careers
Adult Gerontology NP: Specializes in young adults to elderly patients. May work in clinics, long-term care facilities, or specialty departments. Specific duties may include:

Performing routine physicals
Ordering preventive tests/screenings
Managing chronic conditions
Educating patients and families on preventive health
Learn more about AGNP careers
Emergency NP: primarily works in emergency departments, may also work in urgent care departments. Specific duties may include:

Diagnosing and treating patients needing emergent care
Admitting patients from the ED to the floor
Ordering diagnostic tests/treatments
Learn more about ENP careers
Family Nurse Practitioner: may work in primary care clinics, hospitals, specialty departments, or long-term care facilities. Specific duties may include:

Caring for a patient population from birth through aging/death
Performing exams on acute complaints
Performing routine physicals
Preventive health maintenance
Ordering diagnostic tests/procedures
Learn more about FNP careers
As baby boomers age, and health care needs continue to grow, nurse practitioner opportunities are opening up nationwide. According to the Bureau of Labor Statistics, nurse practitioner careers are expected to increase by 31 percent in the next 7-10 years.
Working Conditions
The working conditions of nurse practitioners, as with any career, have positive and negative aspects. Nurse practitioners can suffer from stress as they may carry a heavy patient load and have many critical decisions and diagnoses to make. As with physicians, there is no room for error, which can put a lot of pressure on nurse practitioners. Some NPs must work swing or graveyard shifts, and some may need to be on call, leading to erratic schedules that can take their toll.
Additionally, nurse practitioners, as with other healthcare workers, may work in high-risk areas that can expose them to workplace violence, blood borne pathogens, and chemicals.
Not all work areas are risky, such as research and education. Regardless of the chosen work area, workplace safety training is mandatory and ongoing, and most organizations strive to protect the health and safety of its workers.
Nurse practitioners are highly respected and appreciated in their workplaces. They provide a holistic approach to patient care which complements conventional medicine. While NPs may not have full unrestricted practice, the collaborative team approach is appreciated not only by physicians, but by the patients they serve.
Additionally, according the American Association of Medical Colleges (AAMC), there will be a projected shortage of physicians by the year 2030, ranging between 40,800 and 104,900 physicians. Nurse practitioners are already beginning to fill the gaps to meet the needs of the growing and aging population, especially in primary care. The American Association of Nurse Practitioners reports that 89.2% of NPs are certified in primary care medicine. The addition of NPs to primary care helps to offload primary care physicians, while ensuring patient care needs are met.
What Does a Nurse Practitioner Do?
Nurse practitioners have a number of different duties and responsibilities. Their first responsibility, however, generally involves caring for patients. They often work alongside physicians or they work in a completely autonomous fashion with their own case load or practice. Nurse practitioners assess, diagnose, prescribe medications and treat patients.
Assessing patients involves giving them complete physical examinations and thoroughly examining their medical histories. By checking a patient's vital signs and discussing his or her symptoms, a nurse practitioner develops a better understanding of what might be ailing the patient.  The nurse practitioner can and will order diagnostic tests, create a treatment plan, prescribe medications, and in some cases refer patients to specialists.
One of the fallacies in regard to the nurse practitioner profession is that NPs substitute for doctors and are supervised by doctors at all times.   This is quite simply not true.   Nurse Practitioners in fact practice with autonomy under their own license.  Nursing care plans, and their approach to medicine and the patient as an individual, differs in many ways from how a physician may practice medicine.    There are many similarities in how physicians and NPs practice, however, nursing and traditional medicine have a different approach, and are considered different sciences from one another.
Understanding the Role of a Nurse Practitioner
What Traits Make a Good Nurse Practitioner?
You are…
You should have…
Analytical
Problem-solving skills
Compassionate
Computer-savvy
Supportive
Good decision-making skills
Dependable
Good ethical standards
A clear communicator
Critical thinking skills
Good-natured
Good interpersonal relationship skills
An excellent listener
Nurse Practitioner Job Description
NPs are trained registered nurses who choose to continuously practice while they complete an advanced education.  NPs typically choose a core area of expertise and tend to take a more holistic and wellness-oriented approach to treatment through education and preventive care that lasts the entire life cycle. This makes them ideal choices as primary care providers for people of all ages and in all settings.
Typical Responsibilities of a Nurse Practitioner Include:
Diagnosing and treating acute illnesses, injuries and infections
Writing prescriptions for medications, including their dosage and frequency
Ordering and conducting diagnostic tests, like electrocardiograms (EKGs) and x-rays
Teaching patients about managing their health, make recommendations and design treatment plans
Examining and recording patient medical histories, symptoms and diagnoses
Providing guidance to patients about medications, side effects and interactions
The nurse practitioner profession can be a highly rewarding career with plenty of opportunities to help others and take on a much-needed role in the health care industry. Nurse practitioners have a lot of options these days from where they work to what they focus on. By helping to prevent disease and promote healthy living, nurse practitioners are referred to as true "Partners in Health" by the American Association of Nurse Practitioners (AANP).
In fact, nurse practitioners continue to move outside of the commonly considered work places and besides doctor's offices and hospitals may be found in schools and clinics, birthing centers and even provide in-home health care services.
Featured Master's Programs
| School | Program | More Info |
| --- | --- | --- |
| Purdue University Global | Master of Science in Nursing – DNP Path/Family Nurse Practitioner, Primary Care | Request Information |
Nurse Practitioners Enjoy Career Flexibility
One great benefit of a nurse practitioner career is the ability to specialize within the field and work just about anywhere. Just as doctors and surgeons may have a specialty, an NP may also choose a focused group or practice area based upon their interest. There are some generally recognized, certified specialty areas to choose from—all of which require a Master's of Nursing (MSN) to become an advanced practice nurse. Take a look at your focus options:
Pediatric Nurse–If you like working with children, you'll work with patients from infancy to early adulthood and diagnose illnesses, conduct medical exams and help keep your young patients healthy through education and wellness practices.
Geriatric NP–As a geriatric NP you'll focus your attention on the elderly and their needs and illnesses, which may include diabetes and respiratory ailments among others. You'll also be instrumental in working with their families to counsel them in patient special needs, such as diet, medicines and exercise.
Neonatal NP–You'll care for newborn infants as a neonatal NP. No matter whether the baby is healthy, premature or seriously ill, you'll be part of the team tending to infant well-being, whether in standard care or ICU.
Occupational Health NP–As an OHNP you'll bring your expertise to the job front and deliver health and safety programs to prevent illness, educate against injury and administer services to workers in any number of different workplaces.
Certified Nurse Midwife–You'll not only be present for the birth of an infant but help manage all stages of a patient's pregnancy. You'll act as educator in the planning stages and offer support post-delivery for the myriad of issues new mothers and babies face.
Certified Registered Nurse Anesthetist–You'll need to earn your MSN and pass a rigorous exam to become a CRNA, and you'll also be able to work in a wide range of healthcare facilities. Your basic task, however, will be to administer the right amount of anesthesia to patients about to undertake a medical or surgical procedure, whether it be heart surgery or dental extraction.
Rural Nurse–Your duties are expansive as a rural NP as you will provide healthcare services to adults and children who have limited access to education and prevention of illness. You'll treat chronic conditions as well, and you'll be instrumental to serving as a teacher and mentor to rural nurses and their at-risk communities.
Become Part of an In-Demand Field
A recent article in Medscape reported that nurse practitioners received higher marks from patients than primary care physicians when it comes to screenings, assessments and follow-up exams. The most pertinent plus was the amount of time patients reported their NP spent with them as opposed to that of a medical doctor. Most said they "didn't feel their nurse practitioner was rushing through their appointment or exam to get to the next one—and answered their questions," helping to teach them holistically about the prevention of illness and the importance of healthcare maintenance.
A 2015 article in Forbes magazine titled, "Nurse Practitioners More in Demand than Most Physicians," says that when hospitals or facilities in the healthcare system look to fill a vacancy in their medical staff, where at one time physicians were the hiring focus, the recruitment "gaze" has now landed upon nurse practitioners and physician assistants. In fact, while primary care physicians are recruiting target number one, nurse practitioners and physician assistants are target 1A, says AMN Healthcare subsidiary Merritt Hawkins, adding "you can't really build patient access or patient satisfaction without them."
Because of their popularity with patients and healthcare staff, NPs are much in demand not only to help the patient population, but to ease the burden on overtaxed physician time and expense.
Featured Master's Programs
| School | Program | More Info |
| --- | --- | --- |
| Sacred Heart University | MSN – Family Nurse Practitioner | Request Information |
Why Become a Nurse Practitioner?
There are many reasons to become a nurse practitioner (NP). NPs can provide a greater level of care than registered nurses — bridging the gap between RNs and primary care physicians (PCPs) — and often help serve populations underserved by PCPs. They also earn considerably more than registered nurses do. According to the Bureau of Labor Statistics as of May 2017, registered nurses earn, on average, $70,000 a year compared to around $103,880 per year for NPs.
Like the nursing profession in general, the demand for nurse practitioners exceeds the supply. In fact, the profession is growing so rapidly that U.S. World News & Report recently named nurse practitioner #3 in its list of best healthcare jobs and #4 in its overall list of the best 100 jobs for 2018. High salaries and strong anticipated growth were two important factors in their rankings.
Nurse Practitioner Specialty Areas
Acute Care
Adult Health
Family Health
Gerontology Health
Neonatal Health
Oncology
Pediatric/Child Health
Psychiatric/Mental Health
Women's Health
As the healthcare industry continues to evolve, so too does the role of nurse practitioners. To understand this evolution, we need to take a look at its past.
Beginning in the late 1950s, the healthcare profession saw unprecedented specialization among doctors, consistent with advances in the field of medicine and technology. While this no doubt led to better care for a growing range of conditions, one unintended consequence has been a persistent shortage of primary care physicians that continues to this day, especially in increasingly underserved rural areas.
The solution? In the 1960s, PCPs began training and collaborating with registered nurses to help meet the primary care needs of adults and children. Within a decade, nurse practitioner programs were popping up at universities around the country. Still, it would be years before nurse practitioners would receive direct reimbursement from insurance providers for their services — a major milestone toward establishing legitimacy.
Even today, the scope of services NPs are allowed to provide varies from state to state. However, as the demand for healthcare services increases, the number of states that allow NPs a full scope of practice is increasing, as is the number of NPs nationwide — at present, about 248,000 according to the American Association of Nurse Practitioners.
Direct Entry MSN Programs Offer a Quicker Path to Becoming a Nurse Practitioner
Step 1: Earn a Master's in Nursing
For non-nursing bachelor's degree-holders, the first step toward becoming a nurse practitioner is to get a master's degree in nursing. Of course, you could go the traditional route of getting your Bachelor of Science in Nursing (BSN) degree and then an MSN degree, but why do that when there's an easier way?
Enter Marquette University's Direct Entry MSN program in Pleasant Prairie, Wisconsin. Located at Marquette's satellite learning site midway between Milwaukee and Chicago, our accredited program lets you leverage your previous, non-nursing bachelor's degree to earn an MSN in as few as 18 months.
Because you already have a bachelor's degree, you likely have many of the non-nursing liberal arts credits required for a nursing degree. Sure, you may need to take a few additional courses to fulfill the prerequisite requirements — typically students with Bachelor of Arts degrees need to take a few science courses, such as anatomy — but, once in the program, you will focus exclusively on nursing theory coursework. This singular focus on nursing is what allows us to provide a comprehensive masters'-level nursing education in just 18–21 months.
During this time, you'll:
Complete online coursework designed to accommodate multiple learning styles
Participate in online discussions and quizzes and in-person lectures and exams
Gain hands-on experience in our high-tech skills and simulation labs
Put what you've learned into practice via clinical rotations at some of the area's top healthcare providers
Step 2: Get Your Nursing License
Upon graduation from our Direct Entry MSN program, the next step is to sit for the National Council Licensure Examination (NCLEX-RN®). This step is crucial, as you must pass the NCLEX to receive nursing licensure. To help students prepare for the NCLEX, we administer practice exams each semester.
One of the great things about applying for a nursing license in the state of Wisconsin is that the state belongs to the Enhanced Nurse Licensure Compact (eNLC). This means that nurses can apply for a mutli-state license, allowing them to practice in 27 states without the need to apply for a new license.
Step 3: Gain Experience in the Field
This step likely comes as no surprise, but it's an important one. Prior to enrolling in a certificate program, you need at least one year's worth of professional nursing experience. The reasoning is simple: Before pursuing an advanced nursing position, you need to understand what it's like to work as a nurse in the field. Besides, while you may leave our program with an MSN degree, you're going to learn a lot in that first year of working — both about nursing and about working with other medical professionals.
Step 4: Obtain a Nurse Practitioner Certificate
Once you have a year of experience, you can pursue certification as an advanced practice nurse (APRN). At Marquette University, we offer a number of certificate options, including:
Acute care nurse practitioner (ACNP) certificate (adult or pediatric)
Primary care nurse practitioner (NP) certificate (adult or pediatric)
Adult-older adult clinical nurse specialist (CNS) certificate
Nurse-midwife certificate
Systems leadership and healthcare quality certificate
Typically, certificate programs require about 13 credits of graduate coursework (about five courses), though this and the time it takes to earn a certificate vary from school to school. In addition, you will need to complete a preceptorship in which you work under the direction of a nurse practitioner in a clinical setting. Typically, students are responsible for lining up their own preceptorships; however, some, like Marquette's ACNP program in Indianapolis, take care of finding preceptors for you.
Step 5: Secure APRN Licensure
As of now, there is no national standard for the licensure of nurse practitioners; however, licensure is required in all 50 states. As a result, each state has its own licensing requirements. In some states, this may amount to an "upgraded" registered nurse license, in others an APRN license. However the licensure works, you will likely need to take a certification exam, which may include both written and practical components. Depending on the state, you may need to take extra steps to write prescriptions, too.
It's also worth noting that while many states participate in licensure compacts, these do not apply to being a nurse practitioner. To learn more about your state's APRN licensure requirements, visit NursingLicensure.org.