When we think of male models we often think about handsome men modeling Armani suits in the top magazines such as GQ, Esquire, Details and Men's Vogue. However, there are many types of male models in addition to editorial (high fashion) models. Male models can work as runway models, fit and showroom models, commercial models, fitness models, and specialty models such as hand, feet and parts models.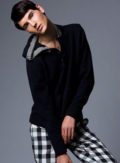 Generally, high fashion or editorial male models who are 5′ 10″ and up and wear a 38 – 40 jacket. There are however, exceptions to every rule
Visual recommendations
Generally, male models need to be tall and fit, but not extremely muscular, as large muscles tend to pull on the clothing.
Here are some important elements you should check if you want to become a model:
Your height is recommended to be between 5'11'' / 1.8 m and 6'2'' / 1.87 m, even though there are many models outside this bracket
Your jacket size should be between 8 and 10 (US) / 40 and 42 (EU) / 12 and 14 (UK), but this is not a strict rule
Your age is not as important as it is in the female model industry, male models can work even in their 40s or even 50s. Men with ages 15-25 are part of what is called the "young model" market, while men with ages between 26 and up are part of the "adult model" market
Your weight should be between 140 and 160 lbs / 63,5 and 72,5 kg, but this is a flexible number, your Body Mass Index is what can count more, and that should be average, between 18.5 and 24.9
Grooming is crucial. For example, other essential requirements are having a clear skin and straight, clean teeth. Also, the industry doesn't often go for men who have a lot of body hair, so you can work on trimming it down or doing some waxing if you want to pursue a modeling career.
Different types of models
The fashion industry divides models in different categories. Of course, one can go from a category to another or fit in more, but the type of model you want to be can have an influence on the way you look and on the photos you wish to take for your portfolio, which we will discuss a little later.
To give you an example, runway models are generally thin, as they need to fit in small clothes, while catalog models usually have an image that is closer to an average-size guy. Underwear models are usually very fit and editorial models, who work only for certain publications need to represent the aspirational image of the publication.
Here are the various types of modeling one can pursue:
High fashion models generally work with big brands or designers
Glamour models usually appear in photos where the focus is on the model and not on the clothes
Editorial models work only for certain publications
Runway models walk the runway during a fashion show
Commercial print models appear in ads, newspapers, billboards and other materials. Of course, they also pose for digital work
Showroom models display clothes and accessories in boutiques or at fashion parties
Promotional models work in trade shows or conventions
Catalog models appear in catalogs and resemble the average man
Character models are used to either portray ordinary people, or people who have very unordinary features
Specialty models specialize in one or more parts of their body, such as hands, legs, neck, hair or feet. For example, if you are a hand or feet model, you don't necessarily need to be very tall
Exposure
To become a model, you must have a portfolio of pictures that you can present at any time. Of course, this might seem as a vicious circle: how to get jobs to make a portfolio if you don't have one to show.
While there are more solutions, two main ones are the most used and most practical:
Take jobs for free. Nobody wants to work for free, but taking free jobs at the beginning of your modeling career will not only help you build a portfolio, but it can also help you get to meet people and work for real brands.
Hire a photographer. One can always hire a photographer for some shots. However, you really need to be careful and know the industry, as some photographers charge a lot to build a portfolio for you.
In a way, it is better to take low-paid or free jobs to have an actual body of work to show, but you should never take any job, take only those that you are sure are legit, otherwise, you risk compromising your image in the industry. The same goes for a hired photographer: don't go for shady ones and make sure you don't pose in ways you don't want to.
Moreover, to get exposure, make sure you always attend casting calls, that you send your resume and photos to agencies and so on. Being in the industry and being seen and known is what the modeling world is all about.
Getting an agent
Having someone to represent you or to give pointers is very important too. An agent can tell you not only where and when to go for a job, but also when and how to cut your hair. For example, it is never recommended to cut your hair without someone's advice, as, who knows, maybe a future job needed you with a hairstyle they were willing to create. The problem with an agent is the same as with your portfolio. If you are not a power player, your agent won't take much interest in you, so you must find the opportunities yourself.
An agent can also give you ideas of what talent you can work on (as models often also have other talents such as acting), where and how to do it, but the heavy lifting always needs to be done by you.
In general, a successful male model is a man who has strong features, who has a great attitude and who is photogenic. The modeling world is definitely not an easy world to get into and to be relevant, so if you are looking for a career in modeling, you should definitely have a tough skin, patience and a strong work ethic.
Fraquoh and Franchomme
P.S. We want to hear from you! Who is your favorite male model? Why? What do you consider are good, strong features? Share your feedback, questions or thoughts in the comments below! For more articles on style, fashion tips and cultural insights, you can subscribe to Attire Club via e-mail or follow us on Facebook, Twitter or Instagram!
Categories of Models in Nigeria
Below are the various categories:
Runway model – This is usually reserved for reputable models. It requires you to catwalk on the runway to advertise clothing.
Glamour model – This is usually a sexually provocative modelling, it involves posing in front of a photographer in sexy clothing.
Commercial model – These serve as product ambassadors. Their faces are plastered for advertisement on products in order to promote sales.
Fitness model – This is usually for fit models. It requires you to promote fitness or sporting products.
Fashion model – This type of modelling requires you to be tall and these models are usually featured on the front pages of magazines.
Top 5 Male Models in Nigeria
Victor Ndigwe: He won the Aquafina elite model look and hasn't looked back ever since. He is the first Nigerian to model for Ermenegildo Zegna and Missoni in Italy. He has walked the runway for Hermès, Balmain, Kenzo, Haider Ackermann and so on.
Davidson Obennebo: Elite Model Look 2016 Winner, Davidson has walked for Givenchy and Balmain. He is currently a major face at Versace, the first brand he walked for.
Leonardo Taiwo: This six feet two inches Model is better known for his dark and handsome physique. He bone structure and glossy skin are to die for. He has featured on vogue Italia and GQ editorials He has featured for Nike, New era Clark's and Calvin Klein campaigns.
Akintayo ogunkoya: This six feet one inch model came into limelight after his Benetton campaign. He is easily recognized for his carefree natural fro and green eyes. He has modelled for Dior, Versace, DKNY and can also be found in Abercrombie & Fitch, Hermès catalogues.
Seun Balogun: This 6 ft 1 model was a finalist at the Elite Model Nigeria in 2015, in the same year he modelled for top designers at the Lagos Fashion Week.He is currently on contract with renowned modelling agencies in South Africa. He shined at the Capetown's Menswear Fashion Week 2016 and continues to make a name for himself.
If you're a good looking guy, check out the male model requirements:
Standards Male modeling height range 5.11 "- 6.2".
The perfect age of male and female age: 16
Where the female model mostly retires at the age of 25, male models can work until they are 50.
Male from 15 to 25 years old is counted as a young man in the market.
Male from 25 to 35 years old represents the adult men in the market.
The usual weight in men varies from 63 to 73 kg, but this will depend on your body structure.
The average measurements range from 40 normal sizes to 42 long sizes.
Generally, you can't keep the excessive hair in the chest and arms. Get ready to shave before you continue in this race.
Here we present some types of modeling that you can follow:
The models promote clothes.
High fashion models work with famous houses or fashion definers.
Editorial models only work for specific publications.
The catwalk models work in the fashion shows.
The models of exhibitions show clothes at fashion parties or boutiques.
Commercial models make photographs for magazines, newspapers, posters, and articles for printing advertising.
Catalog models are hired to appear in catalogs.
The promotional models work in conventions or fairs.
Specialized models focus on a part of their bodies such as hands, legs, hair or feet.
The function of the character models is to represent ordinary people.
Glamorous modeling focuses more on the model than on the product itself.
The most important requirements for male models
Having a good body and perfect face doesn't mean that it's enough to be a model. There are a lot of requirements you have to achieve such as:
Union of image, attitude, motivation, and character
Maturity and personality when taking decisions
Learn how to invest time and money very well
Surround yourself with the right people when looking for advice about this industry
Creation of networks and construction of a fan base
Get a business vision to enhance your chances for press campaigns.
Creation of a contact agenda
Availability to travel both nationally and internationally
Design a business card to deliver to your contacts
Male model height
One of the most popular questions we all hear: How tall should a male model be?
It fully depends on the type of modeling. High fashion modeling requires tough guidelines. Male usually should be between 6 feet and 6 feet with 2 inches. Actually, it somewhat depends on the agency.
Besides, commercial models need to be high requirements. But, fitness and real-life models are selected according to their characteristics, not by their height.
Make a professional book
Find out a photographer who has a quality price relationship.
You have to ensure that the picture you take covers your face and many full-body photos.
That the photos are excellent and include your entire body in underwear with a shirt.
Take an additional photo with casual clothes and another with more serious clothes or a suit.
Always look for comfortable prints.
Find an agent to represent you (or a modeling agency)
Start the online search.
Keep your photo book prepared.
Face interviews with agencies that have a good reputation.
Talk to other models and pay attention to those who recommend you.
Workout
I know it may seem obvious but keeping that healthy figure can mean the difference between a call back for a shoot or not.
The better you look, the more work you get, and this is the main idea you need to focus on when you're working in this industry.
Iago Botelho
Male models need to go shirtless at any moment and having a beer gut isn't the most photogenic of looks.
Get yourself a great exercise regime and stick to it, not only will your health benefit from it but your bank balance will too from all the work you will get.
Prepare for Your Shoot
I can't stress enough how important preparation is. Shave, bring all the clothing that the photographer requests, get enough sleep, arrive to the shoot on time and take it seriously.
A lot of models lost out on opportunities because they thought they could just wing it, but the more professional you are the more people will remember you. 
Francisco Lachowski
Just like how you would research a game before you play it on easyslots.com/all-games, make sure you know what you're getting yourself into before your first big shoot.
READ  Introducing Javi Belda by Ruben Ibañez
Stand Out from The Crowd
Take some time to work on your poses and pouts, anyone can stand and smile at a camera, the difference is what makes you stick out from the other hundreds of meatheads out there.
Dillon Westbrock & Alexander Johansson
Often photographers and designers will have to choose from multiple models, so making sure you catch their eye is something you need to focus on.
Keep A Positive Attitude
Creating a positive working environment will always work in your benefit.
People prefer to work with those that they enjoy spending time with, so make sure everyone enjoys being around you at shoots instead of slouching around moaning about being up early.
Jacob Hankin
Nobody else enjoys being up that early, but they keep it to themselves.
The Verdict
These are just a few simple tricks that will help anyone looking to break into the male modelling industry.
Darwin Gray
Just keep these in mind at your next shoot and you should have call-backs in no time at all!