One of the most sought after dream of many youngsters and employed individuals is to become a well established person or a billionaire. Although being a billionaire might seem like a goal, in reality it is a dream for a majority of the people across the globe. One point that most people tend to forget is that being a billionaire is not easy. Nobody becomes a billionaire within a day.
To become a billionaire you need to be smart to survive the industry along with the knack to make the correct business decisions that will aid with the various business ventures and options that the individual has. Being creative, open minded and innovative is also mandatory to make your dreams come true and be a billionaire.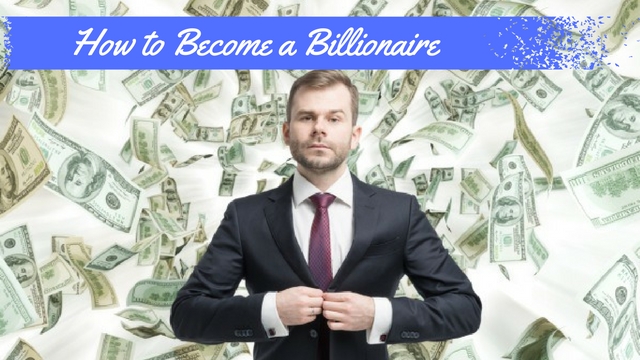 Most billionaires tend to invent, innovate and invest for the uplifting and development of their businesses and corporations. They invest a lot of time and capital on ideas that can even have the potential to change the market and the industry.
Billionaires can be of many types some can be self made while some have a rich and famous family history behind them. Whatever the case may be, being a billionaire is no easy business. To sustain a large corporation requires a lot of hard work, trust, dedication and the ability to predict any errors or problems.
What is exponential thinking?
It's a concept Diamandis' students at Singularity University use to address massive billion-person problems—those with no known solution. It relies upon the possibilities available in our highly connected world.
At some point in your life, you might have heard the "penny doubling" story: If you start with a penny and double it every day, in 28 days you'll be a millionaire. On day one you have $.01. Day two, $.02. Day 3, $.04, and so on.
How about the concept of a folded piece of paper that can reach the moon? An average sheet of paper folded 10 times will reach about 3 feet tall. A paper folded 20 times would reach airplane cruising altitude; a paper folded 42 times will reach to the moon. Fold the paper 53 times? You've reached the end of our known universe.
This is the concept of exponential thinking in action. It's this type of thinking that is creating today's billionaires. Of course there are limits to how much you can fold paper, but there are no limits to the progress of ideas (and many of the other resources you think are scarce). Here's why: Technology is what makes exponential thinking reality.
Diamandis says technology has turned our world of scarcity into a world of abundance. In fact, he argues that you are living in the most abundant, opportunity-rich time in human history.
Related: 5 Ways the Rules of Success Have Changed 
Consider what it takes to change the world today compared to just 100 years ago. If you wanted to start a company in 1917, what did you need? Startup capital, a brick and mortar space with a lease, employees, access to knowledge, know-how and expertise that's difficult for everyday people to acquire. Just 100 years ago you had to have money to make money.
To change the world 100 years ago required a massive investment in time, resources, energy. It was an investment most people didn't have to offer.
But technology has transformed everything. If you want to launch a business today, technology allows you to access any piece of information you need to know instantly, find like-minded supporters, identify problems your business can solve, generate the funds necessary to launch and more.
All of these factors combined can create exponential growth, provided that you find a problem large enough to truly impact the world.
With the power of technology, you can double the number of people supporting a business or a project every day for 28 days and have more than 1 million supporters. You can double profit every day for 28 days, starting with just $.01 and make $1 million.
For the first time in history, exponential growth—just like the story of doubling a penny every day or folding paper 42 times to reach the moon—is possible.
For the first time in history, exponential growth—just like the story of doubling a penny every day or folding paper 42 times to reach the moon—is possible.
This is how Facebook made Mark Zuckerberg millions that turned into billions. Exponential thinking is how Amazon made Jeff Bezos millions that turned into billions. It all begins with the mindset today's modern billionaires use to solve problems through exponential thinking.
Do you want to apply this modern billionaire mindset?
We asked Peter Diamandis to host a free video broadcast, explaining how anyone can embrace the power of exponential thinking to multiply results in their lives.
If you'd like to join us and learn how you can capitalize on the exponential thinking mindset that creates more modern millionaires and billionaires every day, click below and reserve your free seat.
Join Peter Diamandis for a free webinar that teaches the eight steps for Exponential Thinking on Jan. 17 and discover what you can accomplish.
Related
Millions to Billions
Today's infographic comes to us from Betway, and it provides a study of the 100 wealthiest billionaires that topped the 2018 edition of the Forbes Rich List.
Based on the top 100 billionaires studied from the Rich List, the average age for hitting millionaire status is 37. Meanwhile, the billion dollar mark is hit on average at the age of 51.
This puts the average time period to go from millionaire to billionaire at 14 years.
Making the Jump, by Industry
Even with this small sample size, it's clear that how fast this jump happens depends greatly on industry.
Tech entrepreneurs were by far the fastest on the list to go from millionaire to billionaire, with an average time of only 7.3 years. That number is averaged down by entrepreneurs such as Jeff Bezos, who has singlehandedly been able to amass an impressive empire of companies and assets in a very short period of time.
| Tech Entrepreneur | Millionaire (Age) | Billionaire (Age) | Difference |
| --- | --- | --- | --- |
| Jeff Bezos | 33 | 35 | 2 years |
| Bill Gates | 26 | 31 | 5 years |
| Mark Zuckerberg | 22 | 23 | 1 year |
| Larry Ellison | 42 | 49 | 7 years |
| Larry Page | 25 | 30 | 5 years |
| Sergey Brin | 26 | 31 | 5 years |
| Ma Huateng | 33 | 36 | 3 years |
| Jack Ma | 35 | 45 | 10 years |
| Steve Ballmer | 30 | 38 | 8 years |
Other industries don't have the same luxuries as tech, where products can go from Zero to One at such high speeds.
In the automotive, construction, and real estate industries, for example, there are costly physical assets to deal with, as well as fiercer competition. At the same time, innovations are often more incremental, and companies cannot be scaled as fast.
Making the Jump, by Country
Interestingly, the jump from millionaire to billionaire took the longest in the United States, with a period of 14.1 years on average for self-made billionaires.
| Country | Time to go from $1M to $1B |
| --- | --- |
| Russia | 9.0 years |
| China | 9.9 years |
| Japan | 11.0 years |
| United States | 14.1 years |
While this may seem counter-intuitive, there are a couple of caveats worth mentioning.
For starters, the sample size is extremely small at just the top 100 billionaires, which means that a country like Russia has only so many in the mix. This low sample size can distort figures, and not be particularly representative of a true average.
Further, economies like Russia and China have recently transitioned from more controlled economies to more market-driven ones. This has allowed oligarchs and well-connected individuals to take advantage, while amassing new wealth at astonishing rates.

Thank you!
Given email address is already subscribed, thank you!
Please provide a valid email address.
Please complete the CAPTCHA.
Oops. Something went wrong. Please try again later.
Related
Multiply Ownership
You don't become a billionaire through what you do but rather through what you own.  So billionaires are focused on building things that last that they can own and grow and multiply into more and more so the compounding carries them forward.
Work on owning what you build…all that amazing upside and look for solutions that involve something you can own (build once) rather than needing to reuse over and over again.
Richucation Tip – What's one thing you could build that would eliminate a repetitive task in the future?
Steve Jobs built around $600 billion in shareholder value in Apple vs only around $8 billion in Pixar but much more of his net worth came from Pixar than Apple because he OWNED more of it.  As you do deals make sure you own upside that can multiply the value of what you're doing.
Those are the six, you won't find a billionaire who didn't inherit or marry into it who didn't follow them all and doesn't possess all those skills.  You might not be interested in being a billionaire but applying those skills will help to make you incredibly successful financially.
If you're interested in more learning and support contact us or join one of our communities.