By: Allysha Lynn (blogger at allyshalynn.com)
I felt the need to make today the most perfect day in an effort to be a good wife to my husband. I got up early this morning with the intention of making my husband breakfast before our day got started. I rushed around getting ready, stressed getting our meal just right, then out the door we went. We had friends over for lunch where I ran around again, getting the house put together and the food cooked perfectly. I stressed over how things looked, how my dining table was arranged, I even worried about what plates to put the food on.
All day I spent worrying about making today perfect. Perfect breakfast, perfect lunch, perfect time with friends in a perfectly staged home. 
I did all of this because I wanted to be a good wife, which meant I had to be the perfect wife – right?
(Click below to grab your copy of our latest book today!)
As I stood in the shower exhausted from the early wake up I just kept chanting to myself, "I'm a good wife. I'm a good wife" over and over until I could bring myself to get ready. As I stressed over our meals and making things perfect for our friends I chanted those words again and again. Everything today was set to make our afternoon together a perfect day.
Then we went to dinner and I started to feel sick. We left in a rush because my head started to pound. The whole way home I was ready to cry because I suddenly felt so terrible and all I wanted was to lay down.
Our perfect day was ruined and it was all my fault.
After a hot shower and some time in bed, I started to feel better. I wasn't worried about our day anymore and without that stress, my headache started to fade too. Things didn't go as planned, but it didn't ruin all that happened in the morning that made our day fun. We got to have Hunter's favorite breakfast and a nice afternoon with friends.
The wisest of women builds her house, but folly with her own hands tears it down. Proverbs 14:1 ESV
Scripture tells us the importance of a woman's work in a marriage. All of my efforts this morning helped to build my home, but so easily I could have torn down all of my work if I had let the ending of our day ruin the morning. My early morning, my afternoon stress – all of it would have been for nothing if I had spent my evening mourning over how sick I felt. Our perfect day didn't end perfectly and I wasn't the most perfect wife – but that doesn't mean I wasn't a good wife.
Every day as wives we have the opportunity to build our house up or tear it down. Some days we build it up while other days we tear down weeks worth of effort and love.
I want to be a good wife to my husband, but that doesn't require me to be the perfect wife. You don't have to be a perfect wife either.
(Click below to grab your copy of "Becoming a Proverbs 31 Woman")
Each day as we work to be good wives to our husbands, I hope we remember to build our home. In each act of service to our family; the early mornings and busy afternoons – that we remember to do it with joy to build our homes. When things go awry and the day doesn't end the way we want it to, that we remember to not let disappointment or shame let us tear down the home we've already built.
What are some things you can do this week to help build your home in God's way? Are there things you've torn down that you could rebuild today? I'd love to hear your stories in the comments below or over on my Facebook page. Don't forget to like the page or subscribe to the blog so you don't miss each new post! I can't wait to hear your thoughts and see how I can help you build your home.
Hi! I'm Allysha and I'm so happy you're here. I love talking about Jesus, playing with my dog, and going on adventures with my husband Hunter. Don't forget to say hello while you're here!
(Check out her blog at allyshalynn.com)
A Quick Test
If, having read the advice, women weren't sure if they really were an ideal wife, they could always take a quick test, complete with answers to set them on the right path:
Woman's Choice, 4 March 1969
Read in isolation, this list of tips might seem humorous to readers in 2014. Returned to the pages of the magazines from which they are taken, they offer an interesting social commentary on the 1960s. The letters and columns quoted appeared on pages surrounded by advertisements that shared a common message: quicker, faster, better, more efficient. These were the buzz words of advertisers in the 1960s who marketed new products to women with the promise that they would make them better housewives. And the products weren't just designed to improve the house: the latest developments in beauty — including such items as Morphy-Richards De Luxe Vanity Case hairdryer, complete with 'a smart travelling case' — also filled substantial advertising space. In many ways, the tips offered by columnists on how to attract a husband and be a good wife were an extension of the advertisements printed alongside their articles.
________________
[1] Letter to the editor, Woman's Way, 1 June 1963.
[2] Letter to the editor, Woman's Way, 1 June 1963.
[3] The Mara Farrell column, Woman's Way, 26 April 1963.
[4] 'You have the last word', Woman's Choice, 21 January 1969.
[5] Philomena Groake, 'The nagging woman', Woman's View, January 1968.
[6] Eithne Ryan, 'Your new life in your new home', Woman's Way, 31 January 1964.
[7] Maura Laverty's Letters Page, Woman's Way, 31 August 1963.
[8] Woman's Way Letters Page, Woman's Way, 31 October 1963.
[9] 'You have the last word', Woman's Choice, 25 February 1969.
[10] Woman's Way Letters Page, Woman's Way, 31 October 1963.
[11] Eithne Ryan, 'Your new life in your new home', Woman's Way, 31 January 1964.
[12] 'Beauty for Housewives', Woman's Choice, 1 October 1968.
[13] Jill Fisher, 'Household Do's and Don'ts', The Irish Housewife, 1960.
[14] Dr Martin Kennedy, 'How to keep your husband happy, part one', Woman's Choice, 24 September 1968.
Before There Was Liza, We Had Alicia
After putting a promising law career on hold for fourteen years in order to get married and raise two kids, Alicia Florrick suddenly finds herself blinking, to the side of screen, as her politician husband apologises to the world for a double whammy corruption and sex scandal.
With him falling from grace (and landing in prison) it now falls to Alicia to support the family — and so she returns to work at a top Chicago law firm.
It's a weird thing to say perhaps, but one of the best things about this show (in addition to Christine Baranski and Alan Cumming) is how tidy and planned it is. The writers wanted it to go for seven seasons, and it did. This means that the show works not only on an episode-by-episode level, but that longer-term storylines get to have payoffs too (though there are one or two GAPING plot holes).
Each episode (with a few exceptions) focuses on a specific case, while in the background a whole bunch of epic relationship drama unfolds, explodes, gets tidied up, then explodes again. Drop by for the single episode with Christina Ricci as an offensive comedian! Did you enjoy the lads at the NSA storyline? Surprise! They're back!
Or stay for the whole star-crossed lovers thing, if that's your bag.
Cameo City
Here are some images from The Good Wife you've probably seen in gif form, even if you have never once sat down to an episode:
Christine Baranski, best person playing the best character, doing a prolonged laugh.
Alicia in a lift. Alicia and some guy in a lift. Alicia having drinks. Alicia and friend having drinks.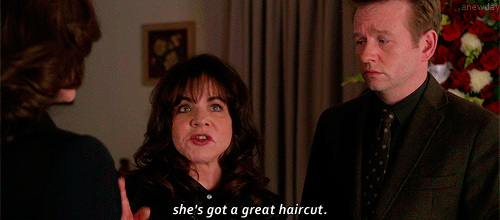 About two seasons in, I had one of those Connect The Crime Scene Images With Pieces Of Red String moments as snippets of pop culture references from all across the internet suddenly ~**made sense**~ and I twigged that they'd come from this show.
In addition to being a ridiculous cameo magnet (the list of impressive guest stars is too long to write out in full but includes Michael J. Fox, Mike Colter, Morena Baccarin, Christina Ricci, Amy Sedaris, America Ferrera, Matthew Perry etc etc) it also seems to be a better wrap up to Gilmore Girls than their actual reunion series was, with Matt Czuchry playing a lead, as well as Edward Herrmann and Kelly Bishop having recurring roles.
What You've Probably Osmosed
This is a show that has one of those episodes – the kind that makes it into top ten lists of episodes that stick with you. It happens in Season Five's 'Dramatics, Your Honour', showing how you can implode what viewers thought was a pillar holding up the show and still survive (and, debatably, even thrive).
It also has Chris Noth in fine form playing a douche – i.e. Alicia's husband, Peter. It has clothes that you would never wear but will still make you want to rob a bank to afford. And it has a love triangle that I was entirely indifferent about, but maybe that's just a problem with me.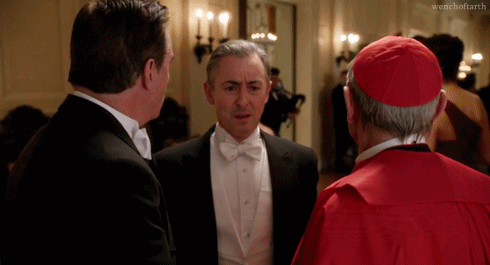 There's also good news if you do find yourself powering through all of it – it has a spin-off, aptly titled The Good Fight.
Where To Start
This is one where it's best to start at the beginning and just buckle in.
Sure, you can dip in and out purely for the cases, but there are so many personal dramas and mini plotlines that play out over multiple seasons, you'll find yourself scratching your head at how penguins are being used to beat an opposing lawyer in a later season, and feel like you're the only one not getting an in-joke if you haven't seen, say, the episode where we meet Colin Sweeney, (potential murderer) when he is referenced or appears in a later episode.